Stout Beer Braised Short Ribs
Celebrate St. Patrick's Day by cooking these Irish inspired Stout Beer Braised Short Ribs. Rich, hearty and incredibly fall-apart tender! Serve it over colcannon or with some Irish soda bread to soak up all that luscious beer gravy goodness.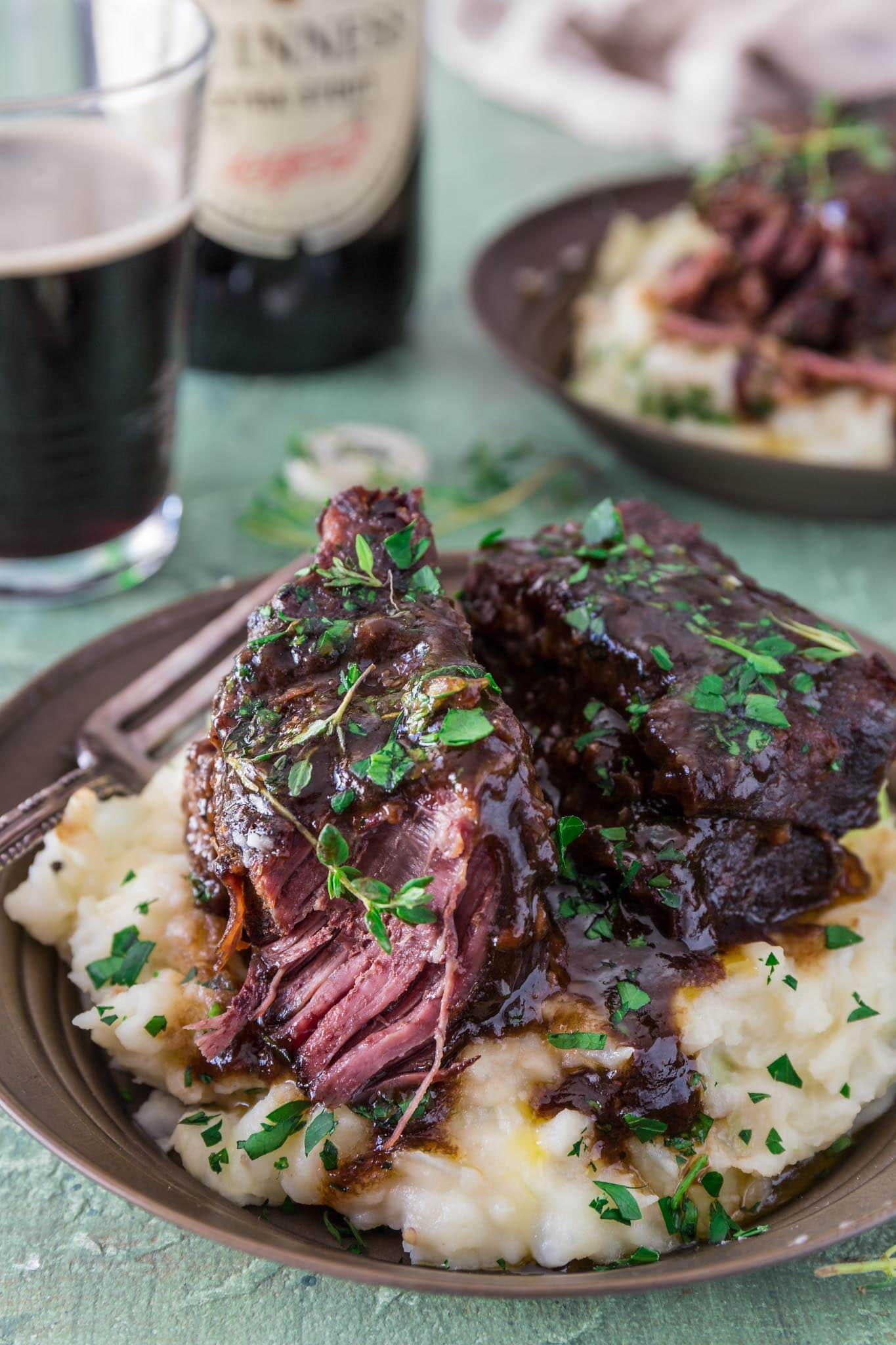 After a long baby forced hiatus, I'm back and ready to resume my food journey.
When my mom went back to Brazil, I got to experience what motherhood truly is, without her help! And it is unbelievably raw and hard. It really does take a village to raise a child and my village moved to another country!
But more on that on a separate post, because today is about delicious food and I do not want to steal these Stout Beer Braised Short Ribs' thunder!
They are so wonderful and scrumptious that I thought they'd make the perfect comeback post. Because y'all know me, I like bold and strong, just like a bottle of Guinness!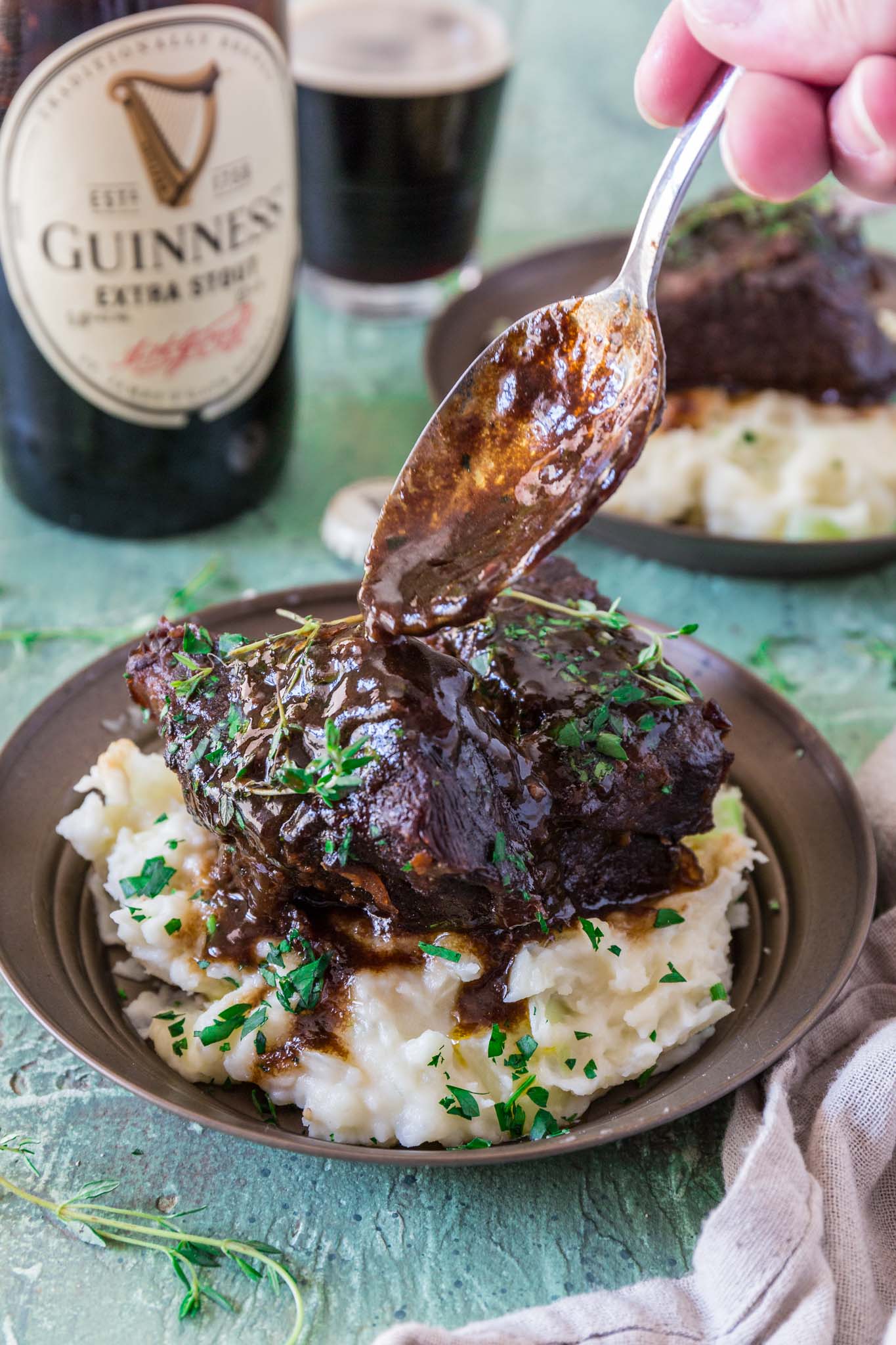 Slow braised meals like this don't happen as often in our home anymore. Motherhood has me focusing on fast and easy, even though I'm a big fan of indulgent comfort food that takes a lot of time and love.
But we got some snow and Tim got to stay home last week, so off to the kitchen I went to prep the beer braised short ribs I had been craving for a long time.
And it was glorious!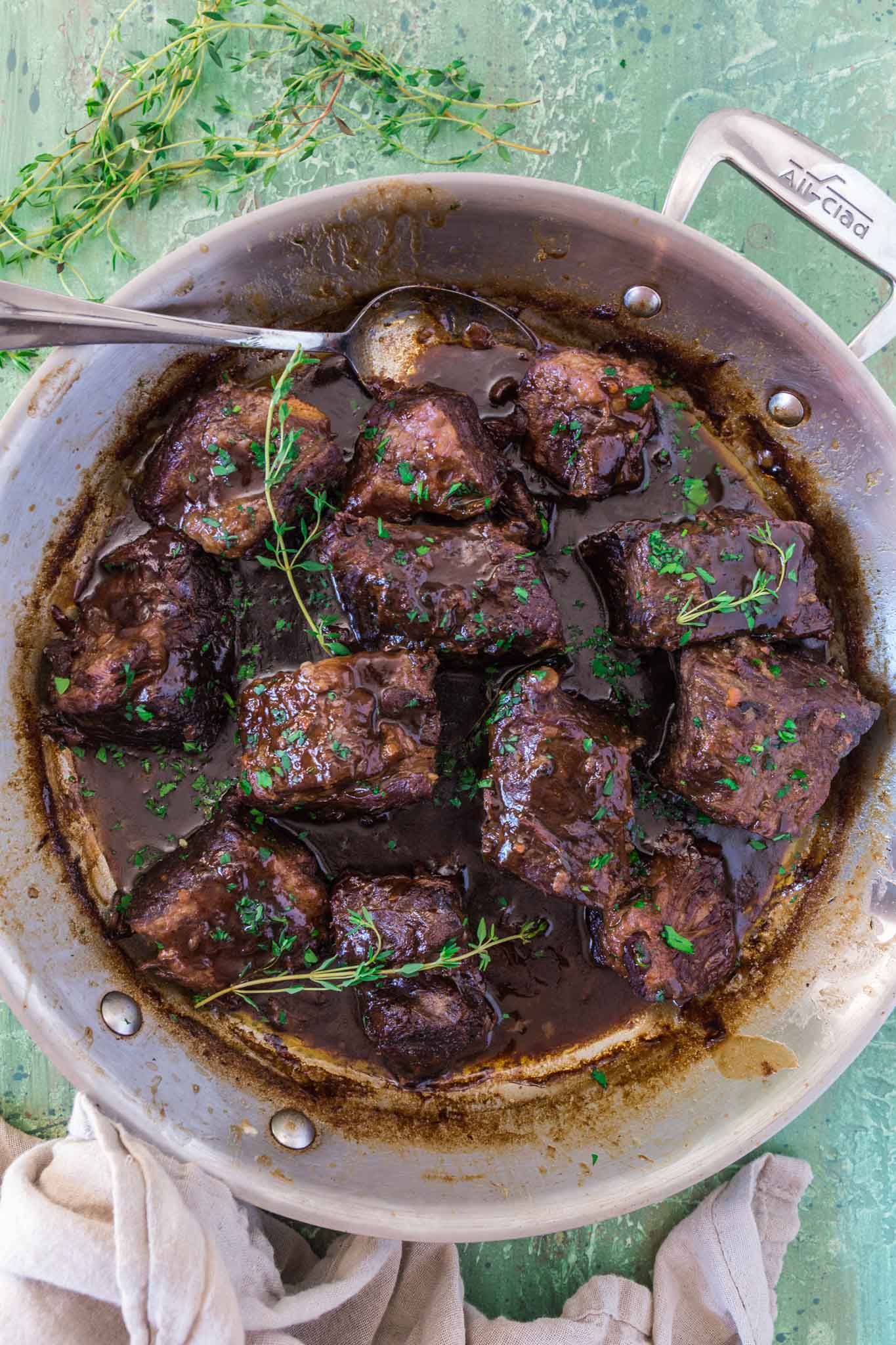 HOW LONG DOES IT TAKE TO COOK BEER BRAISED SHORT RIBS?
A whole lot of time!
Probably not what you wanted to hear. But don't go running for the hills just yet! I promise you it is worth it.
The prep is actually quite simple. Just some browning, a mirepoix, some deglazing and voila: off to the oven your short ribs go. And then your work is done and your beloved oven will take over! Low and slow, 3 hours of oven love and lots of patience, and a home smelling amazing. Oh, I guarantee all that will result in all the oohs and aahs that such a long wait deserves!
And that's braising for you. One of my favorite cooking techniques! There is no other technique that asks so little yet gives so much back.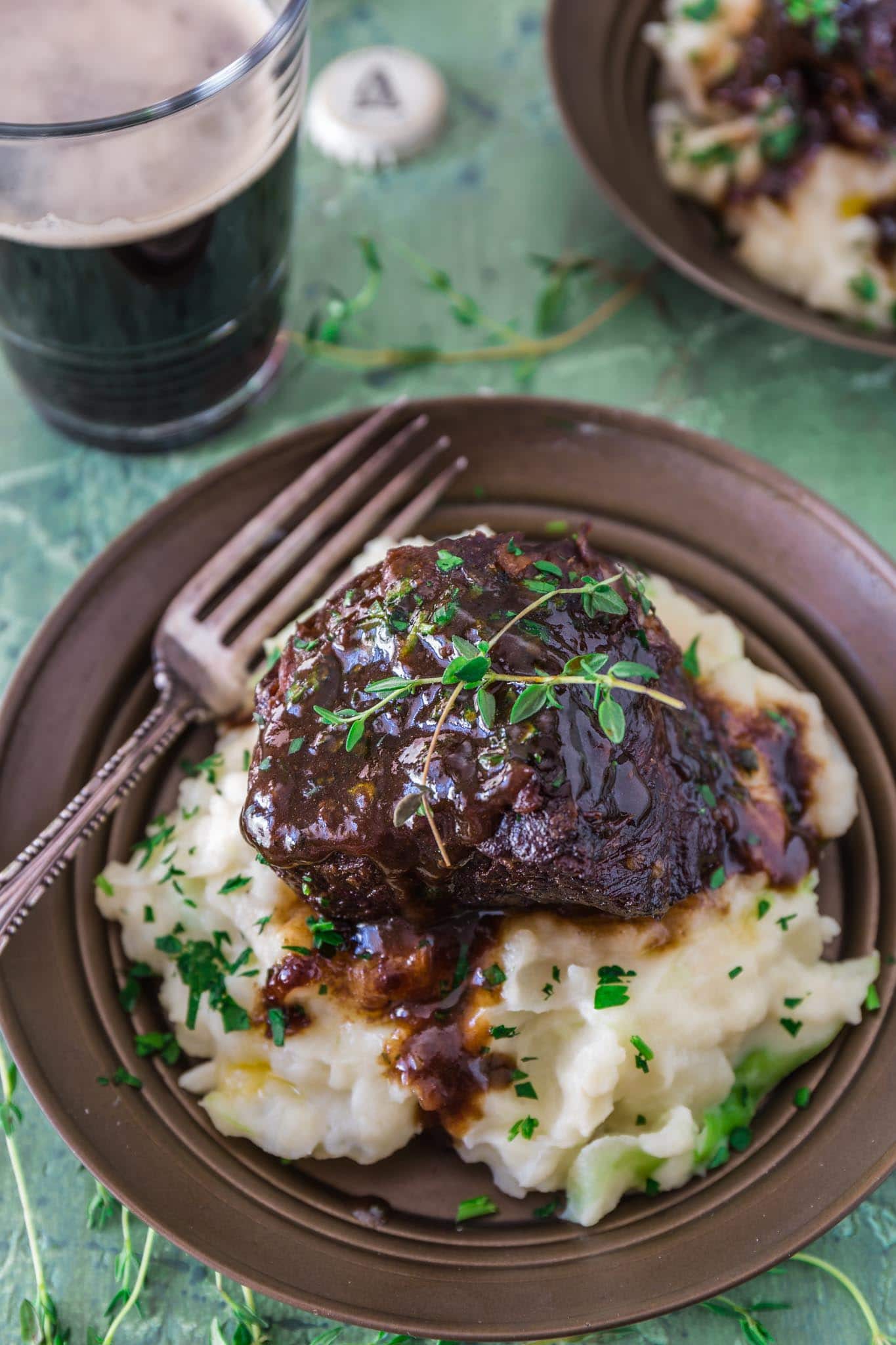 TAKE YOUR BRAISED SHORT RIBS TO THE NEXT LEVEL:
Once your short ribs have cooked for most of the morning (or afternoon), they will be perfectly fall-of-the-bone tender.
Can you eat them right away? Yes. Should you eat them right away? Nope. Do yourself a favor and bring that liquid to the stove to reduce it into a rich dark gravy that will have your guests licking their plates clean!
A handful of chopped herbs, like parsley, adds freshness and a touch of that St. Patrick's Day green color for the luck of the Irish.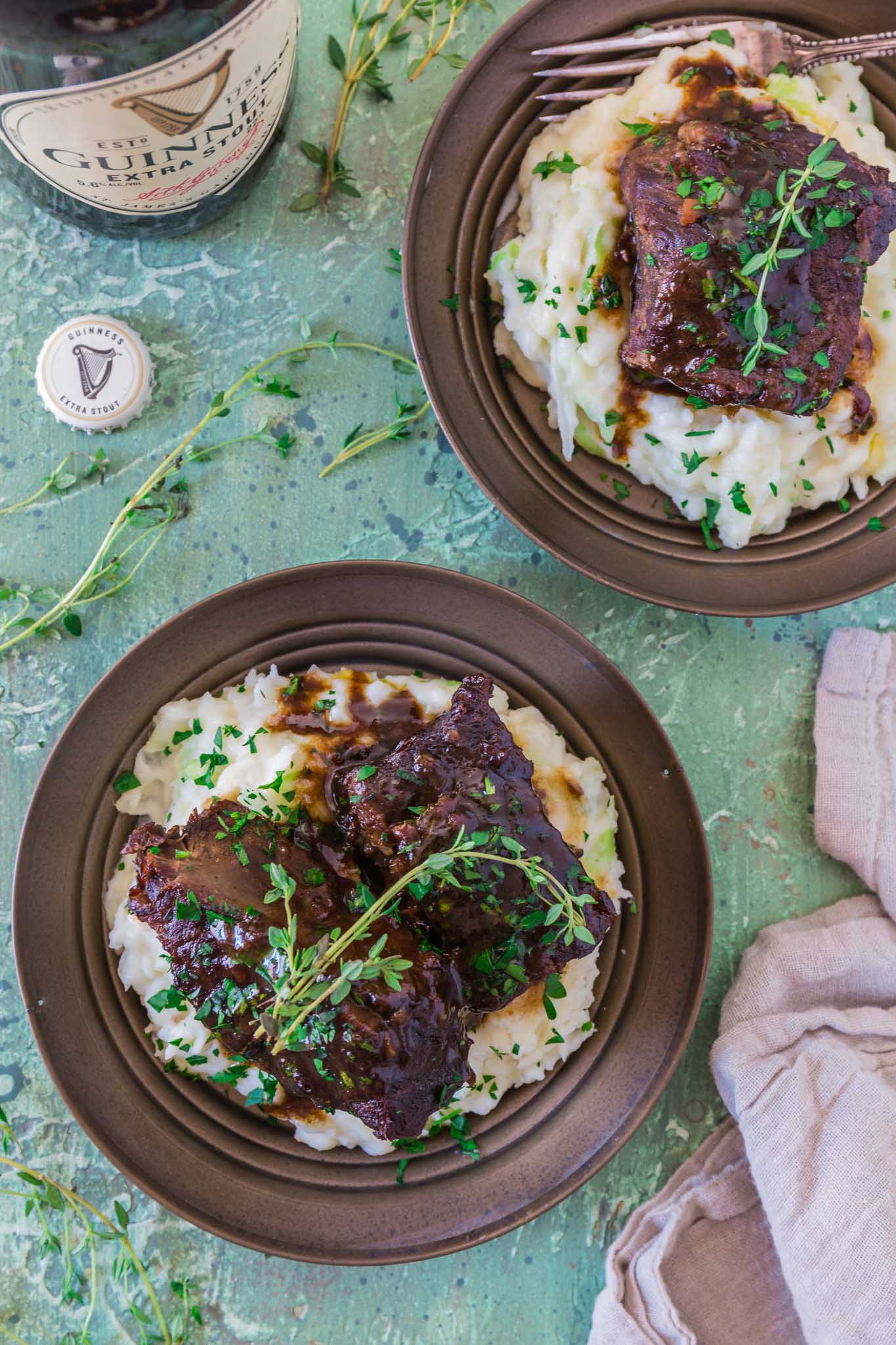 MAKE IT AHEAD AND SERVING TIPS
If you consider yourself a patient person, go ahead and cook this the day before you plan on serving it.
The short ribs will develop even more flavor in the fridge overnight and the fat will solidify, making it easy to remove once it's chilled. They can be refrigerated for up to two days and easily reheat on the stove or in the oven.
And while my red wine braised short ribs are usually served over polenta (or pasta), the beer version goes perfectly with mashed potatoes. Bonus points if you whip up some colcannon (Irish mashed potatoes with cabbage) to celebrate your Irish heritage – or just for fun, in my case – on St. Patrick's Day!
P.S. The remaining Guinness can be used to make my Guinness Chocolate Cake. Hint hint!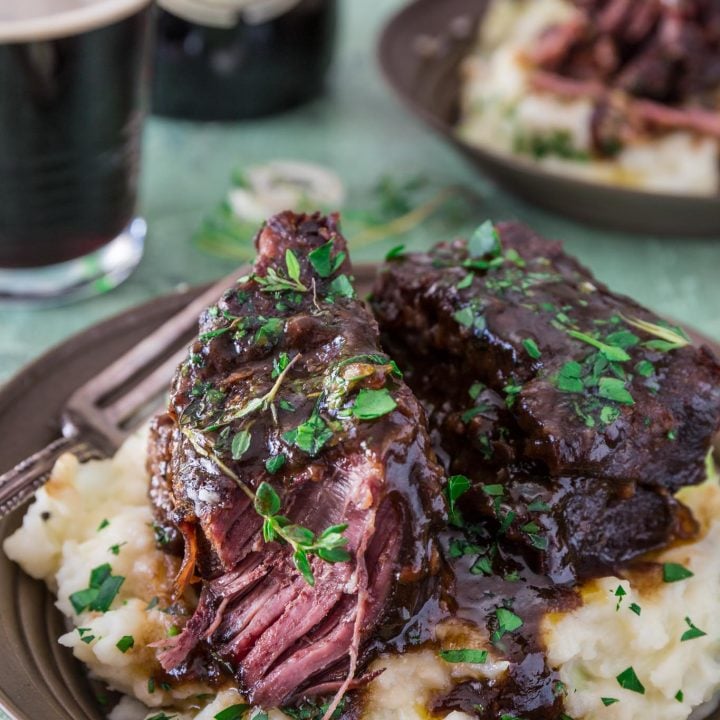 Stout Beer Braised Short Ribs
Yield: 4-6
Prep Time: 30 minutes
Cook Time: 3 hours
Total Time: 3 hours 30 minutes
Ingredients
4 pounds bone-in beef short ribs, cut crosswise into 2-inch pieces
Salt and freshly ground pepper
2 tablespoons vegetable oil
1 large onion, chopped
4 garlic cloves, minced
1 leek, white and light green parts only, chopped
2 medium carrots, peeled and chopped
2 celery stalks, chopped
1 tablespoon all purpose flour
2 cups stout beer
3 cups beef broth
2 tablespoons brown sugar
5 sprigs thyme
2 bay leaves
1 tablespoon Dijon mustard
Chopped parsley to taste
Instructions
Preheat oven to 300 degrees.
Pat the short ribs dry with a paper towel and season generously with salt and pepper. Heat the oil in a large Dutch oven, over medium high heat. Brown the short ribs on all sides, about 2-3 minutes per side, working in batches if necessary. Remove browned short ribs to a plate and discard most of the fat, leaving about 2 tablespoons in the pot.
Lower the heat to medium and add the onions, garlic, carrots, celery and leek. Cook for about 5 minutes, stirring occasionally, until softened and fragrant. Add the flour and cook, stirring constantly, until well combined.
Add the beer and beef broth and, using a wooden spoon, scrape all the brown bits from the bottom of the pot. Then, stir in the brown sugar, bay leaves and thyme sprigs. Add the short ribs and bring to a boil. Once boiling, cover and transfer to the oven.
Cook until the short ribs are very tender, about 3 hours.
Option #1 - Serve same day. Remove pot from the oven and carefully scoop out the ribs from the pot. Remove the bones and tendons, being careful not to shred the meat. Reserve. Strain the liquid through a fine-meshed sieve into a clean saucepan. Stir in the mustard and cook the sauce until it's reduced to a consistency thick enough to coat the back of a spoon, removing the excess fat as it rises to the surface. Season sauce to taste with salt and pepper. If the short ribs have cooled, you can add them to the sauce to reheat them.
Option #2 - Make one day ahead. Remove pot from the oven and let it cool to room temperature. Carefully remove ribs from the liquid and remove bones and tendons, being careful not to shred the meat. Strain the liquid through a fine-meshed sieve, getting rid of the veggies. Return the short ribs to the sauce and refrigerate overnight. The next day, the fat will have solidified on the surface. Remove it and discard. Remove the ribs and heat the sauce. Then, run the sauce through a fine-meshed sieve again, into a clean saucepan. Stir in the mustard and cook the sauce until it's reduced to a thick consistency. Season sauce to taste with salt and pepper. Add the short ribs to the pan to reheat.
Serve, garnished with chopped parsley or thyme sprigs.
FOR THESE STOUT BEER BRAISED SHORT RIBS, I RECOMMEND:
This post contains affiliate links.