Homemade Irish Cream
Have you ever tried making homemade Irish cream? A blender and a handful of ingredients is all it takes for this do-it-yourself version of Bailey's. Smooth, creamy and perfect for St. Patrick's Day!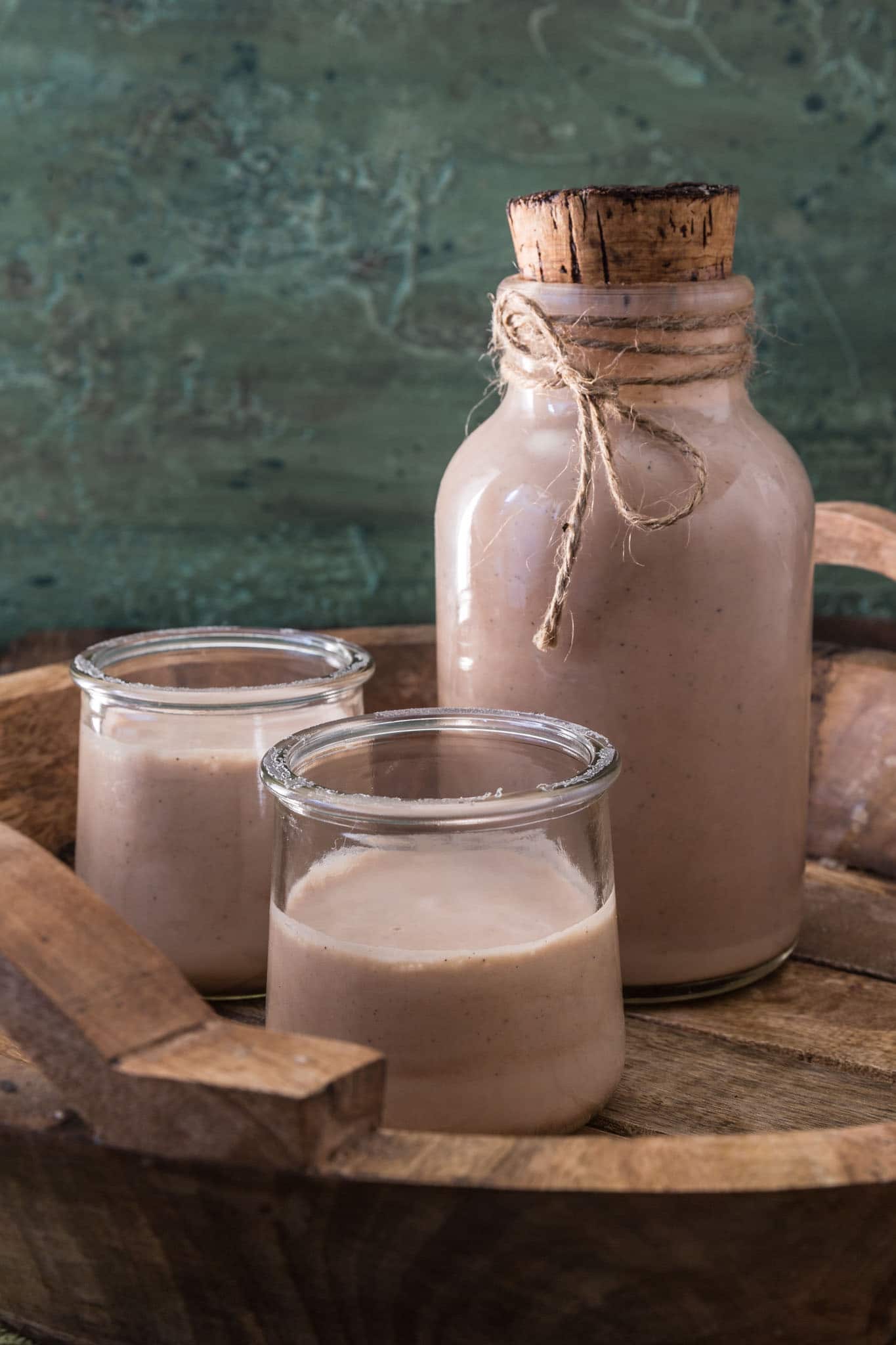 While everybody is obsessed with green everything for St. Patrick's Day, I'm sitting here, sipping a glass of this creamy homemade Irish cream and feeling really proud of myself.
There's something magical about making your own booze or liqueur. It's the same with making bread or cheese from scratch. It's an extra step from just liking to cook, that feeling of "I care so much about food/drinks that I made this with my bare hands, even though I could have gone to the store to get something similar".
I could tell you my motivation was to save money. Because, sure, making your own Bailey's is cheaper than buying a bottle at the store.
But it's not like a $20 bottle would break the bank either! It really isn't about the money. You make homemade Irish cream because you want to feel that DIY power! You want to feel like a mixologist genius and serve your artisanal liqueur after dinner to your very impressed guests, who think you are the new Dale DeGroff or something.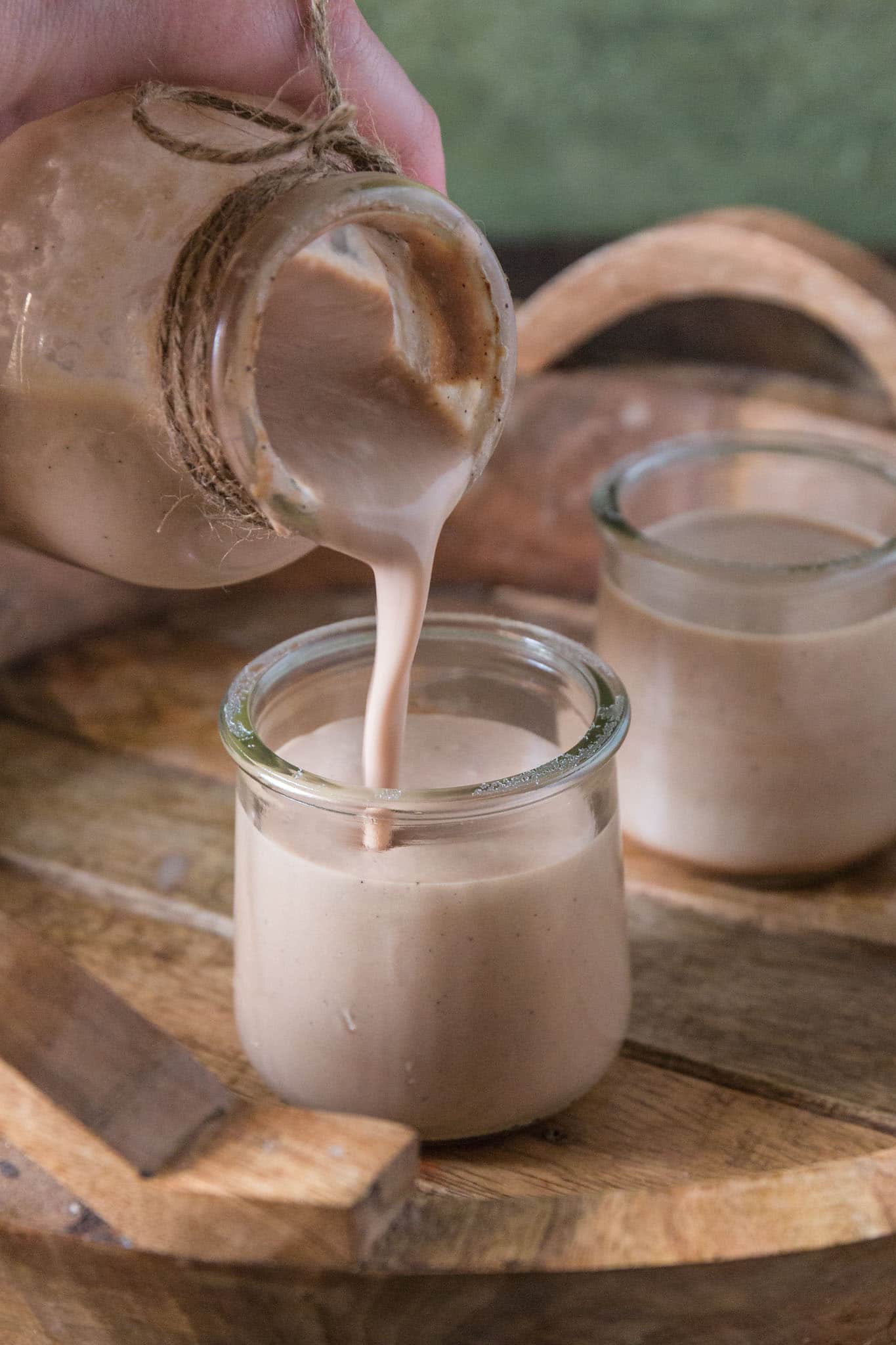 But no, you are still just you. Same old you, who hasn't slept in months (oh the joys of motherhood!) and had to hide the mess in the guest bedroom before the dinner party, but who served artisanal booze.
And all you did was throw a few ingredients in the blender! No waiting weeks/months like you would for limoncello or amaretto. Nope! Homemade Irish Cream is made in less than 5 minutes (plus an overnight rest for extra yumminess).
But your guests don't need to know that, do they? That will be our little secret!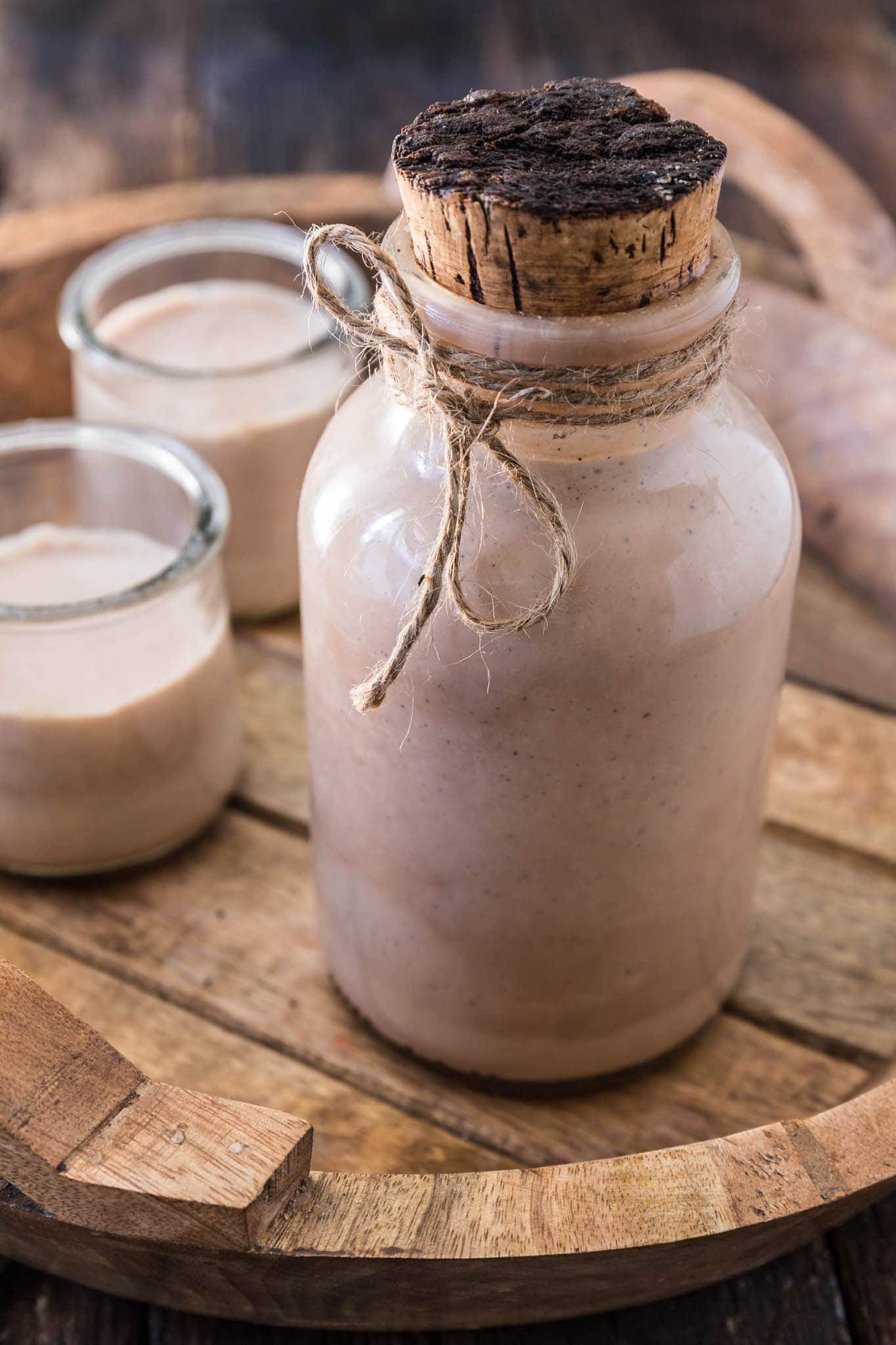 What's in Bailey's Irish Cream?
No one really knows!
Since alcoholic beverages are not regulated by the FDA, manufacturers are not required to disclose ingredient information.
Bailey's says that their product is made in Ireland and that among the ingredients are Irish whiskey, Irish cream and sugar. They also use a special process – which they say is a trade secret – to combine the cream and whiskey and prevent them from separating during storage.
Well, we don't need that special technique. Our homemade Irish cream will be refrigerated and, unlike Bailey's, won't need to last 2 years as it is so delicious that it will probably be gulped down in a few days.
And as for the ingredients, we start with the cream and whiskey and we figure out the rest. I got some help and inspiration from some recipes I found online (all very similar and therefore impossible to give credit to just one). From there, I experimented with a few variations and came up with what I think is a damn good homemade Bailey's!
What's great about making homemade liqueur is that you get to tailor it to your own tastes. Don't like it too sweet? Add more cream. Don't like coffee? Omit the instant espresso. Want a stronger coffee flavor? Add more of it. Less boozy? Add less whiskey. More boozy? Oh, you know what to do!
I also find that this Irish cream is creamier than the original Bailey's and that's why I love it so much, especially so it doesn't get too watered down when served on the rocks. If you want it more like the original, just add a few splashes of milk to reach the desired consistency.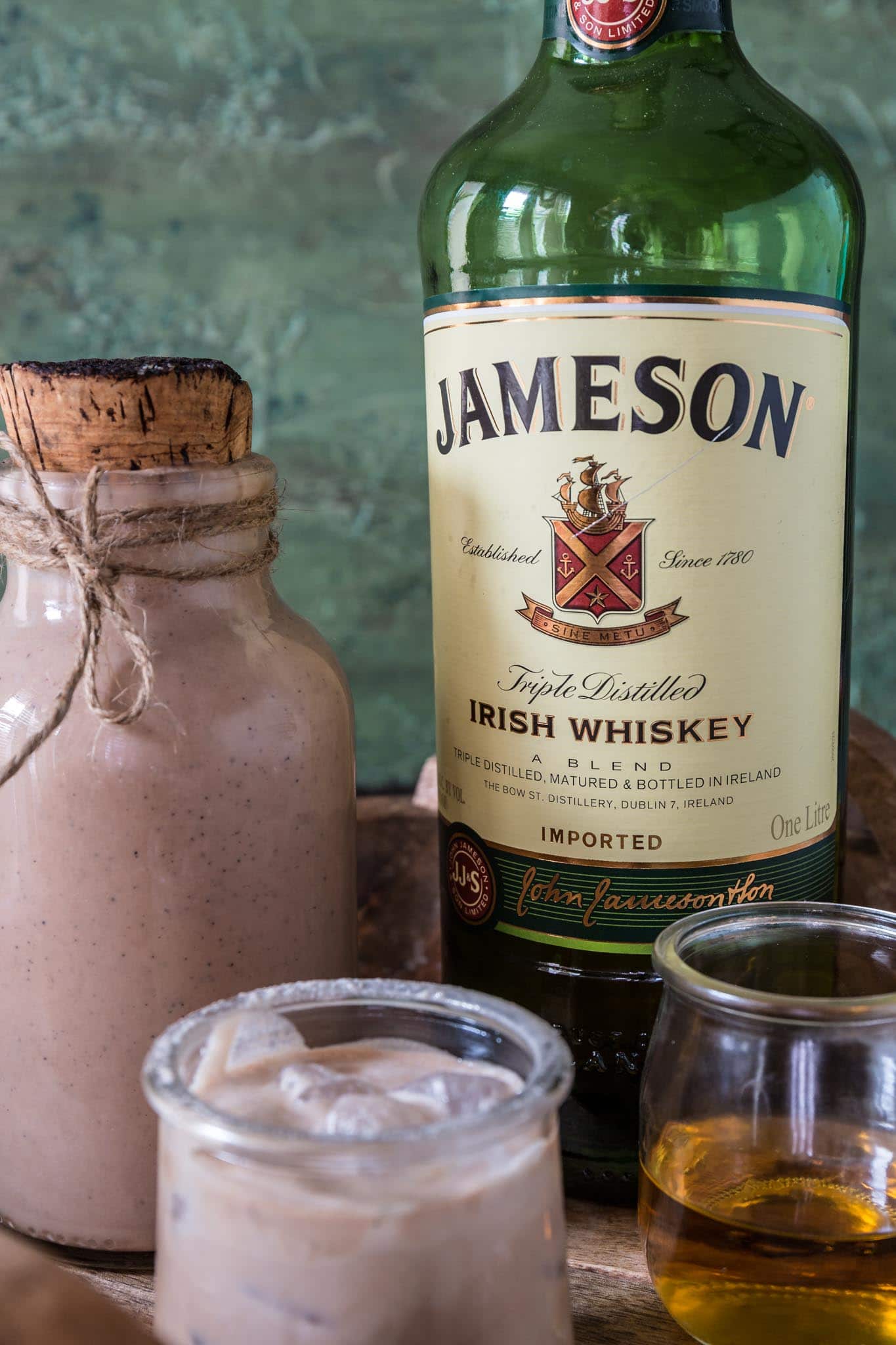 You gotta go with an Irish whiskey!
You just have to, sorry. You simply can't make Irish cream with Scotch whisky. Unless you want a leprechaun to come cause havoc in your life! 😜
I went with a classic (Jameson), but any good quality Irish whiskey will do. If you're not a whiskey drinker, this will be equally delicious with vodka, rum or whatever spirits you fancy.
And while I'm sure you will want to enjoy your homemade Irish cream as-is or on the rocks, I also recommend you try it in cocktails, coffee, hot chocolate, milkshakes, over ice cream or in indulgent desserts. It also makes a lovely (and delicious) holiday gift!
More St. Patrick's Day Recipes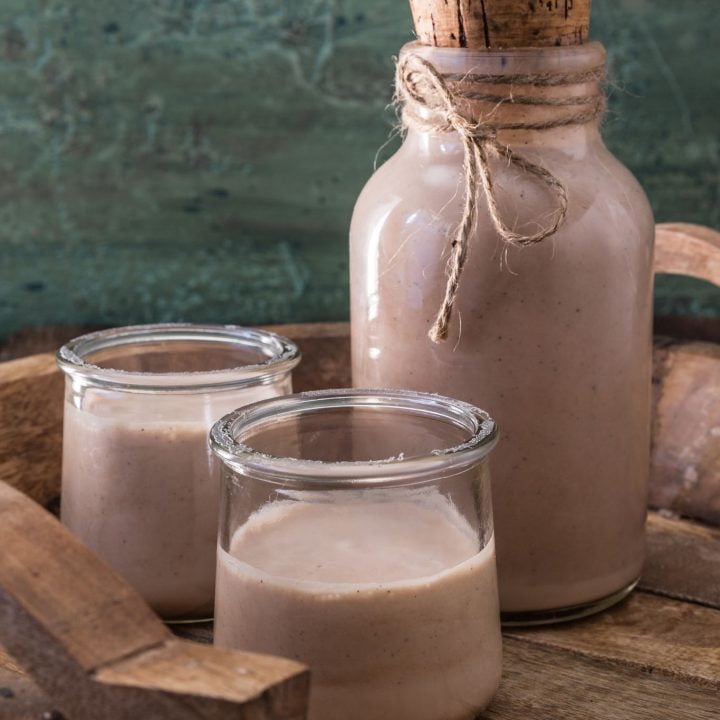 Homemade Irish Cream
Yield: 3 cups
Prep Time: 1 minute
Total Time: 1 minute
Ingredients
1 1/2 cups Irish whiskey (or to taste)
1 1/2 cups heavy cream
1 (14 ounces) can sweet condensed milk
1 tablespoon unsweetened cocoa powder
1/2 teaspoon instant espresso powder
1 teaspoon vanilla extract
1/4 teaspoon almond extract
Instructions
Combine all the ingredients in a blender and blend for 30 seconds, until smooth.
Pour into a bottle and refrigerate until ready to use. It keeps for about a month.
Shake well before serving. It is great on the rocks!
FOR HOMEMADE IRISH CREAM, I RECOMMEND:
This post contains affiliate links.