Guinness Chocolate Cake
This year, I'm celebrating St Patrick's Day with a delicious and rich Guinness Chocolate Cake!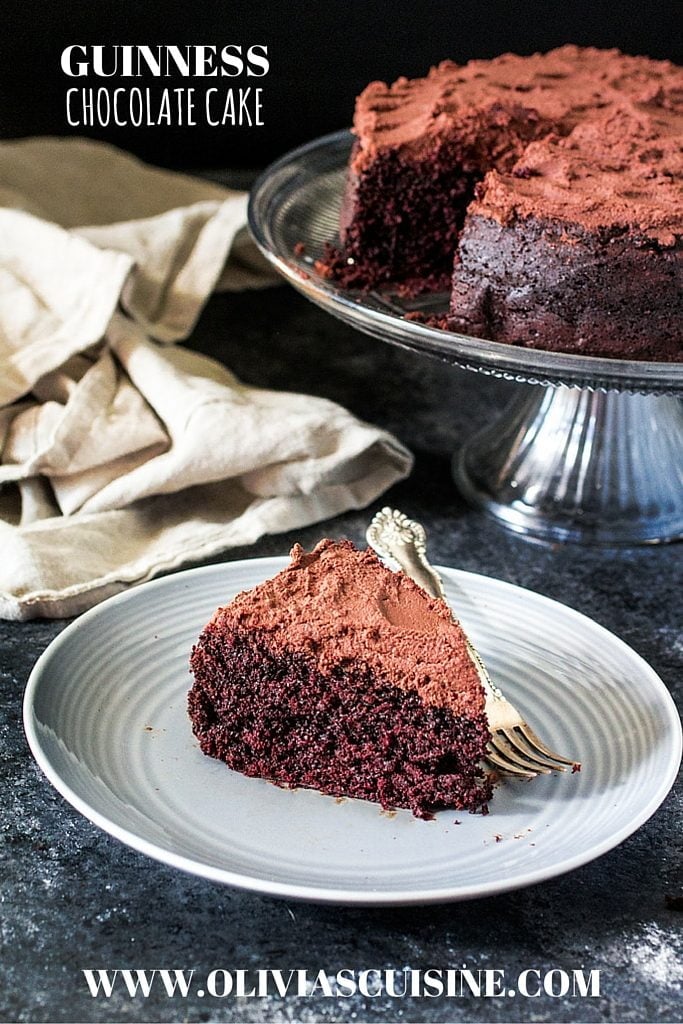 In about 10 days, the streets of NYC will be filled with drunk people wearing green clothing and shamrocks. Me? I'll be hiding at home, putting my booze into good use: food.
Oh yeah, a few bottles of Guinness go a long way: beef stew, chili, bread, onion rings, soup and, wait for it, chocolate cake! ? And, okay, I admit it. Maybe we will drink a glass or two. But I definitely won't be joining the bar hopping crowd, as my "getting shit face drunk" days are way behind me. Nowadays, it's all about the food for me!
If you're looking for something to get in the mood for St. Patrick's Day, I highly recommend this Guinness Chocolate Cake. While you can't taste the beer in the final product, the Guinness does give it a slight stouty "twang" malty flavor that just makes this cake incredibly delicious!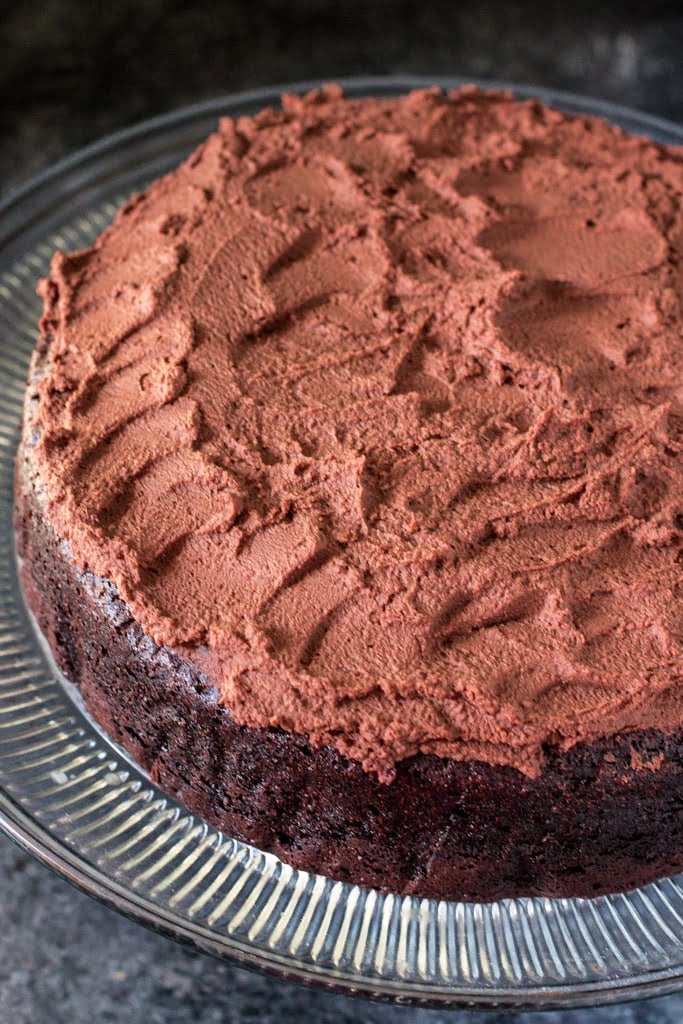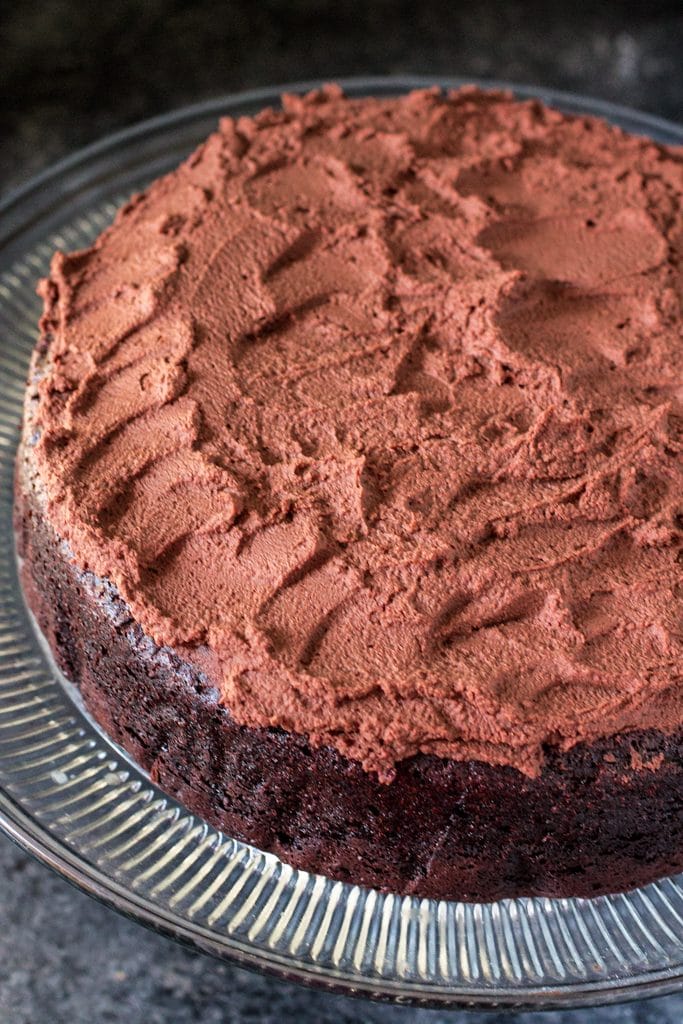 I'm not really sure how authentic Guinness Chocolate Cake is. The truth is most of the dishes Americans perceive as "traditional Irish food" are not entirely representative of actual Irish food. Like corned beef and cabbage for example, which is as Irish as spaghetti and meatballs.
So I wouldn't be surprised if this cake was just a non-authentic twist on some tradition imported from the Emerald Isle, created by Irish-Americans.
However, authentic or not, once you bite into this intense chocolate cake, it won't matter, I promise. This cake is luscious, rich but not too heavy and oh-so-chocolate-y! Chances are it will be one of the best chocolate cakes you have ever tasted.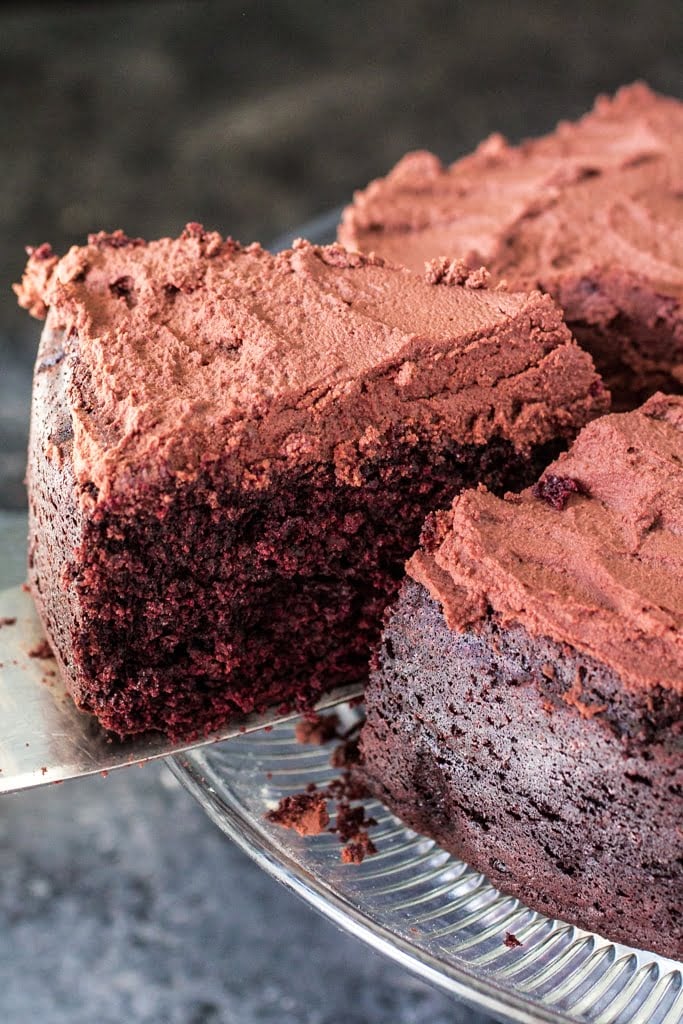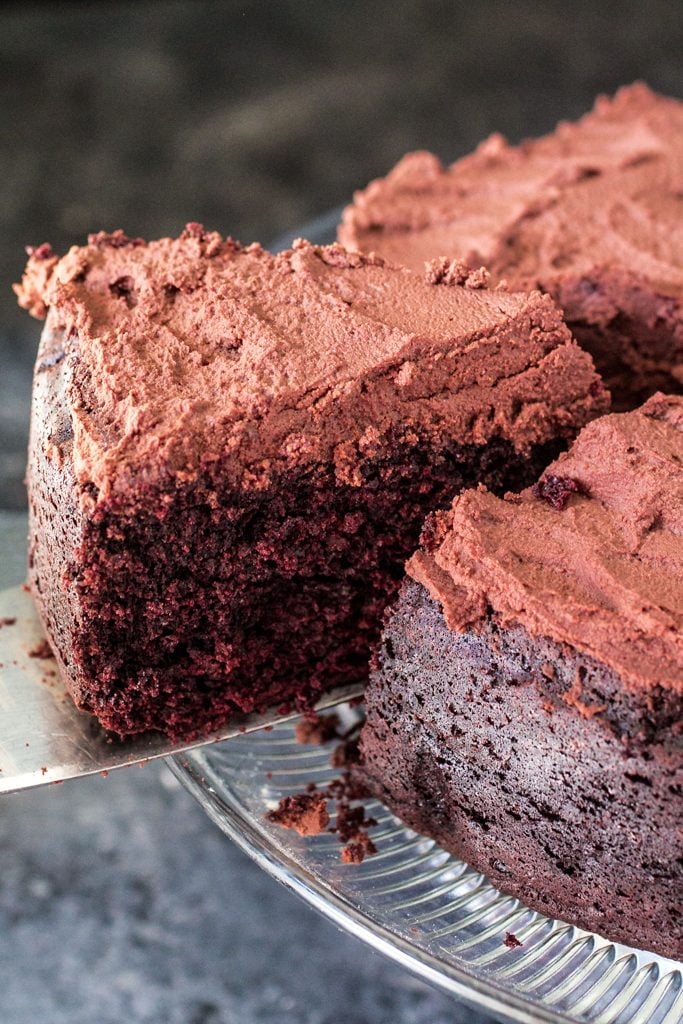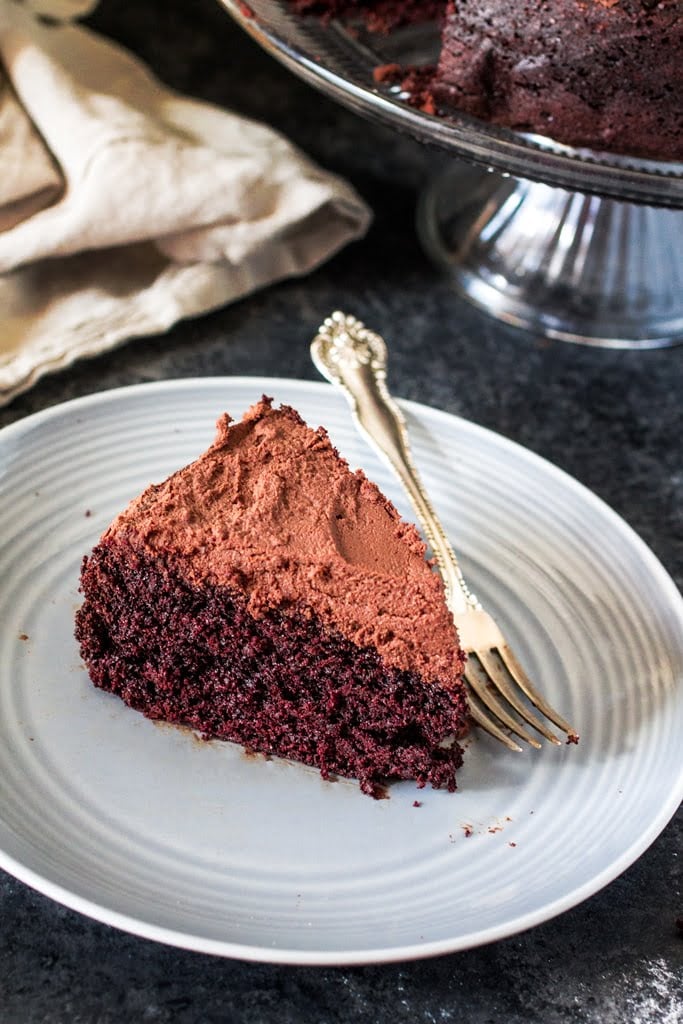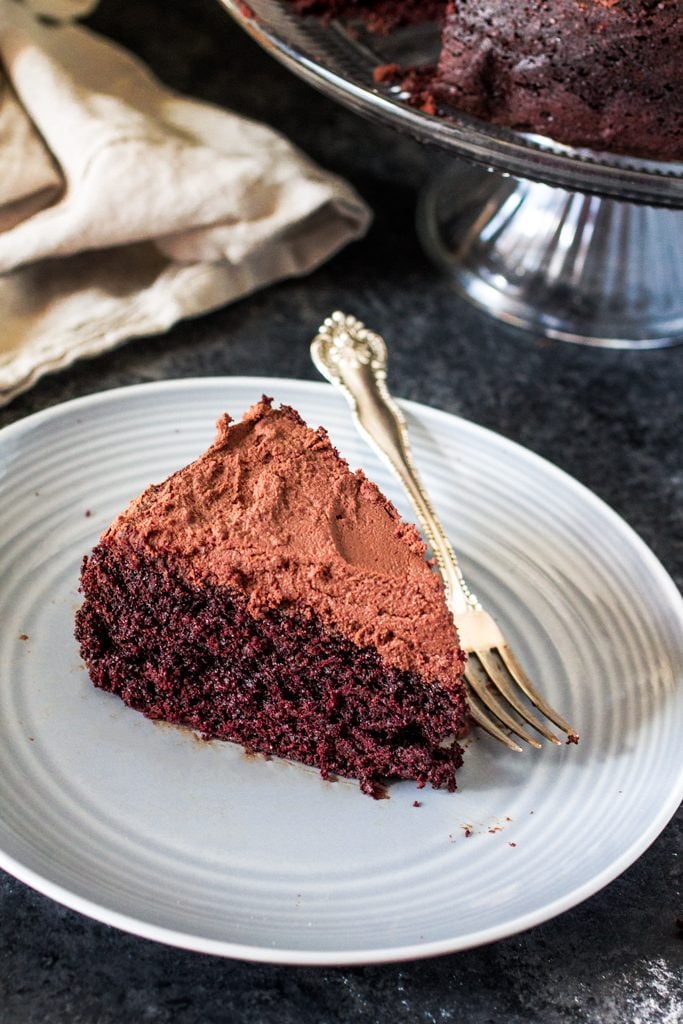 Most Guinness Chocolate Cake recipes are served with cream cheese frosting. I decided to go with whipped ganache, because I'm a (never recovering) chocoholic and thought I could make this cake even more delicious and decadent.
As you probably already noticed, cake decorating is not one of my fortes. So please believe me when I say that even though this is not the prettiest cake you've ever seen, it is definitely the yummiest!
Just be careful to not leave it unattended for a long time, or a leprechaun might steal it! ??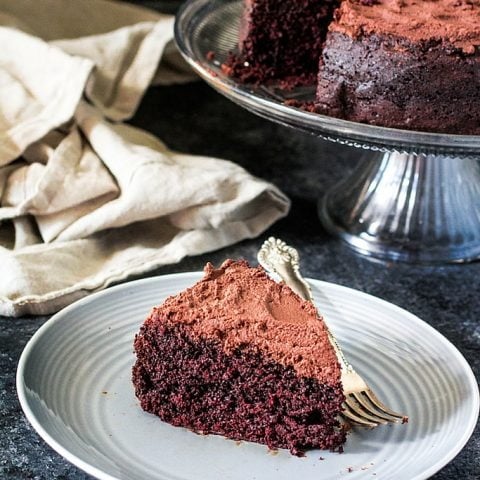 Guinness Chocolate Cake
Yield: 10 to 12
Prep Time: 1 hour 15 minutes
Cook Time: 45 minutes
Total Time: 2 hours
Ingredients
Guinness Chocolate Cake:
1 cup Guinness stout
2 sticks (1 cup) unsalted butter
2 cups sugar
2 large eggs
1 cup sour cream
1 tablespoon pure vanilla extract
4 oz bittersweet (60% cacao) chocolate, roughly chopped
1/2 cup unsweetened cocoa powder
2 cups all purpose flour
2 1/2 teaspoons baking soda
Whipped Ganache Frosting:
16 ounces bittersweet chocolate, chopped fine
2 cups heavy cream
Instructions
Pre heat your oven to 350F degrees.
Prepare a 9inch springform pan by buttering and layering the bottom and sides with parchment paper. Reserve.
In a saucepan, combine the Guinness and the butter. Set it on the stove, over medium heat, and cook until the butter melts. Remove from the heat and add the chopped chocolate, stirring until it melts. Then, add the cocoa powder and continue stirring until incorporated and smooth. Reserve to cool slightly.
Using a stand (or hand) mixer, beat the eggs and the sugar until fluffy and pale. Add the sour cream and the vanilla extract and mix until combined. Add the Guinness mixture. Then, slowly add the flour and the baking soda, mixing just until combined.
Pour the batter into the prepared pan and bake for 45 to 60 minutes or until a a toothpick inserted in the center of the cake comes out with a few crumbs clinging to it. (It is supposed to be damp, so don't be scared!)
Let the cake cool completely before removing from the pan.
In the meantime, prepare the frosting by heating the heavy cream in a saucepan, over medium heat. Once it starts to simmer, pour it over the chocolate and let it stand for 2 minutes. Then, stir until the chocolate is completely melted and incorporated with the cream. Place it in the fridge for at least one hour.
Once the ganache is cold, place in the bowl of a stand mixer and whisk on high for 2 to 3 minutes.
Spread the whipped ganache on the cake and serve.