Leftover Turkey Gumbo
This turkey gumbo makes good use of that leftover Christmas or Thanksgiving turkey. Warm, comforting and a must during the cold weather!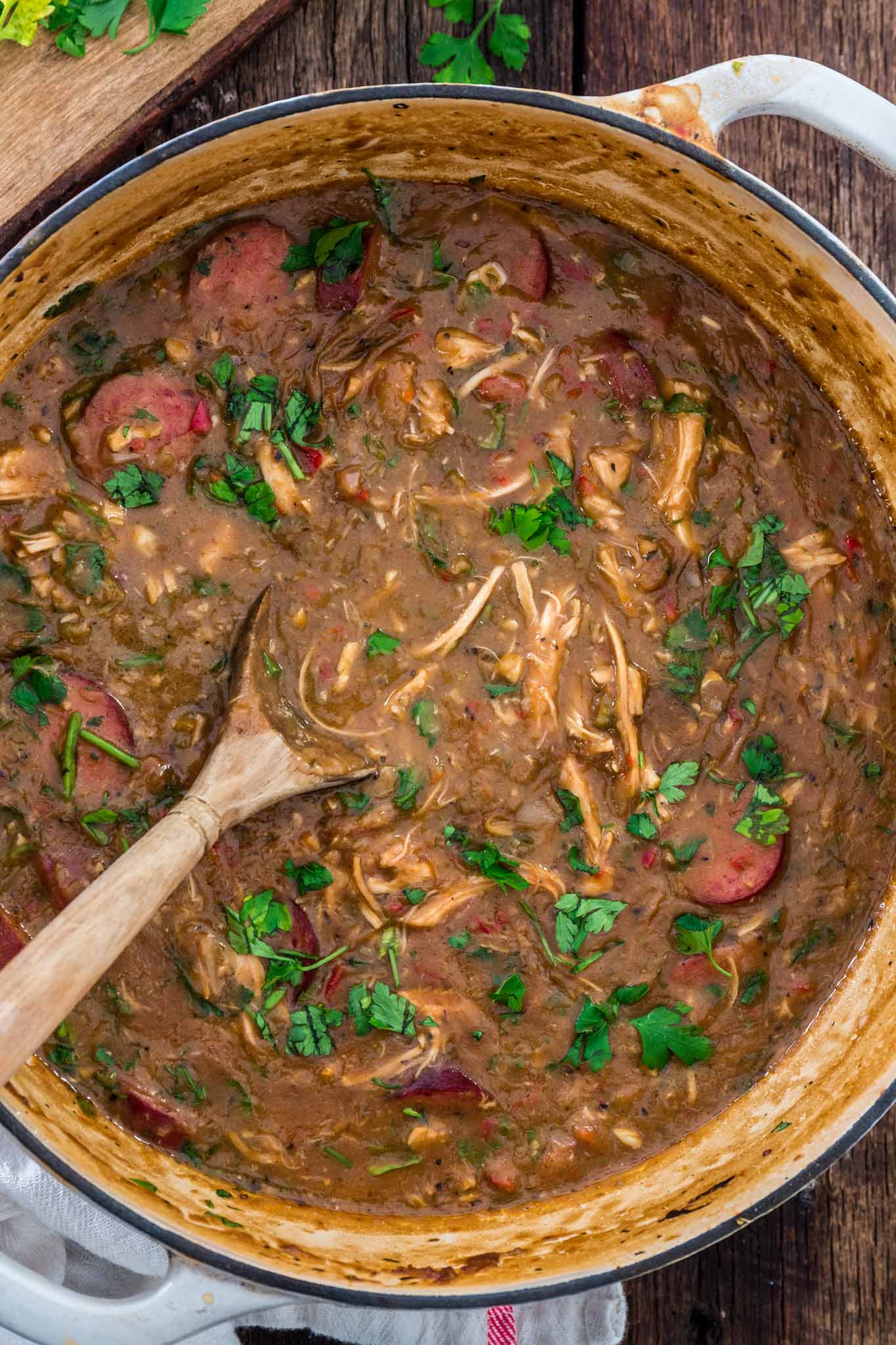 This post is sponsored by Jennie-O.
And this dreaded day is here. The day my family goes back to Brazil!
If you've been following along the past few months, you probably knew my mom was here, spending some quality grandma time with baby Rebecca.
I still feel like yesterday was August and that she still has 5 months to be here. But the reality is that it's time to go! :( And I can't help but feel like everything around me is falling apart.
So what do I do? I focus on the only thing I can control right now, which is to sit here and write about food. Food is my safe place and is always going to be there to soothe my feelings!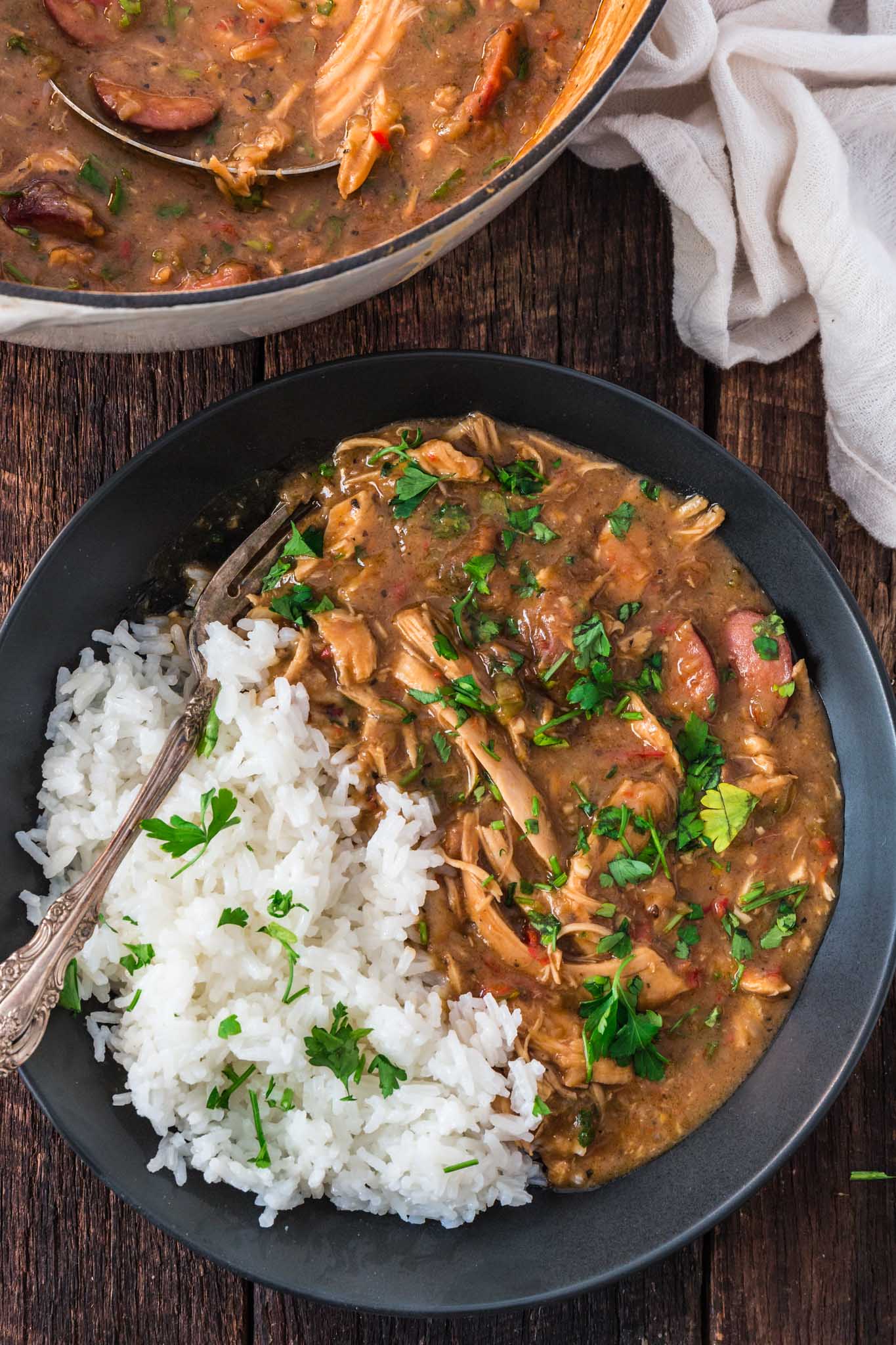 And since I'm the queen of leftover turkey recipes, I decided it was time to use the leftover turkey I had from Christmas to make some much needed comfort food.
I'm so glad I made a big pot, because the cold is going to be brutal here on the East Coast this weekend and we are going to need something to keep us warm. Cold weather and a broken heart are not a good combination!
Good thing there's turkey gumbo and Netflix to make it all better.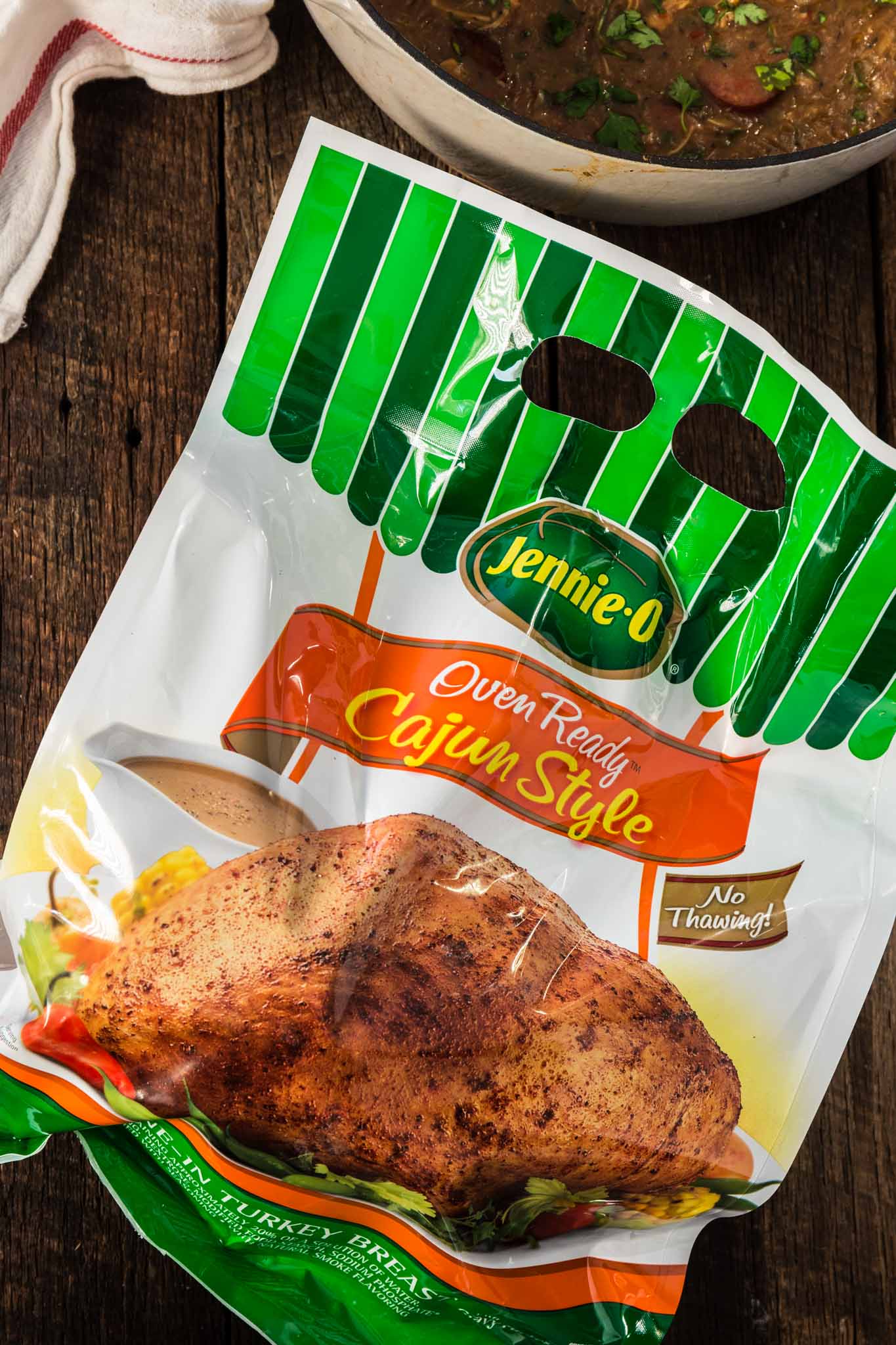 My inspiration to make a turkey gumbo was Jennie-O Cajun Style turkey breast.
I made this turkey breast for Christmas, since I had already roasted a whole turkey for Thanksgiving, and it was a hit! Everybody commented on the cajun seasoning and I had absolutely nothing to do with it, since all I did was to put it in the oven. In fact, I didn't even have to defrost it, as you can roast it frozen.
So when I ended up with quite a bit of leftover turkey, I knew I had to make something Southern-inspired. And what is more Southern than gumbo?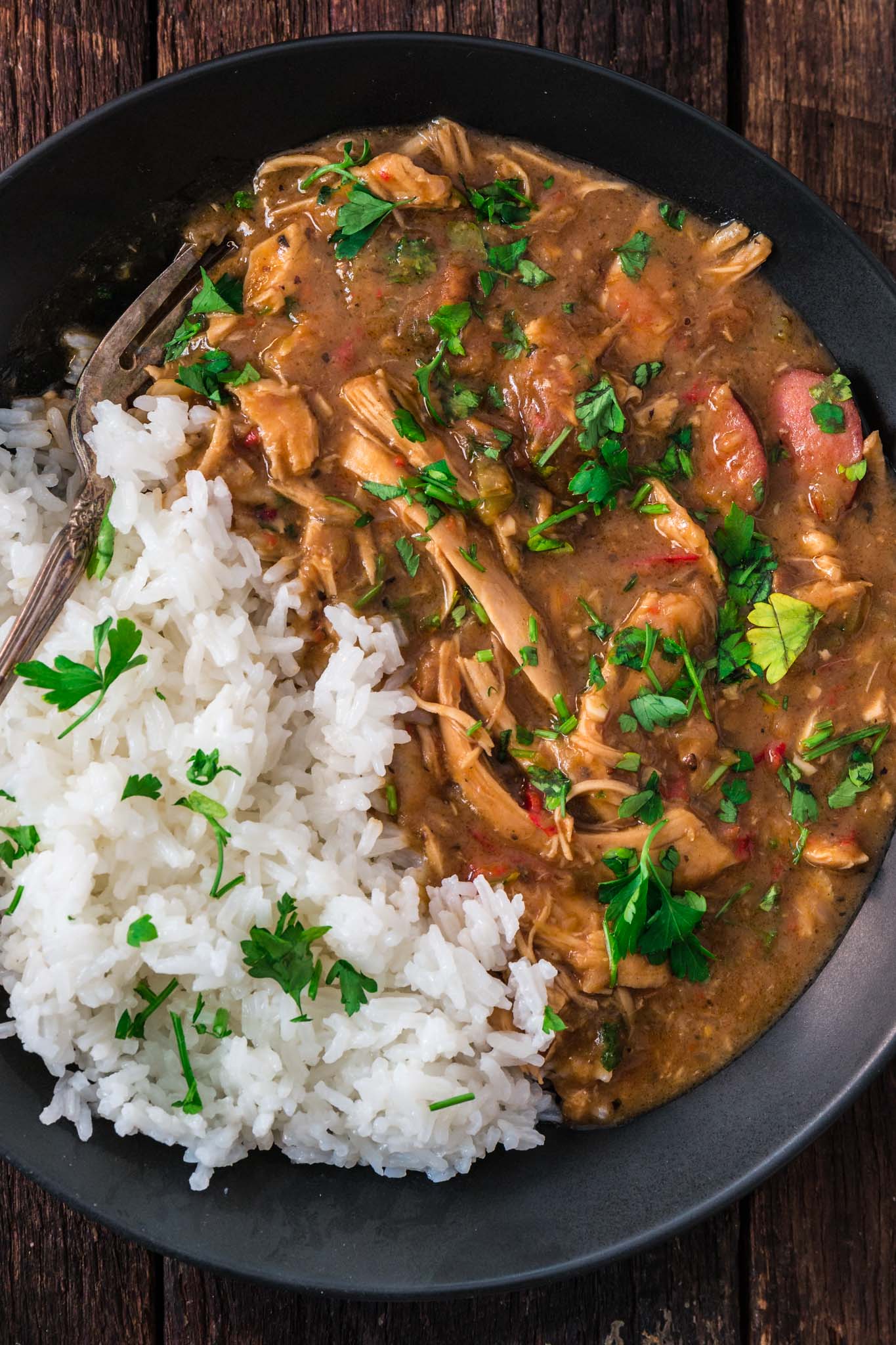 I'm in no way a gumbo connoisseur, so don't shoot me if this gumbo is far from traditional!
I took inspiration from a few seafood gumbo recipes, but using turkey and andouille sausage instead. Oh, and no okra allowed in my version. Because – sorry, okra lovers – that thing is disgusting! 😬😬😬
I was also not a fan of how long it takes to make a gumbo roux, cooking for at least 30 minutes (it took me more like 45!) until it gets chocolate brown. I much prefer a butter and flour roux, cause it's so much quicker! But I did it anyway and the results were fantastic!
A dark roux is the secret to good gumbo, after all. So be prepared to stir and stir and stir, low and slow, and be careful not to burn it!
The results are an earthy, rich and oh so comforting turkey gumbo. And I have great hopes that it will bring some warmth to my heavy heart!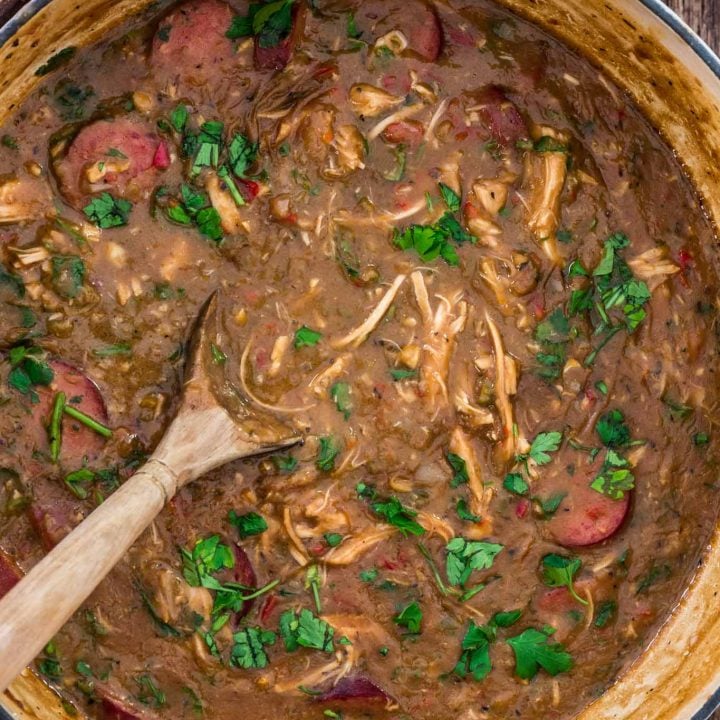 Leftover Turkey Gumbo
Yield: 8 to 10
Prep Time: 1 hour
Cook Time: 1 hour
Total Time: 2 hours
Ingredients
3/4 cup vegetable oil
1 cup flour
1 large onion, chopped
8 garlic cloves, minced
1 red bell pepper, seeded and chopped
1 green bell pepper, seeded and chopped
2 celery stalks, chopped
1 cup dark ale
6 cups chicken broth
2 bay leaves
1 teaspoon dried thyme
1 teaspoon dried oregano
1 tablespoon Worcestershire sauce
1/2 teaspoon cayenne pepper (optional)
Salt to taste
13 ounces andouille sausage, sliced
3 to 4 cups shredded leftover turkey
1/2 cup chopped parsley
Instructions
Heat the oil in a large dutch oven pot, over medium heat, for about 5 minutes so it gets very hot. Add the flour and whisk, forming a roux.
Lower the heat to medium low and cook, stirring constantly, until the roux becomes dark like chocolate, about 30 to 45 minutes. Be careful not to burn it or you'd have to start again!
Add the onions, garlic, bell peppers and celery and stir to combine. Cook for a couple of minutes until softened.
Add the beer, chicken broth, bay leaves, dried spices, Worcestershire sauce, cayenne pepper and salt. Bring to a boil, stirring occasionally, and then reduce to a simmer. Add the sausage and stir to combine. Cook for 1 to 2 hours, stirring every now and then, and skimming off the fat that rises to the surface.
Add the turkey and cook for 15 more minutes, just to warm it up.
Taste for seasoning and fix salt if needed.
Garnish with parsley and/or green onions.
Serve immediately, with rice, or keep it in the fridge overnight for the flavors to develop even more!