Croque Madame Brunch Sandwiches
Here's to the ladies who brunch!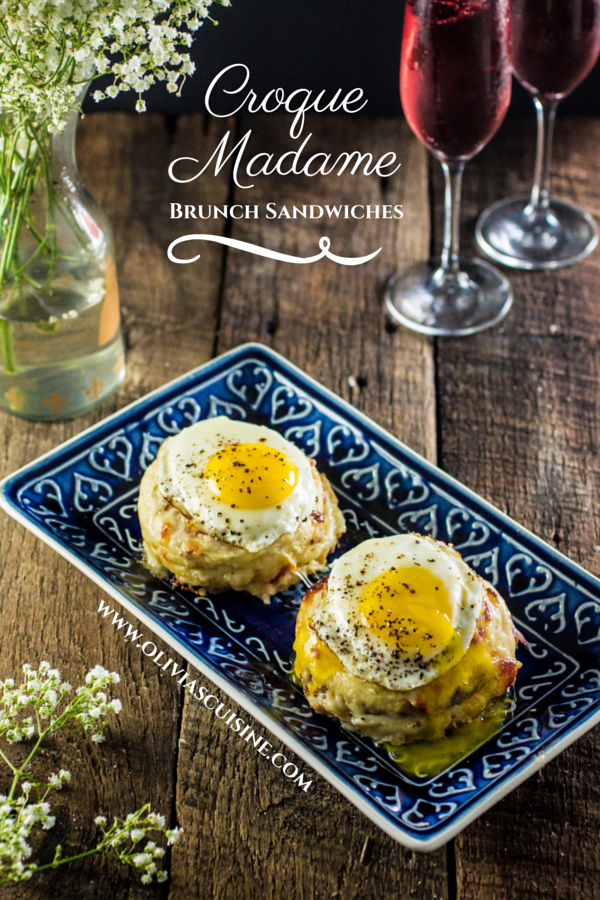 Oh yeah… Leave it to me to make the dorky musical theater reference! C'mon, who doesn't love Elaine Strich singing that song?
But let's put the small talk aside and go straight to the point here, 'cause I cannot – will not! – wait any longer to talk about these amazing, unbelievable, out-of-this-world Croque Madame Brunch Sandwiches!
First, I would like to thank our friends at Cobblestone Bread Co. for sponsoring this post and sending me a variety of delicious bagels and English muffins to try. Because, carb coma = happy Olivia!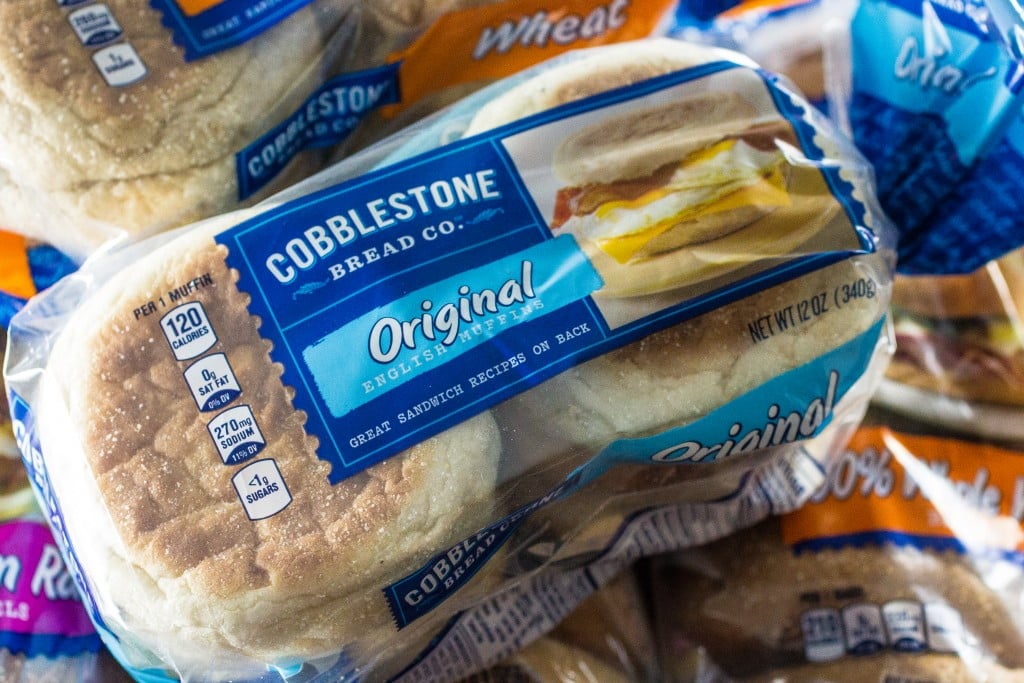 How could brunch exist without carbs? While you could go for a simple breakfast, a brunch is inherently decadent! It is not just a meal, it's a statement. It's being able to eat pancakes at 2 pm while sipping cold Mimosas without even the slightest guilt!
And while breakfast can be an on-the-go thing, brunch has to be enjoyed slowly. It is valuable leisure time with family and friends, either at your favorite restaurant or at home in your pajamas. It's that time after a busy week where you sit down and relax as if you didn't have any worries in the world. It's easy like Sunday morning, baby!
I seriously wanna smooch whoever invented brunch. *Muah!*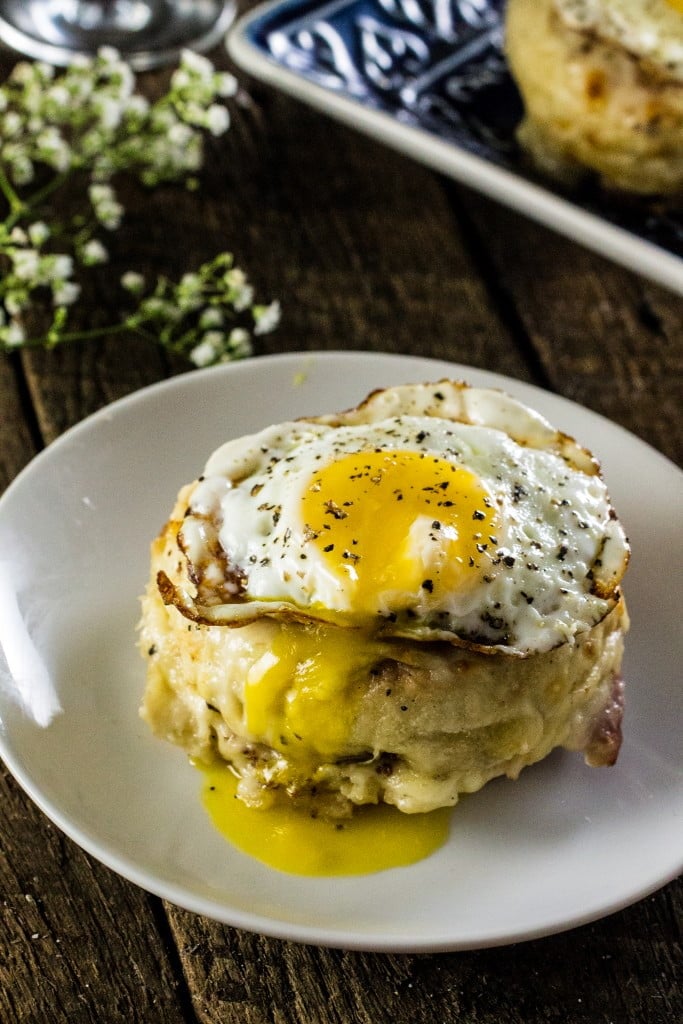 So what's your favorite brunch dish?
I bet you can guess mine! Oh yeah, you guessed it right! Croque Madame! A decadent, saucy, cheesy sandwich that demands your attention. Even its name is captivating.
So what is a Croque Madame? A Croque Madame is a Croque Monsieur, which is a fancy ham and cheese sandwich with Mornay sauce (which is a béchamel sauce with cheese), served with a fried egg on top. Apparently the egg resembles an old fashioned woman's hat, hence the "Madame" part of the name. I think it's suiting!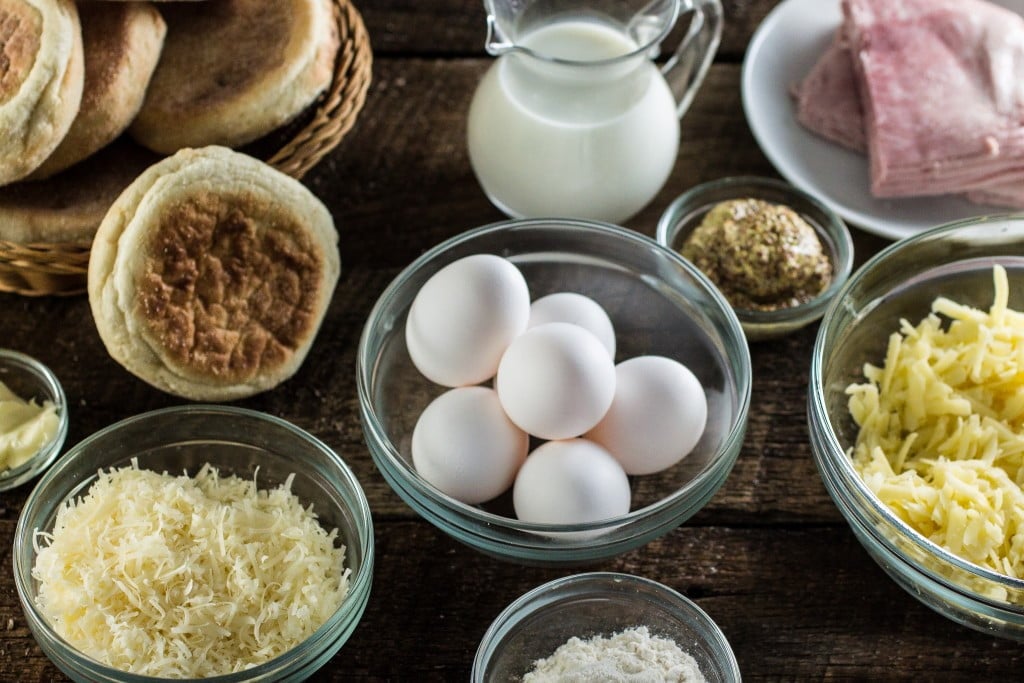 Since my Croque Monsieur recipe is one of the most popular recipes on my blog, I wanted to create a variation with the Croque Madame.
When Cobblestone Bread Co. sent me those soft, chewy English muffins, one of those cartoon-style bulbs popped over my head and I knew exactly what to make. Croque Madame Brunch Sandwiches on English muffins! I was pretty proud of myself on this one. Genius idea! (Excuse my lack of modesty!)
Who knew that a fried egg on top would bring this sandwich to a whole new level? Now I kinda wanna put a fried egg on top of everything. And yes, I mean EVERYTHING! (Ok, maybe not desserts…)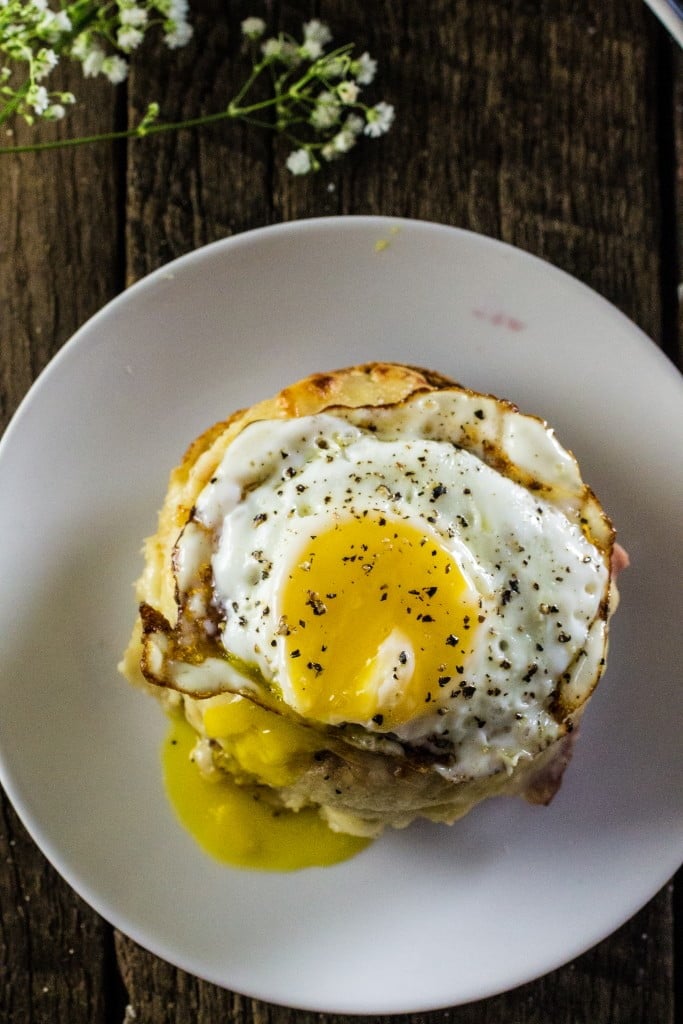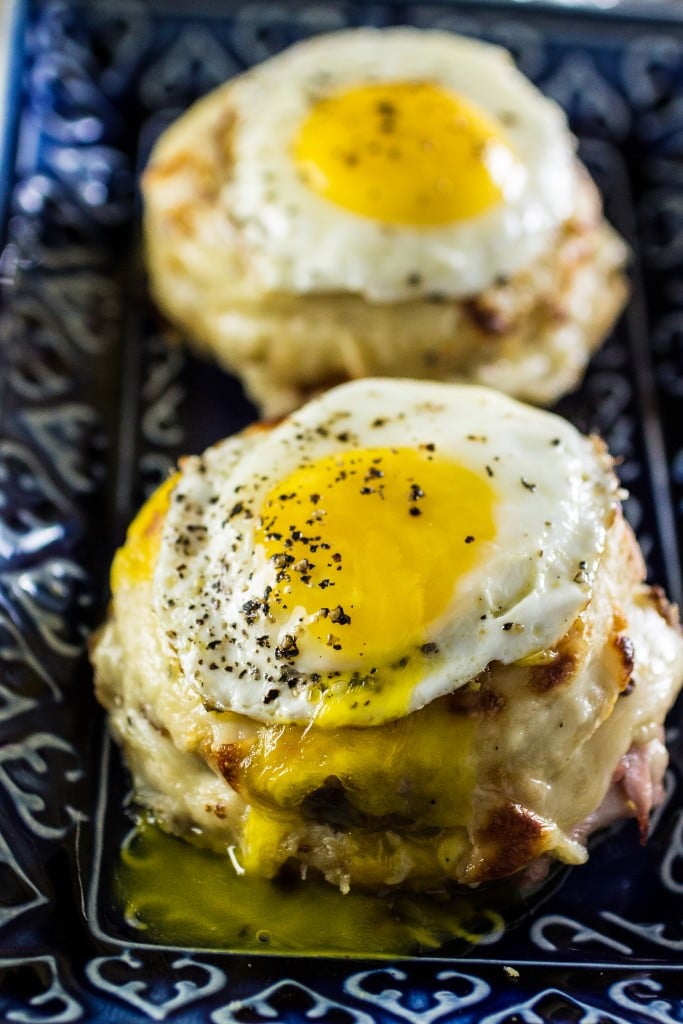 The first time I had a Croque Madame was at a brunch in a cute French bistro in NYC. One bite and I was in heaven, or better yet, in Paris! How is it that food has the power to transport you to places you've never been? Crazy, isn't it? Or maybe that just happens to me and I'm the crazy one.
But moving on…
This is the kind of sandwich you will want to eat with a fork and knife. It is so decadent, with melted Gruyère cheese and lots of cheesy sauce inside AND outside, plus the egg with a delicious runny yolk. Attempting to eat with your hands won't be very French or ladylike of you. The Madame would disapprove!
Just kidding, eat it any way you want, lick your fingers, stuff your face into the egg! Nobody cares!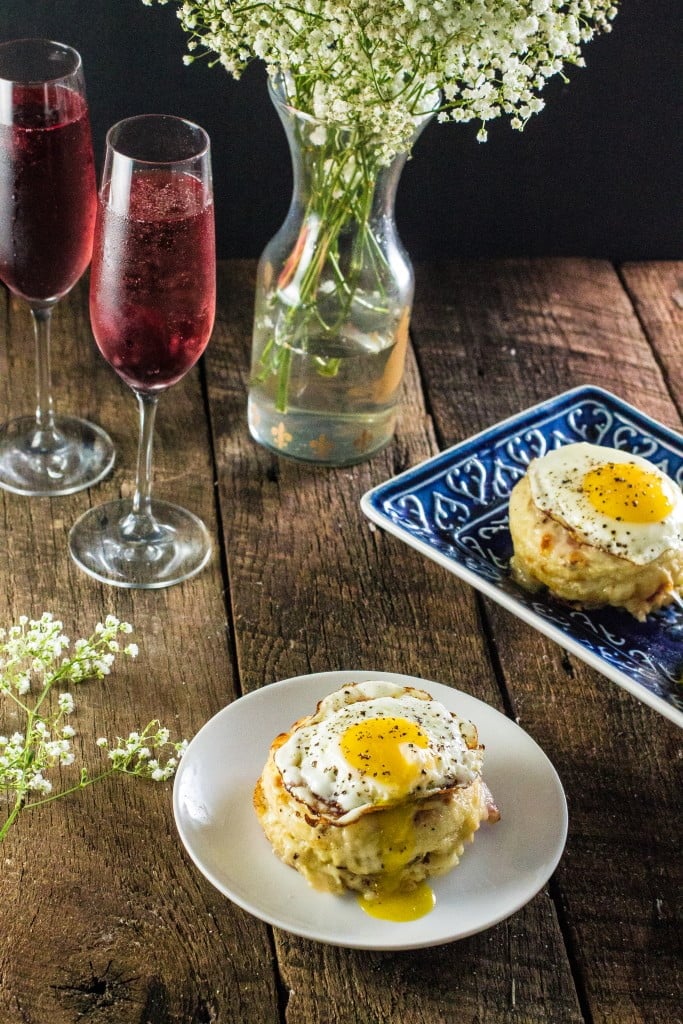 If you haven't tried a Croque Madame, you absolutely have to do it! You won't regret it! Bonus points if you try it with the delicious CBC English muffin. I would keep a stash of this stuff at your home if I were you, because I guarantee you will be addicted!
And let me tell you something: while this dish looks and sounds complicated, it is easy to make! All you will need to do on the stove is prepare the sauce and fry the eggs. The rest happens in the coziness of your oven!
You could easily assemble the sandwiches the day before and just bake them and fry the eggs before serving.
A luxurious French dish that is easy to prep and make? Oui, oui!
I'll drink to that!
P.S. Wanna keep in touch? Follow me on Facebook, Twitter, Instagram or Pinterest to stay up to date with my posts! If you end up making one of my recipes, I would love to see it! Just take a photo and post it on your preferred Social Media and tag me or use the hashtag #oliviascuisine!
P.S. 2 For more amazing brunch recipes, check out this awesome round up!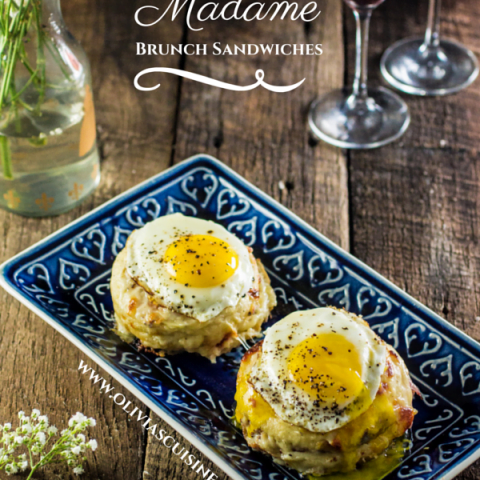 Croque Madame Brunch Sandwiches
Yield: 6 sandwiches
Prep Time: 10 minutes
Cook Time: 7 minutes
Total Time: 17 minutes
Ingredients
3 tablespoons unsalted butter
3 tablespoons all purpose flour
1 1/2 cups warm milk
Freshly grated nutmeg to taste
Salt and pepper to taste
2 1/2 cups grated Gruyere, divided
1/2 cup grated Parmigiano Reggiano
3 tablespoons grainy (or Dijon) mustard
6 slices uncured slow cooked ham
6 medium eggs
Olive oil
Instructions
Preheat your oven to 400F degrees.
In a small sauce pan, over medium heat, melt the butter and then add the flour, stirring constantly for about 2 minutes.
Slowly add the warm milk, whisking until the sauce has thickened.
Turn the heat off and season the sauce with salt, pepper and nutmeg.
Add 1/2 cup Gruyere and 1/2 cup Parmigianino Reggiano and stir until the cheese melts and incorporates into the sauce. Reserve.
Place English muffins with the inside sides up on a baking sheet covered with parchment paper.
Add 1/2 tablespoon of mustard to one side of each muffin. Then add 1 to 2 tablespoons of the Mornay sauce to the other 6 sides.
Top the mustard sides with the ham (cut the slices of ham in small pieces so they can fit in the muffin) and 1/4 cup of grated Gruyere cheese each.
Top with the remaining muffin slices.
Spoon about 1 tablespoon of Mornay sauce on top of the sandwiches and finish with the rest of the Gruyere cheese.
Bake the sandwiches for 5 minutes.
Turn on the broiler and broil the sandwiches until the top is bubbly and slightly browned.
While the sandwiches are in the oven, you can start cooking the eggs.
Heat a little olive oil in a large skillet, over medium heat.
Add the eggs and cook until the whites are firm but the yolks are still runny. Season with salt and pepper.
Top the sandwiches with the eggs and serve hot!
Notes
If you have any leftover Mornay sauce, just eat it over spaghetti! It is delish!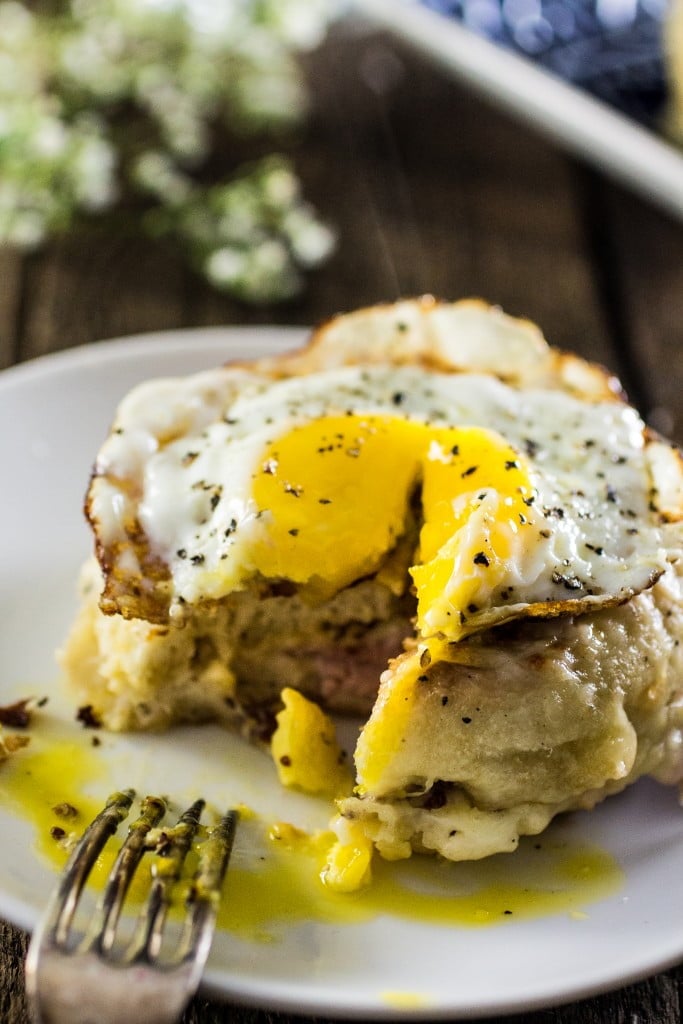 Compensation for this post was provided by Cobblestone Bread Co. via AOL Media. The opinions expressed herein are those of the author and are not indicative of the opinions or positions of Cobblestone Bread Co. or AOL.