Brazilian Beef Stroganoff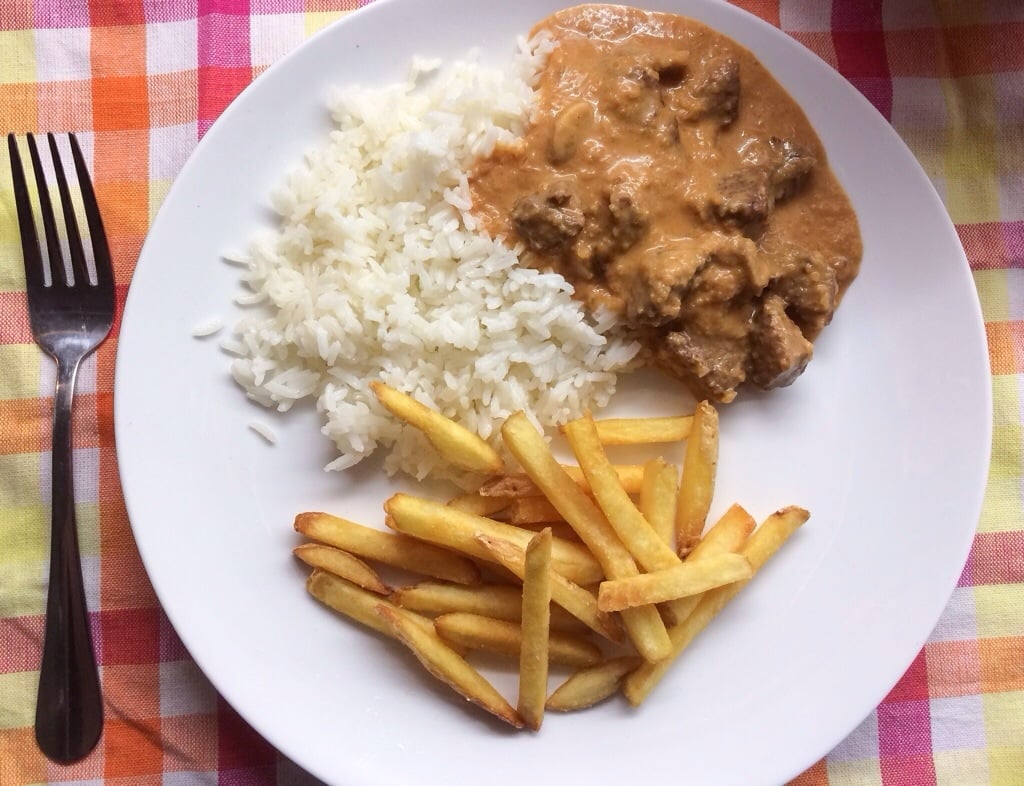 Welcome to Olivia's Cuisine. This is not my first food blog but this is the first time I decide to do it for real. If you don't know me, my name is Olivia and I live in New York City. In January of this year (2014) I got married to the love of my life! (Dramatic pause for the romantic sighs…) :-) Even though I've had a passion for cooking ever since I was little (more on that to come), getting married made me more inspired to cook and try new recipes. Nothing makes me more happy than cooking with love to take care of my husband and my brother (who is living with us for a short time).
My whole life I learned to show love through food. My mom is a successful opera singer in Brazil and had to travel a lot to sing on different states. Since we lived kinda far, my dad would pick me and my brother up from school and drop us off at my grandmother's apartment (my mom's mom) while he was at work and we would be there all afternoon til around 6pm when he would pick us up to go home. Sometimes I would even beg to stay over! The whole afternoon I would sit in one of my grandma's kitchen chairs chatting while she cooked amazing dishes. Nothing was ever boring at my grandma's table. Even the food I wasn't particularly fond of was delicious if made by my grandmother. Til this day, she makes everything with all her love and I swear you can taste it in the food. She is my biggest inspiration in the kitchen and I like to think my passion for cooking and everything food related started back in those days.
My favorite grandma's dish is without a doubt her beef stroganoff. I've been making that for friends since I was a teenager when me and my friends would go to the beach house and someone had to cook. Spoiler alert: it was always me! LOL! Today it is my husband's favorite dish in the whole world and that makes me very happy. But I know that even if I follow her recipe step by step, it will never taste like hers. It needs her love, it needs her energy. However, mine is close enough and I'm sure you will conquer lots of hearts if you make it! It is easy enough to be made on a weekday while tasting like you had to go to all sorts of trouble to make it… So it's a great option if you're into impressing your friends! :-)
I serve my beef stroganoff with rice and shoestrings potatoes, the Brazilian way. I know my American readers are used to eating stroganoff (or that bland thing you guys call stroganoff.. Believe me, you'll say that too after you taste my version!) over pasta… But I prefer it with rice and shoestring potatoes. And so will you if you give it a try! ;-)
So here we go: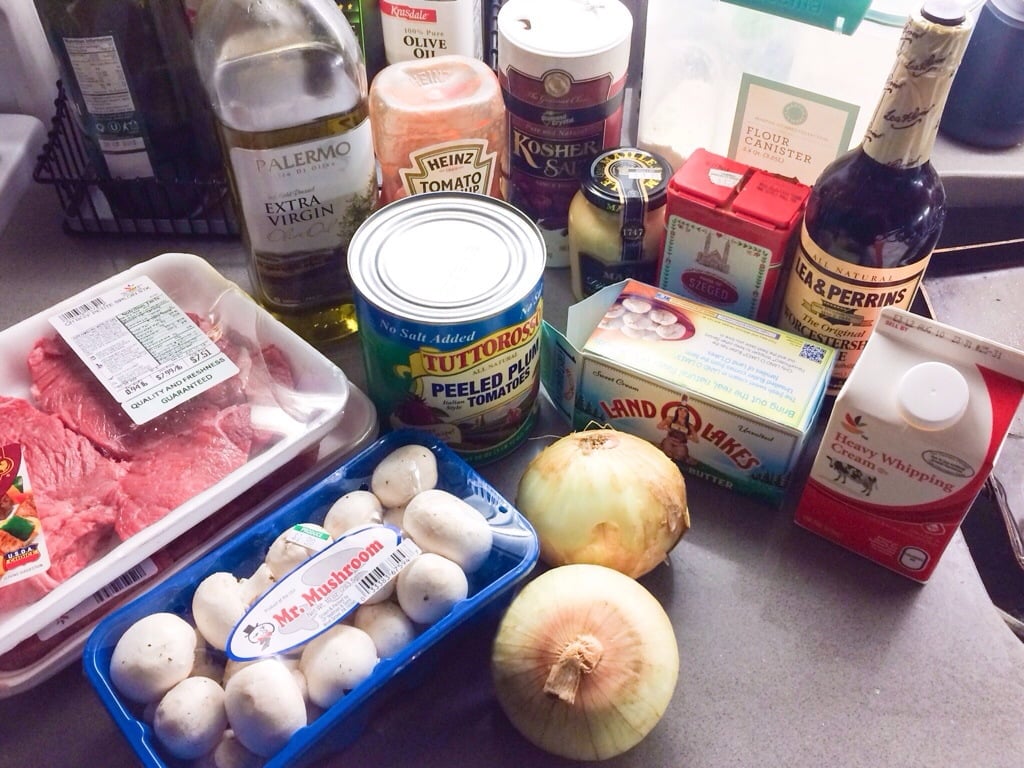 I start by grating the onion in the food processor. My grandmother always did it by hand, but let's face it: technology is here to help us! (Also, if I'm on a hurry, I just chop the onions! Shhhhhh! Don't tell grandma!)
Then I trim and cut my sirloin (or tenderloin/filet mignon if you have the $) into bite size cubes and I sprinkle them with salt, paprika and flour. The flour will help thicken the sauce later on. You can also use more or less paprika depending on how hot you like your food. I like it in between… (I'm a Libra, balance is my middle name!).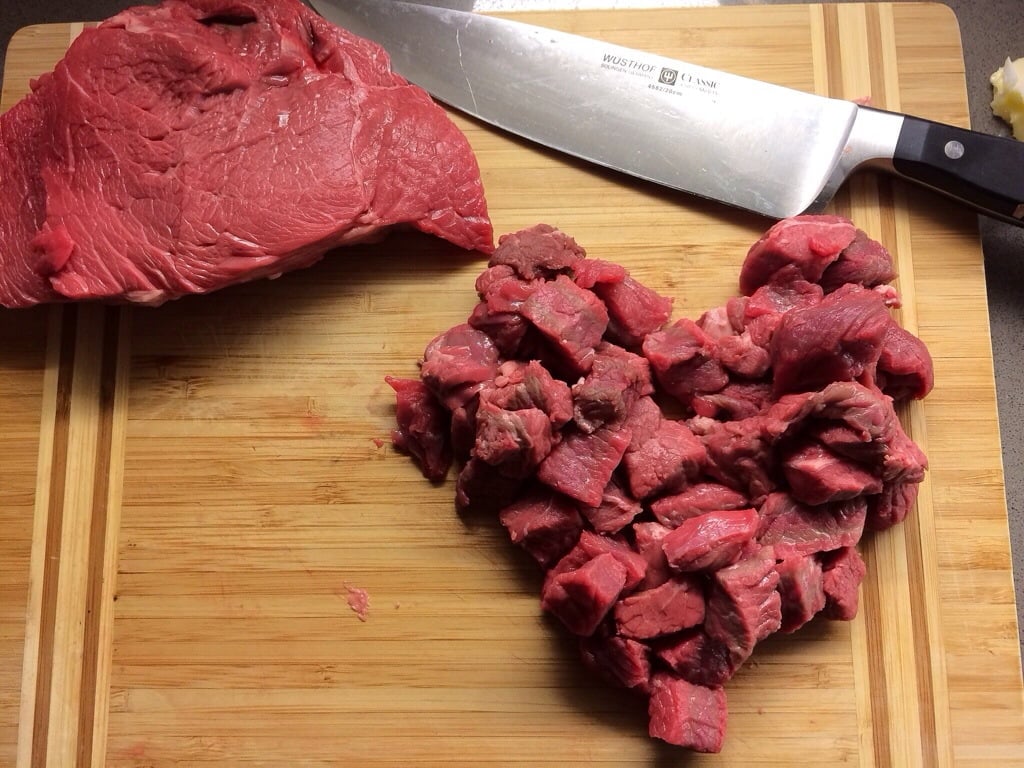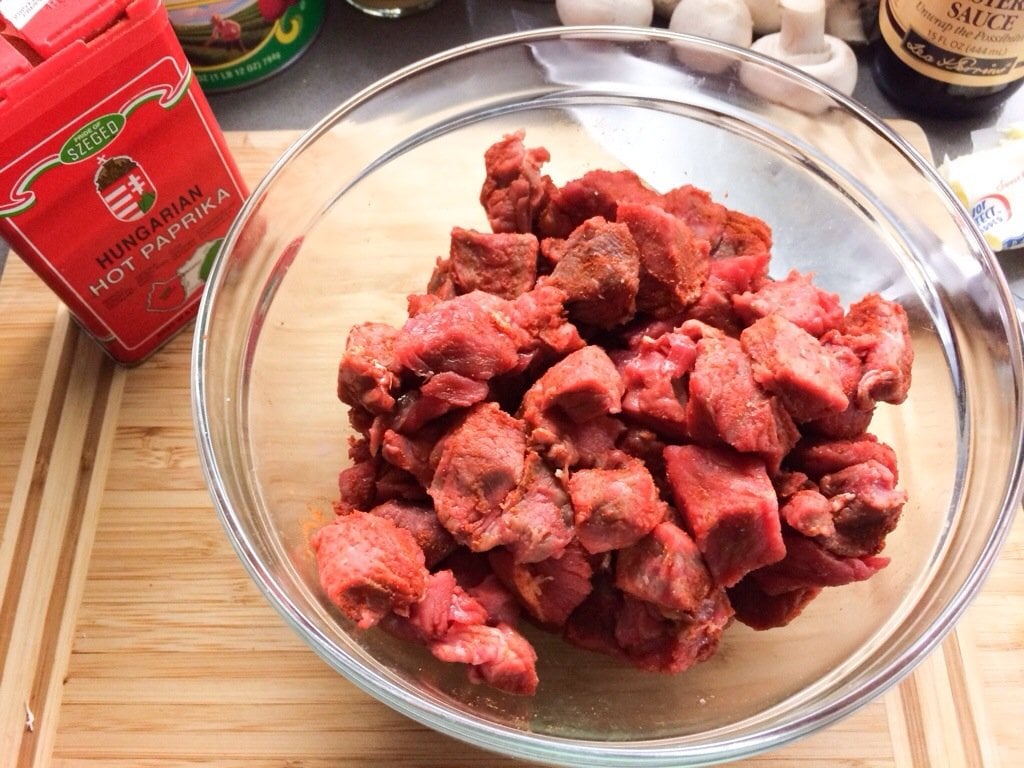 Next I chop the mushrooms. Usually, people use canned mushrooms but I figured why not use the good stuff? So, I bought Paris mushrooms. I chop them in bite sizes, similar to the meat. (Another good substitute for the mushrooms would be canned corn, drained. It is delicious! Or you could also omit the mushrooms entirely.)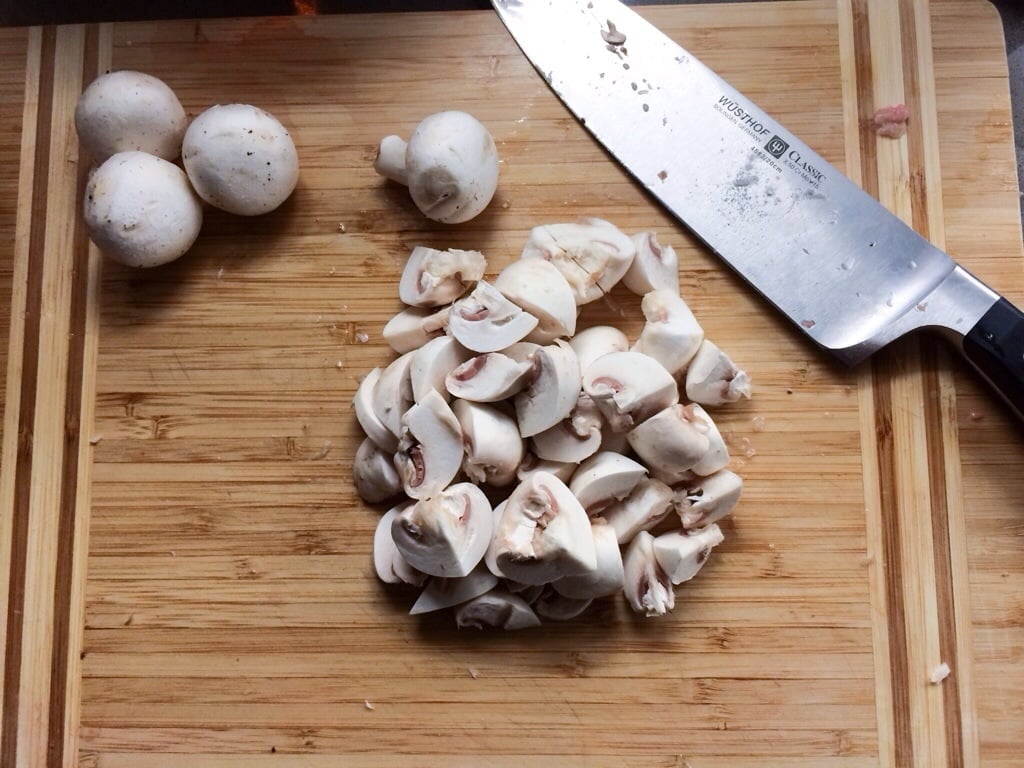 On a large skillet, heat the butter and fry the grated onion til it gains some color. Set it aside.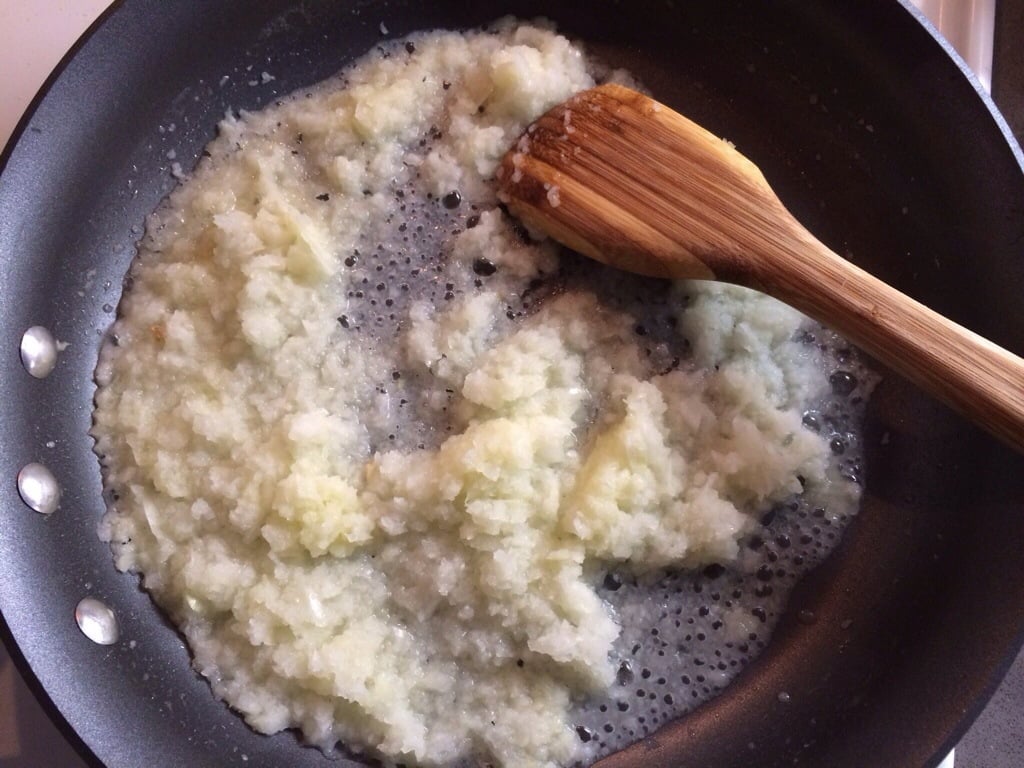 On the same skillet, heat the olive oil til it's piping hot and fry your meat til brown.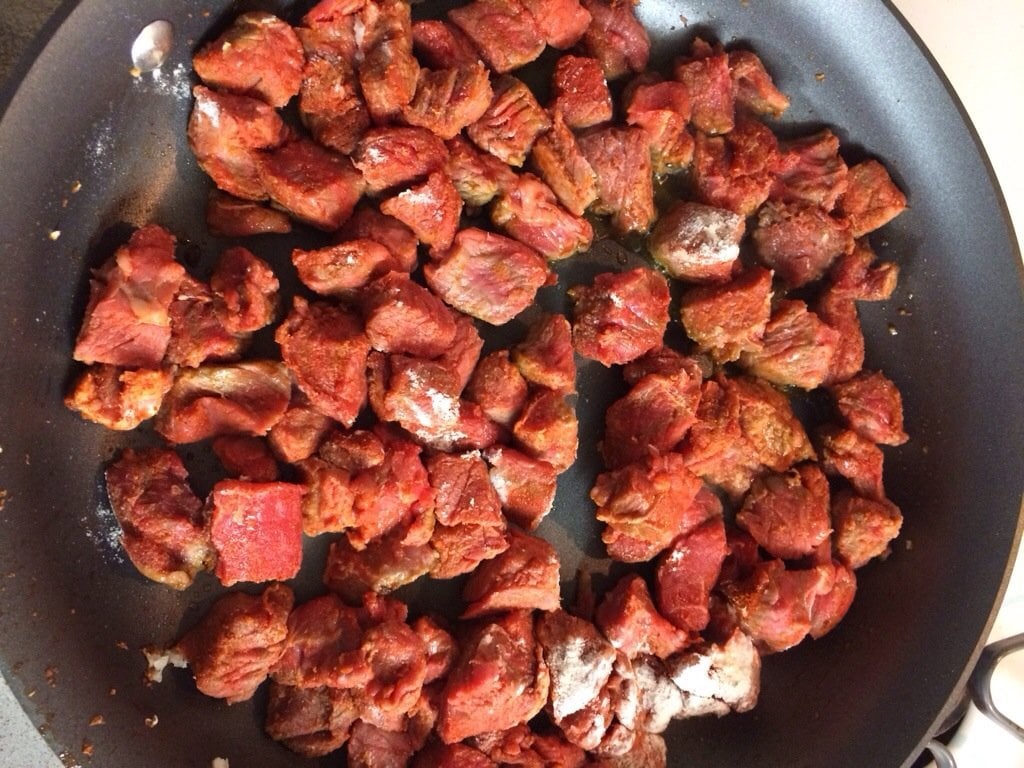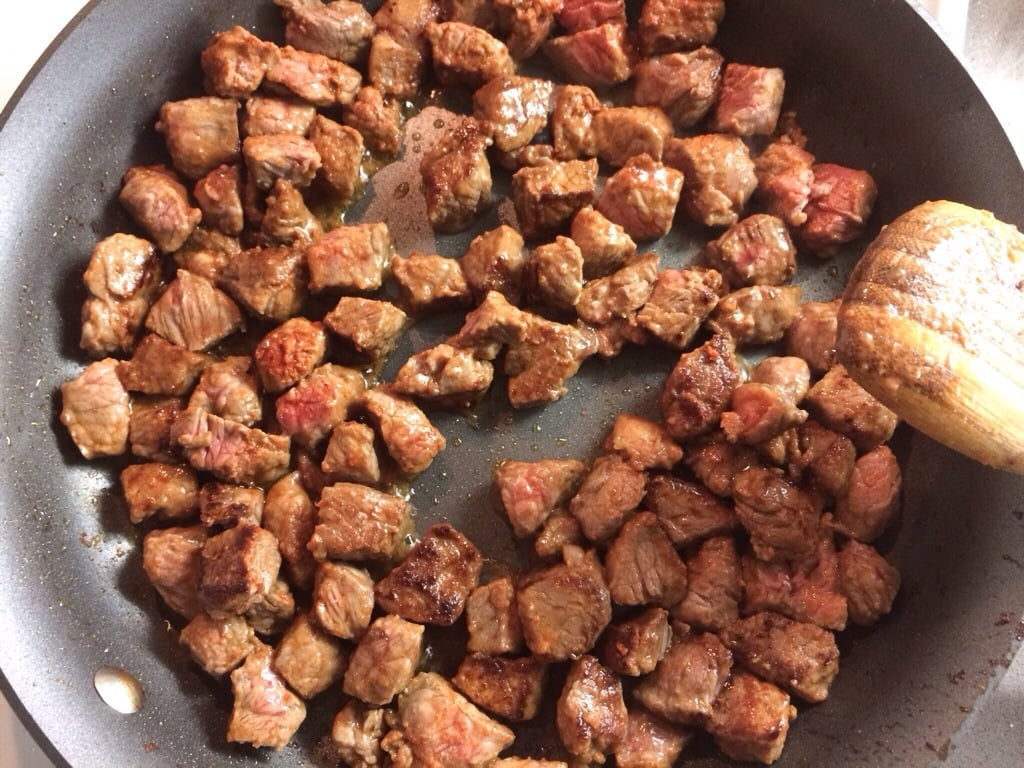 Add the mushrooms and cook a little longer. Add the onion back to the pan and cook for around 2 minutes so it incorporates. Add the Worcestershire sauce (I still have trouble saying this word in english), the Dijon mustard and the ketchup and cook 2/3 more minutes or so.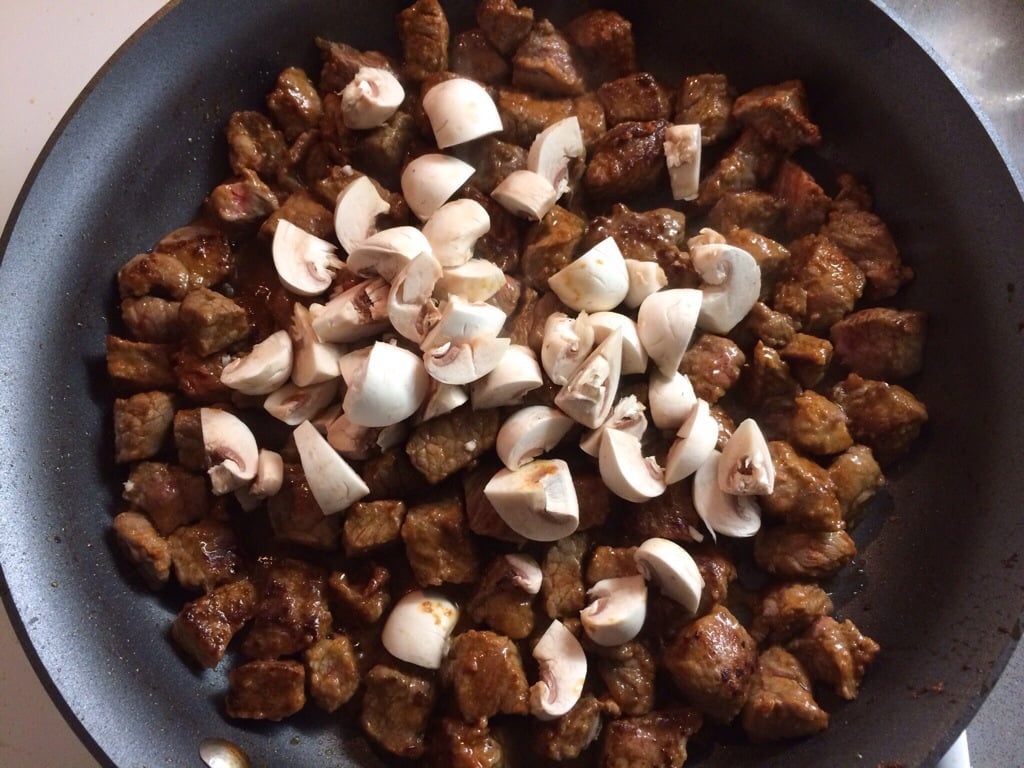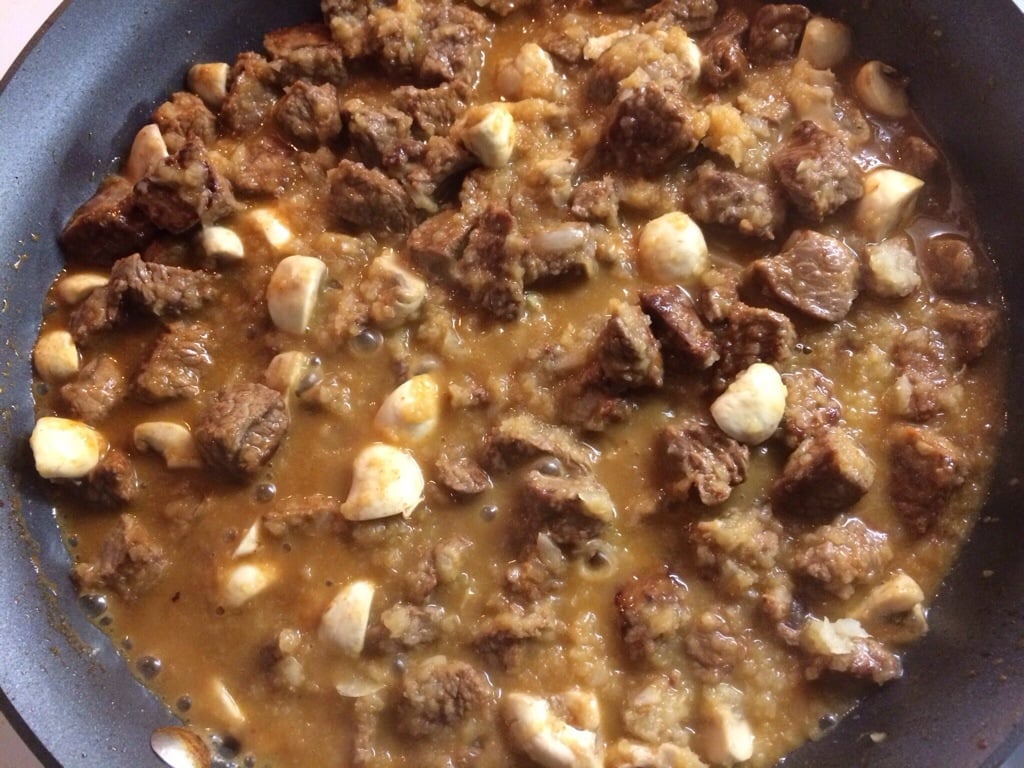 This flambéing phase is optional. My grandmother doesn't do it and I usually don't do it. But the traditional stroganoff is flambéed, so I'm teaching you how to do it. Pour the cognac into a ladle and pour it over the stroganoff. Immediately, tilt the skillet so the cognac catches fire and let it cook it off. Do not wait too long to flambé after you've added the cognac cause you don't want the food to absorb the raw alcohol, ruining the flavor of the dish.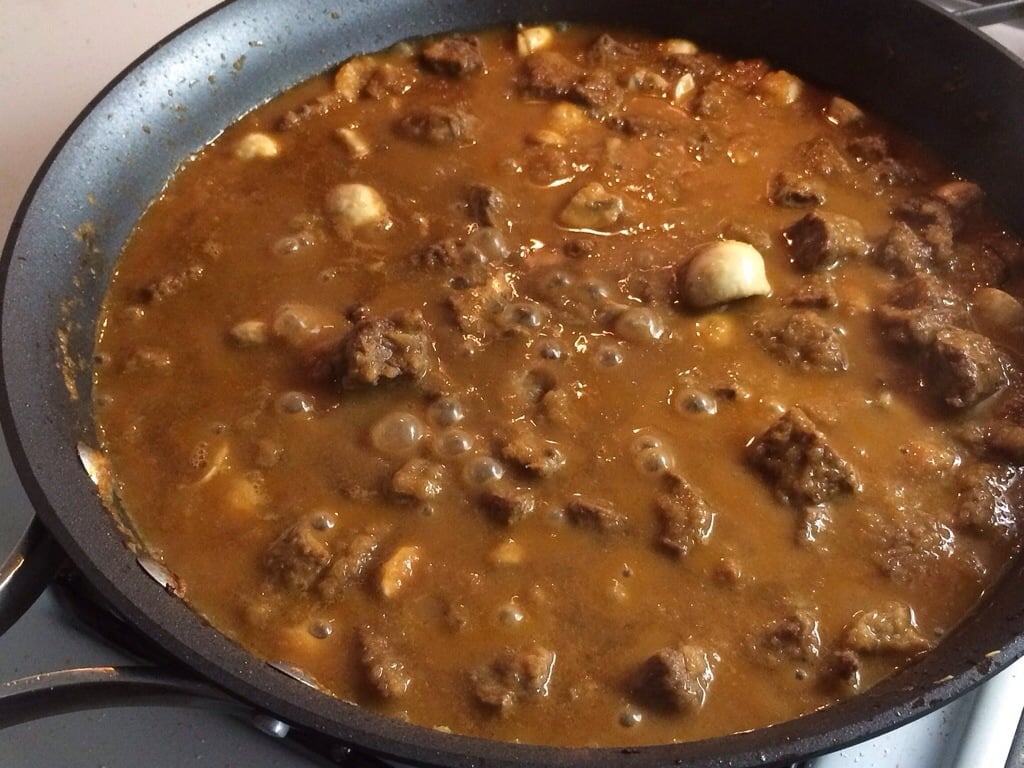 (I didn't succeed much in getting a good flambéing picture…)
Once there are no more flames, add the tomato sauce. (If you are not flambéing your dish, this step would come after adding the Worcestershire sauce/ketchup/mustard. Cook for around 5 minutes so everything incorporates. Then pour the heavy cream (or table cream) and cook til everything blends together and the sauce thickens a little. Beware: if you use the table cream, don't cook it too long cause it is not supposed to boil or it will go bad. Sometimes I like using the table cream though… The sauce gets a little thicker! :)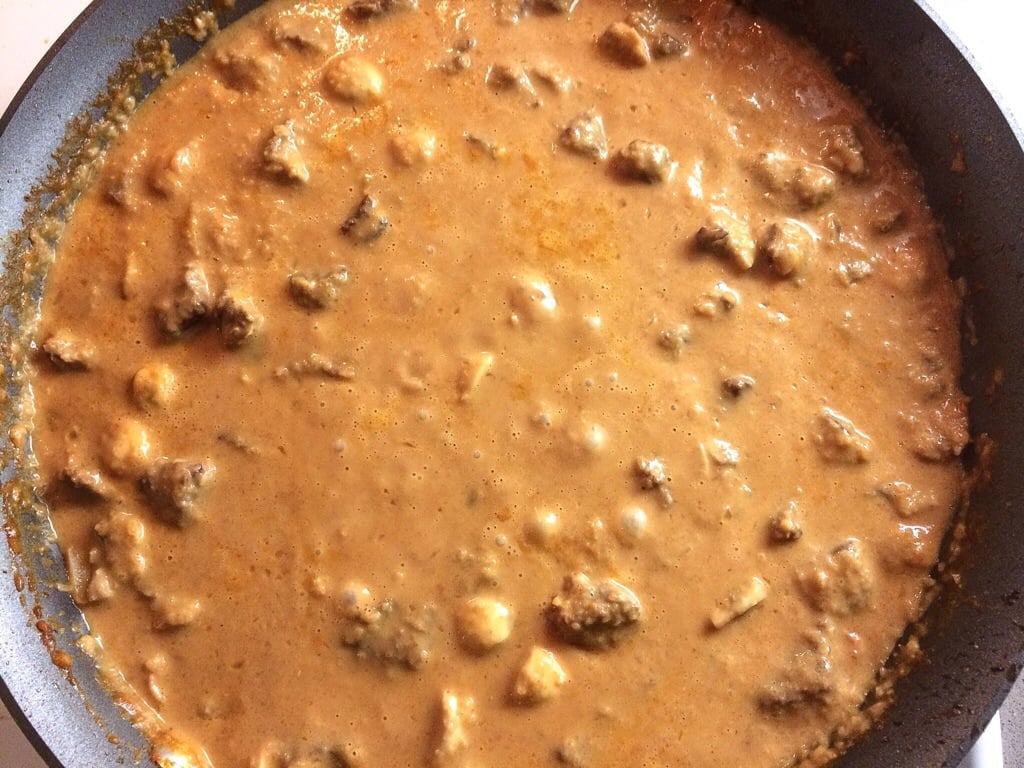 Serve your stroganoff over or by rice with a side of shoestring potatoes!
Full disclosure: I couldn't find shoestring fries in my (not so local but good) supermarket, so I bought Yukon select fries and they were just as delicious. Somehow it's not as easy to find shoestring fries here as it is in Brazil. Grandma fries her own chips though.. I just don't have the time and/or patience! :-)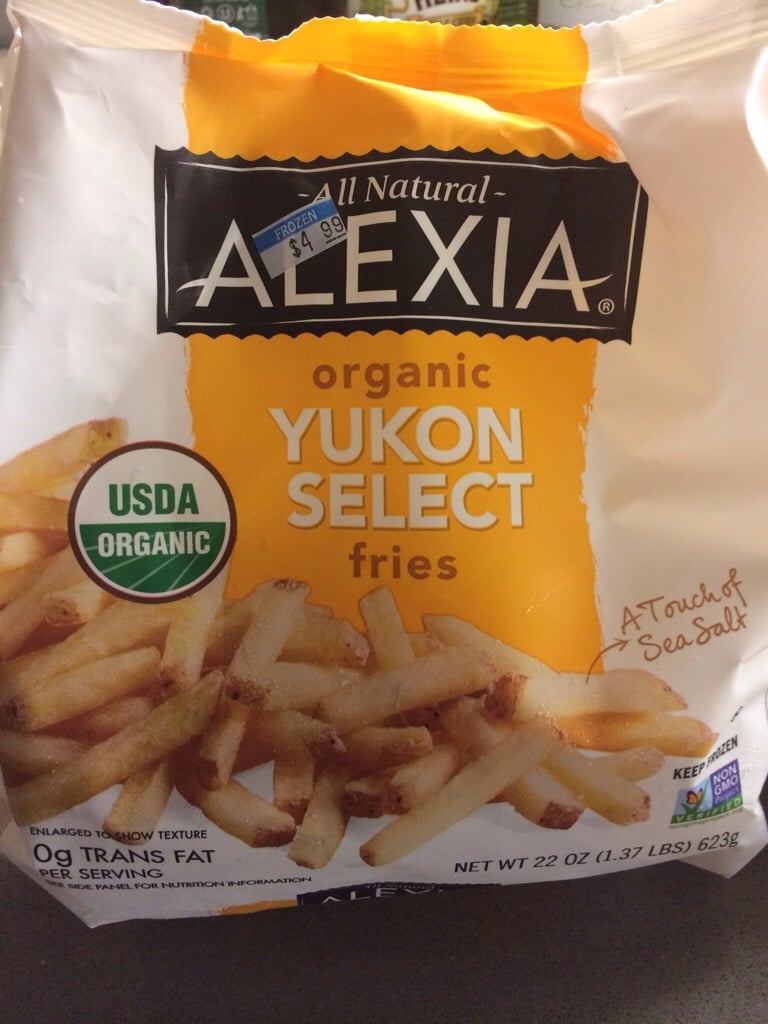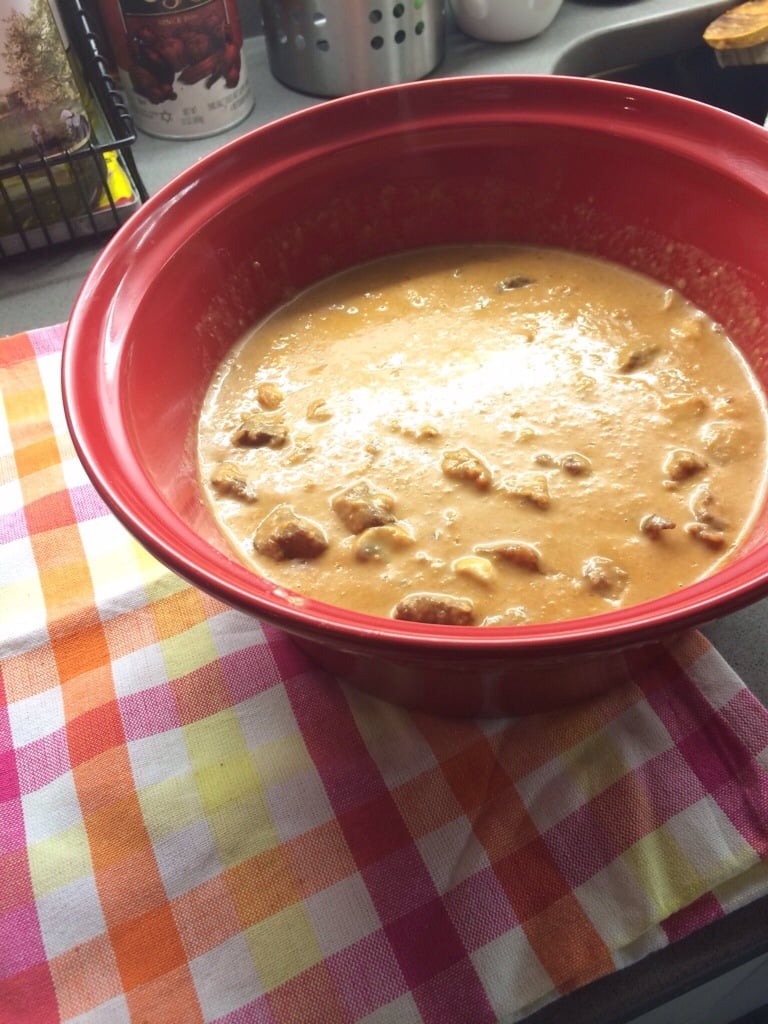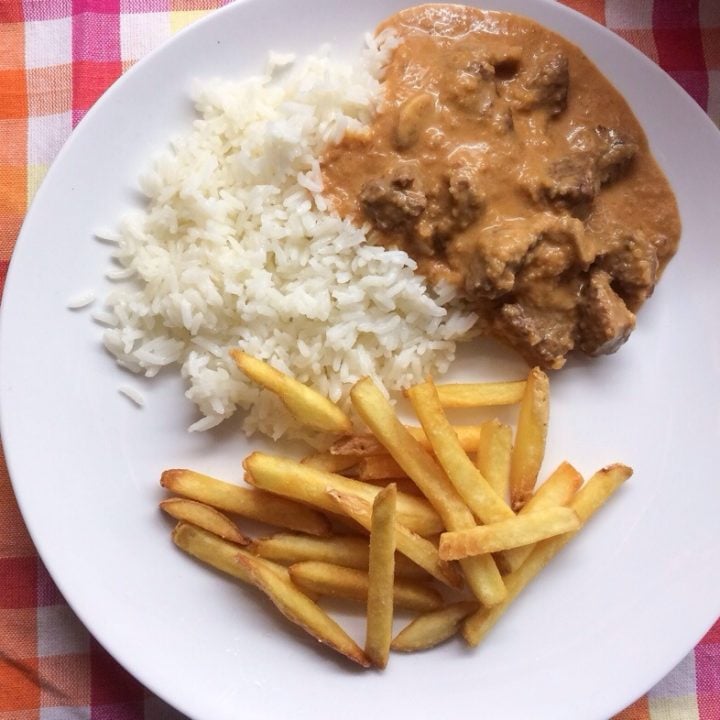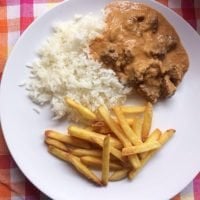 Brazilian Beef Stroganoff
Brazilian stroganoff is quite different than the classic Russian version. It has tomato sauce, ketchup and heavy cream instead of sour cream. As for serving, rice and French fries are a must!
Ingredients
2 pounds tenderloin, cut into cubes or thin strips
4 tablespoons sweet paprika
2 tablespoons flour
Salt and pepper to taste
2 tablespoons olive oil, divided
1 tablespoon butter
2 medium onions, grated
1 cup chopped fresh mushrooms
1 tablespoon Dijon mustard
2 tablespoons ketchup
2 tablespoons Worcestershire sauce
1/4 cup cognac or brandy for flambéing, optional
1 cup peeled tomatoes from a can, juiced in the blender
3/4 cup heavy cream
Instructions
In a large bowl, combine the meat, salt, pepper, paprika and flour. Make sure the meat is well coated. Reserve.

Heat one tablespoon olive oil in a large skillet, over medium heat, and then add the butter. Once butter is melted, add the grated onion and cook until it develops some color. Remove from heat and reserve.

In that same skillet, heat the remaining olive oil. When shimmering, add the beef and brown on all sides. Remove and reserve. Add the mushrooms and cook until they release liquid and are starting to brown, about 8 minutes.

Return browned beef and onion back to the skillet. Add the Dijon mustard, ketchup and Worcestershire sauce.

If flambeing, pour the cognac in a ladle and add it to the pan. Tilt the skillet so the fumes touch the flame. Cook until the flames are extinguished and all the alcohol is gone.

Stir in the blended peeled tomatoes and cook until thickened slightly, about 5 minutes.

Add the heavy cream. Cook for another 3-5 minutes or until sauce has thickened to your preferences.

Serve immediately.



Nutrition
Calories: 489kcal