Italian Sausage Pizza with Caramelized Onions, Kale and Jalapeños
It's hot, hot, hot!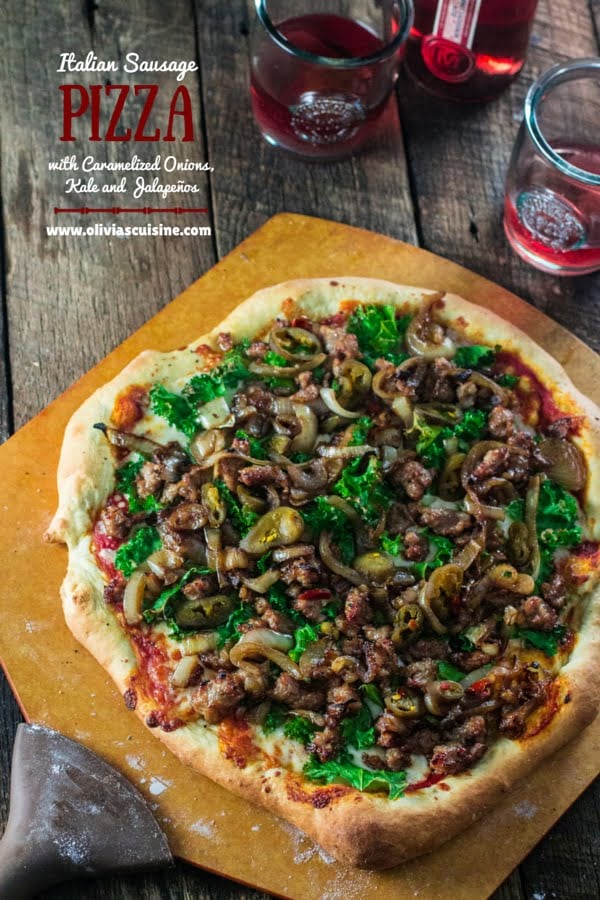 Like, for realzzz! Lola (my dog) and I are hanging out by the air conditioner as we speak, because it is impossible to do anything else in this heat/humidity. Gee, God, you made me Brazilian but forgot to give me the "heat resistance" gene? (Although I gotta admit, it is way easier to battle the heat when you're on the beach wearing a bikini.)
And speaking of the beach, while most New Yorkers are heading to the Hamptons for a summer vacation, I will be staying here in the city, constantly complaining about the weather (sorry!), as me and Tim can't take off work right now. That doesn't mean I won't be having fun, though. For starters, I have two friends staying with us this month. Estefania and Lora are from Mexico and they are in NYC to take acting and musical theater summer classes.
So what does that mean for me? It means that I get to brush up my hosting skills and entertain those ladies with the best of my abilities! And today that means: homemade sausage pizza with a kick of jalapeños and kale!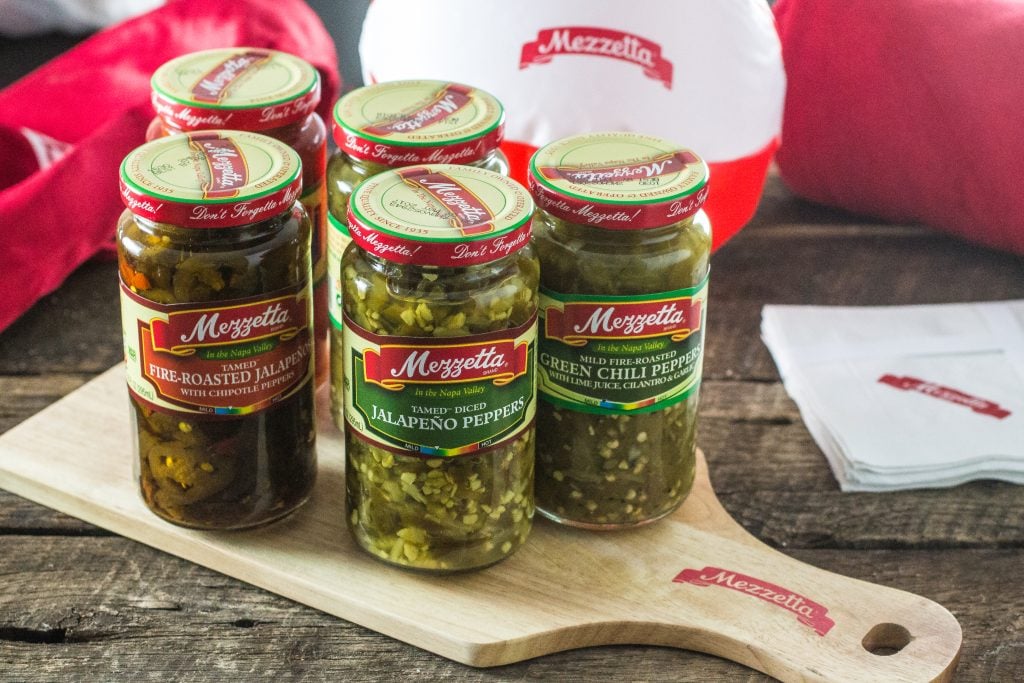 Before I talk about this unbelievable pizza, I wanna thank my friends at Mezzetta for sending me a Summer Survival Kit (pictured above). You should have seen my excitement when I got that in the mail last week! I was like a child getting a bicycle for Christmas! I love my happy mail days after I became a food blogger. It's so much better than the old bills and store catalogs… Now I get to receive cookbooks, food and amazing Summer Survival Kits!
The good news is that you could win one too! For the next three months, they will be hosting a different giveaway every month and you can enter once a day for a chance to win! Woohoo! What are you waiting for? Go enter now! :)
But back to pizza!
I know what you're thinking. "Kale?!? I can't stand kale!", or "My guests don't like kale!, or even "My kids will never eat a pizza with kale!". But hold your horses, my friend! You might not like kale in your salad, but have you tried kale on pizza? It is a whole different story.
The kale turns deliciously sweet, nutty and crispy when exposed to the high heat of your oven and takes this pizza to a whole new level. Who would have thought that charred kale would taste so damn good?!? I confess I was skeptical as well but one bite and this pizza jumped to rank among the Top 5 Pizzas I've ever eaten!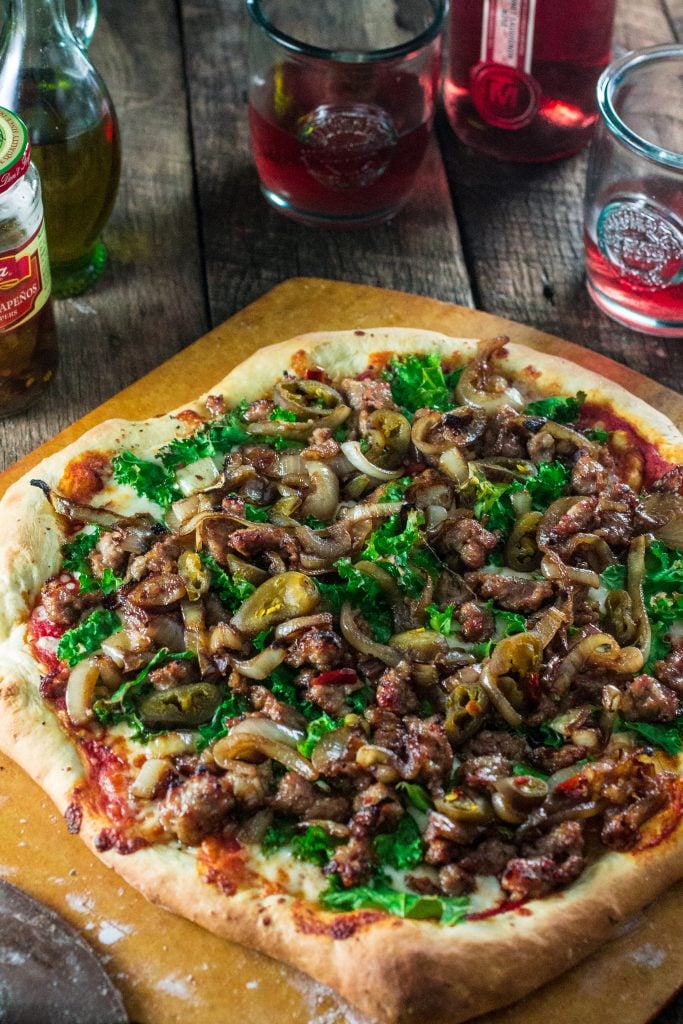 And then there's the heat. Oh, you don't like it too hot? Don't worry, I don't like it either! I'm into mild spicy flavors, as opposed to super hot, tongues out, need a glass of water NOW. (That's usually my mom. She will eat pure pickled peppers out of the jar!).
So I'm thankful Mezzetta has a Tamed variety of their jalapeños, which is a hybrid of a jalapeño and a bell pepper that has the flavor and texture of the regular thing, but with less heat!
However, if you are like my mom and totally into the knock-your-socks-off spiciness, go ahead: get their Hot Jalapeños and do your spicy lover dance! (I just laughed at myself for writing "spicy lover dance" and decided to create my version of a spicy lover dance. Guys, you're so lucky I don't do Youtube videos yet!)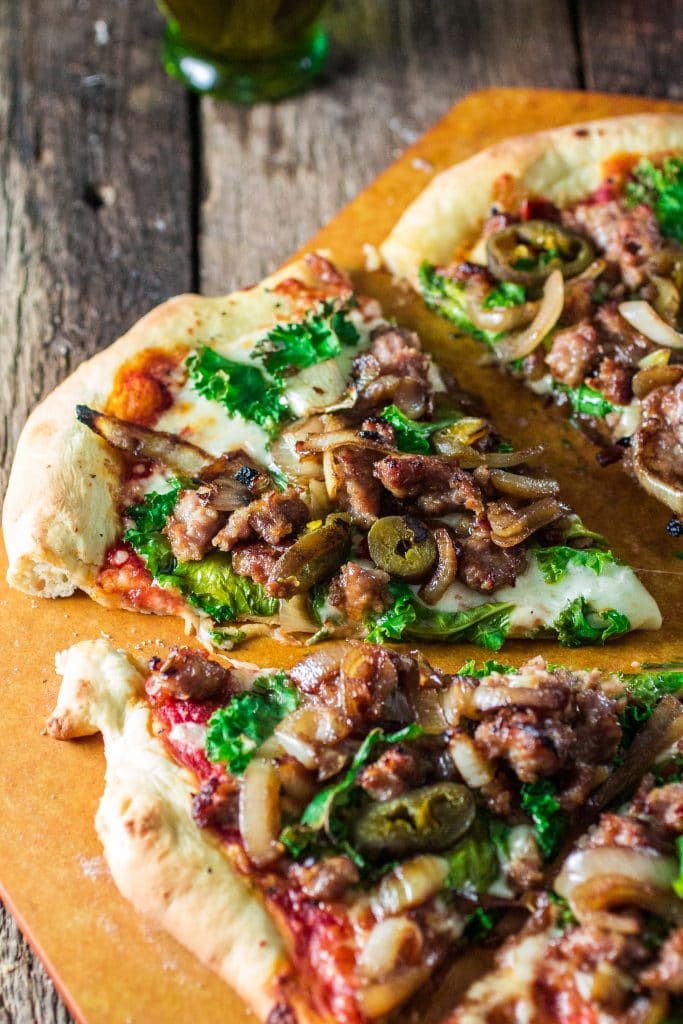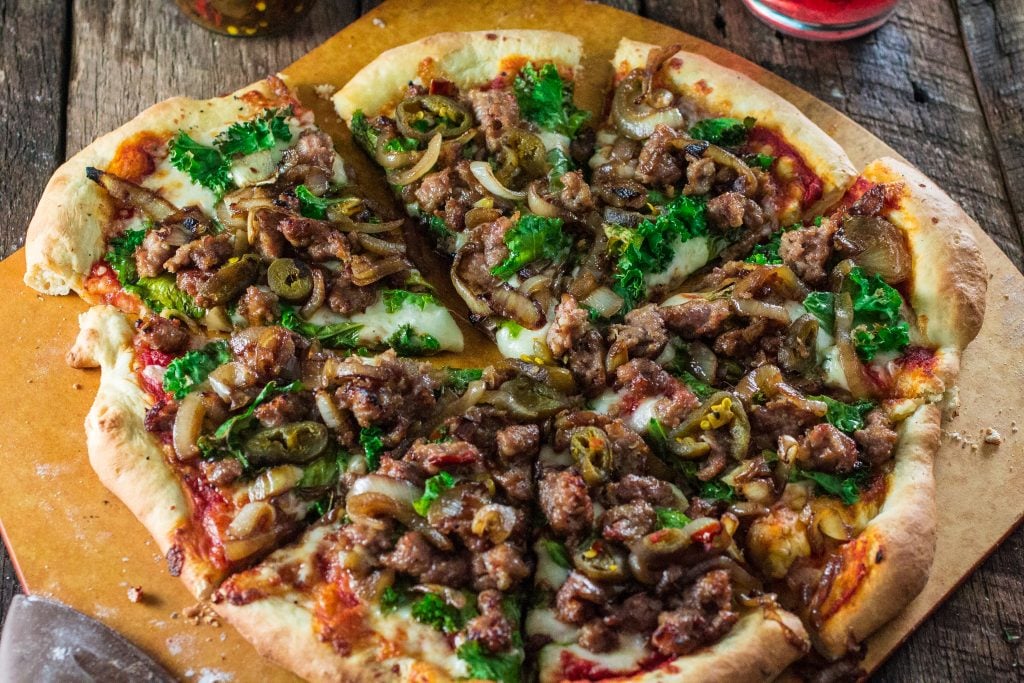 The secret to a nicely charred, but not burnt kale is to first bake the pizza with only the cheese until the cheese melts and the crust starts to get golden and puffed in some spots. Then you add the toppings and bake for 2 more minutes until the kale is crispy and the crust is perfectly cooked.
I seriously love making pizza! Each time I figure out something new… a new trick or secret that makes it even better than last time. Maybe one day I'll have a pizzeria, but for now my husband and my lovely guests are the lucky ones that get to eat this piece of art!
Yes, piece of art!
Excuse my lack of modesty, but this sausage pizza really is something to be celebrated! Cheesy, tangy, nutty, sweet, smoky and spicy. Do I need to say more?
Update: I did end up leaving my apartment today and it wasn't as bad outside as it was inside my apartment. Maybe it was the Mezzetta peppers and all its hotness? :P
P.S. Wanna keep in touch? Follow me on Facebook, Twitter, Instagram or Pinterest to stay up to date with my posts! If you end up making one of my recipes, I would love to see it! Just take a photo and post it on your preferred Social Media and tag me or use the hashtag #oliviascuisine!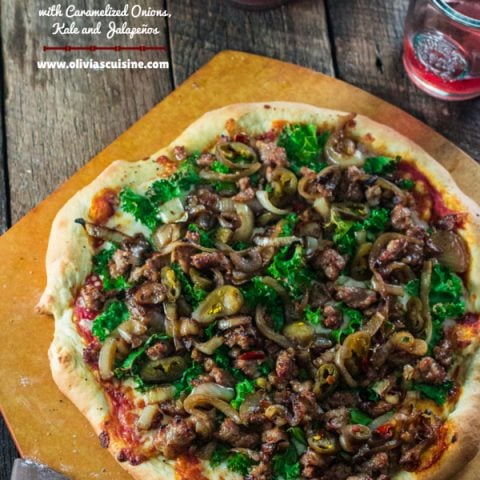 Italian Sausage Pizza with Caramelized Onions, Kale and Jalapeños
Yield: 2 medium (12') pizzas
Prep Time: 35 minutes
Cook Time: 8 minutes
Total Time: 43 minutes
Ingredients
1 pound sweet italian sausage, casings removed
1 large onion, thinly sliced
2 cloves of garlic, minced
1 tablespoon balsamic vinegar
2 cups shredded mozzarella
1 pound roughly chopped trimmed kale leaves, washed and dried
1 tablespoon lemon juice.
Olive Oil
Salt and pepper to taste
Instructions
Place a pizza stone on the middle rack of your oven and pre heat the oven to its maximum setting (mine goes to 550F). (The oven should preheat for at least 30 minutes before cooking the pizzas.)
Divide the pizza dough into two equal bowls and place them on a heavily floured surface. Cover with a dampened cloth and let them rest and rise for 30 minutes.
Place a large skillet over medium heat, add a drizzle of olive oil and add the sausage. Cook, breaking the sausage into smaller pieces with a wooden spoon, until the sausage is cooked through (5 to 7 minutes). Transfer the sausage to a paper towel-lined plate. Reserve.
On that same skillet, add some more olive oil (if necessary) and when the oil is just starting to shimmer, add the onions and cook until they are tender and golden. Add the balsamic vinegar and keep cooking until the onions have caramelized, about 15 minutes. Then add the garlic and cook until tender, about 1 to 2 minutes. Reserve.
Once the pizza stone is preheated and the toppings prepared, you can start rolling out your dough. Dust the work surface with flour and flatten one dough ball to a thickness of 1/2 inch. Then roll the dough to a diameter of about 12 inches, keeping the remaining dough covered. Transfer to a parchment paper-lined pizza peel (or rimmed baking sheet) .
Brush some olive oil and sprinkle some salt and pepper. Add 1/2 cup pizza sauce and 1 cup of the shredded mozzarella. Bake until the cheese is melted and the crust is beginning to brown and puff, about 6 minutes.
While the pizza-base is baking, toss the kale with a teaspoon of olive oil and the lemon juice. Reserve.
When the pizza-base is ready, remove from the oven and, working quickly, add a layer of kale, half of the sausage, half of the caramelized onions and half of the jalapeños.
Bake for another 2 minutes or until the kale looks perfectly charred and the crust is cooked to your satisfaction. Sprinkle some parmesan cheese if you'd like.
Repeat the steps above with the 2nd pizza.
Notes
* Short on time? Just use some canned crushed tomatoes, seasoned with salt and pepper, as your pizza sauce! It is delicious!

So tell me, how are you bringing the heat this summer?