Spaghetti Aglio Olio e Peperoncino
This post is sponsored by Dorot.
Who knew something as simple as this Spaghetti Aglio Olio e Peperoncino could taste so good? Made with lots of extra virgin olive oil, garlic (no need for peeling and chopping if you use Dorot) and red pepper flakes! And the best part? It is ready in 10 minutes!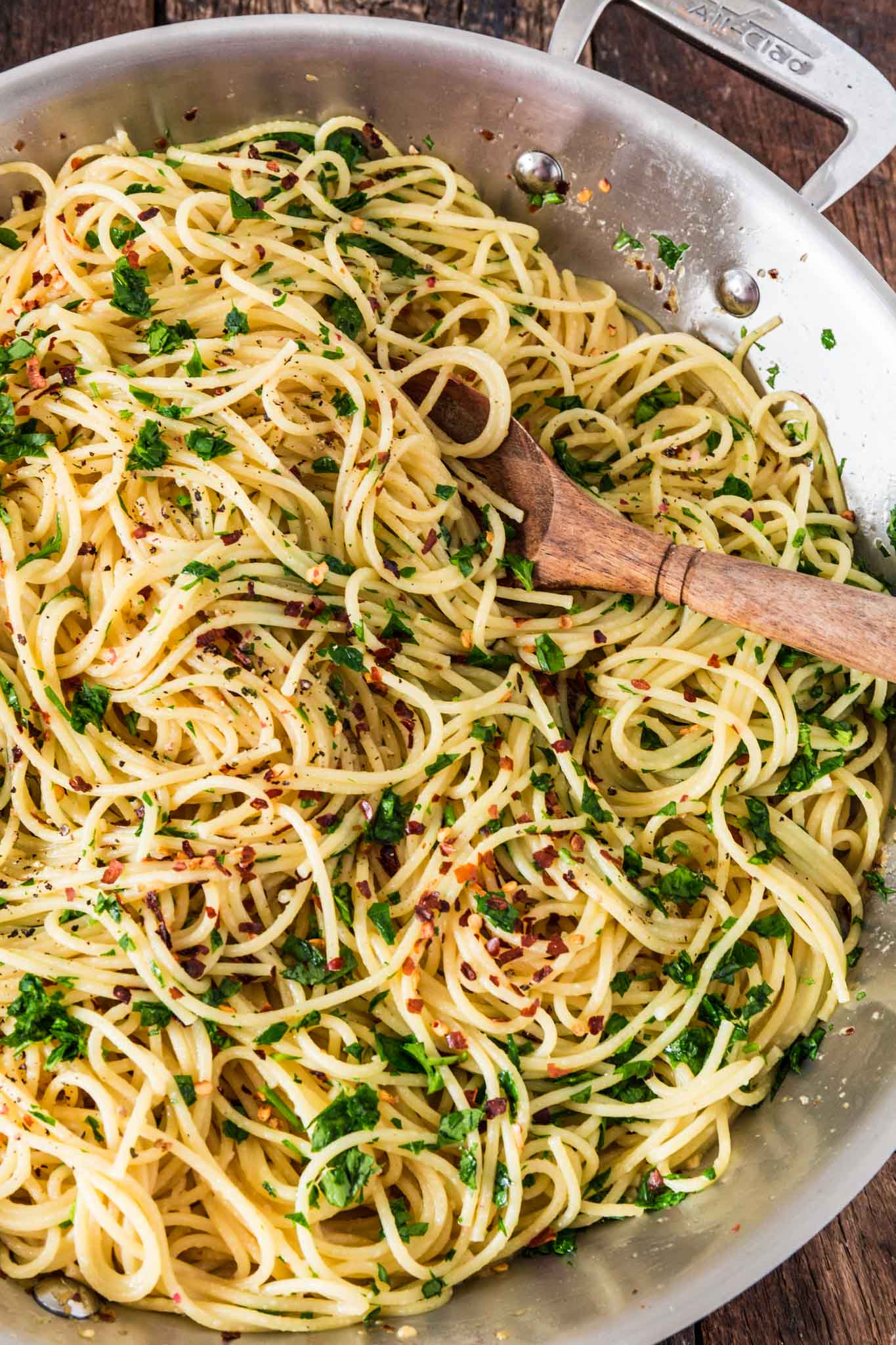 Long time no see, friends!
I am terribly sorry for being MIA, but I've been working on something very exciting that I hope to share with you very soon. I know, I know… I'm such a teaser! ? But I promise it's EPIC news.
And because of this project, cooking dinner has been challenging, to say the least. We've survived on fast food, ramen and lots of delicious ham and cheese sandwiches made by my husband.
However, this weekend I got inspired to get in the kitchen and cook something delicious. But on one condition: it had to be super easy! So I remembered this Spaghetti Aglio Olio e Peperoncino that I had on my recent trip to Italy and decided to recreate it.
Oh, you guys! I'm so glad I did. Only a handful of ingredients later and we were savoring a spicy garlicky masterpiece that was as delicious as one of those dishes that takes all day in the kitchen.
Simplicity = nirvana! ???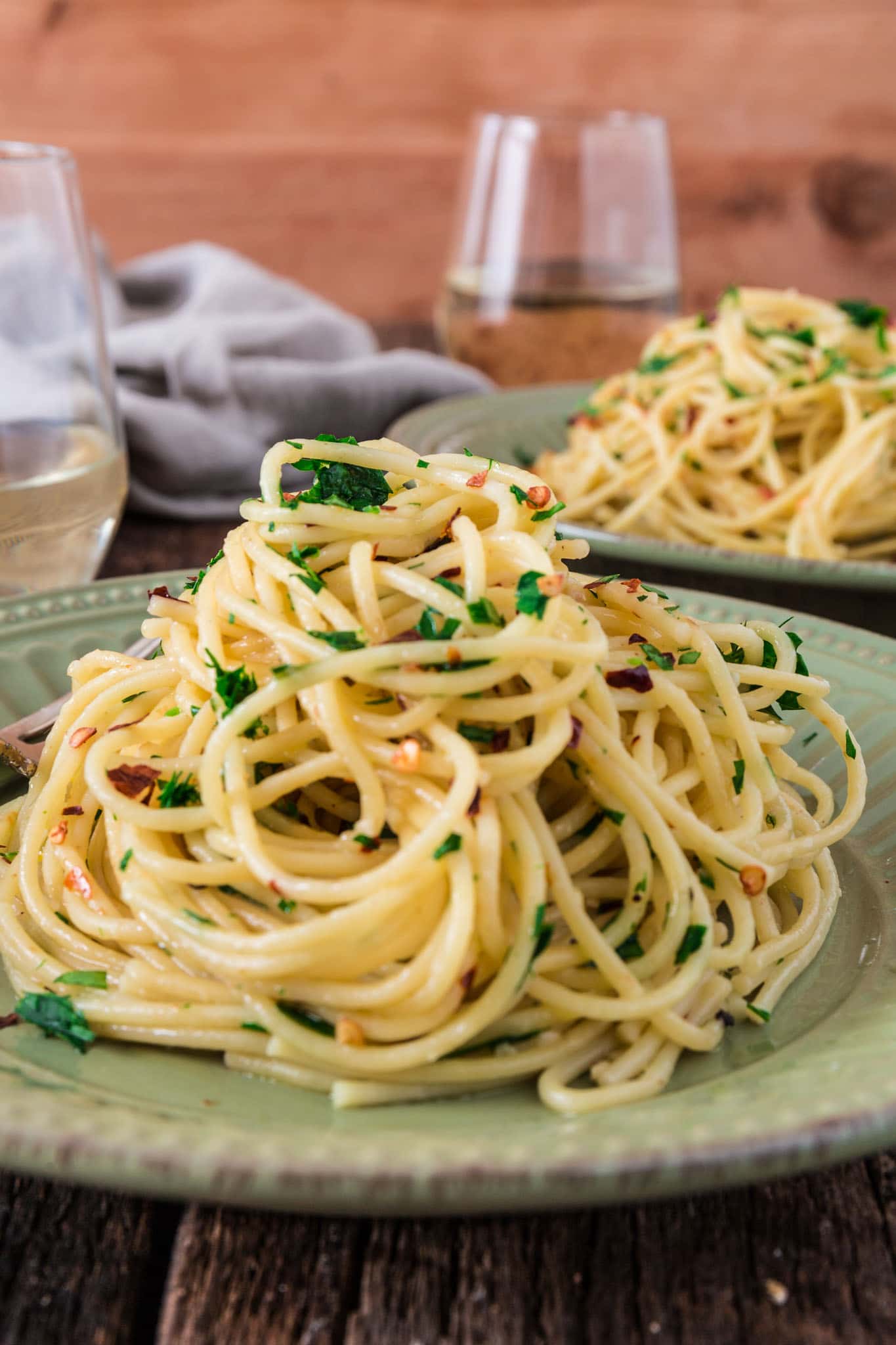 This dish, a Roman staple, is known for many Italians as a late night necessity. You know, the type of meal you make when you get home at 3am, drunk, after a night out in the city!
In my case, I grew up eating a similar version – just with garlic and oil – whenever my mom didn't want to cook anything complicated. Sometimes it would involve a steak or grilled chicken on the side, but more often than ever, it was just the garlicky pasta.
No complaints here, as I am a huge garlic lover! Just had to make sure lots of Parmigiano Reggiano was involved. And by lots I mean a whole mountain of it on top of my Spaghetti Aglio e Olio! ?
However, I gotta admit that my love for garlic is as strong as my hate of peeling it. Yes, I've tried every trick in the book. But I always ends with some annoying garlic peel all over my knife, skin and cutting board!
The good news? Dorot's Crushed Garlic living in my freezer, ready to be added to any recipe at the pop of a tray! ❤️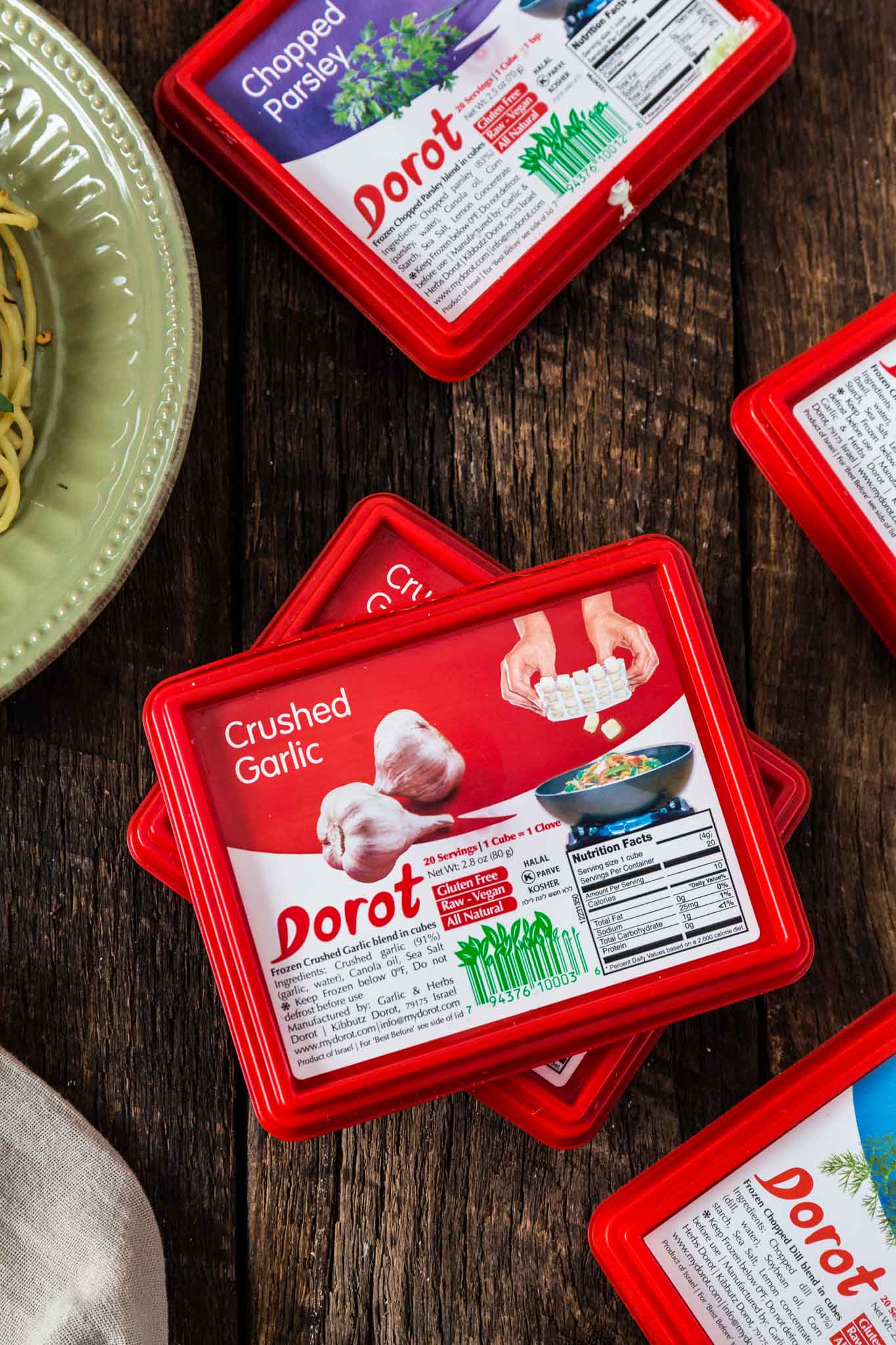 Dorot brings to you a whole line of pre-portioned fresh garlic and herbs.
First, they start by growing their own fresh garlic, basil, cilantro, basil, parsley, chili and ginger. At the peak of their freshness, they harvest the products from the fields, process and flash freeze into convenient trays within 90 minutes of harvest.
These trays have a two year shelf life and with a simple pop of the tray, you can have fresh garlic and herbs all year round!
Not to mention, prepping, measuring and cleaning become a breeze! If you haven't tried it yet, you simply must. Believe me, effortless seasoning and flavor is gonna be your new mojo!
And as a little gift to my readers, Dorot is giving us a $1 off coupon so you can try their products (or stock on more if you're already a fan, like me!). Make sure to get it here!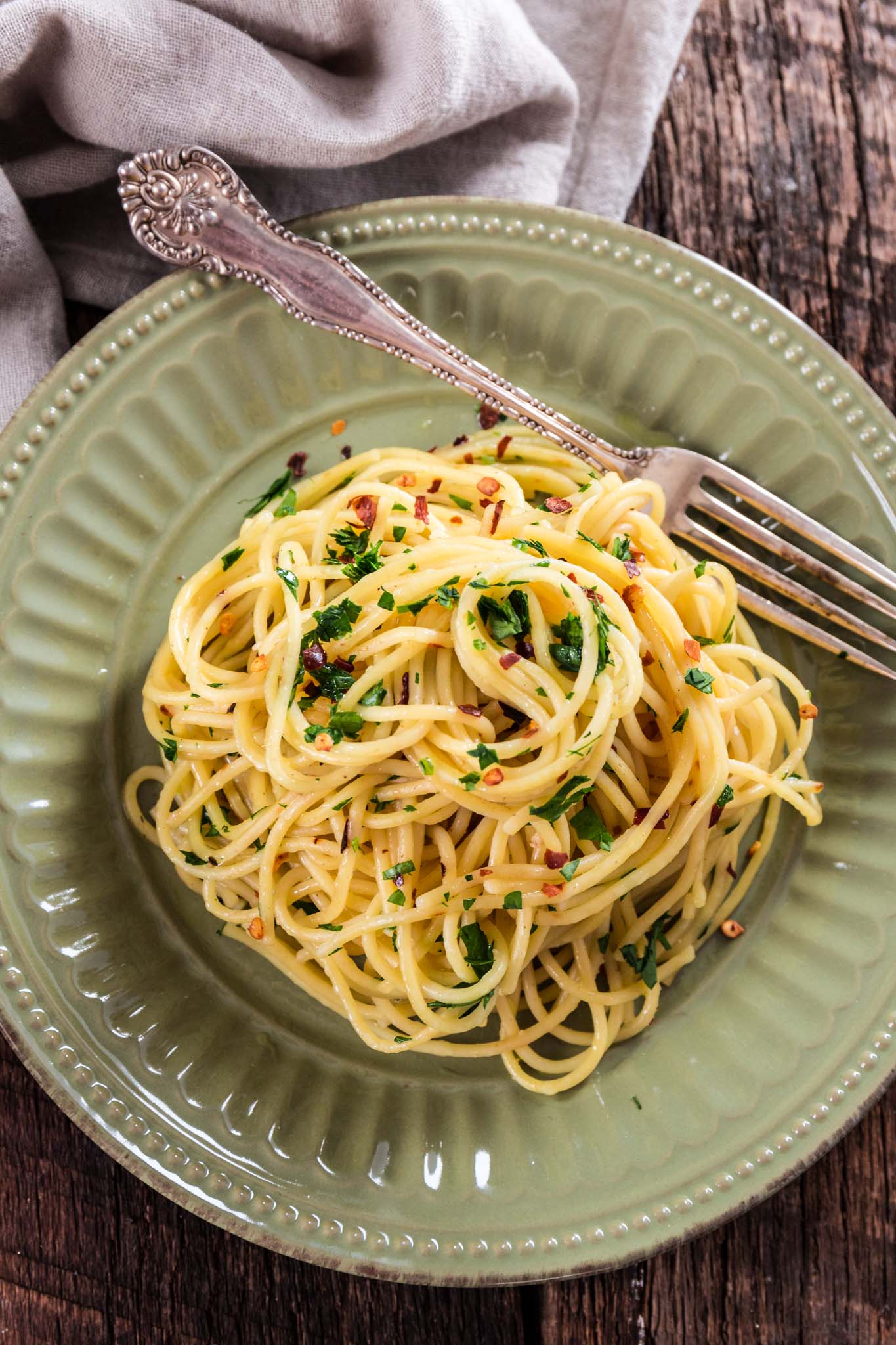 If you're a fan of super easy recipes that taste amazing, try my Spaghetti Aglio Olio e Peperoncino.
If you're not into spicy food, just go easy on the peperoncino (red pepper flakes) or skip it and make it Spaghetti Aglio e Olio. It will be delicious regardless!
Oh, and make sure you use good quality olive oil. Like, always, but especially in this dish, since there are so few ingredients involved.
Buon Appetito!
P.S. Don't forget to get your coupon to try Dorot!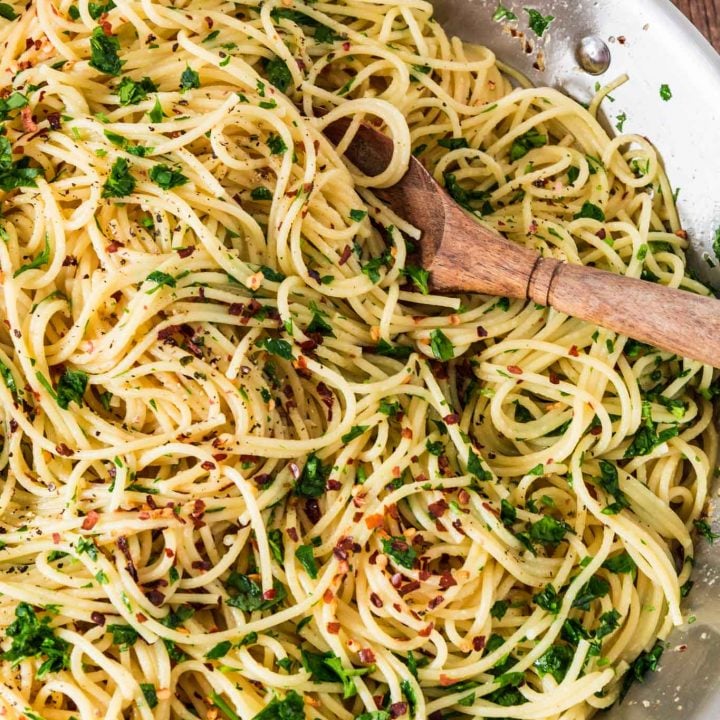 Spaghetti Aglio Olio e Peperoncino
Yield: 4
Cook Time: 10 minutes
Total Time: 10 minutes
Ingredients
1 pound dried spaghetti
Salt
1/2 cup extra virgin olive oil
1 teaspoon crushed red pepper flakes, or to taste
1/2 cup reserved pasta water
1/2 cup chopped parsley
Instructions
Set a large pot of water to boil, generously seasoned with salt, over high heat. Cook the spaghetti according to package instructions, until just shy of al dente.
While the pasta is cooking, prepare the sauce by combining the olive oil, garlic, red pepper flakes and a pinch of salt in a large skillet. Bring to the stove, over medium low heat, and cook slowly, letting the oil absorb the flavors from the garlic and pepper flakes.
When the pasta is almost al dente, transfer it to the skillet with the flavored oil along with 1/2 cup of the pasta water. Turn the heat back to medium high and cook, stirring and tossing rapidly until the pasta is al dente and the sauce has thickened/emulsified and coats the pasta. If you want, you can add some more olive oil.
Remove from heat, add the chopped parsley and serve with Parmigiano Reggiano on the side.
FOR THIS SPAGHETTI AGLIO OLIO E PEPERONCINO, I RECOMMEND:
This post contains affiliate links.
FIND DOROT AT SHOP RITE, WHOLE FOODS OR TRADER JOE'S: