Cheese Stuffed Polpettone
I dare you to resist this Cheese Stuffed Polpettone: a giant and delicious Italian meatball, stuffed with mozzarella cheese, that is technically big enough to share. I say "technically", because chances are the whole thing will be gone before anybody can ask for a bite! 😉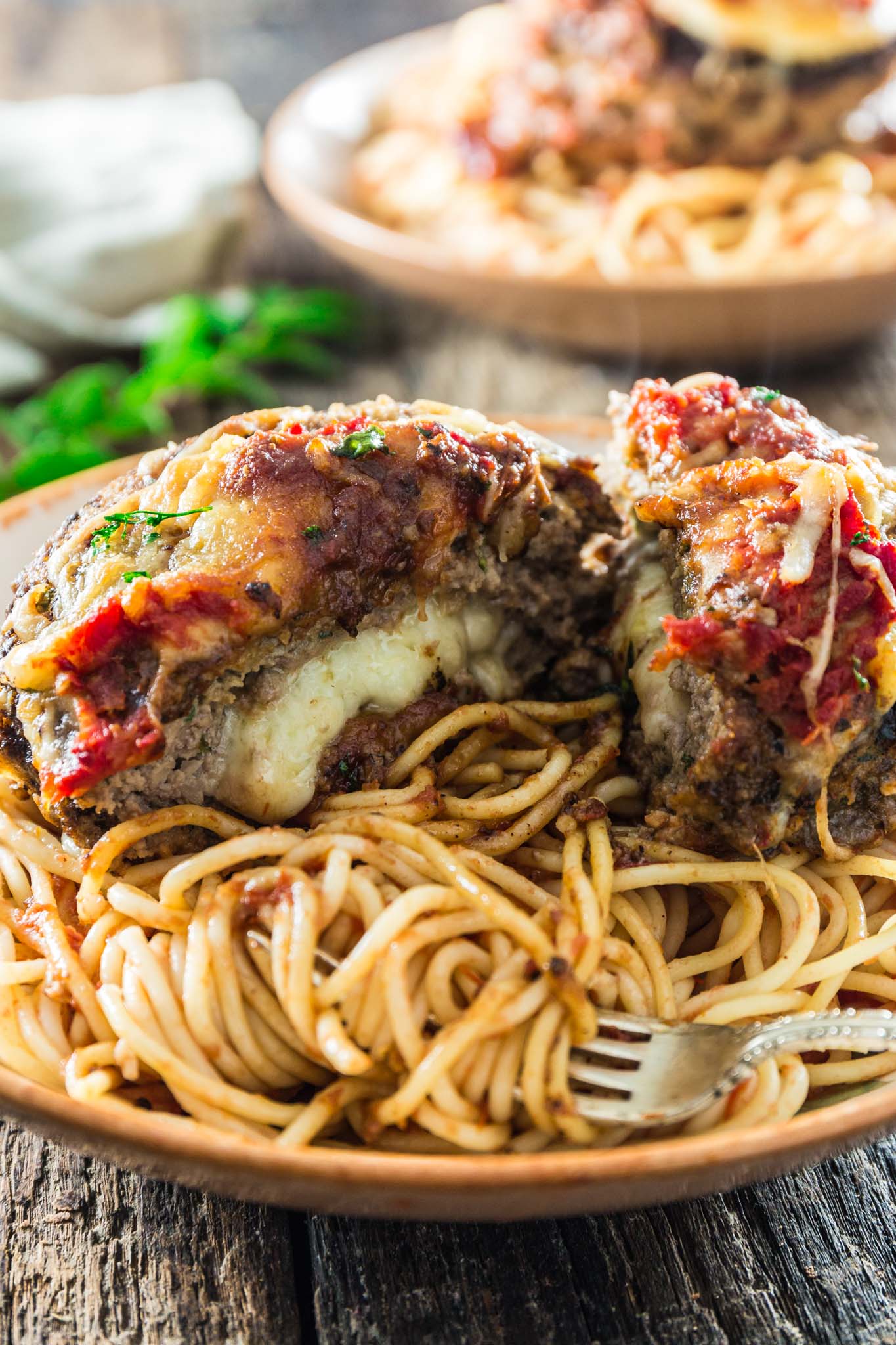 Oh, just look at that mozzarella oozing through the polpettone! Doesn't it tempt you to try to lick the screen? It surely has that effect on me! 😋
This polpettone is everything you would want in a huge meatball: juicy, tender, flavorful and not only stuffed with cheese but also covered in it. Because go big or go home, right?
And speaking of home… Back in São Paulo it is tradition to eat Italian food for lunch on Sundays. You see, São Paulo is the largest Italian community outside Italy (yes, we beat New York City!), so it's no surprise that the 'nonnas' like to put together a big feast for their families on Sundays.
Sure, you could take the family to one of the many city's "cantinas" or "trattorias" instead. But the reality is that there's nothing like a homemade Italian meal cooked by your grandma!
Well, my grandma is back in Brazil, so I have to take the nonna role myself. And I'd like to think that I knocked the ball out of the park this past Sunday with this glorious Cheese Stuffed Polpettone!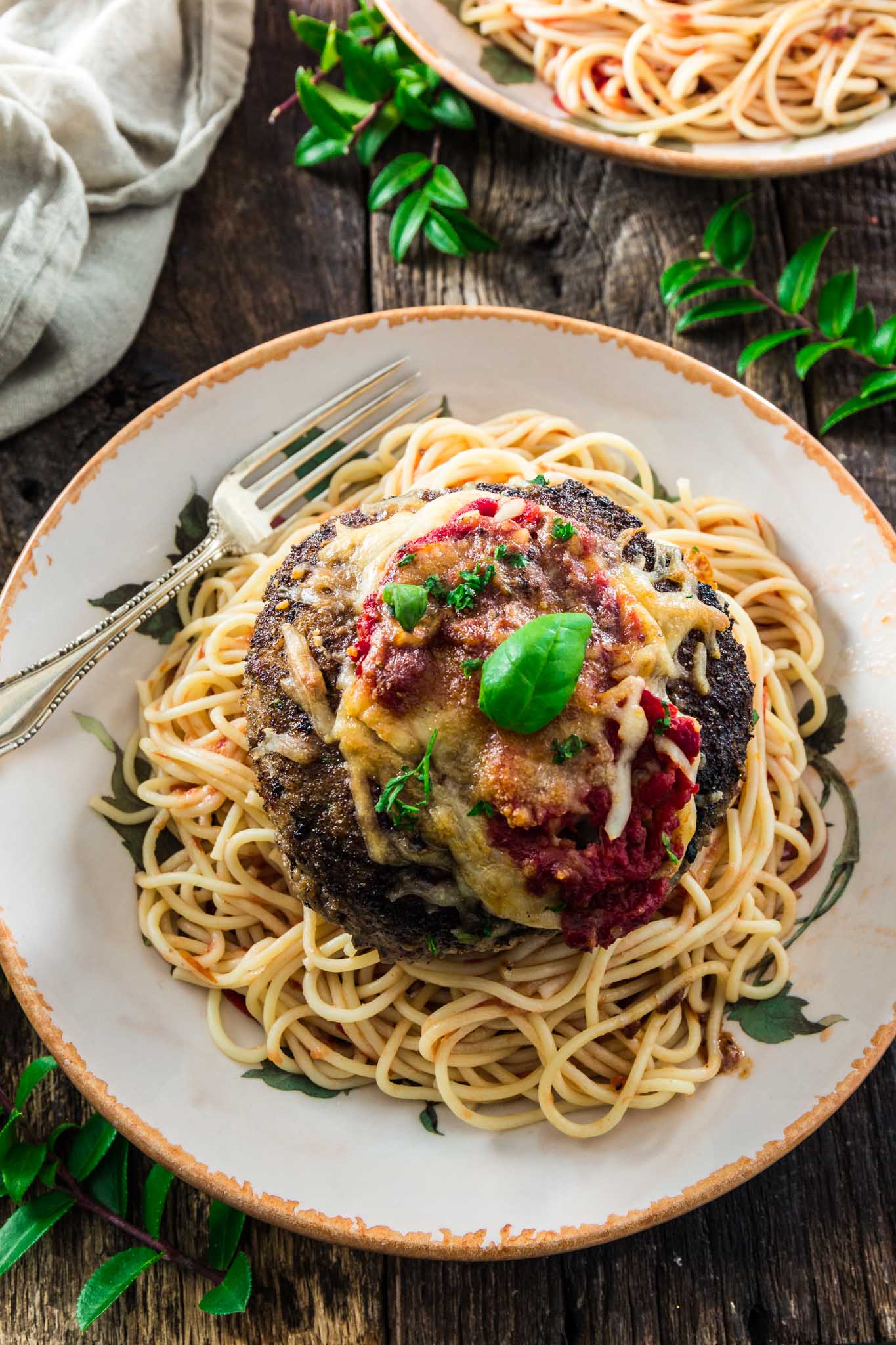 Polpettone is the superlative of polpette, which means meatballs in Italian.
I was surprised to find out that they are not very popular here in the United States, at least not with that name! The few polpettone recipes I've found are for long shaped Italian meatloaves, and although the taste might be similar, the aesthetics are not!
My version is the one we make in Brazil, and that is shaped like a jumbo meatball. So instead of making one huge meatloaf, I make 4 (½ pound each) meatballs and I think they look very impressive nested into some spaghetti.
But don't freak out just yet. These polpettone might look hefty, yes, but they are so light and tender that a spoon slices through them with almost no resistance. My secret (or better yet, my grandma's secret)? Two slices of potato bread (crusts removed) soaked in milk! Genius, isn't it?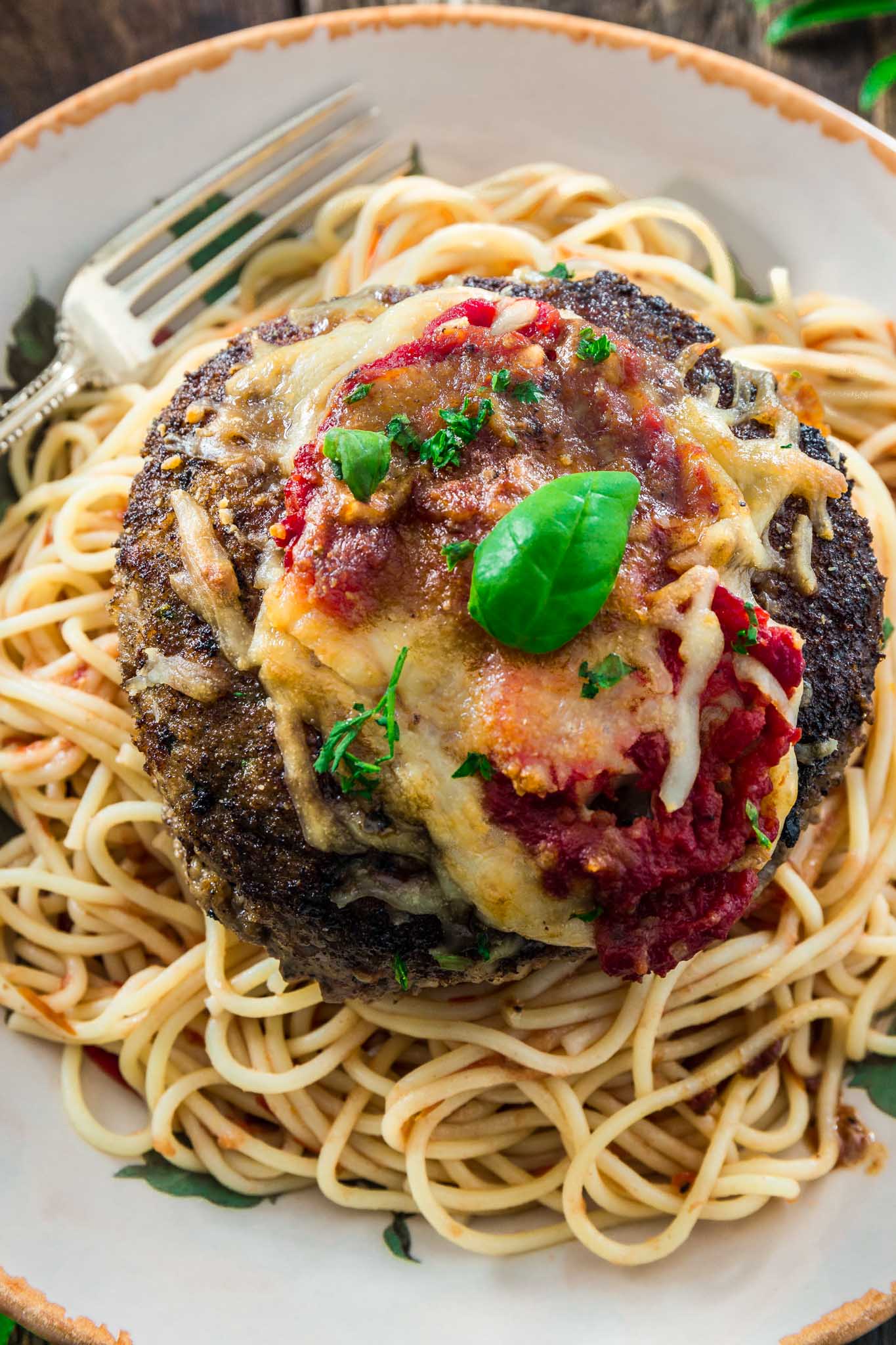 Before we part ways, I'd like to share a few tips for the best and softest polpettone:
Do not overwork the meat. Mix – using your hands – just until the beef, sausage and other ingredients are combined. Using your hands is crucial, so you can have a better feel and know when to stop.
Don't be afraid of a little fat! – When choosing the ground beef, go for a good ratio of fat and lean. That is, if you want your polpettone to be very tender! The leaner the meat, the tougher it will be.
Don't skip the panade. – As I said before, the panade (the binder made with bread and milk) is my trick for very tender meatballs. It adds moisture and prevents the meat proteins from shrinking and becoming tough.
Roll the polpettone in seasoned breadcrumbs. – In Brazil, the grandmas will fully bread the polpettone with all purpose flour, eggs and breadcrumbs. Since mine is soft and kinda wet looking, all I do is roll them through breadcrumbs seasoned with salt, pepper and chopped parsley. It makes them extra crispy when they broil in the oven!
How should I cook my polpettone? – The short answer: broil them. You could brown them in a skillet, like I did with the ones in these photos, but they will deform/flatten a bit and lose that glorious meatball shape. You could also simmer them in sauce, but then they lose that amazing flavor that browning gives them.
Serving suggestions! – I like to serve my polpettone with spaghetti and marinara sauce. Other great ideas are serving with rice, mashed potatoes or simply by itself with some delicious crusty bread to soak up all that sauce!
And that's it, folks! I think you have all the info to make a great Sunday Italian lunch (or dinner) for your family.
Now, who's ready to make some polpettone?
Cheese Stuffed Polpettone
Ingredients
2 slices potato bread, crusts removed, cut into smaller pieces
1/2 cup milk
1 onion, grated
3 cloves of garlic, minced
1 1/2 pounds ground beef
1/2 pound ground sausage
1/2 cup grated Parmigiano reggiano
1 cup chopped Parsley, divided
2 eggs
½ teaspoon red pepper flakes, optional
Salt and freshly ground pepper to taste
1 ½ cups shredded mozzarella
2 cups breadcrumbs
4 cups marinara sauce
Fresh basil to garnish
Instructions
Preheat broiler and set oven rack in upper position. Line a rimmed baking sheet with aluminum foil and reserve.

In a medium bowl, combine the bread and the milk. Reserve until bread is very soggy.

In a large bowl, combine the onion, garlic, parmigiano reggiano, ½ cup chopped parsley, eggs, red pepper flakes, salt, and pepper. Then, add the meat and the soggy bread, and using your fingers, mix them thoroughly until combined. Be careful not to overwork the meat!

Form the meat mixture into 8 large patties. Make a small indentation in the center of 4 of them, leaving at least 1/2 inch space around the edges. Then, divide 1 cup of shredded mozzarella among each of these 4 patties and top them with the remaining patties, using your fingers to seal the edges and form them into 4 large meatballs.

In a large bowl, combine breadcrumbs, remaining chopped parsley, salt, and pepper. Carefully roll each polpettone on the breadcrumbs mixture.

Arrange polpettone on prepared baking sheet and broil them until browned on top, about 7 to 10 minutes. Remove from oven and reduce ovens temperature to 400F.

In a large cast iron or ovenproof dish, add 3 cups marinara sauce and arrange polpettone on top. Top each polpettone with remaining mozzarella cheese and a few tablespoons of marinara sauce. Bake in the oven until the cheese is melted and polpettone are cooked through (145F), about 15 minutes.

Sprinkle with fresh basil and serve immediately with spaghetti, rice, mashed potatoes, or simply with some crusty bread!