Holiday Detox Smoothie
This post is sponsored by ZonePerfect, but all opinions are my own.
Who said a detox smoothie has to taste awful? This delicious version is packed with nutrients and tastes like tropical paradise!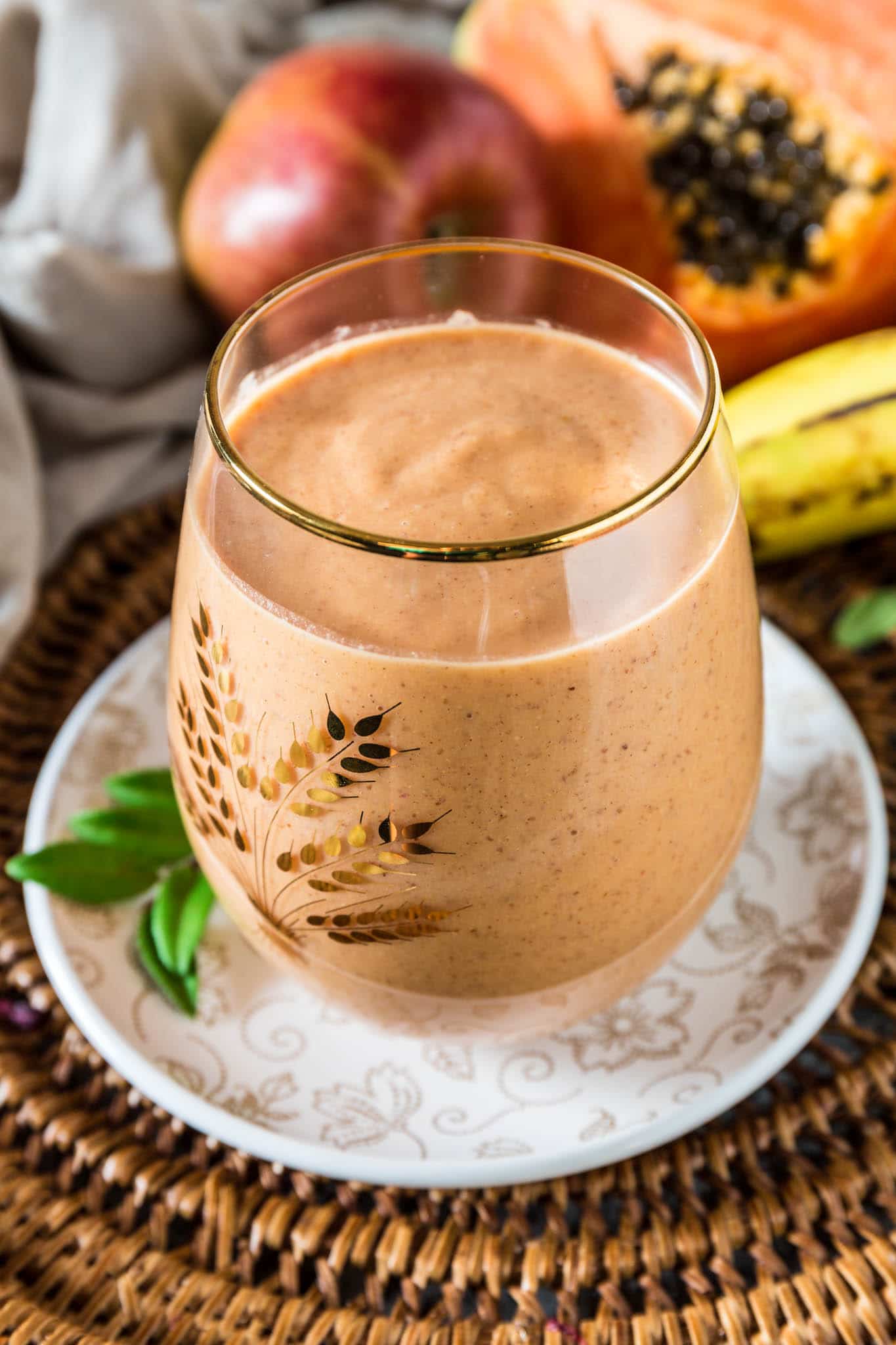 Hellooo, 2017!
I am so glad 2016 is over. What a crazy awful year!
Okay, maybe that's a little too extreme. 2016 had some good moments, like my trip to Italy and quitting my lousy job to blog full time! But, with my grandfather's death and a miscarriage, it probably goes into the "one of the worst years of my life" folder.
But with the new year comes a lot of hope and resolutions. It's like we get a clean slate and the opportunity to try and do some things differently.
"Eating healthy" is always one of the items on my resolutions list, so I thought I would start the year by sharing my Holiday Detox Smoothie, aka the smoothie I have for breakfast the day after indulging in a party.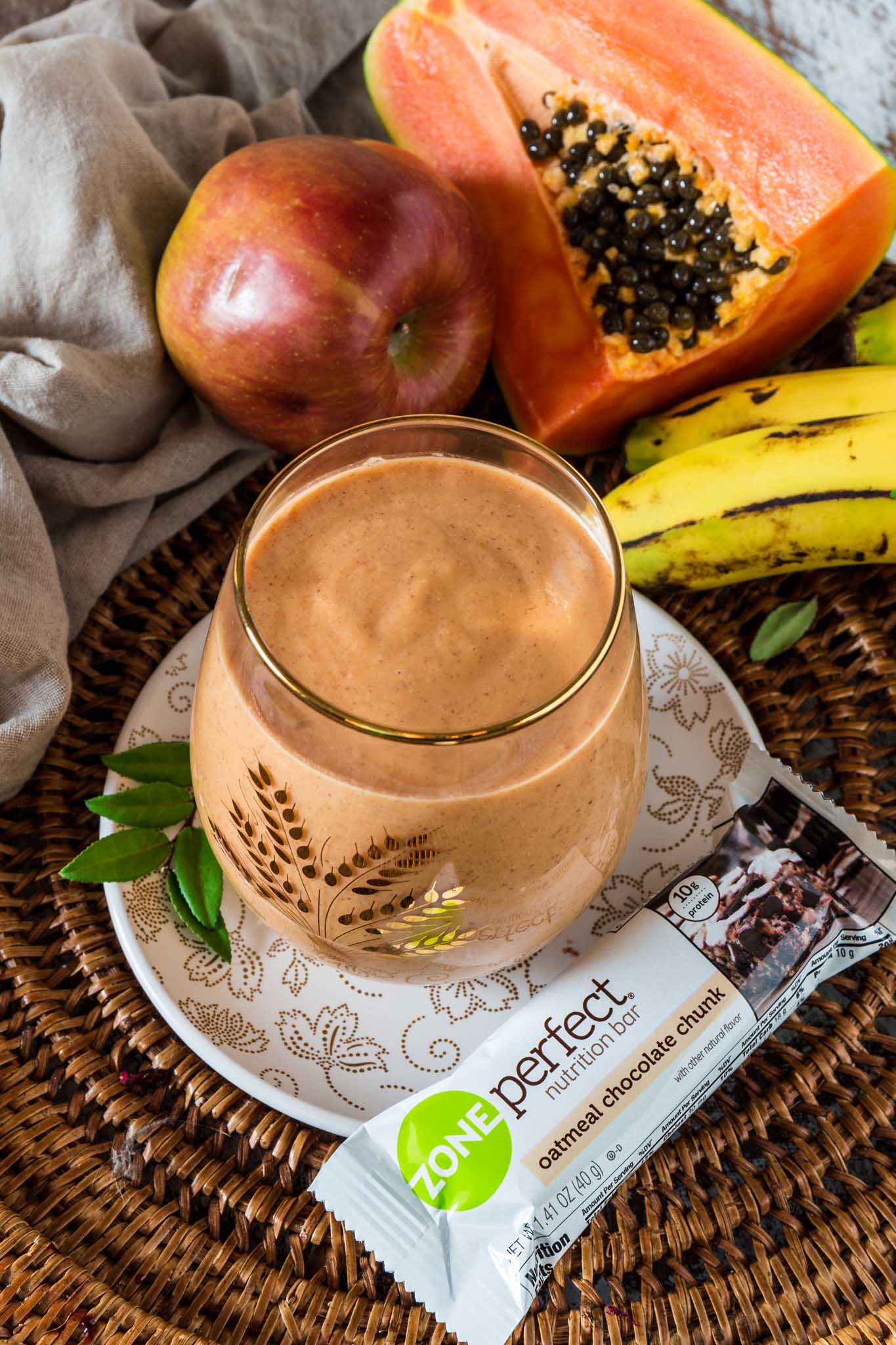 I know most people picture a detox smoothie green, with kale or spinach and/or some sorts of vegetable.
Kudos to whoever finds that delicious, cause I don't. I might be okay with a carrot or even beets in my smoothie, but kale does not belong in there!
My detox smoothie consists of: papaya, apple, banana, almond milk, almond butter (for a dose of protein) and flaxseeds (for fiber). And you'll be glad to know that it's naturally sweet, so no need to add sugar/honey/agave/sweetener.
The key ingredient here is the papaya, one of the world's healthiest fruits and always a must at any Brazilian breakfast table. It is loaded with antioxidants that not only reduce inflammation but also fight disease and help keep you looking young. And with the speed that these years are passing by, I definitely need all the help I can get! ;-)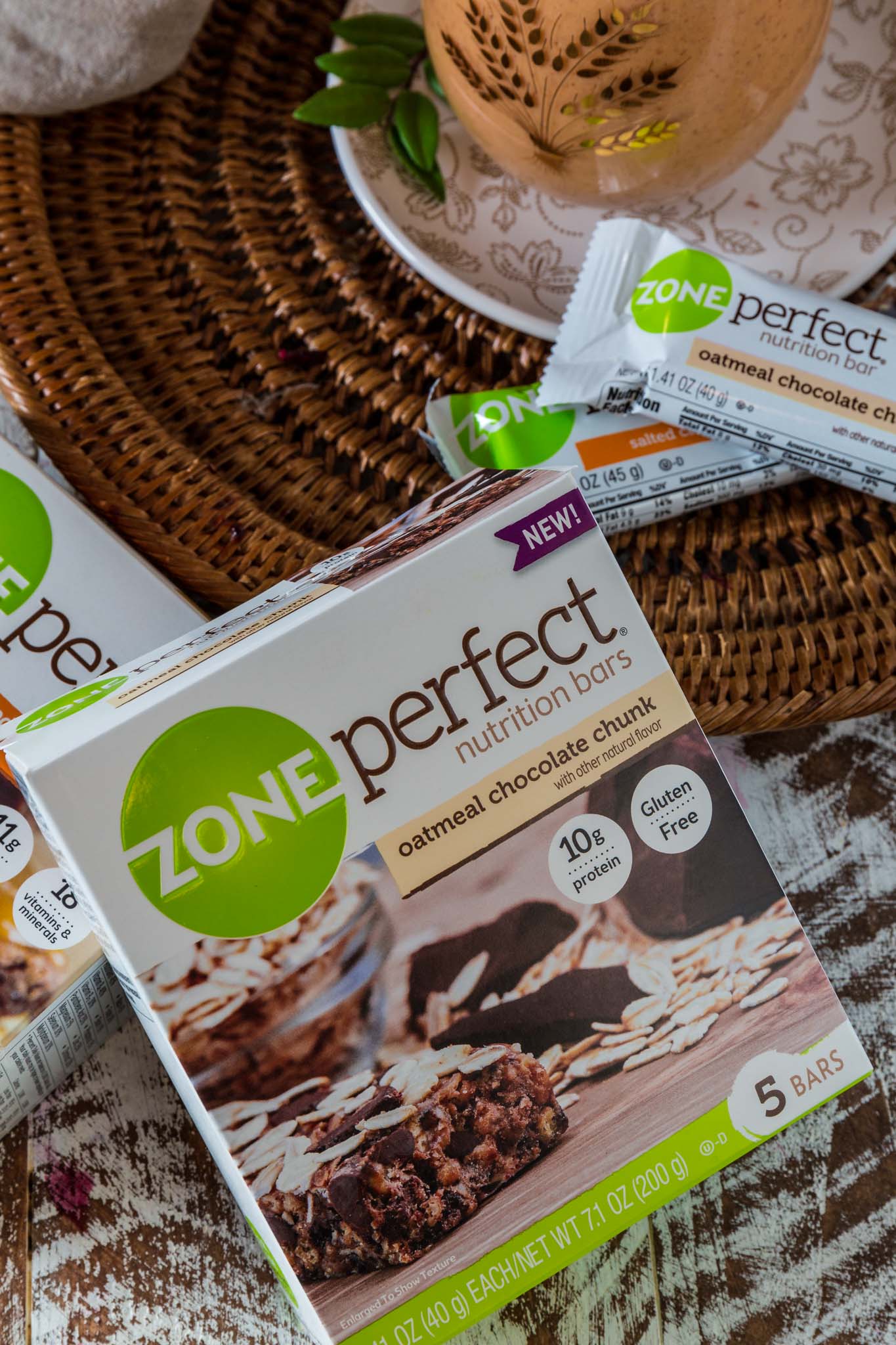 What I love about this detox smoothie – other than the fact that it tastes amazing – is that it's QUICK. Just throw all the ingredients in the blender and voila! You can even transfer it to a to-go mug so you can enjoy it during your commute.
Add a ZonePerfect nutrition bar and you have a guilt-free breakfast of champions! :)
ZonePerfect bars are packed with no less than 10g of protein to satiate and fuel the day. They are a great and unique blend of vitamins & minerals, making them the perfect morning pick-me-up. Oh, and the flavors? One better than the other!
I usually find that I stay on top of my "eating healthy" goal if I have small snacks throughout the day. Keeping a few ZonePerfect bars in my purse has saved me from buying the nasty vending machine potato chips a few times.
And they pair great with this smoothie! (Gosh, I like them so much that I might even add one to the smoothie next time.)
Delicious detox smoothie + a ZonePerfect bar = the dream team! The team who is going to keep me in check so I don't wake up on January 1st to have leftover hors d'oeuvre for breakfast.
Never done that? Good for you!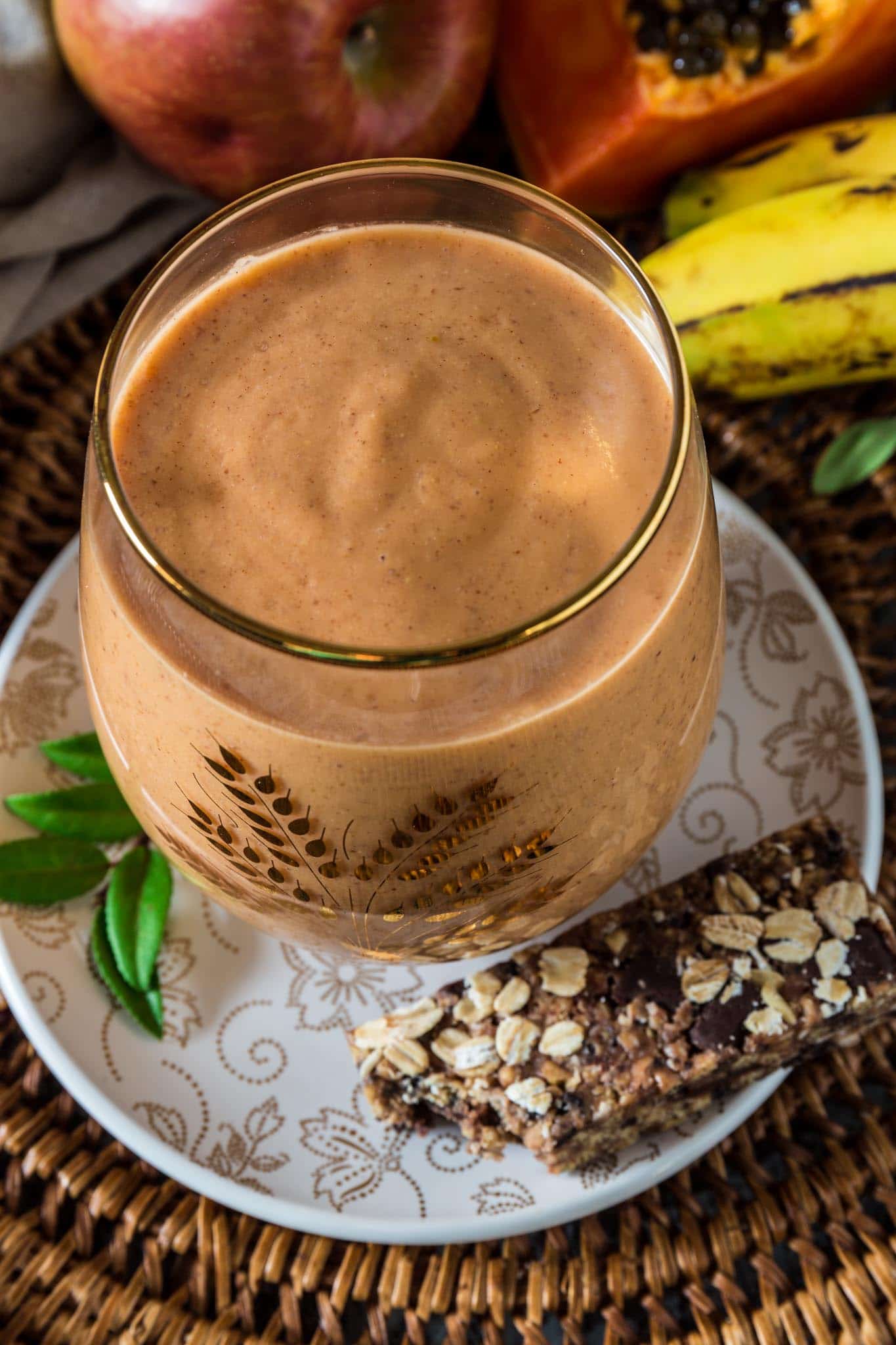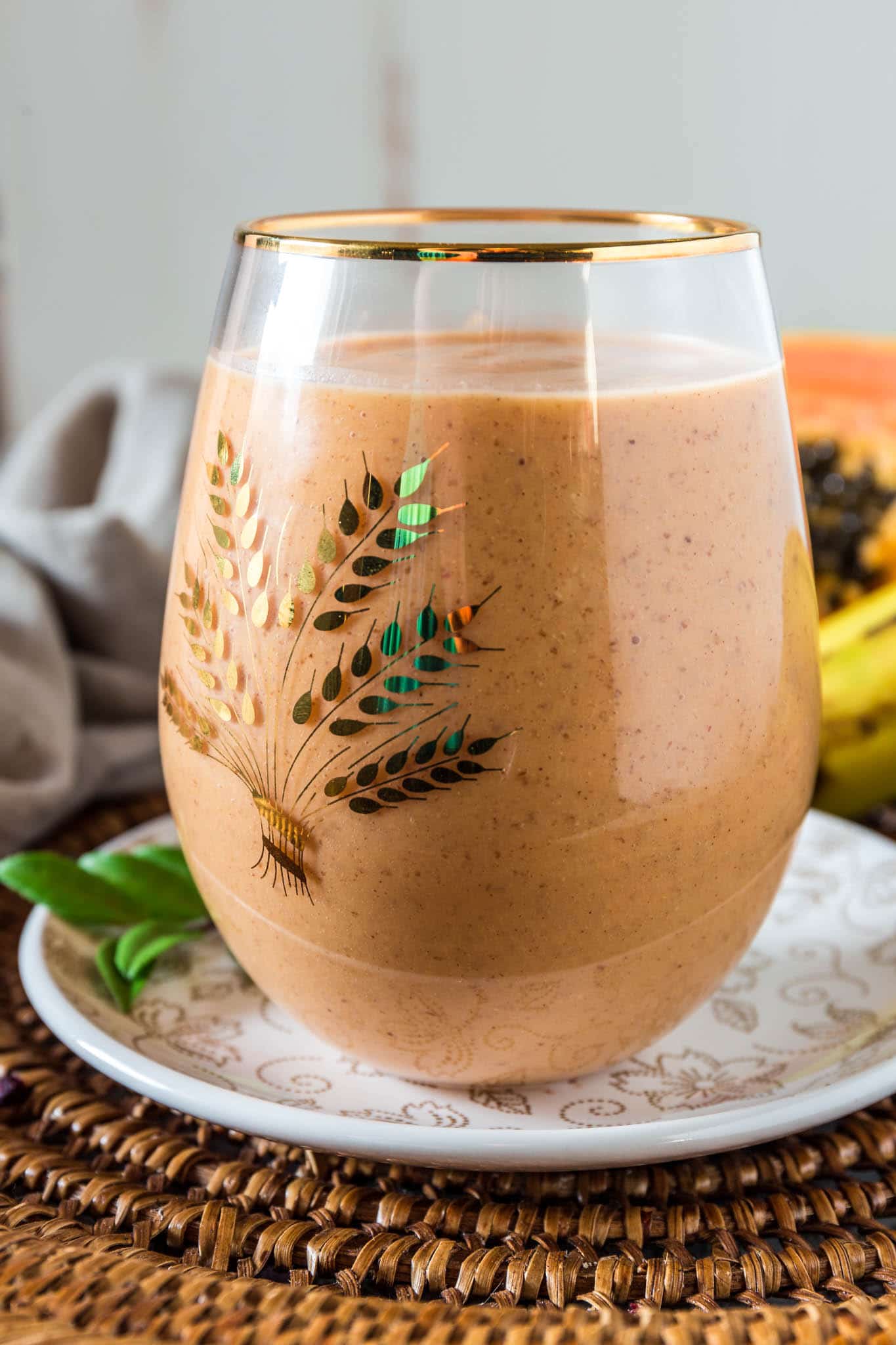 If you've been a good girl/guy during the holidays and brought your own kale chips to the party so you wouldn't have to be tempted by the puff pastry wrapped brie, go ahead and reward yourself with bacon for breakfast.
But if you, like me, went to town at your family's Christmas feast, ate all the canapes and drank your fair share of New Year's Eve cocktails and is now feeling like you're in desperate need of something healthy, this detox smoothie is for you!
And the best part? It doesn't taste like punishment! :) In fact, it will taste like you started the year at a tropical beach, sipping a delicious nectar from the Gods.
Because NOBODY deserves to start the year drinking kale.
Happy New Year, folks!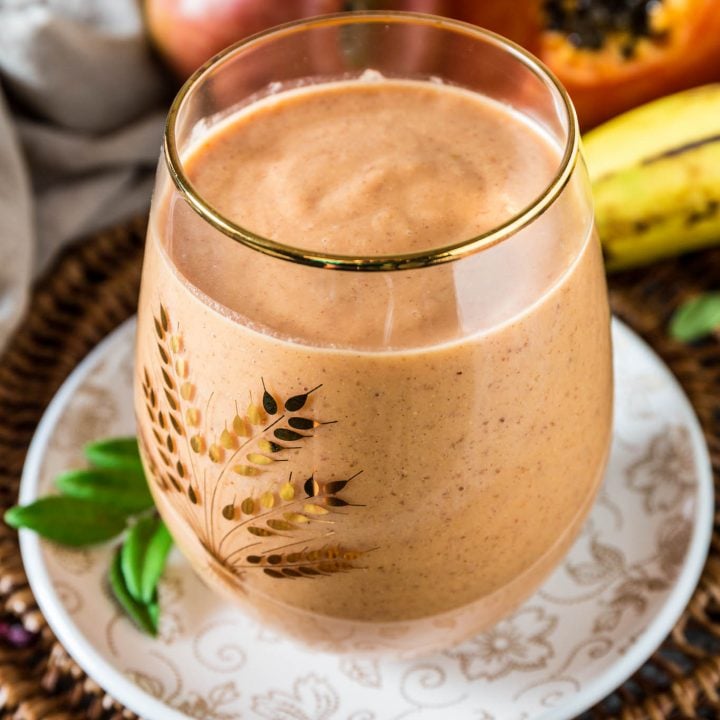 Holiday Detox Smoothie
Yield: 1 smoothie
Prep Time: 5 minutes
Total Time: 5 minutes
Ingredients
1/2 apple, cored
1/4 of a large papaya, seeds removed
1 banana
1 1/2 cups almond milk
1 tablespoon almond butter
1 tablespoon flaxseed
Instructions
Combine all the ingredients in the jar of a blender and blend until smooth.
Serve immediately!