Braised Beef Ragu with Gemelli
I hope you're hungry!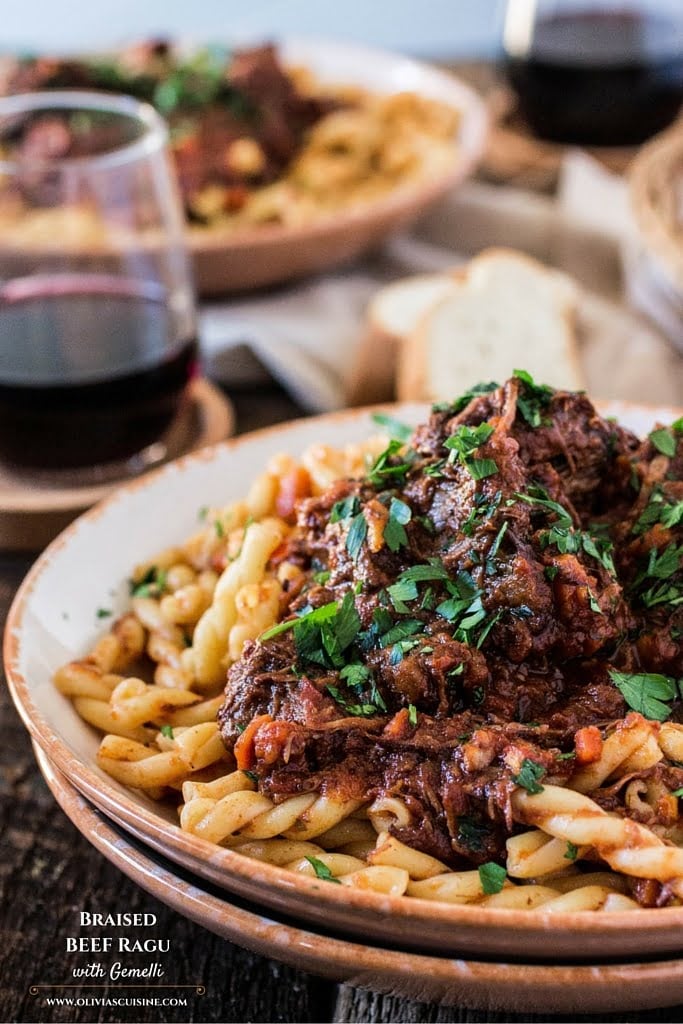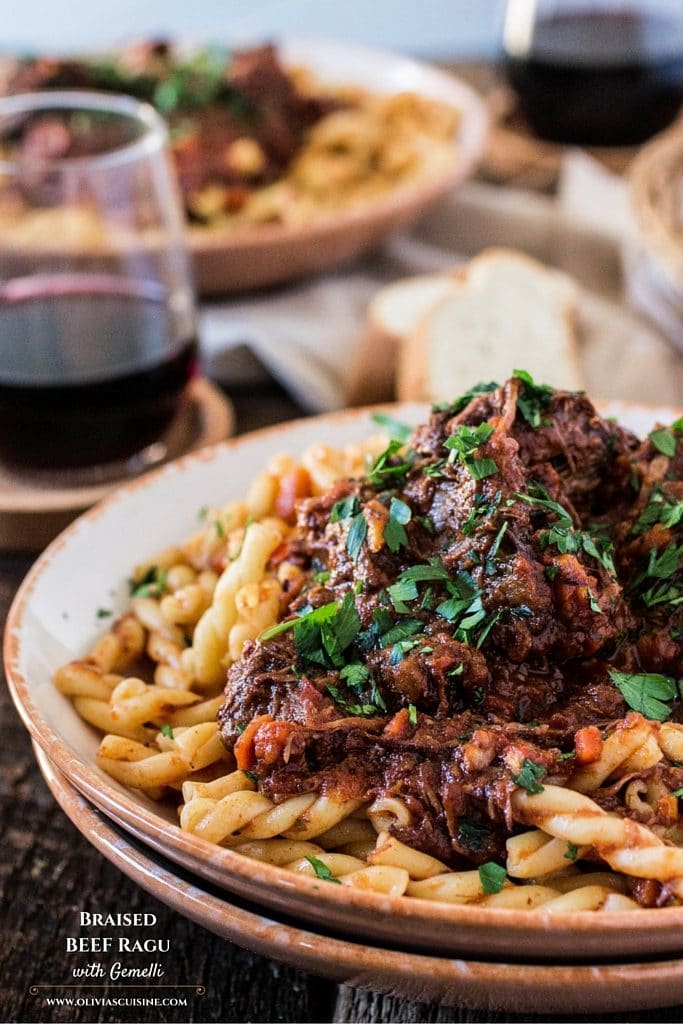 It's a rainy, cold day for most of us East Coasters. For me, that means huge cravings of warm, comforting dishes like this Braised Beef Ragu with Gemelli!
If you guys could only smell it through the screen… It's that type of cooking scent that you can smell from the elevator and makes all your neighbors envy you a little bit! (Thank God I'm not friends with any of them – yet! – or I bet I would be hearing some knocking on my door.)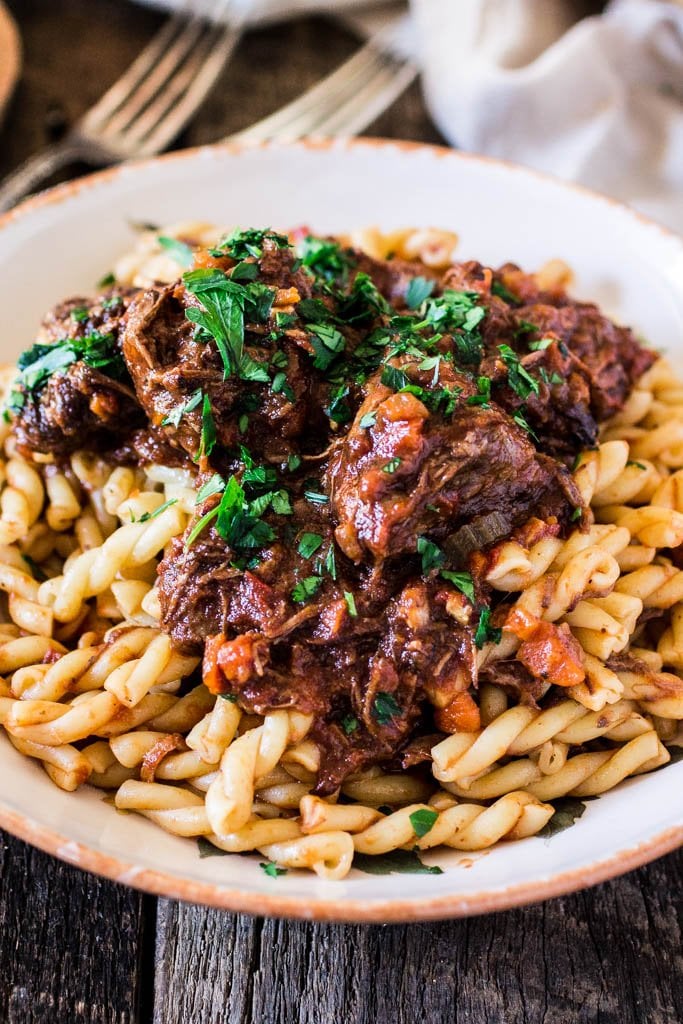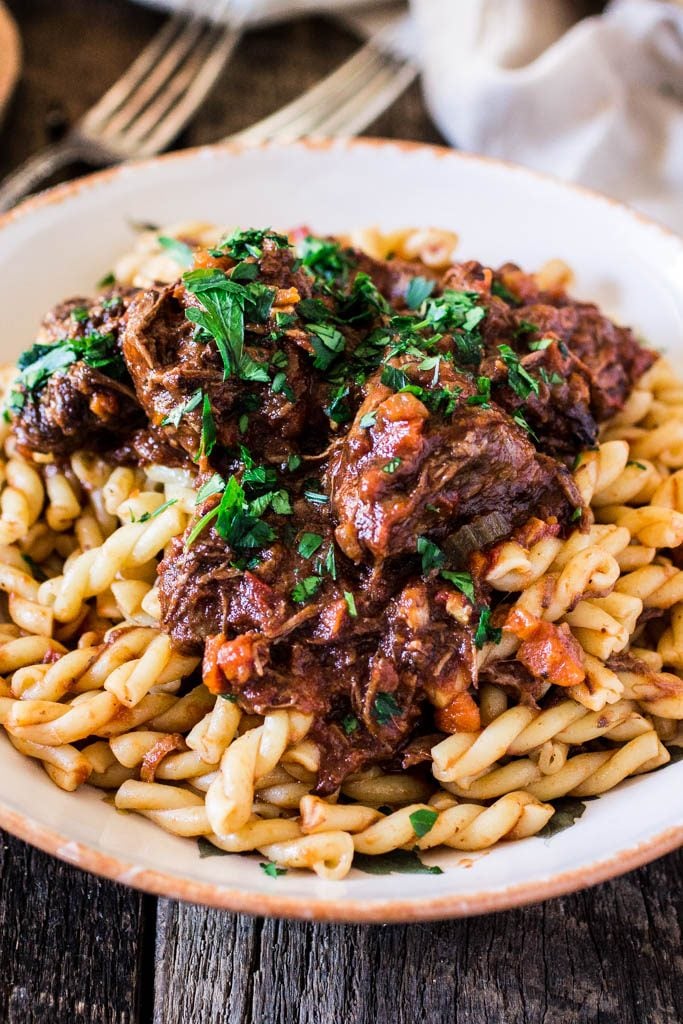 Tim and I returned from our mini getaway to Woodstock last Tuesday and are already back to our dreadful crazy routines.
The trip was short but amazing and left us wanting some more. We ate a lot of good food – more on that on a future post -, rested and even did a little exploring of the woods with our dog Lola.
Whaaaat? Me in the woods? ? Yes, it was scary! I don't know if I was more scared of the crickets or the black bears. ??? (x black)
No, I didn't actually see any black bears but just the sign saying "beware of black bears" is enough to spook this city girl! ?
It doesn't help that Tim made me go into the dark woods at 11pm, in search of this so called Magic Meadow. Apparently, according to our pizzeria waiter, a bunch of hippies were gathering to celebrate the Lunar Eclipse and we thought we should join and be more adventurous.
Needless to say that after we wandered Blair-witch-style through the darkness for about 20 minutes, I begged until he agreed to go back. A glass of wine in a cabin full of bugs is as adventurous as it'll get with me, sorry babe!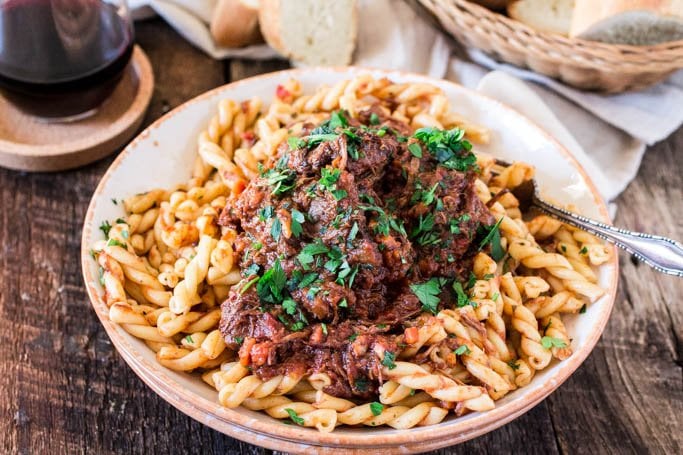 But anyways… I'll talk more about Woodstock later.
Right now let's focus on this cozy, warm Braised Beef Ragu that requires little work and cooks itself for 3 hours in your oven.
I've been making this recipe for a while now and after tweaking a thing or two I think I finally found perfection.
I was just waiting for Fall to share it, because Fall = comfort food = hot oven = beef ragu = Olivia reaching nirvana! ? (Prob not the same nirvana those hippies were reaching in Woodstock's Magic Meadow… Just regular food nirvana. No psychedelic substances! ?)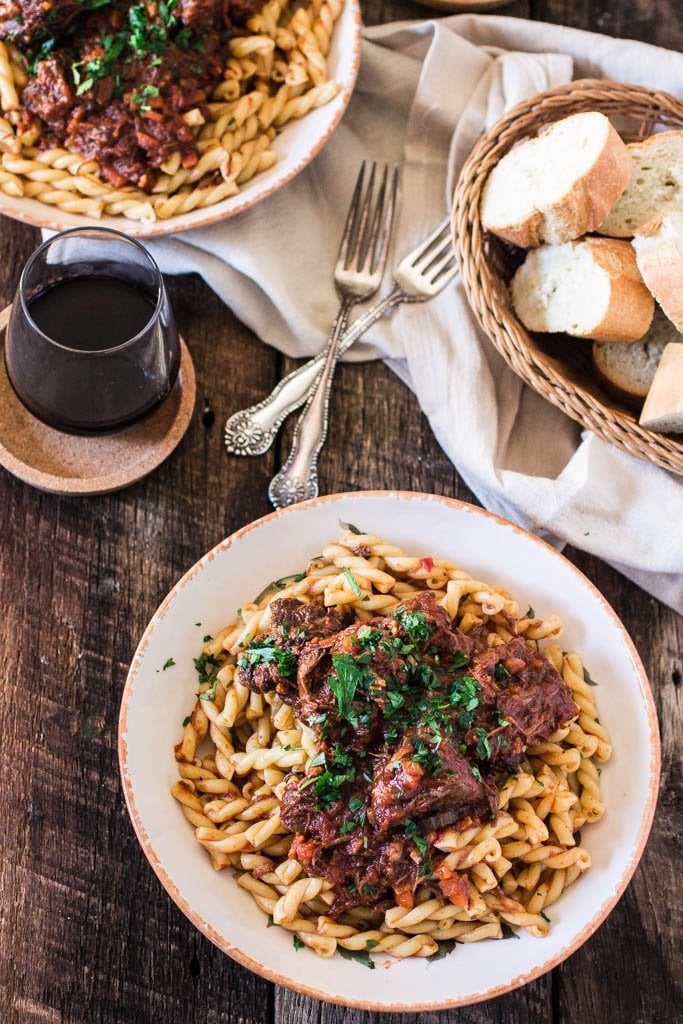 The beef cooks until it falls apart at the touch of a fork. The tomato based sauce is flavored with a classic Italian soffritto (onion, garlic, celery and carrots), red wine, balsamic vinegar for a little sweetness, and some fragrant herbs (thyme, rosemary and sage)!
I know beef ragu is often served with long pasta, like pappardelle of fettuccine, but I really like how the sauce gets inside all the little nooks and crannies of the Gemelli.
I originally wanted to serve it over cavatelli, but couldn't find any, even at NYC's famous Italian emporium, so I went for the Gemelli instead. I'm glad to report that it didn't disappoint!
To be honest, this beef ragu is so amazingly delicious that it can be served over any pasta, polenta, rice or even eaten by itself with some bread! Just make sure your pasta is al dente… Nothing worse than soggy pasta!
Other than that, be prepared to do some browning and sautéing but then relax waiting for your dinner. It's a great opportunity to invite some friends over, as this recipe feeds a small crowd. Better yet if they have an appetite, because Italian food is not supposed to be consumed in moderation! ?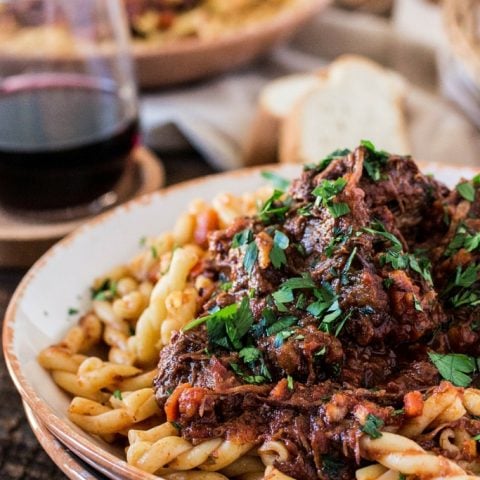 Braised Beef Ragu with Gemelli
Yield: 8 to 10
Prep Time: 15 minutes
Cook Time: 3 hours 30 minutes
Total Time: 3 hours 45 minutes
Ingredients
4lbs chuck roast, quartered
Salt and freshly ground black pepper
1/4 cup olive oil
1 large sweet onion, chopped
4 cloves of garlic, minced
2 medium carrots, diced
2 celery stalks, diced
1 tablespoon all purpose flour
2 tablespoons tomato paste
1/4 cup balsamic vinegar
2 cups red wine (I use Chianti)
1 (28oz) can crushed tomatoes (San Marzano is best!)
2 cups beef stock
2 sprigs fresh Rosemary
1 sprig fresh sage
5 sprigs fresh thyme
1lbs Gemelli pasta, cooked according to instructions
Chopped parsley to serve
Freshly grated Parmigiano Reggiano to serve
Instructions
Preheat oven to 325 degrees.
Season the beef with salt and pepper.
Heat the olive oil on a large oven-proof Dutch oven over medium high heat. When the oil is sizzling hot, brown the meat on all sides, about 5 minutes, working in batches if necessary. Remove the beef from the pot and reserve.
Reduce heat to medium. Add the onion and garlic to the same pot and sauté until fragrant and beginning to brown, about 2 minutes. Add the carrot and the celery and sauté until the vegetables are softened, about 5 minutes.
Add the flour and the tomato paste, stir and cook for a minute to get rid of the raw flour taste. Then add the balsamic vinegar and cook, scrapping the bits off the bottom of the pot with a wooden spoon, until almost all gone, about 5 minutes.
Add the red wine and simmer until reduced by half, about 5 more minutes.
Meanwhile, prepare bouquet garni by tying all the fresh herbs together with a kitchen string.
When the wine has reduced, add back the browned beef and the bouquet garni. Add the crushed tomatoes and the beef stock. Bring the liquid to a simmer over medium high heat. Then, cover the dutch oven and transfer to the preheated oven. Cook for 3 hours or until the beef is very tender.
If the sauce is too liquidy at the end of the 3 hour cooking period, remove the beef and bring the liquid to the stovetop, over medium heat, to simmer until thickened to your likings.
Discard the bouquet garni.
Shred the meat into smaller pieces and return to the pot with the sauce. Taste for seasoning and adjust salt and pepper if necessary.
Cook the pasta, according to package instructions, until al dente.
Drain the pasta, reserving a little of the pasta water. Spoon a little of the tomato sauce over the pasta and toss, adding pasta water if necessary.
Serve the pasta with the ragu (and some more sauce). Sprinkle with the chopped parsley and serve with freshly grated Parmigiano Reggiano.
P.S. Wanna keep in touch? Follow me on
Facebook
,
Twitter
,
Instagram
or
Pinterest
to stay up to date with my posts! If you end up making one of my recipes, I would love to see it! Just take a photo and post it on your preferred Social Media and tag me or use the hashtag #oliviascuisine!