Spaghetti alla Puttanesca
Spaghetti alla Puttanesca is an Italian classic and a specialty of the Campania region. Consisting of tomatoes, garlic, olives, capers and anchovies (which are optional in my version), this dish is quick, deliciously aromatic and on the table in 20 minutes!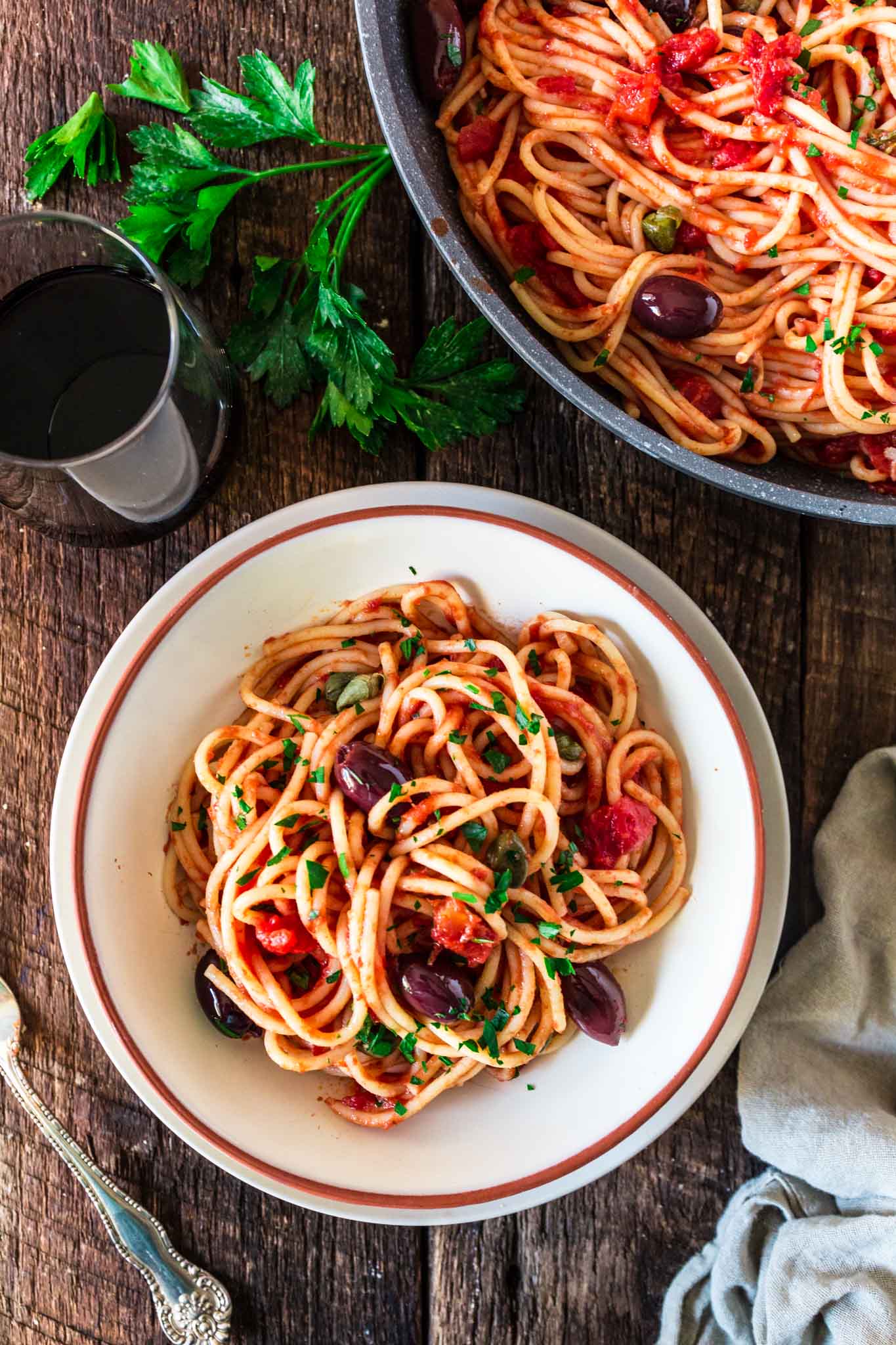 I participated in Mom Blog Tour Winter Fancy Food Show (#MomBlogTourFF) on behalf of Wendy's Bloggers. I received Academia Barilla and Bialetti products to facilitate my review, but my opinions and the recipe are my own.
Oh, the classics! I live for the classics.
The truth is you can never go wrong with a classic dish, especially in the Italian cuisine. After all, who doesn't love Spaghetti Carbonara? Or perhaps a good bowl of Cacio e Pepe? Or maybe, if spicy is your thing, you'd be all over some Spaghetti all'Amatriciana.
Today's focus is Spaghetti alla Puttanesca. Very popular among foodies but perhaps not as famous as the dishes mentioned above. And also, usually not for the faint of heart as it can be quite pungent and powerful!
But not this version! Even though I am adding the anchovies to the ingredients list, just incase you're feeling "fishy", I am here embracing the anchovy-less Neapolitan version instead of the one popular in Lazio. A much milder version that is guaranteed to please even the pickiest eaters.
Okay, I lie… There's still olives and capers, which are probably not very kid friendly. But it's okay, cause you're probably not gonna want to serve this dish to kids anyway when I tell you the meaning of its name… ???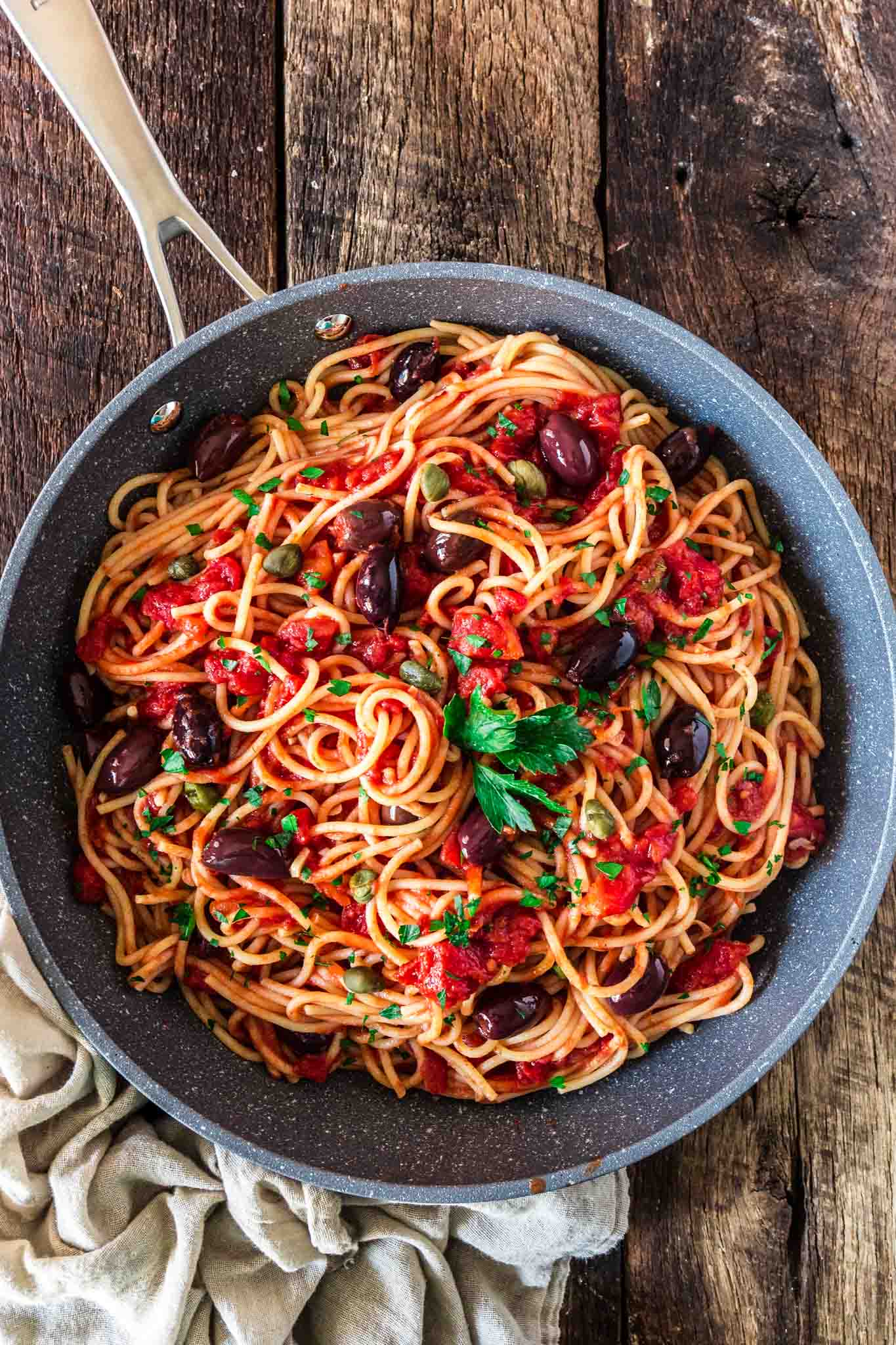 Puttanesca translates as "in the style of the whore" and it derives from the word "puttana". There's actually a few tales regarding how this dish got its name.
Some say that the name originated, in the beginning of the century, with courtesans, since it was quick and easy enough to make therefore keeping the interruption of their business to a minimum. Others believe that the aroma lured men from the street into the brothel and that the dish was served to them.
My favorite version comes from Annarita Cuomo and her 2005 article from Il Golfo where she says that the Spaghetti alla Puttanesca was invented in the 1950s by Sandro Petti, co-owner of a famous Ischian restaurant called Rancio Fellone. Petti's inspiration came when he was closing the restaurant one evening and some customers came in and sat at one of his tables. He was low on ingredients and told them he didn't have enough to make a meal. Their reply? "Facci una puttanata qualsiasi", which translates to "Make any kind of garbage". Petti had nothing more than four tomatoes, two olives and some capers. And, with that, the Spaghetti alla Puttanesca was born!
Whatever its origins, I just absolutely love this dish. It is colorful, vibrant, tasty and – my favorite part – very easy to make!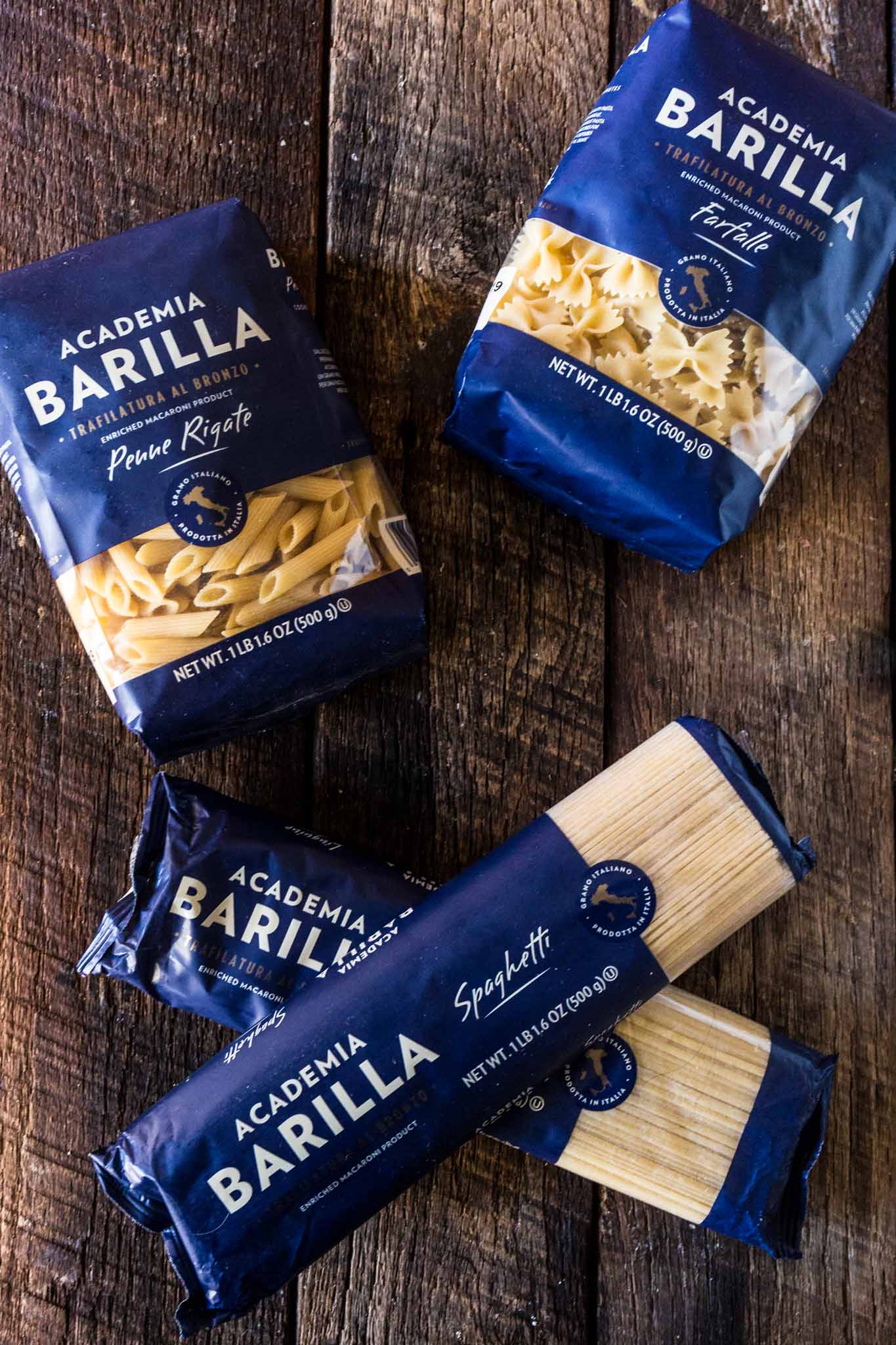 By now, we've been friends long enough for you to know that I'm a Barilla girl.
I was in Italy last Fall and while visiting grocery stores – one of my favorite things to do when visiting other countries – I noticed that the majority of their pasta selections was by Academia Barilla. Being the curious cat that I am (especially when food is concerned), I bought some and we cooked a delicious pasta dish that night, after walking around Milan all day.
You can immediately tell that this pasta is top quality. Academia Barilla is the best Italy has to offer and the ingredients that go into their products are carefully controlled and selected.
Imagine my happiness when I found out that you can get Academia Barilla in the US too! Oh, this pasta lover is in heaven.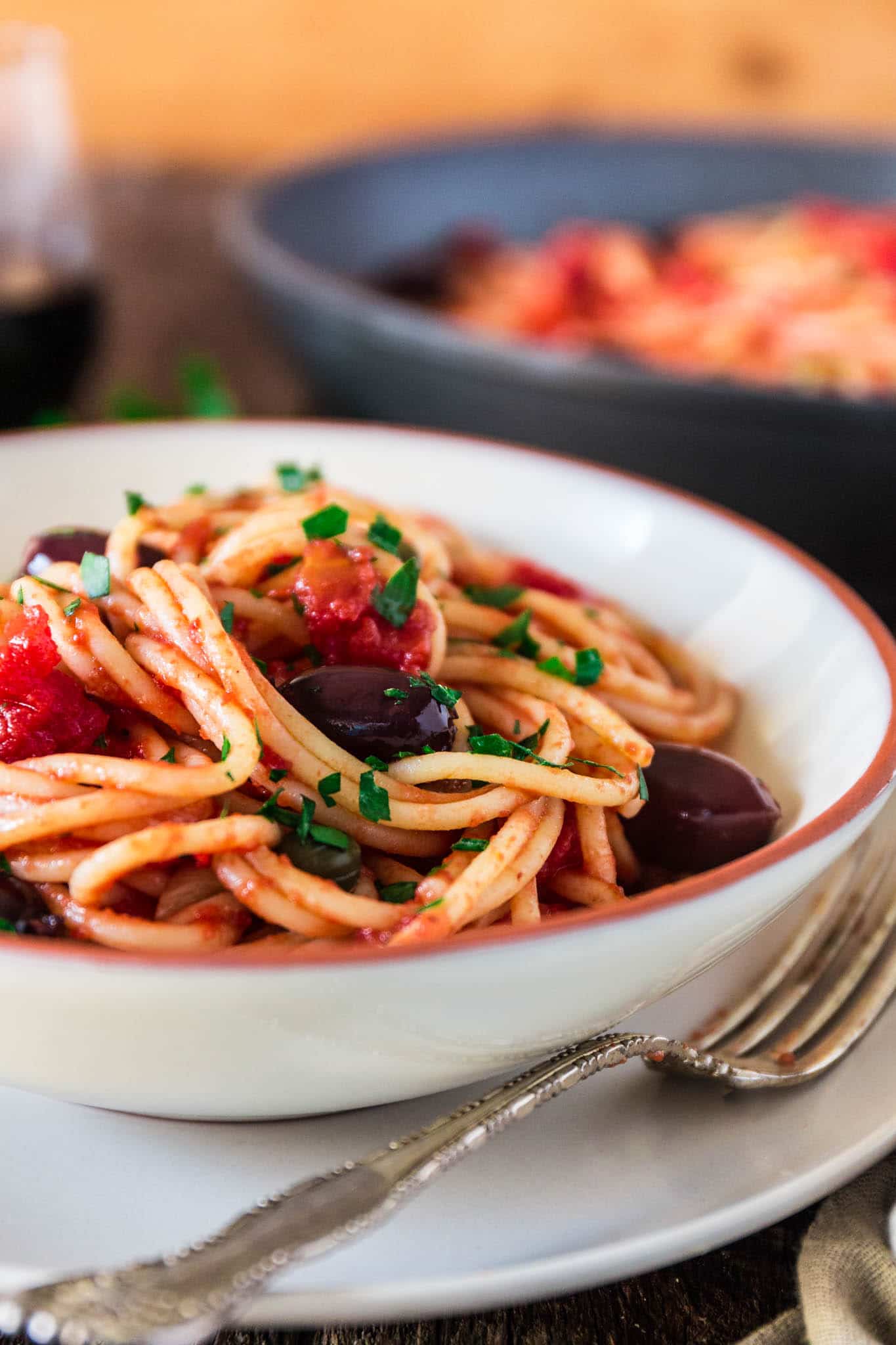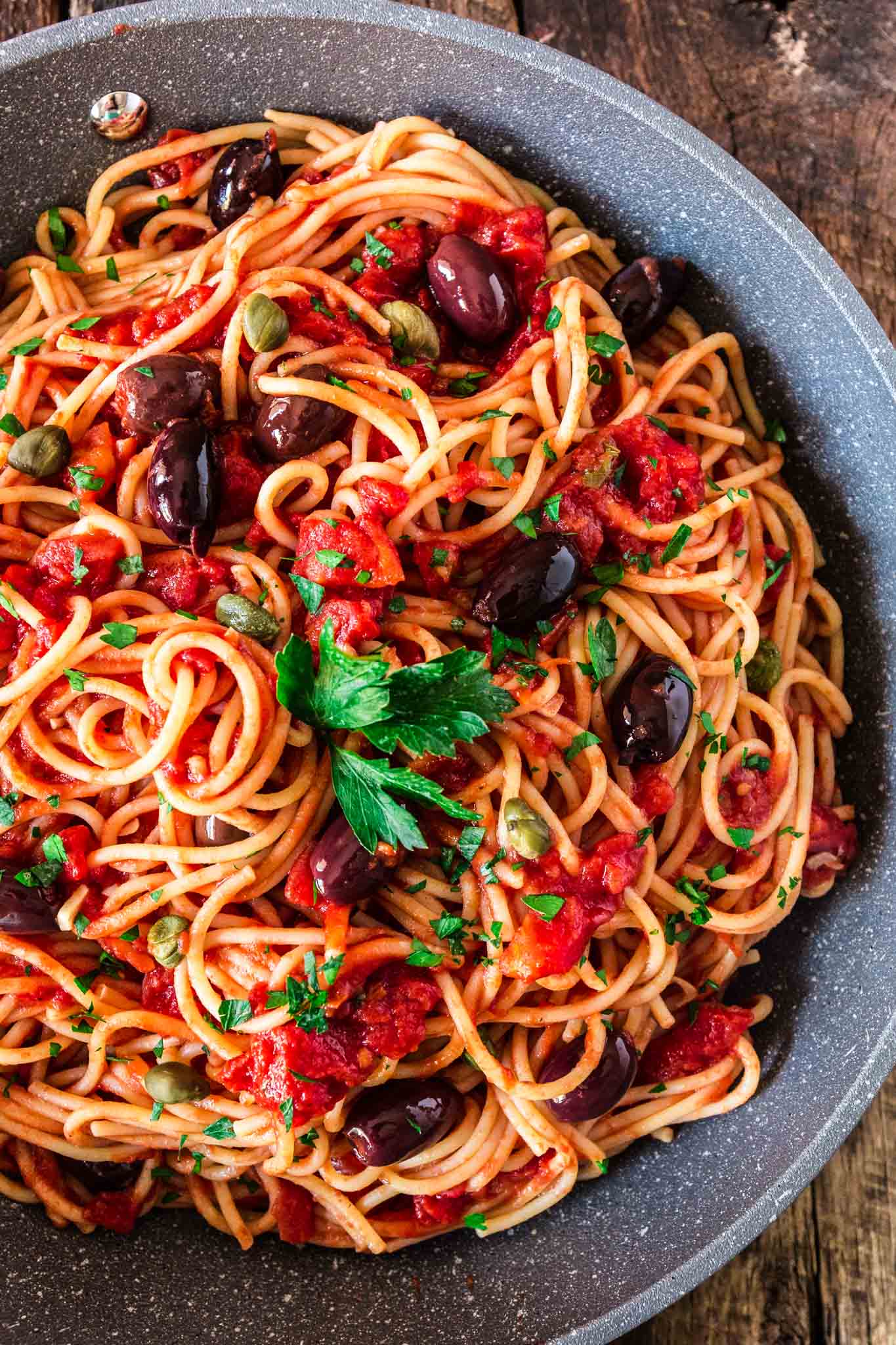 And because I'm going all in and keeping the theme "Italian", I cooked my pasta and sauce using Bialetti products. I love their 2-in-1 cook & drain pot and use it to cook pasta – because less time washing dishes means more time to enjoy Spaghetti alla Putanesca, amirite?
I'm also completely obsessed with Bialetti's Mineral DS Saute Pan. Heavy-gauge, aluminum vessel for superior heat distribution and dishwasher safe for easy cleaning. ❤️
Good tools and tasty ingredients always inspire me to get into the kitchen to cook something delicious. That being said, feel free to use whatever pots/pans you have at home and the ingredients that you already have in your pantry. Spaghetti alla Puttanesca is very forgiving and easily customizable.
Now let's make "una puttanata qualsiasi", shall we?
Spaghetti alla Puttanesca
Yield: 6
Prep Time: 5 minutes
Cook Time: 15 minutes
Total Time: 20 minutes
Ingredients
1 pound dried spaghetti
1/4 cup olive oil
4 cloves of garlic, finely chopped
1/2 teaspoon red pepper flakes
4 to 6 anchovy fillets, finely chopped (optional)
1/2 cup black olives, sliced or whole
2 tablespoon capers
1 (28 ounces) can crushed tomatoes
Salt and freshly ground pepper, to taste
1/2 cup chopped parsley
Instructions
Bring a pot of water to boil. When boiling, season generously with salt and cook the pasta according to package instructions, stirring occasionally, until al dente.
While the water is boiling/pasta is cooking, make the sauce. In a large skillet, heat the olive oil over medium heat, and sauté the garlic, anchovies (if using) and red pepper flakes until garlic is golden and fragrant, about 2 minutes. Add the olives and capers and stir to combine.
Add the crushed tomatoes and lower the heat, bringing to a bare simmer. Cook for about 10 minutes or until the pasta is ready. Season with salt and freshly ground pepper to taste. Add about 2/3 of the parsley and toss to combine.
When pasta is al dente, transfer it to the sauce using tongs. Reserve a little of the cooking water.
Toss the pasta with the sauce, adding a bit of the cooking water if necessary.
Garnish the dish with the remaining chopped parsley and serve immediately, with Parmigiano Reggiano on the side.
GIVEAWAY
I'm excited to announce that a lucky winner will win assorted Academia Barilla pasta, one Bialetti Pasta Pot and Bialetti Mineral DS cookware.
One winner per household, email address, or home address. If you have won this prize on another blog you are ineligible to win again. Winner must have a U.S.-based address to receive the prize.
a Rafflecopter giveaway