Turkey Sausage and Smoked Gouda Quiche
Easy and delicious, this Turkey Sausage and Smoked Gouda Quiche is the perfect dish for when you need to come up with something special for a last minute casual gathering, like breakfast or brunch with friends.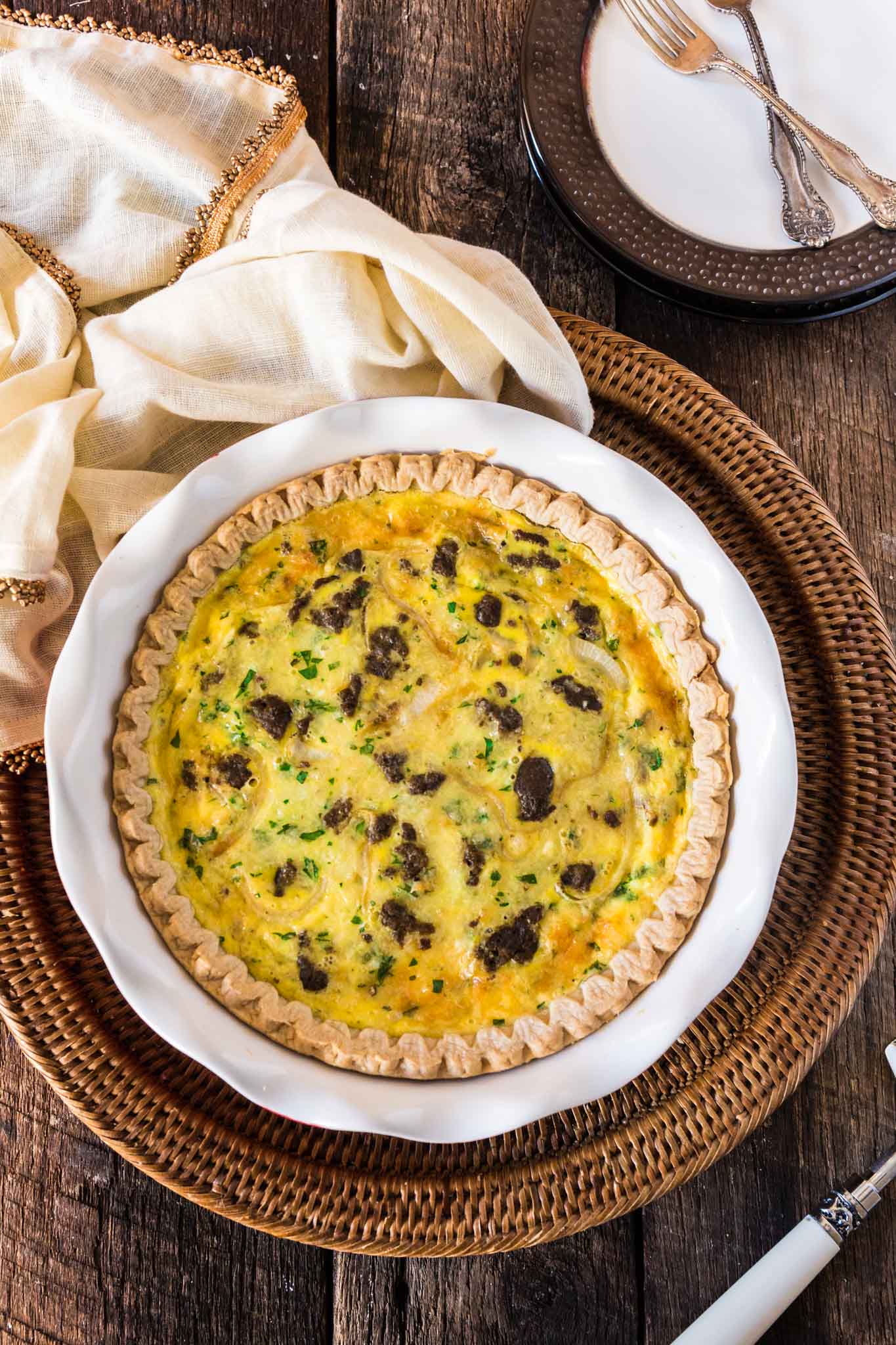 (This post is sponsored by Jennie-O!)
Let me start this post by saying that I am completely overwhelmed with the fact that we are in April and Easter is next week.
But, at the same time that my perception of time is completely off and I sometimes think that Christmas was just yesterday, my pregnancy has been moving along with the speed of an elderly turtle who suffers from severe arthritis.
And if you think that I'm in heaven because it's chocolate season and pregnant women can indulge in whatever they want, think again! I was forced to be on an incredibly annoying low carb diet and had to say goodbye to chocolate and other beloved sweets and carbs for the foreseeable future.
So this weekend, when we had some friends over for an impromptu early Easter brunch, I had to come up with something healthy that would fit my pregnancy diet and at the same time impress my guests.
And that's how this Turkey Sausage and Smoked Gouda Quiche was born!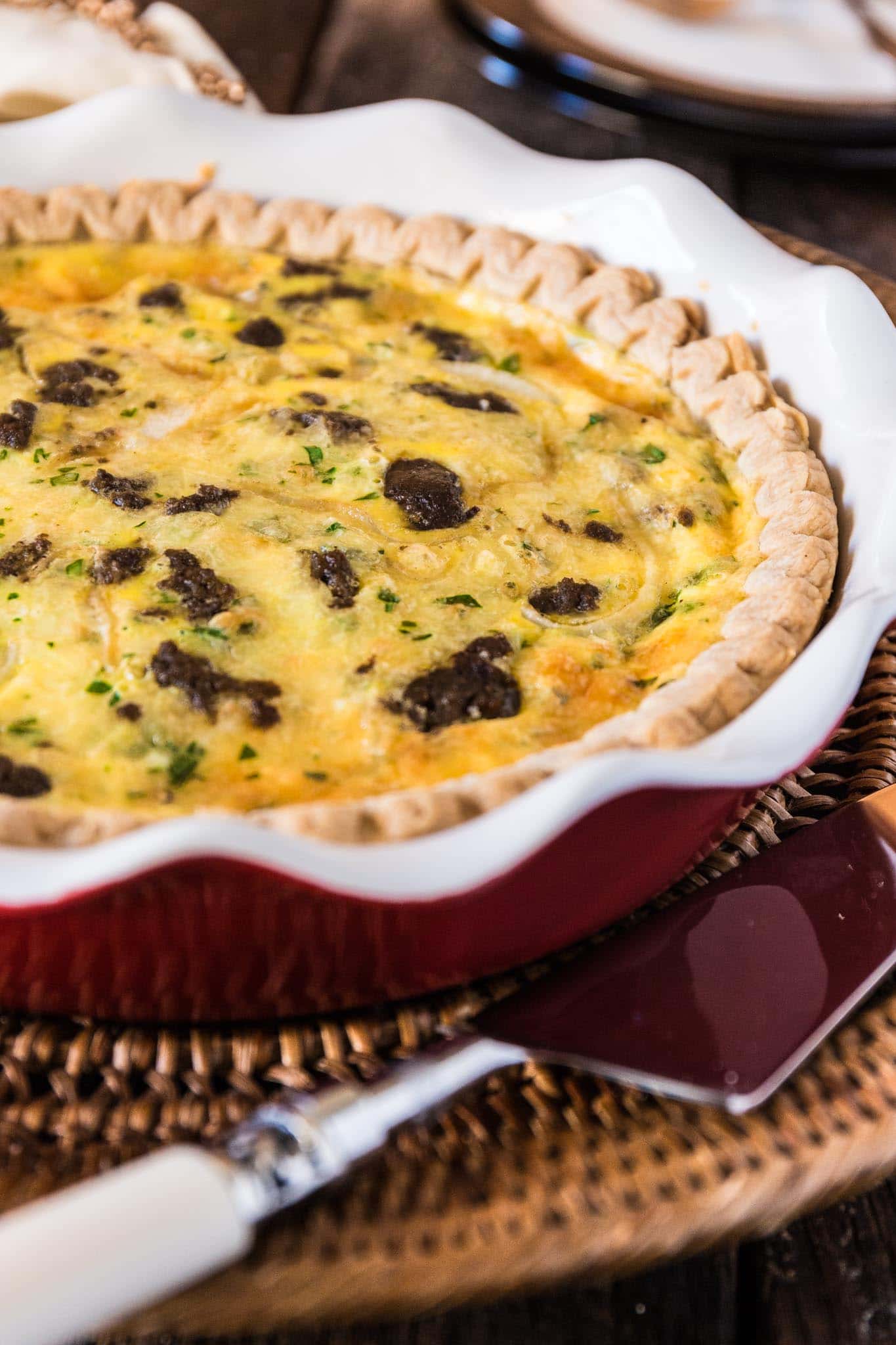 The old me would have freaked out the moment I realized I was going to have friends over. I am an "impress from scratch" kinda gal and would have been adamant about making my own flakey and buttery crust.
The new pregnant (aka cranky and fatigued) me only had to go to the store to grab a frozen pie crust (the refrigerated one works as well) and some good quality cheese. Because one thing I'll never compromise is my cheese! And if you've been following my culinary journey for a while, you know that smoked gouda is one of my favorites.
The rest of the ingredients I already had in my fridge/pantry: eggs, onion and – of course – Jennie-O turkey sausage.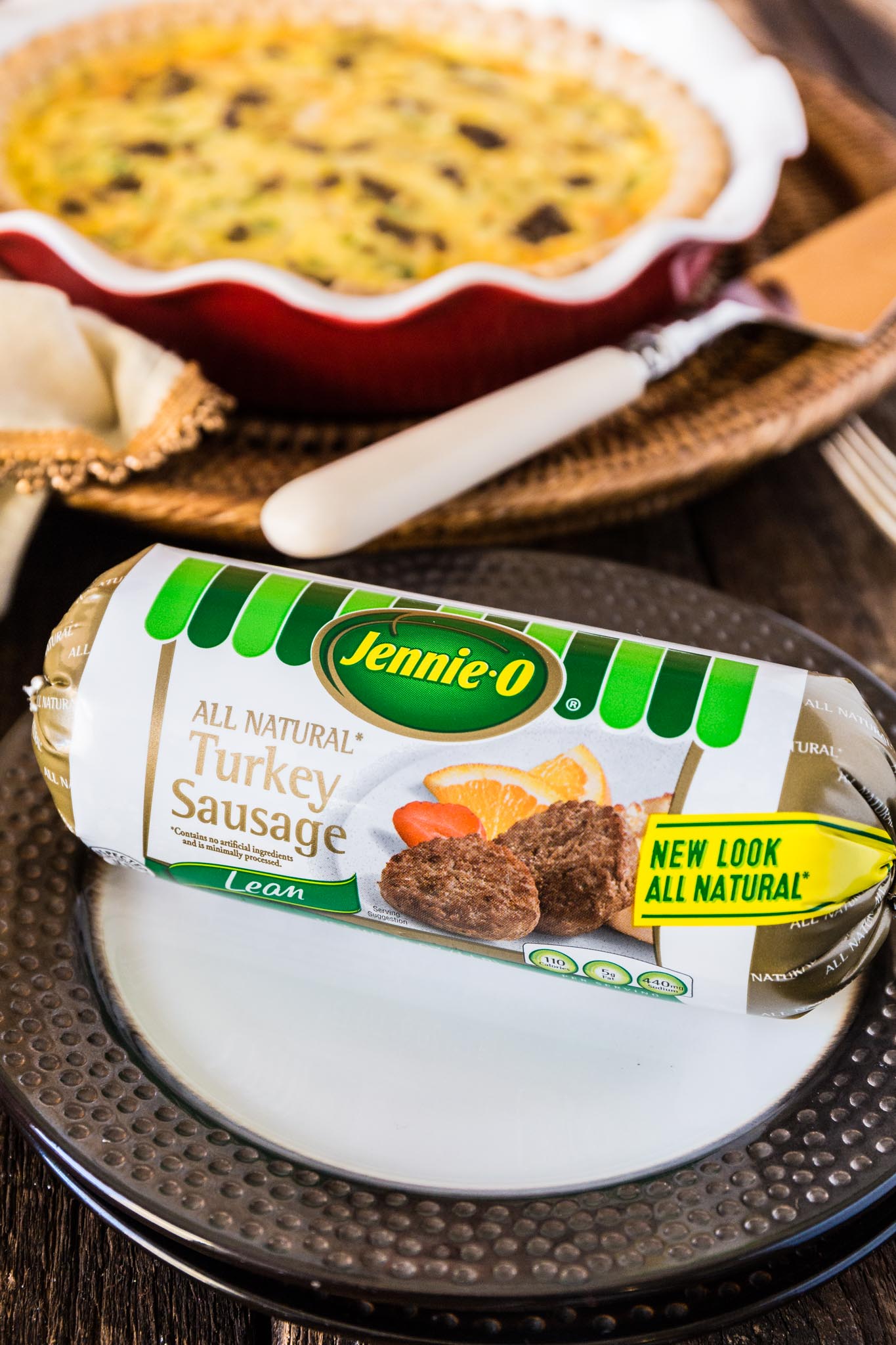 Now, my diet doesn't require me to eat lean protein and low fat food, but I love lean turkey so much that you will always find it in my fridge.
Jennie-O's All Natural Turkey Sausage contain less fat (only 5g fat per serving) than regular pork sausage, is gluten free and has a very simple ingredient list: salt, sugar, a blend of spices and rosemary extract.
I am such a fan of Jennie-O and their "simple and natural" approach to food, that I became one of their ambassadors this year and couldn't be more proud to endorse such an awesome brand!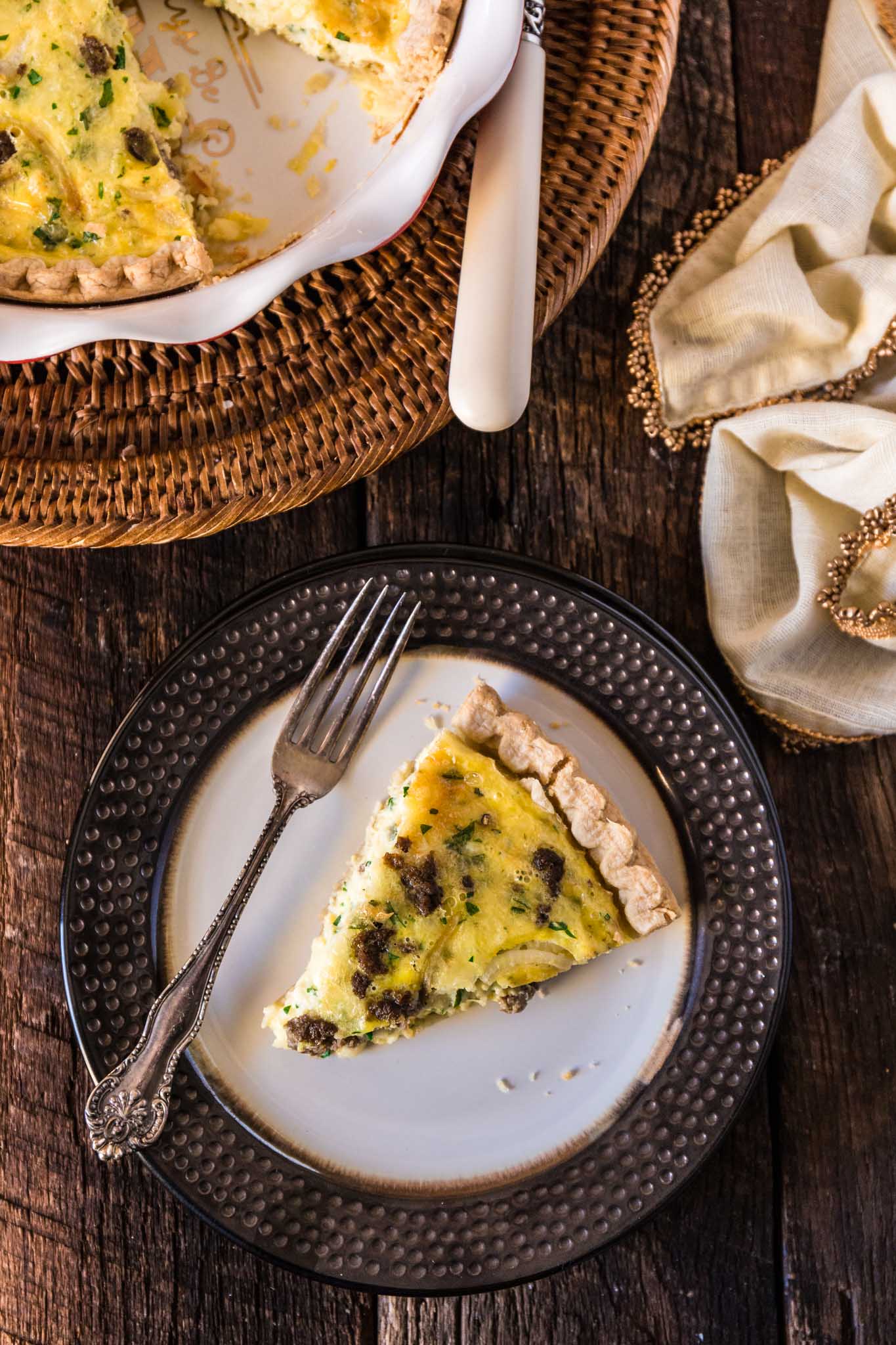 When you have good quality ingredients, the simplest meals become culinary forms of art.
There really is no need to bust your hump all day in the kitchen to serve your family and/or guests something special! All you gotta do is let the ingredients shine. ?
And this Turkey Sausage and Smoked Gouda Quiche achieved just what I wanted: it shined, as in it brought friends together around the table to share good healthy food among laughter and love! Oh, maybe this healthy diet isn't as difficult after all… Especially when you get to eat something this delicious without feeling an ounce of guilt!
Not one crumb was left, which is kinda disappointing as I was looking forward to having some leftovers with a side salad for lunch tomorrow. Oh well, time to whip up another one! ❤️❤️❤️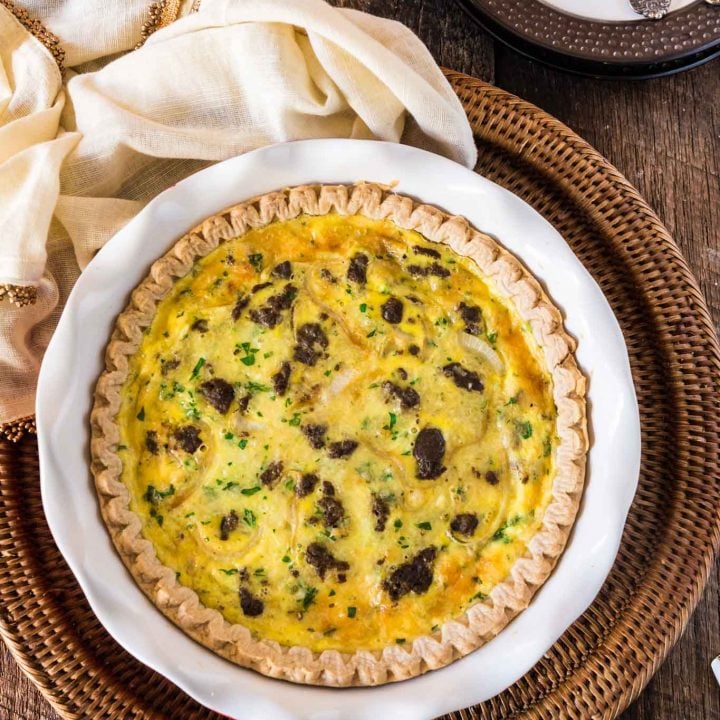 Turkey Sausage and Smoked Gouda Quiche
Yield: 6 to 8
Prep Time: 10 minutes
Cook Time: 40 minutes
Total Time: 50 minutes
Ingredients
1 9-inch pie crust (frozen, refrigerated or homemade)
1 tablespoon olive oil
1/2 pound Jennie-O All Natural Turkey Sausage
1 onion, sliced
5 large eggs
1/2 cup half and half
8 ounces smoked gouda, grated
1/4 cup chopped fresh parsley
Salt and freshly ground pepper to taste
Instructions
Prepare the quiche crust, if making from scratch. Or follow instructions of the package if using store bought. Reserve.
Preheat oven to 350F degrees.
In a large skillet, heat the olive oil - over medium high heat - and brown the sausage, breaking it into crumbles with a wooden spoon, about 5 minutes. When the sausage is no longer pink but not yet completely browned, add the onion and continue cooking until sausage is browned and onions are tender, about 3 minutes. Reserve.
In a large bowl, whisk together the eggs, half and half, cheese, parsley, salt and pepper.
Spoon sausage mixture into the pie crust and pour the custard on top of that, arranging with a fork if necessary.
Bake the quiche in the preheated oven for 30 to 40 minutes or until set and golden brown.
Let it cool slightly before serving. You can also make it overnight and serve it at room temperature.