Carne Asada Tostadas with Pistachio Chimichurri
This post is sponsored by Old El Paso.
Get in the mood for Cinco de Mayo with these Carne Asada Tostadas served with a delicious pistachio chimichurri sauce. Crunchy, juicy, nutty and beyond irresistible! Trust me, you'll be hooked.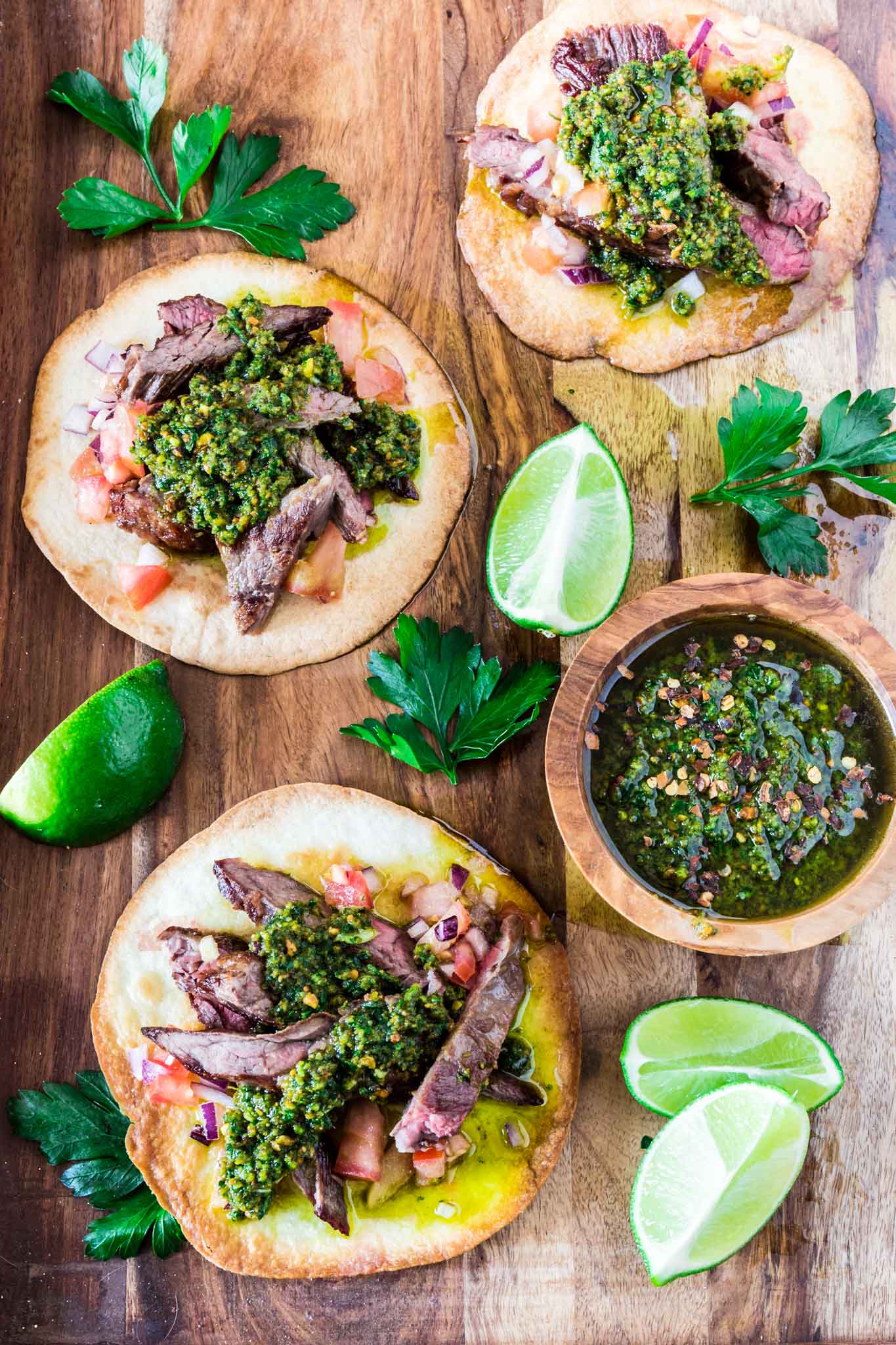 Who's excited for Cinco de Mayo? ??????
It's not that I NEED an excuse for eating Mexican food, but silly me loves thematic holidays! And Margaritas, of course… But I'll have to pass on those this year.
I'm also welcoming the opportunity to think of something other than nursery decor and baby clothes. Okay, not really, since Pinteresting all things baby have been my favorite hobby/obsession these days. But I think it's healthy to press pause on mommyzilla feelings and think of delicious food! My husband certainly appreciates hearing about something else for a change.
Now, if you're Mexican, you will notice that this dish is a fusion of Mexican cuisine (tostadas) with my South American heritage (chimichurri). So no authenticity claims here! These carne asada tostadas are a big multi cultural party for which you will be really glad you got an invitation.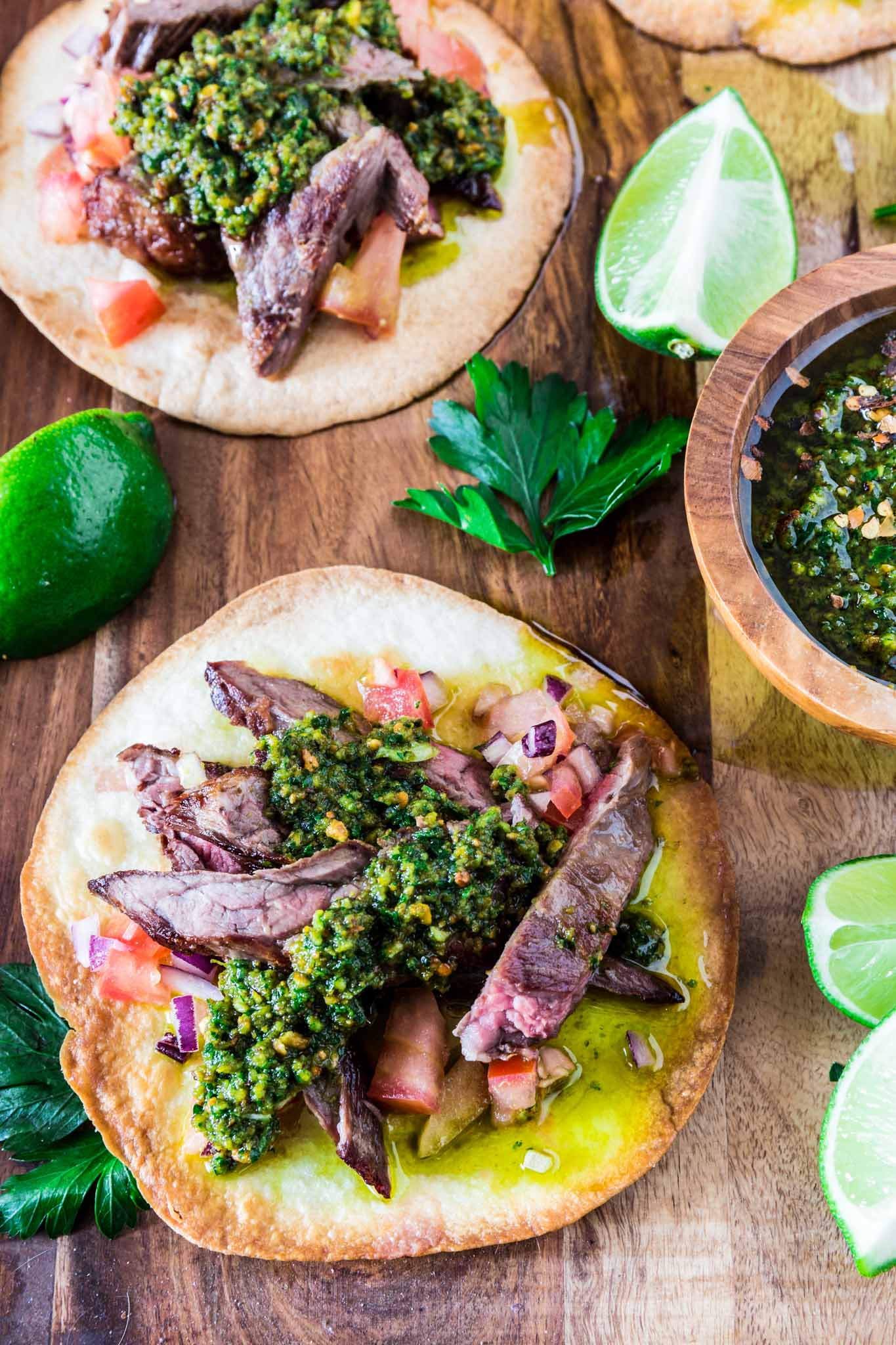 The word "tostada" in Spanish means toasted.
In Mexico, it usually refers to a flat tortilla that is deep fried (or baked in this case) and then topped with "guisados" – refried beans, beef, chicken, pork, shrimp, cheese, sour cream, lettuce, onions, pico de gallo salsa, and many others. Similar to a soft taco, but crunchy or to a hard taco, but flat.
I've been obsessed with this pistachio chimichurri recipe I developed for a client last year, so I had the idea of incorporating it into a tostada. Oh, what a wonderful idea!
I already knew skirt steak and my pistachio chimichurri sauce went great together. But to have it all piled on a crunchy tostada shell was just genius! (Yep, modesty definitely does not apply in this situation.)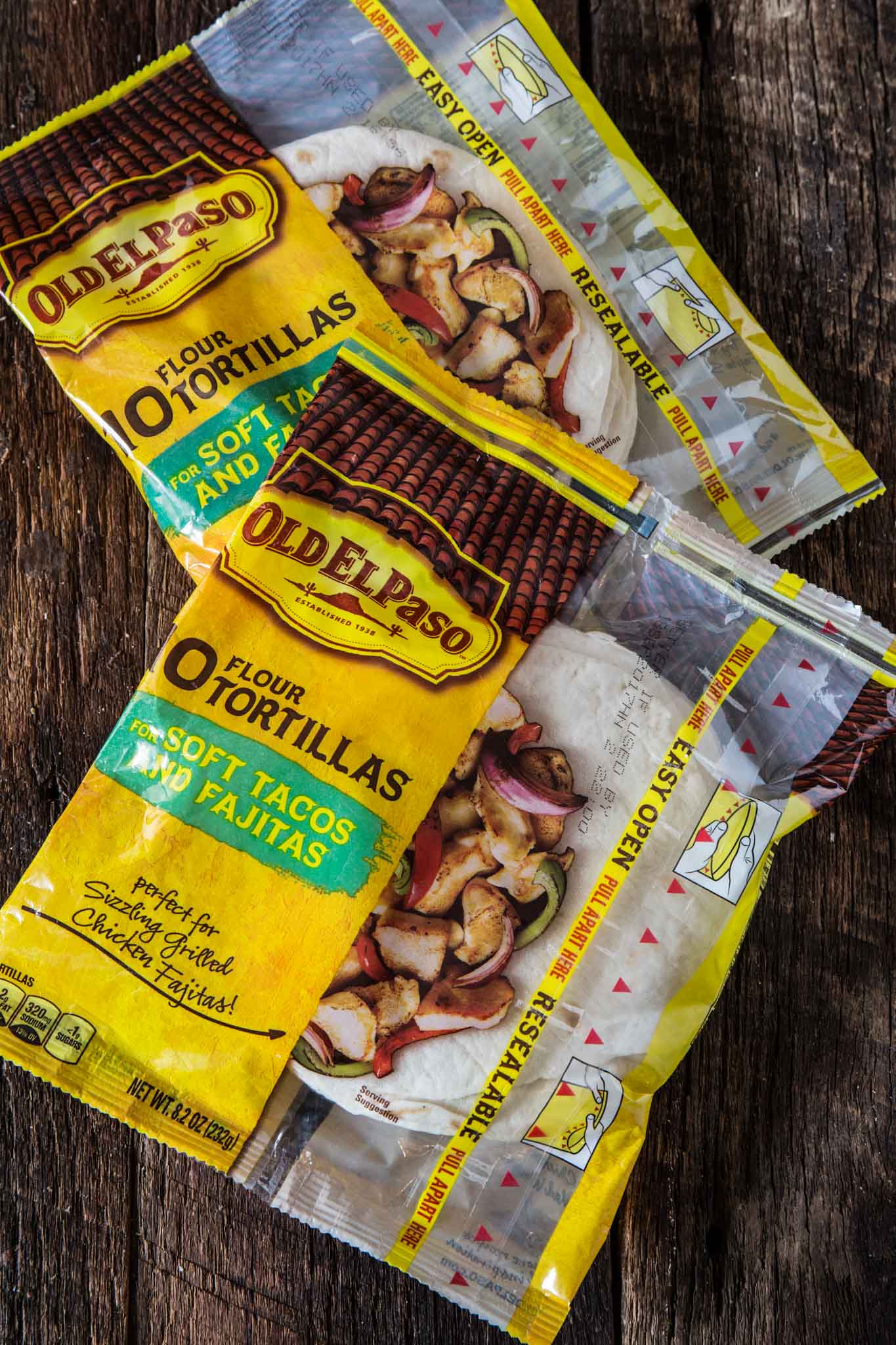 Tostadas are usually made with corn tortillas, but I like the texture of flour tortillas better. They are flakier and sturdier, which is very desired when tostadas are concerned, as they can be quite messy!
I used Old El Paso's flour tortillas but if you want to skip the step of having to bake them into tostadas, they have tostada shells that are ready to be topped with all the yummy goods. Just head to your local Walmart, look for Old El Paso shelves and you will be in taco/tortilla/burrito/everything delicious land.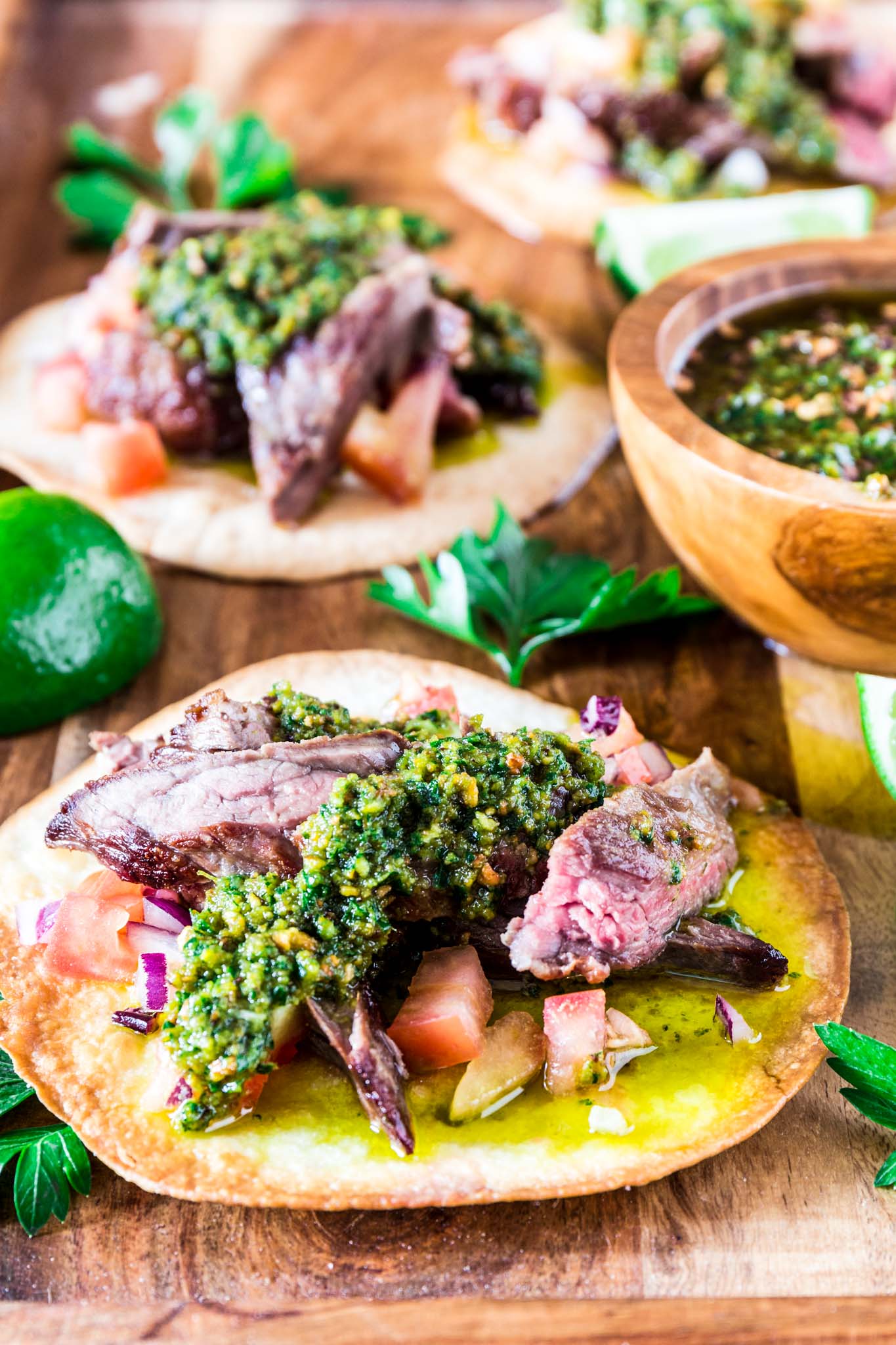 Now, once you have your tostadas, your carne asada and your genius (as we've already established) pistachio chimichurri, the rest is totally up to you!
I kept my tostadas simple and only added pico de gallo, but if you want to load them with the usual taco suspects, go for it. There's no right or wrong here! There's only into my mouth and down to my belly, which is all I could ever want.
And if you tried a topping that wasn't quite right, don't fret! Just make another tostada!
It's Cinco de Mayo after all. (Okay, not really, but every day is Cinco de Mayo when you're leading up to this holiday. ?)
Carne Asada Tostadas with Pistachio Chimichurri
Ingredients
Tostadas:
6 soft taco shells (or tostada shells)
Olive oil (for brushing) and salt
Carne Asada:
2 pounds skirt steak
Salt and freshly ground pepper to taste
Pistachio Chimichurri:
1/2 bunch parsley
4 cloves of garlic
1/2 cup roasted Pistachios
3 tablespoons red wine vinegar
1/2 cup olive oil
1 teaspoon red pepper flakes or to taste
Toppings suggestions:
Pico de gallo
Refried beans
Lettuce
Sour cream
Cheese
Instructions
Make the tostadas:
Preheat oven to 400 degrees.
Line a large baking sheet with parchment paper and arrange the tortillas. Brush with olive oil and sprinkle salt.
Bake the tortillas for 10 minutes or until golden brown. They will get crunchier as they cool down.
Prepare the carne asada:
Season the skirt steak generously with salt and pepper. Let it rest at room temperature for 20-30 minutes.
Preheat a cast iron over medium high heat until smoking hot. Grill the steak, about 2-3 minutes per side for rare or until the desired temperature. Transfer it to a cutting board and let it rest for at least 5 minutes. Then, slice across the grain.
Pistachio Chimichurri:
Combine the parsley, garlic, pistachios, red wine, salt, freshly ground pepper and 1/4 cup olive
oil in a food processor. Pulse until well blended but still coarse. Remove to a small bowl and stir
in the remaining olive oil and red pepper flakes. You can make it ahead and store in the fridge overnight.
Assembling the tostadas:
Top each tostada with carne asada, pistachio chimichurri sauce and desired toppings. You can also just serve the toppings in individual bowls and let guests prepare their own tostadas.
Enjoy!
FIND OLD EL PASO AT WALMART