Romeo and Juliet Bites
A popular Brazilian flavor combination transformed into a party sized appetizer, which I decided to call Romeo and Juliet Bites! Because, as we say in Brazil, cheese without guava paste (goiabada) is like Romeo without Juliet. ???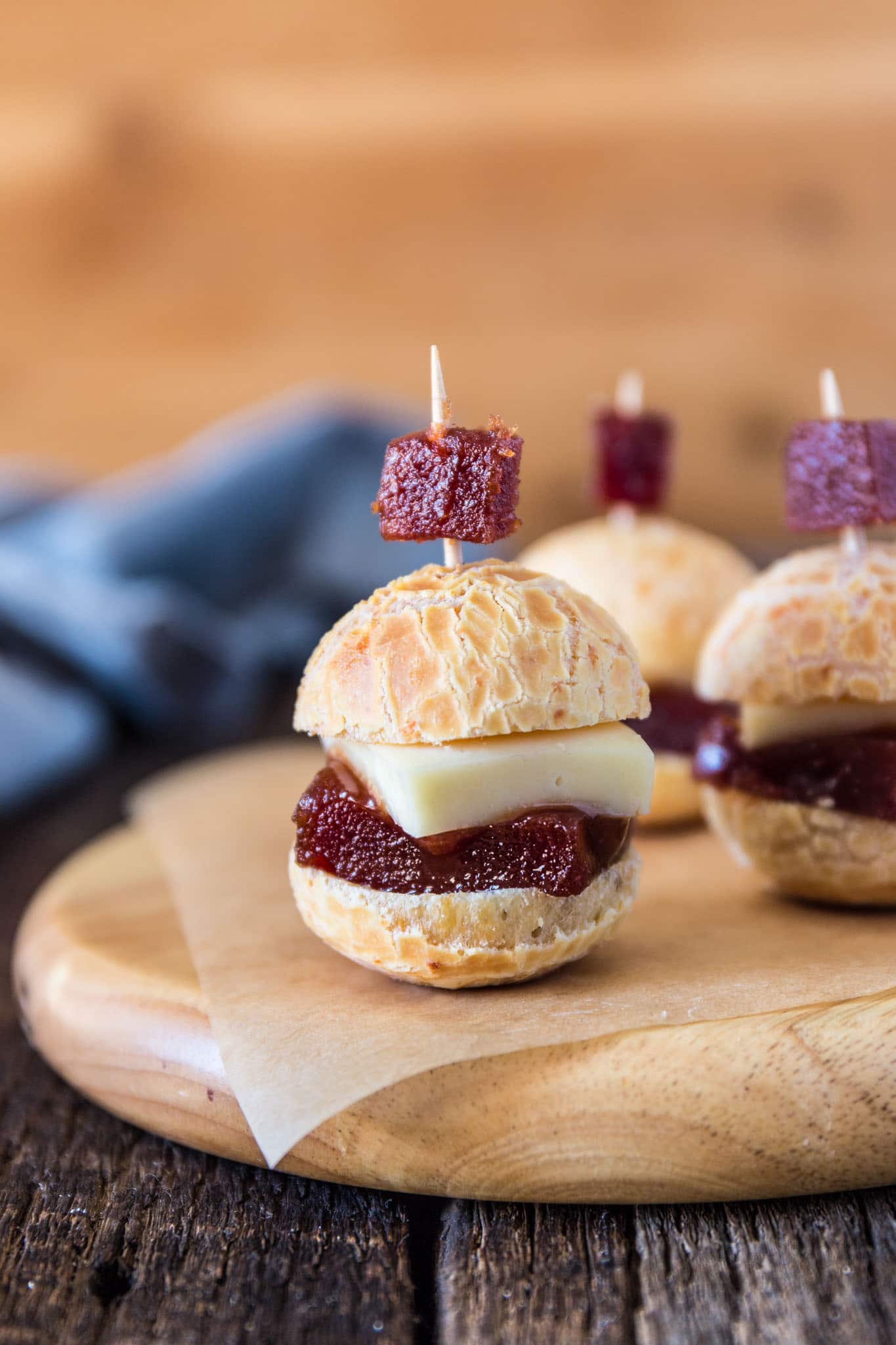 I participated in Mom Blog Tour Winter Fancy Food Show (#MomBlogTourFF) on behalf of Wendy's Bloggers. I received Brazi products to facilitate my review, but my opinions and the recipe are my own.
"'Tis one thing to be tempted, another thing to fall."
This quote, although written by Shakespeare, is not from Romeo and Juliet. But it really applies to my relationship with these fun Romeo and Juliet Bites. Why? Because I not only was tempted but also fell. As in ate a lot of them!
I seriously could have eaten the whole batch, but pregnancy diet was in the way. ? (Note to self: please lose at least 15 pounds before getting pregnant again, so you have room for some fun!)
I just couldn't resist them. Even now, I have to use all my energy to control myself so I don't run to the kitchen to stuff them, one by one, in my mouth.
They are delicious – sweet and salty – and they taste like home! Because every true Brazilian loves guava paste and cheese together.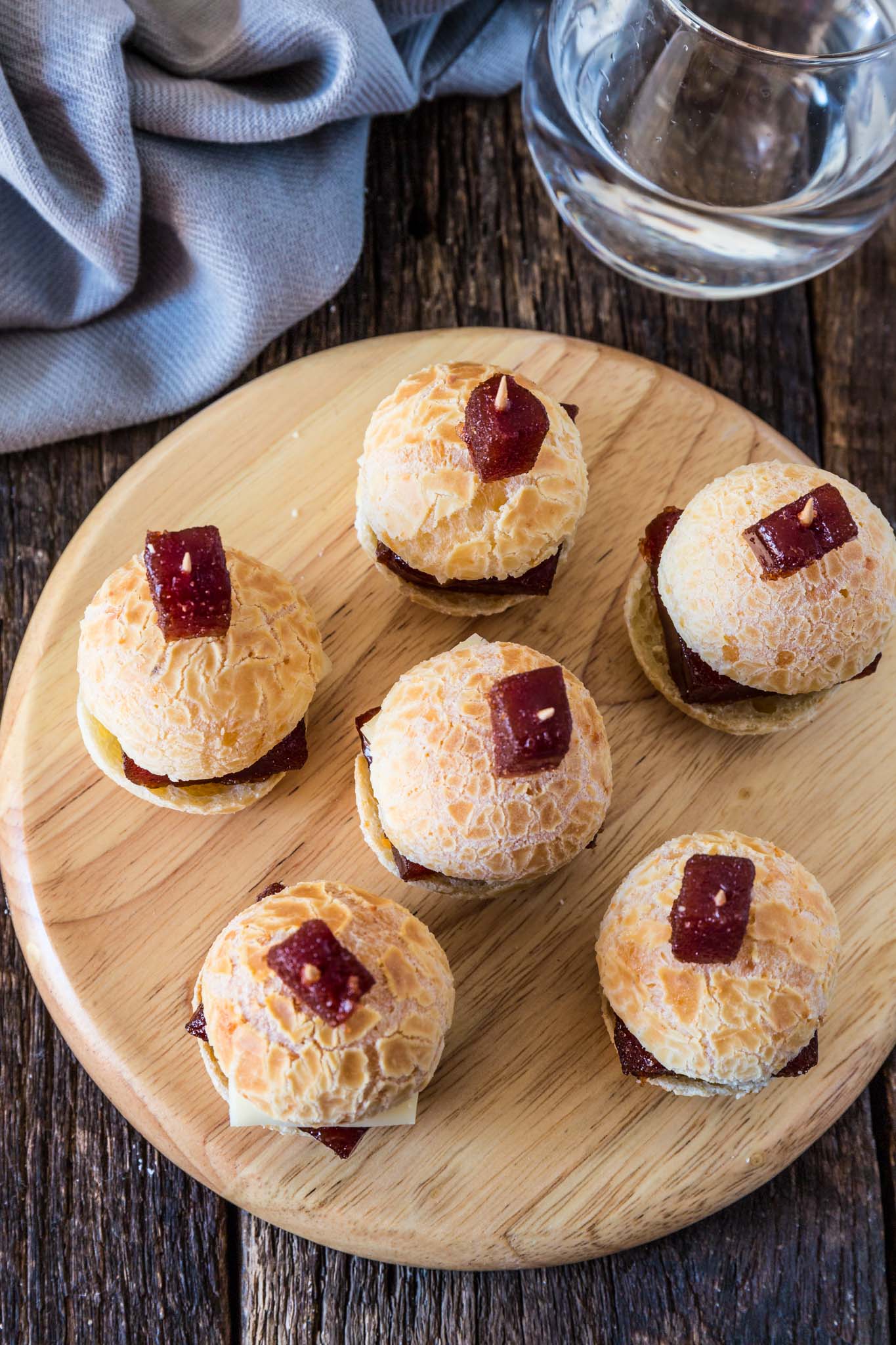 If you're not familiar with guava paste, or "goiabada" like we call it in Portuguese, it is a conserve made of guava and sugar. You can find it with several consistencies, varying from really soft and jam like to harder versions that resemble quince paste.
You will often find it in the latin/hispanic section of your grocery store, usually packaged in metal cans.
Now, I know you are probably curious to learn why we call the combination of guava paste and cheese "Romeo and Juliet". I hate to disappoint but I couldn't find any super interesting story to tell ya. Apparently, Brazilians started calling it like that because as the loving couple, these two ingredients are very different but go together perfectly, like they were made for each other!
Lame? Perhaps. But oh so delicious!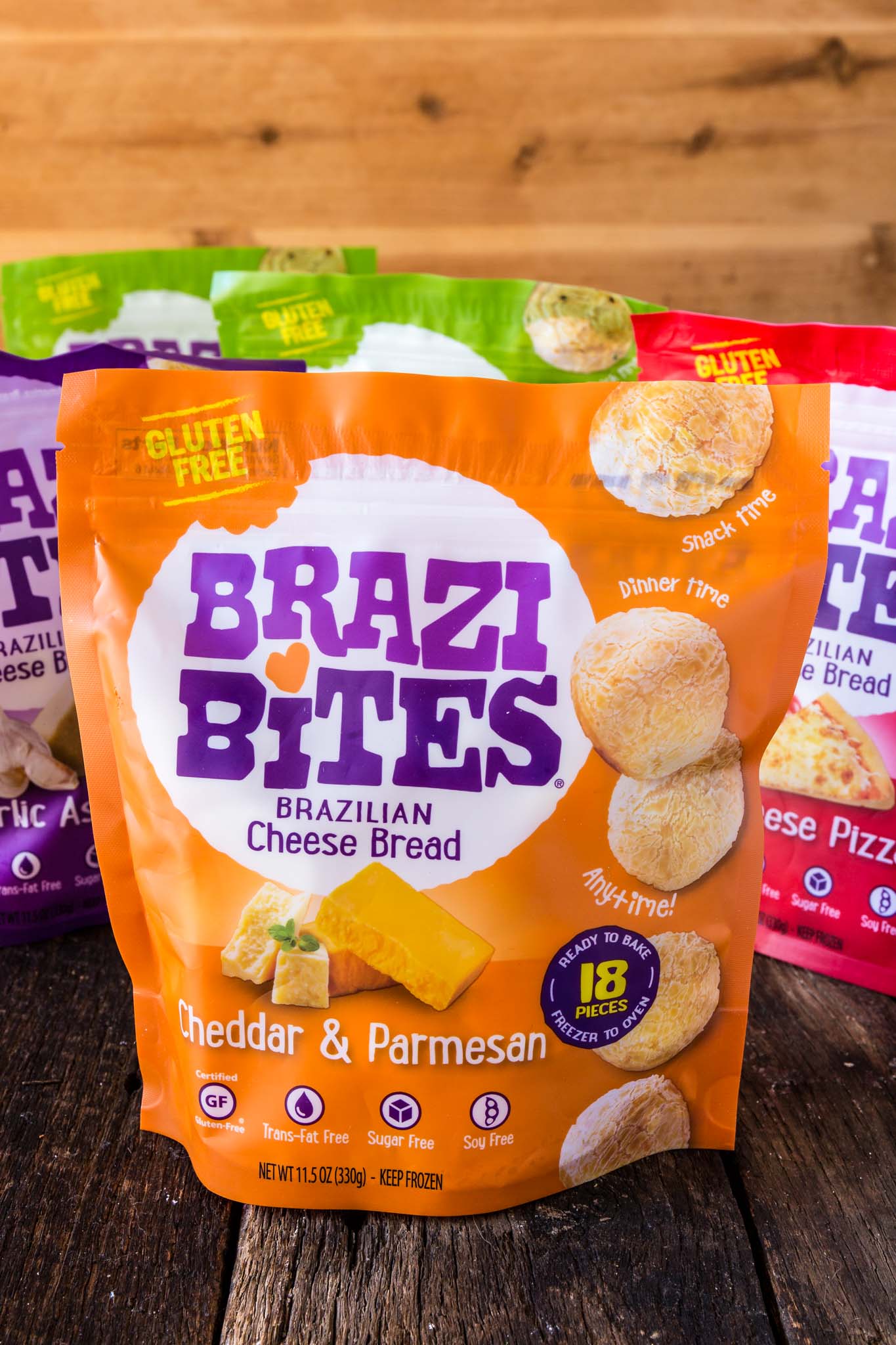 This famous Brazilian flavor combination is not for the faint of heart, as goiabada is very sweet.
So I had the brilliant idea of making little party sized sandwiches with it, using mini Brazilian cheese bread from Brazi Bites. That way it is not too overpowering and even people who are not that into sweets will enjoy it!
I wish there was a Shakespeare play named after three lovers, as that would be a better fitting name for this appetizer. Because the cheese bread (pão de queijo) definitely deserves to be honored!
If you guys know me, you know I'm crazy about pão de queijo and am very proud of making them from scratch. That doesn't mean I have the energy to make them whenever I crave them, so imagine how happy I was to find out that I could get them frozen at the supermarket.
Entertaining is a breeze when you can pop some of those in the oven and serve them the Brazilian way, with coffee or guaraná!
They are ALWAYS a hit and they please even the pickiest eaters, as they are naturally gluten free (made from tapioca flour). Brazi Bites has them in four varieties: Cheddar and Parmesan (the classic), Garlic and Asiago, 3 Cheese Pizza and Zesty Pepper Jack.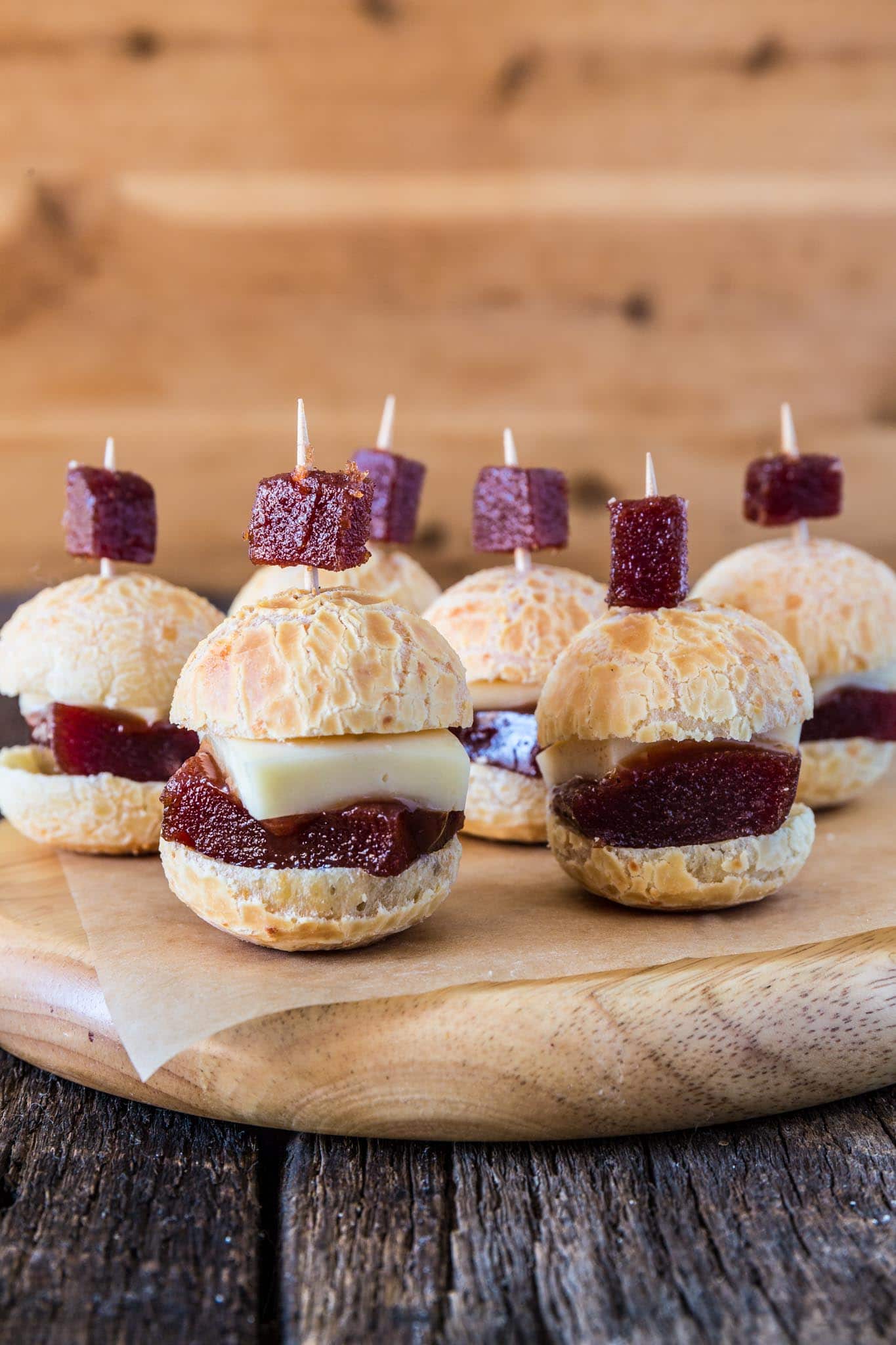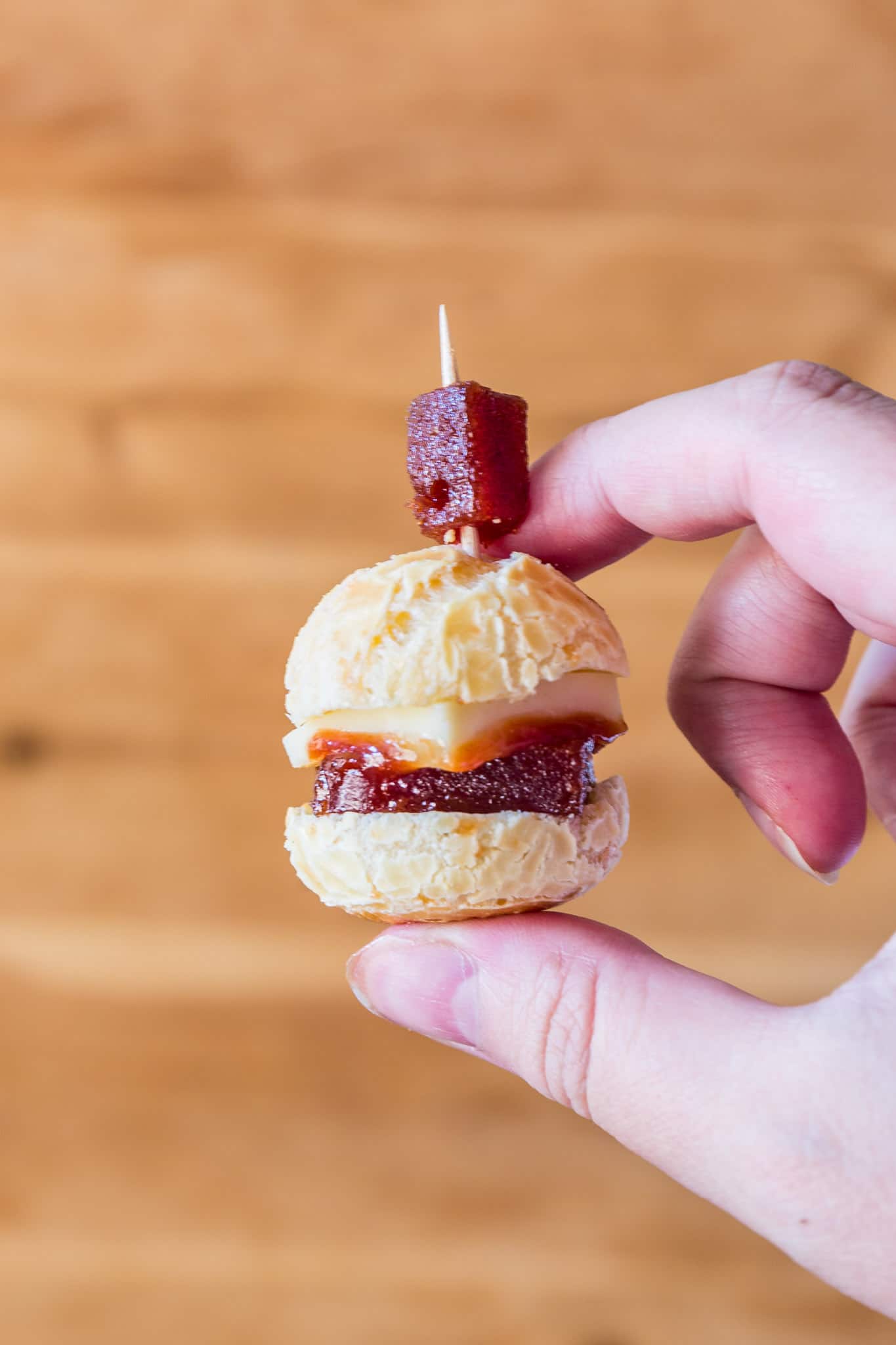 As for the cheese, Brazilian Romeo and Juliet is usually made with queijo minas, which is a white and slightly salty cheese from the region of Minas Gerais. I can't find this cheese easily here in US – at least not without having to drive 40 min to the Brazilian supermarket in Queens – so I used the Mexican version, Queso Blanco, which has a similar taste but slightly different texture.
You can also use requeijão if you can find some (or make your own). Or just use whatever cheese you like! But I would stay away from really pungent cheeses, like blue cheese.
I was really proud with how these turned out. Maybe just a little frustrated that I couldn't get the guava I added on top to look like hearts… If you can, just make sure to share a photo with me on Instagram. I might not answer, because… #jealousy! ??? Unless you can tell me your secrets. Then we are definitely going to be BFFs! ❤️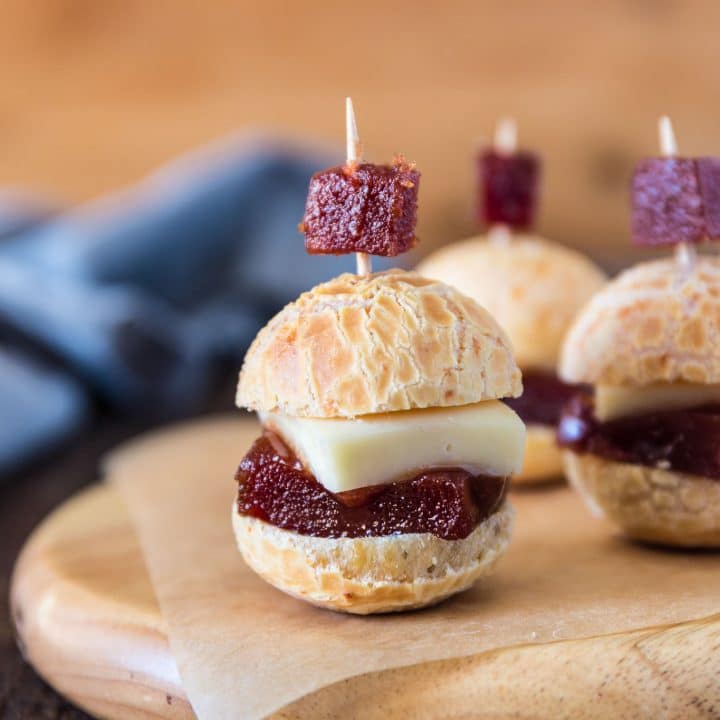 Romeo and Juliet Bites
Yield: 20 bites
Prep Time: 5 minutes
Cook Time: 20 minutes
Total Time: 25 minutes
Ingredients
1 package Cheddar and Parmesan Brazi Bites
10 ounces guava paste, plus more to decorate
10 ounces queso blanco (or any white cheese variety)
Instructions
Preheat oven to 400 degrees. Bake Brazi Bites according to package instructions. Remove from oven and let them cool completely.
In the meantime, cut the guava paste and queso blanco into same size squared slices (about 1/4 inch thick).
When the cheese breads are cool, cut them in half. Place a slice of guava paste and a slice of cheese in between each half.
You can decorate the bites with some more guava paste (bonus points if you can cut it into little hearts) and toothpicks or serve as is.
Serve at room temperature.
GIVEAWAY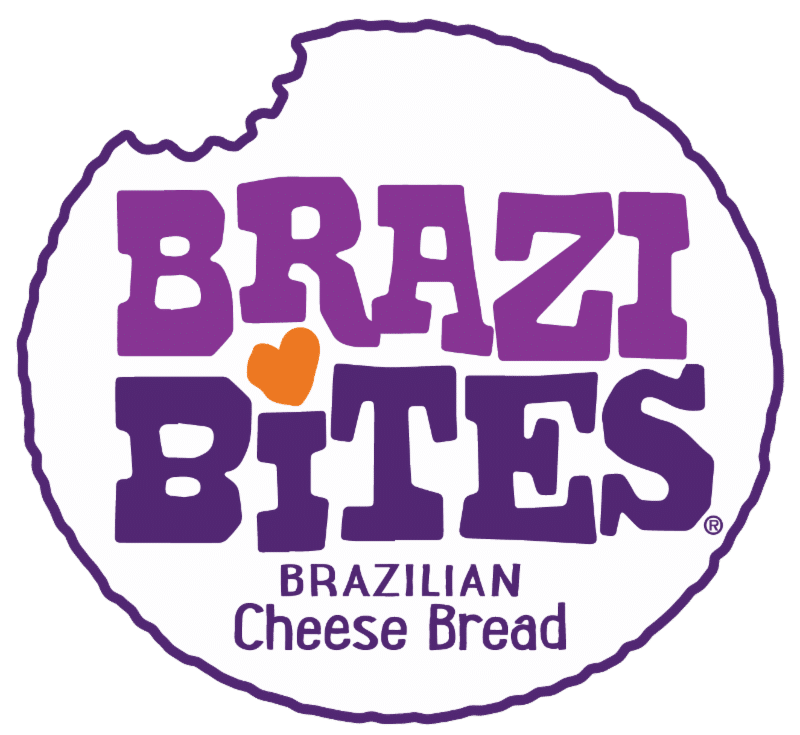 I'm excited to announce that a lucky winner will win an assortment of Brazi Bites.
One winner per household, email address, or home address. If you have won this prize on another blog you are ineligible to win again. Winner must have a U.S. based address to receive the prize.
a Rafflecopter giveaway