Brazilian Papaya Cream
Tropical, sweet and light, the classic Brazilian Papaya Cream is a dessert that captures the essence of the season. Ready in a flash and made in the blender, with only 4 ingredients!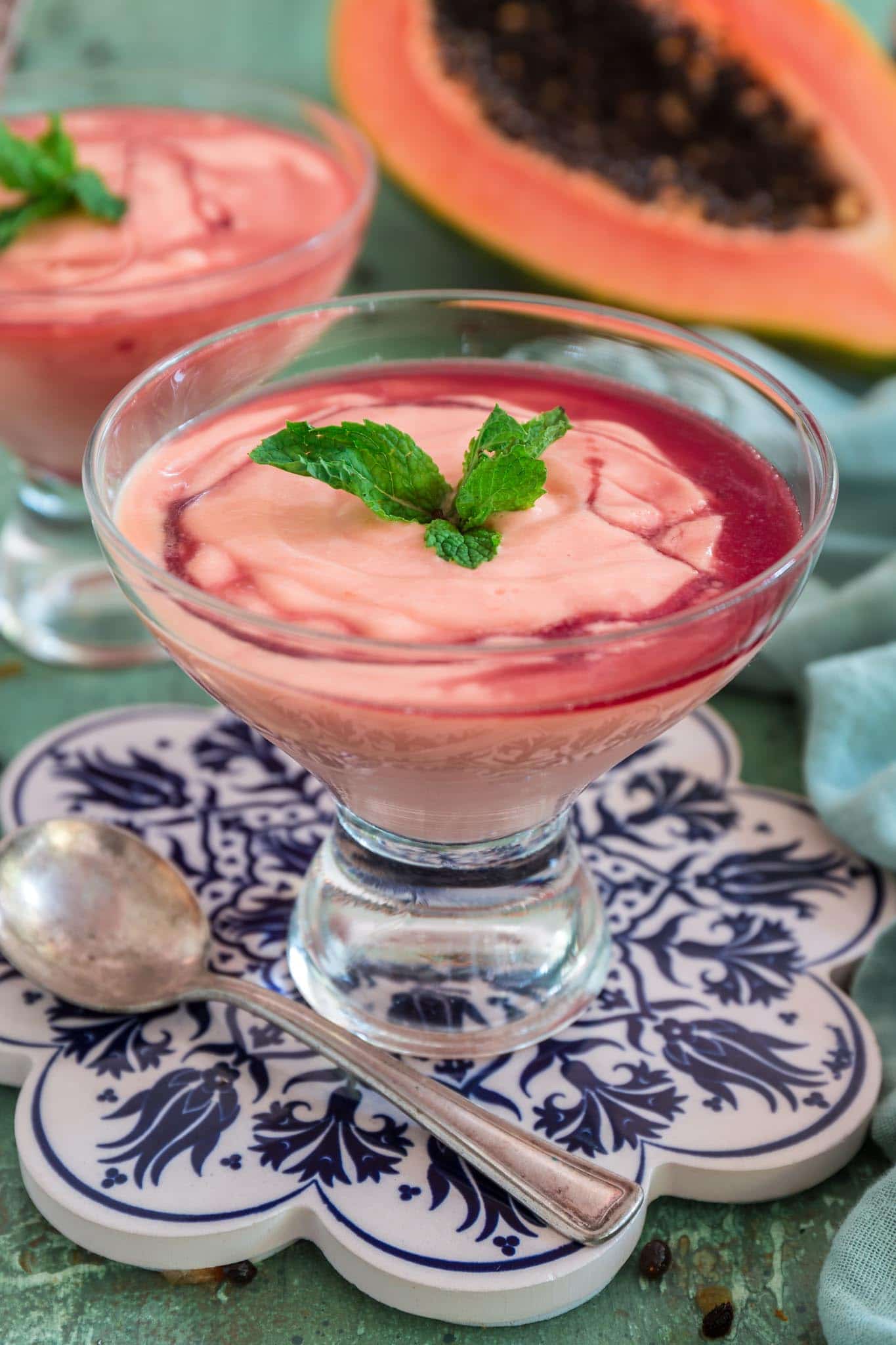 If you've ever been to a Brazilian restaurant, you have undoubtedly seen Papaya Cream on the dessert menu.
Hopefully, you've tried it, but, if not, this is your chance to make it at home and try something new and delicious. I guarantee you'll love it!
The good news is that you won't have to turn the oven on. The ingredients are easy to find and you can have it on the table in less than 5 minutes! Perfect for spontaneous summer entertaining!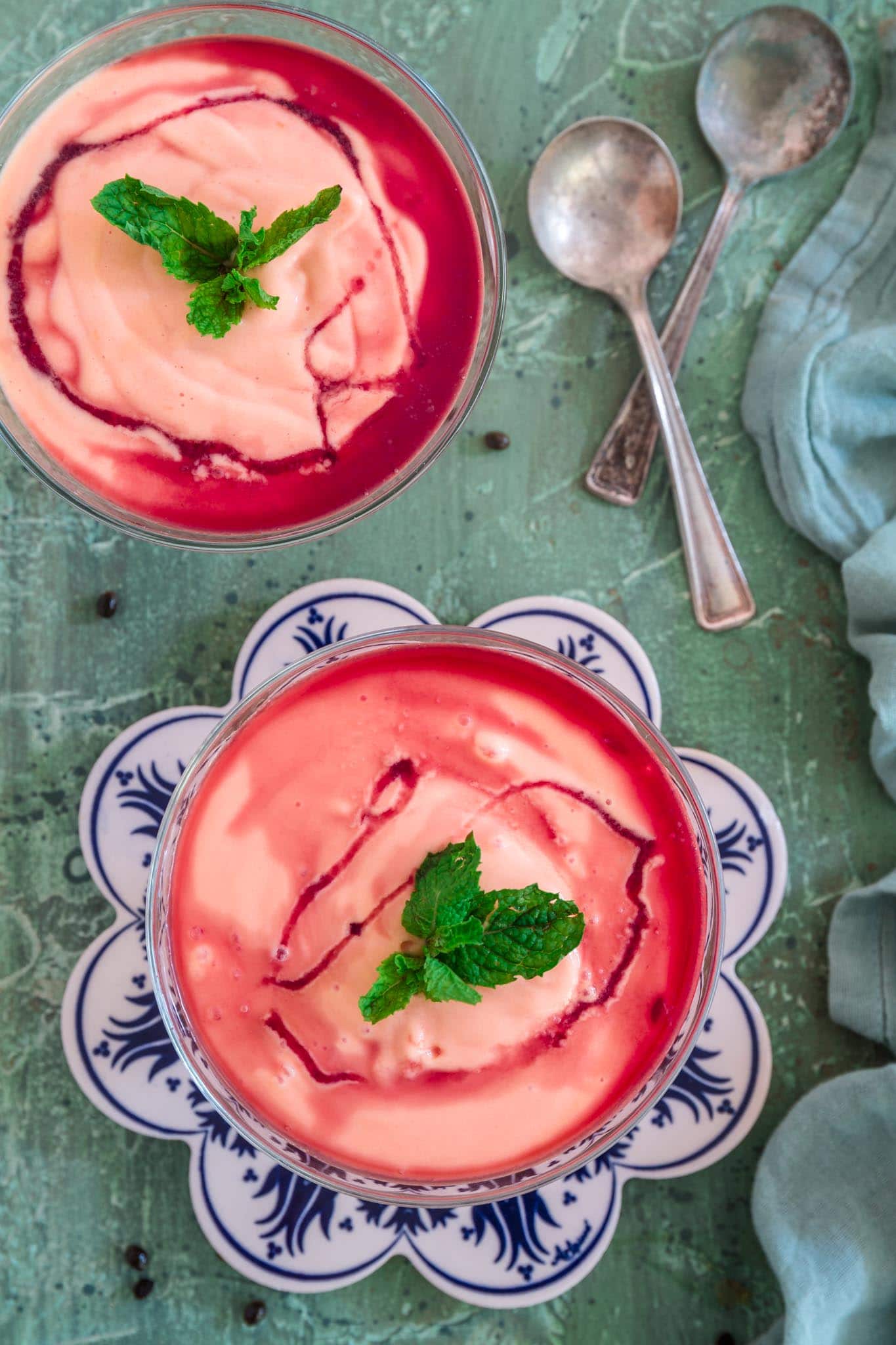 What is Papaya Cream?
The Papaya Cream – or "Creme de Papaya", in Portuguese – is a traditional Brazilian dessert that consists of fresh papaya blended with vanilla ice cream. It is usually served with a drizzle of cassis liqueur.
Nobody knows who invented this popular treat, but rumor has it that a chef sometime, somewhere, wanted to get rid of some overly ripe papayas and created the dessert! It is indeed a great way to use the fruit when it's past its prime.
My version is a little different from other recipes you will find out there, because I add a touch of sweet condensed milk. I find it that papaya here in the U.S. is not as sweet as they are in Brazil, so the sweet condensed milk adds more sweetness, enhancing the papaya flavor.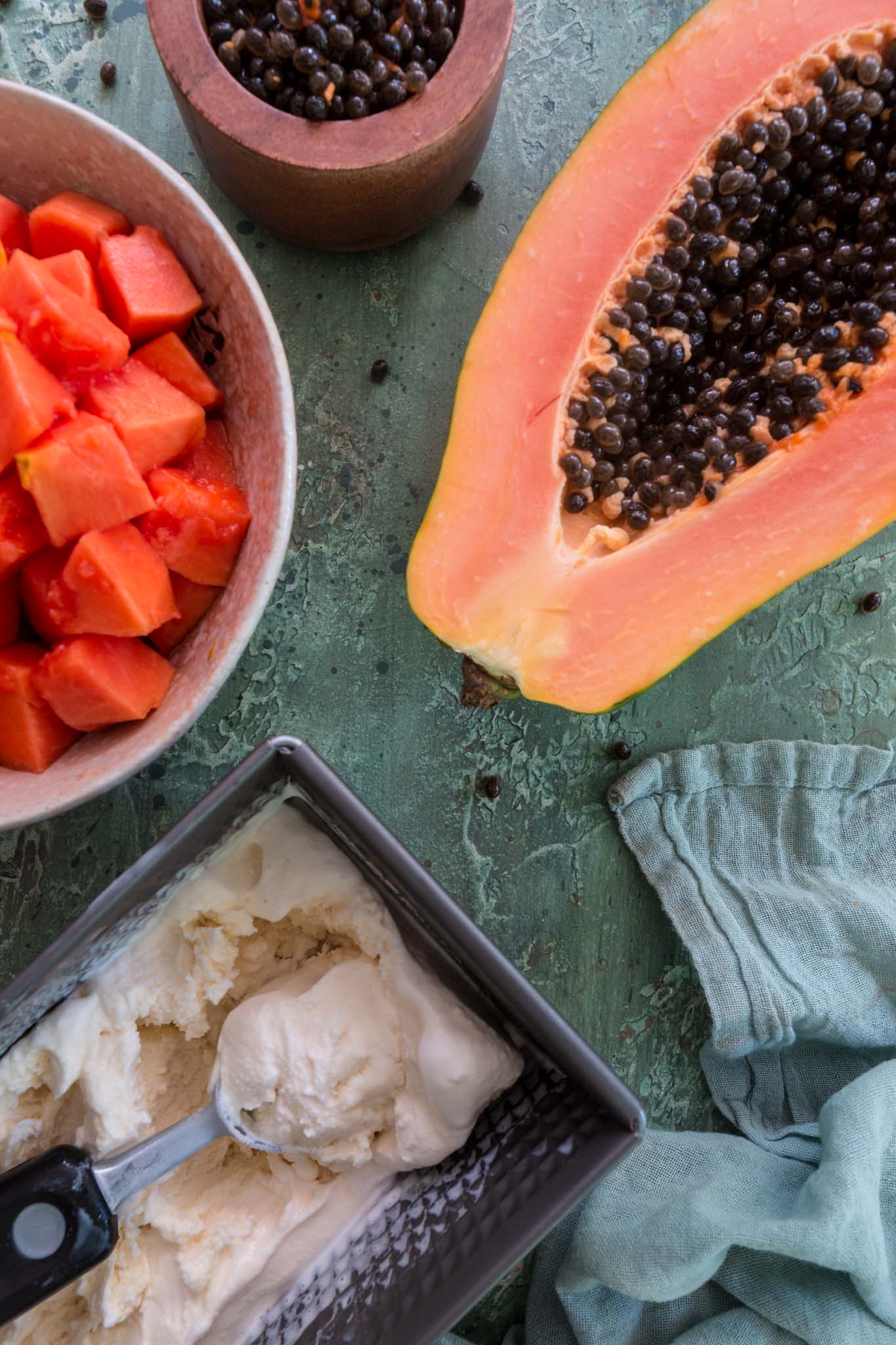 How to make Brazilian Papaya Cream
This recipe is simple to prepare. All you'll need is a blender!
Blend all the ingredients – minus the liqueur – and serve immediately, as the cream will liquify if it sits for too long. I guess you could think of it as a papaya milkshake, only eaten in a bowl, with a spoon!
And since you will need so few ingredients, make sure they are good quality. You should definitely splurge in a good brand ice cream!
If you search for other papaya cream recipes, you will notice that most ask for the ice cream to sit at room temperature for a little bit, before blending with the papaya. I actually recommend the opposite: make sure the ice cream is very frozen so you can achieve a nice, creamy consistency.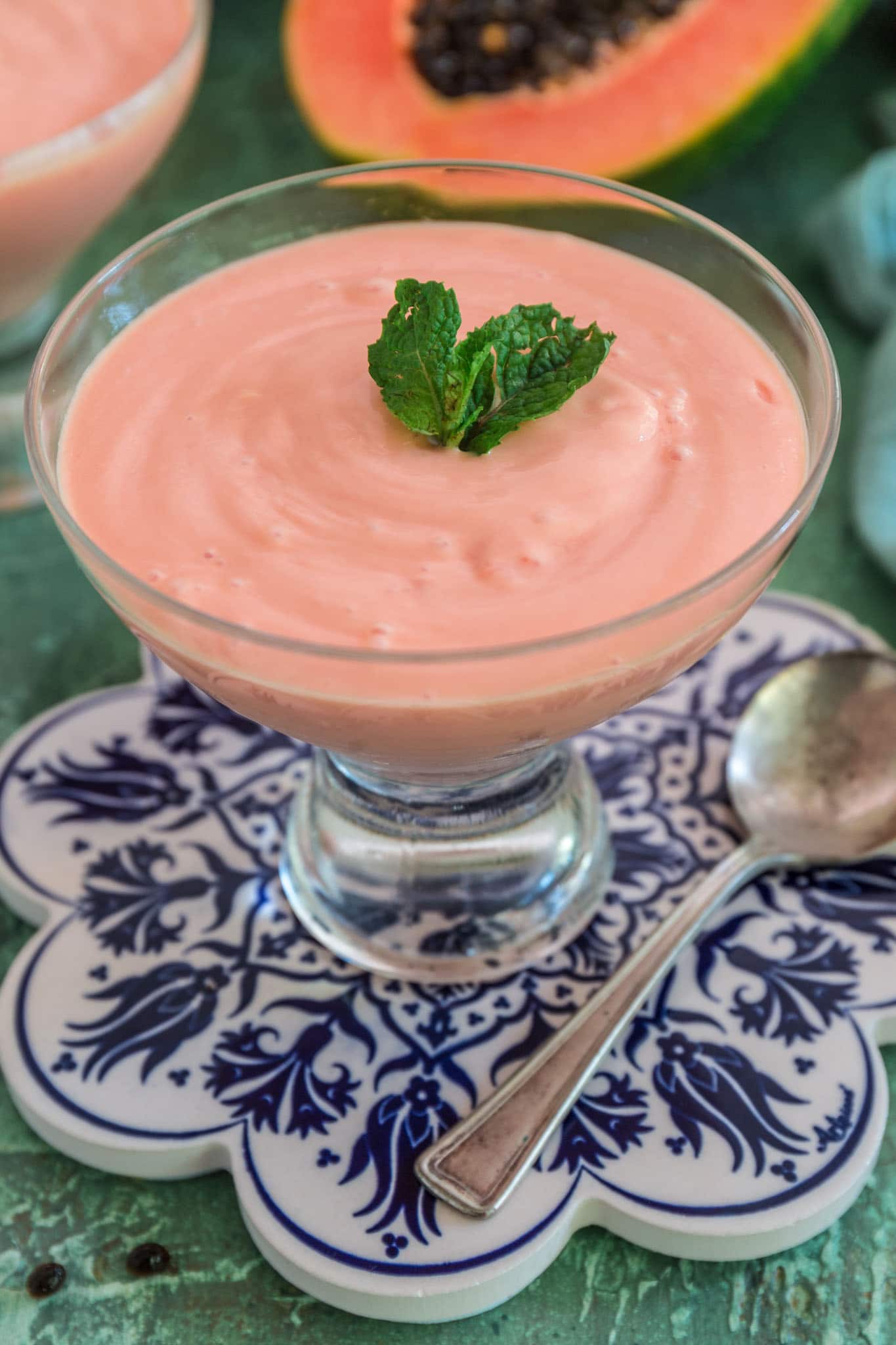 How to choose, prepare and store papaya
As for the star of the show, the papaya, you want to pick a ripe one! Look for the ones that are mostly yellow to orange-red. A little bit of green skin is fine, since they will ripen rapidly at home.
You can also check for ripeness by pressing the fruit gently with your fingers. A hard papaya is not ripe, and an overly soft papaya is overripe, so skip those at the store! That being said, if you have an overripe papaya at home, you can still use it to make the cream, provided it is not moldy or fermented.
Ripe papayas should be refrigerated immediately, to slow further ripening, for up to a week. To speed ripening, keep them at room temperature, in a brown paper bag and then refrigerate for up to 3 days. Do not refrigerate papaya until they are fully ripe though, as they get more flavorful and juicy if they ripen at room temperature!
To prepare papaya, simply cut the fruit in half lengthways and scoop out the black seeds. Then peel, or use a sharp knife to cut the flesh away from the skin, and cut the flesh in cubes.
You can freeze the prepared papaya (no skin or seeds) whole, as in sliced or cubed, or pureed. Just place the fruit on a baking sheet and freeze for a couple of hours. Then, transfer the frozen pieces to a sealed container and return to freezer. Alternatively, if freezing papaya puree, you can use ice cube trays until they get solid and then transfer to a larger container.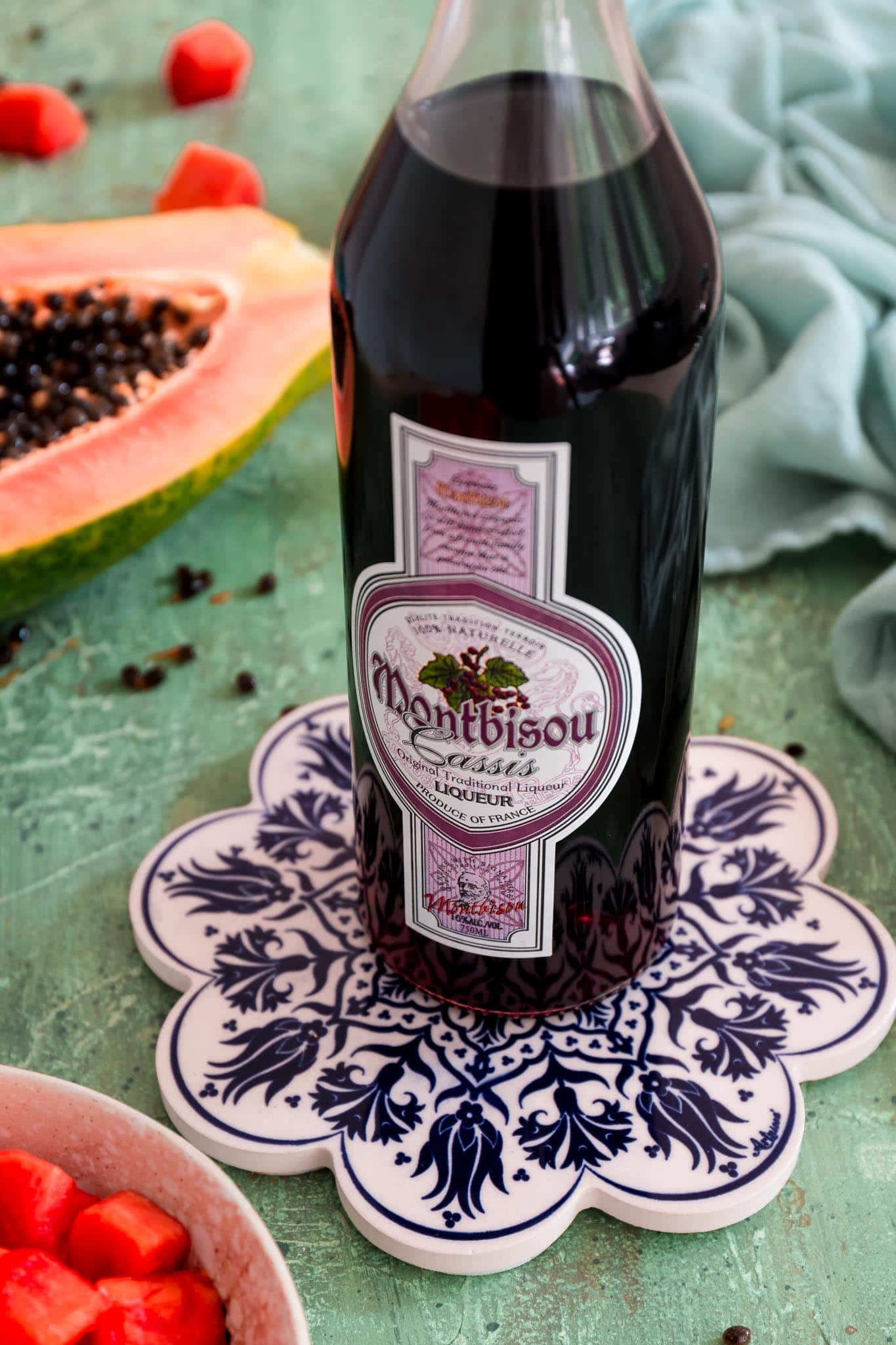 Crème de Cassis
The Burgundy region, in France, doesn't give us only amazing grapes. Although far less celebrated than the popular wine, the cassis (or blackcurrant) – a black and sweet fruit – also grows there and is used to make the rich Crème de Cassis.
Several cocktails are made with this sweet-tart liqueur, but the one you will definitely recognize is the classic Kir or the Kir Royale.
Despite the Kir, the Crème de Cassis is still fairly obscure in the U.S., especially when compared with other places in the world. The reason is that the blackcurrant plant, known to carry a fungus that threatened the timber industry, was banned in the U.S. in the early 1900s. The liqueur was still imported from France, but faded into obscurity.
It wasn't until 1966 that some of these ban were lifted and US growers have begun to develop the blackcurrant market in America.
Still, you won't find a huge variety in your local liquor store. I was able to find only one brand but it was enough for what I needed it for. A little goes a long way when adding it to Papaya Cream! Just a little drizzle adds a delightful berry flavor that really complements the dessert!
If you don't drink alcohol, or if you are serving this for kids, you can just omit the crème de cassis or use grenadine instead!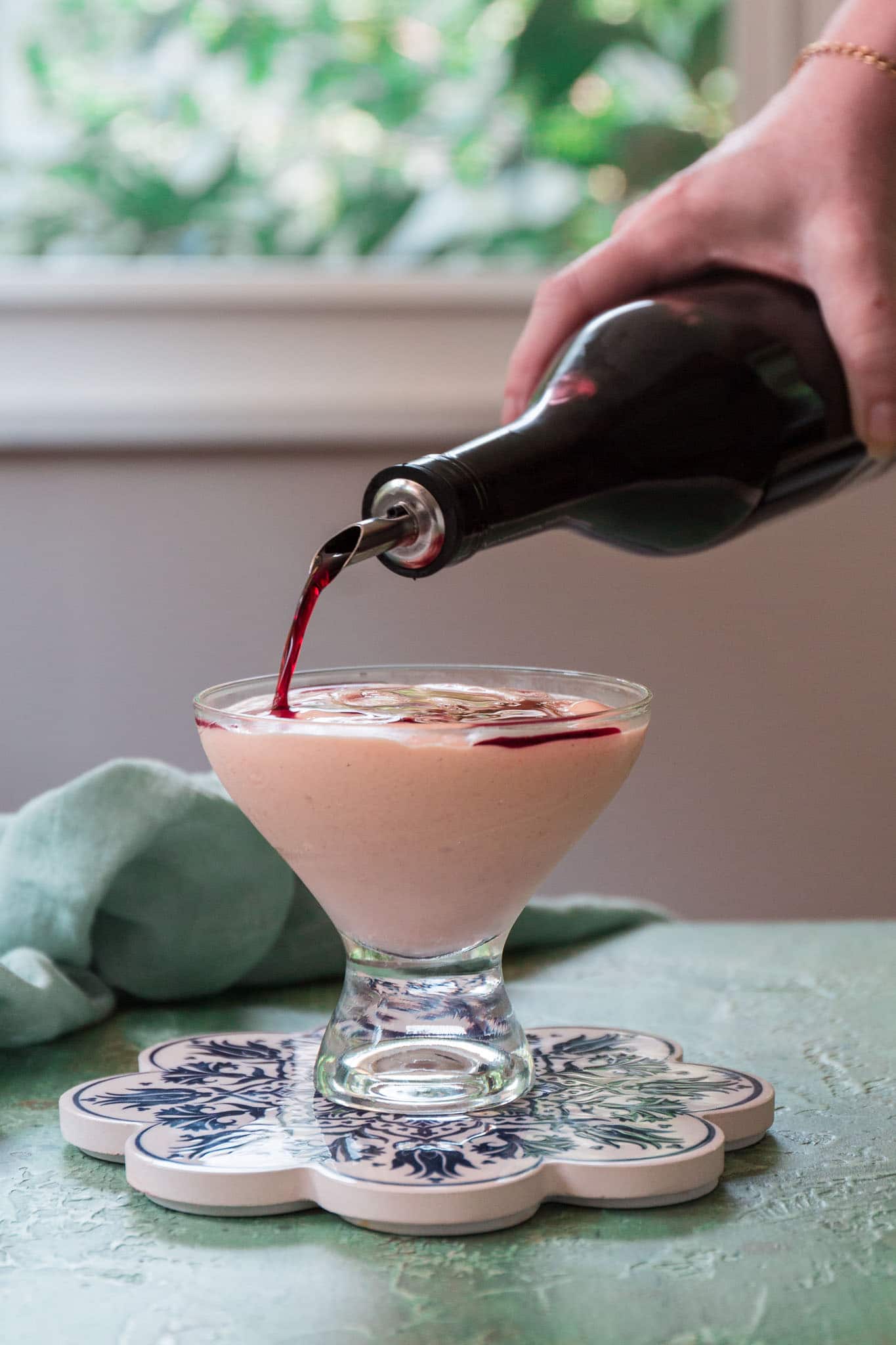 Now I need to come up with a few recipes to use this huge Crème de Cassis bottle that I bought for this post. Not that that's a bad thing, as I love experimenting with ingredients!
It's also a yummy early evening aperitif and it tastes great drizzled on gorgonzola or goat cheese. I've also seen it served in a sauce for Magret de Canard (Duck Breast), but I don't eat duck, so you'd have to venture on your own!
I hope you guys enjoy this classic of my childhood. You really can't go wrong with this easy dessert!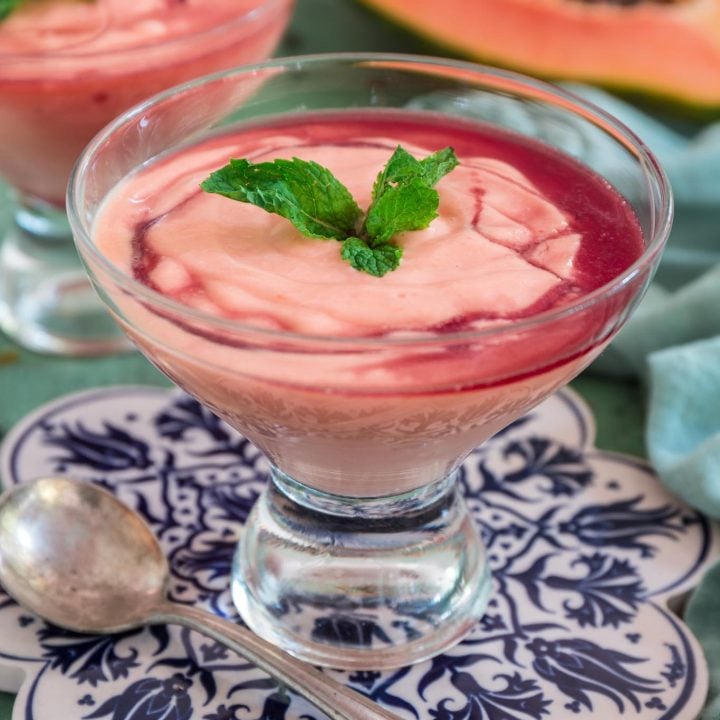 Brazilian Papaya Cream
Yield: 4
Prep Time: 5 minutes
Total Time: 5 minutes
Ingredients
1 large ripe papaya, peeled, seeded and cut into cubes
14 fl ounces vanilla ice cream
3 tablespoons sweet condensed milk
Crème de Cassis, for drizzling at the table
Instructions
Combine the papaya cubes, ice cream and sweet condensed milk in the jar of a blender. Blend until smooth and creamy.
Divide into individual serving glasses and serve immediately, with a drizzle of cassis liqueur.
Notes
1) For a version without alcohol, simply omit the liqueur or use Grenadine instead.
2) You can adjust the sweetness by tweaking the amount of sweet condensed milk. If your papaya is very sweet, you might want to add less than the recommended amount or skip it altogether!
To make Brazilian Papaya Cream, I recommend:
Other Brazilian Classics:
Disclosure: This post contains affiliate links.