Traditional Brigadeiros (Brazilian Fudge Balls)
Brazil's favorite treat, brigadeiros are incredibly addicting. Made with only 5 ingredients, these fudgy balls are easy to make and will win your heart in one bite!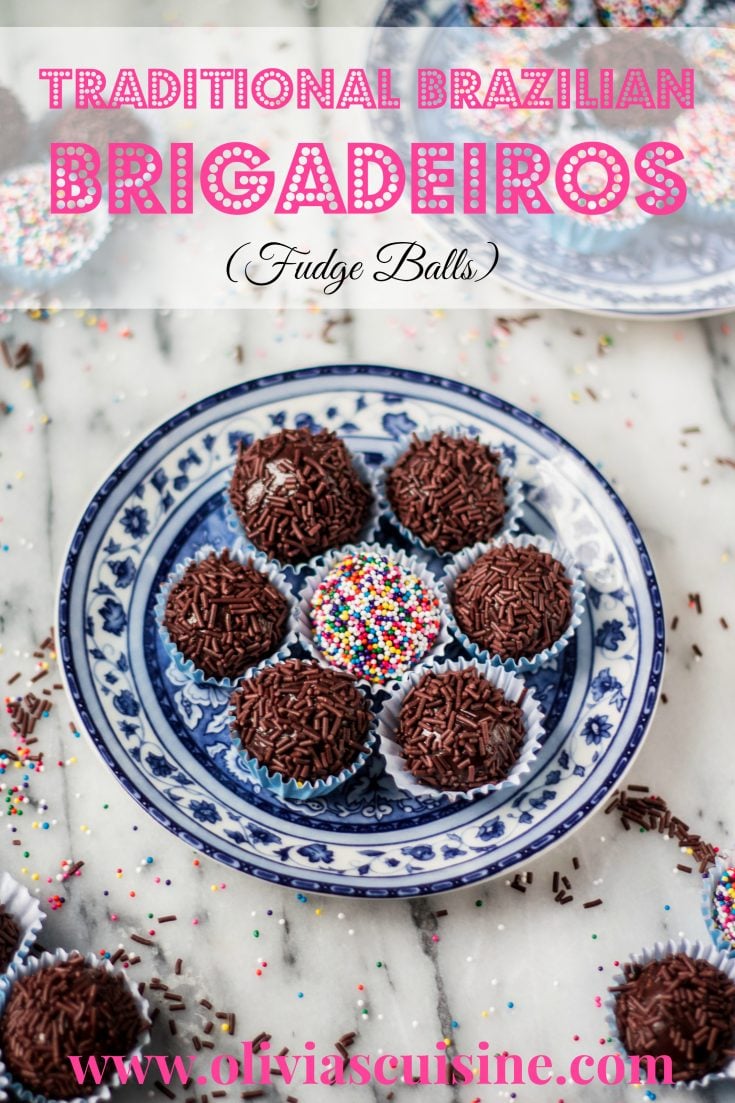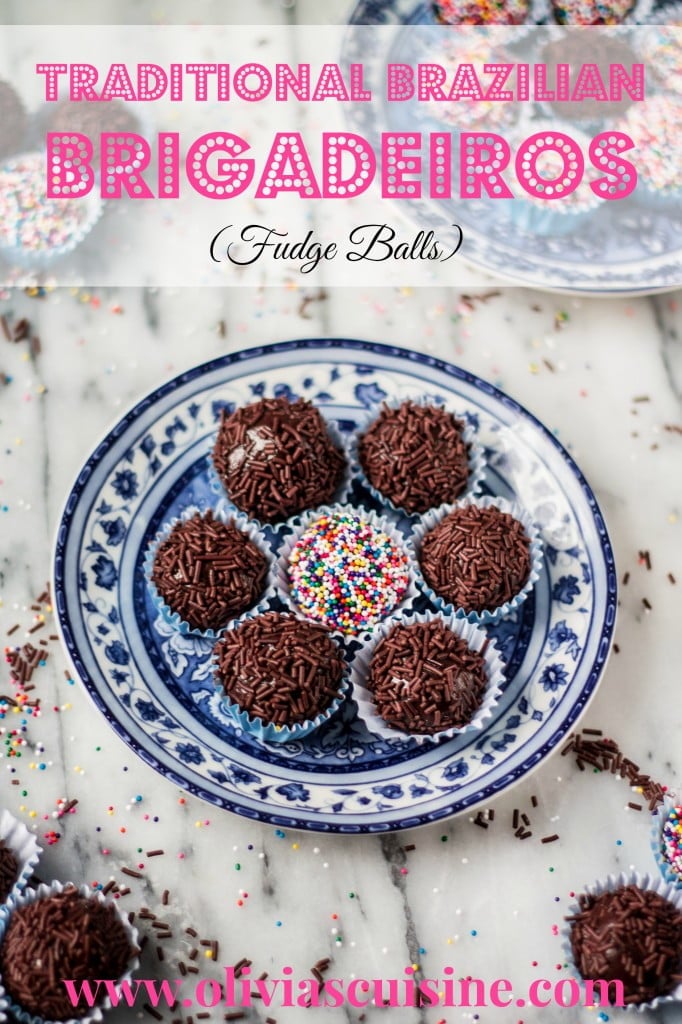 Now that you've (hopefully) stopped jumping up and down, let's talk about this very serious – and yet so simple – dessert.
The name "brigadeiro" means "brigadier" in English. According to popular beliefs, the Brigadeiro was created in honor of Brazilian Brigadier Eduardo Gomes in the 40s.
Gomes was a good looking (single!!) fellow and because of that he conquered a vast number of female fans that ended up creating this candy that now carries his title.
In spite of Eduardo Gomes' good looks, he didn't win the elections! However, he will be forever remembered in every Brazilian birthday party, as brigadeiros of all kinds are always served in birthday parties.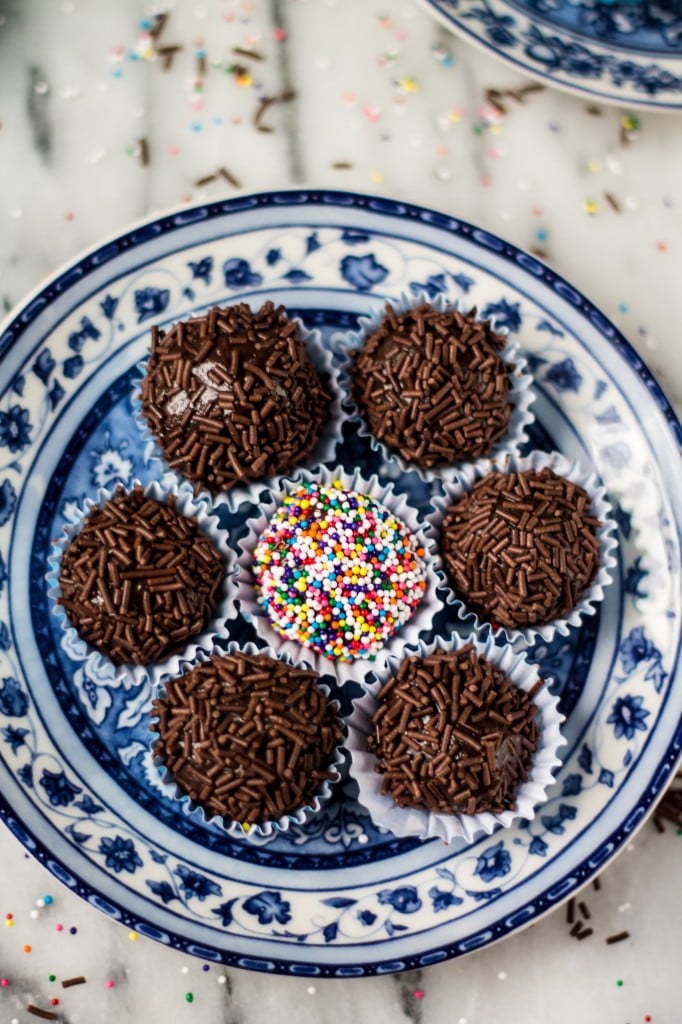 What is a brigadeiro?
If you don't know what a brigadeiro is yet, you might be dying to find out.
Well… Brigadeiros are bite-sized chocolate sweets. Some people say they are bon-bons, other people say they are truffles… I think they come closer to fudge balls.
Traditionally made of sweet condensed milk, chocolate powder, eggs and butter, nowadays it is rare to see recipes calling for eggs as an ingredient.
They are then hand rolled individually and then covered in chocolate sprinkles.
In the past years, lots of different types of brigadeiros have been invented and they are now often called "gourmet brigadeiros".
Different toppings and flavors like lime, passion fruit, pistachio, white chocolate, Nutella and more can be found at Brigadeiro shops that are the new trend in Brazil.
Before those shops existed you either made them at home or you ordered them from a "doceira" (a woman that made candies and sweets for parties), usually in dozens. But now you get to go to a Brigadeiro shop and pay lots of money for something that costs nothing to make, and bring them home in fancy boxes! ;-)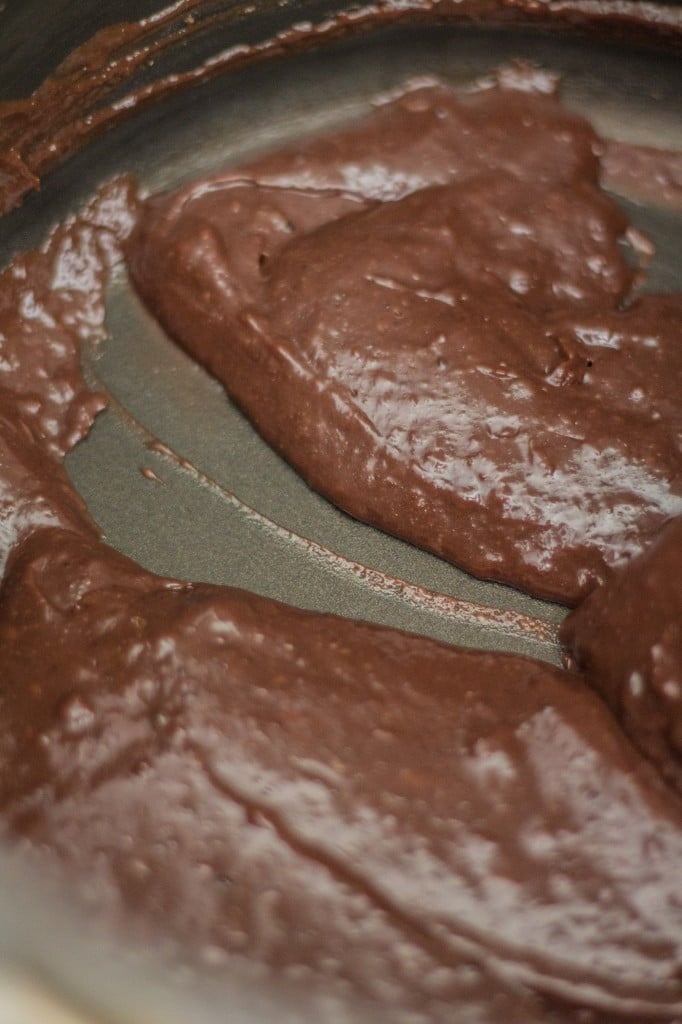 While the brigadeiro requires some patience, as it needs constant TLC, it is not at all difficult to make. All you need is 5 ingredients and a sauce pan.
After you roll the brigadeiros and cover them with sprinkles, you can put them in small paper or foil candy cups. I bought mine in a Brazilian market in NYC, but I know Wilton has some. You can find them at Amazon! :-)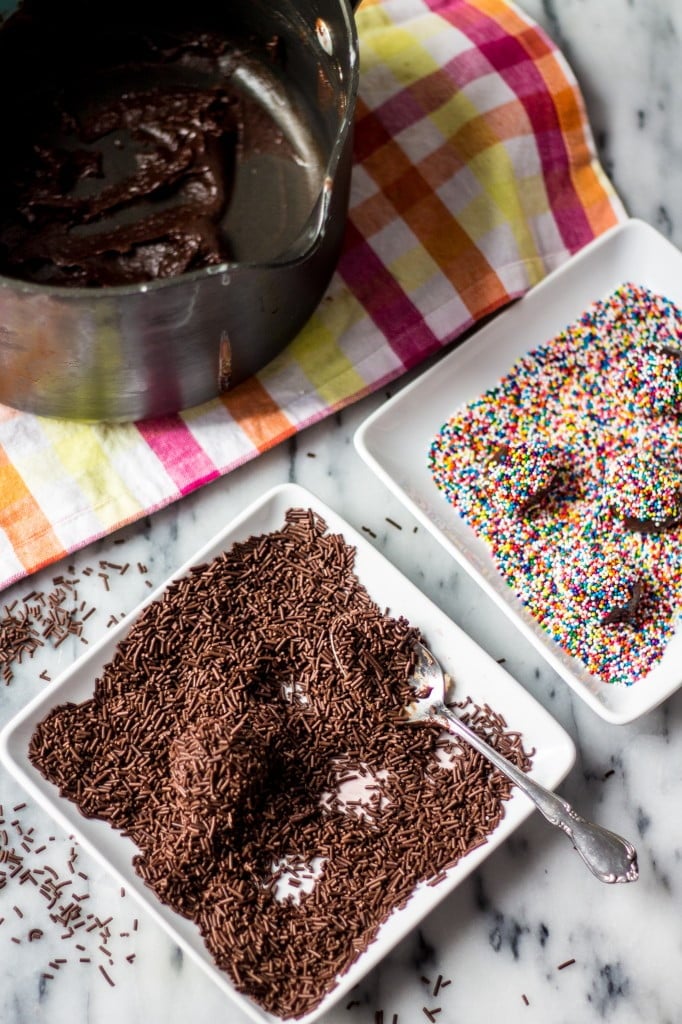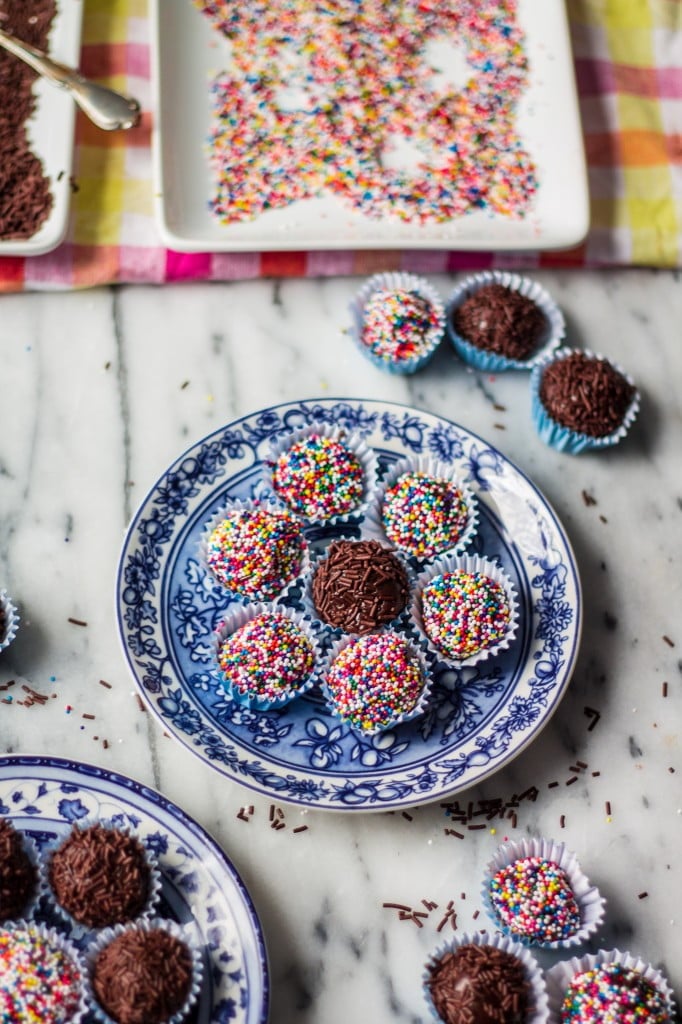 In Brazil every birthday party has some brigadeiros by the cake. And by the time everybody gathers around the cake to sing "Parabéns a você!" (Happy Birthday to you!) you can always see some empty paper cups because there's always a few naughty ones that eat the brigadeiros before Happy Birthday time. (I must confess I'm one of them…)
Seriously, if you serve those little chocolate treats on your next party, you will be the most popular kid in town! Be sure you eat some before serving them to other people, because there won't be any left at the end, I can guarantee!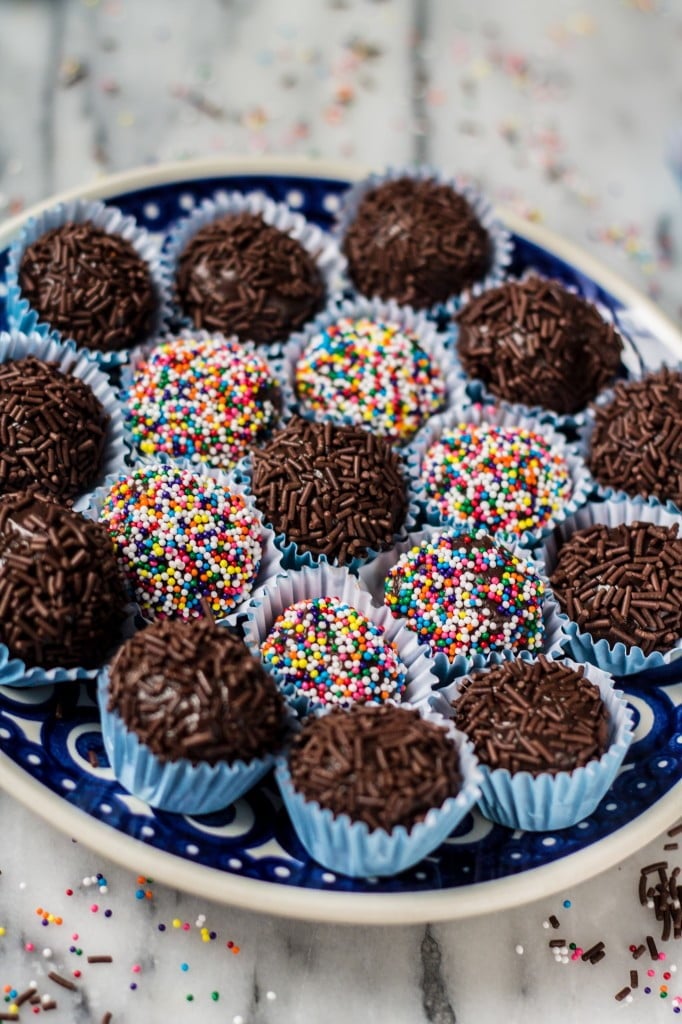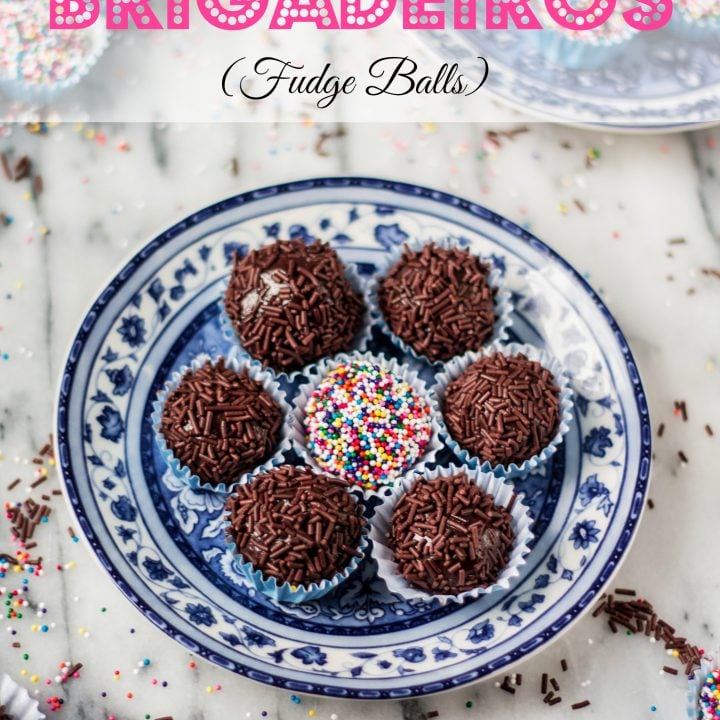 Traditional Brigadeiro (Brazilian Fudge Balls)
Yield: 24 brigadeiros
Prep Time: 10 minutes
Cook Time: 20 minutes
Total Time: 30 minutes
Ingredients
1 (14oz) can sweet condensed milk
4 Tbsp cocoa powder, sifted
2 Tbsp butter, plus more for rolling balls
A pinch of salt
Good quality chocolate sprinkles (or any other type of sprinkles you like)
Instructions
In a small sauce pan mix the sweet condensed milk, the cocoa powder, the salt and the butter.
Bring the sauce pan to the stove and heat it over medium-low heat.
Cook it, mixing constantly (this is important, otherwise it will burn!) until it thickens. A way to know is to run your wooden spoon (or spatula) in the middle of the mixture. If it takes a while for the mixture to move, then your brigadeiro is ready!
Reserve, letting it cool to room temperature.
In a plate or bowl, spread your sprinkles.
Once the brigadeiro is cool, grease your hands with butter and roll the brigadeiros into little balls.(In Brazil we usually use half a tablespoon as measurement, but you can make your balls as big or small as you'd like!)
Roll the brigadeiro balls into the sprinkles and place them in paper/foil candy cups.