Potato Galette with Caramelized Onions, Bacon, Goat Cheese and Rosemary
What about a nice rustic Potato Galette for Mother's Day?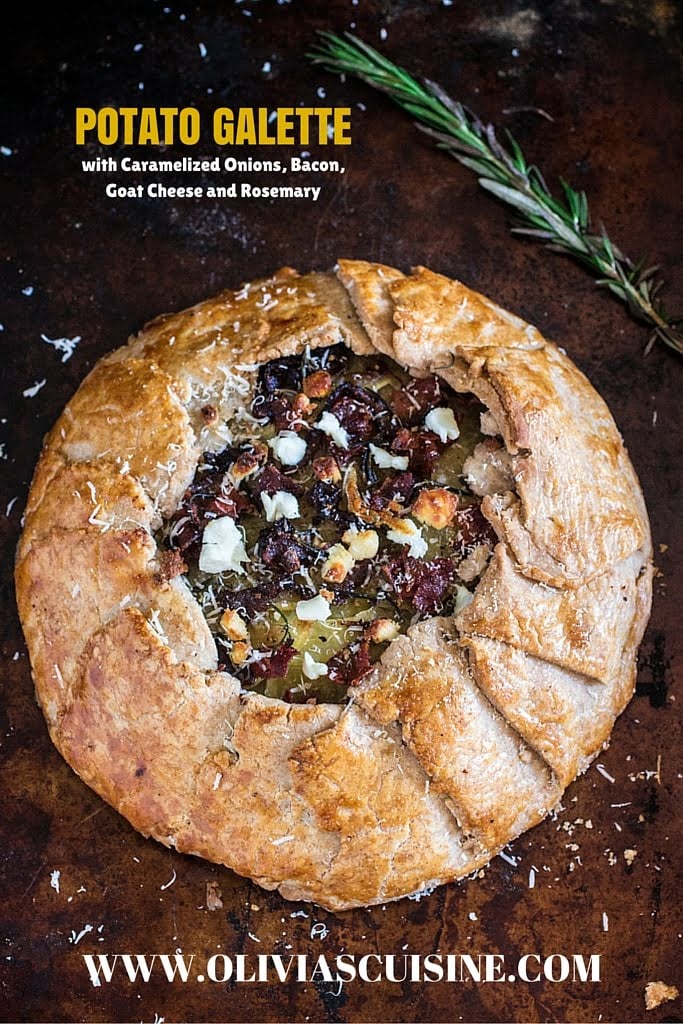 Focus on: "rustic".
Seriously, whoever decided to start using the word "rustic" as a synonym to "not looking too professional" has my heart forever. ❤️
Yes, I am perfectly aware of my baking limitations. The good news: this potato galette might look homemade (as opposed to looking like it was made by a famous french pastry chef), but it tastes INSANELY amazing! You gotta trust me on that!
And that's the beauty of a galette, which is another word for "rustic tart". It doesn't have to look perfect, as long as it taste delicious! And that's why I consider this a pretty stress-free baking project, suitable for all beginner bakers out there, just like me!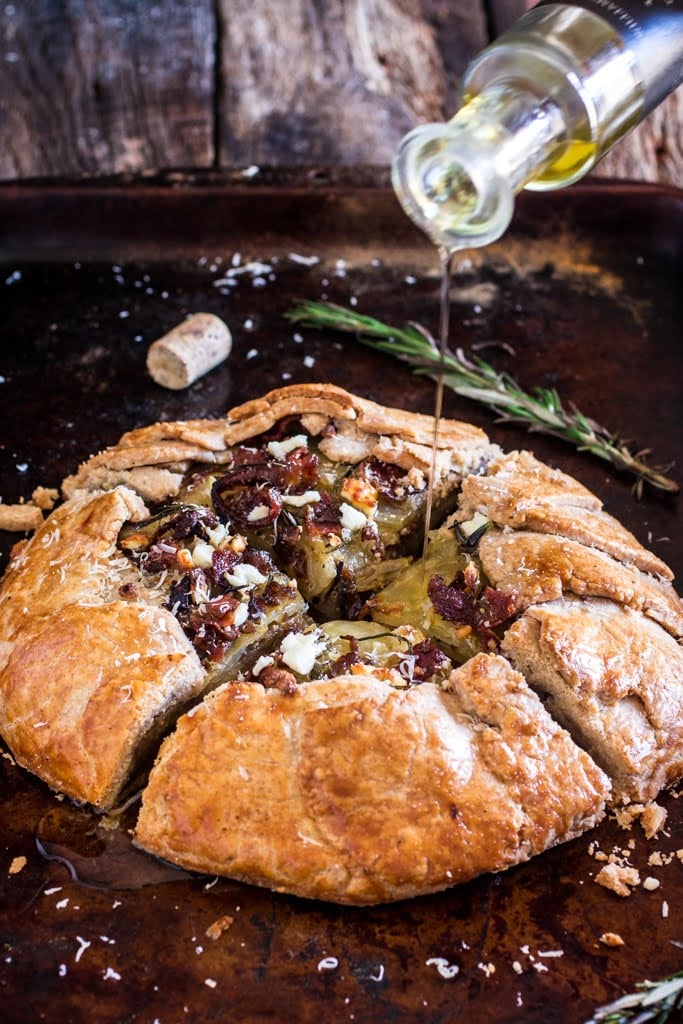 This potato galette consists of a flaky pie crust (to which I added a little whole wheat flour for a nuttier taste) that envelops thinly sliced potatoes, caramelized onions and bacon. The final touch: crumbled goat cheese, grated pecorino, rosemary and a drizzle of white truffle oil (which is totally optional but highly recommended!).
What I just described, my friends, is a little piece of perfection! Add a nice green salad and you have a fantastic meal.
And, if you are serving it for Mother's Day brunch, a nice fried egg (or two) on top won't hurt. In fact, it will definitely get you extra heartfelt oohs and aahs from your guests and, hopefully, your mom!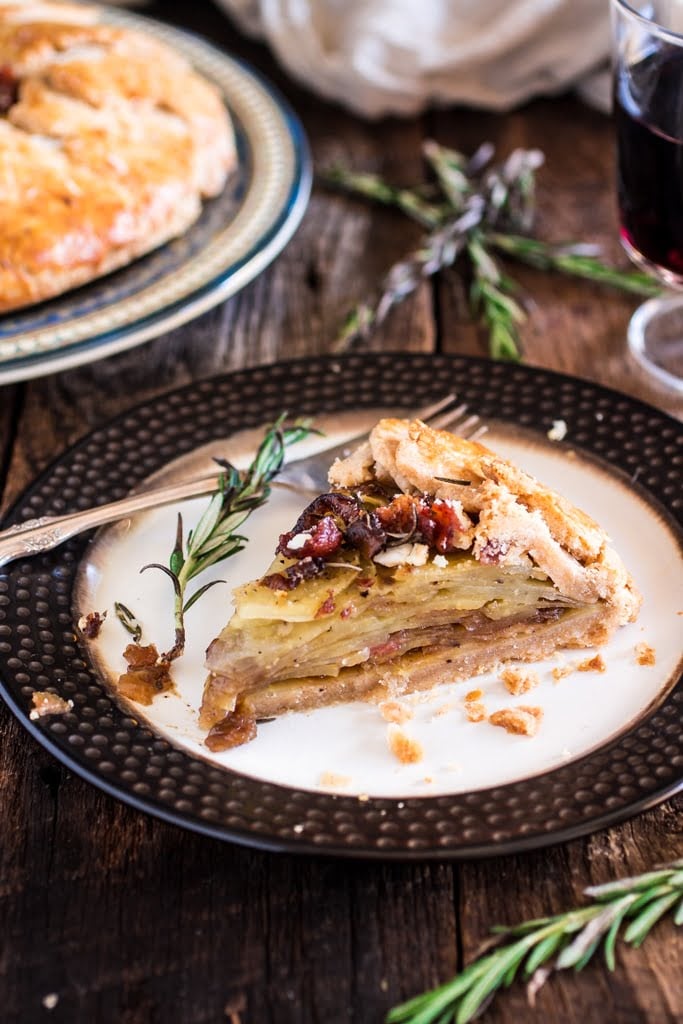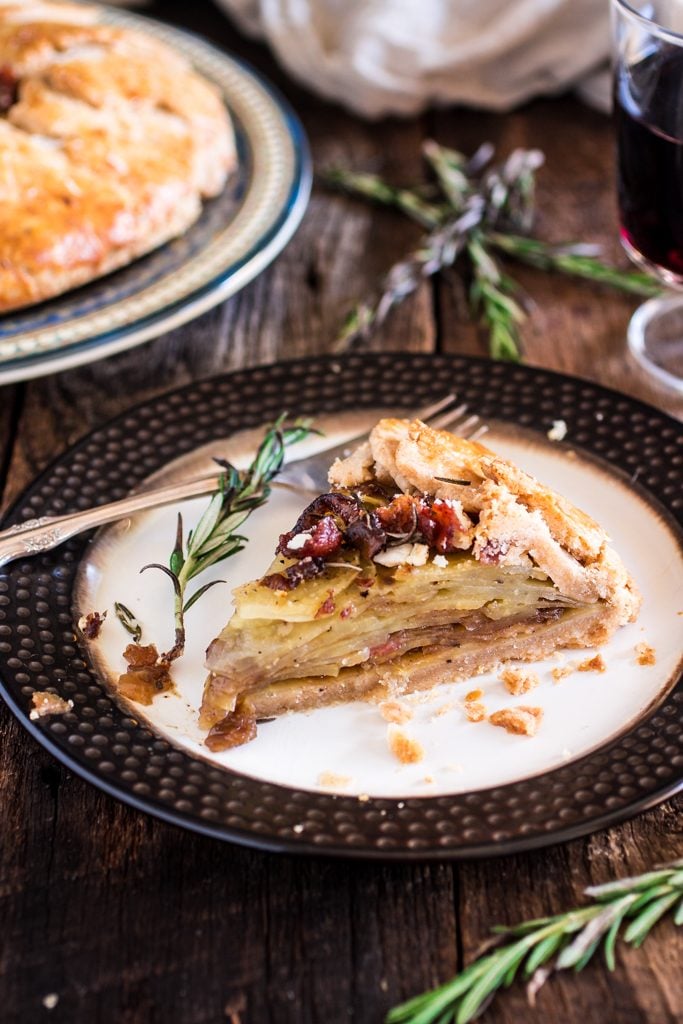 My inspiration for those flavors came from my Potato, Bacon and Rosemary Pizza, which is one of my favorite pizzas of all times.
I thought that if this combination of flavors worked so well in a pizza, it would for sure be amazing in a potato galette form. And boy, oh boy, was I right!
I mean, one doesn't have to be a genius to know potato + bacon + cheese equals success. But I'm proud of my creation nonetheless. ?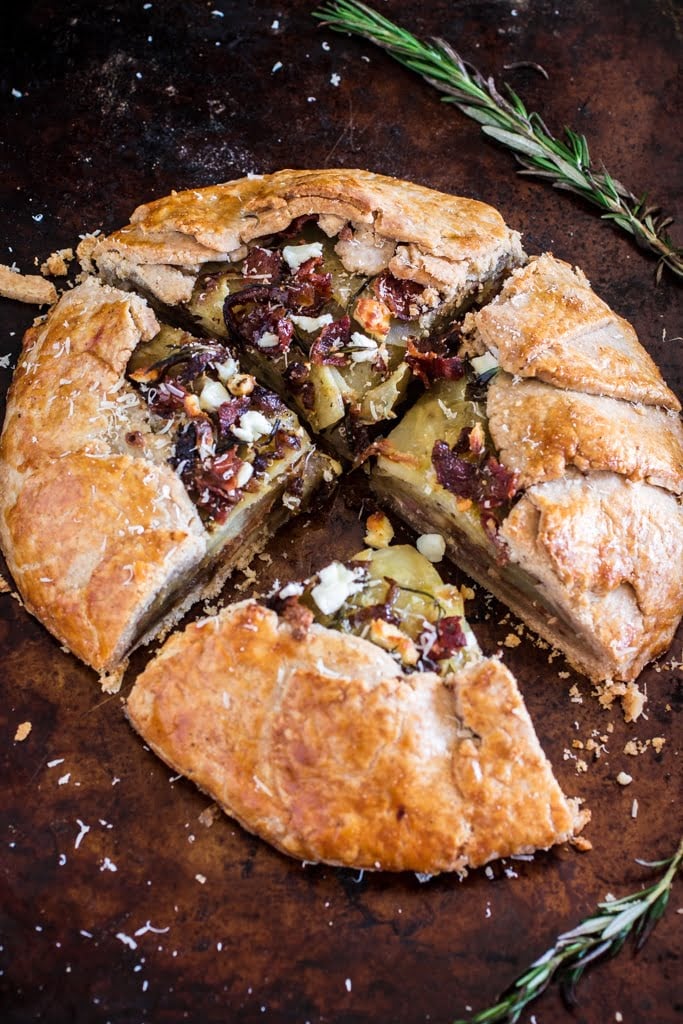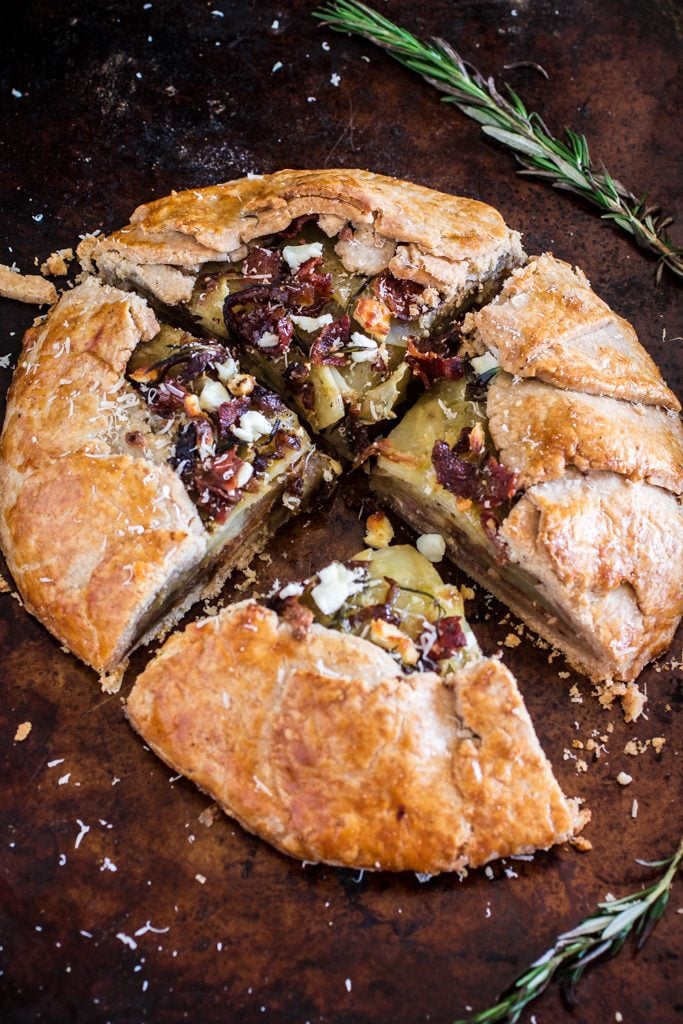 While these are not my best photographs, I hope you can see how flaky the crust is.
For years I felt so frustrated with my pie dough skills. How did I move past that? I LET GO! For example: Did my crust break? I use some trimmed dough to patch it. No shame! No one will notice. All people care about is how it tastes!
Don't let your shy pie skills prevent you from making this mouth watering potato galette.
Remember: perfection is not the goal here. Flavor is!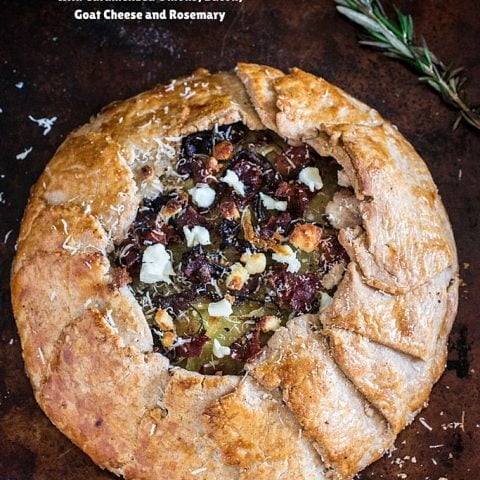 Potato Galette with Caramelized Onions, Bacon, Goat Cheese and Rosemary
Yield: 6 servings
Prep Time: 1 hour 10 minutes
Cook Time: 40 minutes
Total Time: 1 hour 50 minutes
Ingredients
Pie Dough:
1 1/2 cups all-purpose flour
1/2 cup whole wheat flour
1 teaspoon kosher salt
¾ cup (1½ sticks) chilled unsalted butter, cut into pieces
2 teaspoons apple cider vinegar
3-4 tablespoons chilled water
Galette:
3 Yukon gold potatoes, peeled and thinly sliced with a mandoline
5 slices of bacon
1 large sweet onion, thinly sliced
2 sprigs of rosemary, leaves only
4 ounces goat cheese, crumbled
Pecorino cheese to taste
Olive oil to taste
Salt and pepper to taste
1 egg, lightly beaten
2 tablespoons butter, chilled and cubed
White truffle oil to serve (optional)
Instructions
Making the dough:
In a food processor, combine the all-purpose flour, whole wheat flour and salt. Pulse a few times to mix it up. Add the butter cubes and pulse until mixture resembles coarse meal. Add the vinegar and one tablespoon of the chilled water and pulse. Keep adding the water, as needed, just until the dough comes together.
Transfer the dough to plastic wrap and lightly pat into a disk. Chill for at least 1 hour.
Making the galette:
Preheat oven to 400°.
Cook the bacon in a large skillet over medium heat, turning occasionally, until cooked but still soft, about 6 minutes; remove to paper towels. Once cool, roughly chop and reserve.
Add the sliced onions to the bacon grease, stirring to coat, and lower the heat to low. Cook, stirring occasionally, until onions are soft and golden brown, 30 to 35 minutes. At the end, add a few tablespoons of water if the onions are too dry. Season with pepper and salt to taste. Reserve.
Roll out dough on a lightly floured sheet of parchment paper to about 14" round and ⅛" thick. Transfer on the parchment paper to a large baking sheet.
Add a layer of potato slices, seasoning with salt and pepper. Keep layering, alternating with caramelized onions and chopped bacon. Remember to season, always!
Finish off with the crumbled goat cheese and rosemary leaves. Drizzle with a little olive oil and season with salt and pepper.
Bring edges of dough up and over filling, overlapping as needed, to create a 1½" border; brush with the beaten egg. Add the chilled butter cubes to the top of the galette.
Bake the potato galette, rotating once, until crust is golden brown and cooked through, 35–40 minutes.
Let it cool slightly and sprinkle the grated pecorino and drizzle with the white truffle oil, if using.
Equipment recommended for this recipe: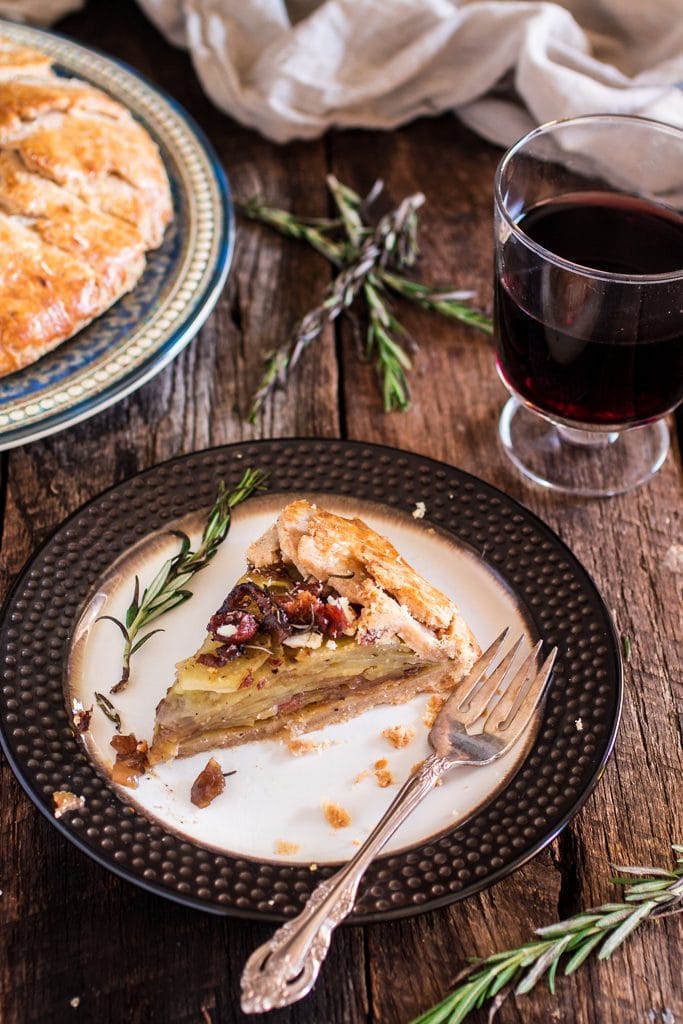 Disclosure: This post contains affiliate links.