Camarão na Moranga – or Brazilian Shrimp Stuffed Pumpkin – is a traditional Brazilian dish from the coast of São Paulo. Creamy and shrimp-y, this stunning dish is begging to be a beautiful centerpiece at your next gathering!
Brazilian classics are my specialty! This recipe is a combination of my mom's and my grandma's recipe, making it the best one ever. If you want more savory Brazilian dishes, make sure to also grab the recipes for my Moqueca Baiana, Feijoada and Vaca Atolada.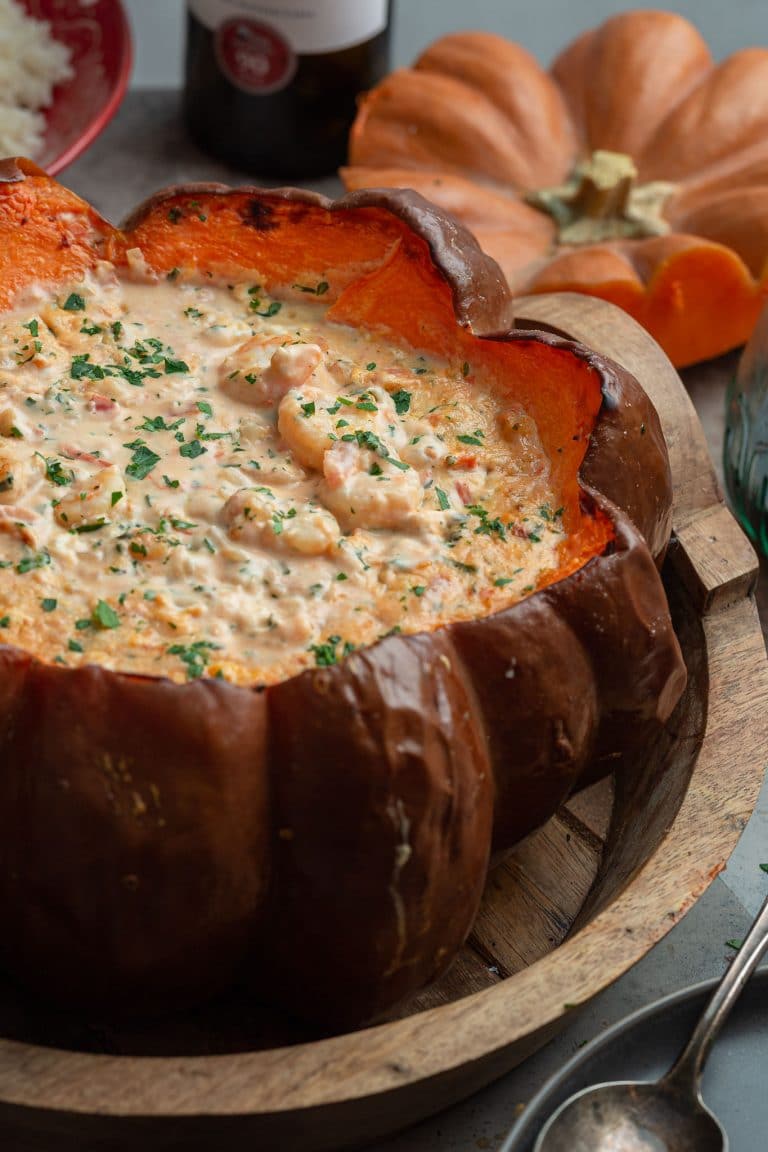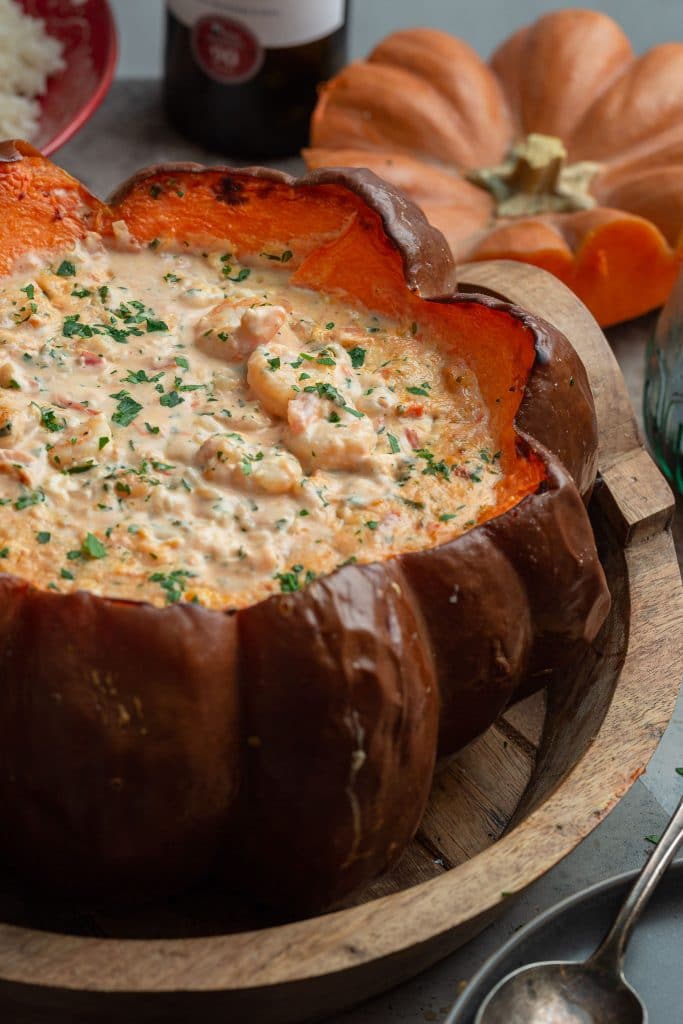 A classic Brazilian shrimp dish!
It's finally here! One of the most requested recipes ever here on the blog (and on Instagram).
And the wait was worth it, because it is EPIC! Impressive, delicious and oh so comforting. Right on time for the holidays!
In Brazil, this dish is served year round, but here in the US you'll only be able to find pumpkins in the fall through winter. That is, unless you have access to an Asian market, as there you can probably find Kabocha (my second choice of pumpkin for this recipe) year-round.
I think it's also worth mentioning that this recipe can also be made in individual pumpkins. That's how my grandma used to serve them, as one of the courses for Christmas dinner!
I hope you guys enjoy this Camarão na Moranga and that you make it this holiday season. It truly is an impressive dish and always gets lots of oohs and aahs whenever I serve it!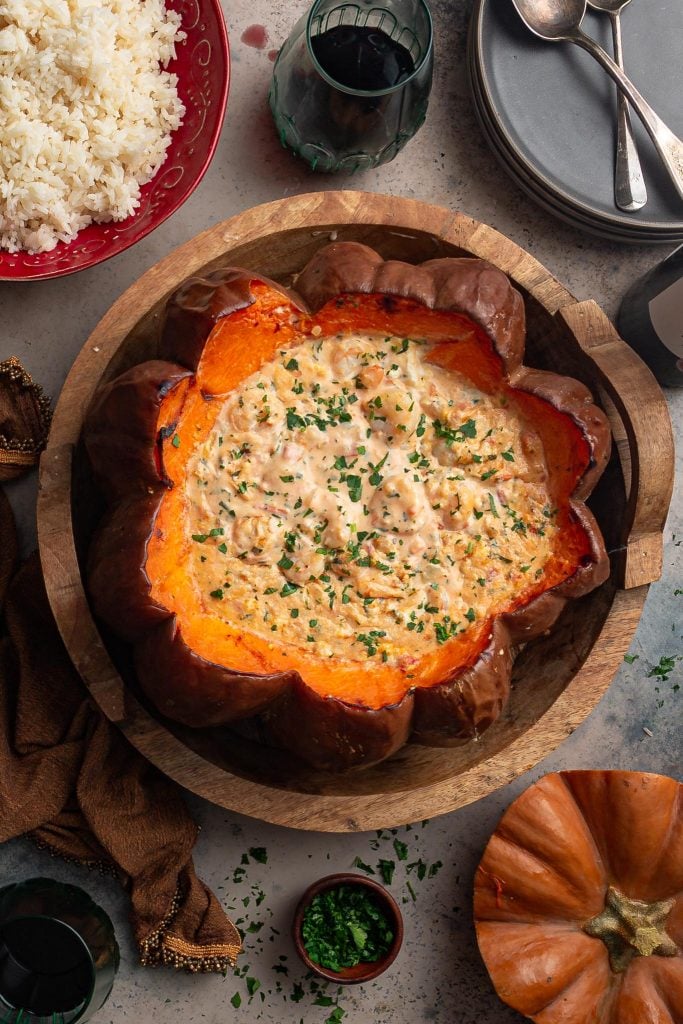 What is Camarão na Moranga?
Camarão na Moranga is a popular Brazilian dish, consisting of a creamy shrimp stew that is served inside a large pumpkin.
It is believed to have originated in the 40s, on the coast of São Paulo, in a city called Bertioga.
Legend has it that morangas (Cinderella pumpkins) were planted and harvested at Presídio da Ilha Anchieta, a penitentiary that held political prisoners. Apparently, some members of Shindo Romei, a faction of Japanese nationalists who murdered other Japanese living in Brazil (because they were considered traitors), started planting fruits and vegetables in the prison.
Because of precarious hygiene conditions at the penitentiary, they ended up getting worms. After denying western medicine offered by the prison doctors, they decided to start planting pumpkins, claiming that the seeds were an effective deworming agent.
It wasn't long before the city's population heard about this alternative treatment and started buying these pumpkins – via a trader called João Glorioso – to roast the seeds as a treatment for their illnesses.
One day, João was transporting the prison goods and ended up letting one of the pumpkins fall in the sea, which quickly sank.
A few days (or weeks) later, the pumpkin emerged about 3 miles from where it was dropped, and was found by Dona Zenaide, the owner of a restaurant by the beach.
Intrigued, Dona Zelaide picked the pumpkin and found out that it was full of shrimp (some versions claim the pumpkin had a hole instead of the stem and others say the shrimp pierced the pumpkin and entered through a small hole). Being the great cook that she was, she had the inspiration to create what is now a very traditional caiçara dish: the camarão na moranga.
Now, I know this is a very bizarre urban legend, but it is a fun story nevertheless!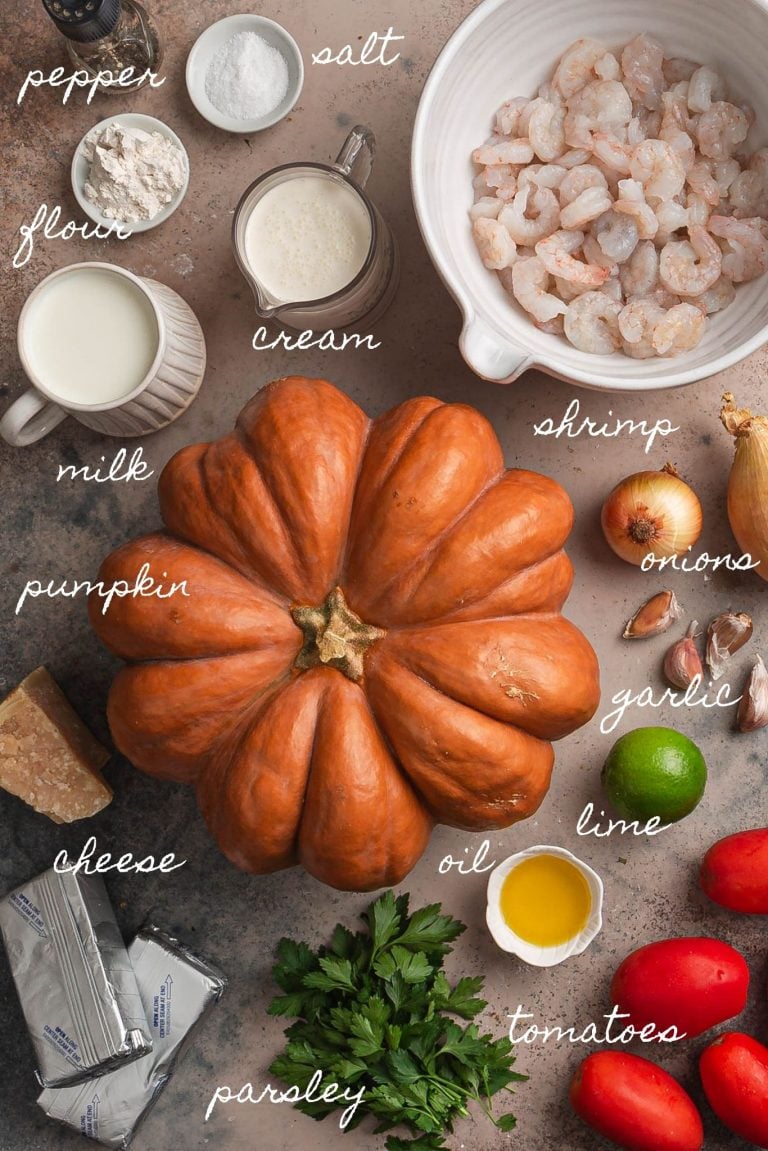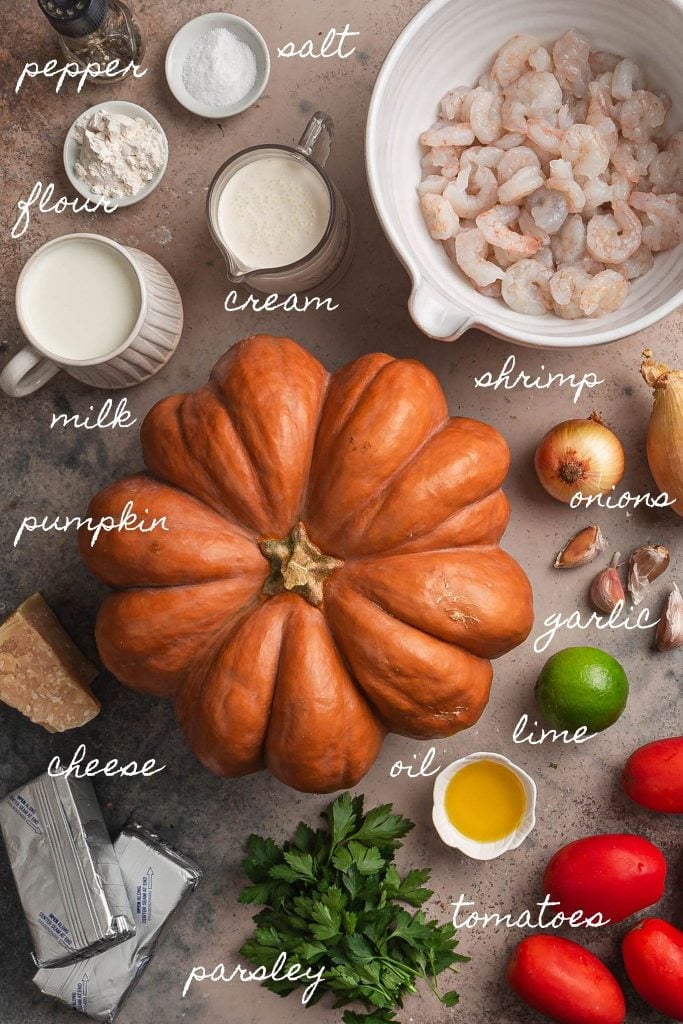 Ingredients
Let's take a look at what we'll need to make this dish!
PUMPKIN – This dish is traditionally made in a moranga, which is called Cinderella pumpkin here in the US. However, I have made it in a Kabocha and it was equally delicious!
SHRIMP – We'll need 2 pounds of raw, white or pink, medium or large shrimp.
AROMATICS – This recipe uses 2 onions and 4 cloves of garlic! We need all the flavor we can get, since we won't use any spices other than black pepper.
SEASONING – Salt, black pepper and lime juice to season the shrimp, and more salt and pepper to season the dish as we cook.
TOMATOES – I like to use chopped fresh Roma tomatoes, but you can use a can of crushed tomatoes if you prefer.
THICKENING AGENT – I use all-purpose flour, but if you need to omit gluten, you can use cornstarch instead.
DAIRY – We will use milk AND cream for super creamy results! However, if you need to make this dish less caloric, you can omit the cream. I have not tried making this dish with non-dairy milk, but I've seen other recipes using coconut milk!
CHEESE – This dish traditionally uses catupiry or requeijão, but I use cream cheese here in the United States. I also like to finish with a layer of grated parmesan cheese before placing it in the oven, for a delicious gratin effect!
HERBS – I use parsley, but some people like using cilantro (or a combination of both).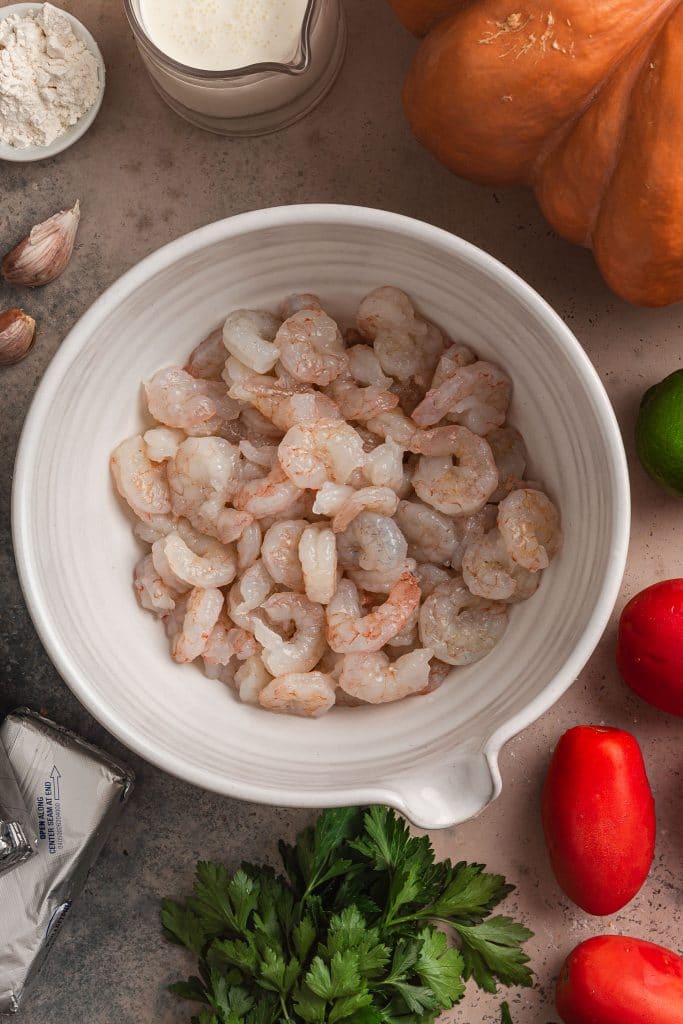 How to buy shrimp
You will find several types and sizes of shrimp at the grocery store. Head on or off, the shell on or off, the vein removed or intact, tail-on or tailless, that can be quite intimidating!
Unless you live by the ocean and have access to a great fish market that sells fresh-off-the-boat seafood, go straight to the frozen section to get your shrimp.
Despite popular opinion, in most cases, frozen shrimp is actually fresher than "fresh" shrimp. When fisherman get shrimp, they immediately throw them into ice, freezing them within a very short time of being out of the water.
The display of "fresh" shrimp that you see at the fish counter? Those are most likely the same frozen shrimp that have been allowed to thaw in the store. And there's no way to tell how many days they've been sitting there, getting less fresh by the minute.
Which kind of shrimp should I use for Camarão na Moranga?
This recipe works with either white or pink raw shrimp. I prefer to buy them already peeled and deveined, but you can do that yourself if you prefer! (My husband Tim preferred the taste of the ones I peeled/remove the tails myself, but that was quite time consuming.)
As for size, stick to medium or large. You want every ladleful of the stew to have a lot of shrimp, versus just one or two big ones.
Make sure you are not buying pre-cooked shrimp, as those are almost always overcooked, meaning they will be rubbery and quite bland.
Finally, if you – like me – are worried about sustainability, I highly recommend buying wild caught shrimp. Not only they taste cleaner and more shrimp-y, but they are the most sustainable here in the United States.
If buying farm raised, make sure to research to find out if they are raised sustainably and responsibly! You can usually find that information on the package.
How to thaw frozen shrimp?
You will want to thaw your frozen shrimp before using it in this recipe!
To do that, just place them in a strainer and run under cold water until they are thawed. Alternatively, you can let them sit in a bowl of cold water until defrosted.
Then, wipe them dry with a paper towel and use as soon as possible as they will keep losing their freshness as they sit.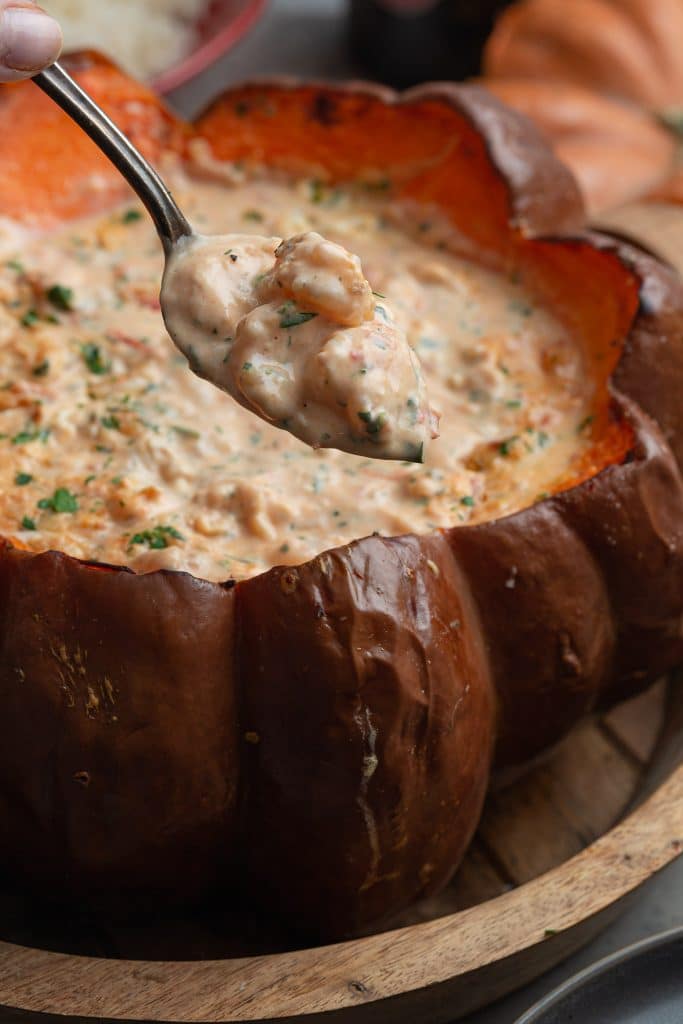 How to make Camarão na Moranga
Here's how I make Camarão na Moranga. As always, you will find the printable (and more complete) version of the recipe at the end of this post.
Step 1: Prepare and roast the pumpkin.
Wash and dry the pumpkin.
Cut the top off and scoop out the stringy part and seeds. (Tip: You can toast the seeds for a tasty snack!)
Make a paste by processing (or muddling) a chopped onion, some garlic cloves, a little bit of olive oil, and salt and pepper.
Rub this paste all over the inside of the pumpkin. Rub the outside with olive oil.
Wrap in foil and bake at 350ºF for 45-50 minutes, or until it is starting to get soft. Remove from the oven and reserve.
Step 2: Make the shrimp stew.
Season shrimp generously with lime juice, salt and pepper.
Heat olive oil in a large Dutch oven, over medium-high heat, and sauté the shrimp. Do not overcook! Remove and reserve in a plate.
Add some more oil if needed, and sauté the onion and garlic.
Stir in the fresh tomatoes and cook, stirring occasionally, until soft.
Add flour and mix to incorporate. Then, add the milk and cook until thickened.
Stir in the heavy cream and chopped parsley. Return the shrimp and mix to combine.
Step 3: Fill the pumpkin and bake!
Spread the cream cheese (make sure it's softened) inside the pumpkin.
Fill with the creamy stew.
Top with freshly grated parmesan and bake for 15-20 minutes, or until the pumpkin is soft and the cheese is golden.
Garnish with more chopped parsley and serve!
| | |
| --- | --- |
| | Olivia's Tip: After you roast your pumpkin, make sure to grab a paper towel and soak all the excess liquid from inside, before stuffing it. The shrimp stew is creamy enough and we don't want it watered down! |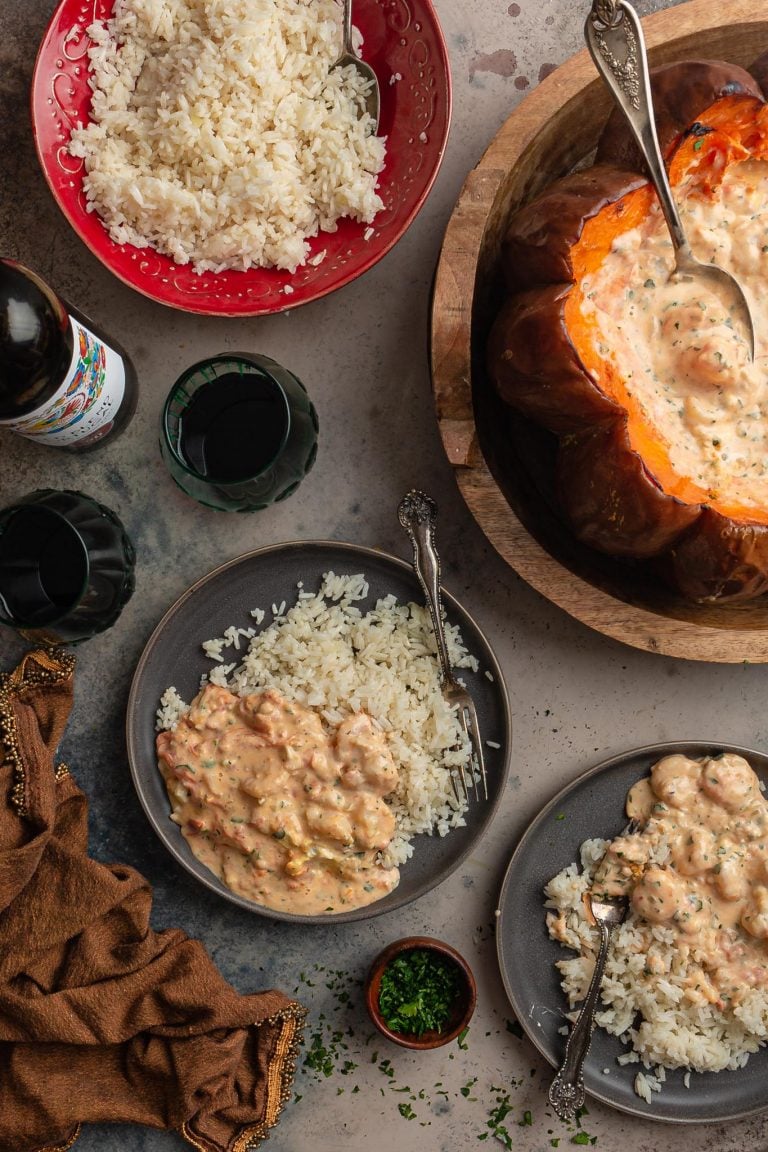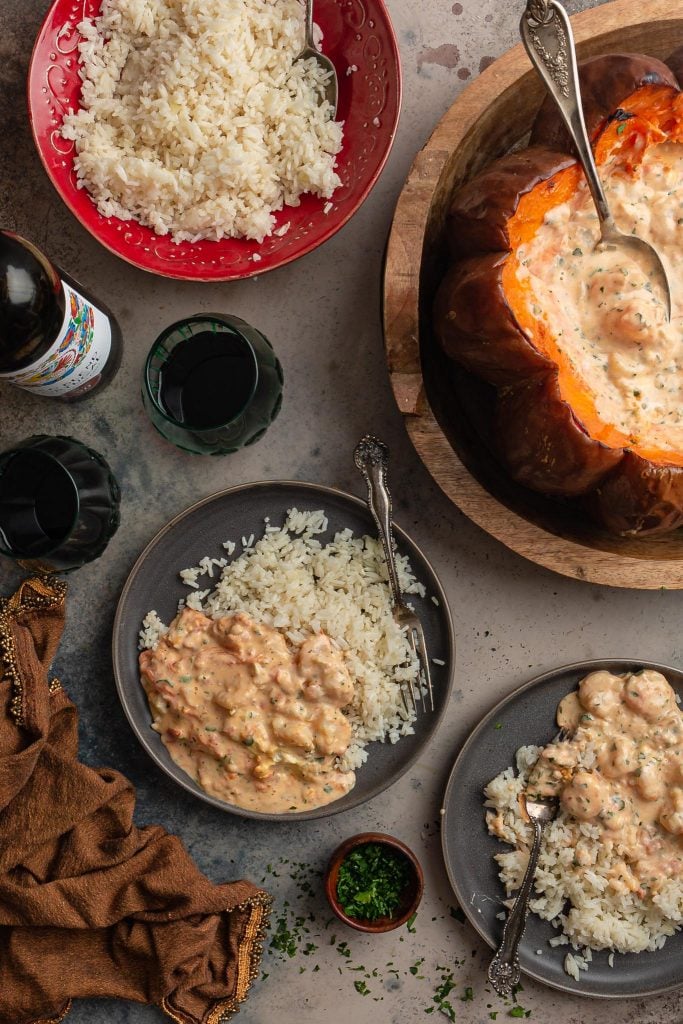 How to serve Camarão na Moranga
While this dish is already a meal in itself, it is often served with white rice and batata palha (fried grated potatoes).
While not necessary, I like to garnish it with more chopped parsley. And, if you want to go the extra mile, you could buy and cook large prawns to decorate the sides of the pumpkin.
In Brazil, camarão de sete barbas (Atlantic seabob) is what's commonly used. But since they are hard to find here in the US, you could use tiger prawns instead!
When serving, make sure to dig deep with your serving spoon so you can serve some of the pumpkin flesh as well as the shrimp stew!
Frequently Asked Questions
Can I make Camarão na Moranga ahead of time?
Reheating shrimp is always a risk. You might end up with overcooked, rubbery shrimp that will ruin the whole dish!
However, you could roast the pumpkin a day ahead and refrigerate until ready to use. You will need more time in the oven to heat it up properly though.
How long will leftovers keep in the fridge?
Leftovers, if stored in an airtight container, will keep for up to 3 days.
You will want to scoop out as much as you can from the bottom and sides of the pumpkin, that way you can store the pumpkin flesh with the shrimp stew in a container and discard the large pumpkin shell.

How do I reheat it?
Reheat leftovers in a saucepan, over medium-low heat, adding more cream as needed to bring it back to the original consistency. Try not to overcook the shrimp too much, as it will get tough if overcooked.
Can I freeze it?
Again, the shrimp when reheated will inevitably be tougher than when it was freshly cooked. But, yes, you can freeze leftovers!
When ready to eat, thaw overnight in the fridge and reheat on the stove.
Did you make this recipe? I love hearing from you! Please comment and leave a 5-star rating below. You can also take a photo and tag me on Instagram with #oliviascuisine.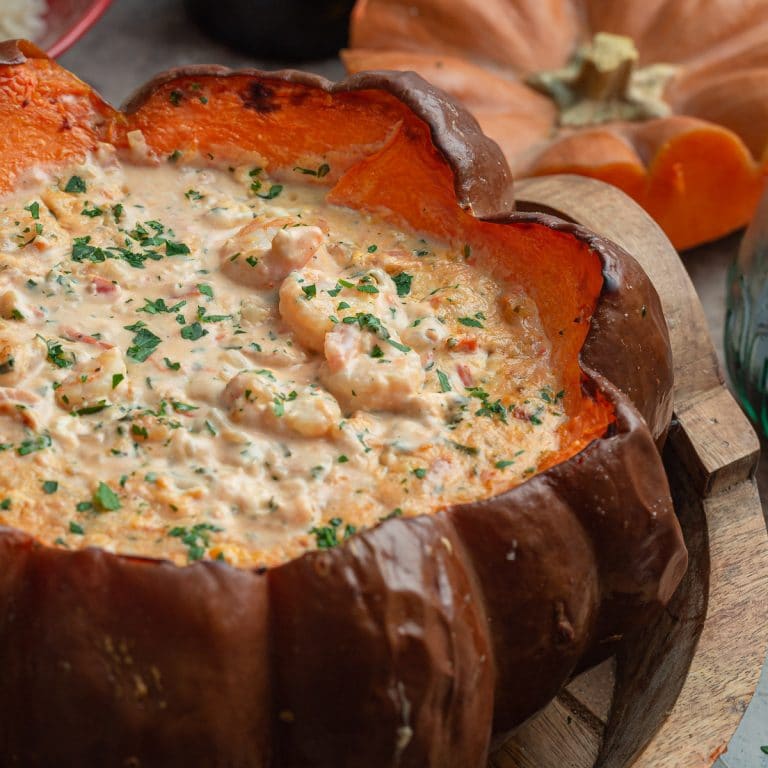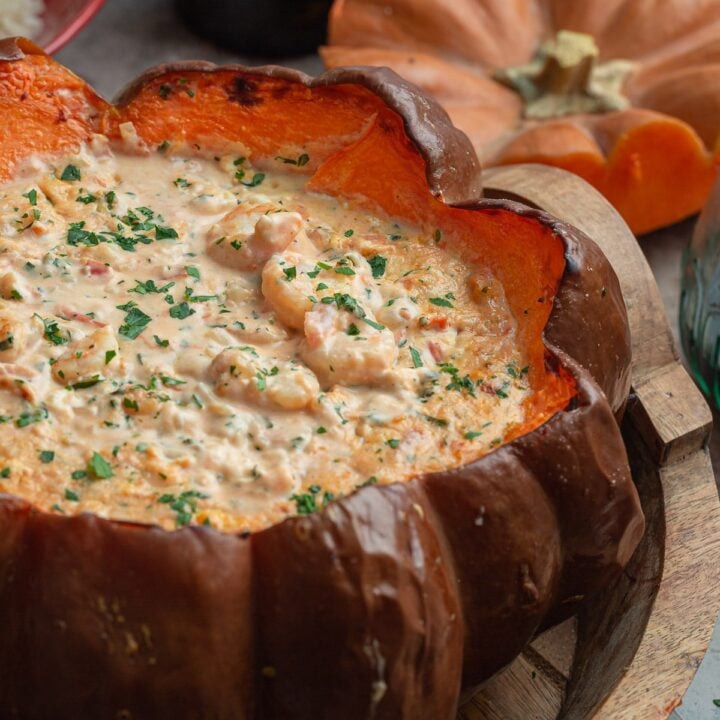 Camarão na Moranga (Brazilian Shrimp Stuffed Pumpkin)
Cook Time:
1 hour
5 minutes
Total Time:
1 hour
15 minutes
Camarão na Moranga – or Brazilian Shrimp Stuffed Pumpkin – is a traditional Brazilian dish from the coast of São Paulo. Creamy and shrimp-y, this stunning dish is begging to be a beautiful centerpiece at your next gathering!
Ingredients
One large (8-9 pounds) Cinderella or Kabocha pumpkin, thoroughly washed and dried
1 1/2 large onions, minced, divided
4 cloves garlic, minced, divided
6 tablespoons olive oil, divided
Salt and freshly ground pepper, to taste
2 pounds raw medium or large shrimp, heads and tails removed, peeled and deveined
Juice of one lime
5 Roma tomatoes, chopped
2 tablespoons flour
1 cup whole milk
1/2 cup heavy cream
1/3 cup + 2 tablespoons chopped fresh parsley
1 pound (2 blocks) cream cheese, softened
1/3 cup freshly grated Parmesan cheese
Instructions
Preheat oven to 350ºF.
Using a sharp paring knife, carefully cut around the outline of the pumpkin stem. You will want to do a hole big enough so you can reach inside. Remove the stringy part and seeds, and discard.
In the food processor (or a mortar and pestle), combine 1/2 onion, 2 garlic cloves, 2 tablespoons olive oil, salt and pepper. Process until it gets to a paste-like consistency. Spread that mixture all over the insides of the pumpkin.
Rub the pumpkin outside with 1 tablespoon olive oil. Close with the top part and roast for 45 to 50 minutes, or until the pumpkin is starting to get soft. Remove from oven and reserve, discarding the top or reserving for decoration.
While the pumpkin is roasting, prepare the shrimp stew. Start by seasoning the shrimp generously with lime juice, salt and pepper.
In a large Dutch Oven, heat 2 tablespoons of olive oil over medium-high heat. Once hot, add the shrimp and sauté until cooked, about 2-3 minutes per side. Be careful not to overcook it! Remove (along with any release juices) and reserve.
Reduce heat to medium and wipe the pot if needed. Add another tablespoon of olive oil and, once hot, sauté the remaining chopped onion and garlic, until translucent, about 2-3 minutes.
Add the chopped tomatoes and cook, stirring occasionally, until soft, about 6-8 minutes. Season with salt and pepper.
Stir in the flour and mix until incorporated.
Add the milk and cook, stirring constantly, until thickened, about 5 minutes.
Once thickened to the desired consistency, stir in the heavy cream and 1/3 cup chopped parsley. Return the shrimp (and juices) to the pot, stirring to combine. Taste and adjust seasoning if needed. Remove from heat and reserve.
Wipe the inside of the pumpkin with a paper towel, to get rid of any excess liquid.
Spread the cream cheese inside the pumpkin, all over the bottom and sides.
Fill the pumpkin with the shrimp stew, top with the parmesan cheese and bake for 15-20 minutes or until the pumpkin is soft and the top is bubbly and golden.
Garnish with the remaining parsley and serve, with white rice.



Notes
Shrimp
If you do not live by the sea and don't have access to a good fish market, buy frozen shrimp as that will be the freshest shrimp you can get. White or pink shrimp will work in this recipe!
You can also get a few large prawns (head-on, skin-on) and cook just to decorate the pumpkin at the end.
Pumpkin
This recipe should be made with a Cinderalla pumpkin or a Kabocha pumpkin. Those big orange pumpkins that you see at the supermarket are not as flavorful and should only be used for carving Halloween decorations!
You can also do this dish in several individual mini pumpkins instead of a large one.
Tomatoes
If you don't have access to good tomatoes when it's not their season (fall), you can use a 14-ounce can of chopped tomatoes instead. Preferably San Marzano!
Make Ahead
I do not recommend making this recipe ahead, as shrimp can get rubbery when overcooked. You could, however, roast the pumpkin a day ahead. But make sure the pumpkin is completely heated when it goes in the oven with the stew, which means baking time will probably be longer.
Leftovers
To store leftovers, remove the stew into an airtight container. Then, scoop out as much of the pumpkin flesh as you can, storing it with the stew. Discard the pumpkin.
The leftovers will keep well in the fridge for up to 3 days or can be frozen for up to 3 months.
Recommended Products
As an Amazon Associate and member of other affiliate programs, I earn from qualifying purchases.
Nutrition Information:
Yield:

8
Serving Size:

1
Amount Per Serving:
Calories:

333
Total Fat:

20g
Saturated Fat:

7g
Trans Fat:

0g
Unsaturated Fat:

12g
Cholesterol:

170mg
Sodium:

799mg
Carbohydrates:

18g
Fiber:

3g
Sugar:

8g
Protein:

21g
Nutritional values are approximate, please use your own calculations if you require a special diet.