Slow Cooker Ranch Chicken Dip
This is a sponsored post for SheSpeaks/Kraft Heinz
This Slow Cooker Ranch Chicken Dip is so easy to make! Cheesy, creamy and packed with delicious flavors. You won't even notice that this recipe is low carb!
Who doesn't love a good party dip? Make sure to also check out my Slow Cooker Buffalo Chicken Dip, Cheesy Chorizo Dip and Hot Smoked Gouda Bacon Dip.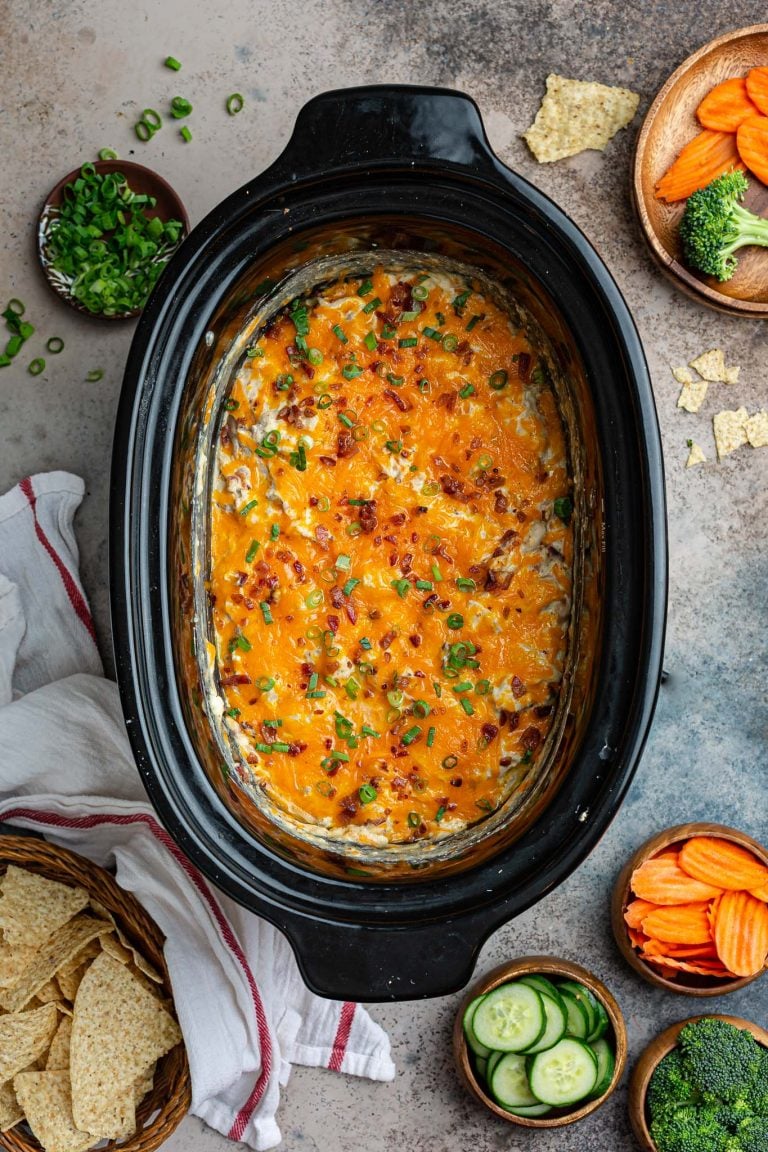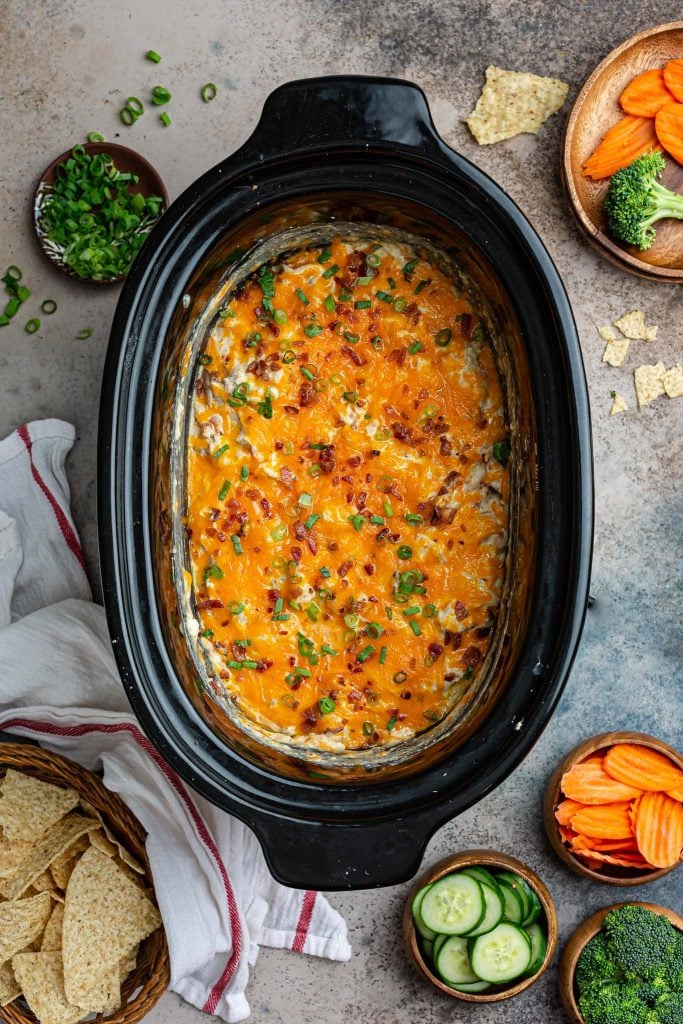 The BEST ranch chicken dip!
I am a big fan of hot dips! Especially when cheese and bacon are involved.
If you and I are attending the same party, chances are you can find me casually lounging by whatever dip is being served, pretending I'm there for my first scoopful when the reality is that I'll probably be there throughout the whole party! 😂😂😂
Don't judge! I know you do the same. That's what parties are for, right? For people to eat, drink and be merry? Because, honestly, if the food is not good, I prefer to stay home, make my own ranch chicken dip and eat it watching Netflix!
But the good news is that, if you make my Slow Cooker Ranch Chicken Dip, your party will be a hit!
So go ahead and serve this at your next football gathering, holiday potluck or even at a high stakes party, such as Christmas or New Year's Eve. I guarantee your guests will love it!
In this post you will learn:

Plus, a
printable recipe
!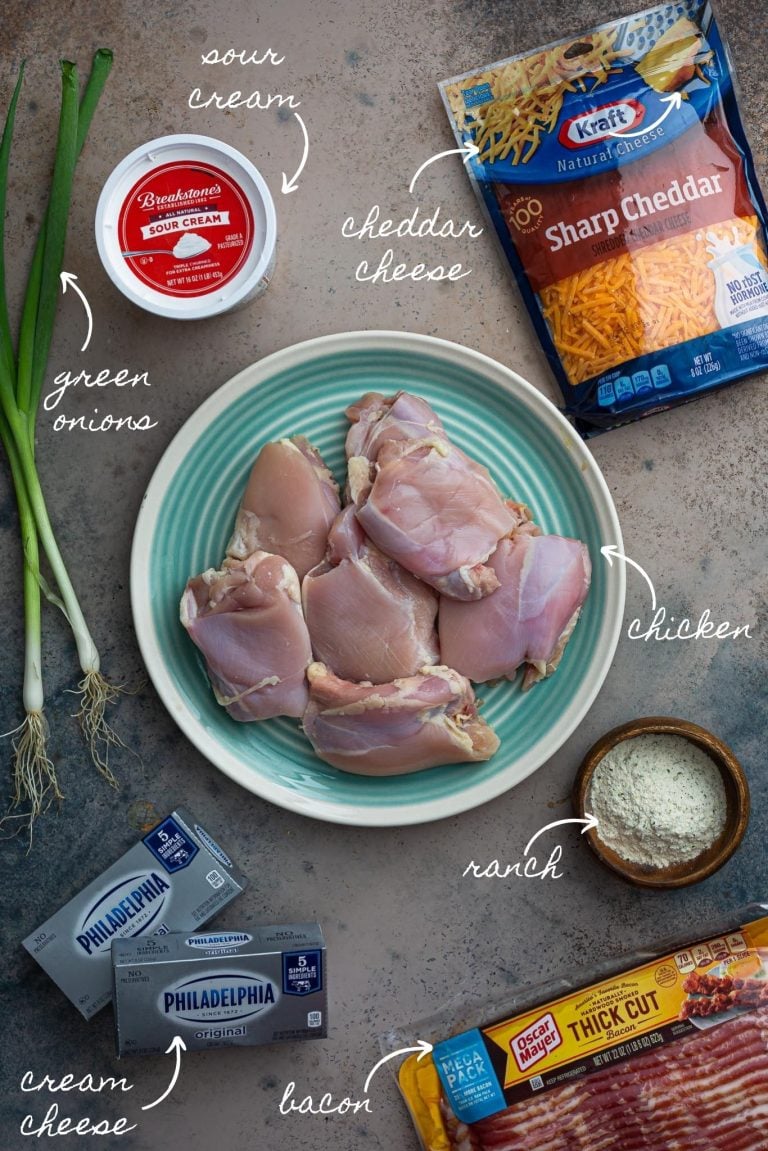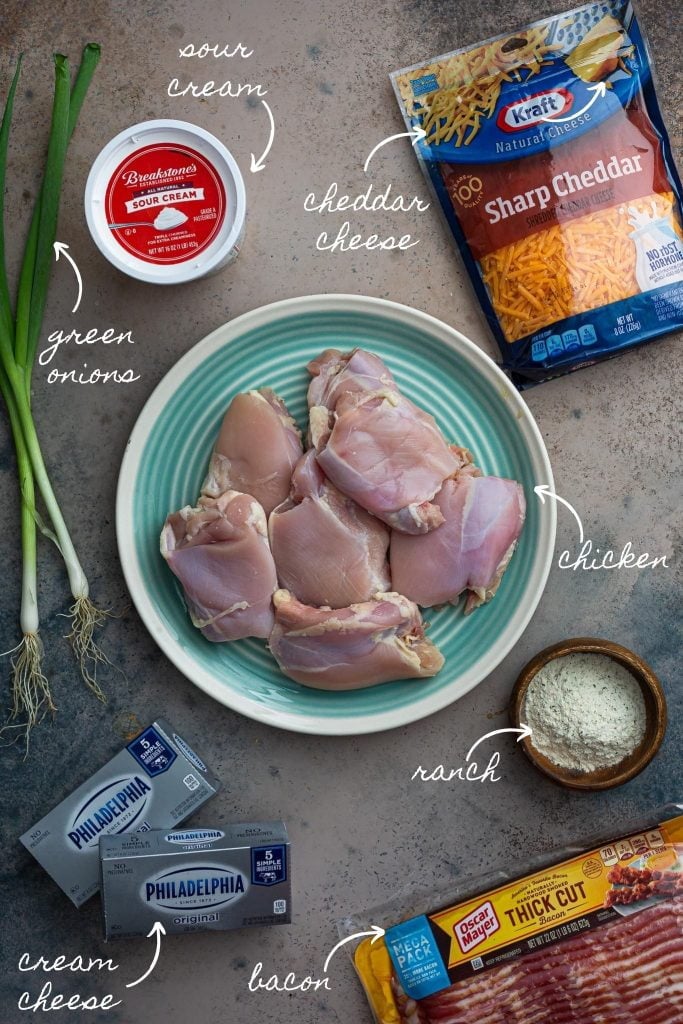 Ingredients
Here's what you'll need to make this Slow Cooker Ranch Chicken Dip:
CHICKEN – I like using skinless and boneless chicken thighs because they have more flavor, but this recipe would also work with chicken breasts.
CREAM CHEESE – It has to be regular (full fat) cream cheese, as low fat cream cheese won't melt as well. My favorite is PHILADELPHIA Cream Cheese! You can also use their flavored cream cheese, such as Garlic & Herb or Chive & Onion for extra flavor!
RANCH – Just one packet is enough to give this dish its characteristic ranch flavor!
SOUR CREAM – BREAKSTONE'S Sour Cream adds more creaminess and a slight tanginess that helps balance all the fat. Use full-fat sour cream for best results.
BACON – Bacon makes everything better! But you have to cook your own—no cheating with the stuff that comes in a jar! I use OSCAR MAYER Naturally Hardwood Smoked Bacon.
CHEESE – KRAFT Shredded cheddar cheese makes this dip cheesy and absolutely delicious.
GREEN ONIONS – I like to use green onions (also known as scallions) for their mild onion flavor and freshness. You can substitute for chives or even parsley, if you prefer!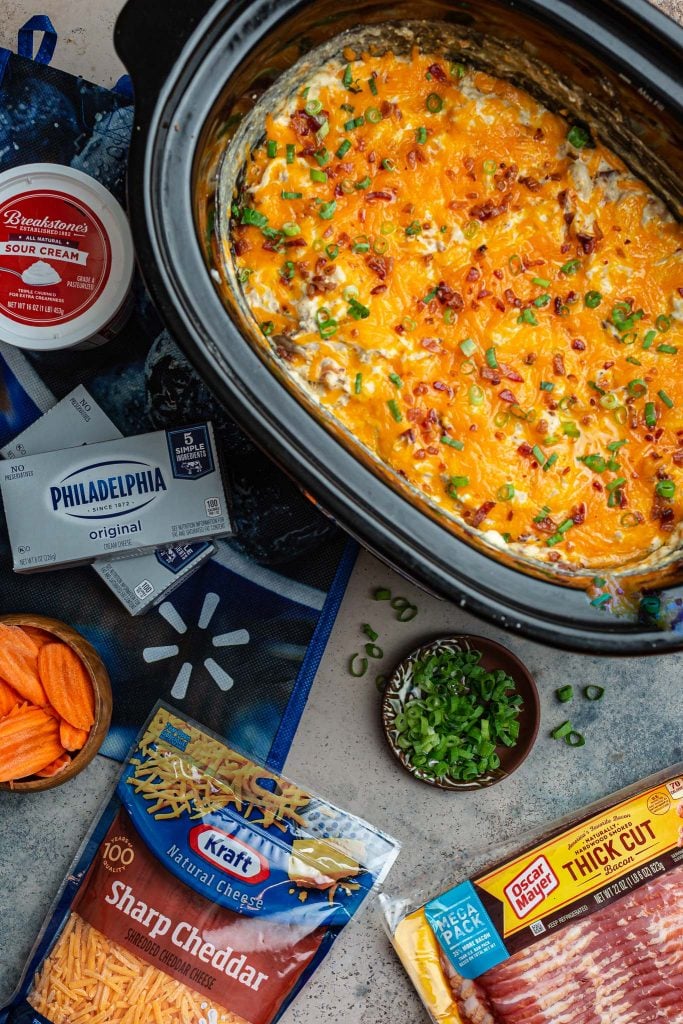 Share the holiday!
This year, lots of families—including mine—are going to have to rethink their holiday celebrations. Being close to family and friends will be more important than ever!
Kraft Heinz products, which I buy at Walmart, are tried-and-trusted ingredients that will bring familiar tastes and comfort to your holiday table.
And to make everything more exciting, Walmart and Kraft are hosting an awesome sweepstakes! You can enter the #ShareTheHolidaySweepstakes by going here to enter for a chance to win daily prizes of $100 Walmart gift cards and a grand prize trip to visit loved ones (a $2,500 value).
Plus as a special gift from Walmart, you'll be emailed a link to download a free digital cookbook of holiday favorites (including this recipe!).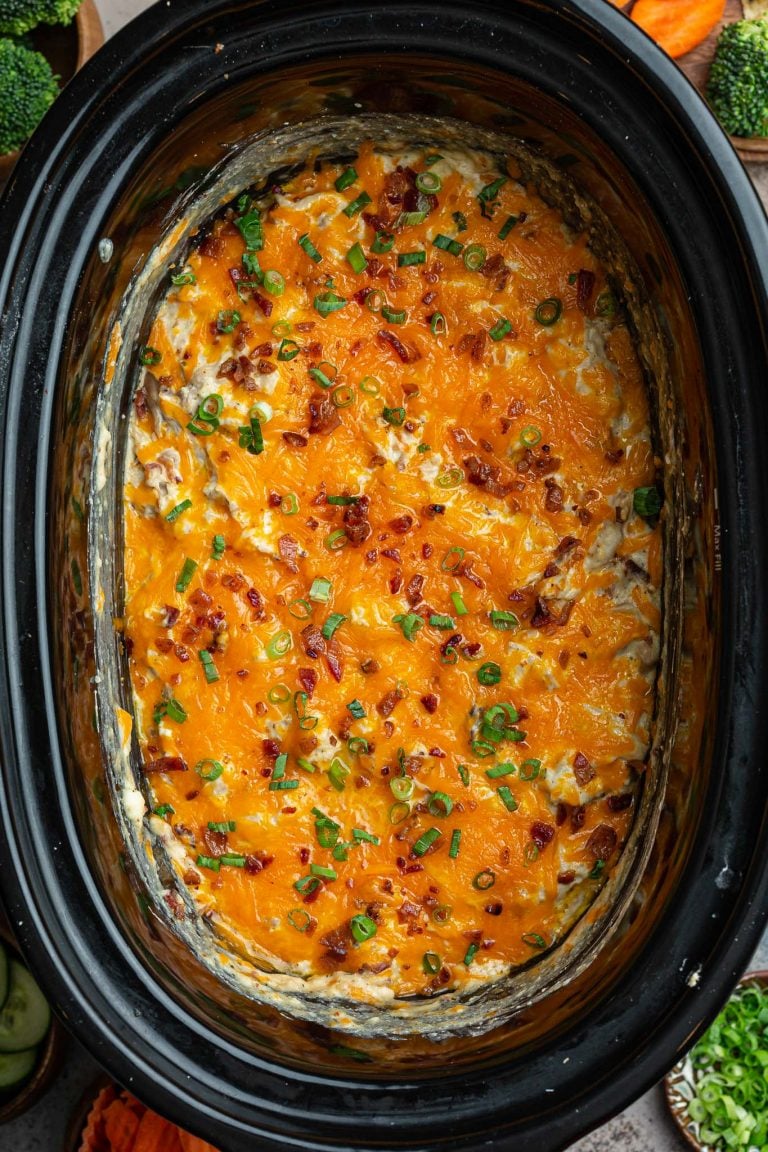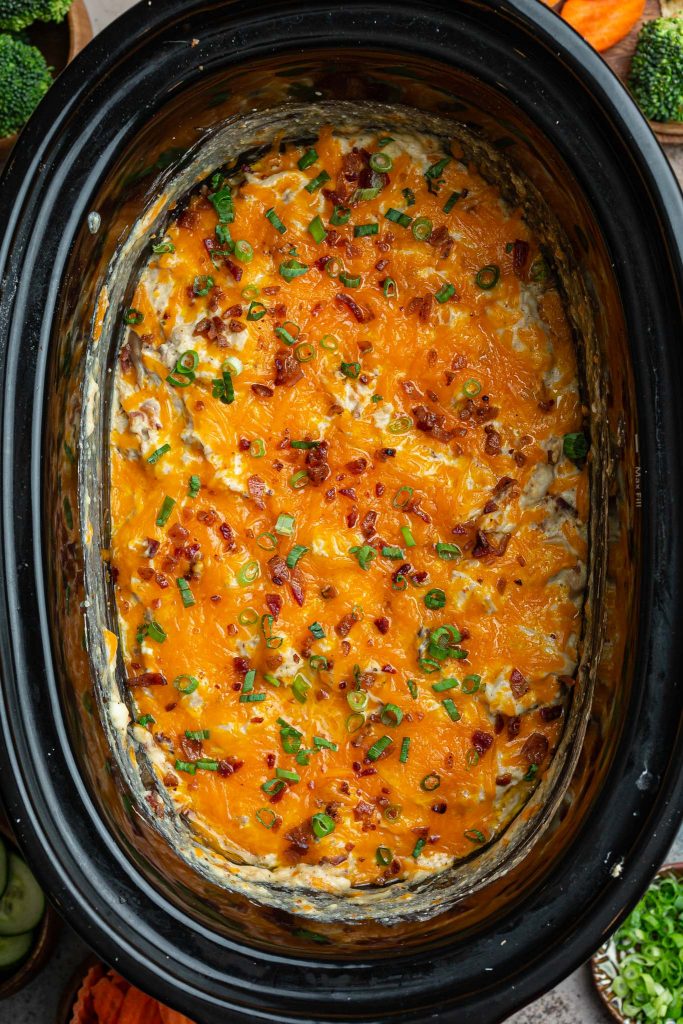 How to Make Slow Cooker Ranch Dip
There is virtually no prep required for this recipe other than cooking and chopping the bacon, and slicing the green onions.
Your slow cooker will do most of the work, which is why this is a great recipe to make when you are already cooking up a storm! That way you don't have to worry about the appetizers.
My least favorite part is to shred the chicken. You can either use two forks and shred it right there in the slow cooker, or transfer the cooked chicken to a cutting board, shred and then return to the slow cooker! It's up to you!
Also, I serve this dip right in the slow cooker, plugged and set to the "keep warm" option. If you prefer to transfer it to a serving platter or bowl, I would transfer everything to an oven safe dish after you stir in the sour cream, bacon and cheese. Then top with the rest of the cheese and pop under the broiler until the cheese is melted!
Recommended equipment: slow cooker.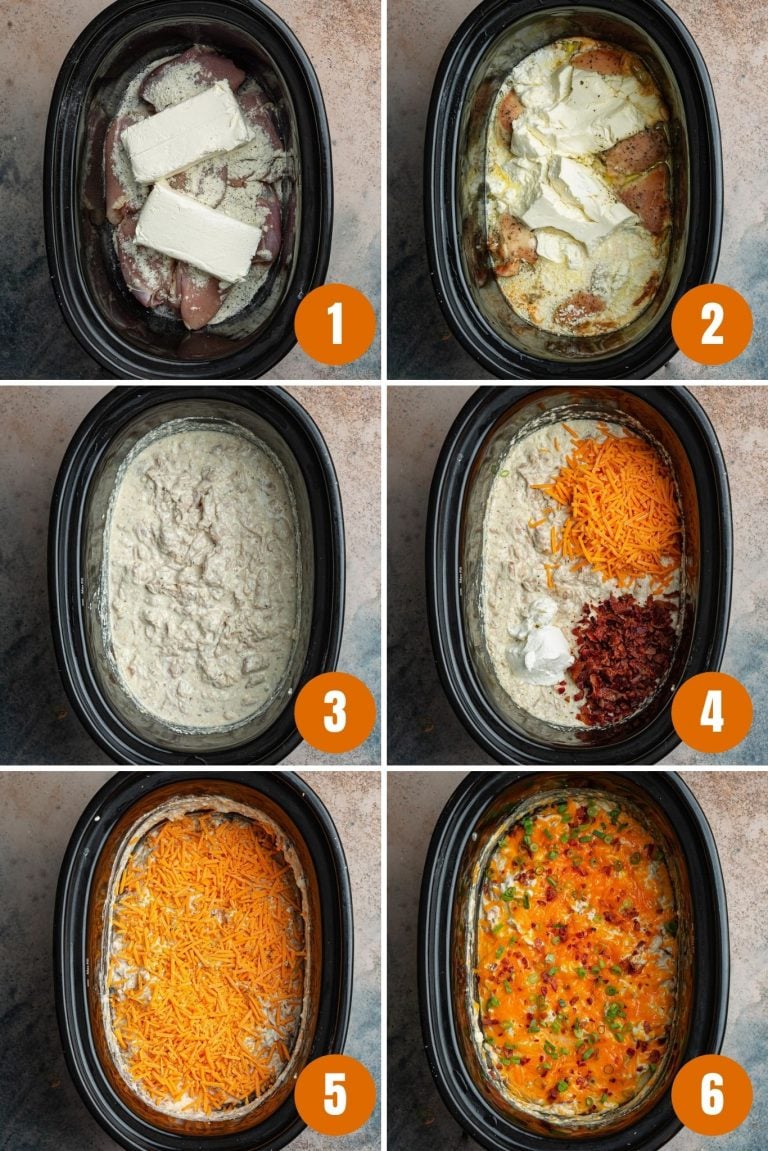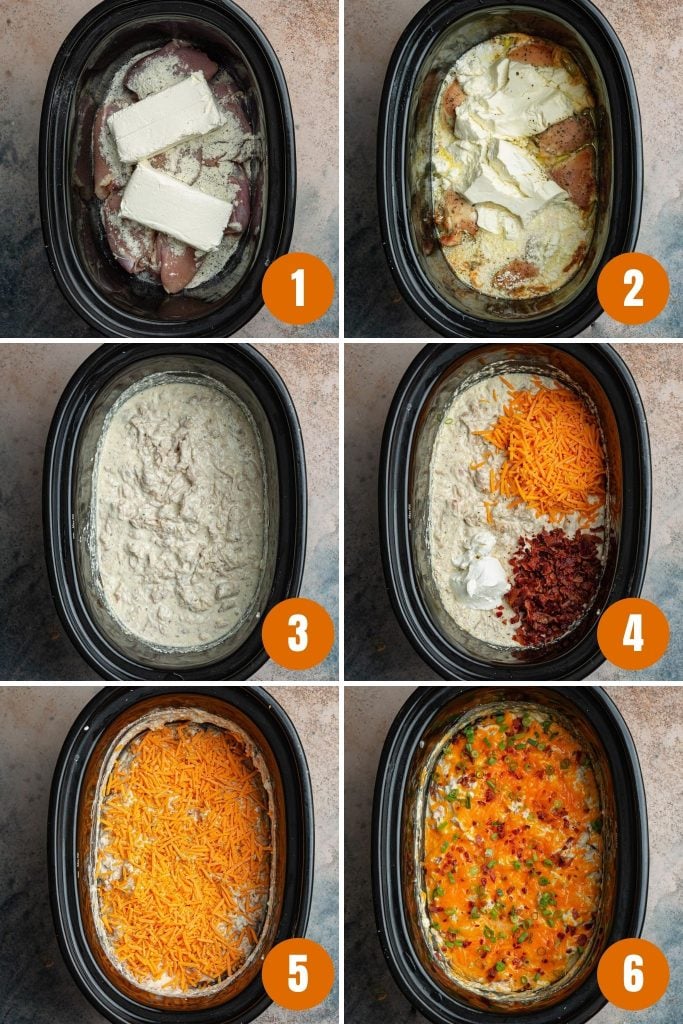 Here's how I make this slow cooker ranch chicken dip. As always, you will find the printable (and more complete) version of the recipe at the end of this post!
Step 1: Cook the chicken, cream cheese and ranch.

Combine the chicken thighs, ranch and cream cheese in the slow cooker. Cook on high for 3-4 hours (or low for 7-8 hours). (Photo 1)
Once cooked (Photo 2), shred the chicken and stir the mixture until combined. (Photo 3)
Step 2: Add the remaining ingredients.

Stir in the sour cream, cooked bacon and 1 cup of the shredded cheese. (Photo 4)
Top with the remaining cheese. (Photo 5)
Cover and cook until melted.
Garnish with chopped scallions and bacon, and serve! (Photo 6)
Olivia's Tip
Serve your dip right in the slow cooker, set to the "keep warm" function. That way it will keep it hot and bubbly throughout your party!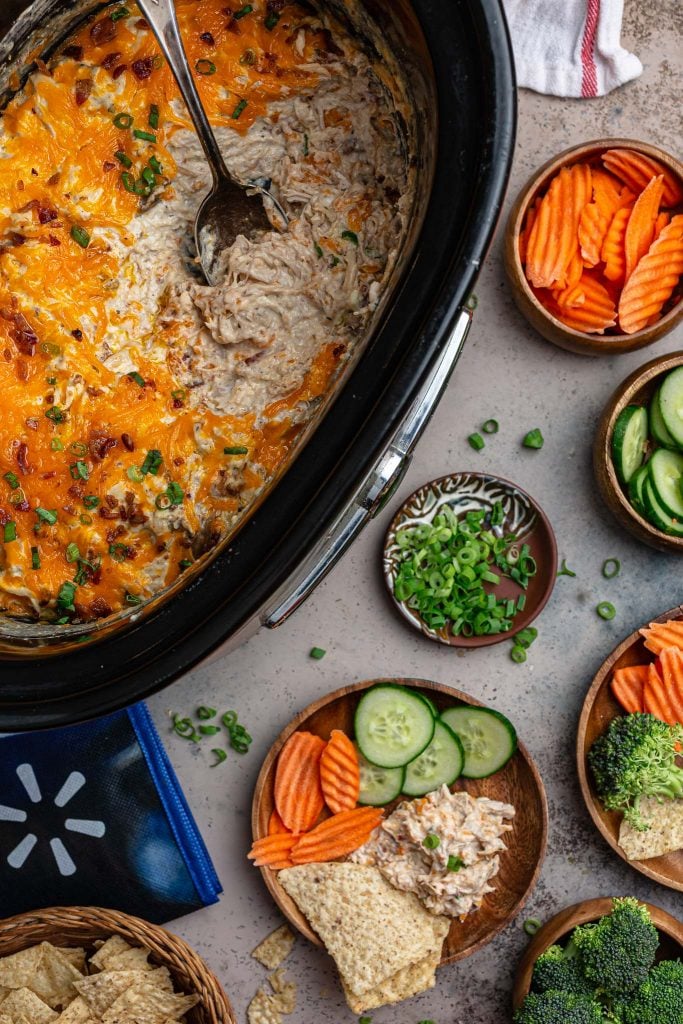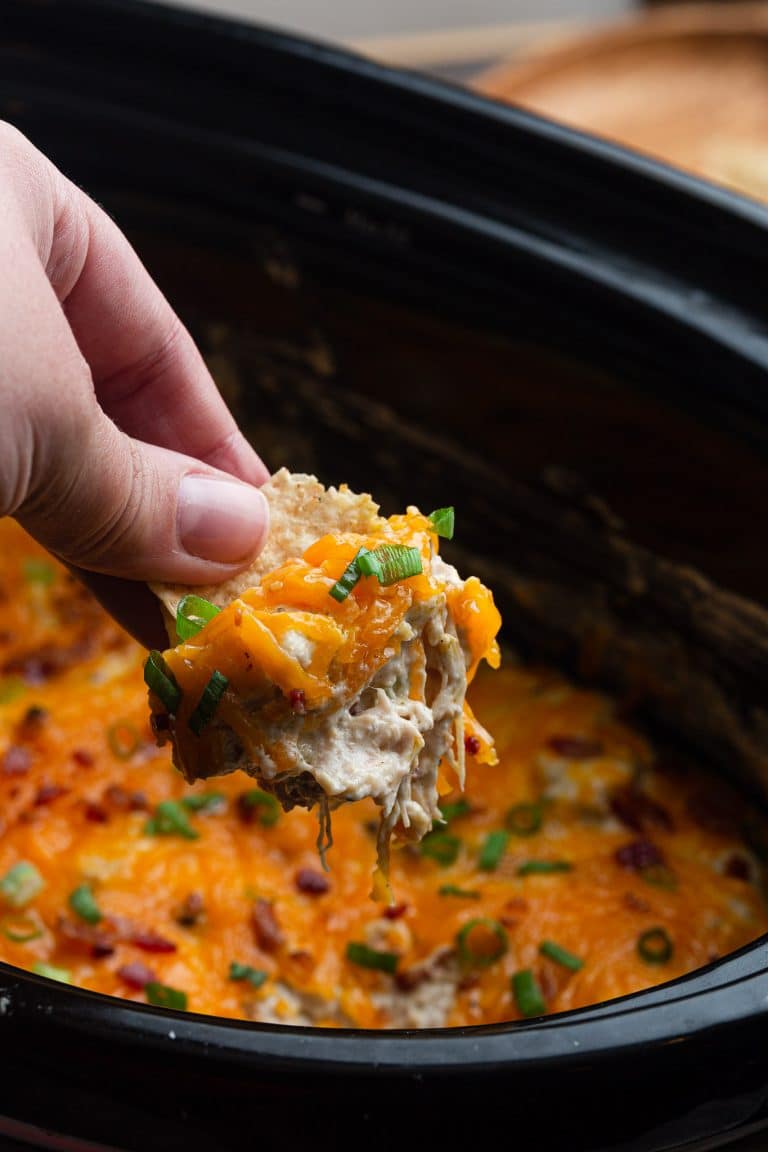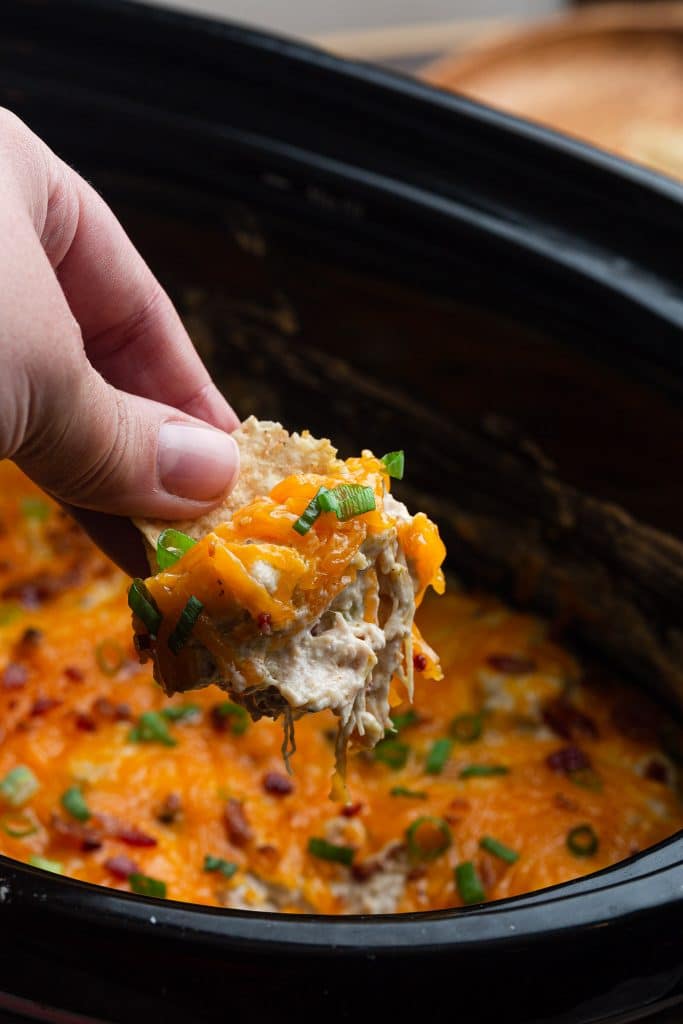 What to Serve with this Chicken Dip

Serve this creamy ranch chicken dip with:
Veggies, such as celery sticks, carrot chips, steamed broccoli, bell peppers and/or cucumbers.
Tortillas, pita or bagel chips.
Bread or crackers.

I find that this dip is a great centerpiece for a platter of fresh, raw veggies!
Variations
There are so many ways you could customize this dip!
These are some of my favorites:
Sneak some veggies in there: corn, broccoli, diced tomatoes, diced peppers, caramelized onions, or even jalapeños!
Swap the bacon for (or add) some crumbled sausage, chorizo or cooked ground beef.
Spice things up with a dash of hot sauce or a pinch of cayenne pepper!
Use flavored cream cheese instead of the regular.
Add (or substitute the cheddar for) another type of cheese, such as Gouda.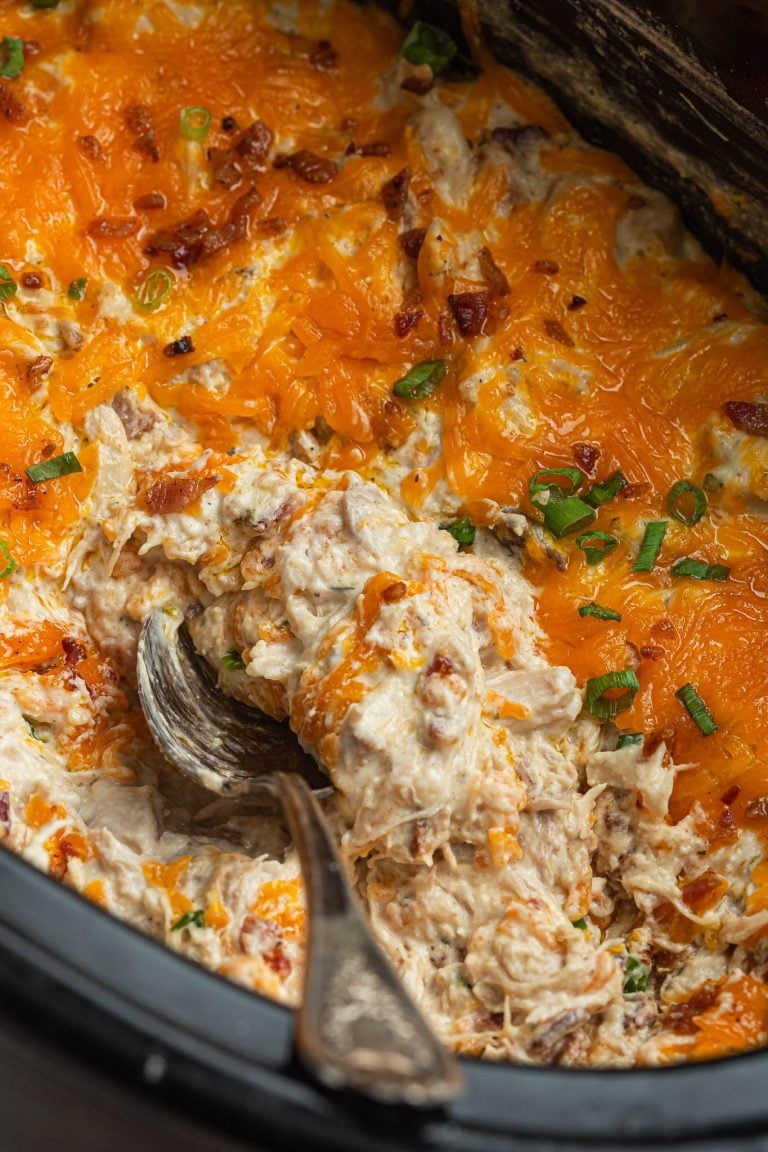 Frequently Asked Questions
Can I make this dip ahead of time?

Yes. You can make this dip and skip the toppings. Refrigerate for up to 4 days. Then, when ready to serve, transfer to an oven safe dish, top with the cheese and bake until hot and bubbly
How long will leftovers keep in the fridge?

If properly stored in an airtight container, leftovers will keep for up to 3-4 days in the fridge.
How do I reheat it?

Reheat your leftovers in a saucepan, on the stove, over medium-low heat. You can eat it in sandwiches or transfer to an oven safe dish, top with cheese and bake until bubbly for dip round 2! ;-)

Can I freeze this?

While it is safe to freeze this dip, I wouldn't recommend it. Cream cheese dips don't freeze as well, and the texture changes considerably when thawed and reheated.

If you absolutely must freeze, I would add some more sour cream (or even heavy cream) when reheating, to try and bring it back to the original consistency.
Did you make this recipe? I love hearing from you! Please comment and leave a 5-star rating below. You can also take a photo and tag me on Instagram with #oliviascuisine.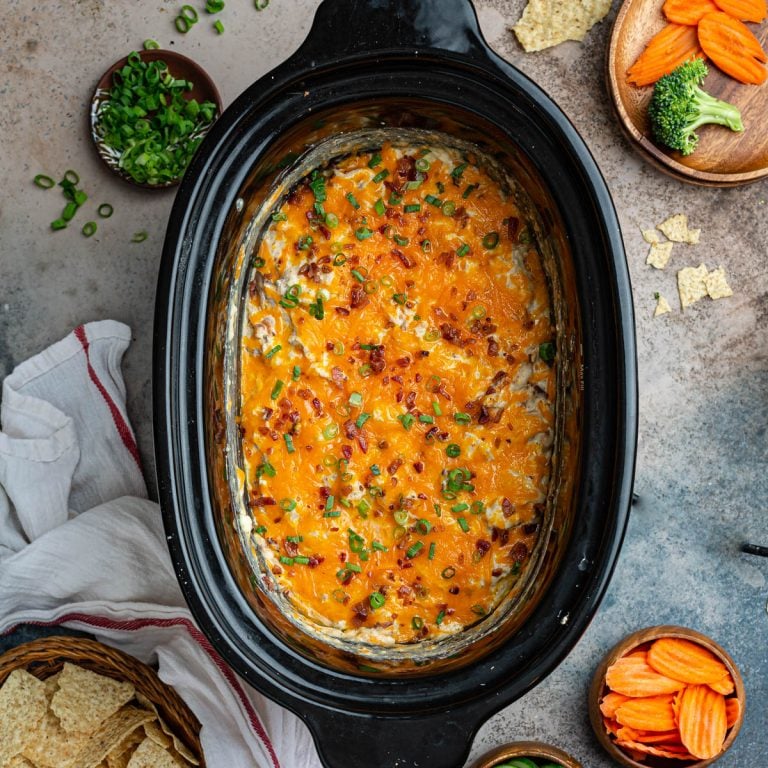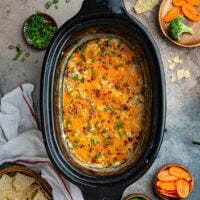 Slow Cooker Cheesy Ranch Chicken Dip With Bacon
This Slow Cooker Ranch Chicken Dip is so easy to make! Cheesy, creamy and packed with delicious flavors. You won't even notice that this recipe is low carb!


Ingredients
2 pounds boneless, skinless chicken thighs
1 packet, 1 ounce ranch seasoning
2 packages, 16 ounces PHILADELPHIA Cream Cheese, softened
8 slices OSCAR MAYER Naturally Hardwood Smoked Bacon, cooked and
chopped
¼ cup BREAKSTONE'S Sour Cream
2 cups KRAFT Sharp Cheddar Shredded Cheese, divided
2 green onions, sliced
Instructions
Combine the chicken thighs and ranch seasoning in slow cooker, making sure all the chicken pieces are coated with the seasoning. Place the cream cheese blocks on top of the chicken.

Cover and cook on high for 3-4 hours (or low for 7-8 hours) or until the chicken is tender and can be shredded easily.

Using two forks, shred the chicken thighs in slow cooker or remove them from slow cooker, shred them on a cutting board and return them to slow cooker.

Reserve 2 tablespoons of chopped bacon. Add the remaining cooked bacon, sour cream and 1 cup of the shredded cheddar cheese to the slow cooker. Stir to combine.

Top with the remaining cheddar cheese, cover and cook on high for 15 minutes or until the cheese has melted.

Garnish with reserved bacon and the sliced green onions.

Serve immediately, with chips and/or veggies.
Notes
MAKE AHEAD
This dip can be made ahead up to step 4 and refrigerated. When ready to serve, top with cheese and bake in the oven until the cheese has melted.
LEFTOVERS
Leftovers will keep in the fridge for up to 4 days.
FREEZING
Freezing this dip is not recommended, as there will be a texture change.
REHEATING
Reheat the leftovers on the stovetop, until hot. If you want to top it with cheese again, transfer to an oven safe dish and pop it in the oven until hot and bubbly.
Nutrition
Serving: 2tablespoons, Calories: 50kcal, Protein: 5g, Fat: 3g, Saturated Fat: 1g, Polyunsaturated Fat: 2g, Cholesterol: 26mg, Sodium: 69mg
If you like this slow cooker dip, you will also love: