French Onion Dip
This shop has been compensated by Collective Bias, Inc. and its advertiser. All opinions are mine alone. #FlavorsOfTheGame #CollectiveBias The following content is intended for readers who are 21 or older.
---
Forget the store bought stuff! This French Onion Dip is made from scratch and is super creamy, rich and full of big flavors. Perfect for game day or any party, really! Even better if you pair it with a glass (or a bottle!) of Woodbridge Wine.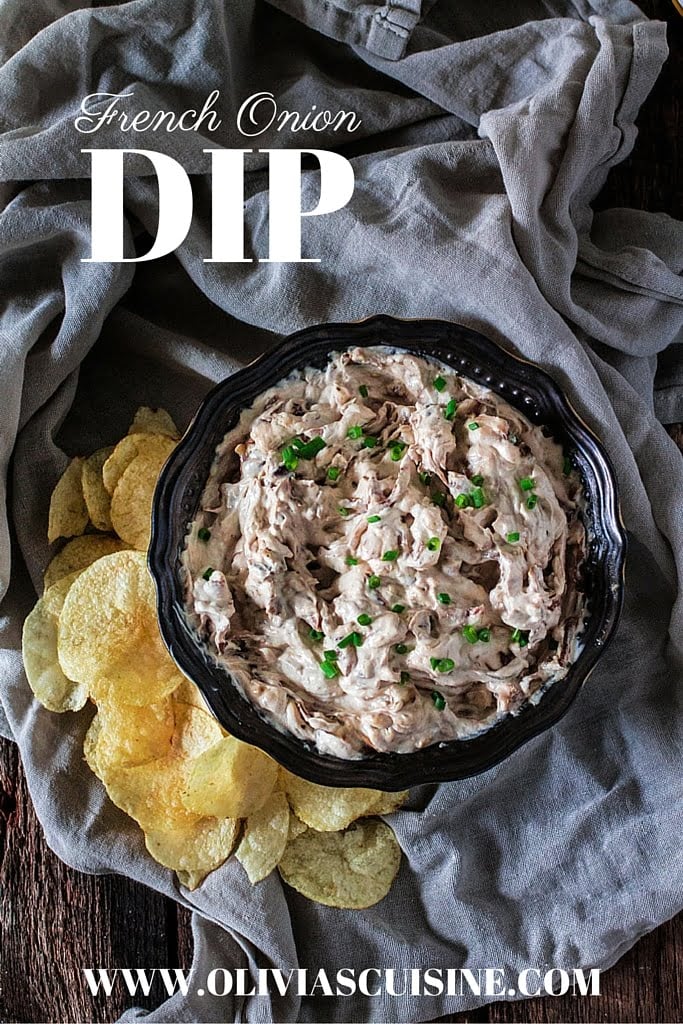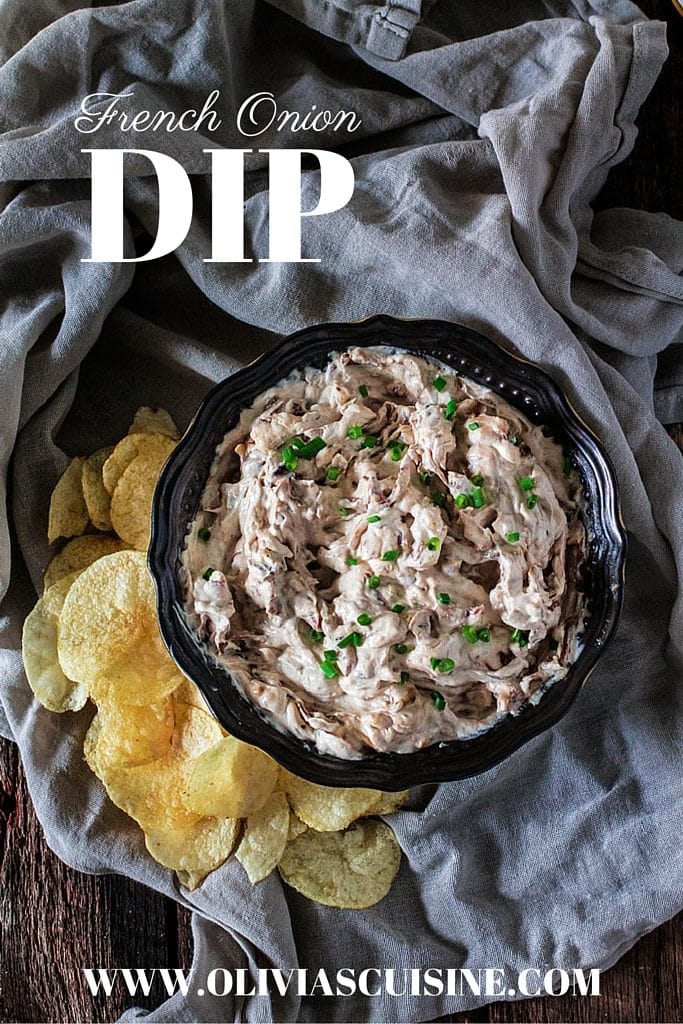 Guys, I'm back!!! ? Did you miss me?
Actually, I've been back to the States for a week now, but I was kinda suffering from the post vacation blues (plus a little jet lag), so I didn't have the motivation to blog. Boo-hooooo…???
I had also planned on posting a lot of recipes from Brazil, but that ended up being impossible since I had to use all my time there to see family and friends. I did eat lots of delicious food, though! Just didn't have time to document it. Oops!
But anyways… Yes, I'm starting to feel a little like my usual self and ready to share a lot of recipes with my favorite cyber friends (aka you!). After all there are a bunch of foodie holidays (Big Game Day, Valentine's Day, Academy Awards, Easter!) coming up and I'm not crazy to miss on all the fun!
And speaking of the Big Game, chances are you are already planning a big party or you have been invited to one and are looking for something delicious to bring, so you don't show up empty handed. So I thought I'd make your life easier and share this French Onion Dip recipe that will knock the ball out of the park. (Wrong game, I know! I just couldn't pass on the joke!)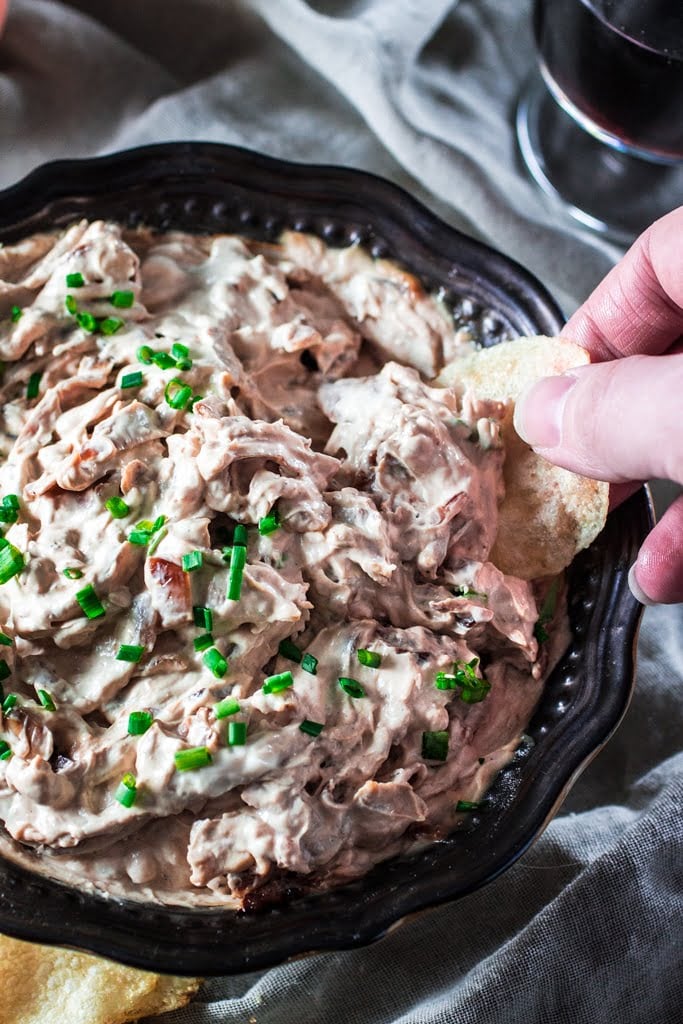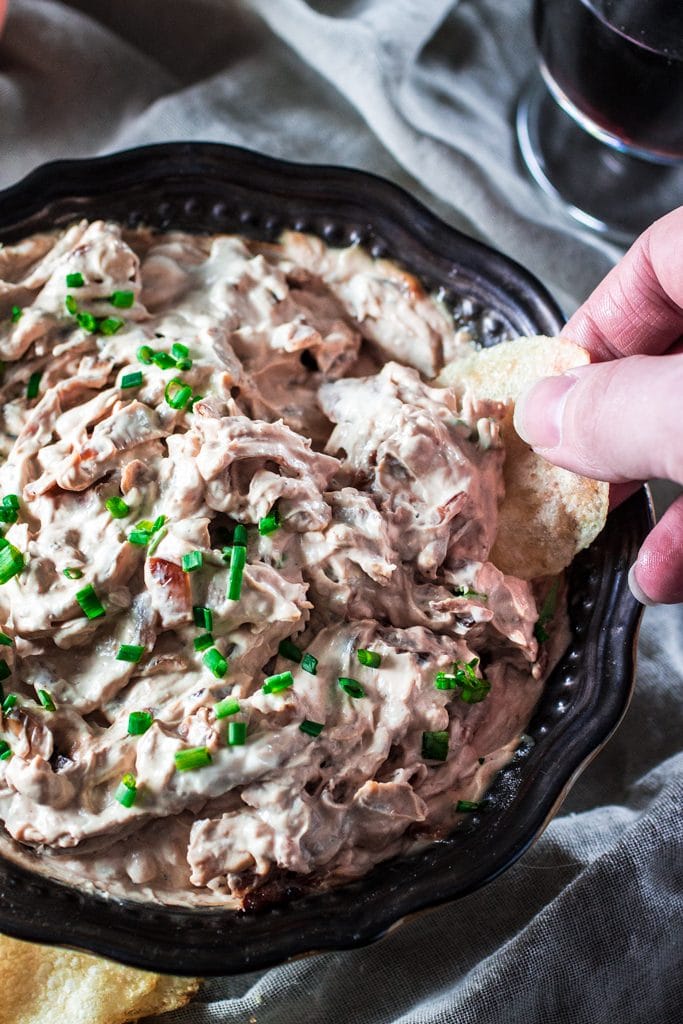 I gotta confess, I'm not really a football fan. Born and raised in Brazil, the only sport I would ever watch was soccer, which – let's be honest – is way easier to understand.
To this day, even with my American husband trying to explain the rules to me, I find football to be very confusing and I'm known to describe it as "that big mess of a game that starts and stops all the time and where everybody jumps on top of each other". ? (Sorry American friends! Can we still be friends?)
However, there is one thing I love about football: football season food! Seriously, who doesn't love all that delicious food? Fried everything, nachos, wings, sliders and, obviously, dips! There simply cannot be a game day party without a delicious dip.
And to wash it all down? Looooots of beer.
But wait a second. What about the wine lovers? What about the people that don't like beer? Should they miss all the fun and stay home by themselves, watching Netflix? OF COURSE NOT! Whoever said that beer and football are a match made in heaven clearly haven't paired football food with a glass of wine!
This French Onion Dip, for example, pairs amazingly with both red or white wine. I chose to pair mine with
Woodbridge Wine
's Cabernet Sauvignon because we're in the middle of winter and I need a bold red to warm me up! ?????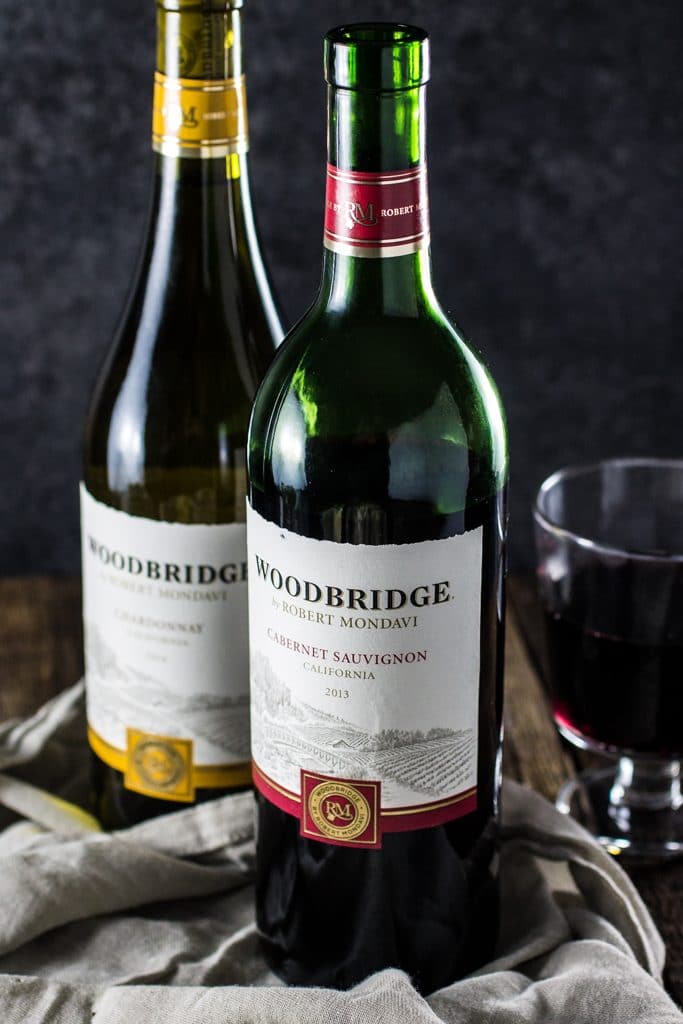 Wine and food pairings fascinate me! I'm in no way a wine connoisseur, although I would love to learn more. Maybe one day I'll sign up for a sommelier class, who knows…
But for now I do all my research by tasting it myself and reading on the internet. Thankfully, Woodbridge Wines are affordable so I can always try new pairings!
If wine pairing frightens you, don't worry. Just remember what Robert Mondavi – Woodbridge Wine's founder – once said: "Drink what you like and like what you drink."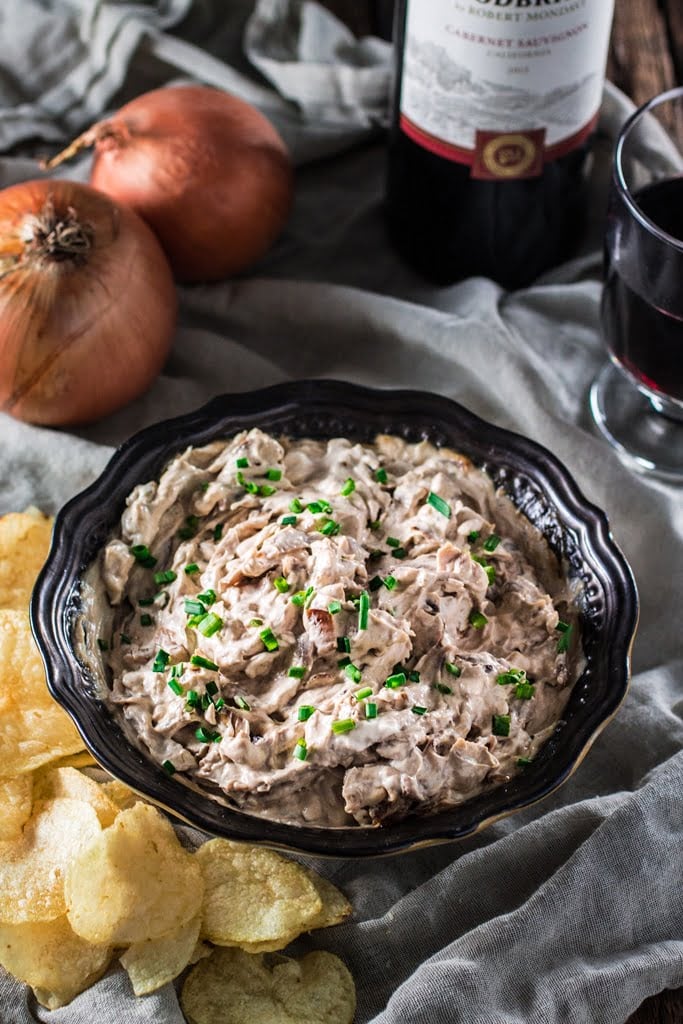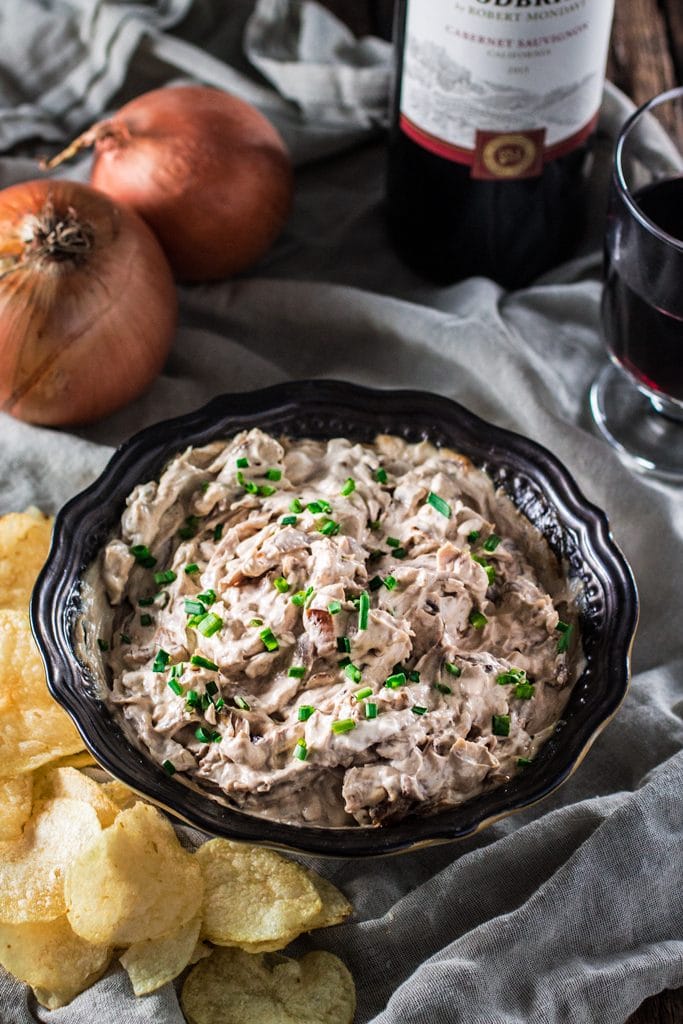 But back to the dip.
OMG, you guys! This classic American dip (not French as the name suggests) is absolutely to die for and way better than any store bought version.
My first instinct was to make a hot dip, mostly because I love hot things covered in melted cheese. But then I decided to let it chill in the fridge for a few hours and I do not regret it for a second! The flavors and the consistency only improve with chilling, so I highly recommend you make it the day before you plan on serving it.
As for the texture, I like my dip chunky, but if you like it smooth, you can absolutely puree the caramelized onions in a food processor before mixing it with the other ingredients!
French Onion Dip, or California Dip as it was called in the 50s, is usually served with potato chips. However, this dip is so delicious that it will go well with any type of chips, crackers, bread and even veggies!
And, if you happen to have some leftover dip after the party (I doubt it!), it makes a great spread for burgers, sandwiches and even tacos!
But now enough with all the talking and please pass me those chips cause I gotta dig in! ???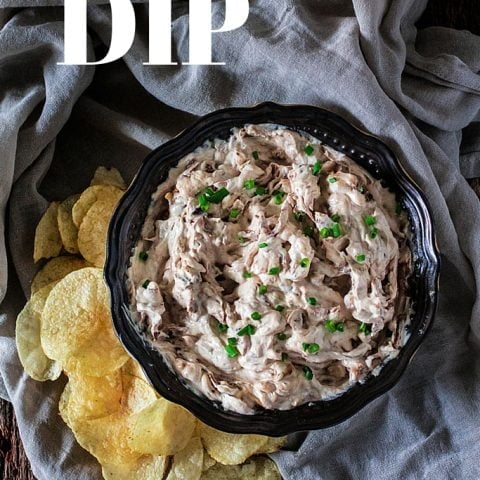 French Onion Dip
Yield: 6
Prep Time: 5 minutes
Cook Time: 22 minutes
Total Time: 27 minutes
Ingredients
1 tablespoon extra virgin olive oil
2 tablespoons butter
2 large yellow or sweet onions (about 1.5lbs), sliced
1 teaspoon sugar (Skip if using sweet onions!)
2 cloves of garlic, minced
2 teaspoons Worcestershire sauce
1 cup mayonnaise
1 cup sour cream
Salt and pepper to taste
Chives to garnish
Instructions
In a large skillet, over medium heat, heat the olive oil and the butter.
Once the butter is melted, add the sliced onions, sprinkle 1 teaspoon of sugar, and sauté for about 15 to 20 minutes, stirring occasionally, until caramelized.
Add the garlic and sauté for 2 more minutes.
Remove the skillet from the heat and let it cool slightly. Then, add the remaining ingredients, including salt and pepper to taste, and mix to combine.
Chill for at least 1 hour or overnight.
Before serving, garnish with chopped chives and serve with your favorite kind of chips!
Notes
If you prefer your dip smooth instead of chunky, you can puree the caramelized onions in a food processor before mixing the remaining ingredients.
---
Wanna keep in touch?
Follow me on Facebook, Twitter, Instagram or Pinterest to stay up to date with my posts! If you end up making one of my recipes, I would love to see it! Just take a photo and post it on your preferred Social Media and tag me or use the hashtag #oliviascuisine!
Also, if you love wine, make sure to follow Woodbridge Wine on Twitter, Facebook, Pinterest and Youtube.