Cereal Crusted Chicken
Looking for fun but healthy chicken dinner options for the family? This Cereal Crusted Chicken is the answer! Juicy, amazingly crunchy and slightly sweet from the Honey Bunches of Oats®, it will definitely be a hit with the kids. Oh, and don't miss the chance to win $100,000.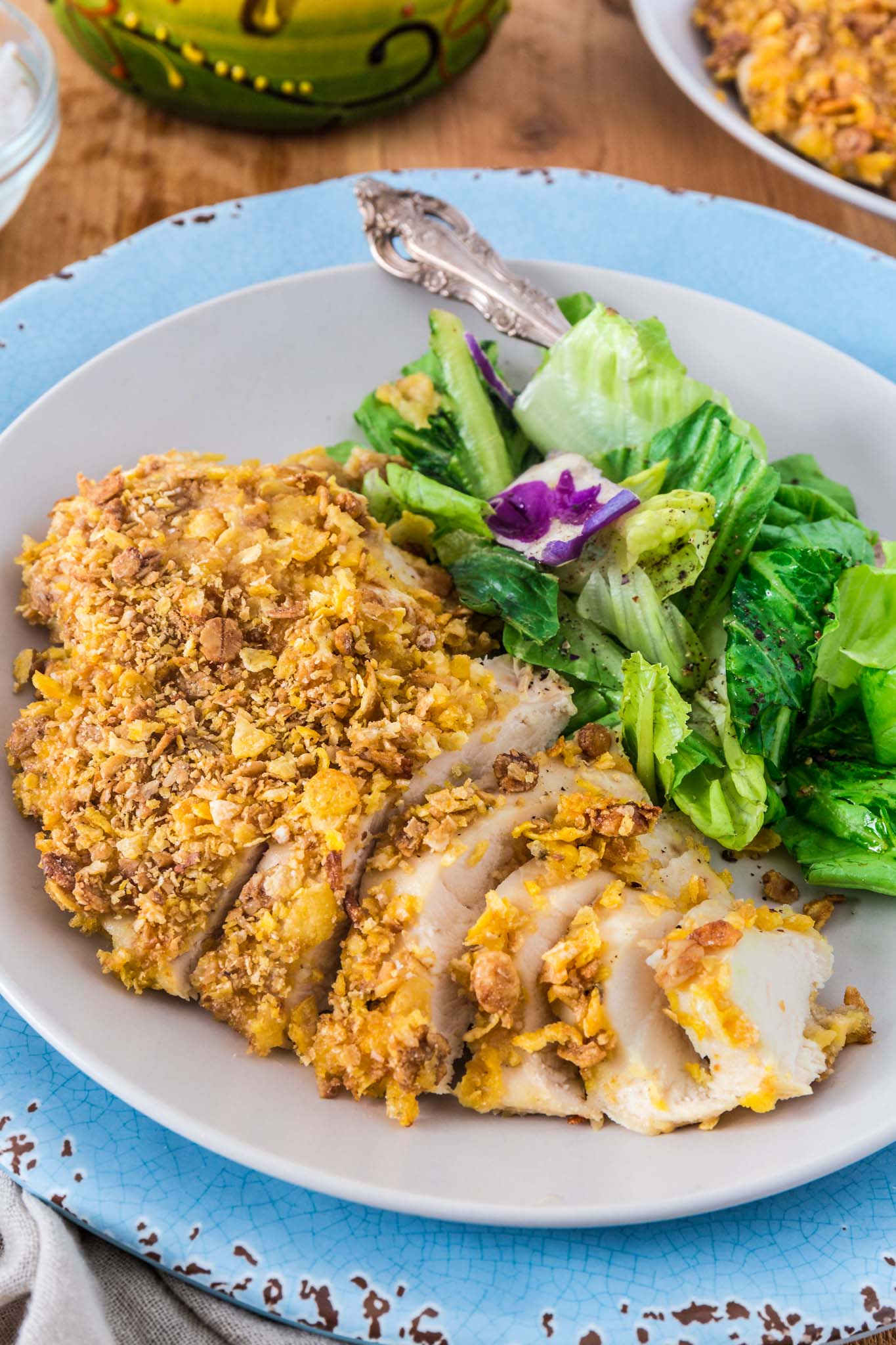 (This post is sponsored by Post Consumer Brands.)
My mom used to make this killer cereal crusted chicken. I say "used" because I think it has been a few decades since she last made it.
But the other day, out of the blue, I started craving it, so I asked her for the recipe. And of course she didn't remember! My mom, like my grandmother, rarely follows recipes, which makes it really hard for me to document the family's culinary treasures. Thanks, mom! Thanks, grandma! ???
All she said was that there's was cereal (duh!), chicken (what a genius!) and mayo. Now, I wasn't in the mood for mayo and was looking for something on the healthier side, so I had to take it upon myself to create this chicken from scratch, without the help of my very unhelpful masters.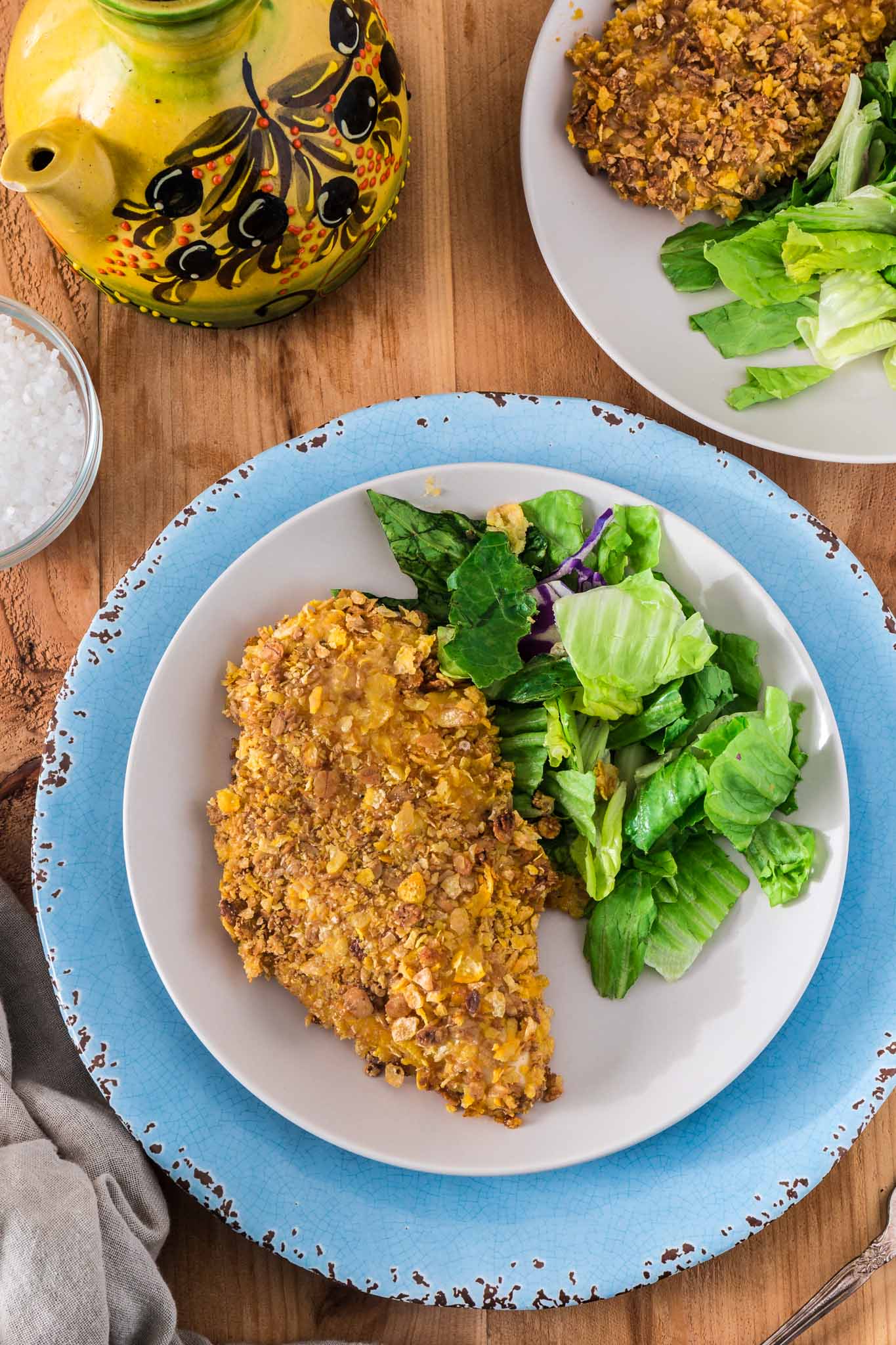 I say that as if it was hard. It wasn't, on the contrary!
All I did was marinate the chicken and then do the whole breading ordeal, dunking in beaten eggs, and then coating with cereal instead of the classic breadcrumbs.
I was very tempted to fry my creations, but to the oven they went and I am very glad I stuck with my "healthier twist to fried chicken" idea. The baked cereal crusted chicken did not disappoint and I didn't feel guilty afterwards!
Now, who's to say I will have all that willpower next time I make it? I say it's a 70% percent chance they will end up dancing in hot oil! ?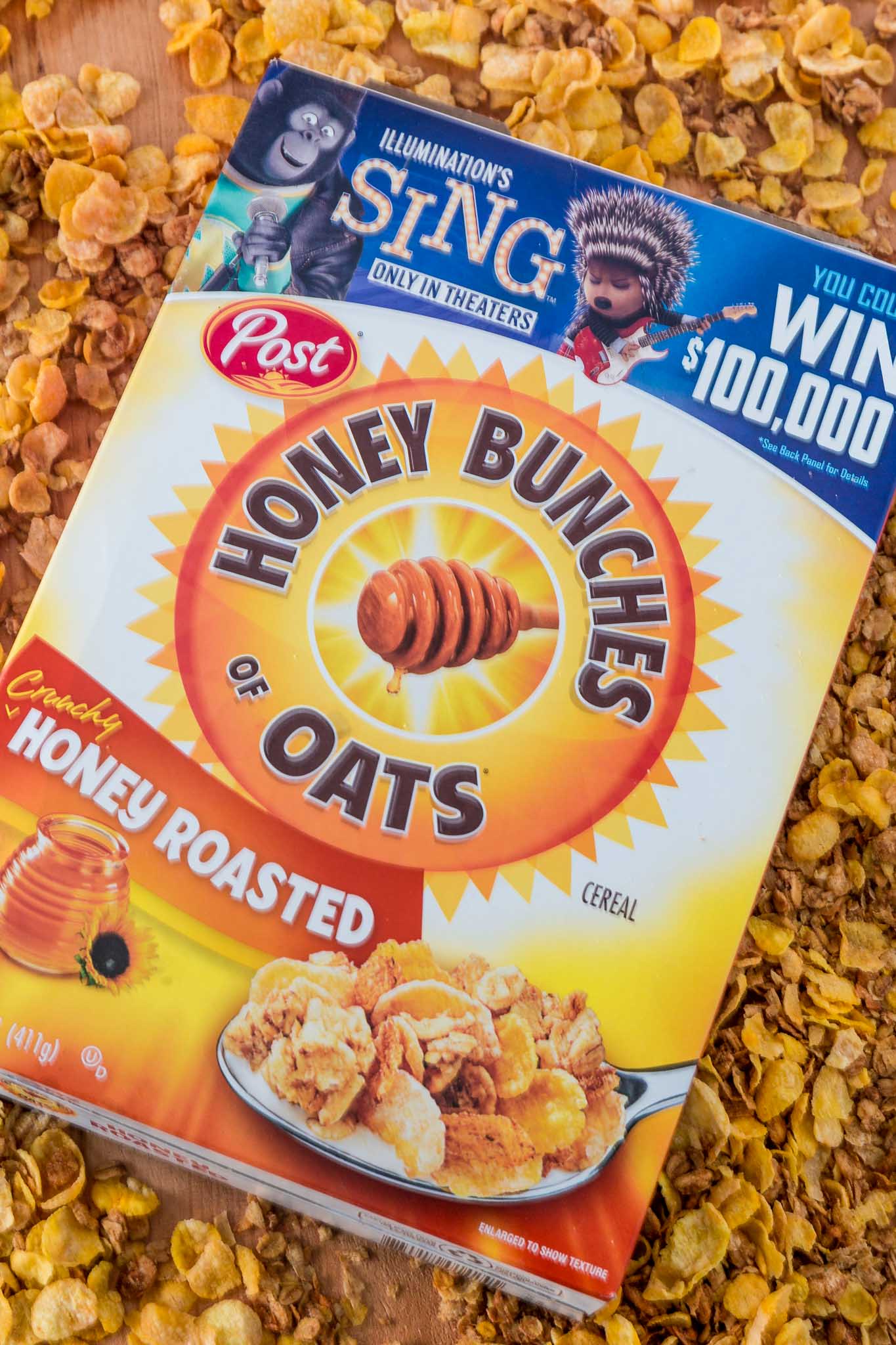 As most of you know, Tim and I don't have kids yet. But that doesn't stop us from having our special family traditions!
A good meal + a movie is one of them and something we have been trying to do at least once a week. My next pick? I've been dying to see SING®, which premieres in theaters on December 16th.
I don't usually pick animated movies, as I'm more of a drama or romantic comedy kinda gal, but I was really excited about this movie after watching the trailers. Coming from a family of singers, anything music and performance related fascinates me. Not to mention I am always a sucker for "Do not let anything stop you from doing what you love" stories. ❤️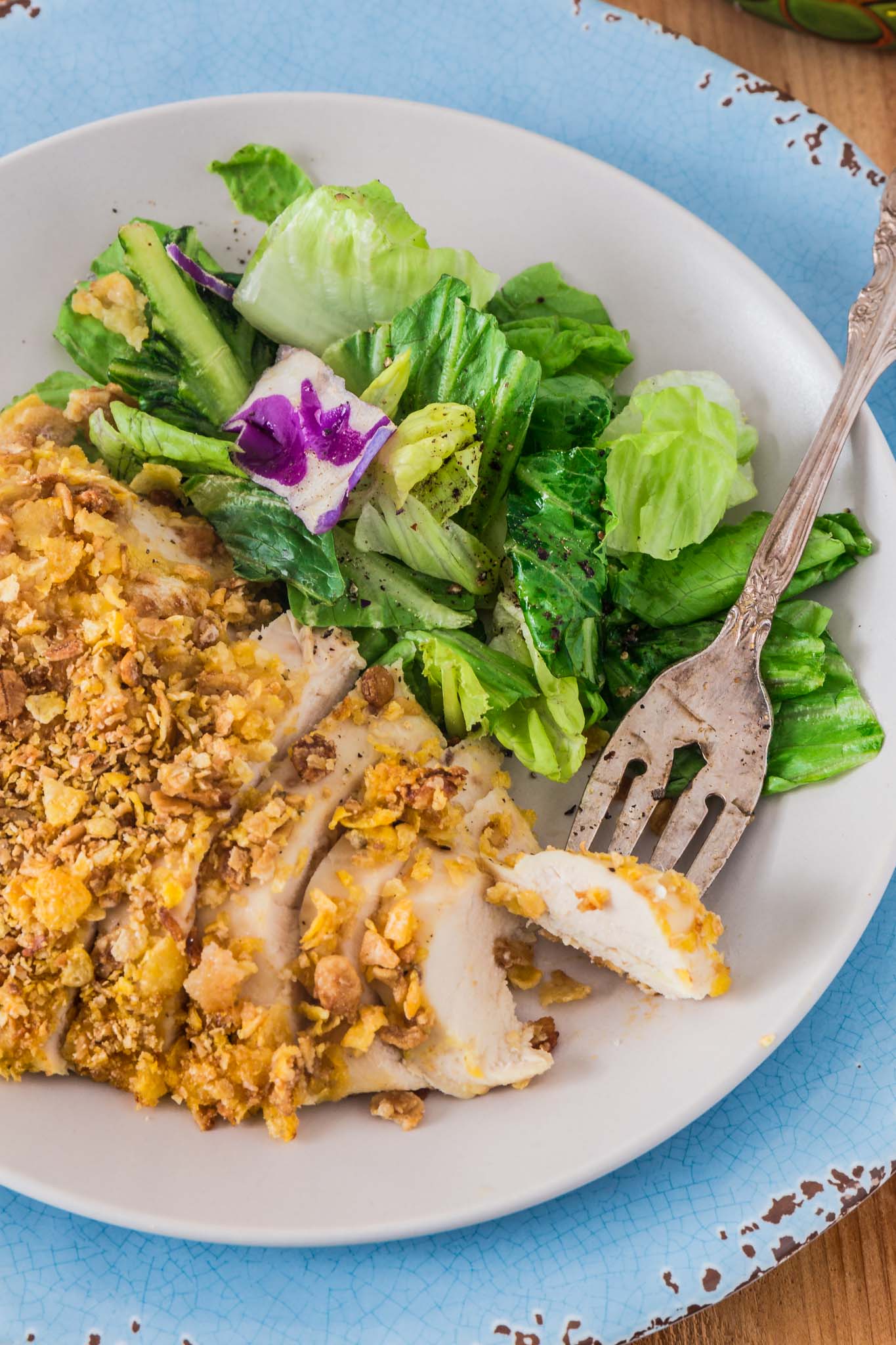 Now, it will be hard to bring a chicken meal to the movie theater. Transforming it into chicken tenders come to mind (with honey mustard dip? Yum!), but I doubt Tim will let me bring those into the theater!
He's always too concerned with what's socially acceptable and I can already hear him saying it will smell, blah, blah, blah, it is not considerate to the people next to us, blah, blah, blah…
So I guess we will have to stick with popcorn for the first viewing and then make this cereal crusted chicken when they release the movie on DVD! Oh, I can't wait!
In the meantime, I will be practicing for SING® in my shower and making lots of delicious chicken meals. And if you think healthy and holidays don't go together, think again. One bite into this deliciousness and the first thought in your mind will be: "Fried Chicken WHO?". ?
P.S. Don't forget to grab a coupon to save $1 on Honey Bunches of Oats® and enter to win $100,000.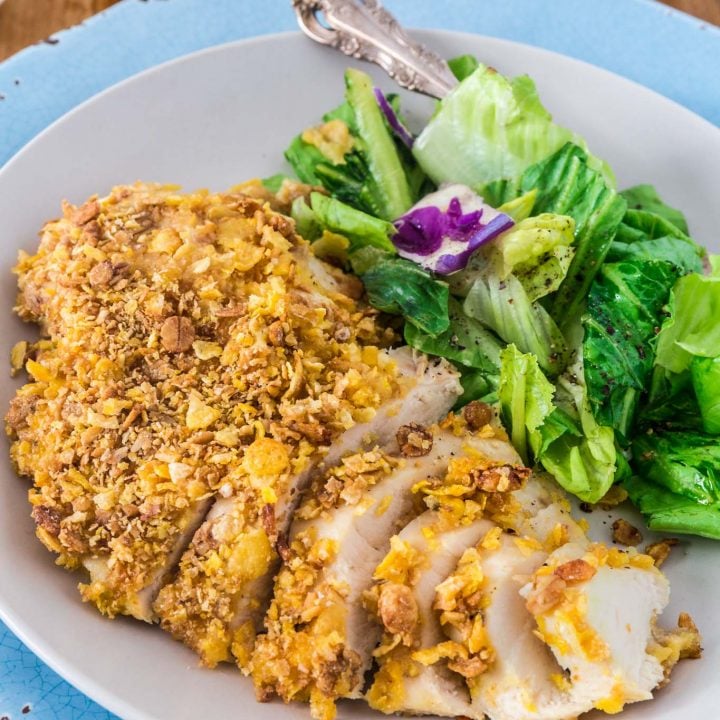 Cereal Crusted Chicken
Yield: 4
Prep Time: 15 minutes
Cook Time: 30 minutes
Total Time: 45 minutes
Ingredients
Juice of one lime or lemon
1/3 cup olive oil
Salt and freshly ground pepper, to taste
4 chicken breast halves
2 large eggs
1 teaspoon red pepper flakes (optional)
Instructions
In a large bowl, whisk together the lime juice, olive oil, salt and pepper. Add chicken, turning to coat. Marinate chicken, covered and chilled for at least 2 hours and up to overnight.
Pre heat oven to 400F degrees.
Add the cereal to a zip lock bag, and using a rolling pin, crush it into smaller pieces. You can also use a food processor.
In a small bowl, whisk the eggs with some salt and pepper until smooth. In a shallow bowl, combine cereal with red pepper flakes and salt.
Working with one piece at a time, dip chicken in egg mixture, then coat generously with the seasoned cereal, pressing the cereal to help them stick. Transfer coated pieces to a rimmed baking sheet.
Bake the chicken for 30 minutes OR until golden brown and crisp.
Serve immediately with a side salad! :)
FOR THIS CEREAL CRUSTED CHICKEN, I RECOMMEND:
This post contains affiliate links.
FIND HONEY BUNCHES OF OATS® AT YOUR LOCAL TARGET!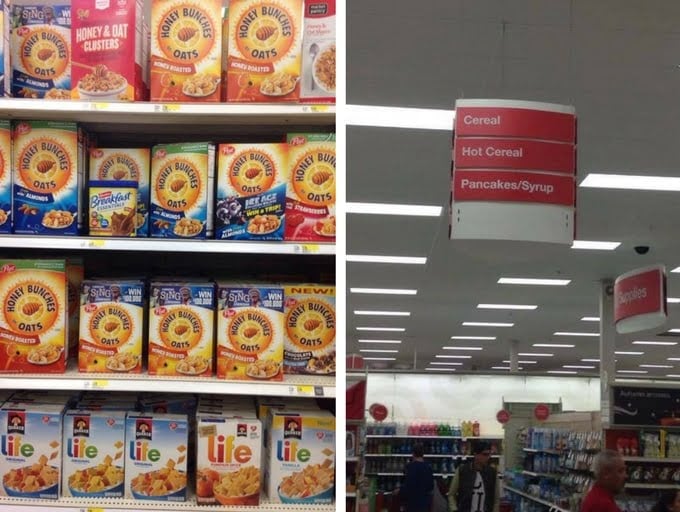 Regarding giveaway -> NO PURCHASE NECESSARY. Promotion starts 11/1/16 at 12:00 PM (noon) ET and ends 3/31/2017 at 11:59:59 PM ET. Open only to legal residents of the 50 US/DC, 18 years of age or older. See Official Rules for instructions on how to enter, how to obtain codes without purchase, prize details, restrictions, odds of winning, etc. Void where prohibited by law. Sponsor: Post Consumer Brands, LLC.