Pesto Caprese Sandwich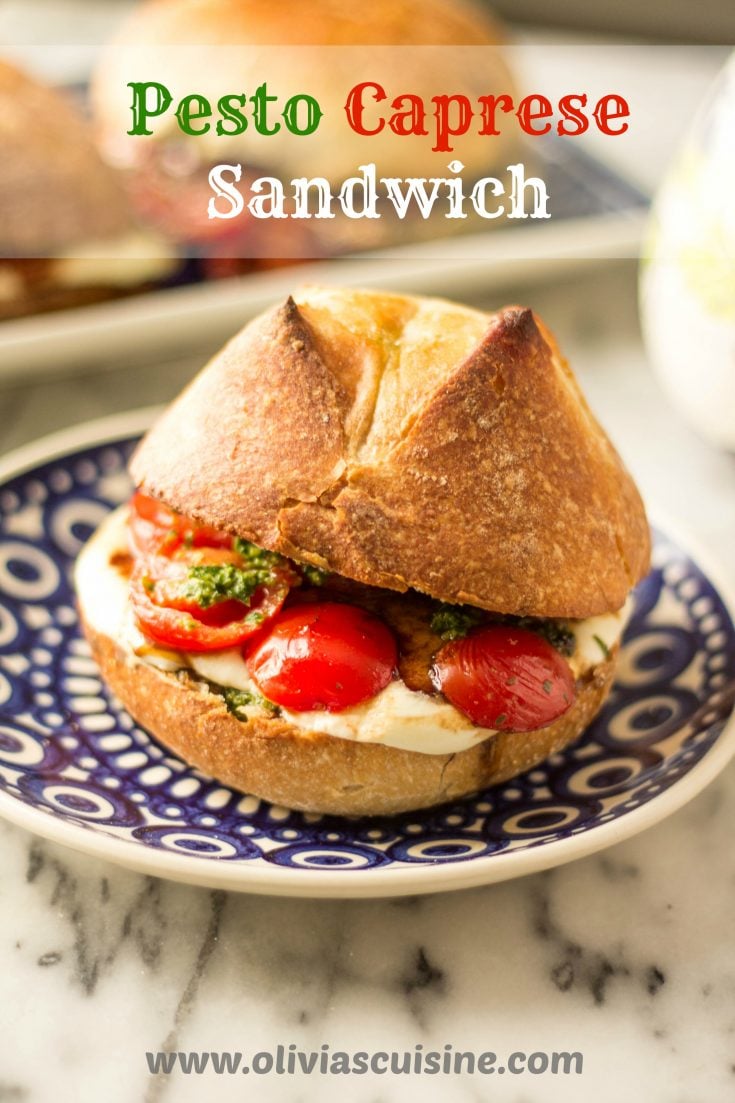 Happy Monday, folks!
Today is the most dreaded day of the week for most people. But not for me! Mondays are usually my day off and I get to enjoy being at home, spending some time with my furry daughter and cooking something nice for my husband! :) Even better, we get to sit down and have dinner as a normal family. (One of the downsides of working on Broadway is not being able to have dinner with my husband every day, unless we do it at 11pm…But let's face it, who wants to come home at 11pm and have to cook dinner?)
Sometimes we like to have dinner on the couch, catching up with one of our favorite TV shows. During the summer that is usually True Blood! (I know, I know… Don't judge me! The show has been getting worse and worse but I feel obligated to watch because I've watched it since Season 1!) So I cook something that doesn't require lots of silverware – preferably something we can eat with our hands – usually pizza or sandwiches.
Lately I've been on a quest to recreate this fabulous Pesto Caprese Sandwich I get at a place next to one of the theaters I work at. It's just a simple toasted caprese sandwich but somehow the combination of the melted fresh mozzarella with the pesto, the crunchy toasted ciabatta bread and the balsamic vinegar (that I can't figure out if they put directly on the pesto sauce or if they do a balsamic reduction like I did) makes it one of the best sandwiches in Manhattan for me! I love it so much that some weeks I'll have it again and again for 2 or 3 days in a row! :) Can you blame me? I'm crazy for Caprese anything… Salad, Pizza, Bruschetta…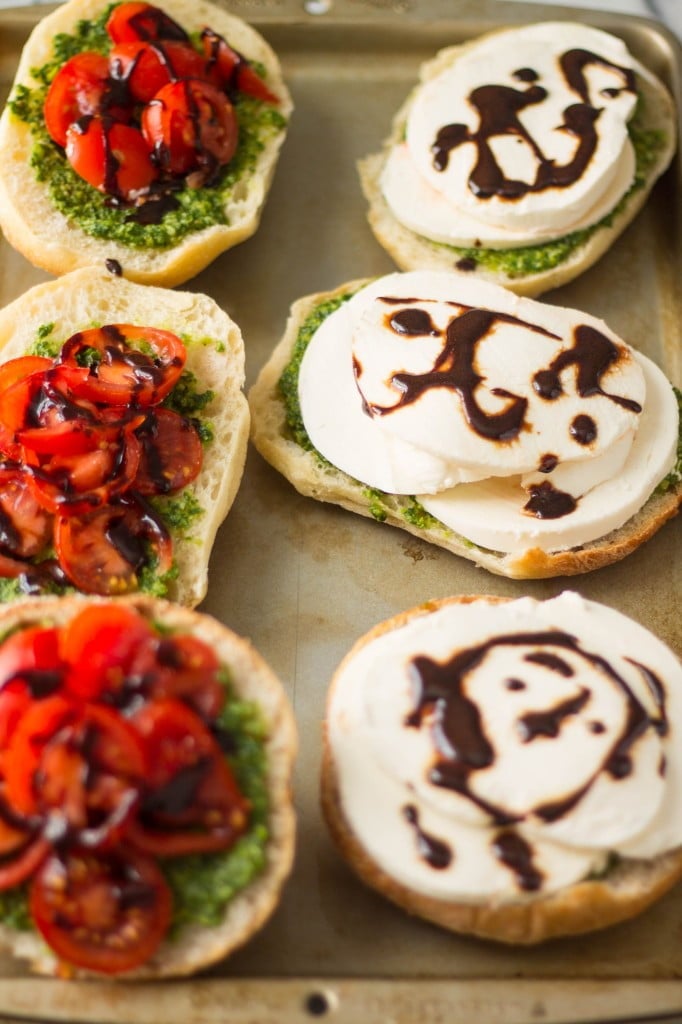 I searched all over Manhattan (Ok, I'm exaggerating… I've searched about 2 or 3 grocery stores! lol) for those individual ciabatta rolls but had no luck. I found these Crusty French Rolls and they were delicious (they also look amazing for pictures), but I would still go with the Ciabatta rolls if you can find them! (If you find them in NYC, let me know where!) The soft, porous interior of the Ciabatta makes it perfect for this sandwich because it absorbs any kind of sauce or spread without getting soggy.
Other than the bread, you'll need fresh mozzarella, tomatoes (I used little cocktail tomatoes because that's what I had at home. You can use any type of tomatoes!), a balsamic reduction and pesto sauce. The Pesto sauce is a breeze to make and you can find the recipe here! If you're a pesto lover like me, you probably already have some in your freezer, so you just have to defrost it!!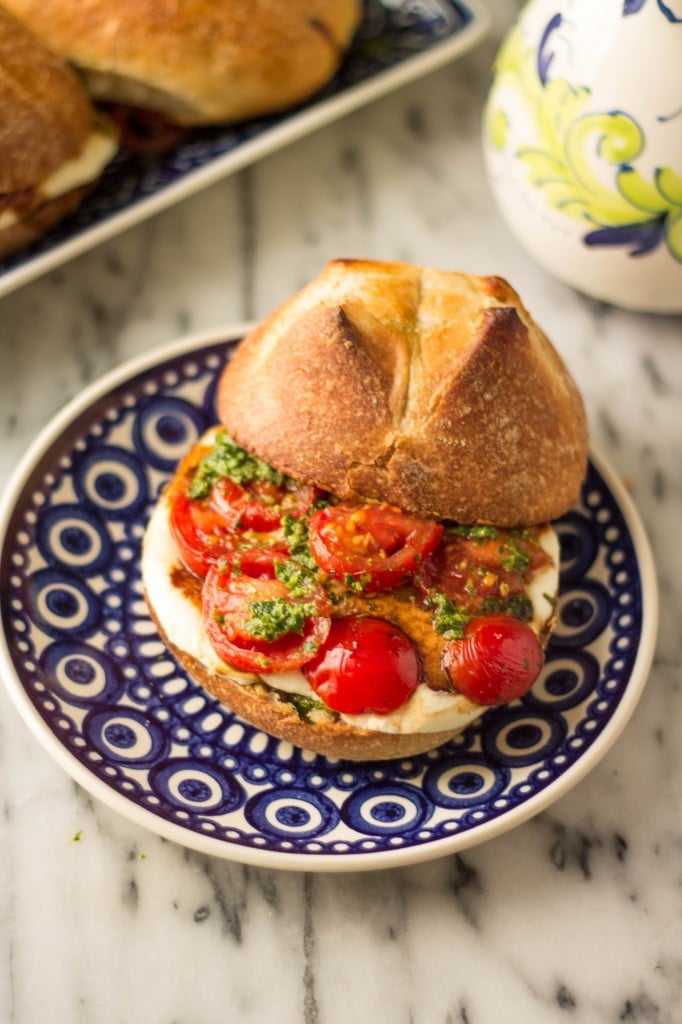 The magic of this Pesto Caprese Sandwich is that you can have it as it is or toasted. I usually have it toasted if I'm eating it at home, or fresh if I'm bringing it with me to work. I would have it toasted all the time if someone would invent a portable Toaster oven that I could carry to work. But then everybody would think I'm even crazier than they already think I am… (Doesn't help that all I talk about is my food blog. Normal people don't understand how serious one can be about food blogging!)
Tim, my husband, gave this sandwich two thumbs up! Which doesn't mean anything because he usually loves (or pretends to love) everything I make. So I guess you guys are going to have to make it and then share the results with me on the comments section below. Or on Facebook. Or Twitter, Pinterest, Google+, Instagram… Yeah, yeah! I'm the Queen of Social Media! :)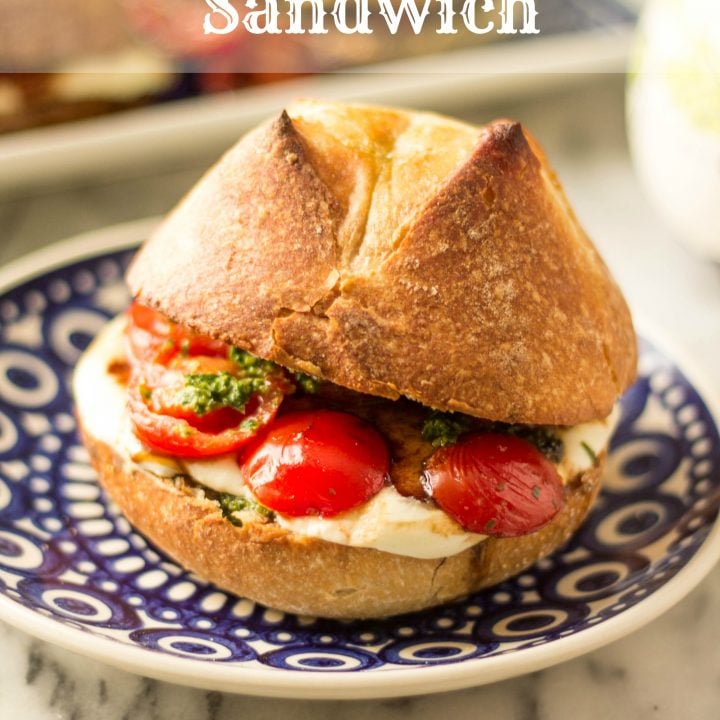 Pesto Caprese Sandwich
Yield: 3 sandwiches
Prep Time: 5 minutes
Cook Time: 10 minutes
Total Time: 15 minutes
Ingredients
3 individual crusty bread rolls (or individual ciabatta rolls)
8oz Fresh Mozzarella, sliced
6 cocktail tomatoes, sliced
Salt and Pepper to taste
For the balsamic reduction:
1/3 cup balsamic vinegar
1 Tbsp honey
Instructions
Preheat your oven to 400 degrees.
To make the balsamic reduction, add the balsamic vinegar and the honey to a small saucepan and bring to a simmer. Simmer over low heat until thickened and reduced. (Don't let it get too thick, just thick enough to drizzle it on the sandwiches).
Spread the pesto sauce inside the sandwiches. (About 2 Tbsp per side)
Top the sandwiches with fresh mozzarella and tomatoes.
Drizzle some balsamic reduction sauce over the mozzarella slices.
Place the sandwiches halves in a baking sheet and bring them to the hot oven, baking until the cheese melts (around 10 minutes).
Close the sandwiches and serve them warm.