Pressure Cooker Pot Roast
Delicious, flavorful, hearty pot roast with the meat so tender it falls apart at the touch of a fork? Yes, please! Made in a pressure cooker so I don't have to spend all day in the kitchen? Hell yes, please! I'll sign up for meals like that any day!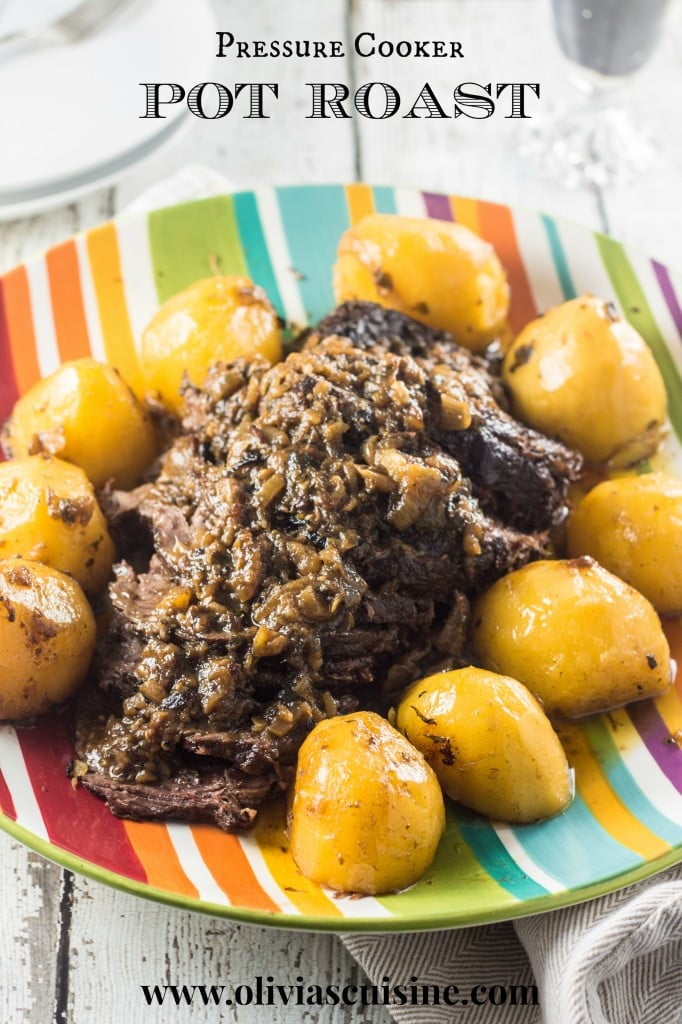 This week was a rough one… The shock of coming back to reality after a lovely weekend getaway + husband starting a new job (which means no more rides to work for me and not having him by my side all the time… Yes, in that particular order of importance! lol) + some shenanigans at work + deep cleaning the apartment while having a herniated disc = a not so happy Olivia needing lots and lots of comfort food.
You see, for the past 7 months I relied on my husband to do all the physical work around the apartment for me, because I've been dealing with a very painful herniated disc. But now that my back is feeling better (still not 100%) and my husband is not around anymore, I had to suck it up and do it! I guess the apartment hasn't been this clean in a year! I love my husband, but let's say his notion of cleaning wouldn't pass an inspection by the health department. :-P Which means the apartment was like a war zone. Which means that every single bone and muscle in my body hurts after 4 days of cleaning everything. I hope I can count this as a workout. It HAS to count as a workout, right? Right! Good! I'm considering it the workout of all the workouts and I won't have to go to the gym for a few months… or maybe for life!
However, one thing needs to be said: there's nothing like cooking in a pristine, clean kitchen and there's nothing like eating at the table in a freshly cleaned living room.
This Pressure Cooker Pot Roast is great for those busy weeknights because it is done in about an hour. Yes, you heard it right!! No need to cook the roast for 4 hours. Also, there's something about cooking the meat in the pressure cooker that makes it so incredibly tender. It literally falls apart when you touch it.
You are probably sick of me talking about my pressure cooker. You will only understand my obsession the day you get one and start realizing how much time (and work) it saves! If you're interested in checking it out, here's a link for the model I've owned for the past 5 years. It is a great pressure cooker and it will probably last me a lifetime!
(This is an affiliate link, so if you end up purchasing it, I get a small – really small – commission!)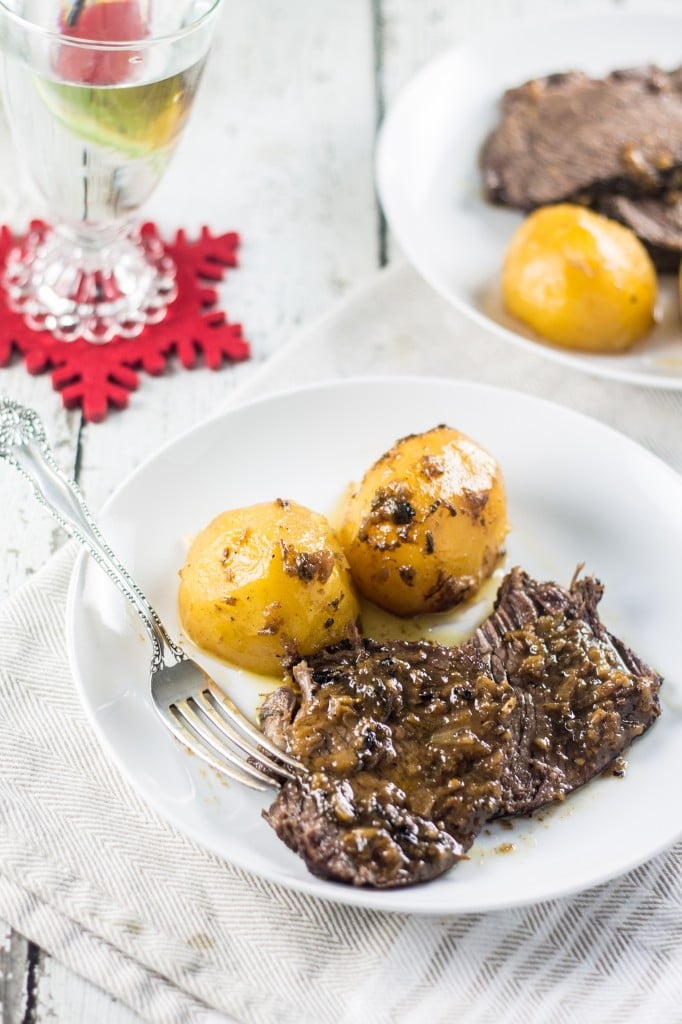 Anyway, back to the roast. Another secret for this amazing pot roast – other than cooking it in the pressure cooker – is to let it marinate overnight with olive oil, vinegar, sliced onions, garlic, herbs, kosher salt and pepper. This marinade adds so much flavor to the meat and will be used later to make a delicious (addicting!!) gravy/sauce for you to pour on the roast.
This is one of my favorite recipes by my Grandmother and I usually beg her to make it when I'm down in Brazil. Every time I visit, I need to come over at least 2 times: once for stroganoff and again for carne assada (pot roast)! If I close my eyes I can smell and taste her roast. Isn't that amazing? How food can somehow be so engraved in your memory that you can taste it by thinking of it? Yeah, that's what this pot roast does for you! Believe me, my friends, this is to-die-for! Just the type of comfort food that makes all the problems go away. (At least for a little while… while you're eating it! lol)
My grandmother makes this using flank steak. I'm using chuck roast for this recipe because that's what I usually have on hand and because I think chuck is perfect for pot roasts. Feel free to use either of them! They are both delicious! :)
Pressure Cooker Pot Roast
Yield: 8
Cook Time: 1 hour
Total Time: 1 hour
Ingredients
2-3lbs chuck roast
2 onions, sliced
4 cloves of garlic, minced
1 cup olive oil
1/2 cup red wine vinegar
1/2 cup chopped parsley
Kosher salt and pepper to taste
5 Yukon gold potatoes, peeled and halved
Instructions
In a large bowl, add the onions, the garlic, the olive oil, the vinegar and the parsley and stir everything together. Add the roast to that mixture and let it marinate overnight.
The next day, in a large skillet, add a few tablespoons of olive oil and brown the roast on all sides.
Transfer the roast to the pressure cooker and add water (enough to cover the half the roast).
Close the pressure cooker and let it cook on high heat until you hear the pressure.
Lower the heat to medium and cook for 40 minutes or until the meat is tender.
In the same skillet you browned the roast, add the onions and garlic from the marinade and sauté them until almost browning. Add the liquid and let it reduce a little bit.
Once the roast is tender, add the "gravy" and the potatoes to the pressure cooker and cook everything - uncovered (without pressure) - for about 20 minutes, or until the potatoes are cooked and the gravy has reduced by half and is this beautiful dark brown color.(Remove the potatoes beforehand if they are cooked before the gravy is ready).
Serve the roast with the gravy on top and the potatoes on the side.