Baked Camembert with Garlic and Rosemary
A gooey and fragrant Baked Camembert is always a must at my dinner parties. This version with garlic and rosemary is one of my favorites and pairs greatly with a glass of bubbly!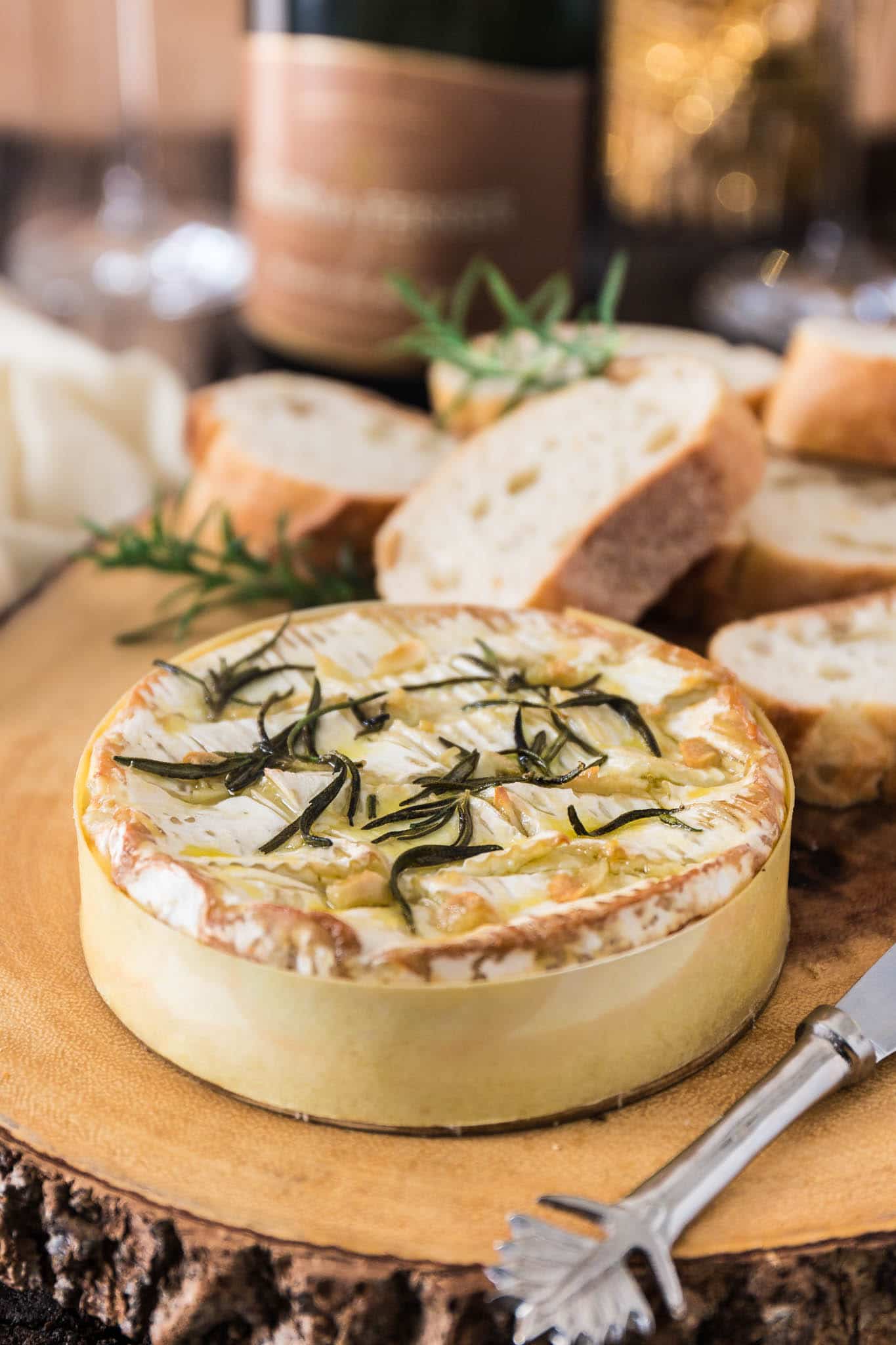 I don't know if you guys noticed, but I'm on a major party food phase!
Who isn't, really? We are all in the midst of the biggest entertaining season of the year and food is a huge part of it.
Whether you are throwing your own holiday soirée or you got invited to one and do not want to show up empty handed, this Baked Camembert is a sophisticated and delicious but also easy option for you. It is truly a fabulous appetizer to have up your sleeve for any party occasion, and when you make this once, you will never need the recipe again. Yep, it's that easy!
It is also easily customizable, so if you're not a rosemary gal/guy, just use whatever herbs you fancy. Or, if you'd prefer a sweet version, you could add some honey or maple syrup (<- that version goes great with some nuts sprinkled on top!).
The sky is the limit, my friend! After all, you really can't go wrong with melty cheese. ?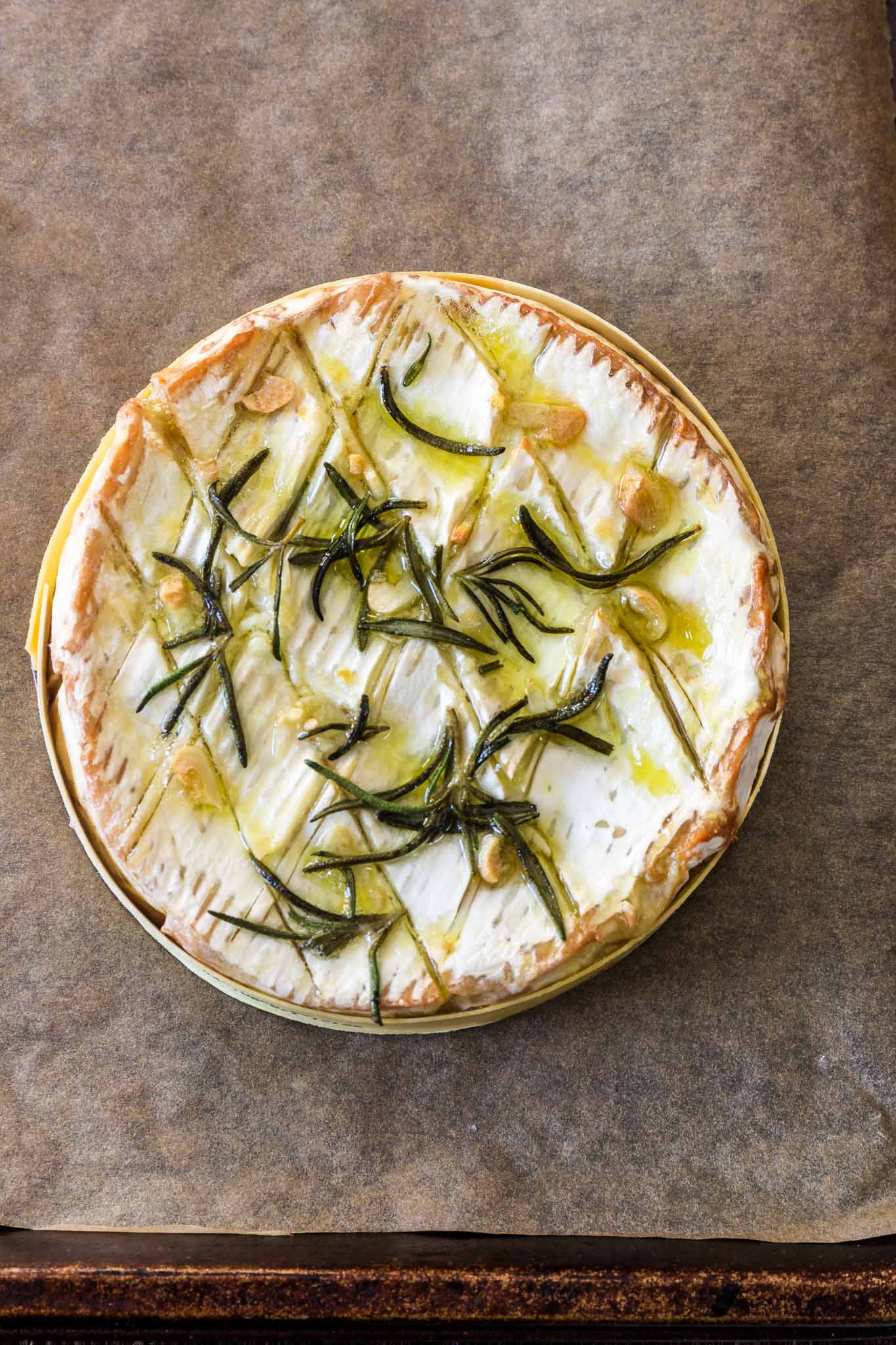 If you are not familiar with Camembert, it is that French round cheese that comes in a wood box and lives next to the Brie at the grocery store!
Those two cheeses not only look similar, but they both come from a similar recipe using cow's milk. Brie is slightly creamier (and fatty) since cream is added to it. But the main difference, to me, is flavor. Camembert is more intense, deep and earthy than brie, requiring an acquired taste for it!
But don't worry! If Camembert is not for you, this recipe also works perfectly with brie. But if brie is not your thing either, than you gotta start training your palate to like the french cheeses. 'Cause you are definitely missing out! ?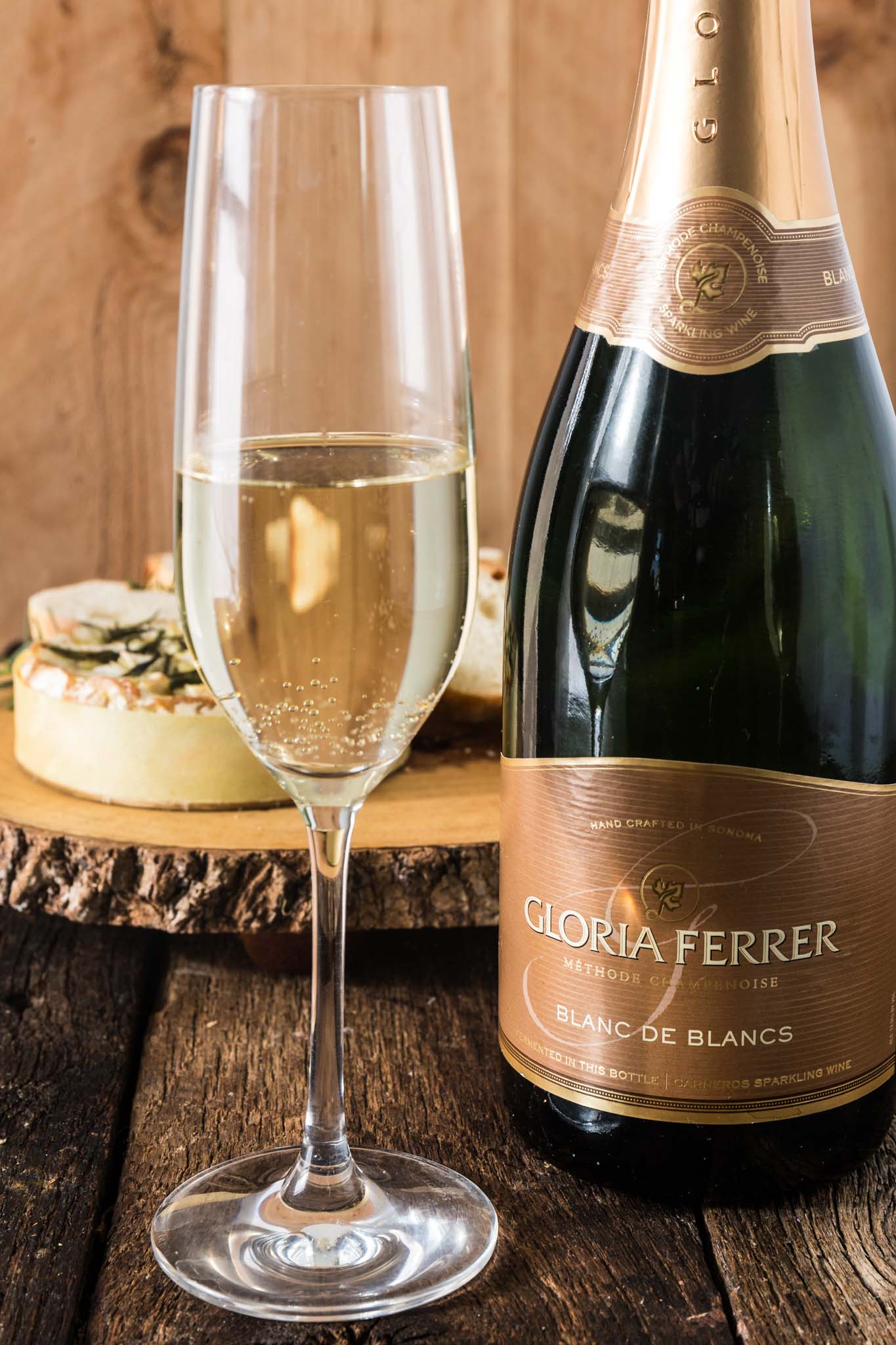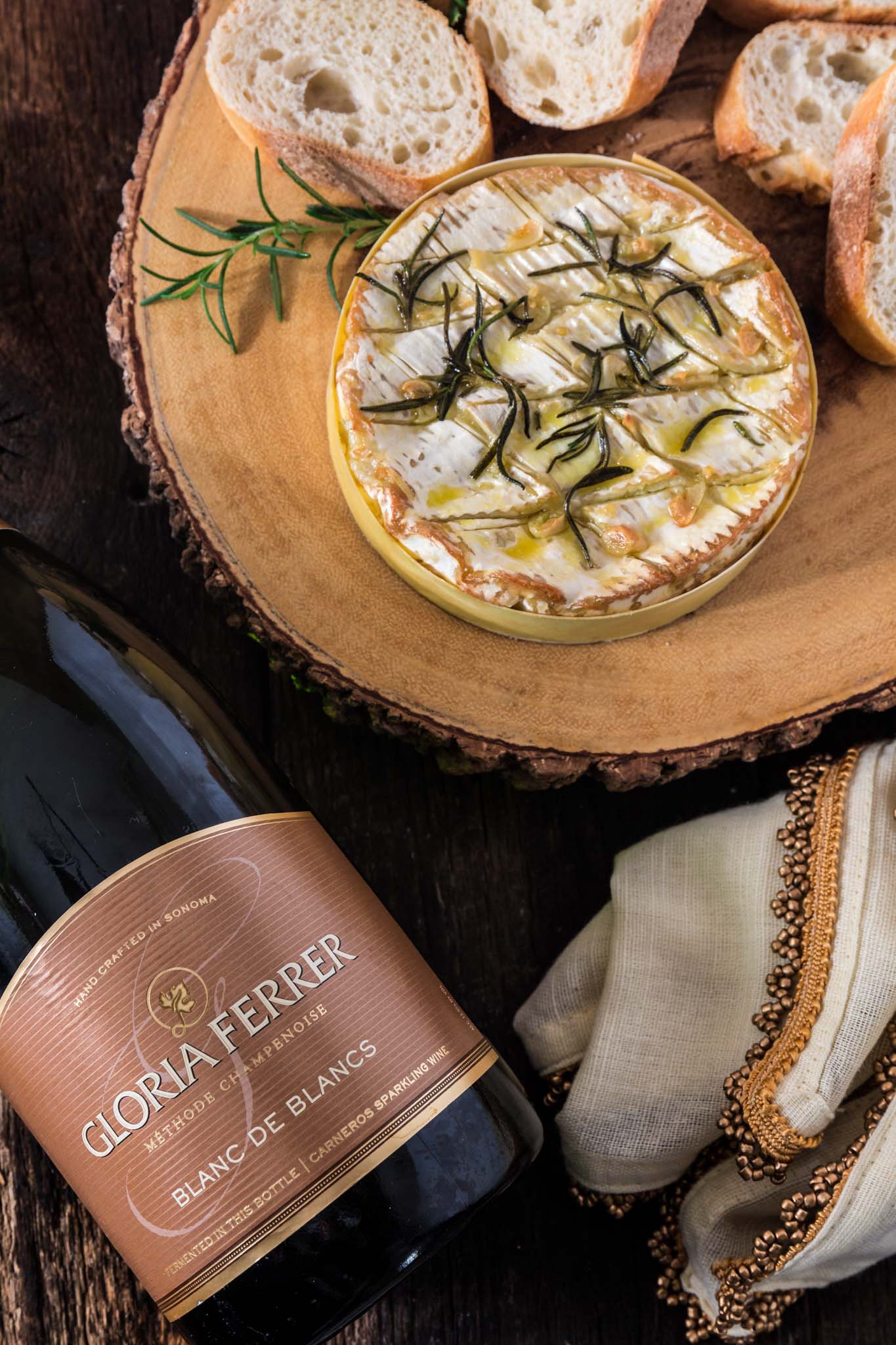 Now, when you serve something this sophisticated, you gotta pair it with bubbly! There's no way around it!
Okay, maybe I'm exaggerating. Of course this Baked Camembert will pair greatly with any wine – red, white or rosé! But Camembert and a glass of sparkling? That is perfection!
I always reach for a good Gloria Ferrer whenever I want an elegant sparkling wine to impress my guests. If you've been following this blog since the beginnings, you will remember that I've been sharing my love for them for a while now.
Gloria Ferrer is not only the first sparkling wine house in Sonoma Carneros, but they were also the first to bring back clones from France to plant their vineyard. Also, their wines are so good that they have earned over 500 gold medals and 50 90+ scores in the last 5 years.
To pair with the Baked Camembert, I chose their Blanc de Blancs. The crisp and elegant flavors, featuring lively notes of pear, mineral and cinnamon spice, pairs great with the bold flavors from the camembert and the fragrant rosemary. They also have other varieties, like Carneros Cuvée, Extra Brut, Brut Rosé, Demi-Sec and Royal Cuvée. It is worth it trying them all until you find your favorite! ?
So next time you're at the wine store, definitely pick up some of their sparkling wines. I guarantee they will be a hit at your next dinner party!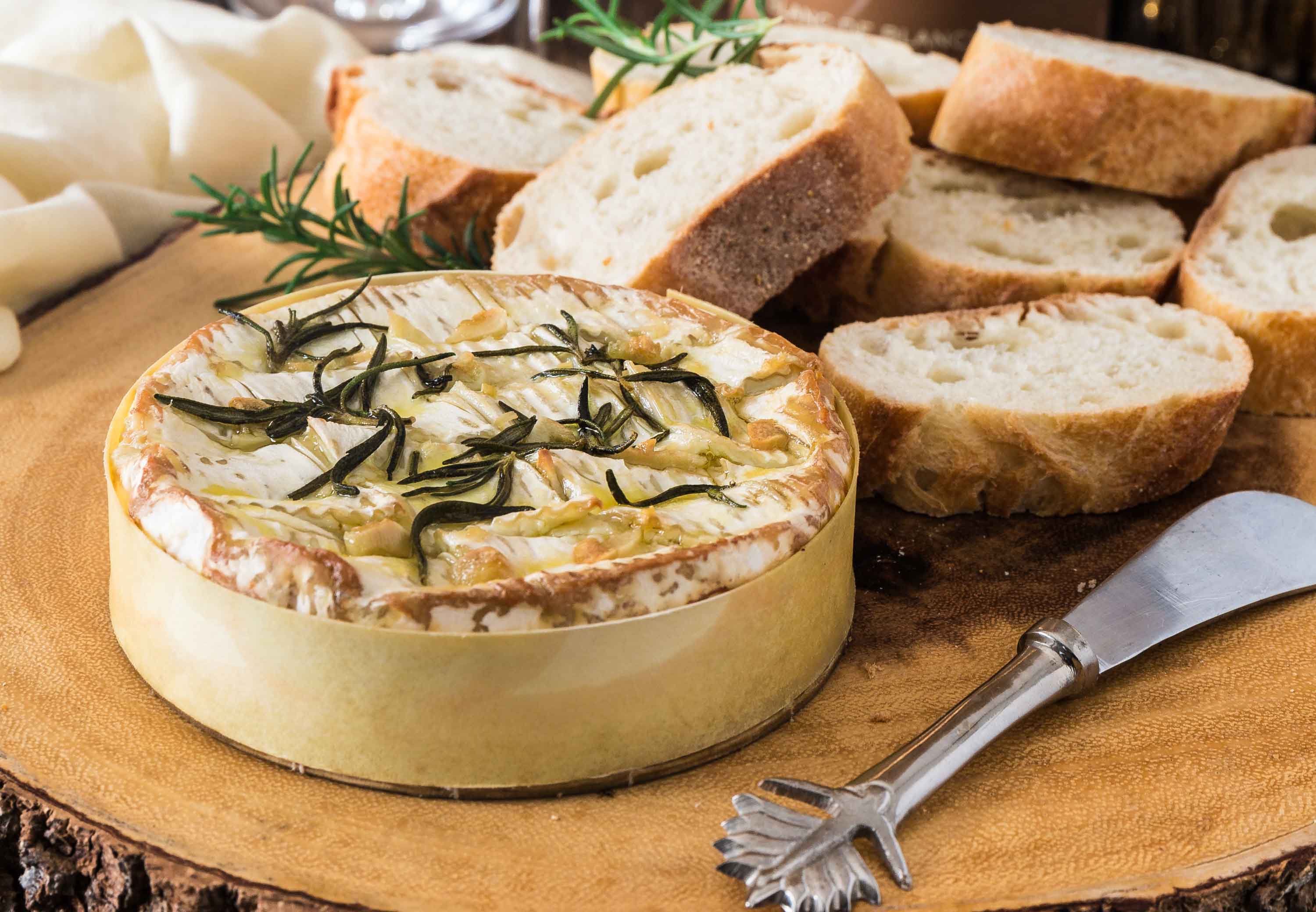 I like to serve my Baked Camembert with a fresh and warm sliced baguette or crostini. And while you could display an appetizer knife/spreader next to the cheese, be advised that people will probably just dunk their bread slices straight into the camembert. Who has time for manners when good cheese is in front of you?
It is truly amazing that something so simple can be so delicious and impressive. If you're feeding a crowd, I would maybe make 2 or 3 of those, because – believe me – they will go quickly!
Nobody can resist a wheel of melty camembert coming out of the oven, especially when garlic and rosemary are involved! ❤️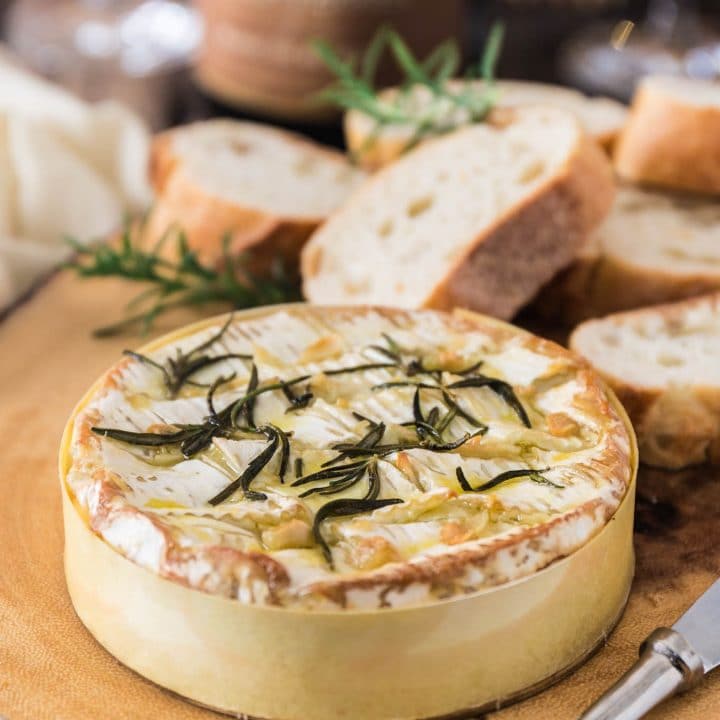 Baked Camembert with Garlic and Rosemary
Yield: 4
Prep Time: 5 minutes
Cook Time: 20 minutes
Total Time: 25 minutes
Ingredients
1 (9 ounces) wheel of Camembert cheese, in its wooden box
1 garlic clove, peeled and sliced
A few tips fresh rosemary
Olive oil
Instructions
Preheat oven to 350F degrees.
Remove Camembert from plastic wrap and put it back into its wooden box. Place the cheese (and box) in a baking sheet.
Using a sharp knife, score the top in a crosshatch pattern. Push in the slices of garlic into the cheese and sprinkle the rosemary all over the top. Drizzle with olive oil to taste.
Bake for 20 minutes, until golden and fragrant.
Remove from oven and serve immediately with a fresh sliced baguette or crostini.
Notes
- I find that Camembert is already salty enough, but if you don't, feel free to sprinkle some sea salt before baking.
- Do not bake the Camembert without its wooden box (or a small baking pot).The cheese will spread around and will become a big mess!
FOR THIS BAKED CAMEMBERT, I RECOMMEND:
Disclosure: This post contains affiliate links!
I was selected for this opportunity as a member of CLEVER and the content and opinions expressed here are all my own.