Black Forest Cake
This classic German Black Forest Cake – or Schwarzwälder Kirschtorte – has 4 layers of pure temptation and will make a great dessert for Mother's Day or any other special celebration!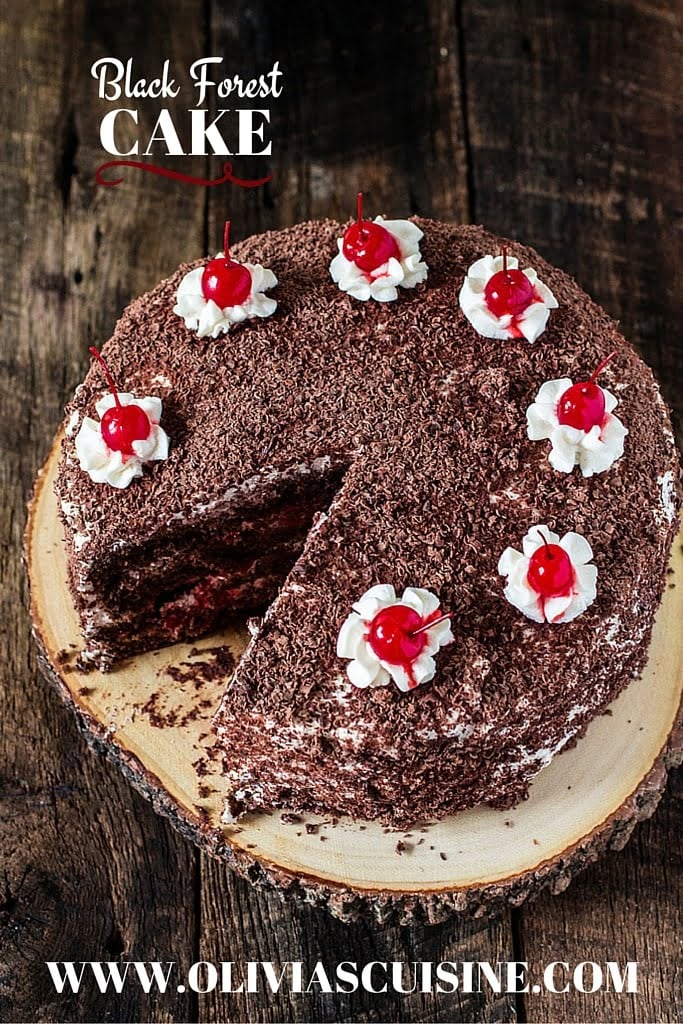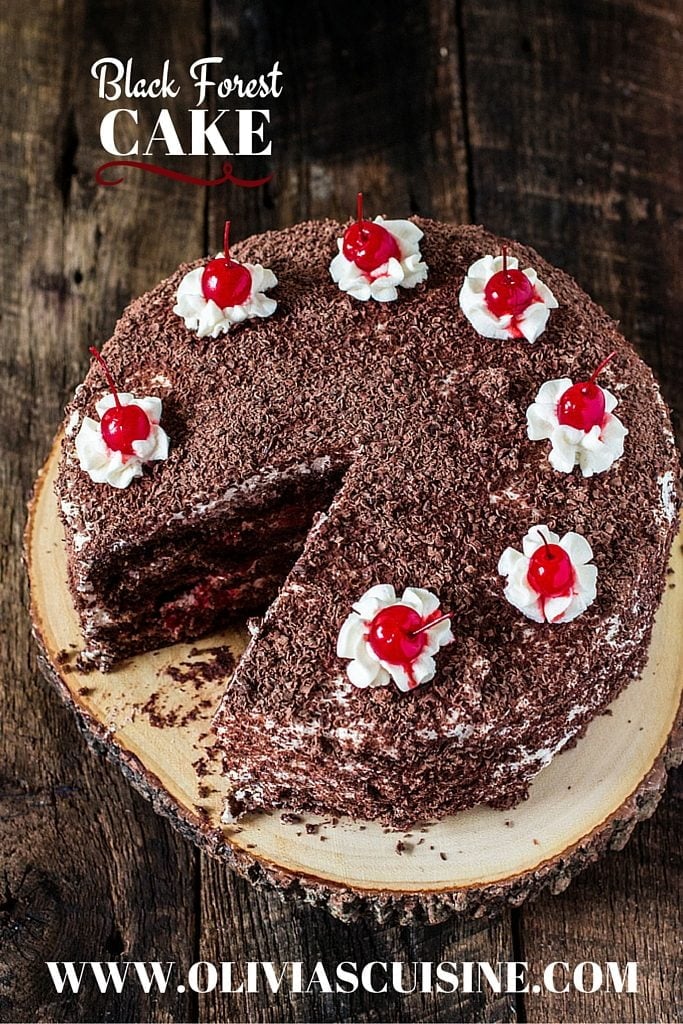 I hope you don't mind that I'm sharing yet another dessert recipe. It's the fifth one in a row, but who's counting? Dessert is LIFE! ❤️
Besides, making a Black Forest Cake has been on my bucket list for ages. (Yep, I'm one of those annoying people that have a cooking/baking bucket list! I wanna cook the world!!)
Even though this cake is originally from Germany, it did make its way to Brazil and became really popular down there, making an appearance in lots of birthday parties every year! So much so that up until recently I thought this was an authentic Brazilian cake. Oops!
I am usually not a cherry lover, but the combination of chocolate, cherries and fresh whipped cream is something I cannot possibly resist! Add the little boozy flavor from the kirsch (cherry liqueur) and one bite of this moist goodness makes you understand why it is such a classic.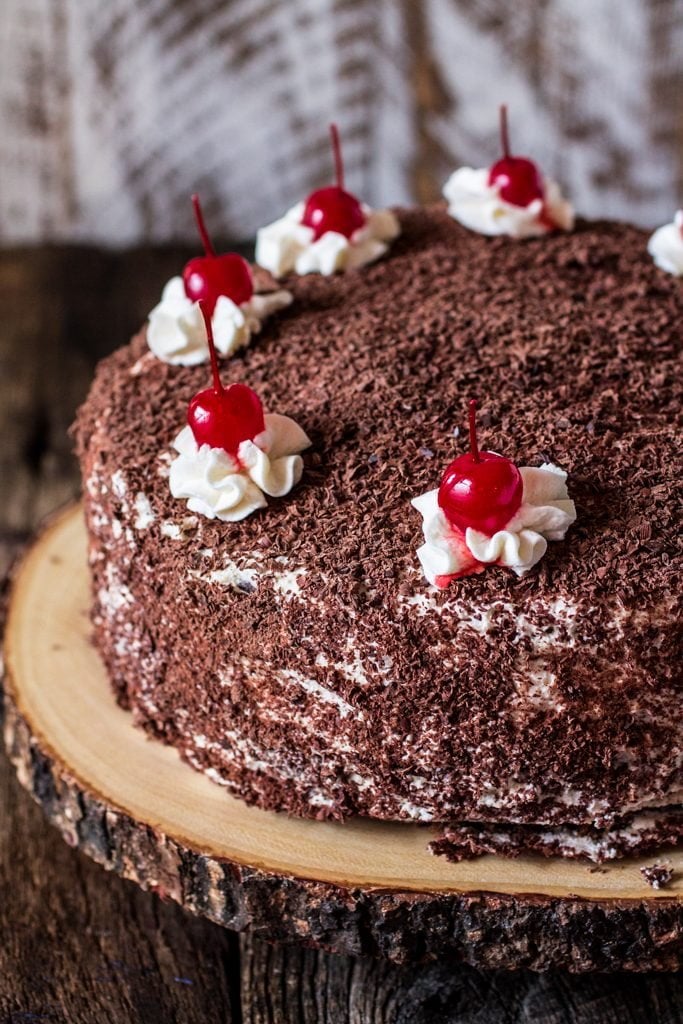 As I do with almost every dessert I make, I brought the leftovers of this cake to work. It turns out that on that day I was working with my friend Alex, who happens to be from Austria. He had a few slices and said that it tasted exactly like the cake his grandma used to make when he was little.
I couldn't be more flattered! Ask any food blogger who specializes in international cuisine and they will tell you: There isn't a better compliment than to compare us to foreign grandmas!
Most Black Forest Cakes here in the U.S. are overly sweet and lack the kirsch taste, so maybe that's why my cake – which I like to believe tastes closer to the German version – brought tears to his eyes. (Ok, maybe he didn't shed a tear, but that would make the story so much better, wouldn't it?)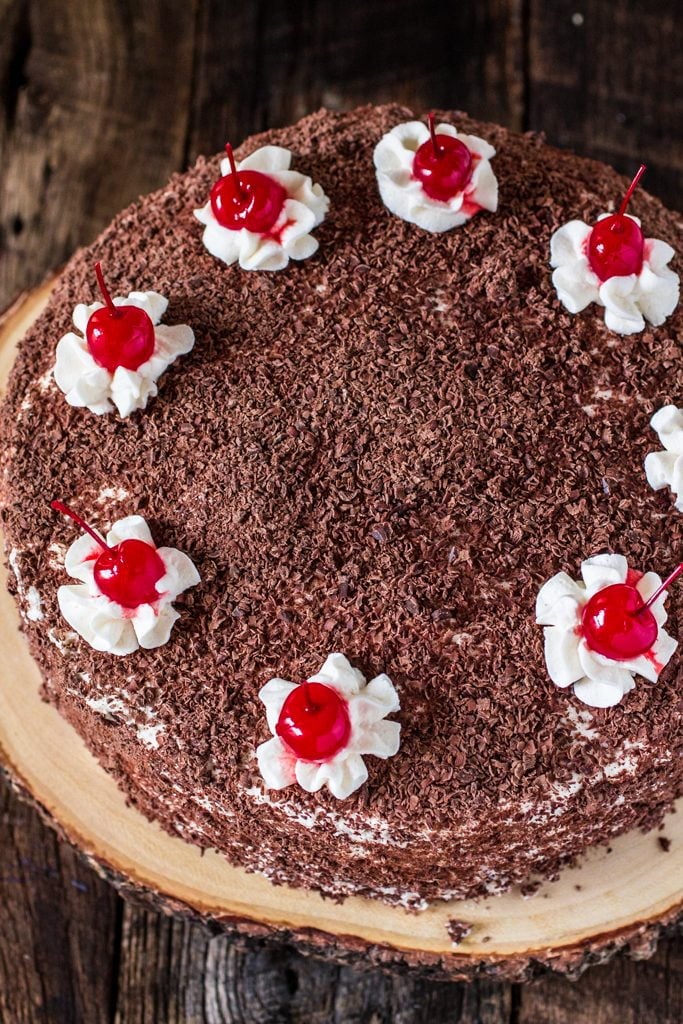 There are several versions of the origins of the Black Forest Cake, which is named after the Black Forest region in Southwest Germany.
One of the legends say that the Schokoladen Raspel Belag, or the chocolate shavings that decorate the cake, look like the forest trees. Another says that the name is a homage to the kirschwasser liqueur, which is produced in the Black Forest region. And a third possible legend – and my favorite – claims that the cake was inspired in the traditional costume of country girls in some parts of the Black Forest, reflecting their black or dark brown skirts (chocolate), their white blouses (whipped cream) and their large cherry-red woolen bobbles, called Bollenhut.
There are even those who say that the cake (or the inspiration for it) may have actually come from Switzerland. Maybe, maybe not. We most likely will never know, so let's focus on what matters, which is: EAT THE CAKE!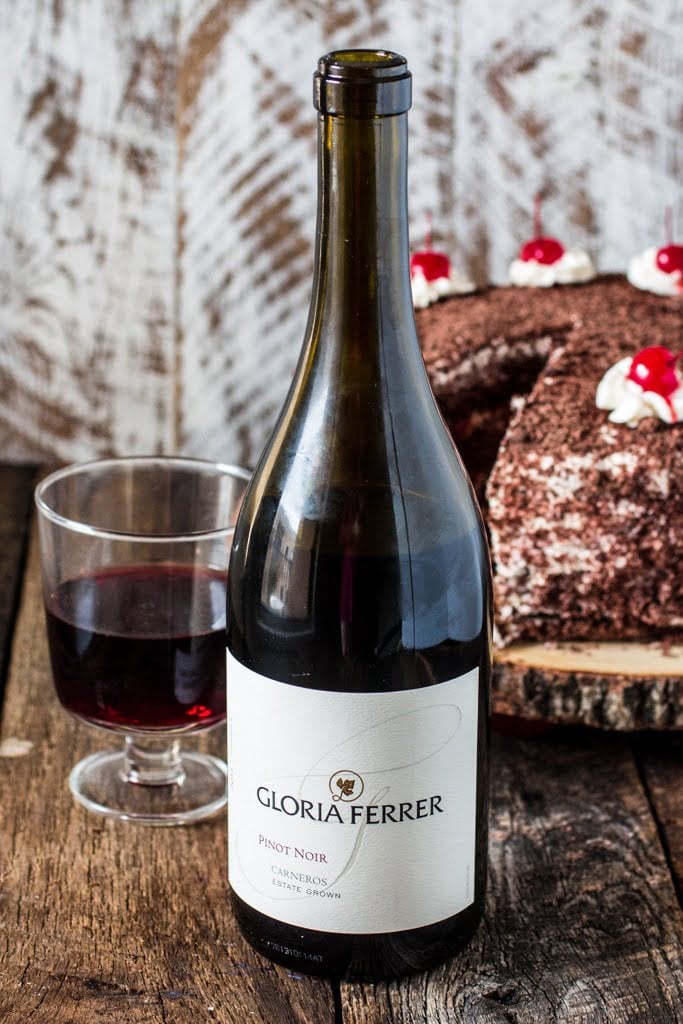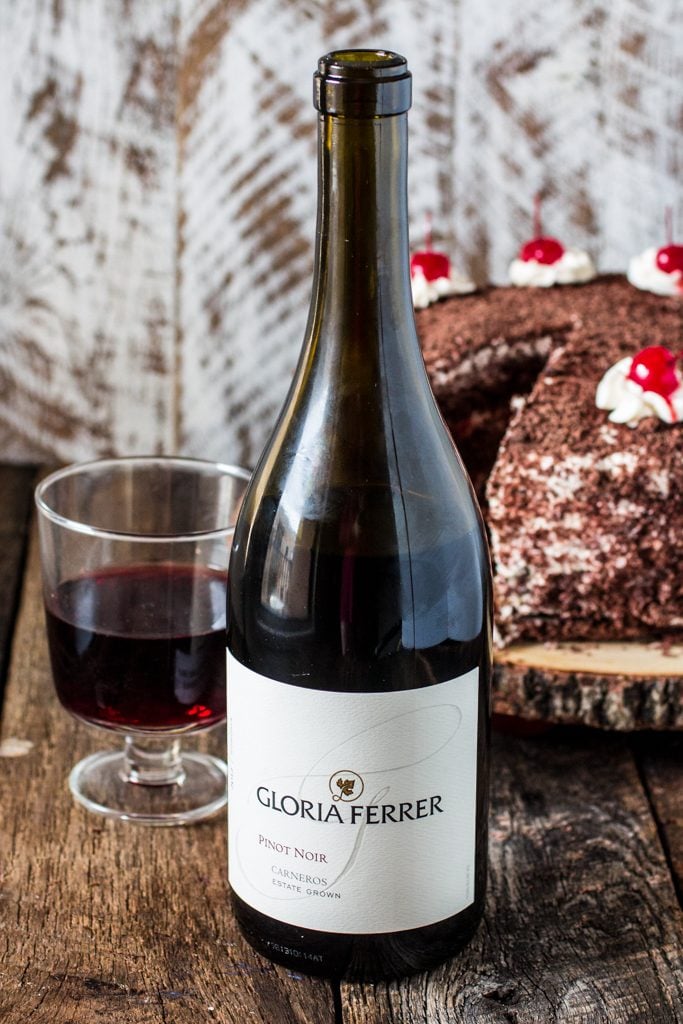 And now it's the part where everything gets even more interesting. I paired my Black Forest Cake with a bottle of Gloria Ferrer Pinot Noir! I know pairing dessert with red wine is probably not something you would automatically consider, but believe me when I say: It can be so much fun!
The earthy and brambly Pinot Noir emits aromas of black cherry, cedar and spice with a smooth mouthfeel and long finish, which pairs perfectly with the bold flavors of chocolate and cherry from the cake.
I'm a huge Gloria Ferrer fan, as you may have noticed already. Their wines have earned over 400 gold medals and 50 90-plus scores in the last 5 years, and they produce estate grown still and sparkling wines that rival some of the world's finest.
I like their wine so much that I even snuck in some bottles to Brazil, when we visited during the holidays. (Shhhh, don't tell the Brazilian customs! ???)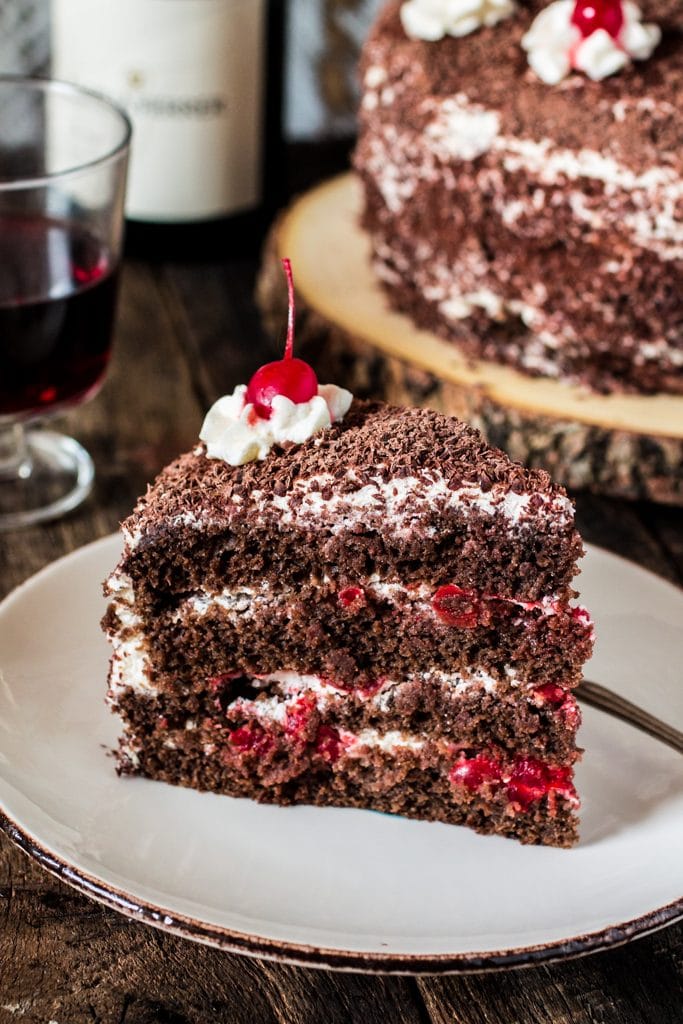 Before you go running to the store to grab the ingredients to make this delicious cake + your bottle of Gloria Ferrer, let me tell you that cherries are not in season right now.
Womp womp! ?
But no need to despair. Even though this cake tastes better with fresh cherries, you can totally make it with frozen or canned sour cherries instead. Maraschino cherries can be used to decorate the cake, like I did here. (I totally plan on making this cake again as soon as cherries are back in season, so I can update the photos!)
You can also use cherry jam for the filling, but then the cake might be a little sweeter since you won't be able to control the amount of sugar. But it's a good alternative if time is an issue or if you've been wanting to get rid of that cherry jam that has been sitting on your fridge/pantry for a while now.
As for the kirsch, you can totally omit it if baking for a child. And, if kirsch is not available but you'd still like a little booze, rum is a good substitute.
And, finally, this cake improves tremendously after a day or two in the fridge. I'm usually one to have the urge to dig into a cake as soon as I finish frosting it, but with Black Forest I have to at least let it chill overnight, because I know it will taste AMAZING the next day! ???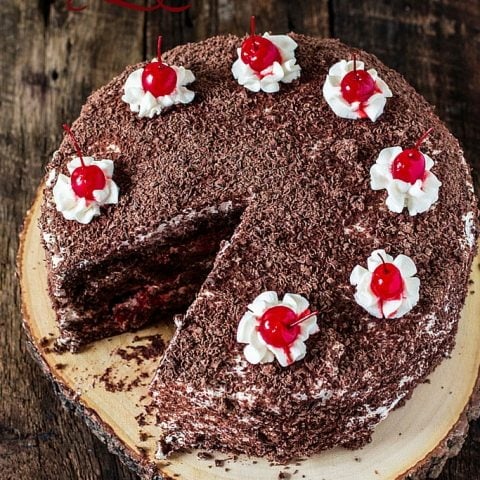 Black Forest Cake
Yield: 12
Prep Time: 55 minutes
Cook Time: 1 hour
Total Time: 1 hour 55 minutes
Ingredients
Cake:
8 eggs
2 1/4 cups brown sugar
1 3/4 cups milk
1 1/4 cups vegetable oil
1 tablespoon vanilla extract
2 3/4 cups all-purpose flour
1/2 cup unsweetened cocoa powder
1 teaspoon baking soda
2 teaspoons baking powder
1/4 teaspoon salt
Cherry filling:
1 1/2 lbs fresh black cherries (frozen or canned work if not in season)
1/2 cup kirsch liqueur
1/2 cup sugar
1/4 cup cold water
1 tablespoon cornstarch (dissolved in 1 tablespoon of water)
Whipped cream:
4 cups heavy cream
2 tablespoons gelatin powder
1/2 cup sugar
3 tablespoons kirsch liqueur
2 tablespoons vanilla extract
4 ounces good quality dark chocolate
Instructions
Making the cherry filling:
Reserve 10 cherries for decoration. Pit and roughly chop the remaining cherries and soak them with 1/2 cup kirsch for at least 30 minutes. (You can soak the cherries overnight.)
Drain the cherries, reserving the kirsch.
Add cherries to a saucepan, along with the sugar and the cold water. Bring it to the stove and cook, over medium heat, until it starts boiling. Then, add the dissolved cornstarch and continue cooking until it's thickened and bubbly, about 10 minutes. Cool completely.
Making the cake:
Pre heat oven to 350F degrees.
Butter and line the bottom of two 9 inch round cake pans with parchment paper. Butter all over and dust with cocoa powder. Reserve.
Using a stand (or hand) mixer, beat the eggs on high speed for 30 seconds. Add the sugar and keep beating until thick and fluffy. Add the milk, oil and vanilla extract and mix until combined.
Sift the dry ingredients together and slowly add them to the batter, while mixing on low speed, until everything is combined.
Divide the batter equally into the two prepared pans.
Bake for 30 to 45 minutes, or until a tooth pick inserted in the center comes out clean. Transfer the pans to a wire rack and let cool completely.
Making the whipped cream:
Chill mixing bowl and beaters for at least 15 minutes before using.
In a microwave safe bowl, sprinkle the gelatin powder into 1/4 cup of the heavy cream and allow to soften for 5 minutes.
Dissolve gelatin by microwaving for 3 minutes, stirring after every minute. Remove from microwave and let stand at room temperature for 10 minutes; gelatin must be liquid but not warm when added to cream.
Remove bowl and beaters from refrigerator and pour in the remaining cream, sugar, kirsch and vanilla extract. Beat together just until beater marks begin to show distinctly.
Add gelatin mixture to cream, pouring in a steady stream while beating constantly. Beat until stiff peaks form.
Assembling the cake:
When ready to assemble, run a table knife around the edge of the pans and unmold the cakes. Slice cake layers in half with a long serrated knife, trimming off any hard crusts.
Prick the tops of the layers with a toothpick and pour the 1/2 cup of Kirsch (that the cherries soaked in) equally onto each one.
Place one cake layer on a serving plate. Spread a layer of the whipped cream, cover with a layer of the cherry filling (leaving a 1/2-inch border of cream around the edge) and top with another layer of cake. Repeat with remaining layers and top with the flattest layer.
Frost top and sides of cake with remaining whipped cream, reserving some to pipe decorations.
To make the chocolate shavings, you can either grate or shave the chocolate with a peeler. Or, you can do the authentic way by melting the chocolate in the microwave, spreading it thin over the back of a baking sheet and bringing it to the fridge for about 10 minutes. Once cold, use a food scraper to create shavings.
Cover cake sides and top with the chocolate shavings. Pipe rounds of frosting around the top of the cake and place a whole cherry over each one.
Refrigerate cake for a few hours or overnight before serving for the flavors to meld.
Notes
If using canned (sour) cherries, use the juice from the can/jar instead of water, when making the filling.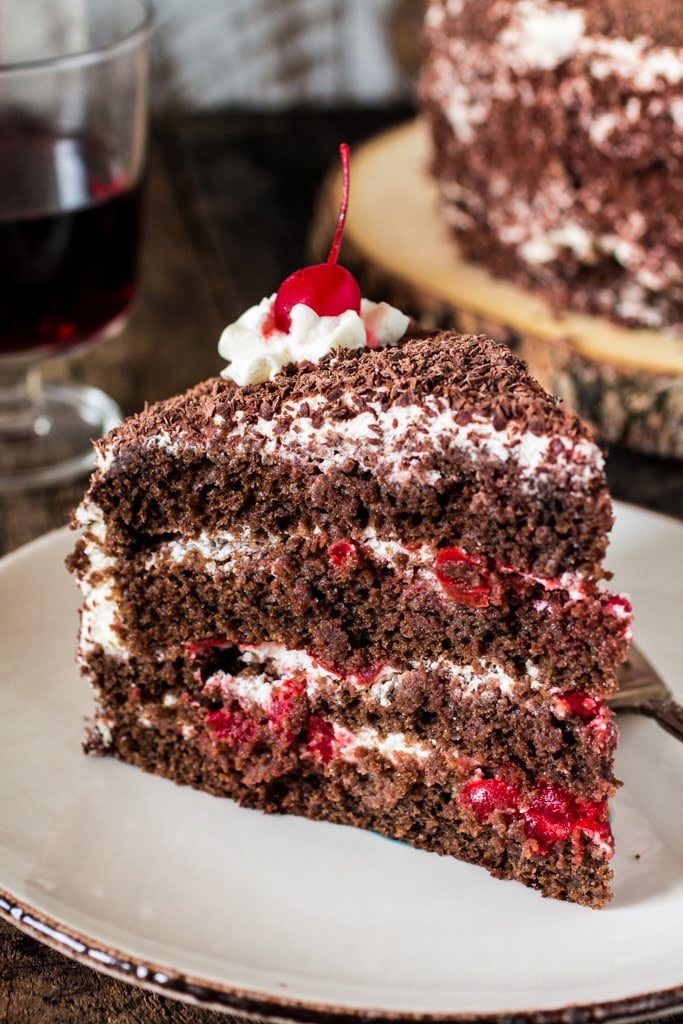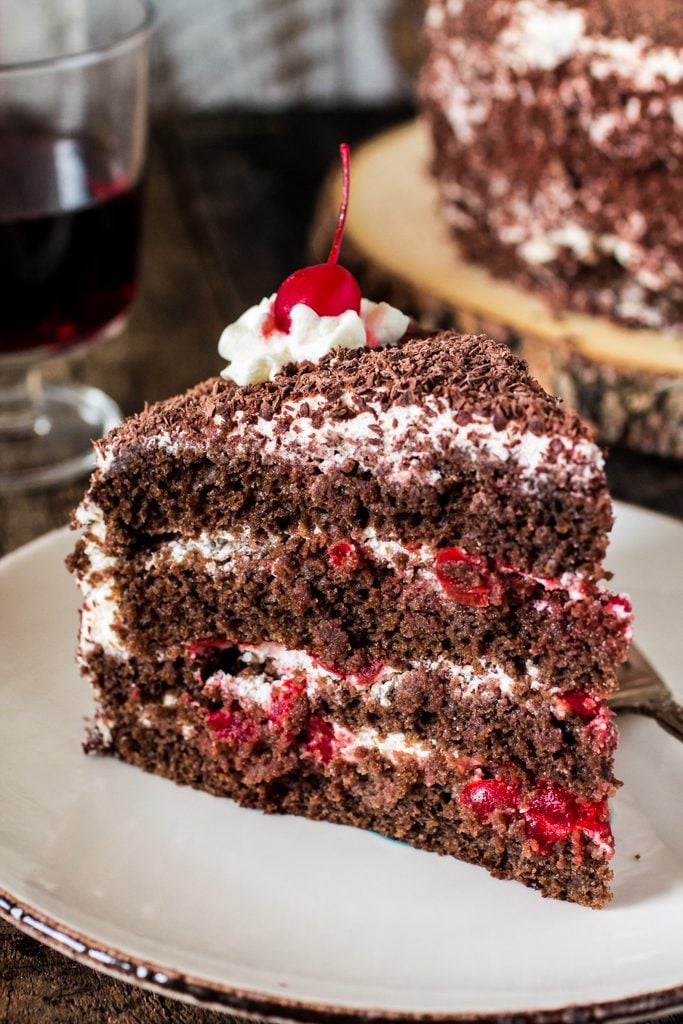 I was selected for this opportunity as a member of Clever Girls and the content and opinions expressed here are all my own.