Comforting Beef Stew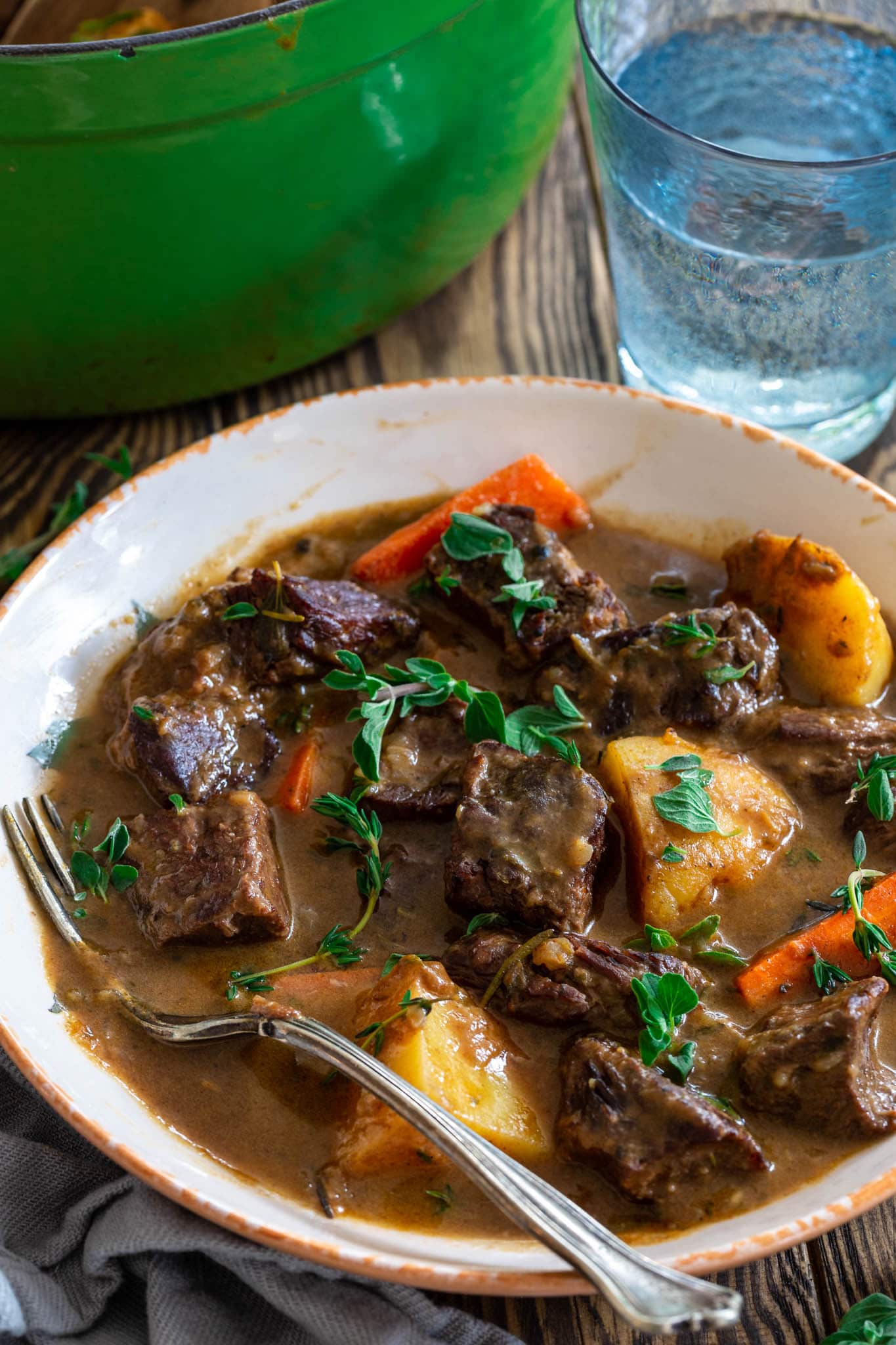 I'm not going to tell them I eat stew over rice. I'm not going to tell them I eat stew over rice. I am NOT going to tell them I eat stew over rice.
Oh, hey! Didn't notice you there! Huh…this is embarrassing! I guess now I have to tell you I eat stew over rice. As the good Brazilian that I am, I eat lots of things over rice that make Americans turn their faces and say: "Eww! Double starch!"… Oh well… What can I say? I love rice! It soaks up the sauce/juices perfectly making it the best friend of saucy dishes like Beef Stew! Also, I have a feeling most Americans are not that fond of rice because they don't cook it the right way. So I'm working on a post on how to cook rice the Brazilian way. You will be eating rice with everything. Even with chocolate! (Just kidding! That would be gross! Unless it's rice pudding…)
Anyway, today is Beef Stew day here at Olivia's Cuisine, but I have a feeling you already figured that out. :) 
I was going to save this recipe for late Fall or Winter, but I got a request from a friend! And I absolutely love requests! (If you have any, just contact me through commenting on my posts or Facebook/Twitter/Instagram/Pinterest). Good thing the weather just started to change here in NYC and I was definitely craving something warm and comforting! And for me there's nothing more comforting than homemade Beef Stew.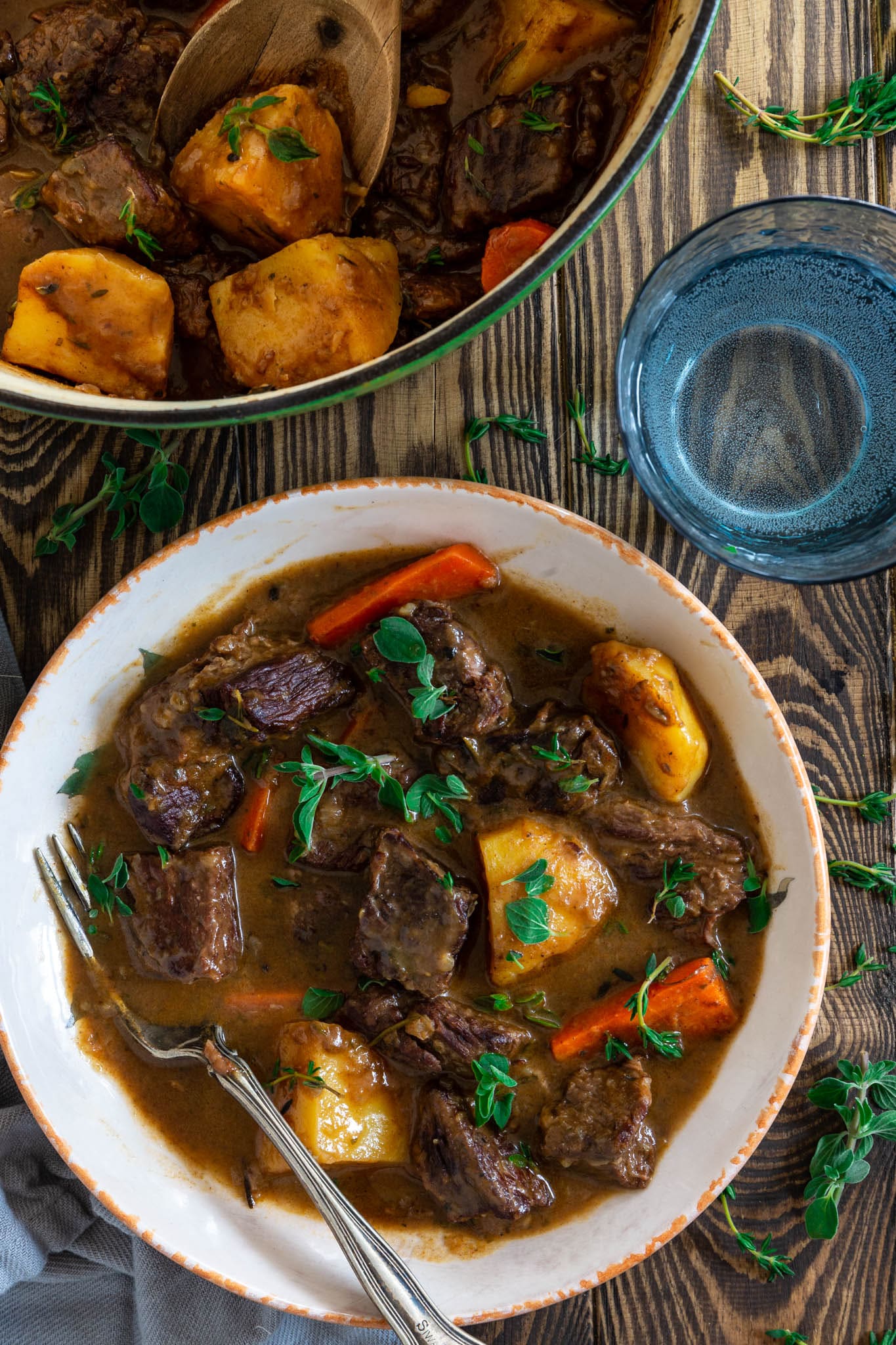 I must confess I usually make this recipe in my Slow Cooker. But yesterday was my day off and I figured why not cook it on the stove? The results are the same, the only difference is that when I cook it on the stove, I have to give it more attention. When I cook it in the Slow Cooker, I just set and forget! :) So feel free to cook it in your Slow Cooker, if you have one. Just make sure you brown your meat in a skillet before adding it. Browning the meat improves the flavors and seals all the juices to prevent the meat from drying out, so it's a very important step!
I always use Yukon Gold potatoes for my Beef Stew, but this time I ended up using Russet Potatoes because I had some at hand. I won't be doing this again, because the Russet Potato has more starch than the Yukon Gold Potato, so it thickened my sauce more than I intended to. They also don't hold their shape like the Yukon, so they fell apart and got a little mushy. They did, however, soak up the flavors really well, so that's a plus!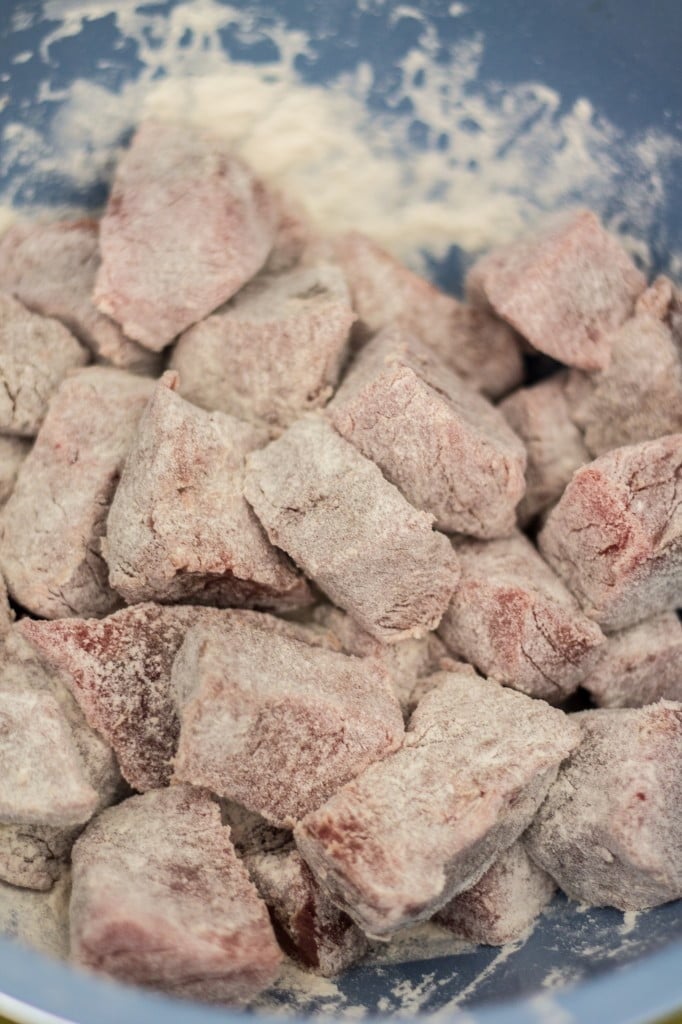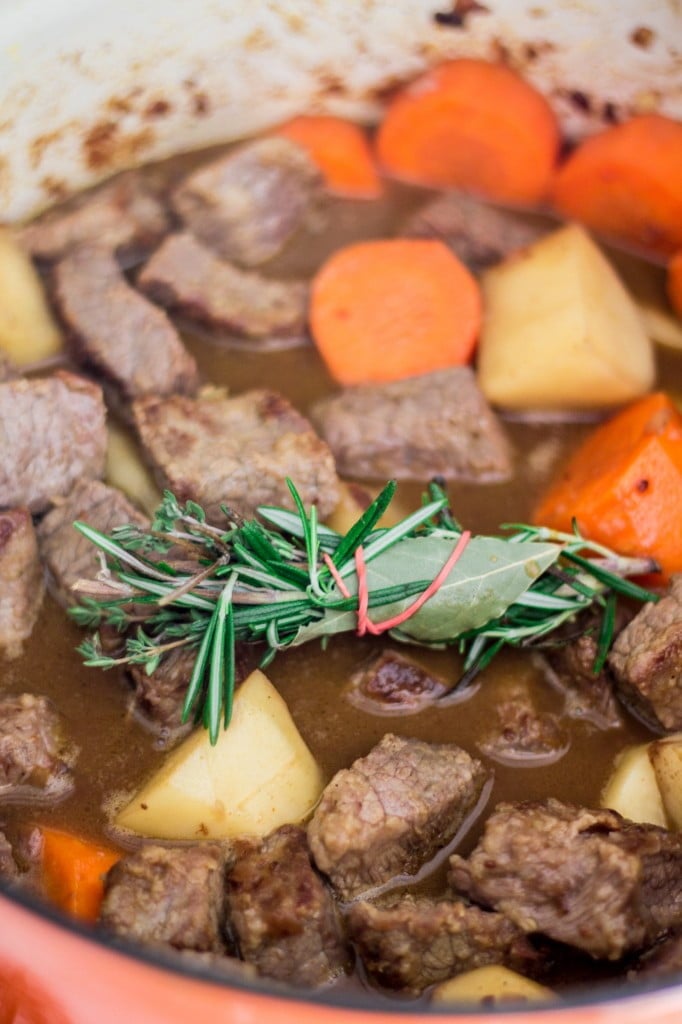 Two things I really recommend you don't skip in this recipe are:
1) Adding flour to the meat before browning it. I usually add 1/3 cup, but if you're using Russet Potatoes, you can add only 1/4 cup, as the starch in the Russet potatoes will help thicken your sauce as well. 
2) Herbs! I make a bouquet garni and I cook it with the stew, removing it before serving. "Bouquet Garni" is a french term for a bunch of herbs (fresh or dry) that are bound together and added to liquids during the cooking process. It is an incredible easy way to infuse your stew with some deep yet delicate flavors. Seriously… You can eat plain stew or you can add some herbs and eat amazing stew with a sophisticated flavor! I use rosemary, thyme and bay leaves. You can use whatever herbs you'd like or have on hand!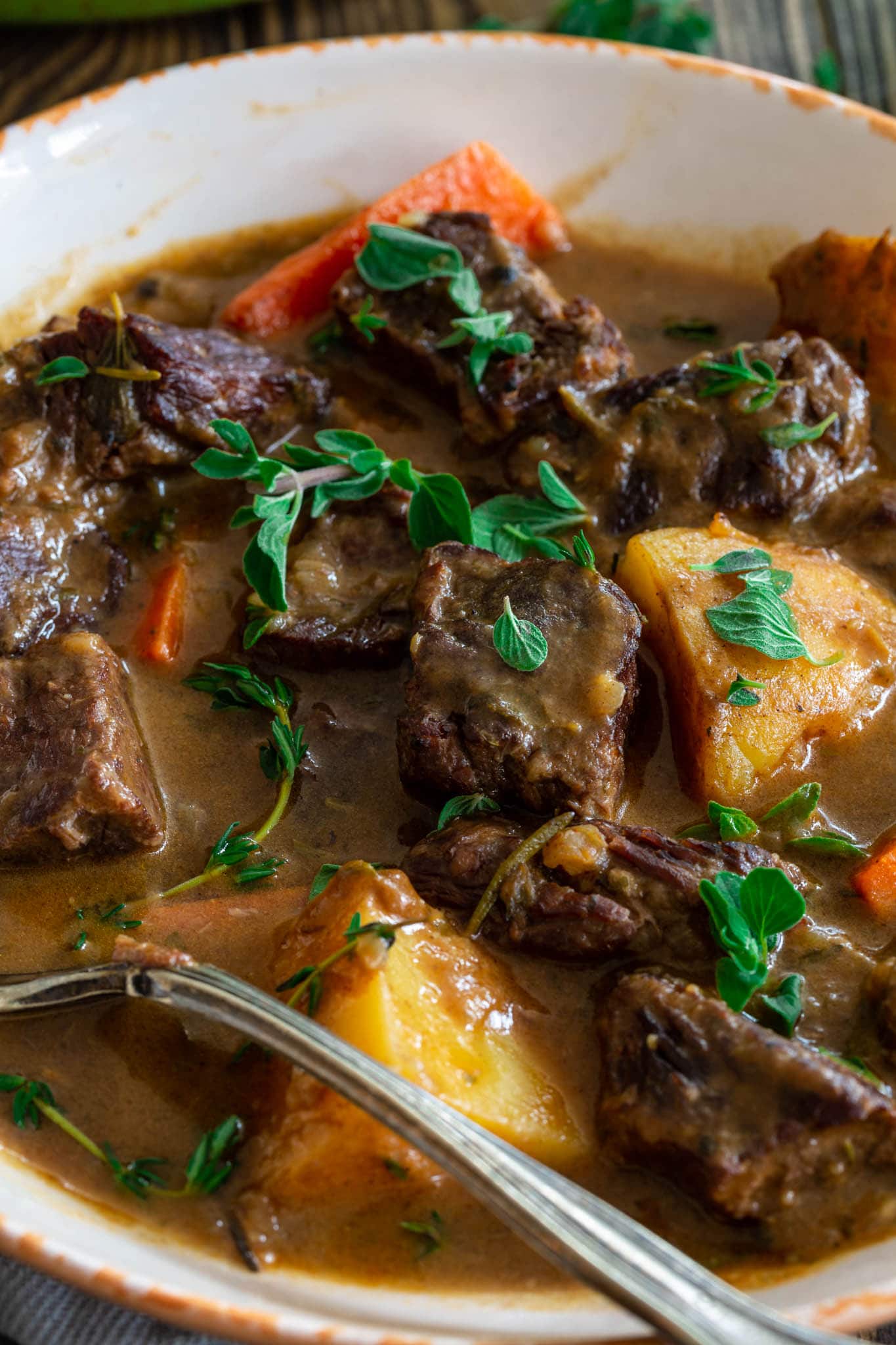 Do you feel like adding (or substituting) more vegetables to this recipe? Go ahead! It would work great with sweet potatoes, mushrooms, turnips… Some people add celery and peas, but I must confess I'm not a big fan.
Customize as much as you want! This is supposed to be THE synonym of comfort food for you and your family, so use the ingredients you love but make sure they are fresh. There is nothing like cooking with fresh ingredients! 
I especially recommend making this when you or someone you love are sick/sad/depressed/having a bad day. As soon as your whole home starts smelling like beef stew I am sure all your problems will vanish and life will be good again. That's what comfort food does for you! :)
If you're looking for something more sophisticated, I recommend my recipe for Belgian Carbonnade Flamande. It is a crowd (and husband) pleaser!
P.S. Serve over rice! :P But, if you're one of those people that freak out at the sight of two carbs served together, then be traditional and serve it with bread. Oh, wait… (Yeah, that's my point!)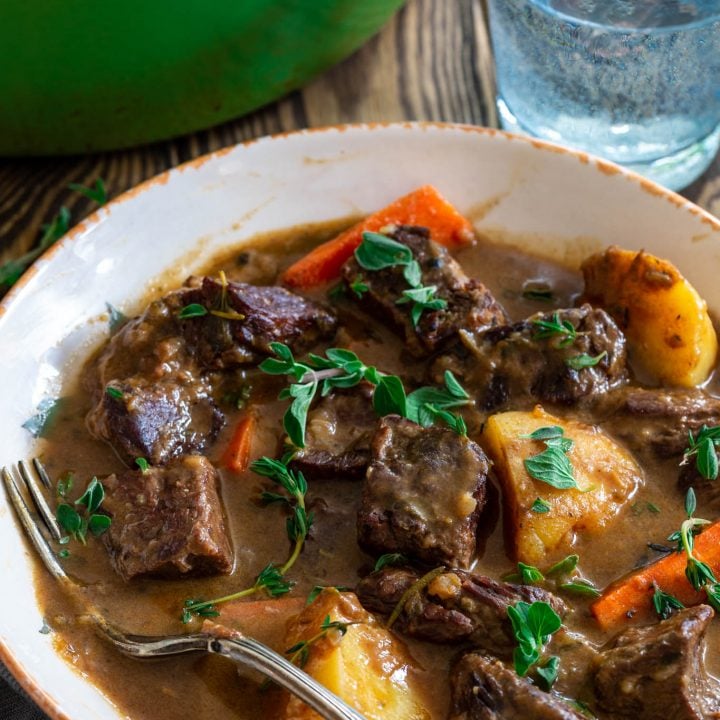 Comforting Beef Stew
Yield: 6
Prep Time: 20 minutes
Cook Time: 2 hours 30 minutes
Total Time: 2 hours 50 minutes
Ingredients
2 lbs beef stew meat (preferably chuck), cut into 1" cubes
3 large carrots, peeled and diced
4 large Yukon Gold potatoes, peeled and diced
1 large onion, chopped
3 cloves of garlic, minced
1/3 cup flour
1 tsp paprika (optional)
1 Tbsp Worcestershire sauce
1/2 cup red wine
1 1/2 cup beef broth
1 sprig of fresh thyme
1 sprig of fresh rosemary
2 bay leaves (dry or fresh)
3 Tbsp olive oil
Salt and pepper to taste
Instructions
In a large bowl, combine the flour and the salt and mix well.
Add the beef cubes and mix until all the pieces are coated in flour. Reserve.
In a large heavy bottomed pot, heat the olive oil until almost smoking. Add the beef and cook until browned. That should take about 5 minutes. Reserve.
In the same pot, add the veggies and cook for 5 more minutes or until they develop some color.
Add the paprika and season with salt and pepper.
Add the wine and scrape the bottom to release all the delicious browned bits.
Add the Worcestershire sauce and the beef broth and give it a good stir.
Add the beef cubes back to the pot.
Make a bouquet garni with your herbs by tying them all together with twine. Add the bouquet garni to the stew.
Once the broth is boiling, lower the heat to its lowest setting, cover and cook for 2 1/2 hours, checking now and then, or until the sauce has thickened and the meat is fork tender/falling apart.
Remove the bouquet garni and serve!