Blue Cheese Burger
International Hamburger Day? Don't mind if I do!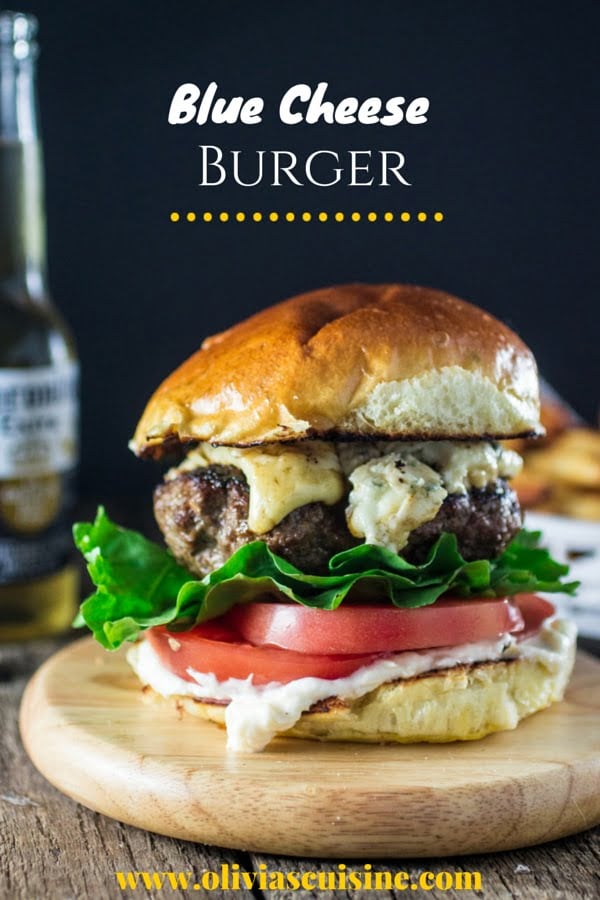 I usually don't pay attention to "food holidays", but when I learned today was International Hamburger Day, I just had to share a burger recipe. And what better way to celebrate this day than eating a juicy, scrumptious Blue Cheese Burger? Oooh yes, my friends, things are about to get messy!
I don't recall when my obsession for blue cheese (gorgonzola, specifically) started, but I do know it was because of my dad. If you want to make this man happy, give him a glass of scotch and some gorgonzola. No time to make anything gorgonzola-y? No problem, he'll eat it pure while savoring his scotch!
My inspiration for this burger is a burger called "Hot America" that me and my dad usually get at our neighborhood burger joint back in Brazil. It's made with only a few simple ingredients: blue cheese (gorgonzola), meat, lettuce, tomato, mayo and, obviously, the bun. But it's the best burger they have and my dad gets that same burger every single time we go there! I guess you don't need a lot going on when you have something as bold as blue cheese. You gotta let that baby shine!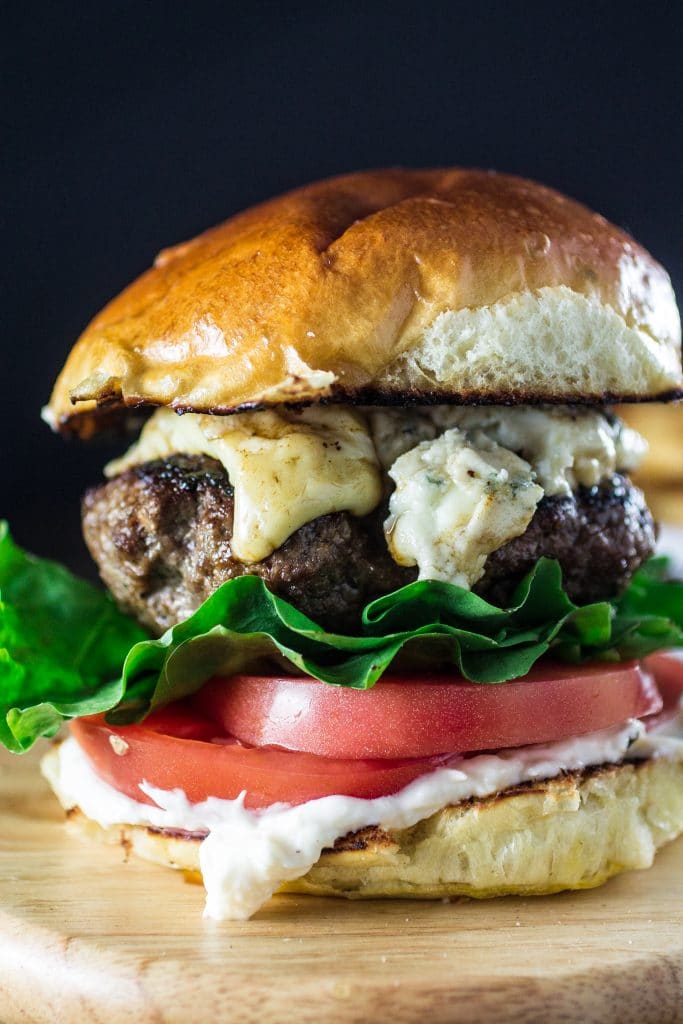 I admit blue cheese is an acquired taste. I definitely didn't like it as a child… If you're not a blue cheese fanatic but want to start trying it (You gotta join the party!), I recommend the gorgonzola dolce, as I find it is the mildest and even a little sweet. It is also creamier, almost like cream cheese in texture, and it only has a little bit of the "bite" inherent to blue cheese. After you try it, you will never say you don't like blue cheese again!
And while we are on the subject, Gorgonzola is a type of Blue Cheese that is made in Northern Italy. You know how Cognac is brandy that comes from a certain region of France and can only be called Cognac if it comes from that region? Same thing with Gorgonzola/Blue cheese!
The Gorgonzola cheese was first produced in an Italian town called Gorgonzola in 879 AD! Nowadays it is produced in the norther Italian regions of Piedmont and Lombardy.
Also, a little fun fact is that blue cheese was discovered by accident. Back in the early middle ages, cheese was aged in caves that were favorable to various forms of mold. To the amazement of the villagers, the cheese – despite covered with a greenish blue mold – wasn't spoiled and it was even appealing to the taste buds.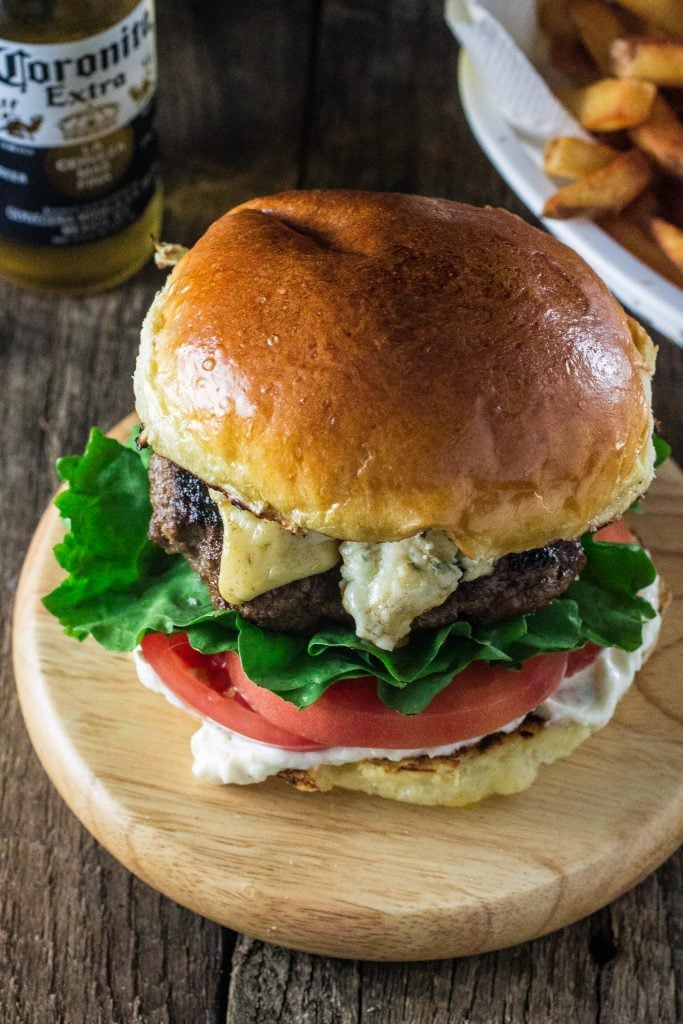 Sorry if I got too nerdy just now. I just love food history :)
My point is: burger and creamy/melty gorgonzola is a match made in heaven! It doesn't matter if you do it on the grill or on the stove, it is always to die for!
As I said, I usually keep my toppings to a minimum as the Blue Cheese Burger is already a staple on its own. However, I do sometimes add caramelized onions and/or bacon if I'm feeling extra naughty.
All I have left to say is: make this, you guys! It is time to take summer barbecuing to the next level and this burger won't disappoint. In fact, I think your dad might love you a tiny bit more if you make this for Father's Day! ;-)
P.S. Wanna keep in touch? Follow me on
Facebook
,
Twitter
,
Instagram
or
Pinterest
to stay up to date with my posts! If you end up making one of my recipes, I would love to see it! Just take a photo and post it on your preferred Social Media and tag me or use the hashtag #oliviascuisine!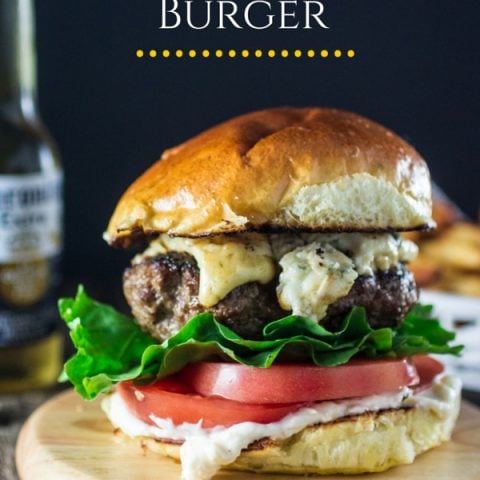 Blue Cheese Burger
Yield: 4 burgers
Prep Time: 5 minutes
Cook Time: 10 minutes
Total Time: 15 minutes
Ingredients
4 burger patties
4 ounces Blue Cheese (recommended: Gorgonzola Dolce)
4 tablespoons mayonnaise
Salt and pepper to taste
Olive oil
4 tablespoons butter
4 burger buns
Lettuce and sliced tomatoes for serving
Instructions
If making on the stove, start by preheating a cast iron skillet until smoking. If grilling outside, prepare a charcoal grill.
Butter the buns and grill, cut side down, for about 1 minute or until toasted. Reserve.
Season the burger patties with salt and pepper.
If using the cast iron, lightly grease with some olive oil. Cook the patties for about 4 minutes, flip and add 1/4 of the blue cheese per burger. Cover with a lid and cook for 3 more minutes for medium-rare. Allow the burgers to rest for 5 minutes.
Add 1 tablespoon of mayo to the buns. Place the burgers in each bun and finish with some lettuce and tomato.
Serve hot!