Brazilian Baked Ham and Cheese Sandwich (Bauru de Forno)
This shop has been compensated by Collective Bias, Inc. and its advertiser. All opinions are mine alone. #SandwichWithTheBest#CollectiveBias
Who can resist a bubbly Baked Ham and Cheese Sandwich coming hot out of the oven? This Brazilian version takes it up a notch, because the sandwiches are covered with a delicious and creamy mustard-y white sauce. Simply to die for!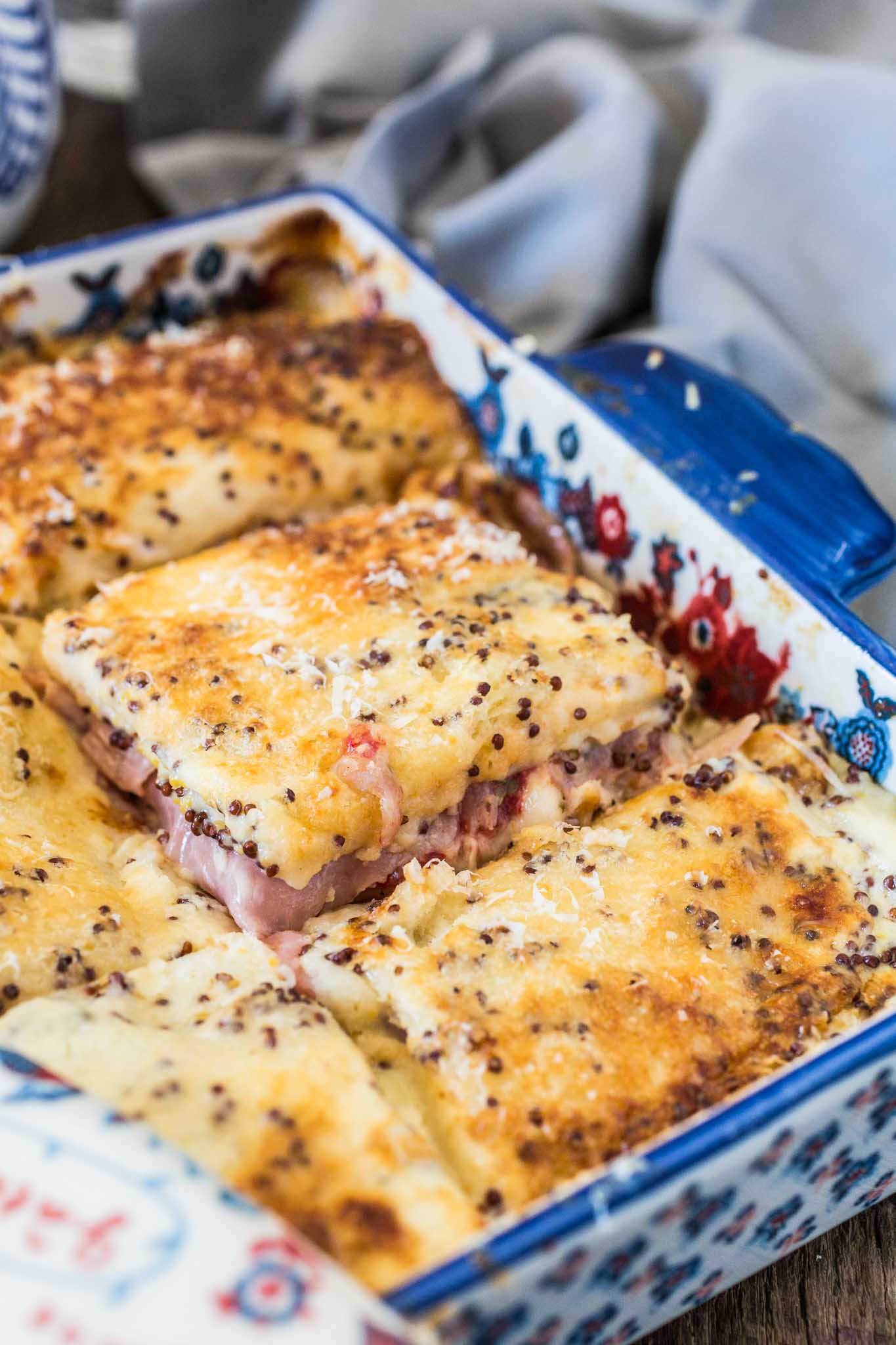 If I close my eyes, I can picture myself back in Brazil, in my grandma's house, waiting patiently while she takes a dish of Baked Ham and Cheese Sandwich out of the oven.
As you can imagine, the whole house smells like amazing! But that's no surprise. Oh no! Everything always smells incredible at grandma's house.
You would think that a lot of work goes into preparing something so special. Imagine my surprise when I decided to make it myself and it was as easy as piling up the ingredients in an oven proof dish and pouring a quick and easy sauce over everything before baking it for 30 minutes in a hot oven.
Seriously? That's all there is to it? How is it that my grandma has the power to make everything taste as if it took 12+ hours to prepare?
Not that I am complaining, far from that. I am actually thrilled, as it is still summer and I want to enjoy the outdoors while I can instead of spending time inside, preparing food. I'll leave the sophisticated, time consuming meals for the Fall! ?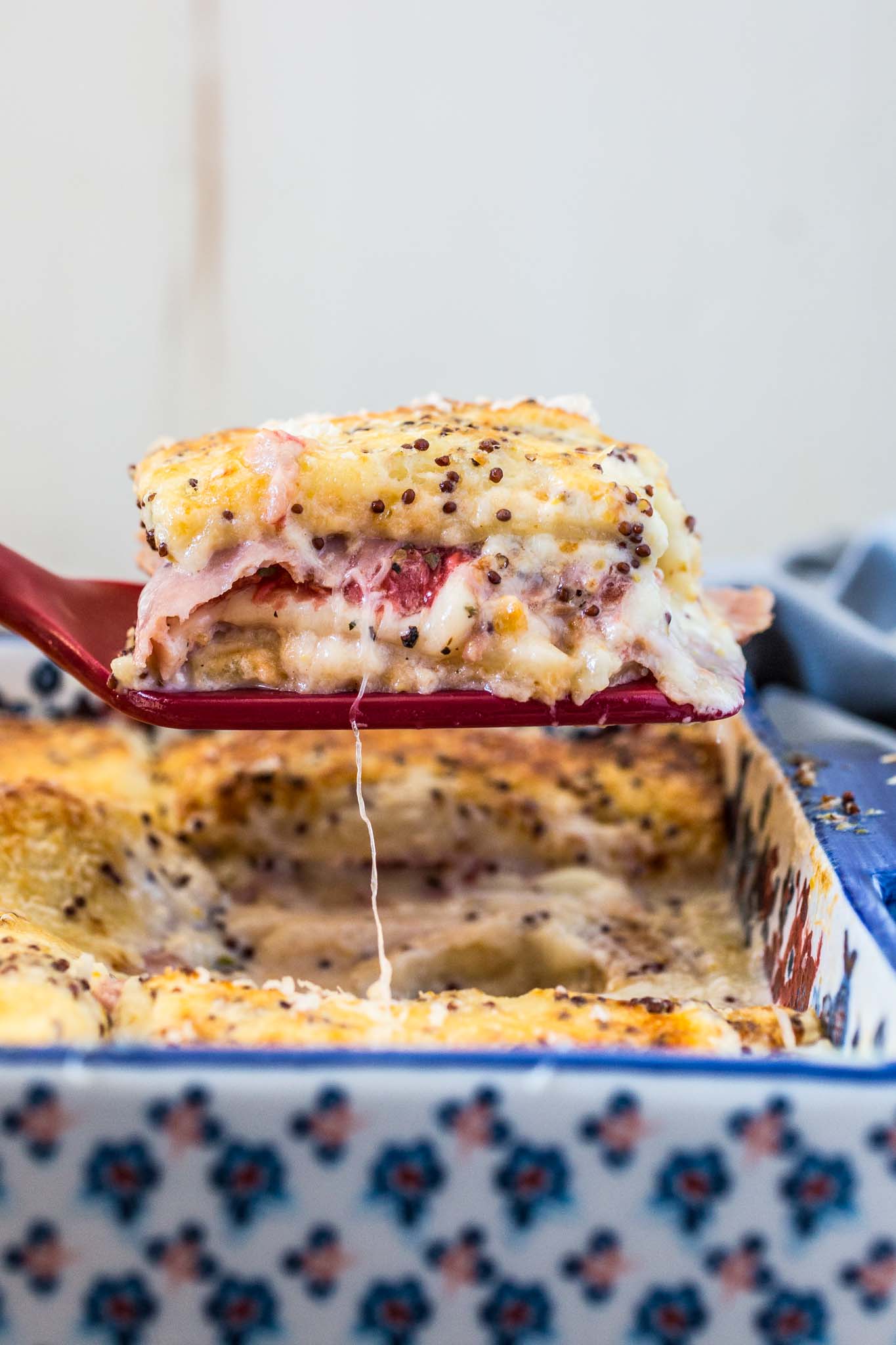 This Brazilian Baked Ham and Cheese Sandwich comes at a perfect time here on the blog!
A little birdie (aka as my Reader's Survey) told me that some of you think my recipes are a little too complicated. So, guess what? This sandwich is not only easy to prepare but requires only 6 main ingredients! And, of course, tastes so good that even the Croque Monsieur would be jealous.
How's that for simple? ?
It is truly the perfect dish for when life is driving you crazy. Which is pretty much every day for me! ???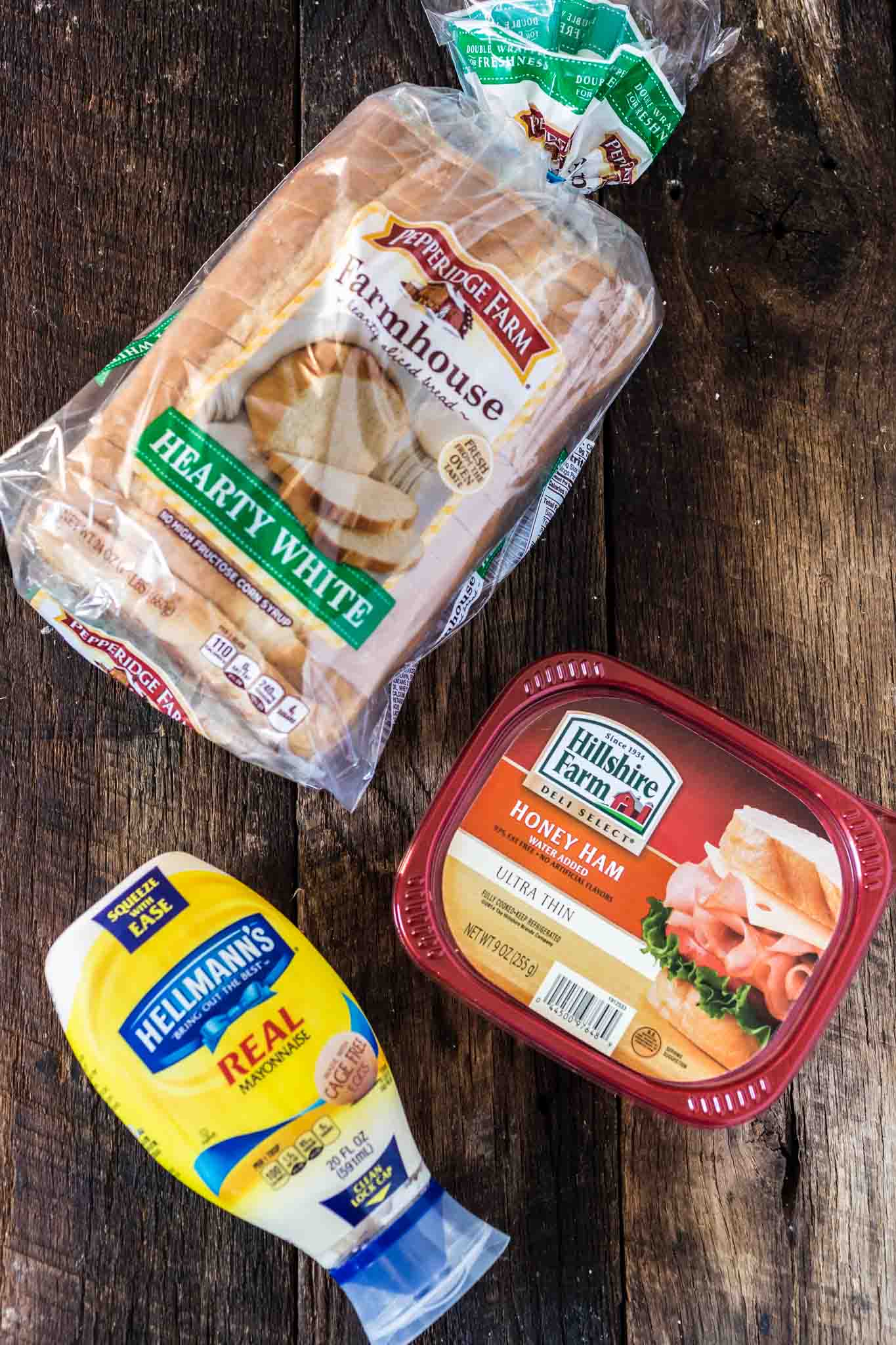 Having this sandwich in mind, I went to my local Walmart and came home with a few ingredients that I knew were going to make it as tasty as it could be.
Pepperidge Farm Farmhouse® Hearty White Bread – Slow baked, delicious, crafted from a small batch recipe where wholesome flavorful ingredients are combined to make a hearty bread.
Hillshire Farm® Thin Sliced Honey Ham – I love the little hint of honey that makes this dish even more special. Also, their ham is slow roasted for hours and contains no artificial flavors and no by-products! ❤️
And, finally, the one and only: Hellmann's® Real Mayonnaise. Requires no introduction, right? Just the best mayo in the world!
Once I had all these guys, all I needed was: cheese (any kind will do, but I use mozzarella), mustard and heavy cream.
Okay, there's also dried oregano, salt, freshly ground pepper and a sliced tomato. But those are spices and/or optional ingredients, so we're still counting this as a 6-ingredient dish! ?
But be advised that if you do skip the tomato and oregano, the sandwich is no longer a classic Brazilian Bauru de Forno.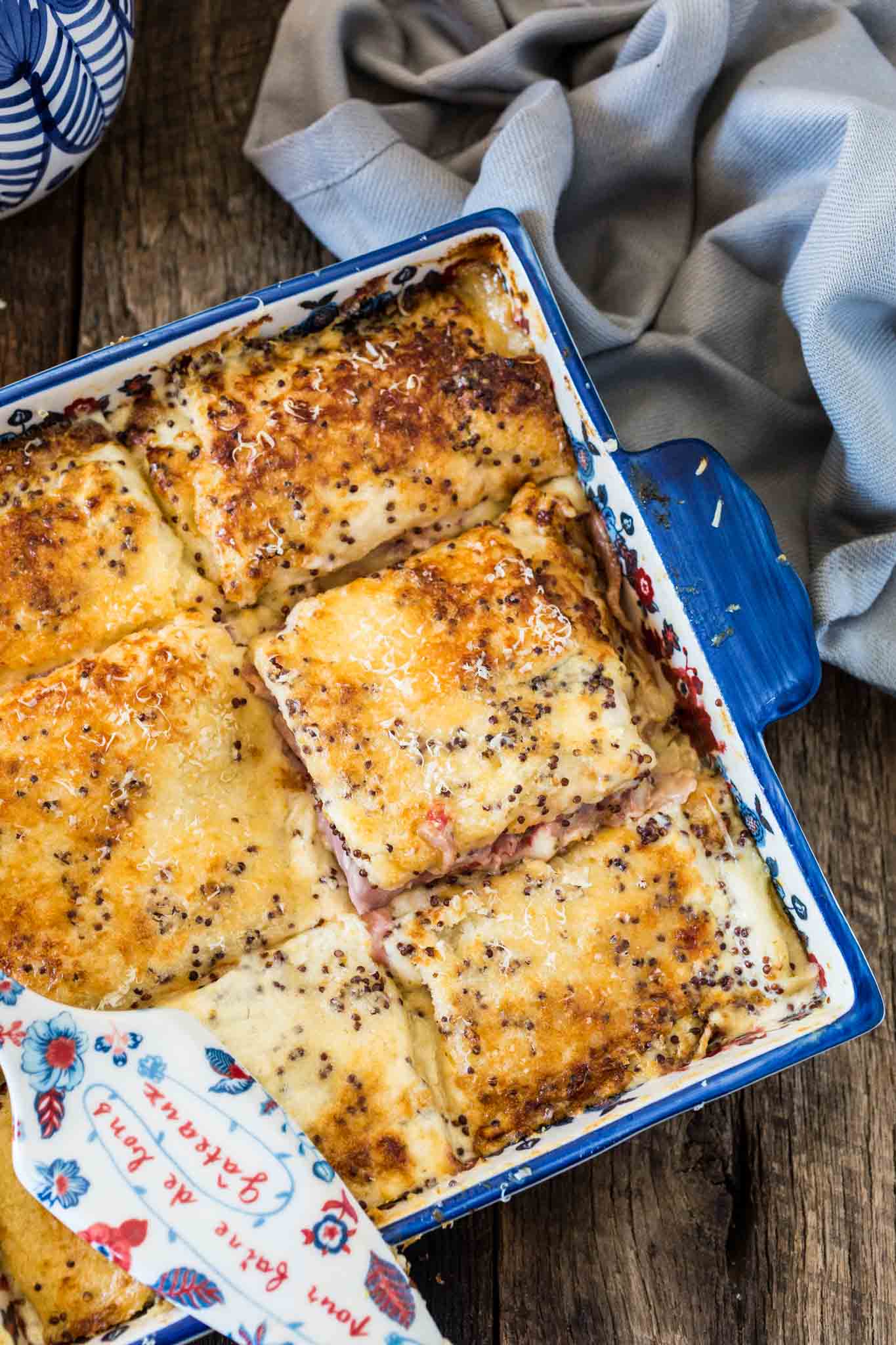 This might be a simple dish, but it is so delicious that you might want to eat the whole thing for yourself, even though it serves up to 4 people.
Serve it with a plain green salad and you have a great meal that is great for lunch or as a quick dinner.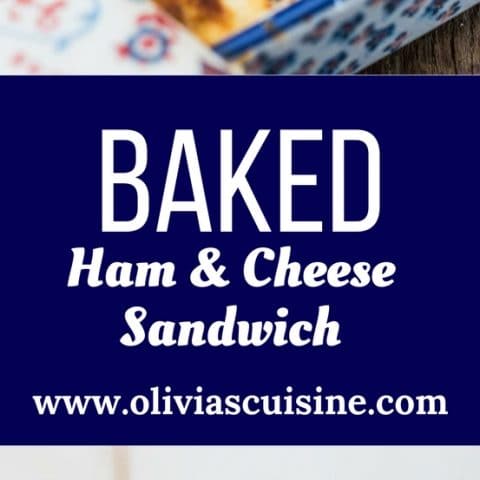 Brazilian Baked Ham and Cheese Sandwich (Bauru de Forno)
Yield: 4
Prep Time: 5 minutes
Cook Time: 30 minutes
Total Time: 35 minutes
Ingredients
10 slices Pepperidge Farm® Hearty White, crusts removed
8 ounces Hillshire Farm® Thin Sliced Honey Ham
8 ounces mozzarella cheese, sliced
1 tomato, sliced (optional)
Salt and freshly ground pepper to taste
1 teaspoon oregano, or to taste (optional)
1/3 cup Hellmann's® Real Mayonnaise
1/2 cup heavy cream
1 tablespoon Dijon mustard
1/3 cup shredded mozzarella (or freshly grated parmesan cheese)
Instructions
Preheat oven to 400 degrees.
Prepare a square oven proof dish (9X9) by greasing with butter or cooking spray.
Lay a layer of bread, cutting some slices in half (if necessary) to fill the bottom of the dish. Add a layer of ham and top with the cheese, tomato slices, salt, pepper and oregano. Finish with a second layer of ham and the final layer of bread.
In a medium sized bowl, combine the mayonnaise, heavy cream and Dijon mustard. Whisk until smooth.
Carefully pour the sauce over the sandwiches. Sprinkle the shredded mozzarella (or parmesan) and bake in the hot oven for about 30 minutes or until bubbly and golden brown.
Serve immediately.