Chicken and Chorizo Paella
A Chicken and Chorizo Paella might sound like a very ambitious project, but once you realize how easy and quick it is, you will be making it over and over again. Pair it with a bottle of Garnacha Wine and you're all set for success!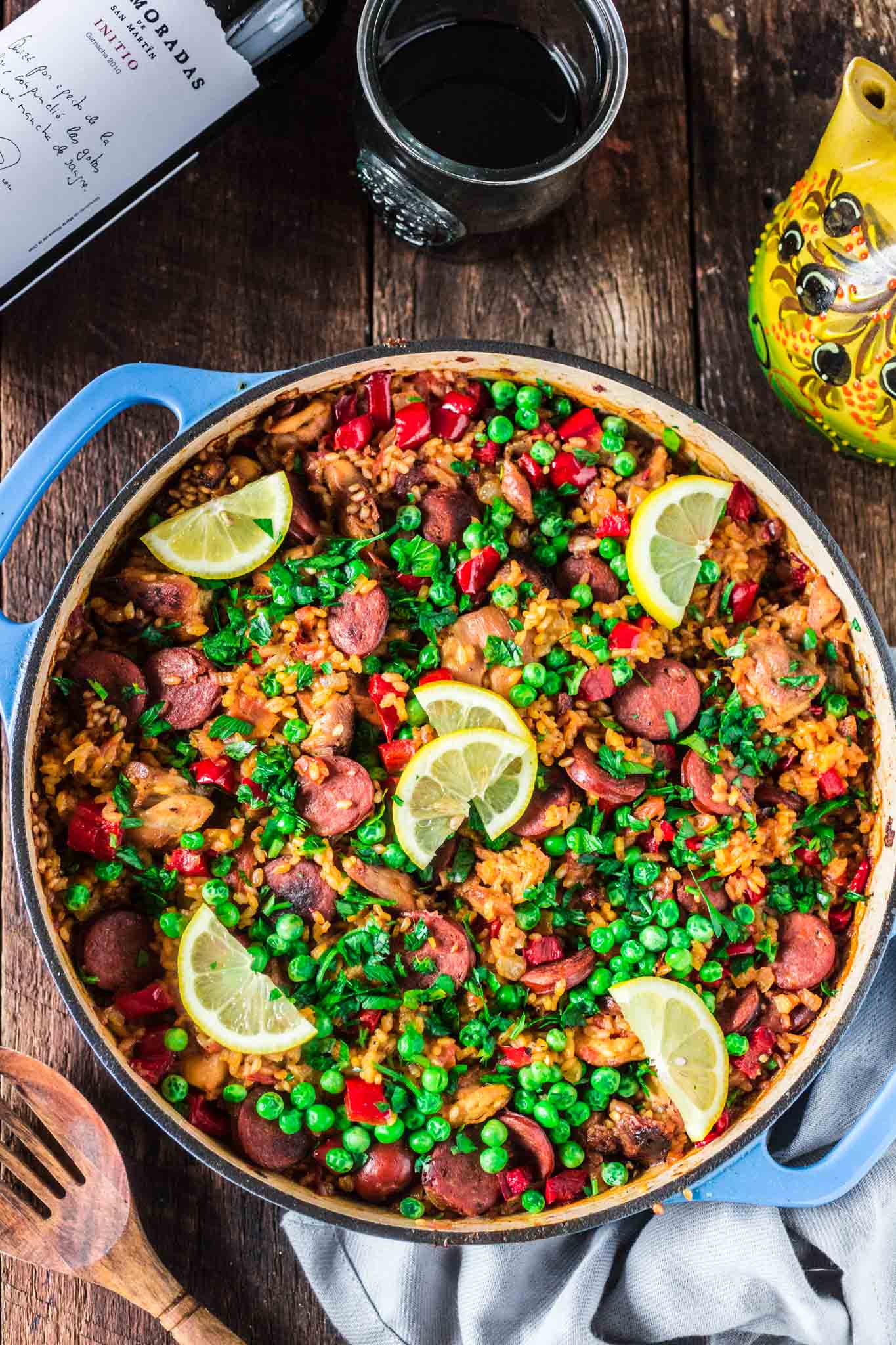 (Today's post is sponsored by Wines of Garnacha. The following content is for readers 21+.)
Happy belated Garnacha Day!
I hope you got to celebrate it by drinking good wine and eating delicious food. If you didn't, don't worry, you can still catch up! After all, every day should be Garnacha Day.
Tim and I had some friends over, who didn't have a clue that it was a wine holiday, but enjoyed being served Chicken and Chorizo Paella and tasting new wines nevertheless. It was the perfect Spanish inspired evening and my guests already suggested we make it an annual thing!
Considering it took me less than 1 hour to get this dish done and that it was all done in one pot, I'm down for an yearly Garnacha Day celebration. Nothing like pleasing a crowd without having to work all day in the kitchen!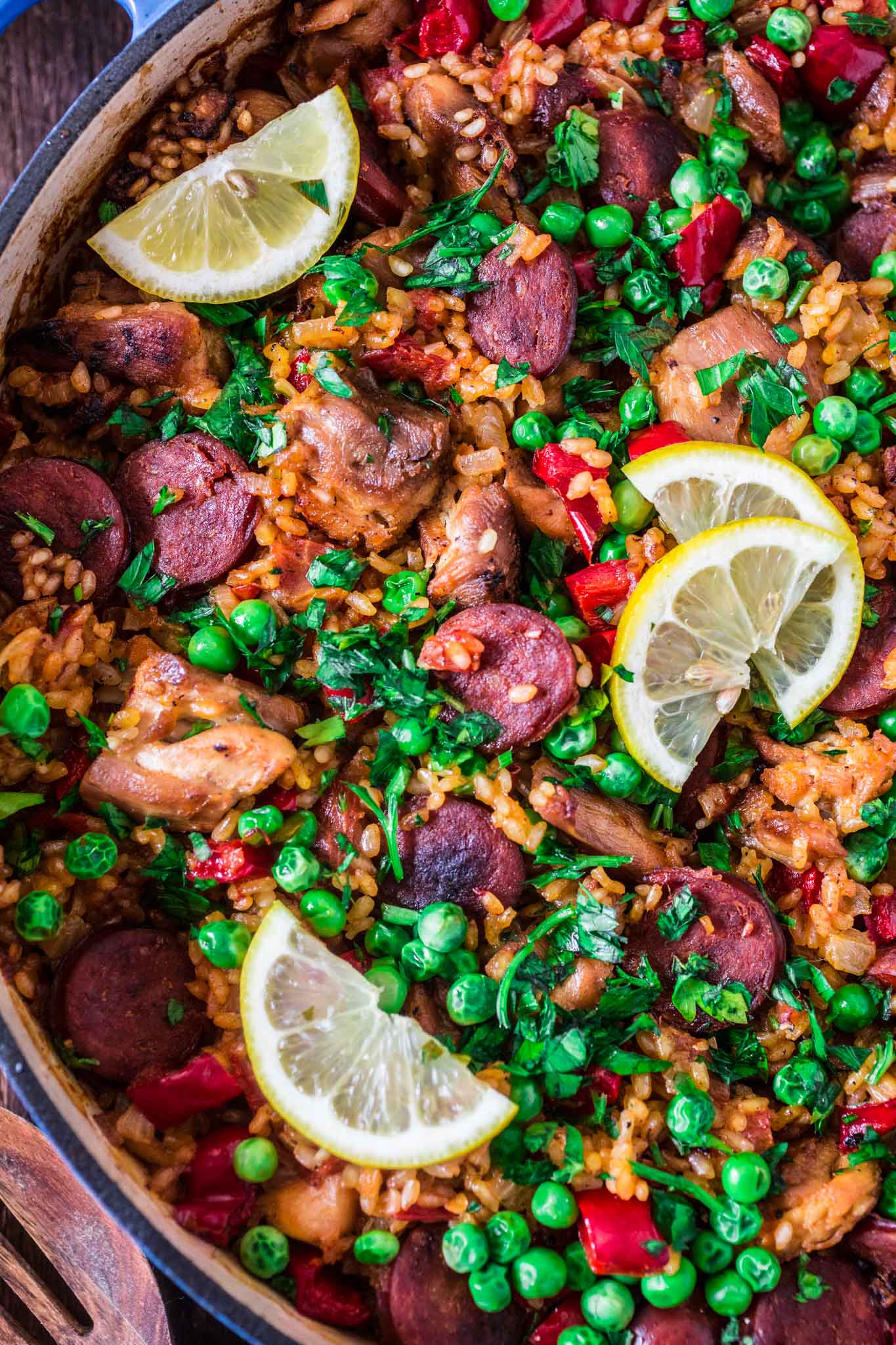 I know paella is a sensitive subject that stirs all kinds of emotions in the big internet world.
Even my guests and I ended up having a (friendly!) discussion on the matter. After all, what is an authentic paella? Does it have to have seafood to be considered paella? Is any rice dish mixed with some protein, veggies and spices considered a paella?
Well, before we start debating those questions, let's look at the origins of this delicious Spanish dish. (Disclosure: I am not a connoisseur on the subject. I am just really good friends with Mr. Google!)
Paella originated in Valencia, a rice-growing region in the eastern coast of Spain. The word paella comes from the Latin word patella, which means "pan" and refers to the type of pan – called paellera – used to cook the rice. The paellera is a wide, shallow pan with two handles, whose shape allows the rice to cook evenly without trapping too much moisture inside the grains. (But don't fret! You do not have to own one to make my paella!)
Depending on the region in Spain, the meats and vegetables added to paella vary. Some of the popular choices are rabbit, chicken, snails, chorizo and, of course, seafood. The only three basic ingredients that are common to all paellas? Water, olive oil and – obviously! – rice.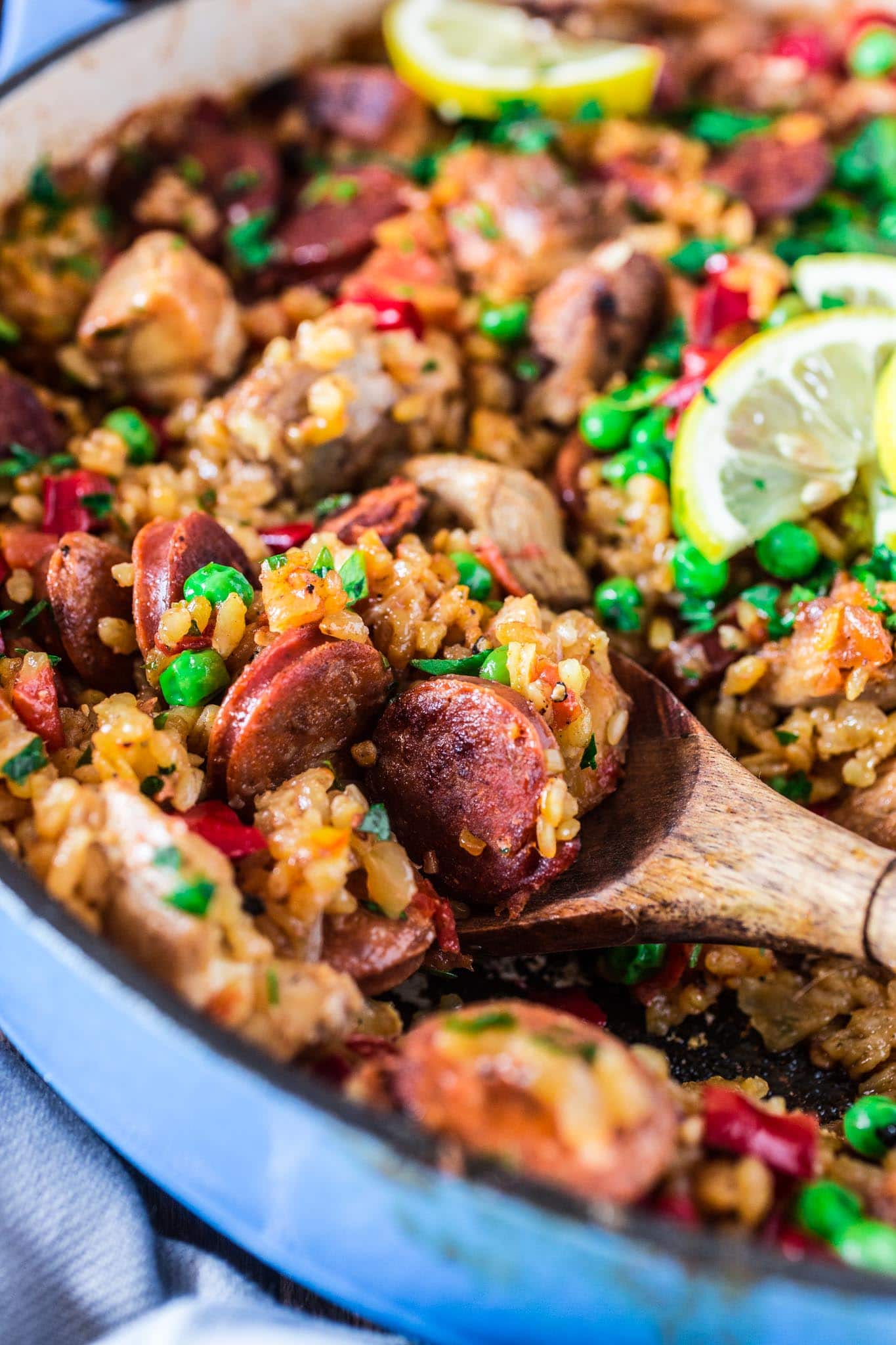 So, going back to the original discussion, is a chicken paella considered a paella, even without seafood? Yes, it is!
In fact, Colman Andrews makes a good point in his book Catalan Cuisine by saying: "What is understood in Valencia … is that whether it contains seafood or not, paella is above all a rice dish – and it is ultimately good rice, not good seafood (or whatever) that makes a paella great."
That being said, if you're a seafood lover, you could always add some shrimp to this chicken and chorizo paella! That way you don't run the risk of a pseudo paella snob raining on your parade! ???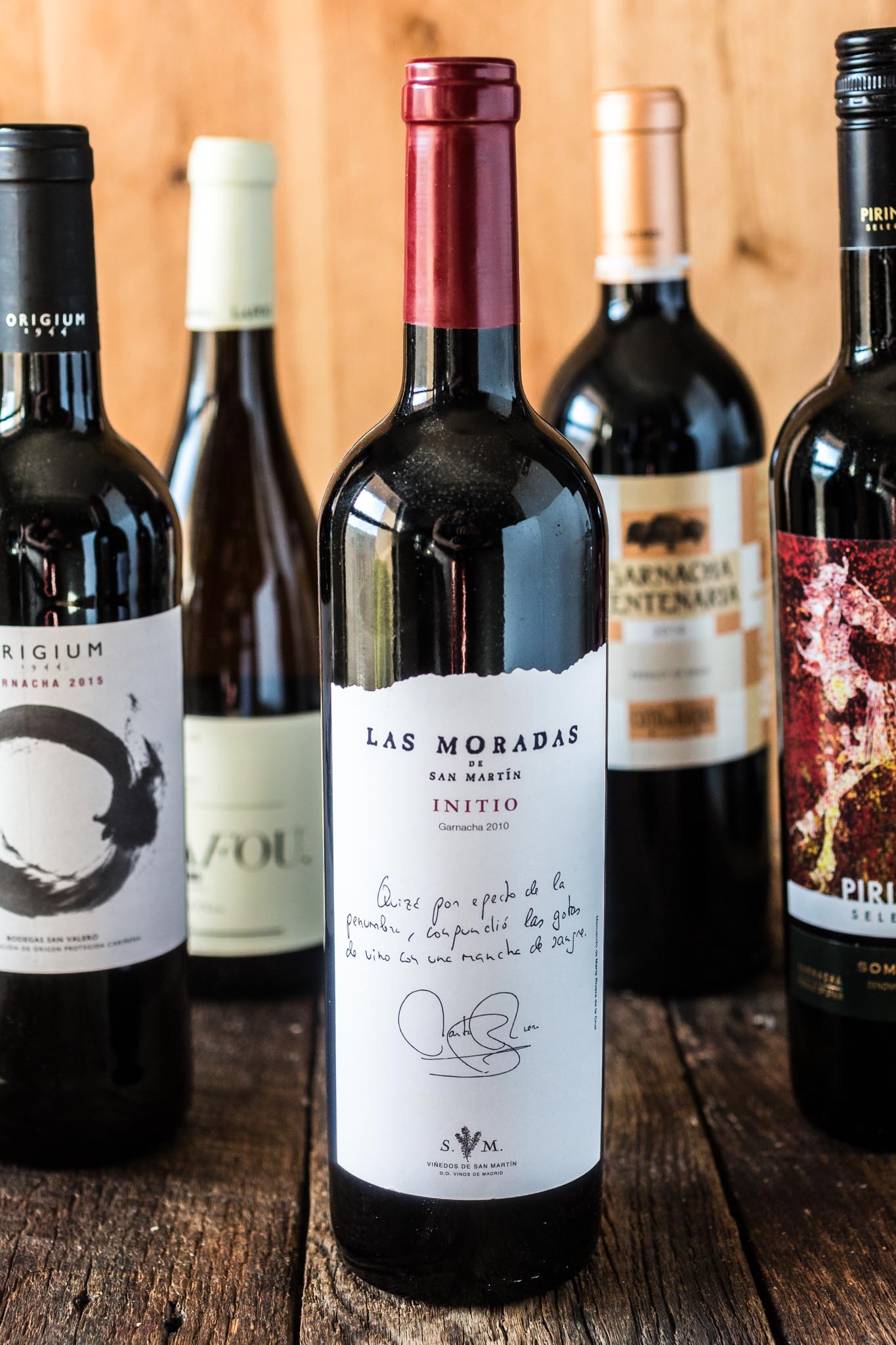 Now, since I am already knee deep into food nerdiness, I figured we would also talk a bit about Garnacha Wine, which also comes from eastern Spain.
This versatile wine eventually spread to other European countries and finally, in the 18th and 19th centuries, to non-European regions like Australia, North Africa and California. However, it wasn't until recently that it stepped into the spotlight. Today, Garnacha is very trendy – especially among millennials – so if you haven't tried it yet, I suggest you get on it soon!
Garnacha is the only mainstream grape with red and white varieties. The wine itself can be red, white, and rosé, so you can pair a whole meal with different Garnacha wines.
Its versatility makes it ideal for any season and easily paired with any cuisine. Oh, and its excellent value, ranging from $10 to $20 a bottle, makes it accessible for any budget. Since it is so affordable, I highly recommend you stock up on Garnacha wine, because they go VERY quickly, especially when paired with delicious food like a hearty Chicken and Chorizo Paella.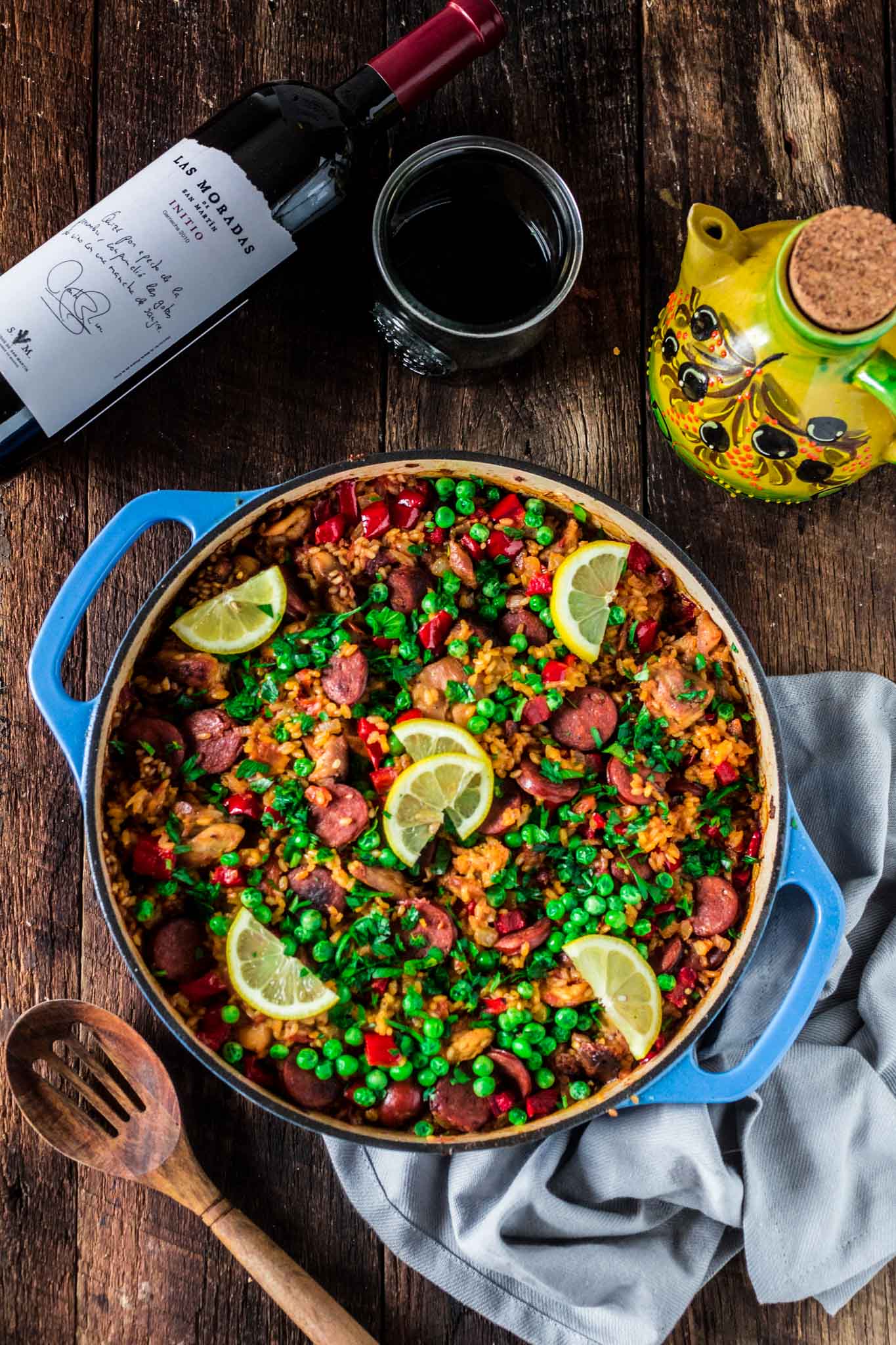 Now, you will notice that I do not own a paella pan. I used a large casserole pan and it worked perfectly! Maybe one day I will invest in one, just so I can feel like a true paella maestro, although that is usually a man's job.
Oh yeah, making paella was traditionally the domain of men, who cooked the communal dish, usually on Sundays, while the women were at church. Also, they say that "to be truly worthy of the name", the dish must always be prepared and eaten at open air, "preferably in the shade of an old vine or fig tree", and always during the day. And although that sounds lovely, I'm too much of a rebel – not to mention a woman who lives in an apartment – to follow the rules.
The only rule I recommend you follow is the type of rice you should use. Paella is traditionally made with Valencian Rice, but any short or medium-grain variety will do! You want a rice that absorbs liquid easily and won't dry out, so stay aways from the long-grain variety.
Also, stirring is absolutely forbidden, hence why I am suggesting you transfer the pan to the preheated  oven after you add the rice. We are aiming for a tender, but not risotto-style creamy result. The brown, crispy layer that forms on the bottom of a well-cooked paella – known as socarrat – is a highly prized delicacy.
So now that you know how to cook an amazing Chicken and Chorizo Paella, all that is left to do is open a bottle of Garnacha!
Cheers! ?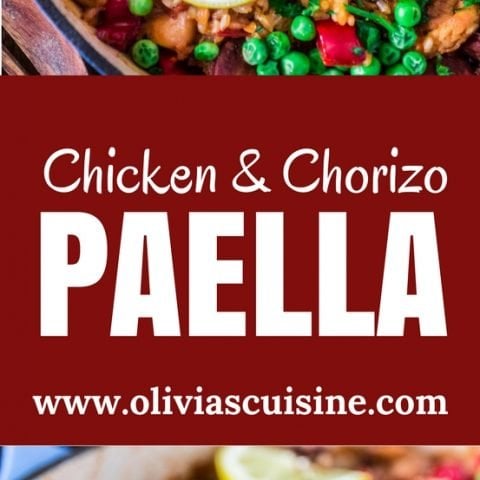 Chicken and Chorizo Paella
Yield: 6 to 8
Prep Time: 15 minutes
Cook Time: 25 minutes
Total Time: 40 minutes
Ingredients
1/2 cup dry white wine
Pinch saffron threads
6 ounces Chorizo sausage, sliced
6 chicken thighs (about 2 pounds), boneless and skinless, roughly chopped
1 large Spanish onion, chopped
3 cloves of garlic, minced
1 large red bell pepper, seeded and diced
1 large tomato, chopped
Salt and freshly ground pepper to taste
1 teaspoon smoked paprika
1 1/2 cups Valencian rice (substitute: arborio rice)
2 cups chicken broth
1 cup frozen peas
1⁄2 cup halved pitted green olives
1/2 cup chopped parsley
1 lemon to garnish
Instructions
Preheat oven to 400F degrees.
In a small measuring cup, mix the wine and the saffron threads. Reserve.
Heat a large paella pan (or ovenproof lidded skillet or casserole) over medium-high heat. Add the chorizo and cook, stirring occasionally, until browned and fat begins to render, about 3 minutes. Remove with a slotted spoon and transfer to a large plate.
Add the chicken thighs, adding some olive oil if necessary, and cook until browned, about 5 to 8 minutes. Season with salt and pepper. Remove and transfer to plate with chorizo.
If you have too much drippings at this point, pour off some, leaving about 2 tablespoons in the pan. If you don't have enough, add 2 tablespoons olive oil. Reduce heat to medium and add the chopped onion, sautéing until translucent, about 2 minutes. Add the garlic and stir for 30 seconds or until fragrant. Then, add the tomatoes, the red pepper and the smoked paprika. Cook for a couple of minutes, until the veggies are softened.
Add the rice and stir to coat. Season generously with salt and pepper. Then, pour the wine-saffron mixture and bring to a boil, scraping up browned bits from the bottom of the pan.
Return the chorizo and chicken to the pan and add the chicken broth. Once it starts simmering, cover and transfer to the preheated oven.
Bake paella until rice is almost tender, about 20 minutes.
Stir the rice and taste for seasoning, adding more salt and/or pepper if necessary. Add the frozen peas and olives and return the pan to the oven for 5 more minutes or until the peas and rice are tender.
Scatter the chopped parsley over the paella, and serve with lemon wedges on the side for squeezing over.
For this Chicken and Chorizo Paella, I recommend:
Disclosure: This post contains affiliate links!