Chicken Cacciatore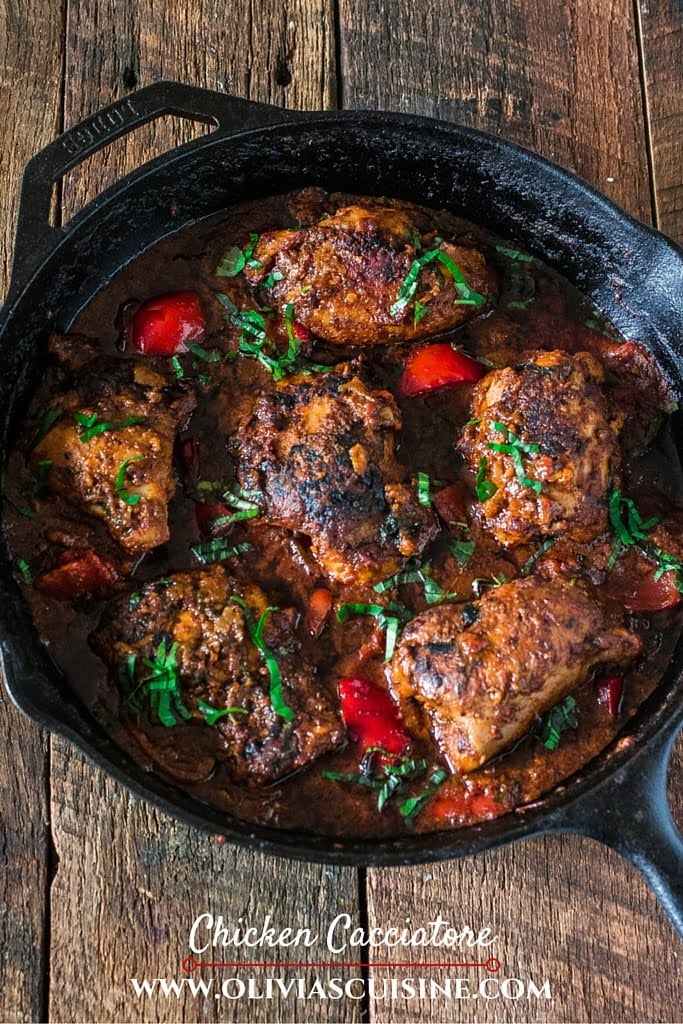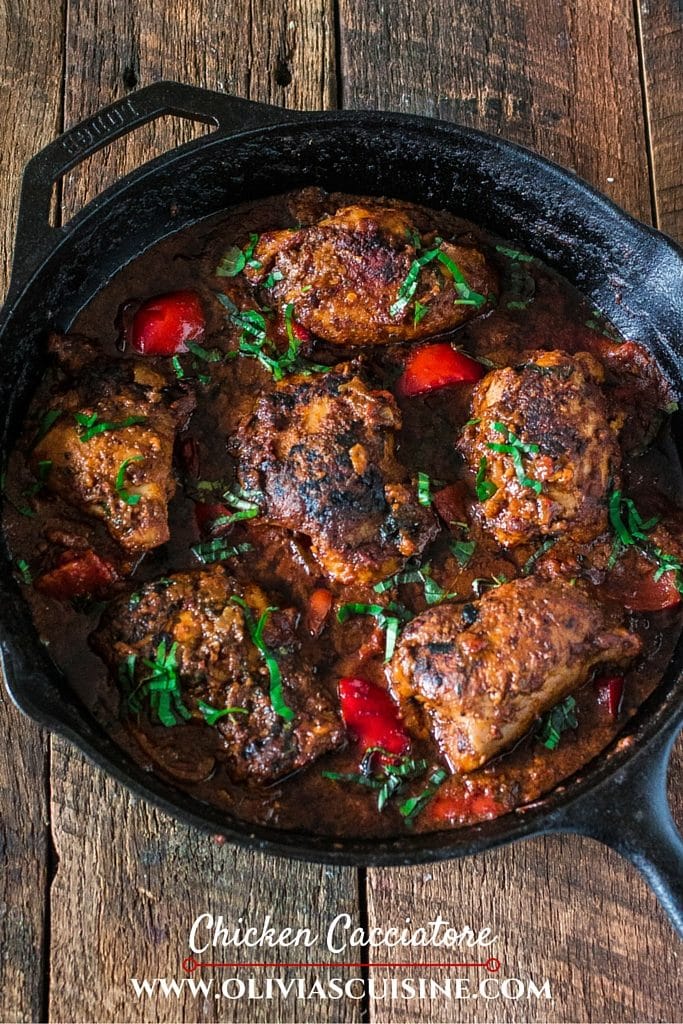 Today was a beautiful Sunday day here on the East Coast, which inspired me to write about Italian food and this marvelous Chicken Cacciatore.
Where I'm from (São Paulo, Brazil), Sundays are Italian food day. It's the day the whole family – grandparents, uncles, aunts, cousins and etc – gather around the table to eat grandma's delicious Italian food!
Most people don't know this, but São Paulo has the largest Italian community outside of Italy, with 10 million people with Italian ancestry (myself included!) just on that state and 25 million in the whole country.
So, yeah…I do have a soft spot in my heart for everything Italian, especially food.
But then again, who doesn't love Italian food?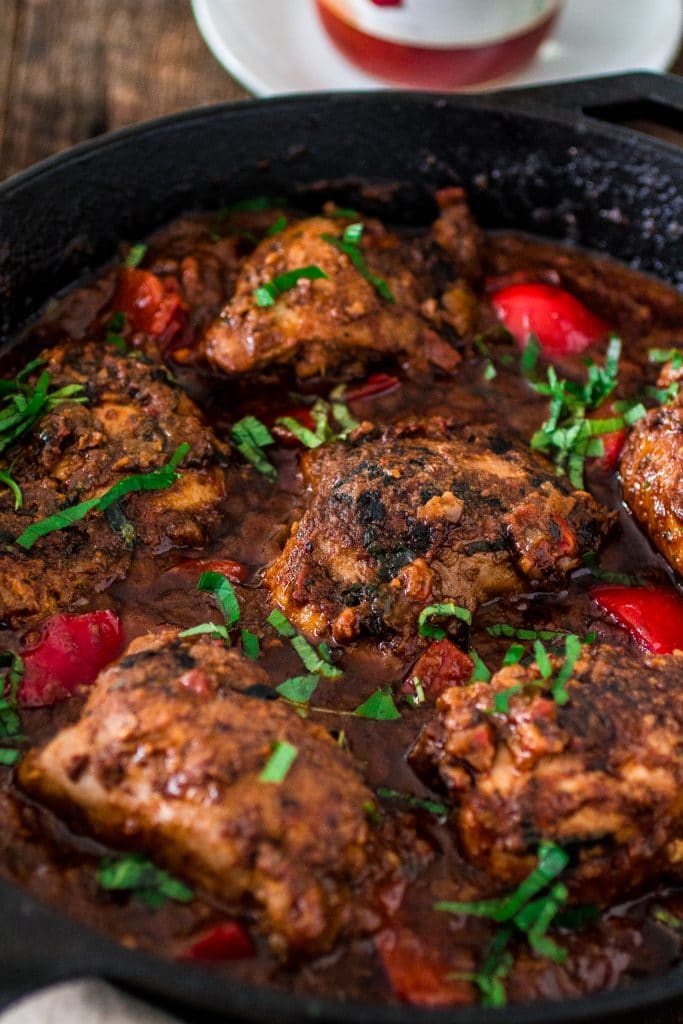 And if you love Italian food, you will definitely love this Chicken Cacciatore.
It is hearty, flavorful and the chicken is oh so succulent, falling apart at the touch of a fork.
Honestly, it's one of the best chicken dishes I have cooked in my life. And I don't say that lightly, since I have so many delicious chicken recipes on this very blog.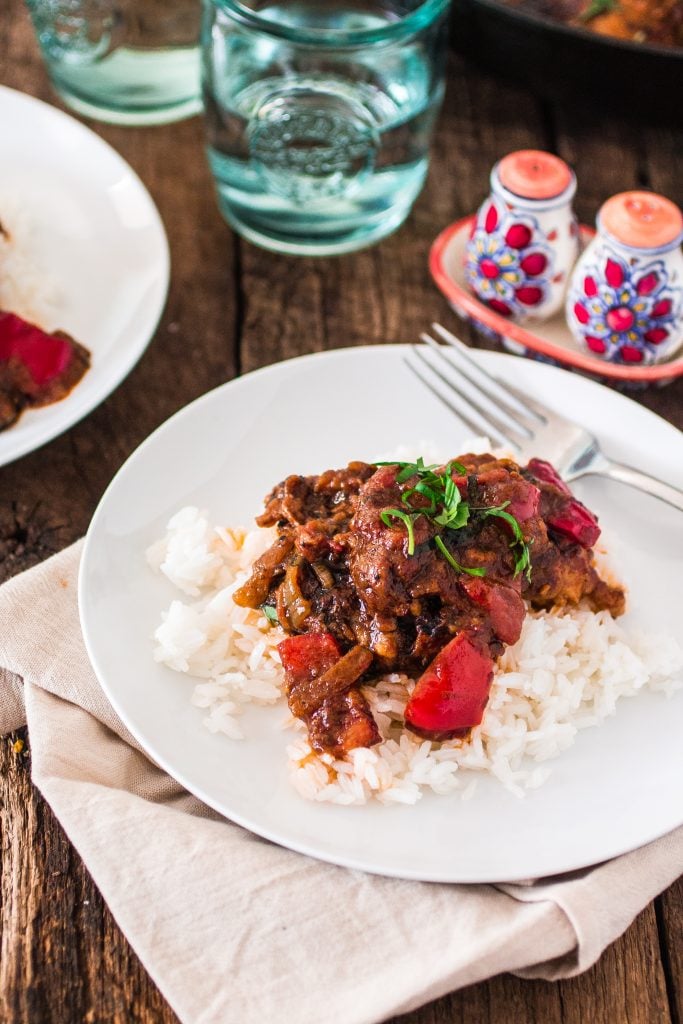 Chicken Cacciatore, meaning chicken "hunter-style", is a popular dish who originated on the Italian fields of Tuscany and Umbria.
There are several variations of the dish, depending on the region, but the authentic recipe does not call for tomatoes or tomato sauce, using just the juices from the chicken and wine as the base for this stewed chicken. Some recipes also call for mushrooms and/or olives, which I chose to left out.
As I value flavor more than authenticity, I added Marinara sauce to my chicken cacciatore as I like a heartier, thicker sauce.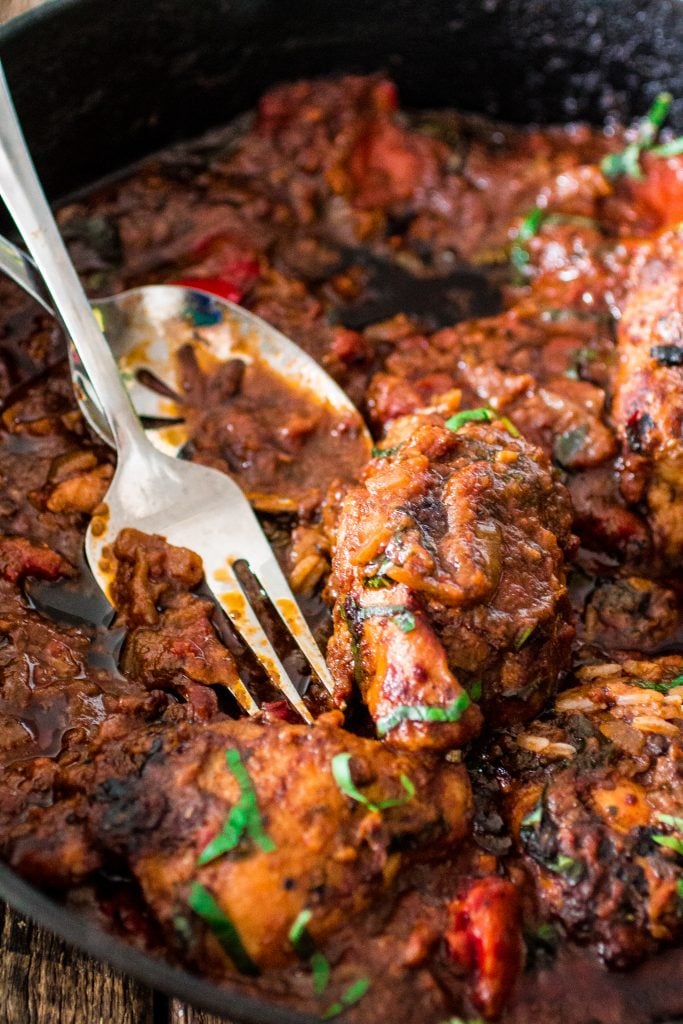 I gotta admit, I usually make my sauces from scratch by using canned tomatoes, mostly because I don't like how the store stuff tastes. But I was drawn in to the practicality of using something out of a jar, so I gave Mezzetta's marinara sauce a try and I am now forever hooked.
I was so impressed I had to check the ingredients on the label and, bingo, I was right!
Real food. 100% hand-selected plum tomatoes. No added sugar or paste. Ready to be poured over your favorite kind of pasta, or used in an infinite number of delicious recipes, like this Chicken Cacciatore!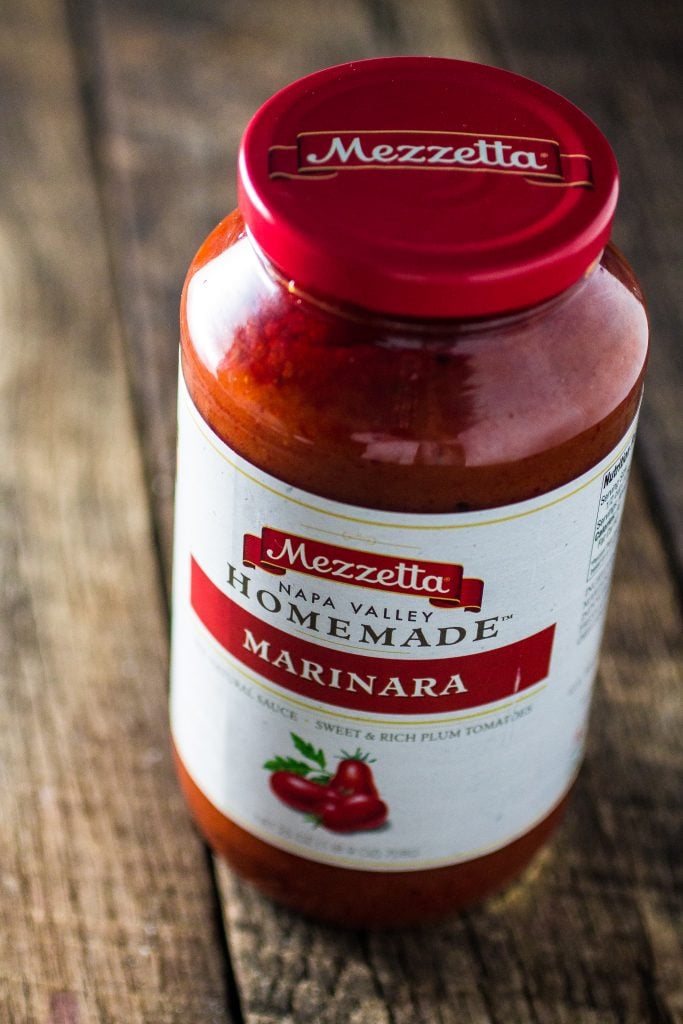 I mean, it is no surprise Mezzetta's marinara sauce is this good. All their products are outstanding and I'm always proud to work with them, since it's a brand that is family owned and committed to bringing us the highest quality products, without shortcuts.
I've only tasted the Marinara, but can't wait to get my hands on their other flavors: Tomato & Sweet Basil, Spicy Marinara, Roasted Garlic & Caramelized Onions, Parmesan, Asiago & Romano and Wild Mushroom. Seriously, one sounds better than the other and I can think of about a million recipes where I would like to use these sauces.
But back to the Chicken Cacciatore!
Please, please, pleaaaase make this. I promise you, you won't regret it and it will become a family favorite. Also, one bite and you will love me just a tad more, as if that's possible… :-P
And even though this recipe was calculated to feed a crowd, I strongly suggest you double it if you want to feed more than 4 people. It vanished in seconds in our home, leaving just enough for leftovers the next day, which were really appreciated.
Oh, and before we part ways, don't forget to enter Mezzetta's amazing Perfect Pasta Night Giveaway for a chance to win a Perfect Pasta Night kit with all 6 Napa Valley Homemade pasta sauces, other kitchen essentials plus $500! What do you have to do? Oh, easy! Just enter your email here. :-)
Chicken Cacciatore
Yield: 8
Prep Time: 15 minutes
Cook Time: 30 minutes
Total Time: 45 minutes
Ingredients
8 chicken thighs (about 2lbs), boneless and skinless
1 cup all purpose flour
2 tablespoons olive oil
1 large onion, chopped
3 cloves of garlic, minced
2 red peppers, chopped
1/2 cup dry white wine
2 cups Mezzetta Napa Valley Homemade Marinara sauce
1/2 cup chicken broth
1 tablespoon dried oregano
Salt and pepper to taste
Chopped fresh basil leaves to taste
Instructions
Season the chicken thighs with salt and pepper and dredge them into the flour to coat.
In a large saute pan, or cast iron skillet, heat the olive oil over medium high heat and, once hot, cook the chicken thighs until browned (about 3 minutes per side). Remove the chicken from the pan and reserve.
Add more olive oil to the pan, if necessary, and sauté the onion and garlic until translucent (about 2 minutes). Add the peppers and continue sautéing until tender (about 2 more minutes). Season with salt and pepper.
Add the white wine and cook, scrapping all the browned bits from the bottom, until almost all gone.
Add the marinara sauce, chicken broth, oregano and stir to combine.
Add back the chicken and once the sauce is boiling again, bring it to a simmer (medium-low heat), cover and cook for 30 minutes or until the chicken is cooked through and tender.
Transfer the chicken to a serving dish and spoon the sauce over it, then sprinkle the chopped basil and serve.
P.S. Wanna keep in touch? Follow me on Facebook, Twitter, Instagram or Pinterest to stay up to date with my posts! If you end up making one of my recipes, I would love to see it! Just take a photo and post it on your preferred Social Media and tag me or use the hashtag #oliviascuisine!