Dessert Nachos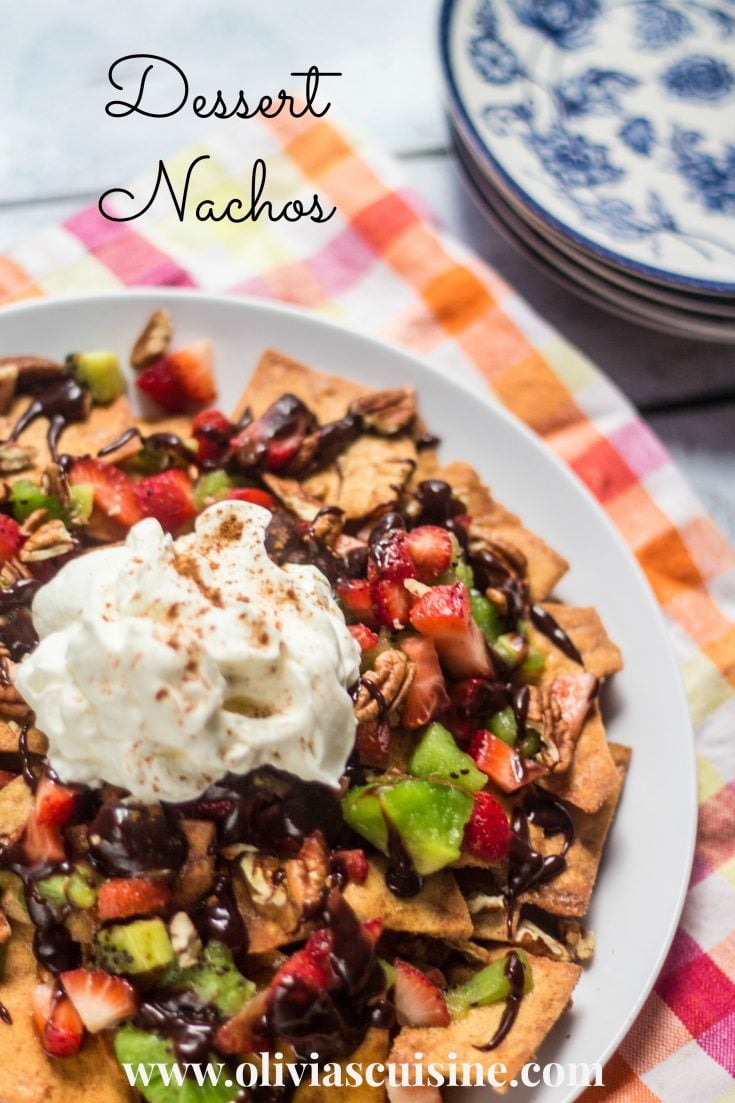 Hello hello!
I hope you guys had a wonderful Halloween and that you maybe made one of my Halloween themed recipes! As you all know, I worked during Halloween, so I couldn't celebrate. :( But I still got to semi-dress up (I wore a witch hat to work) and have a little fun. Also, we dressed our dog Lola as a little witch and it was a huge success! Everybody stopped her in the streets, complimenting her costume. :-) Here's an adorable little pic for you:
Do I hear an "awwwww"? ;-)
Anyway, today I'm here for a quick post about Dessert Nachos! Football season is here and I'm sure you will be looking for new recipes to spice the old game gathering party up. Don't look any further: these Dessert Nachos will be a huge success! How wouldn't it? It has Nutella!!! (I'm totally biased though… I eat Nutella straight out of the jar with a spoon! Don't judge!!!)
I've been thinking about those nachos for a while now. Lots of versions crossed my mind and I kinda wanna try them all. However, I ended up going with this one because it was a total hit here at home. (Although I think I will add some vanilla ice cream and some sliced bananas next time I make this!).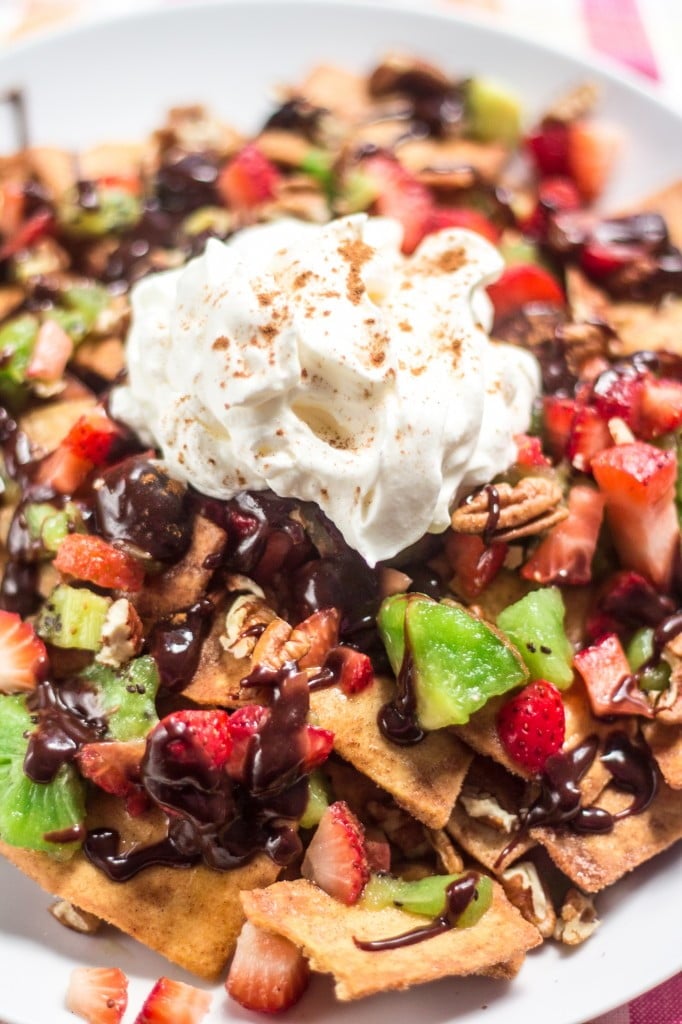 I absolutely love nachos so it is no surprise that I came up with a recipe for dessert nachos.
This recipe has all my favorite flavors and the ingredients "mimic" the ingredients of regular nachos. I made a "salsa" with strawberries and kiwi, used cinnamon sugar pita chips as the tortillas, whipped cream as the sour cream and a Nutella sauce for the sauce! Oh, and the pecans are the "jalapeños"!!! All these flavors go together so well… You will be licking your fingers! Perfect, delicious and decadent!
You can make your fruit salsa with any fruit you want! If you add banana, make sure to serve it right away, because bananas brown quickly. Pinapple would also go really well with these flavors!
Also, if you want to make this a little less decadent and healthier, just substitute the whipped cream for greek yogurt! And then substitute the Nutella sauce for… NO! No, no, nooooo! Don't substitute the Nutella sauce! Life is too short and it's only a little Nutella! C'mon! Besides, the Nutella is the star of this recipe!!! Everything else is the supporting cast of this delicious Nachos movie! (Oh God! I'm getting corny again… Time to wrap it up, I guess!)
All you need now is a group of friends to share this deliciousness with! (Let's pretend you're not planning on making this to eat it all by yourself!) ;-)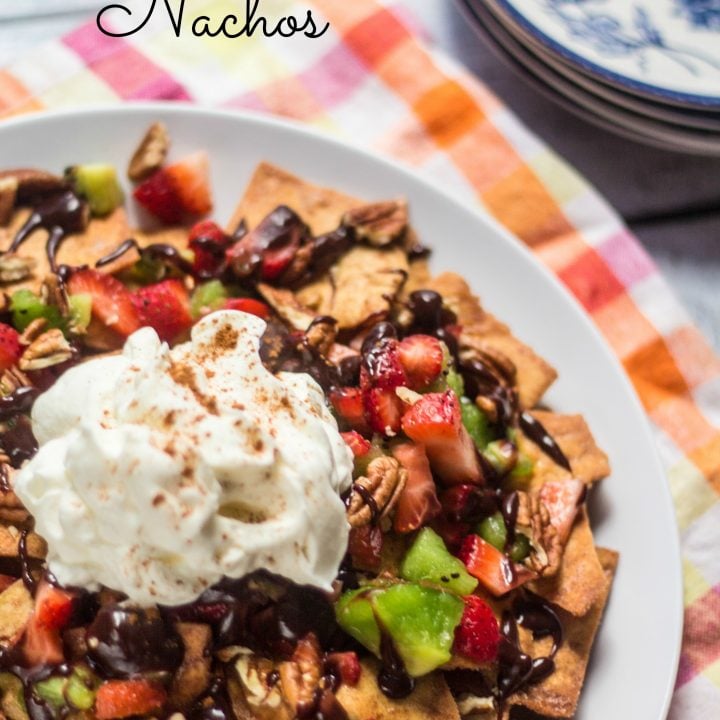 Dessert Nachos
Prep Time: 10 minutes
Total Time: 10 minutes
Ingredients
For the "tortillas":
1 (8oz) bag of Cinnamon Sugar Pita Chips
For the "salsa":
8 strawberries, chopped
1 kiwi, peeled and chopped
For the Nutella sauce:
1/3 cup Nutella
2 Tbsp heavy cream
For the "sour cream":
1/3 cup heavy cream
1 tsp vanilla extract
1 Tbsp confectioners sugar
For the "jalapeños":
Instructions
In a small bowl, combine the chopped strawberries and the chopped kiwi. Reserve.
In a small sauce pan, heat the Nutella and the 2 Tbsp of heavy cream over medium low heat, and mix until combined. Turn the heat off and reserve.
In a medium bowl, using a hand mixer, beat the heavy cream, the vanilla extract and the confectioners sugar until the cream reaches stiff peaks. Reserve.
Lay the pita chips on a plate. Spread the fruit salsa and the pecans. Drizzle the Nutella sauce and then finish it off with a dollop of the whipped cream.
You can sprinkle some cinnamon on the whipped cream to decorate, if you want.