Southern-Inspired Fried Chicken Sandwich with Homemade Mustard Cole Slaw
I'm late to the party, as usual!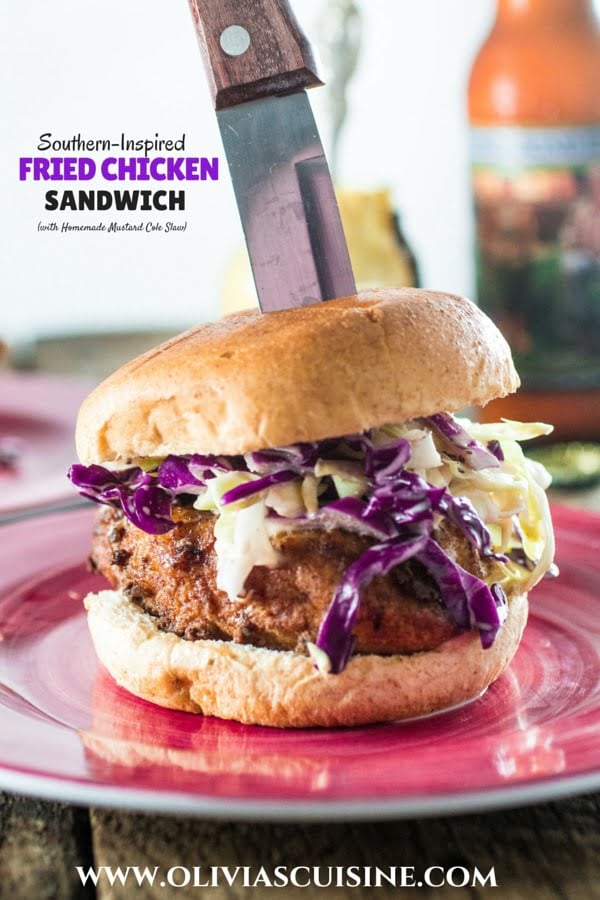 Which party? The National Fried Chicken Day party which was this past Monday. We did manage to eat this delicious, insanely crunchy and flavorful Southern-Inspired Fried Chicken Sandwich with a pile of homemade mustard coleslaw to celebrate. It just didn't make the blog on time…
Oh well… Better late than never, right?
Besides, who needs a national day to eat fried chicken sandwich? Not me!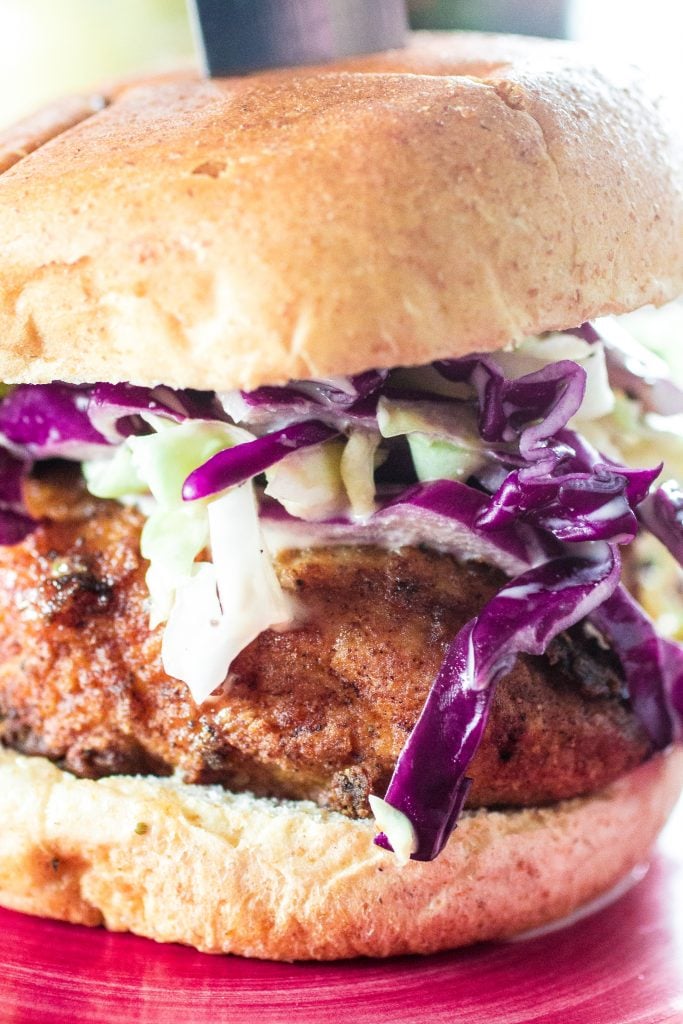 I know I've been a little out of my blogging game lately, but I hope you'll forgive me since I'm sharing with you this killer recipe.
I mean, if you're still holding a little grudge, I'm sure it will *poof* evaporate as soon as you bite into this yummy sandwich.
The chicken breasts are brined for at least 4 hours which makes them so flavorful and juicy! And then it is floured and fried to perfection so it's a beautiful crunchy golden brown piece of heaven!
I love reading about J. Kenji López-Alt's experiments in the kitchen and I always learn a lot! And this is seriously the best fried chicken I've ever made in my life!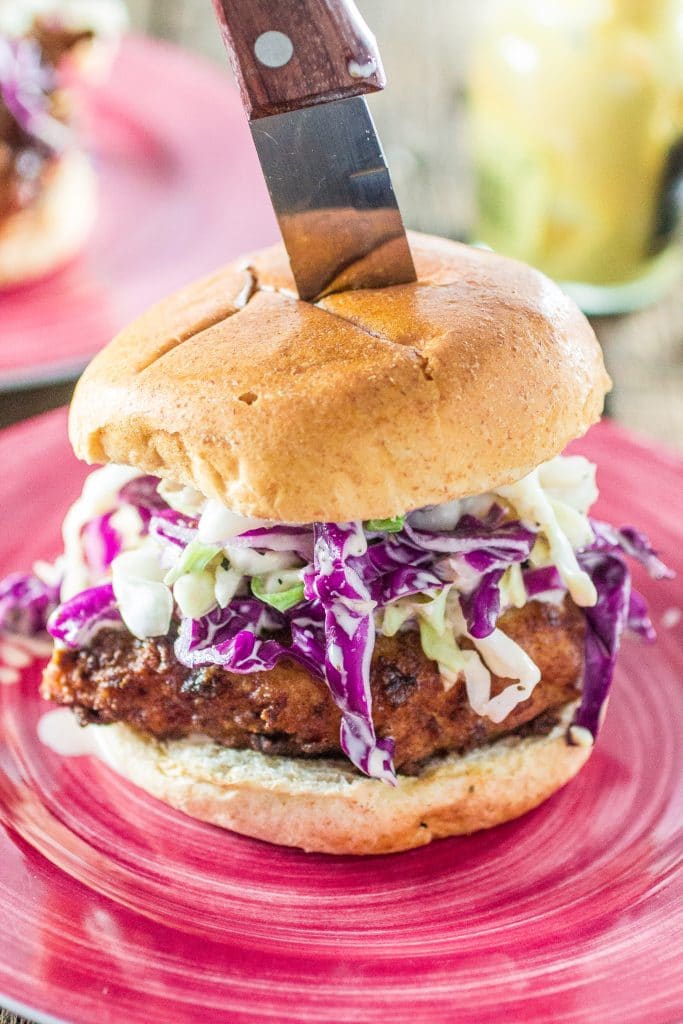 Oh, my Coleslaw God!
I ate half the coleslaw even before I finished frying the chicken. Good thing I made more than enough so everybody got a huge mountain on top of their sandwiches! (Please don't skimp on this recipe. It's supposed to be "Southern-Inspired" and not "French-Inspired"! Although I did substitute the regular mustard for Dijon. Because Dijon is always better!)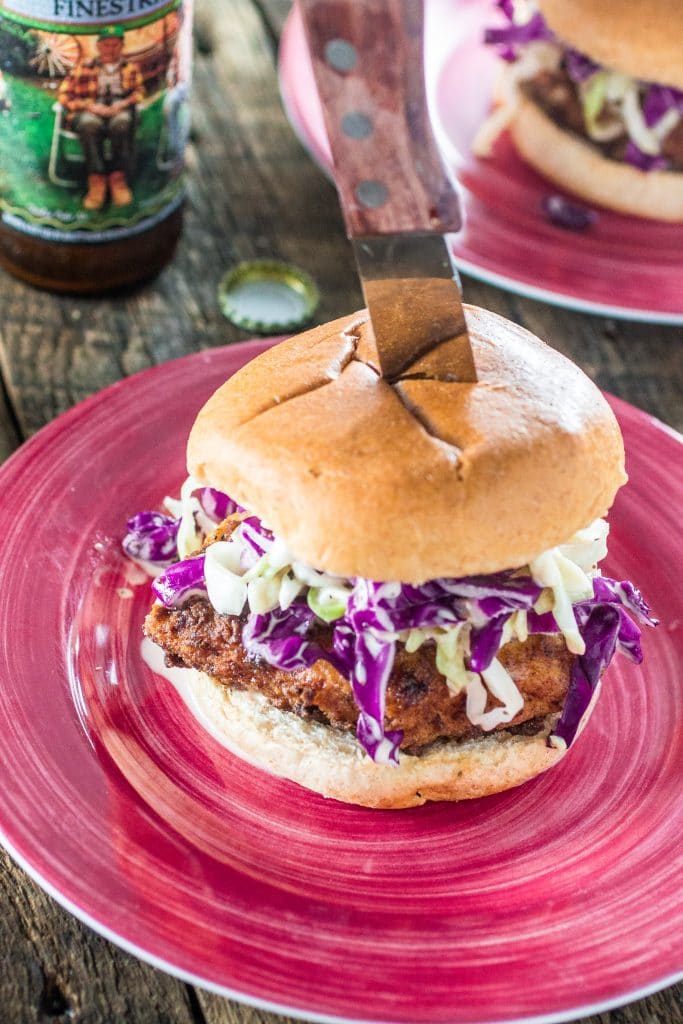 I'm kinda dreaming about these sandwiches again… They were gone SO FAST! And by gone I mean inhaled. We literally inhaled them! (Yes, I clearly don't know how to use the word "literally". But who's paying attention to that when you're looking at this scrumptious fried chicken sandwich?)
Maybe I'll make them again this week since I'm celebrating something exciting.
What am I celebrating?
Oh, you gotta wait til next time we meet to find out! ;-)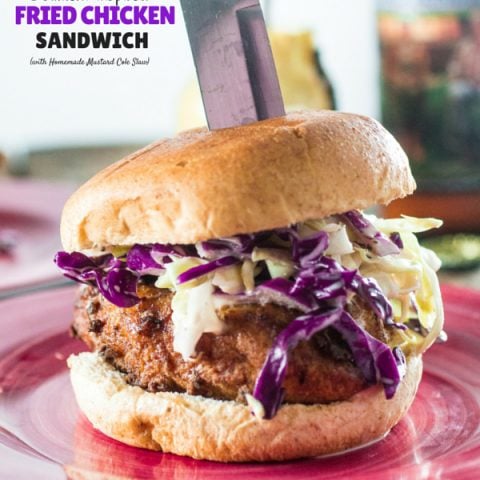 Southern-Inspired Fried Chicken Sandwich with Homemade Mustard Cole Slaw
Yield: 4 sandwiches
Prep Time: 4 hours
Cook Time: 10 minutes
Total Time: 4 hours 10 minutes
Ingredients
Fried chicken:
2 large chicken breasts, cut horizontally in half
1/3 cup Kosher salt
1/4 cup sugar
Water
1 teaspoon paprika
1 tablespoon black pepper
1 cup milk
2 large eggs
1 1/2 cups all purpose flour
2 tablespoons powdered non fat milk
1 teaspoon baking powder
Vegetable oil
4 brioche burger buns, toasted in butter
Homemade Mustard Cole Slaw
1/2 medium head cabbage (purple), shredded
1/2 medium head cabbage (green), shredded
1/2 cup mayonnaise
1/4 cup Dijon mustard
1/4 cup apple cider vinegar
1/4 cup sugar
1 tsp celery seeds
Salt and pepper to taste
Instructions
To make the fried chicken:
Dissolve the salt and the sugar in 1 quart of water, in a large bowl, creating a brine. Add the chicken, cover and refrigerate for 4 to 6 hours.
Remove chicken from brine and pat dry with a paper towel.
Mix the paprika and the black pepper and rub it on chicken cutlets. Reserve.
In a large dutch over (or deep fryer) pre heat the oil to 350 degrees. I use a thermometer to know when the oil is hot enough.
In a medium bowl, whisk together milk and eggs. Set aside.
In a large bowl, combine the flour, powdered milk, baking powder and season with some salt and pepper. Whisk until everything is smooth.
Drizzle 3 tablespoons of the milk/eggs mixture to the flour mixture and mix with your fingertips until the mixture is coarse like wet sand.
Working with one cutlet at a time, coat them with the milk mixture and, after allowing excess milk to drip off, pass it through the flour mixture. Make sure you press down firmly so the flour sticks to the chicken.
Fry the cutlets until golden brown and crisp on all sides, about 4 minutes per side. Transfer to a paper towel lined plate to absorb the extra grease.
Place fried chicken cutlets on bottom buns, top with the coleslaw, close sandwiches with top buns and serve! (You can also spread some extra mayo on the buns, if you're feeling bold!)
To make the coleslaw:
Whisk together mayo, vinegar, sugar, mustard, celery seeds, salt and pepper.
Add cabbage and toss until all the cabbage is coated with the dressing.
Chill until it's time to assemble sandwiches!