Strawberry Meringue Dessert
One of my favorite desserts of all time!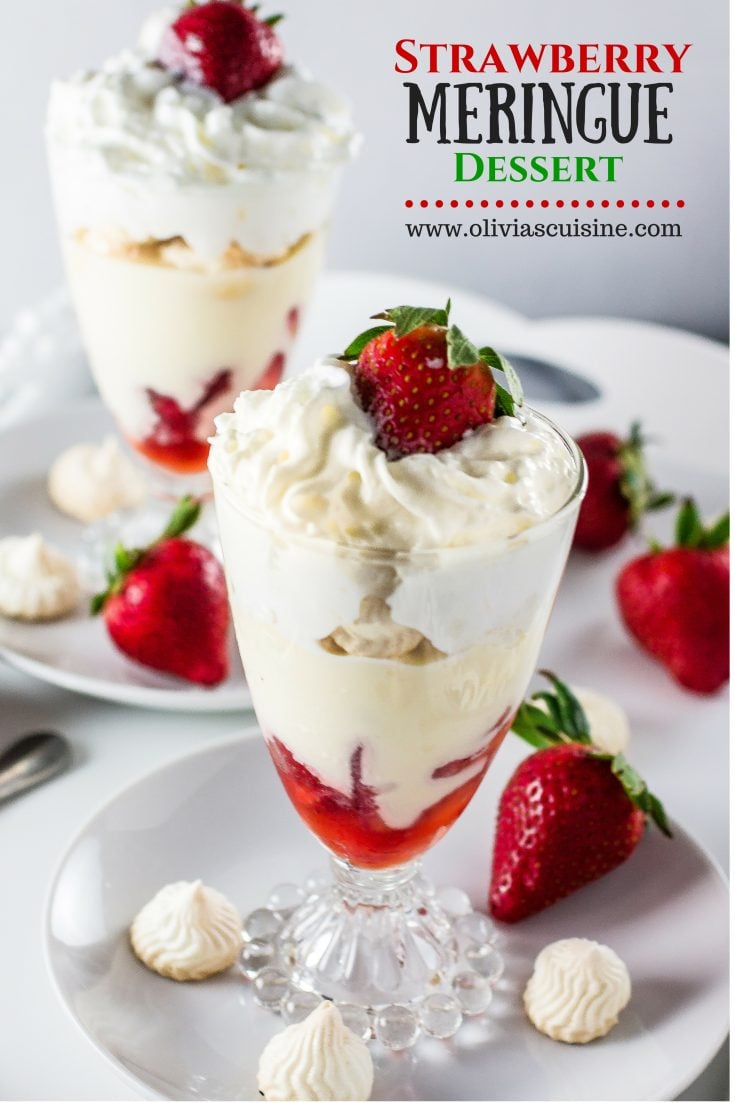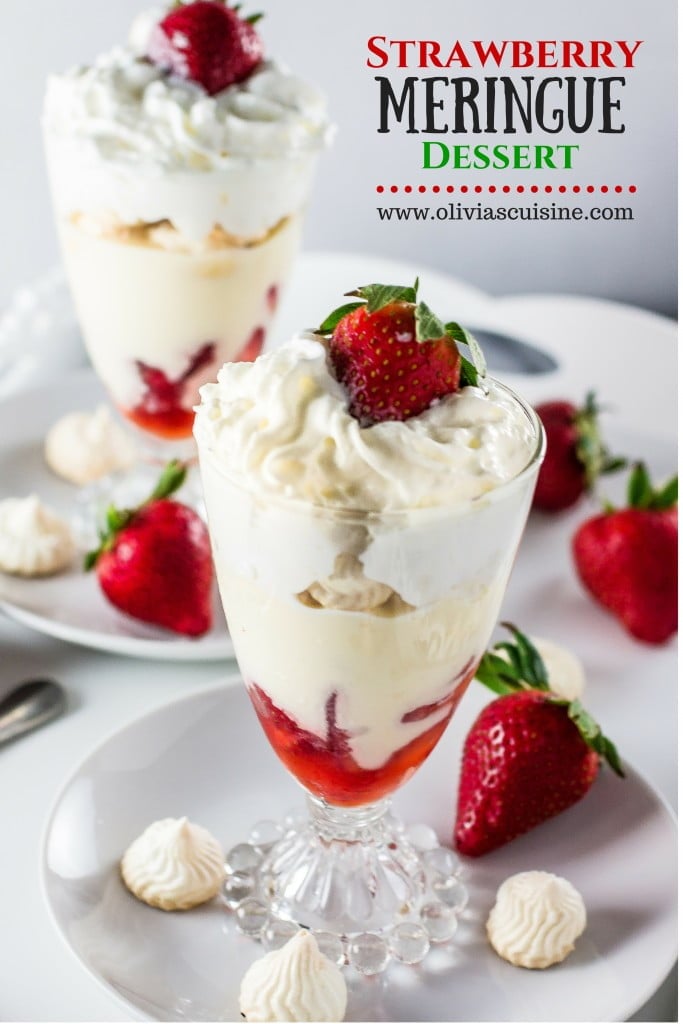 I had dessert for lunch today. And I'm not feeling even 1% guilty, because it was DELISH!!! (Yes, I'm one of those annoying people that say "delish". Get over it! But please don't leave meeeeee!)
All week I've been working on savory recipes, so I was really craving a decadent dessert that would satisfy my sweet tooth. Tim was also beginning to get annoyed at me for asking him to go to the deli to buy chocolate at 11:30pm…
I went back to my childhood memories to search for something that would not only feed my belly, but also my soul. I then settled for this delicious Strawberry Meringue Dessert that my grandmother used to make all the time while I was growing up.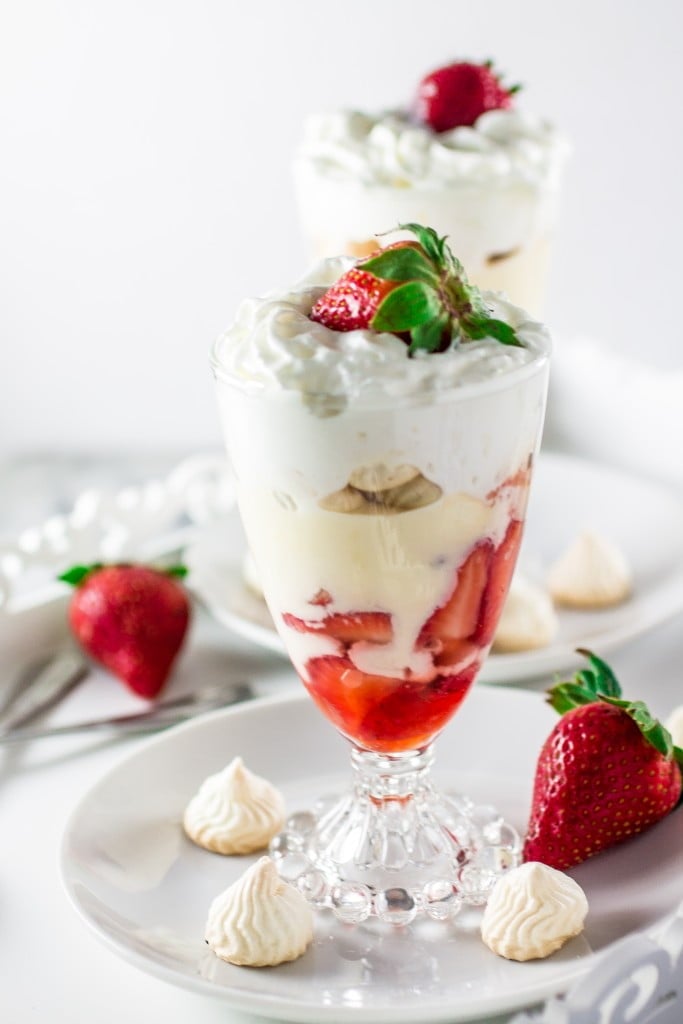 In my opinion, no fruit announces Spring like strawberries! They are everywhere. It's impossible not to notice them in the grocery store. Red, plump, juicy strawberries waiting to be grabbed. Boxes and boxes stacked beautifully at the entrance of the market to welcome you into the great, grand world of groceries. By the time I realize it, my hands already grabbed 2 boxes and my husband is giving me the suspicious look of: "those strawberries will go bad if we wait too long to eat them!", because… well… that happened a few times!
That's my only problem with strawberries. They go bad sooo fast! So I either have to use them right away or freeze them. Usually I don't do either and end up having to toss a whole box of strawberries…
This dessert only works with fresh strawberries, so obviously it took me two attempts to make it, because I waited a few days to make it and the first strawberries I bought went bad! Thank God for husbands that go to the market for you and get you more strawberries! :)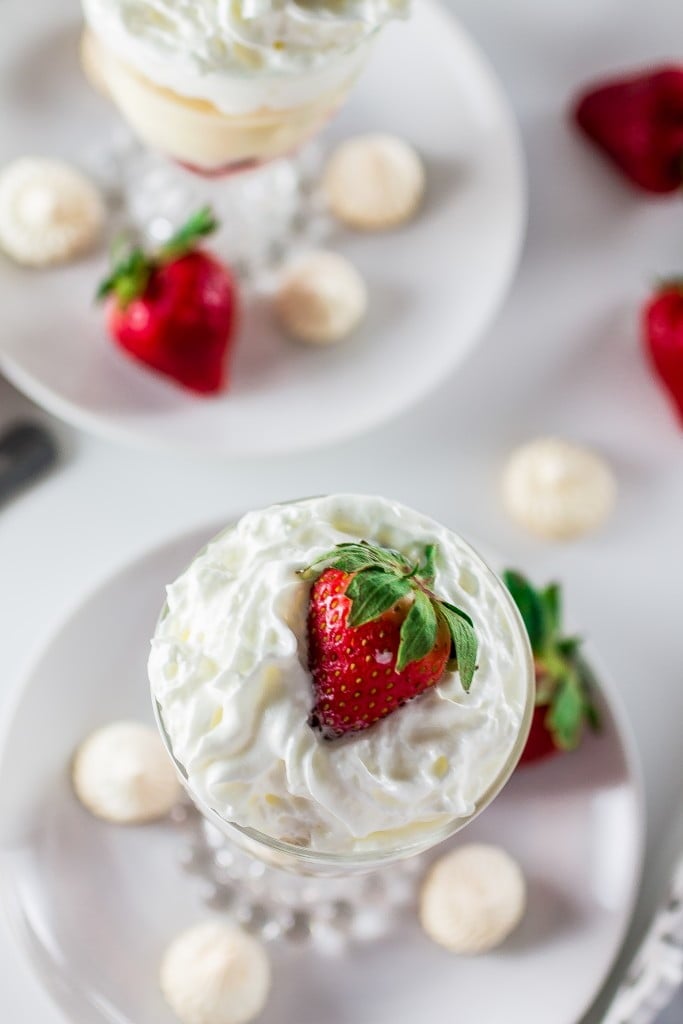 You can either make this dessert in cute glasses or do it in a big trifle jar. I think they look beautiful in those glasses I got at a thrift shop in Vermont during our weekend getaway in November. I also like how they look in wine glasses! Anything would work, really… You can even make little dessert shooters!
I'm a big fan of individual portions for dessert. Not only it prevents me from eating the whole serving of a recipe (ha!), but it looks more sophisticated!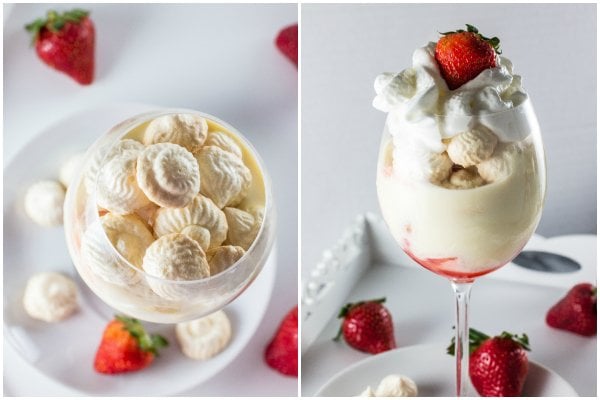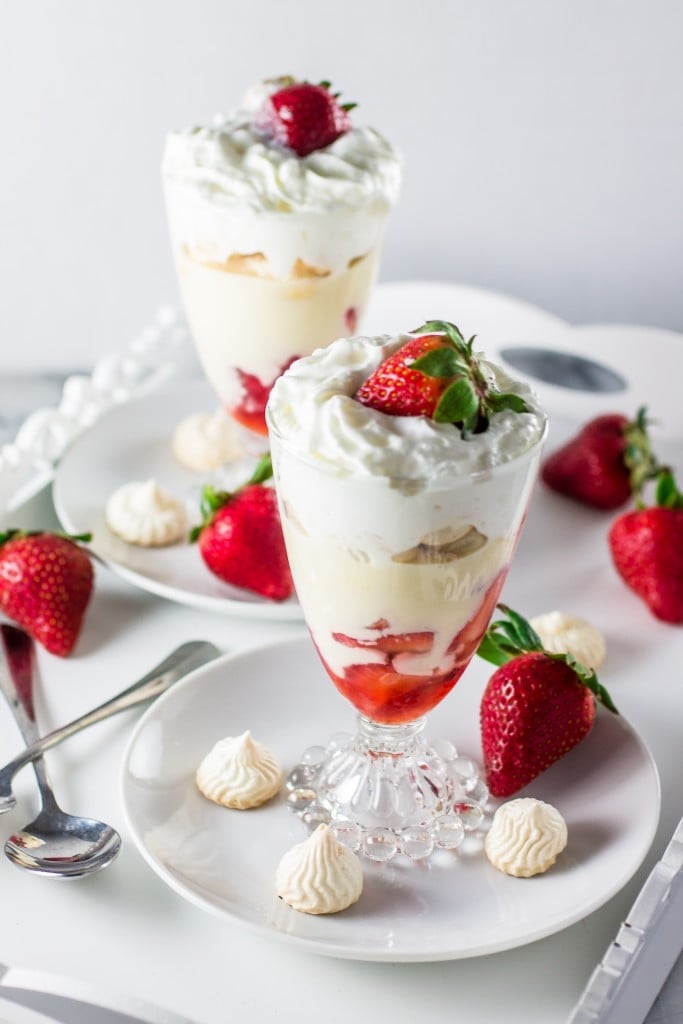 Ok, so now the full disclosure! This is not your "ready in 10 minutes" kinda of recipe. It's not hard to make, but it requires overnight chilling and some baking. However, since I'm a really nice person, I'm going to give you a few shortcuts if you don't have the time to make it from scratch:
1) Skip the cream. Instead of the 4 layers just do 3 layers: strawberries, meringue and whipped cream! It's not the same, but delicious nonetheless and you won't have to wait for it to chill overnight.
2) Buy the store meringue cookies instead of making your own. I mean, if you can find them, of course! I don't usually see them in my local grocery store, so I make mine from scratch.
I hope you guys enjoy this recipe! If you like strawberries like I do, this is the dessert for you! Oh, it rhymed. (I guess that's my cue to say goodbye…)
P.S. Wanna keep in touch? Follow me on
Facebook
,
Twitter
,
Instagram
or
Pinterest
to stay up to date with my posts! If you end up making one of my recipes, I would love to see it! Just take a photo and post it on your preferred Social Media and tag me or use the hashtag #oliviascuisine! :)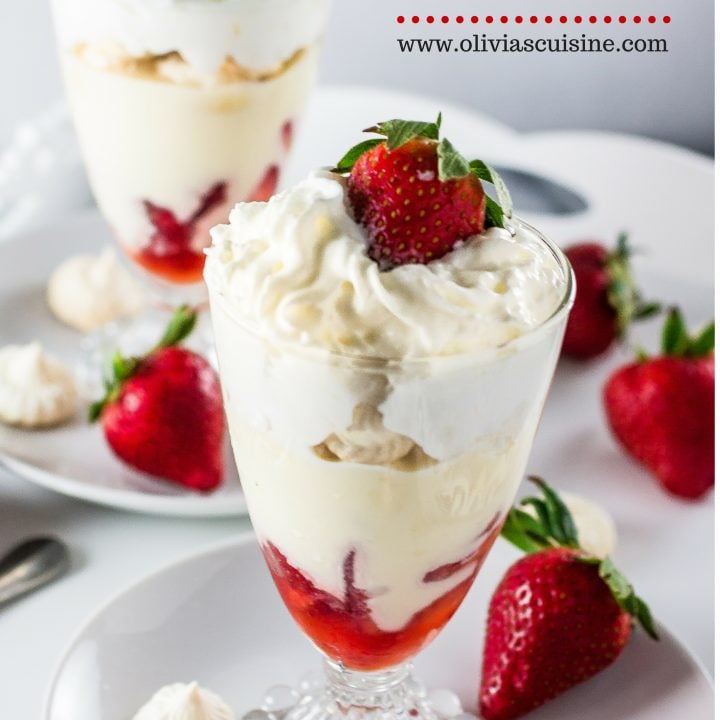 Strawberry Meringue Dessert
Yield: 6 to 8
Prep Time: 3 hours 30 minutes
Cook Time: 30 minutes
Total Time: 4 hours
Ingredients
1 box of fresh strawberries
1 can of sweet condensed milk
1.5 cups milk
3 eggs, yolks and whites separated
10 Tbsp sugar, divided
Juice of half a lime or lemon
Whipped cream (store bought)
Instructions
Rinse the strawberries and reserve some whole to decorate.
Cut the stem off the remaining strawberries and then cut them in 4.
In a medium sized bowl, combine the quartered strawberries, the lime juice and 4 Tbsp of sugar and stir to combine. Reserve.
In a saucepan, combine the sweet condensed milk, the milk and the yolks and cook over medium low heat, stirring constantly, until it thickens and reaches the consistency of cream. (10 to 15 minutes) Let the cream cool.
Once the cream is cool, start assembling the dessert glasses by adding a layer of strawberries to the bottom and a layer of cream right on top of the strawberries. Cover the glasses and bring them to the fridge for 3 hours or overnight.
The next day, to make the meringue cookies, preheat your oven to 200F degrees.
Add the egg whites and 6 tablespoons of sugar to a stand mixer bowl and beat on medium speed until you have a firm meringue. Transfer the meringue to a piping bag fitted with a large star tip.
Pipe 80 mounds onto prepared baking sheets covered with parchment paper.
Bake the meringue cookies for about 30 minutes or until they begin to lightly toast. (Be careful that they don't burn!)
Turn the oven off and let the meringues cool in closed oven until dry. Carefully remove the meringues from paper.
Add the meringue cookies to the dessert glasses, over the cream layer. If there are any leftover meringue cookies, just use them to decorate the dessert glasses or the table! (In my case there are never leftovers because I pop some in my mouth while I'm working on the dessert glasses... Oops!)
Finish off with whipped cream and whole strawberries to decorate!
Serve cold.
Notes
You can use store bought meringue cookies to save time!
You can also skip the cream layer and substitute for whipped cream for an even quicker version.