Sweet Potato Chili
This shop has been compensated by Collective Bias, Inc. and its advertiser. All opinions are mine alone. #YesYouCAN #CollectiveBias
I'm so glad chili season is upon us!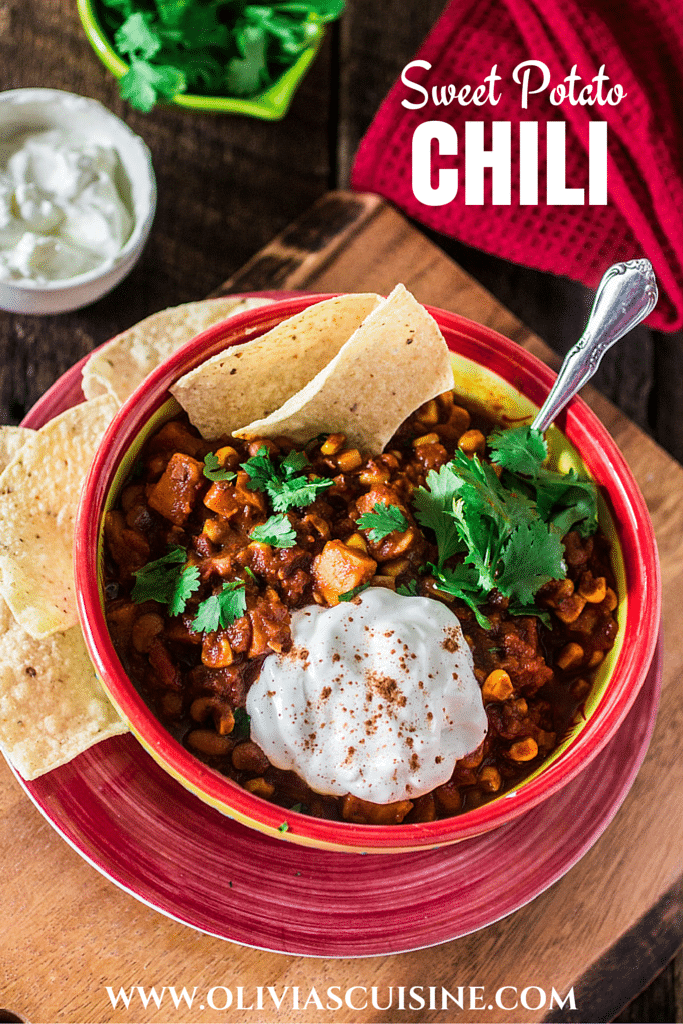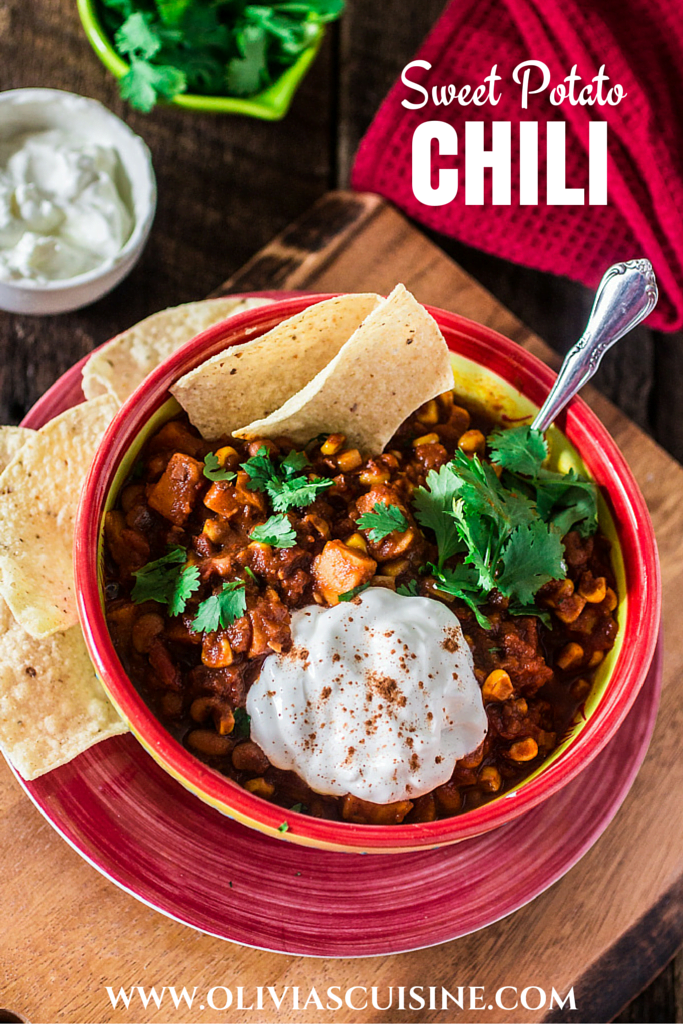 The other day, when Tim picked me up at the bus station after work, at around 11pm, I made him drive me to our local (thankfully 24h) diner because I just HAD to eat a bowl of chili!
The diner chili was okay, but it was nothing compared to homemade chili. So my cravings were pretty much still alive inside my body, whispering in my ears: chiliiii, chiliiiii! Creepy, I know!
I couldn't bear it any longer, so the next day I went to the store and got everything I needed for one of my favorite chili recipes: Sweet Potato Chili. A vegetarian, yet very tasty chili to please my sweet potato lover husband!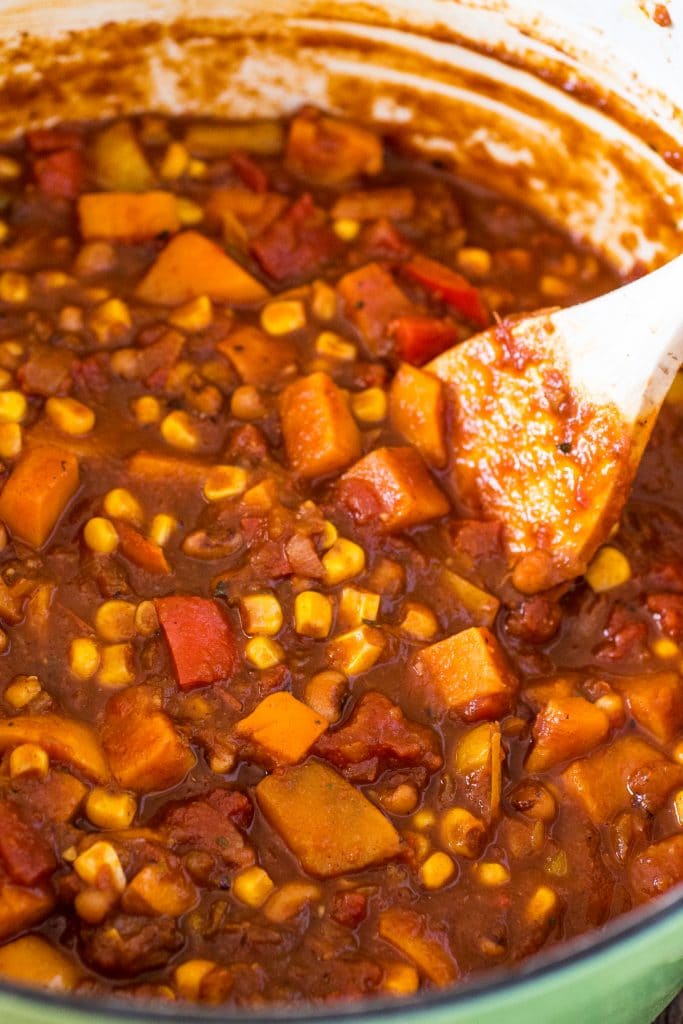 I don't know if my sudden chili craving had anything to do with the fact that I got a bad cold. Probably… I always crave comfort food when I'm sick!
I am in fact battling this so-called cold for the past week or so. Tim finally got it too (I was hoping his manly strong genes would protect him, even though we share a bed) and now I'm taking care of a very cranky sick boy!
Why is it that we, women, can work 2 double shifts in a row even though we are sick, but the second our husbands get sick they act as if it's their last night on earth?
Thank goodness for comfort food! And thank goodness for delicious Sweet Potato Chili to nourish us back to health!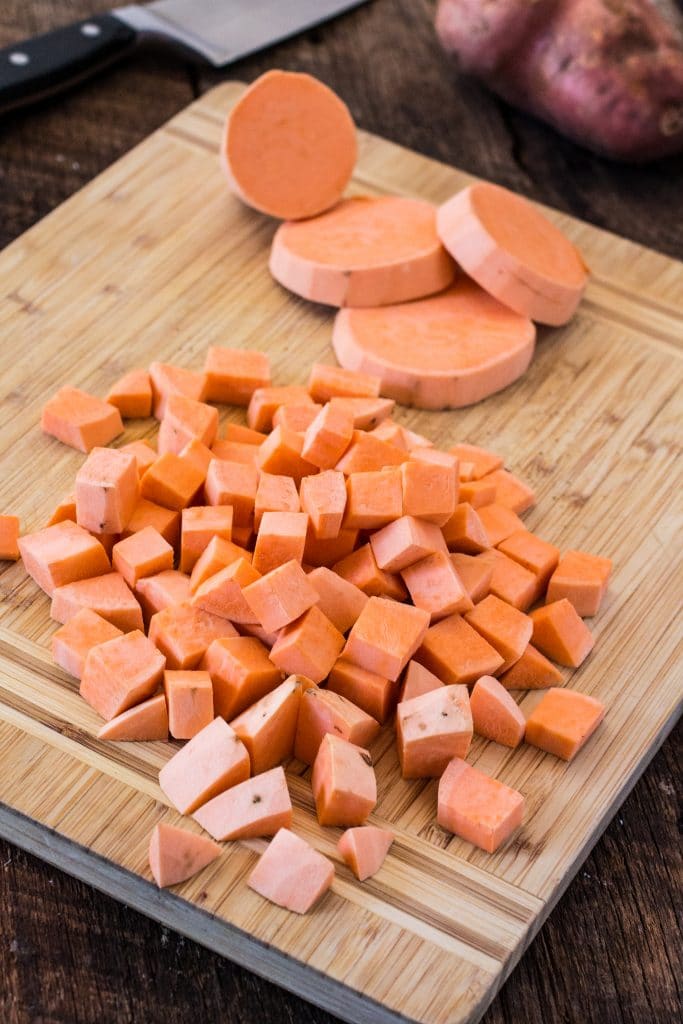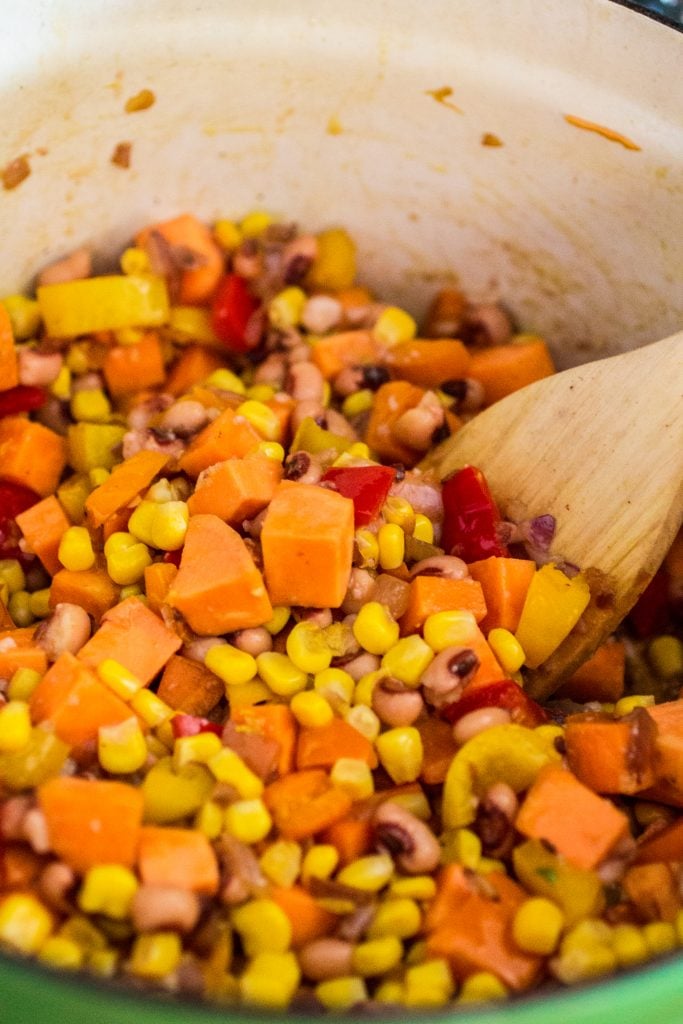 I gotta say, Tim and I aren't really into extremely spicy food.
This chili definitely has some heat and any more than that would be too much for us!
But that being said, I'm kinda glad for its spiciness! Nothing like something spicy to clear you up when you are congested!
Too much information? Sorry! ?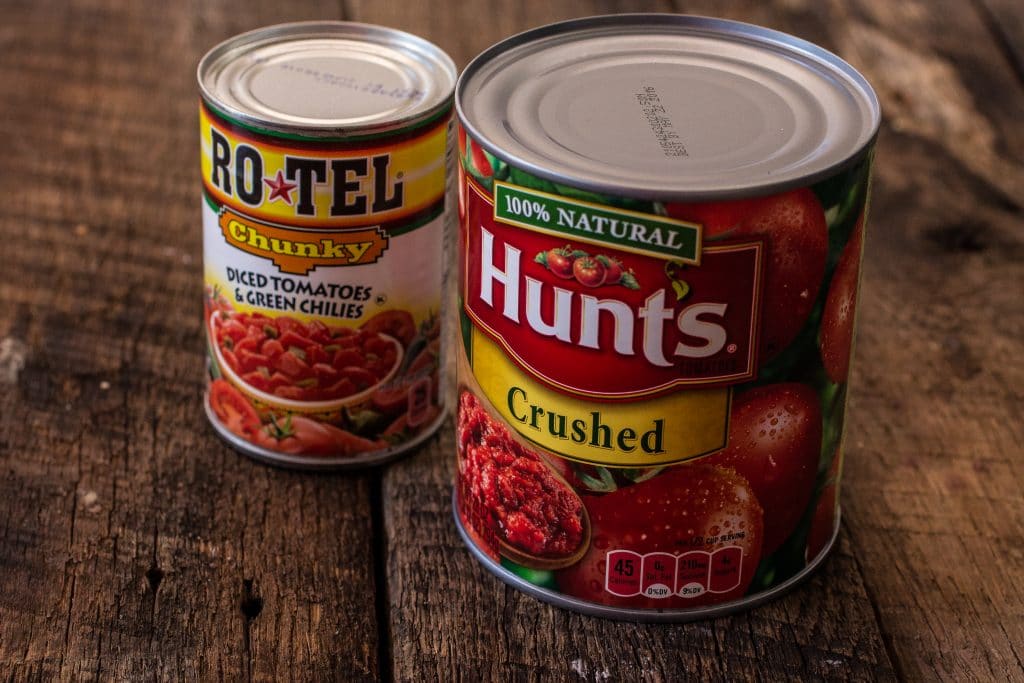 For this chili, I used both the RO*TEL chunky diced tomatoes with green chilies and the Hunt's crushed tomatoes that I purchased at my local Walmart. RO*TEL has a mild variety of that same product, so if you're not into spicy food, just get that instead.
I like using canned tomatoes because they make my life so much easier! I'm already so stressed with everything else, at least dinner making needs to be semi- therapeutic, right?
I also chose to use black eyed peas because I'm kinda obsessed with them. They are my mom's favorite, but I avoided them during my whole childhood. When I finally tried them, I was hooked! Now, I always have a couple of cans in my pantry to use in salads, stews and chili. I honestly think they paired perfectly with the sweet potatoes!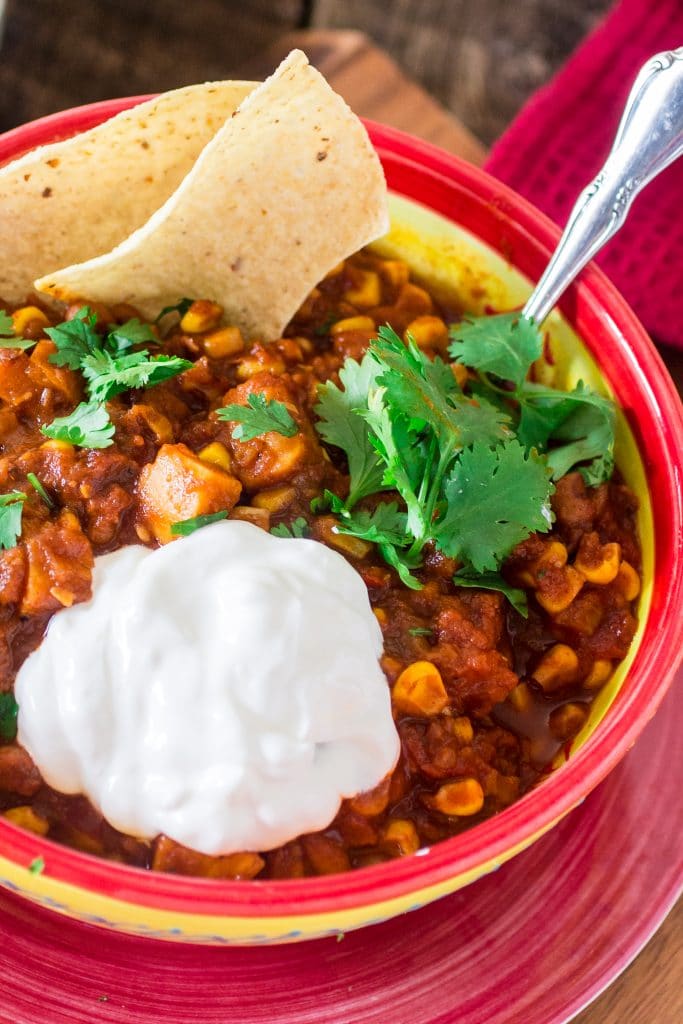 If you know me, you are probably really surprised that I didn't add any protein to this chili.
I got so inspired by all the pretty bright colors in the chili, with all the veggies, that I really didn't think to add any meat. However, if you still think you need your protein fix, I think ground turkey would go great with all these flavors!
Meat or no meat, this chili is amazing, healthy and is perfect for those cold nights when all you are craving is a bowl of comfort food.
Don't forget to add a lot of toppings. My favorites are sour cream and a lot of shredded cheddar cheese! ?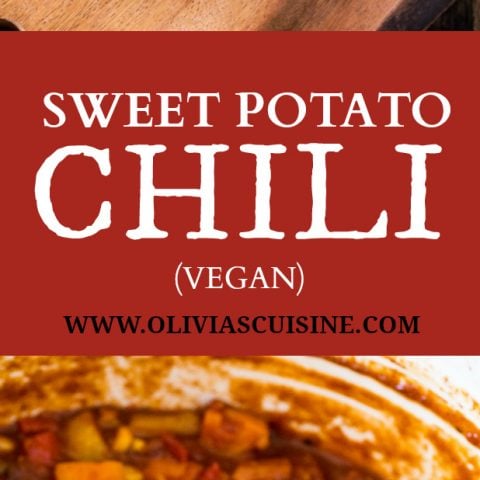 Sweet Potato Chili
Yield: 8
Prep Time: 10 minutes
Cook Time: 1 hour
Total Time: 1 hour 10 minutes
Ingredients
3 tablespoons olive oil
1 large red onion, chopped
2 cloves of garlic, minced
1 large red pepper, finely diced
1 large yellow pepper, finely diced
1 large sweet potato, peeled and cut into 1/2 inch cubes
1 (10oz) can RO*TEL Diced Tomatoes & Green Chilies (Chunky)
2 cups Hunt's Crushed Tomatoes
1 (15.25oz) can whole kernel corn, drained
1 (15.8oz) can black eyed peas, drained
2 tablespoon maple syrup
2 tablespoons chili powder
1/2 tsp cayenne pepper (optional)
1/2 tsp cinnamon
1 tsp oregano
1 cup vegetable (or chicken) broth
Toppings: fresh cilantro, shredded cheddar cheese and sour cream
Instructions
In a large dutch oven, heat the olive oil, over medium high heat, and sauté the onions until translucent. Add the garlic and cook for another minute, being careful not to let it burn.
Add the peppers and the sweet potato and cook with the onions/garlic for a few minutes, or until the veggies soften and develop some color.
Add the tomatoes, the corn, the black eyed peas, the maple syrup, the chili powder, the cayenne (if using), the cinnamon and the oregano and cook, stirring constantly, for 30 seconds, or until the spices are fragrant.
Add the broth and bring to a simmer.
Cover and reduce the heat to maintain a gentle simmer. Cook for 30 minutes, or until the sweet potato is tender.
Uncover and cook for 15-30 more minutes or until slightly reduced.
Remove from heat and serve with desired toppings.
Notes
Refrigerate for up to 3 days or freeze for up to 3 months!