Sweet Potato Rolls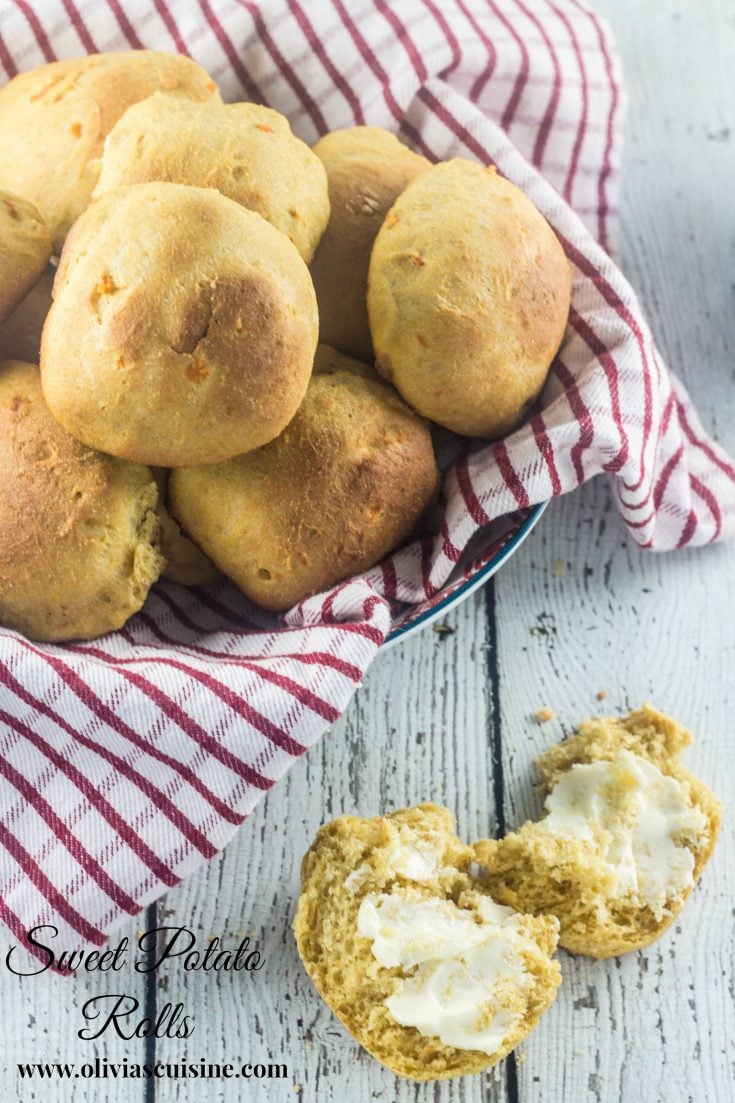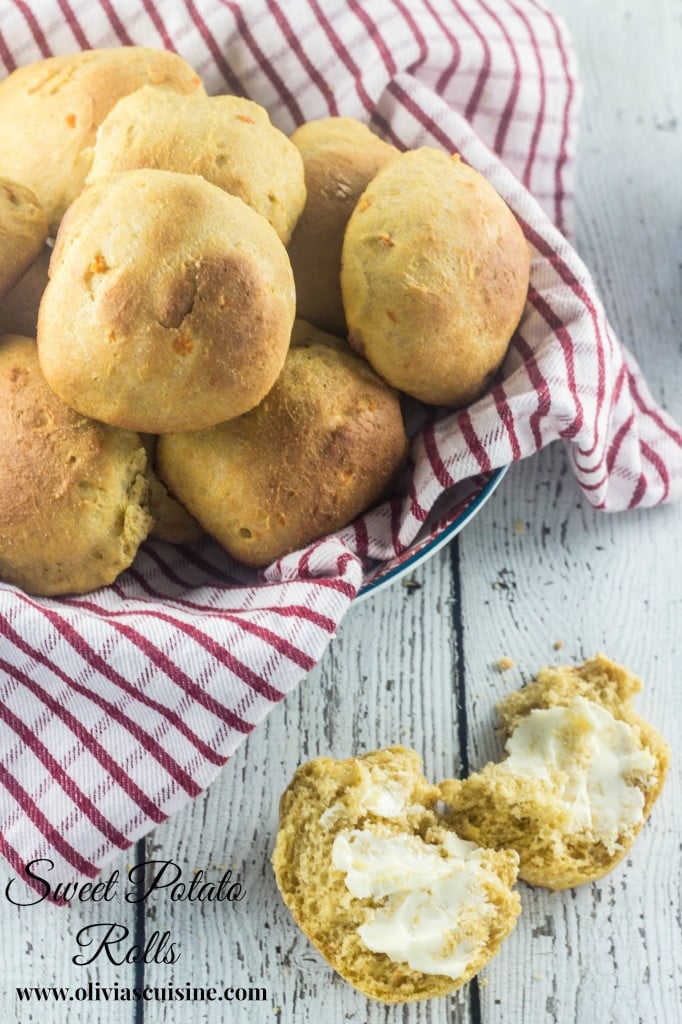 Thanksgiving is almost here, so my anxiety level is reaching the sky. We wait all year for this special day, so it's natural that I feel anxious about everything being perfect, right? Or maybe I'm the only one that stresses this much… You guys are probably used to it by now since you've been celebrating it since birth. I've only been in the US since 2010, so that's how long I've celebrated Thanksgiving!
But what makes this date so special? The fact that you get to see your loved ones? The beautiful decoration? The brisk Fall air outside in contrast to the warmth of the fireplace inside? No! Sorry, but it's all about the delicious food! (Of course family is important too, but I bet you that Thanksgiving wouldn't be that big of a deal of it weren't for all those amazing comforting dishes!)
For Thanksgiving, I like to cook everything from scratch. When I first started being invited to Thanksgiving parties, I noticed that my hosts bought the turkey already cooked. Nowadays I think that is heresy! lol I'm obviously exaggerating, because I know that some people like the practice of ordering it and not having to worry about cooking dinner, but one of my signature dishes is my Thanksgiving turkey, so I have lots of pride in cooking it. Another thing I'm really into making from scratch are my Sweet Potato Rolls. There's nothing like fresh rolls right out of the oven to go with all that delicious Thanksgiving food.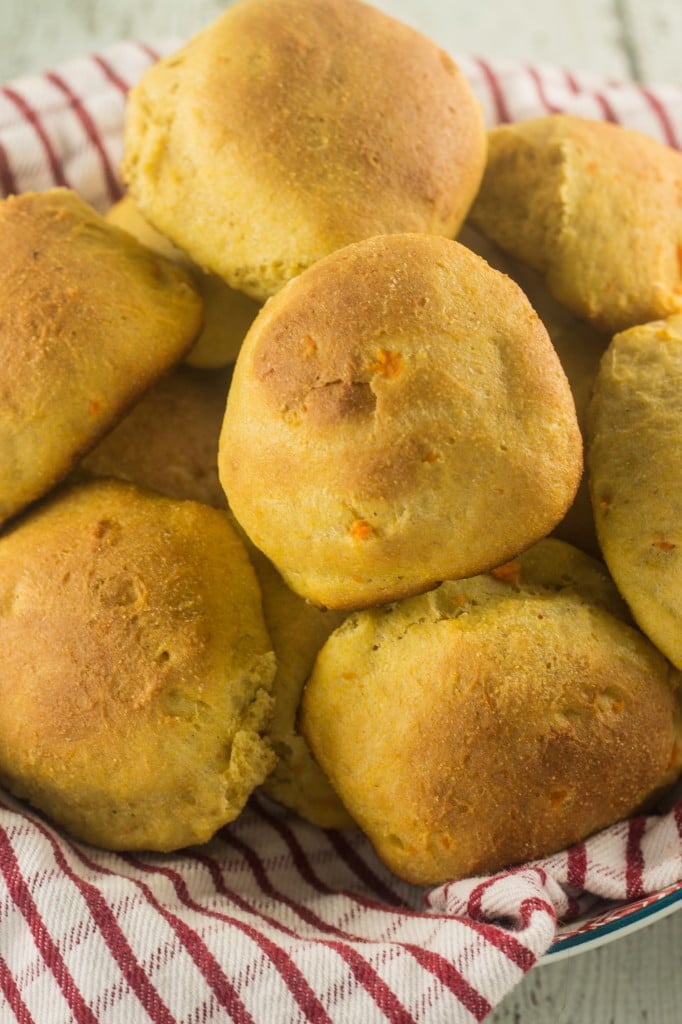 Why would you buy dinner rolls from the grocery store when it's so easy to make your own? The only downside is having to wait for the dough to rise twice, but that can happen while you get the other stuff ready! Or you can even bake them in advance, freeze them and reheat them the day of. I still prefer baking them fresh though, but I can see how that can be challenging if you have a small oven (that is probably already taken by the turkey). Oh God, I can't wait for my big dream house with a big dream kitchen with a kitchen island and one of those humongous ovens! Is that too much to ask?!?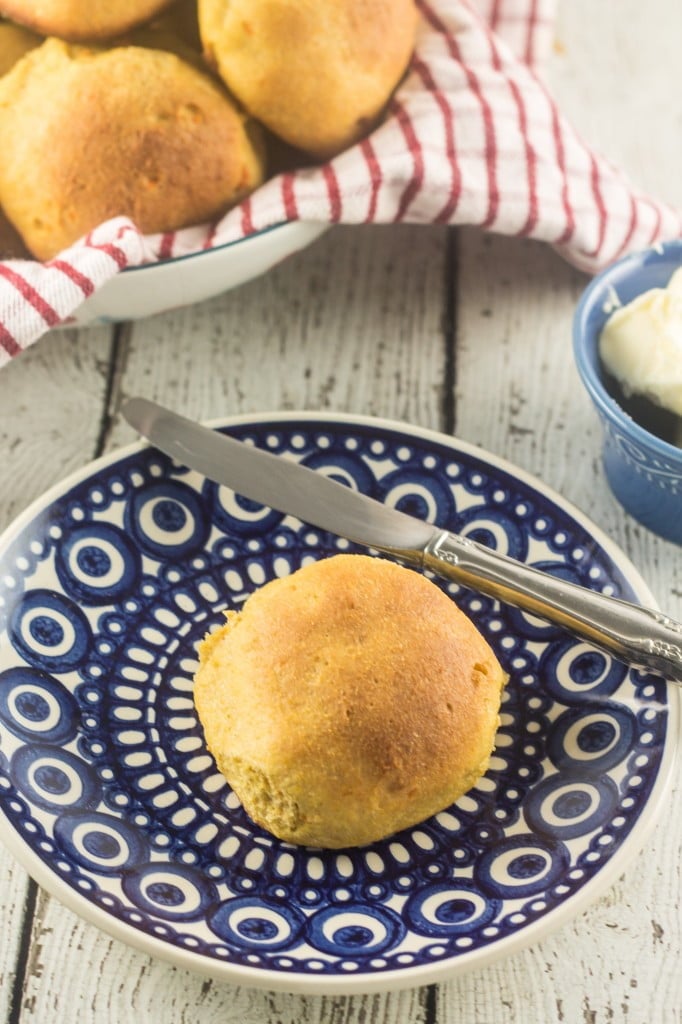 The sweet potato adds extra moisture to the rolls which make them super fluffy without overpowering them. Honestly, you probably won't even know they taste like sweet potatoes because it only gives it a hint of the flavor. Yum! I'm already craving it again just by writing about it. I can't wait to make another batch for Thanksgiving and attack one of them immediately after they come out of the oven. I can totally picture me pulling the tender roll apart and spreading some butter (that will immediately melt because they are still warm) and then biting into this piece of pure comfort and coziness.
One thing I need to tell you: don't be afraid of the dough being sticky. The first time I made this recipe I kept adding flour because I thought the dough was too sticky and then my rolls ended up hard as rocks after they cooled. Just add enough flour for the dough not to stick to the counter and knead it for only 1 or 2 minutes and that's it. Trust me, they will be the most amazing, fluffy, tender rolls! :-)
Sweet Potato Rolls
Ingredients
1/2 pound cooked mashed sweet potato
1 cup cornmeal
2 - 2 1/2 cups flour
1/4 warm milk
1/4 warm water
3 Tbsp melted butter
1/4 cup sugar
2 eggs
1 Tbsp salt
2 packages of yeast (1/4-ounce packages)
Egg wash
Instructions
Combine the yeast, one tablespoon of the sugar, the milk and the water in a bowl and let it proof for 10 minutes.
In a large bowl, combine the cornmeal, the butter, the eggs, the rest of the sugar and the salt. Add the milk/water/yeast mixture and mix with a wooden spoon. Add the flour 1 cup at a time until you form a dough and then add the sweet potato, mixing to combine.
Knead the dough for 1 or 2 minutes on a floured counter. The dough is supposed to be sticky.
Form a ball with the dough and place it in an oiled bowl, making sure you brush the dough with some oil as well. Cover it and let it rest for 1 hour or until it is double the original size.
Punch down the dough and make 18 golf sized balls. Place them in a baking pan, leaving some space in between them, and let them sit (covered) for 1 more hour or until they've doubled in size.
Brush the rolls with egg wash and bake your rolls in a 375 degrees preheated oven for about 30 minutes or until the top is golden brown.
Serve warm or at room temperature.