The Disney Gourmet Series – Cinderella's Pumpkin Soup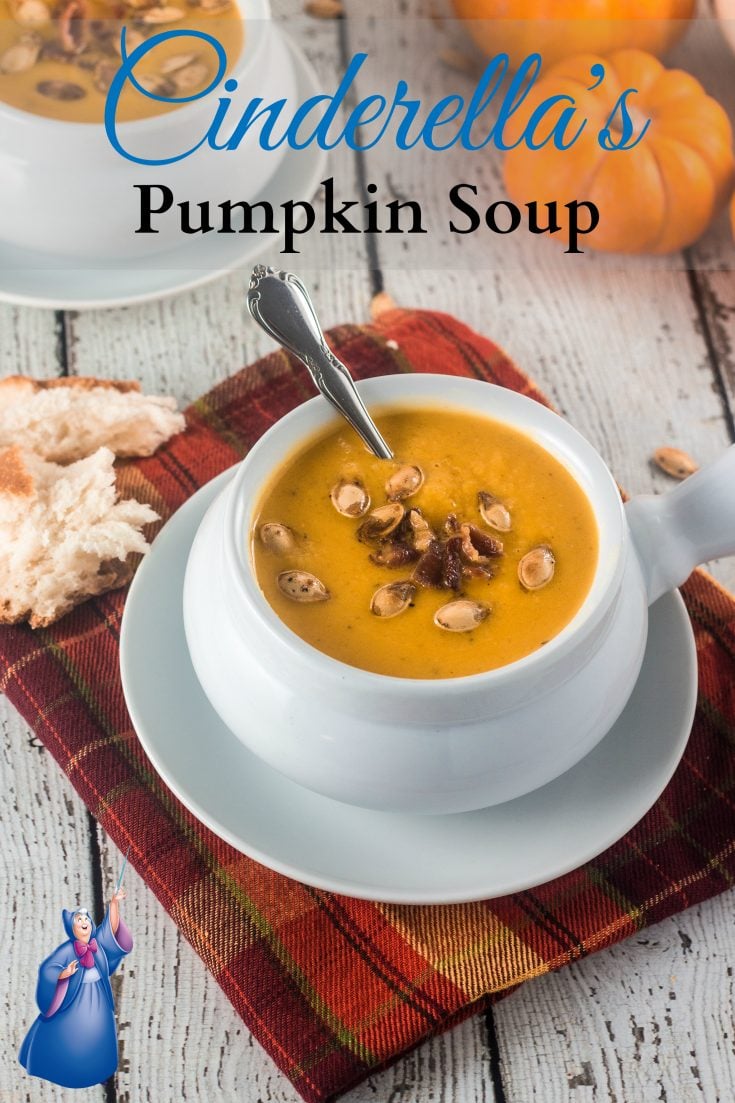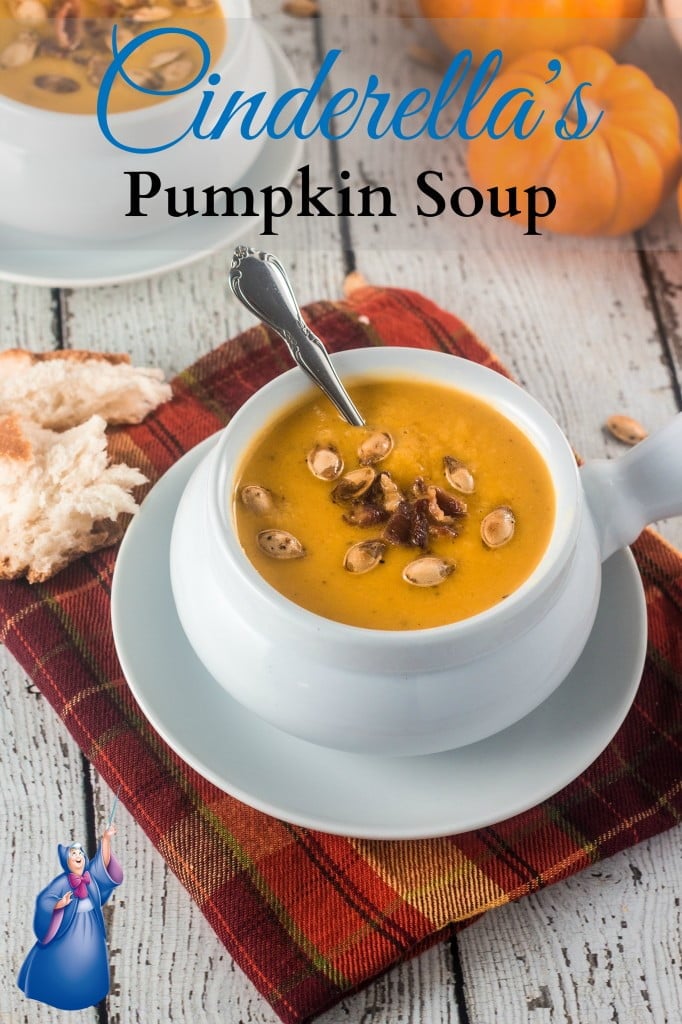 Hi friends!
Today I'm here with another Disney post! This time the movie is Cinderella, another one of those all time classics. And, seriously, who doesn't love Cinderella?
And what better dish to represent Cinderella than pumpkin soup? After all, she had to do something with that pumpkin after the clock hit midnight and the coach is back to being a good old pumpkin! Otherwise it is too much of a waste. Right?!? In fact, if I were Cinderella I would leave the party earlier because I would be craving that pumpkin soup so bad! (Just kidding… I was never one to leave parties early…)
I also chose this movie and recipe because this dish would be a great option for your Thanksgiving menu.
I don't know about you, but for me Thanksgiving is all about comfort food. The type of food that you eat until you're about to burst and then you go to sleep! (Yes healthy freaks, you can run for the hills now! lol) So what's more comforting than a bowl of warm pumpkin soup? It caresses your taste buds and your belly, letting them know that the turkey is coming! Nham Nham!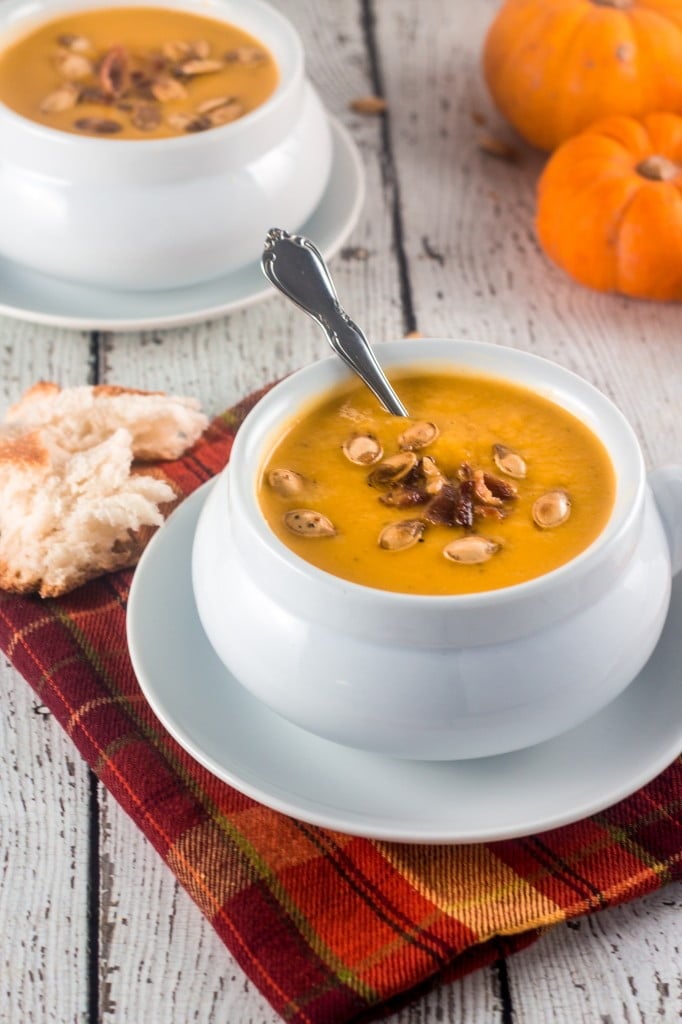 This soup is on the spicy side, but if you're not into spicy food, just add less of the paprika and the curry. I advise against omitting them altogether though… When I first made this soup I added only the paprika as I didn't want to add curry, afraid it would overpower the dish. Then I tasted it and thought it was too bland… So I added the curry and it just felt right! Actually, it felt amazing. I love all the flavors in this soup and I love how comforting it is, especially in this weather. It makes me wanna stay inside all day, under the blankets, watching Scandal and eating delicious soup with delicious bread! But then the clock hits midnight – or better 4pm – and the dream is over and I have to go to work! But instead of a nice glamorous coach I have the subway… Meh!
Anyway, before I share the recipe with you I would like to apologize for 2 things:
1) Posting a pumpkin soup recipe when there's soooo many already on the internet. But hey! My only commitment is to post delicious recipes and pumpkin soup is delicious, right?!?
2) Using that same cloth for all my pumpkin recipes! I need new food photography props! Ugh! Wanna send me some for Christmas? :-D
Ok, done! My conscience is clean now! And now, as promised, the recipe: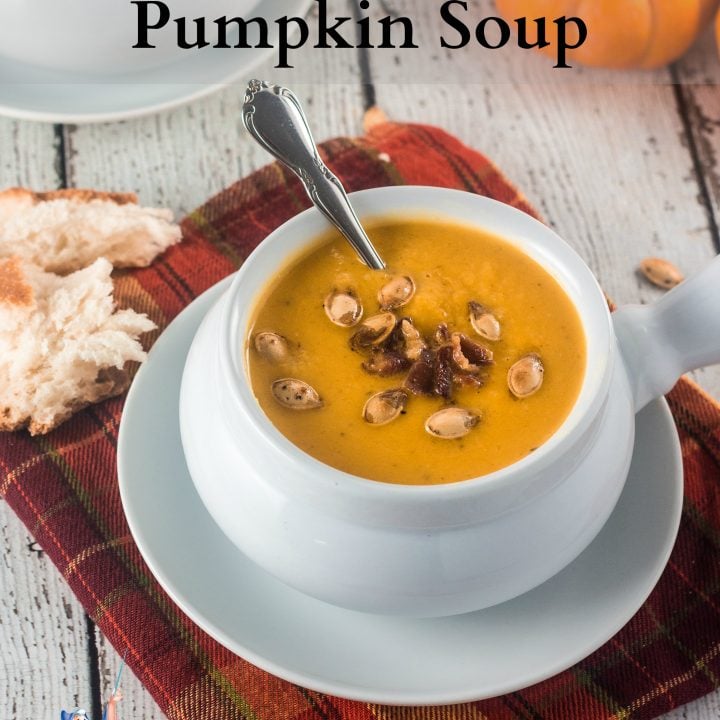 Cinderella's Pumpkin Soup
Yield: 8
Cook Time: 30 minutes
Total Time: 30 minutes
Ingredients
1 4lbs sugar pumpkin, peeled, deseeded and chopped into chunks
1 sweet onion, chopped
2 cloves of garlic, minced
2 medium leeks, sliced (white and light green parts only)
1 tsp paprika
1 tsp curry
1 sprig rosemary
1 sprig thyme
2 bay leaves
5 cups vegetable broth
2 Tbsp butter
2 Tbsp olive oil
3/4 cup heavy cream
Salt and pepper to taste
6 slices of cooked bacon, crumbled (to garnish)
toasted pumpkin seeds to garnish
Instructions
In a heavy bottomed pot, over medium high heat, heat the olive oil and the butter.
Add the onion and cook until translucent.
Add the garlic and the leeks and cook for about 5 minutes or until the leeks have withered down quite a bit.
Add the paprika and the curry and let it sweat for a little while.
Add the pumpkin, the herbs and the broth.
Once the broth starts boiling, lower the heat to medium, cover the pot and let it cook for 15 minutes or until the vegetables are fork tender.
Remove the herbs.
Using an immersion blender (or doing it in batches in a regular blender), blend the soup until smooth.
Add the heavy cream and let it cook for about 5 more minutes.
Season with salt and pepper.
Serve warm, topping it with crumbled bacon and toasted pumpkin seeds.