Creamy Brazilian Cornmeal Cake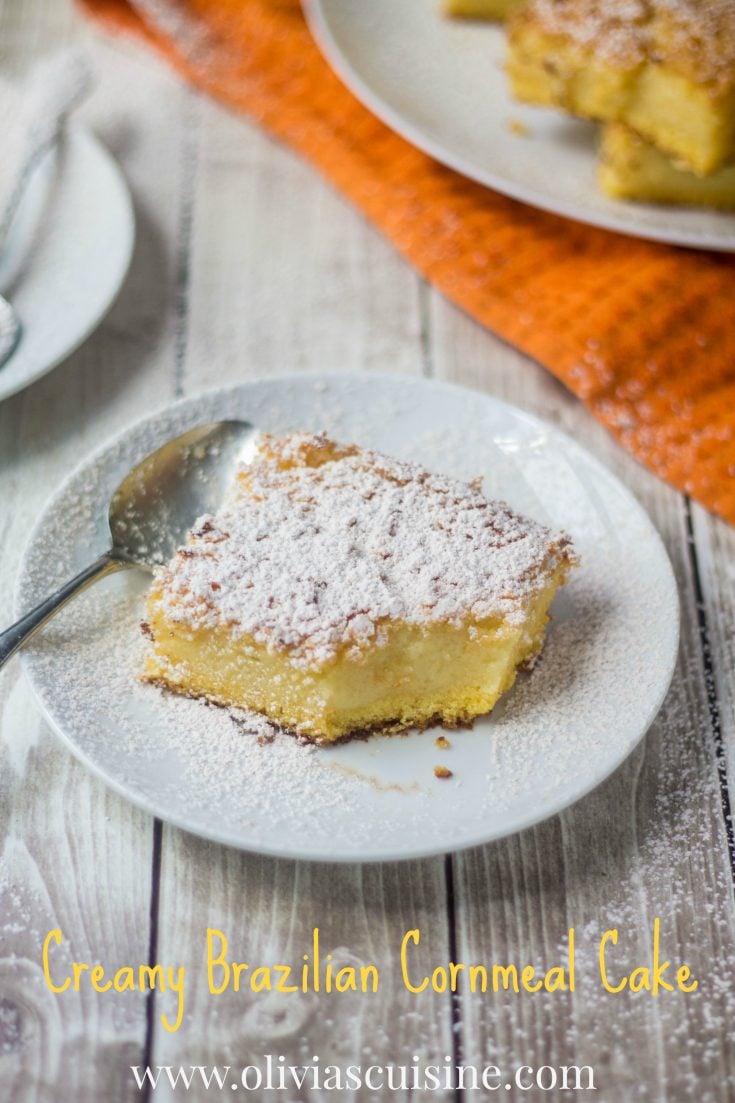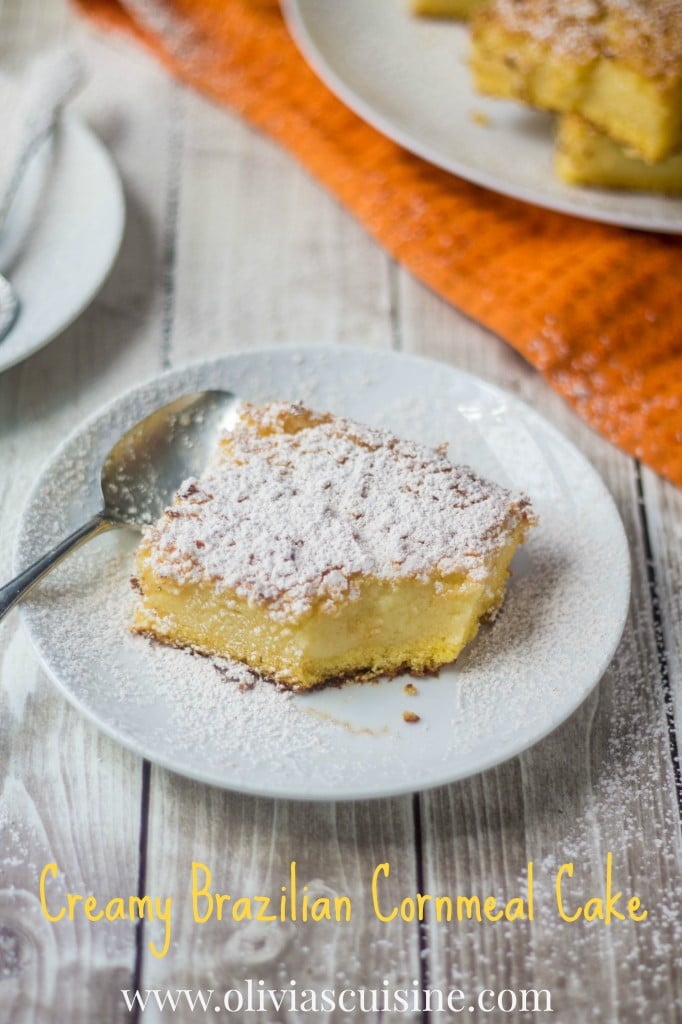 All I can think about those days is food! I think it's the weather… The cold weather makes me love being all cozed up inside, eating something yummy. Like this Creamy Brazilian Cornmeal Cake! Hmmmm, there's seriously nothing better right now.
In Brazil this cake (bolo de fubá) is really popular for breakfast or for the "afternoon coffee". Instead of the British afternoon tea, we have afternoon coffee! :) I'm sure you know coffee is a big deal in Brazil and is consumed after every meal (yes, even dinner!) and during the "cafézinho da tarde" (afternoon coffee), when it is served along pastries, breads and cakes. God, how I miss those… There's nothing like Brazilian coffee!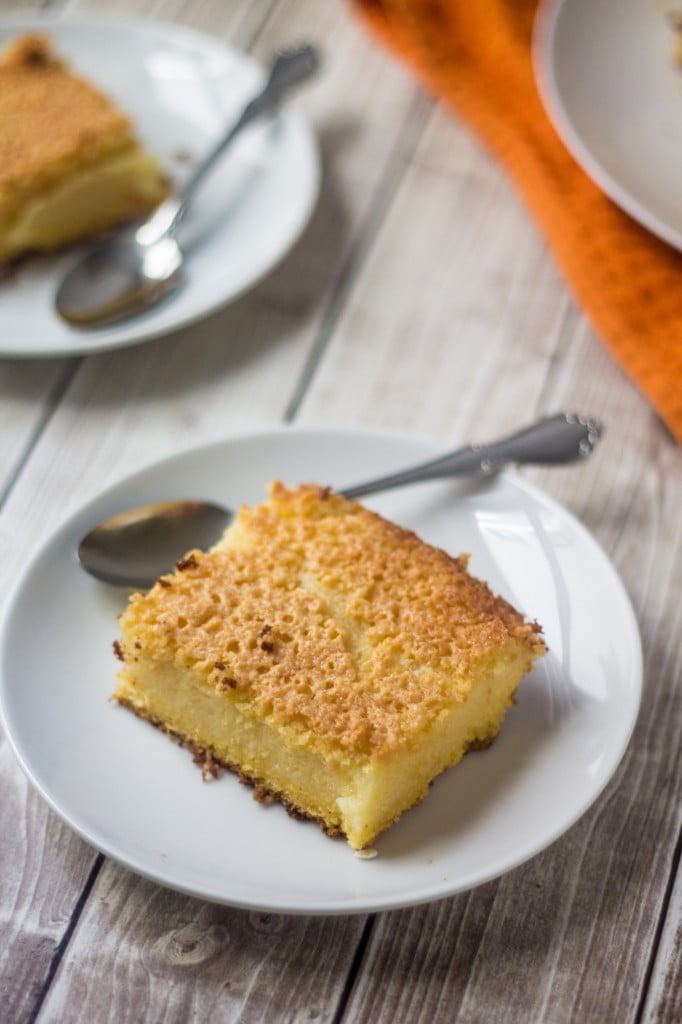 The cornmeal cake is a typical dish from Minas Gerais, but I it was first created by the Africans! The Brazilian slaves, coming from Africa, brought it (and all other dishes that derived from corn) to the Brazilian cuisine. In fact, the word "fubá" is actually an African word that means "flour". This flour is what we know here in the US as cornmeal and is obtained by grinding dry raw corn.
There are lots of different recipes for bolo de fubá, but the one I'm sharing with you today is the one that asks for parmesan cheese and sweet condensed milk. Maybe in the future I'll share other recipes for this delicious cake!
This cake tastes similar to cornbread but sweeter, creamier and cheesier! You take a bite and it melts in your mouth, tickling your taste buds. I especially like to eat it while it's still warm… but lots of people prefer it at room temperature or even cold.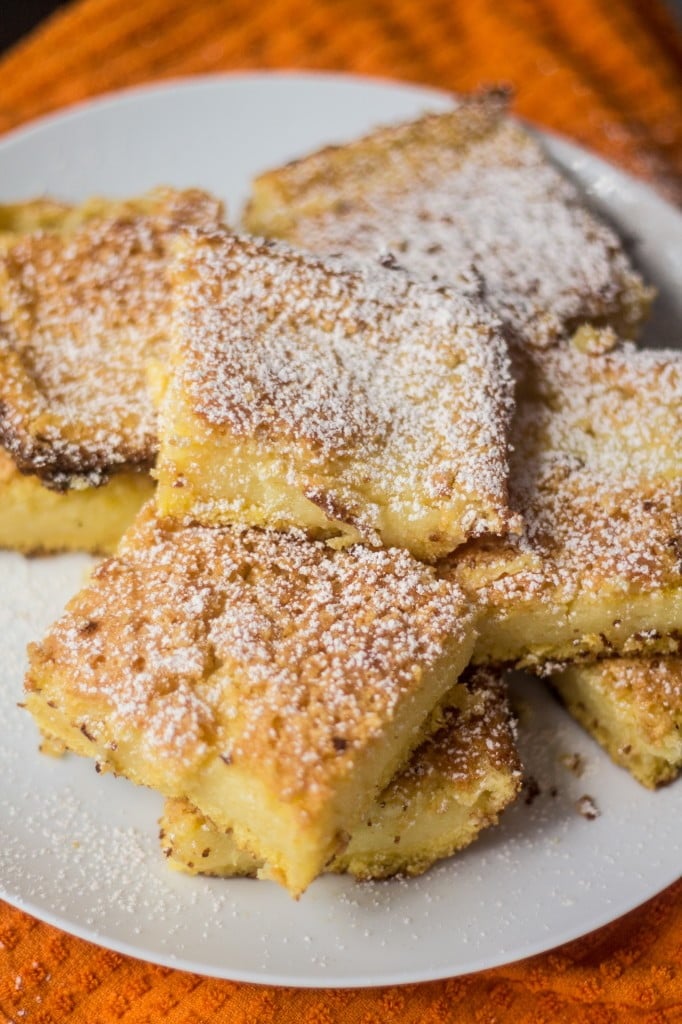 The best thing about this recipe – other than it being amazingly delicious – is that it is made in the blender. Seriously… you just put all the ingredients in the blender and that's it! Your cake will be in the oven in 5 minutes or less! 
Household stand mixers were not widely available in Brazil in the past, so it is common to find Brazilian cake and pie recipes that mix the dough in the blender. I love it! Makes my life so much easier… Believe me, when you work 'til 11pm every day, all you want in your life is easy. (Can you tell I'm desperately needing a vacation?!?)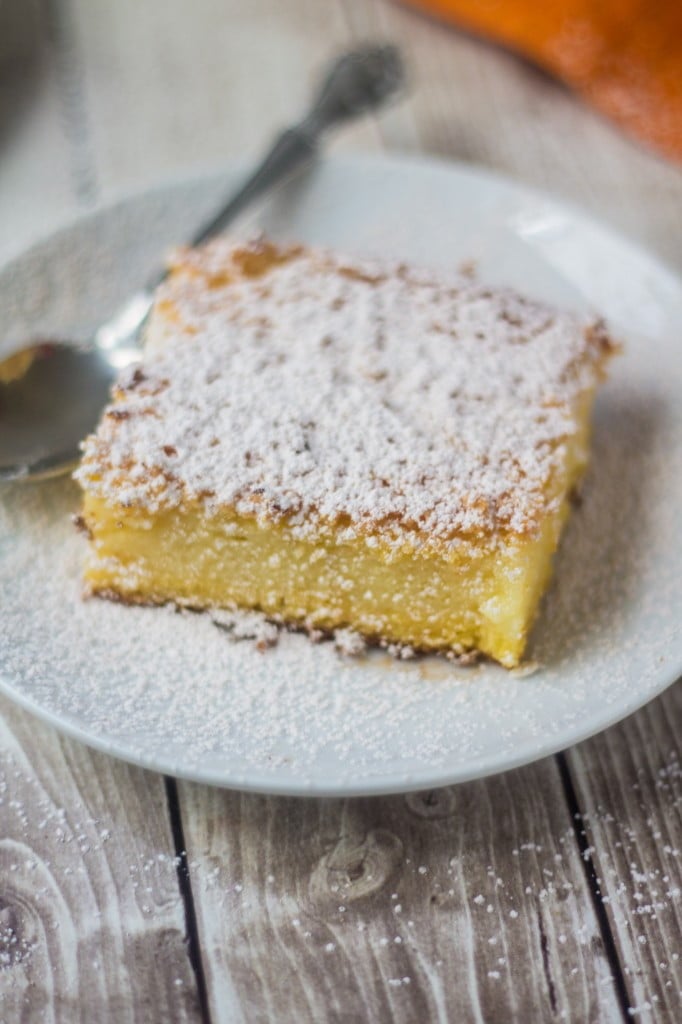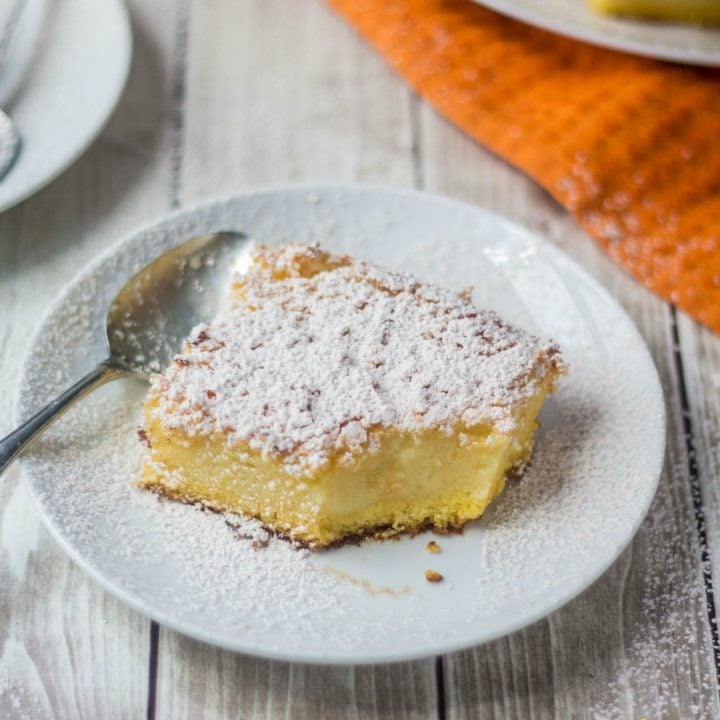 Creamy Cornmeal Cake
Prep Time: 5 minutes
Cook Time: 45 minutes
Total Time: 50 minutes
Ingredients
1 cup fine cornmeal
3 Tbsp all purpose flour
3 eggs
2 cups milk
1 can sweet condensed milk
1/2 cup sugar
2 Tbsp salted butter
3/4 cup grated parmesan
1 tsp baking powder
Confectioners sugar and cinnamon to sprinkle on top of the cake (optional)
Instructions
Pre heat your oven to 350 degrees.
Add all the ingredients, with the exception of the baking powder, to the blender and blend for a few minutes until everything is combined.
Add the baking powder and blend again for 5 more minutes.
Transfer the dough to a greased and floured 9X13 cake pan and bring it to the oven for about 40-45 minutes or until a tooth pick inserted in the cake comes out clean.
If you want, sprinkle some confectioner sugar mixed with cinnamon on top of your cake.