Holiday Brazilian Farofa (Gluten Free)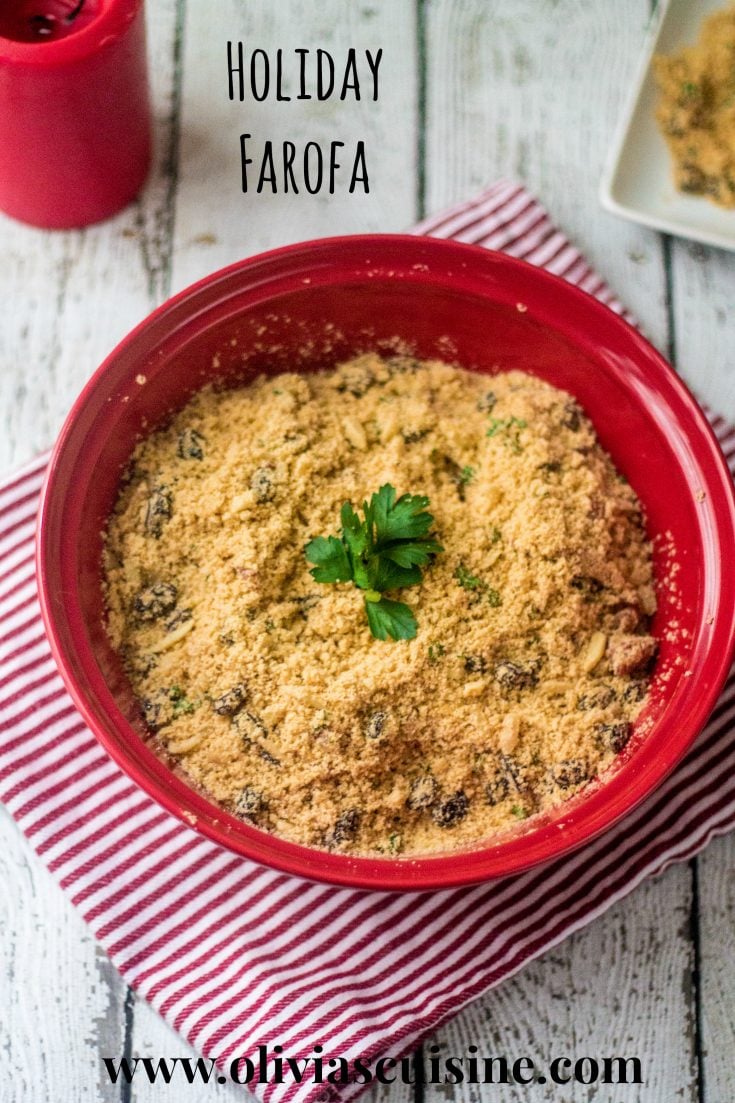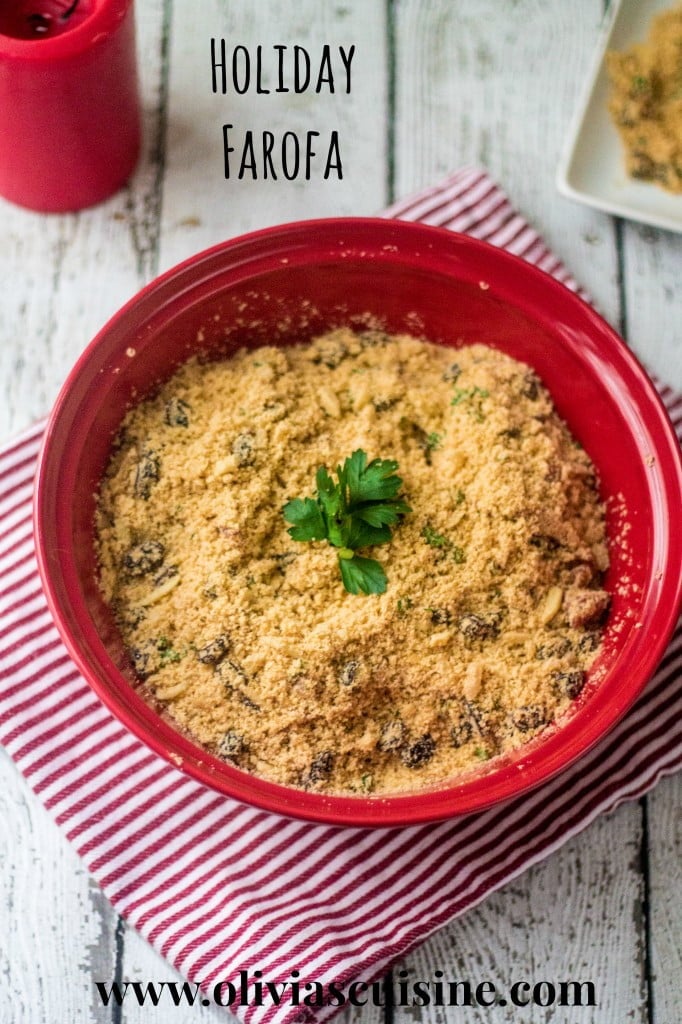 Hello, friends!
Before I even start talking about food, I need to share this wonderful news with you: I am going to the Food Blog Forum 2015 conference in Orlando!!! Yay! I can't even believe it, because after trying to buy the pre sale last Thursday and failing miserably, I realized how hard it was to snag tickets for that and kinda lost hope. But my lovely husband was able to get us tickets on Saturday (when I was at work) during the second registration.
So yeah, I'm going to my first food blogging conference. I'm all excited and nervous at the same time. I still consider myself a baby food blogger so there's something intimidating about being in a room full of seasoned amazing food bloggers! But I'm sure I will learn a lot! Oh, and we are going to be staying at the Grand Floridian and we also get one day of Disney park hopper tickets. (Can you picture me jumping up and down when I got my husband's text saying he got us tickets? My coworkers probably thought I was a little silly…)
Anyway, back to food talking… I bet you're looking at this post's title and thinking "What the heck is that?!?". Unless you've been to Brazil or at least to a Brazilian restaurant, it is natural that you have no idea what Farofa is. But I'm here to change your life and introduce you to this gluten free delicious side dish! You're welcome! :-P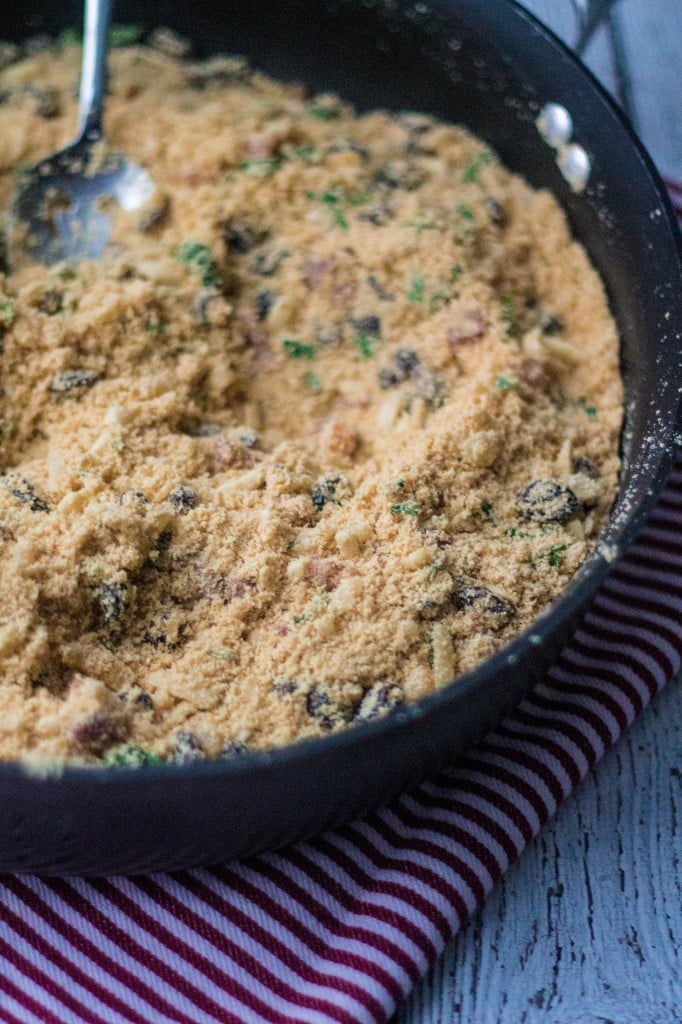 Farofa is a toasted manioc (or sometimes maize) flour mixture and it's served as a side dish for meats, beans, feijoada (black bean stew) and, during the holidays, to stuff poultry. There are lots of different ways to make it and lots of different types of manioc flour that you could use. For example, you may find white or toasted manioc flour. The toasted one has a stronger/nuttier flavor and I usually use it when making Farofa as a side dish for feijoada. However, for my Holiday Farofa recipe I use the white type and I let it toast slightly with the butter and the bacon.
Unless you live somewhere with a big Brazilian community, you probably won't find manioc flour that easily. But don't fret! That's why the internet exists. You can find it here or here!
If you're going to find it on your own (courageous, you!), be sure to look for coarse manioc/yucca flour (farinha de mandioca) and not tapioca flour as that won't work. Save your tapioca flour/manioc starch to make delicious pães de queijo (Brazilian cheese rolls)! Look for the brand Yoki as that's the brand I usually see here in the U.S.!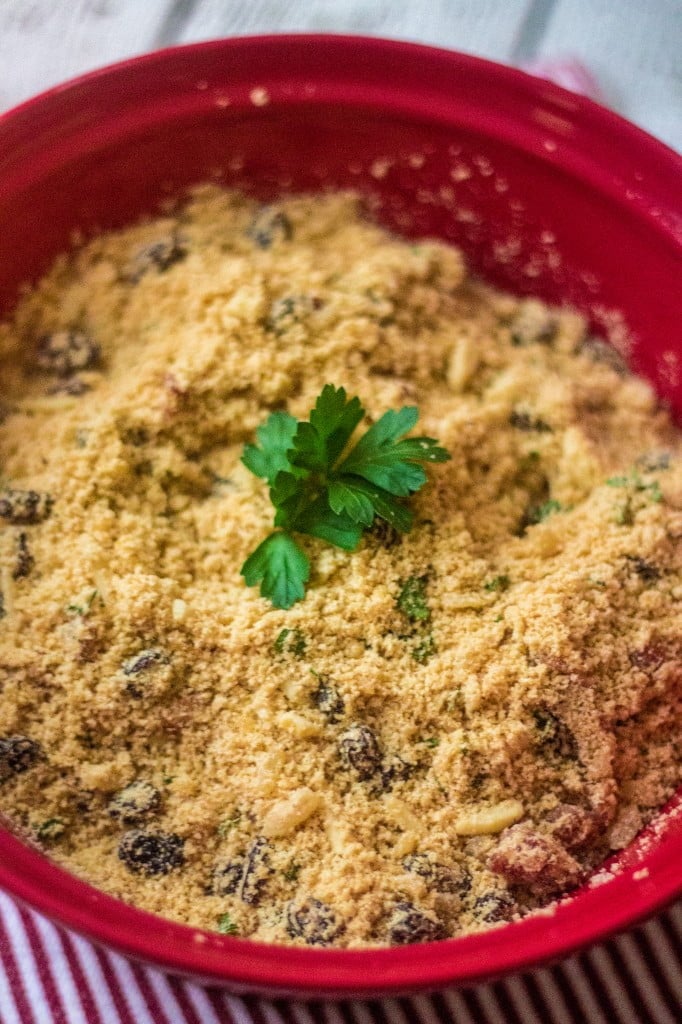 There are lots of different ways to make Farofa, especially depending on the region. Ingredients like eggs, banana, collard greens, carne seca (a type of jerked beef) and herbs are used for some of the varieties of this tasty dish. For the holidays, I like to make my Farofa with dried fruits (usually raisins), nuts and bacon. It makes the Farofa chunky, like American stuffing, and perfect to be served with turkey. Unlike lots of Brazilians, I don't stuff my turkey. I serve my Farofa on the side and,'til this day, nobody complained! In fact, I have yet to serve my Holiday Farofa and not see some people just eating it by the spoonful! (Hint: that's a great way to make me happy!)
The secret to a good Farofa is always butter. There's even a recipe I have that is pretty much manioc flour, onions and lots of butter and it's also to die for! (I serve that version when I make my rice with raisins and almonds!) So if you're afraid of butter, this is not the recipe for you! As Julia Child would say: "With enough butter, anything is good!".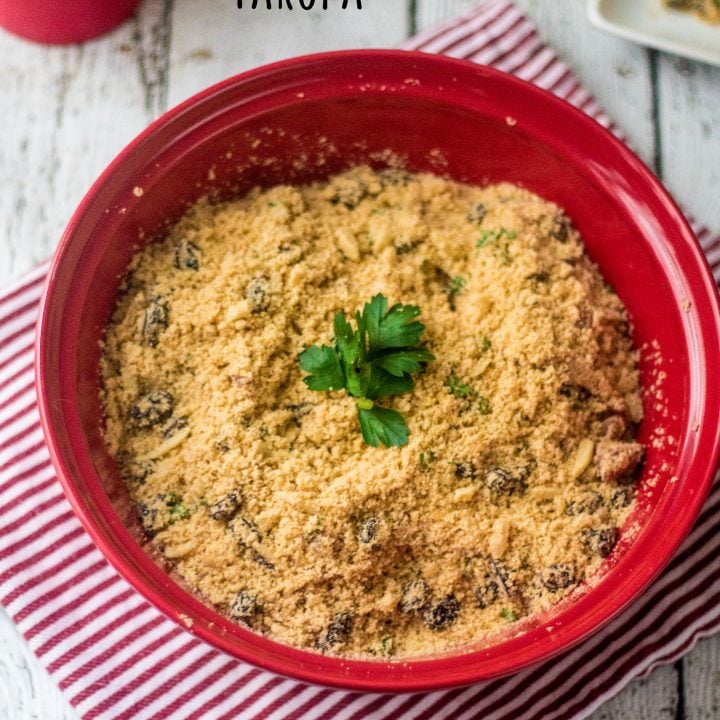 Holiday Brazilian Farofa (Gluten Free)
Prep Time: 5 minutes
Cook Time: 15 minutes
Total Time: 20 minutes
Ingredients
1/2 cup butter
2 onions, chopped
4 cups manioc flour
4 slices of bacon, chopped
1 cup chopped walnuts (or slivered almonds)
1 1/2 cups raisins
1/2 cup chopped parsley
Salt and Pepper to taste
Instructions
Hydrate the raisins in warm water for 5 minutes. Drain and reserve.
In a large skillet, fry the bacon until golden brown.
Add the butter and the onion and sauté until translucent.
Add the manioc flour, lower the heat and keep mixing until it toasts slightly and becomes a nice golden color. That should take about 5 minutes.
Add the hydrated raisins and the nuts and mix everything together.
Season with salt and pepper and add the chopped parsley.
Serve warm or at room temperature.