Turkey and Mashed Potatoes Casserole
Happy day after Thanksgiving!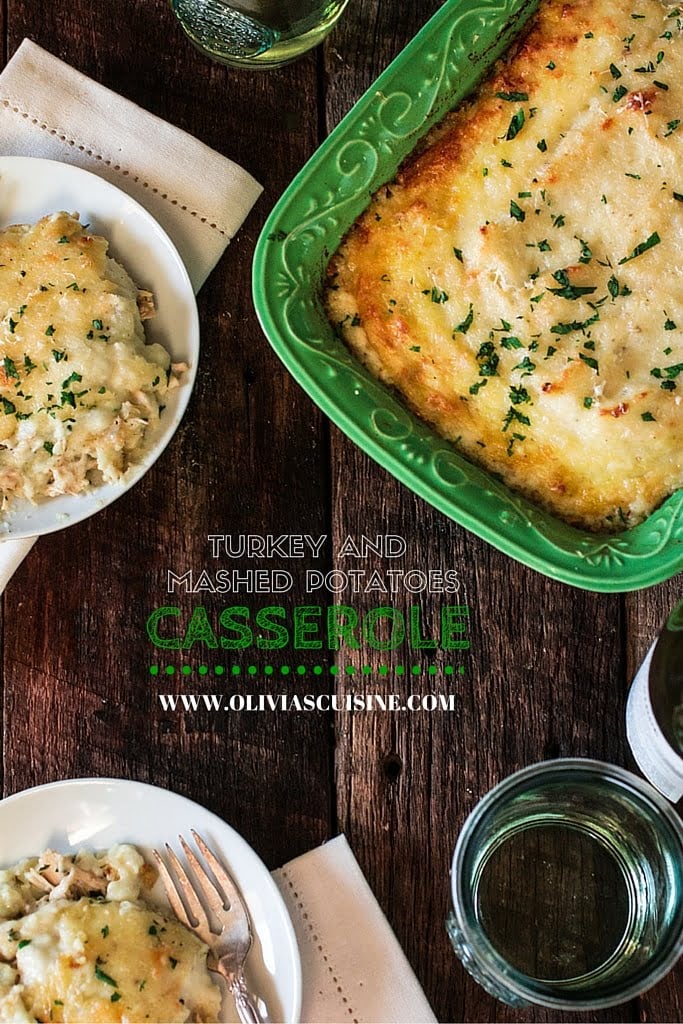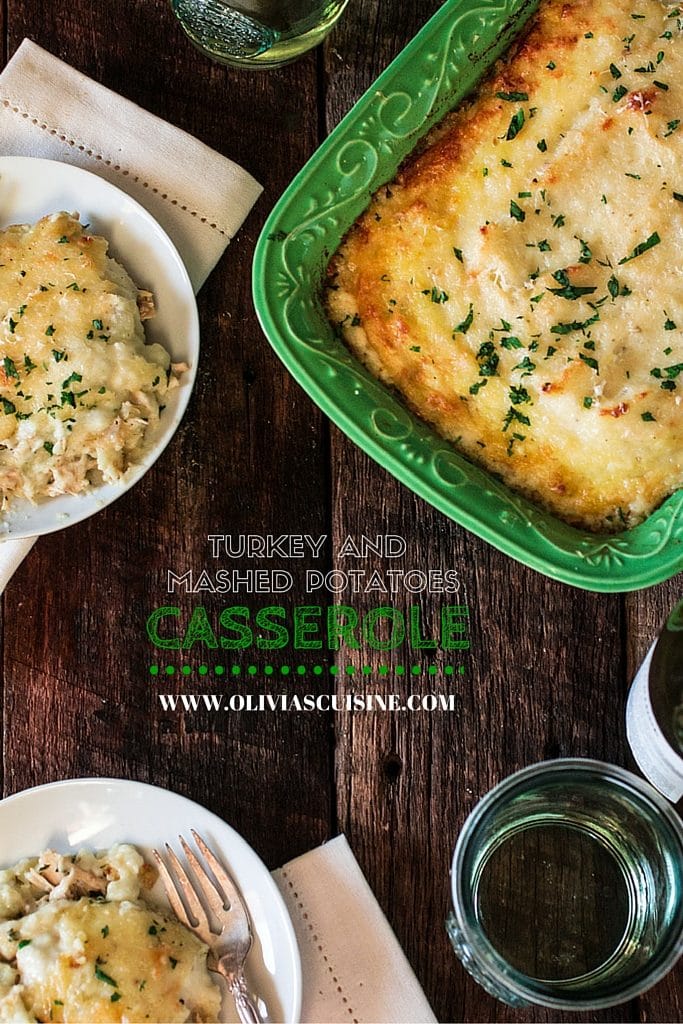 Quick post today, guys, cause I have a feeling you might still be worn out from yesterday's feast!
And I can bet you are now puzzledly looking at all those leftovers, thinking "Why do I always have to make so much food?" while hopelessly pulling your hair.
But what if I told you there is a way to revamp all that food into something delicious?
No, not a sandwich! We all know turkey sandwiches are great, but this year we are looking for something better. So I see your turkey sandwich and I raise you a Turkey and Mashed Potatoes Casserole! Ta-daaaaaaaa! ❤️❤️❤️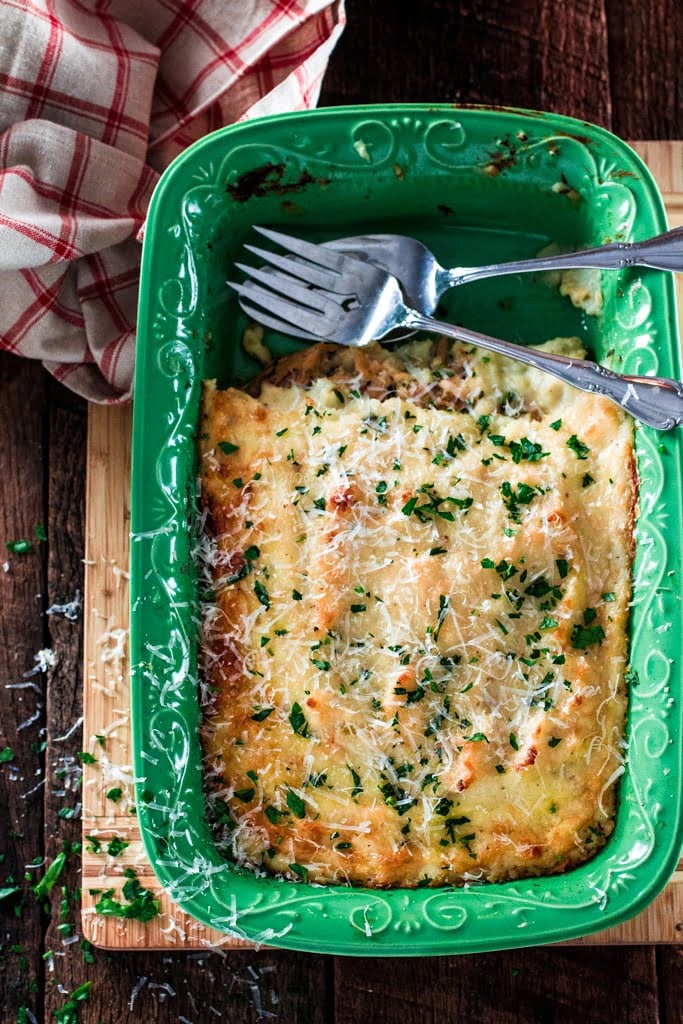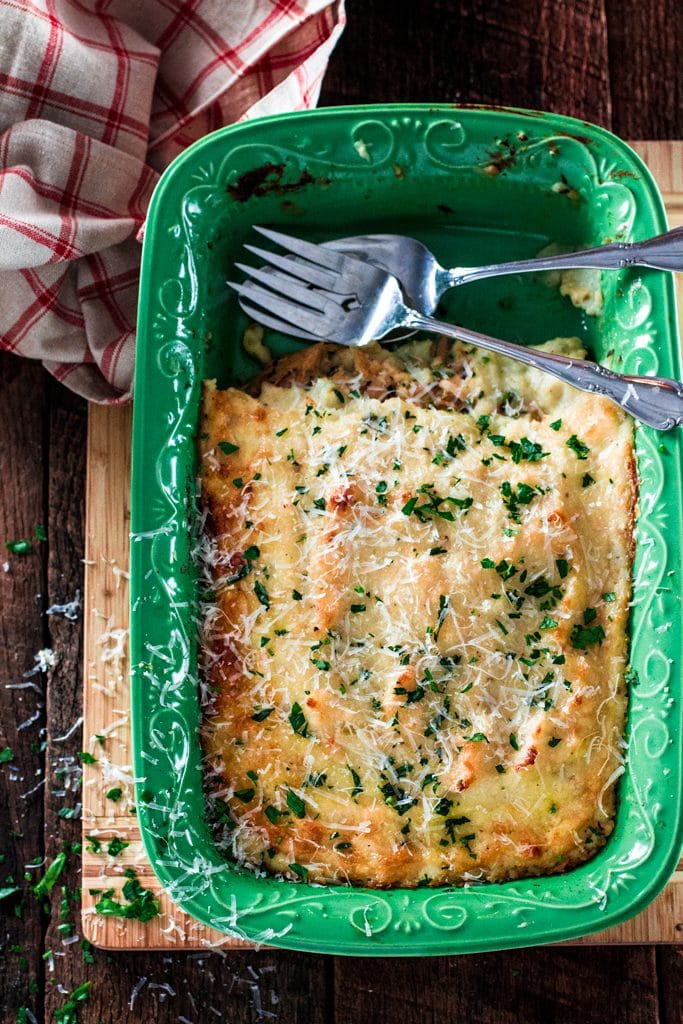 Tim and I decided to go low key this Thanksgiving. We chose to stay home watching the last Hunger Games, getting ready to maybe go see the new one today this weekend!
And, since I made a turkey for the blog last Sunday, we had a lot of turkey leftovers this week. You see, my husband has no problems eating leftovers all week long. Me, on the other hand, not so much! Especially turkey… There is something about reheated turkey that just makes me flinch.
So, I took Antoine Lavoisier's advice – "In nature nothing is wasted, nothing is created, everything is transformed." – and transformed our leftovers into an amazing, easy casserole that is inspired by the Brazilian version of a shepherd's pie: escondidinho!
Easy as in: sauté some onions and garlic, add the turkey and the gravy and voila, the filling is ready. Then, cover with mashed potatoes, sprinkle a whole lot of parmesan cheese and bring it to the oven until the top is bubbly and golden brown. ?
You could also add some requeijão (or cream cheese) and/or whatever veggies you have left, like carrots or brussels sprouts, to the filling. Some olives might be good too!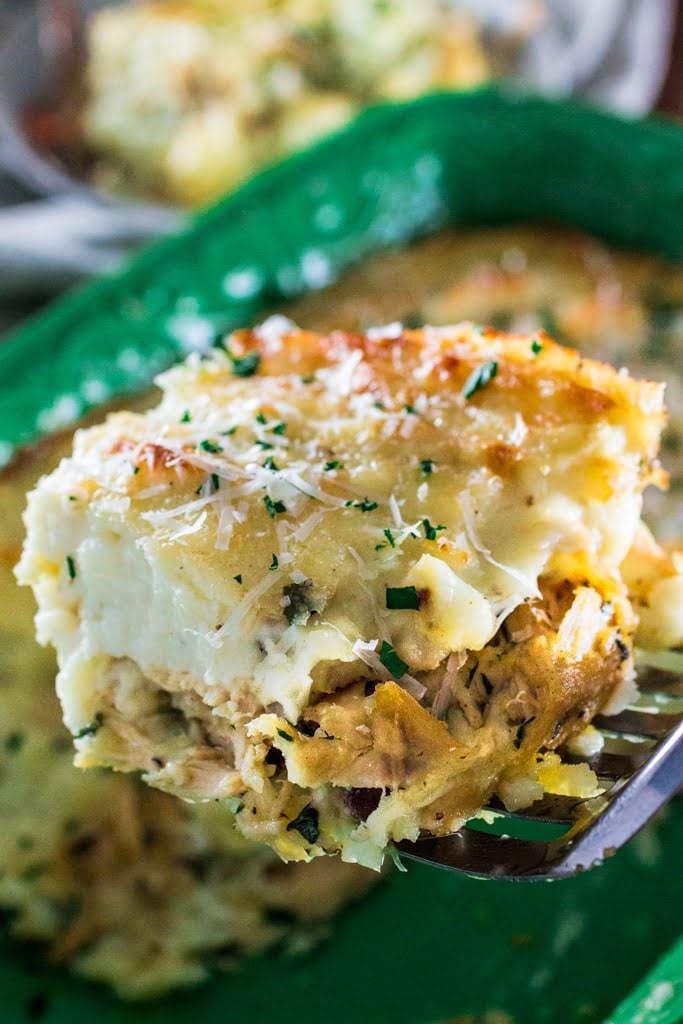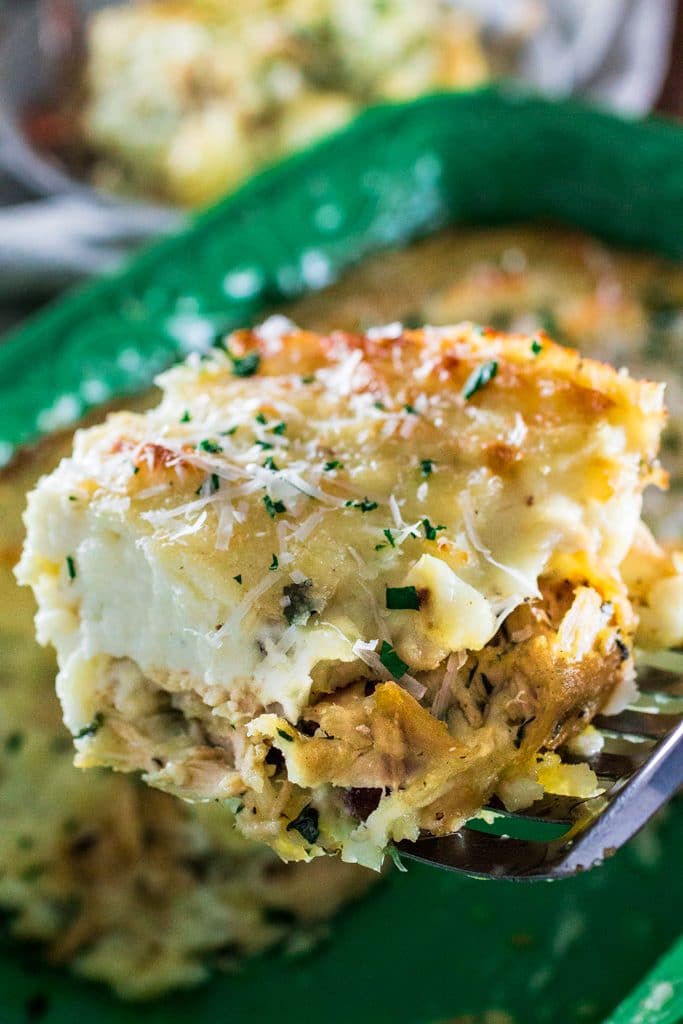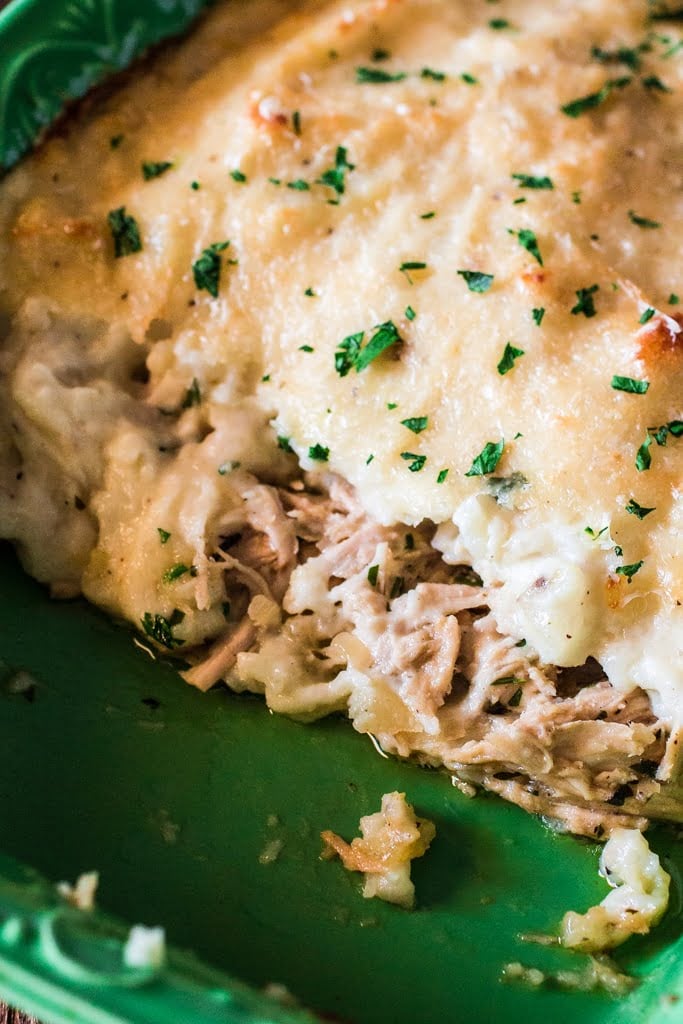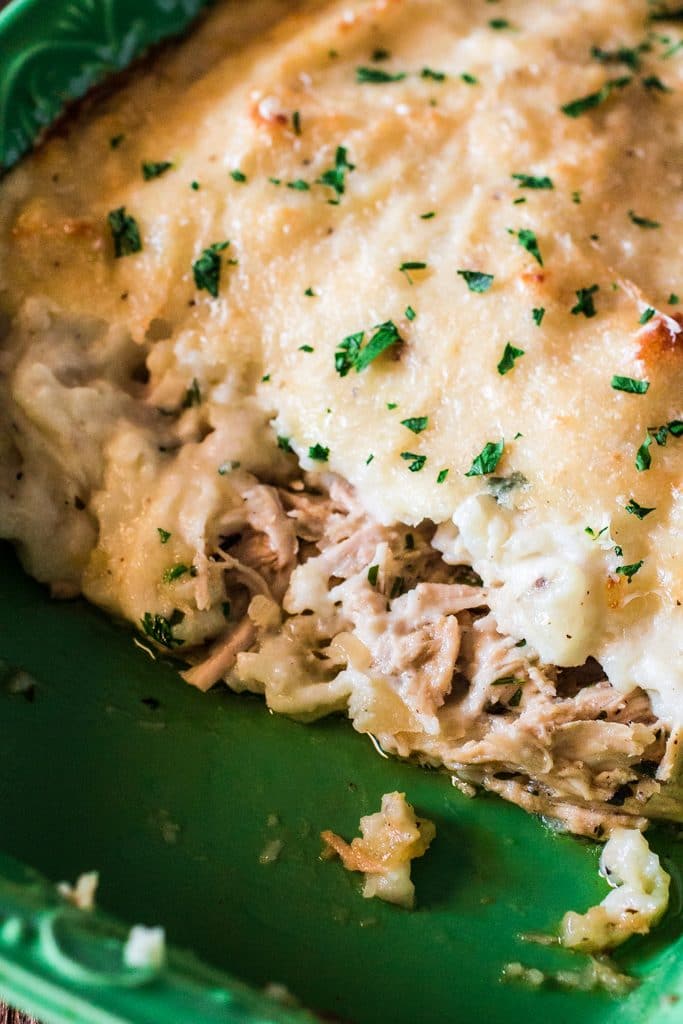 Seriously, guys, make this! This casserole will be very convenient this weekend and you'll be able to do what everybody needs to do the weekend after Thanksgiving: absolutely nothing! (Because we all deserve a break from all the cooking. Or eating! <- no shame in that!)
Except me, I gotta work… Sigh… ? (Tell me the truth: you can't wait for me to be a full time blogger so I stop complaining about working weekends, right? ?)
Oh, and in case you are doing the whole Black Friday thing, don't forget to take a peek at my 2015 Holiday Gift Guide for Foodies for some fun ideas!
Have a great long weekend, everyone!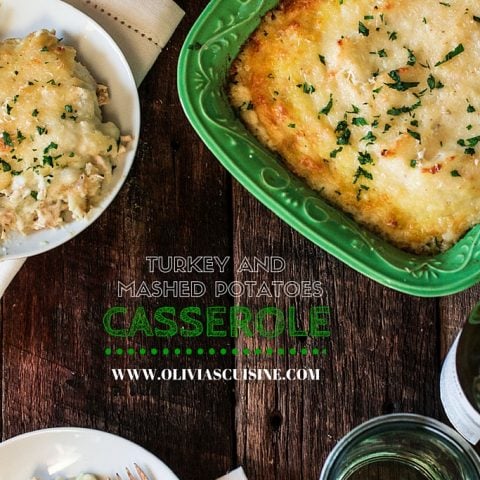 Turkey and Mashed Potatoes Casserole
Yield: 6
Prep Time: 5 minutes
Cook Time: 30 minutes
Total Time: 35 minutes
Ingredients
2 tablespoons olive oil
1 medium onion, chopped
3 cloves of garlic, minced
4 cups shredded leftover turkey
1 cup leftover gravy
Salt and pepper to taste
1/3 cup chopped parsley
4 cups mashed potatoes
1/2 cup heavy cream, if necessary
1/2 cup freshly grated parmesan cheese
Instructions
Preheat oven to 400F degrees.
In a large skillet, over medium high heat, heat the olive oil and sauté the onions and garlic until translucent (about 2 minutes).
Add the shredded turkey and sauté with the onions and garlic for a minute. (You can also add whatever leftover vegetables you have, as well as some corn or olives!) Then, add the gravy and the parsley and cook until incorporated. Season with salt and pepper, if necessary. Reserve,
If your mashed potatoes have thickened too much in the fridge, add 1/2 cup heavy cream to loosen it up a bit.
Spread 1/4 of the mashed potatoes to the bottom of a lightly greased 9X13-inch baking dish. Layer the turkey filling right on top of that and finish with the remaining mashed potatoes on top.
Sprinkle the parmesan on top and bring the casserole to the oven. Bake for 30 minutes or until the top is bubbly and golden brown. Top with some more parmesan cheese, if desired!
P.S. Wanna keep in touch? Follow me on Facebook, Twitter, Instagram or Pinterest to stay up to date with my posts! If you end up making one of my recipes, I would love to see it! Just take a photo and post it on your preferred Social Media and tag me or use the hashtag #oliviascuisine!