Asian Salad with Sesame Ginger Vinaigrette
Are you over winter already? Bring spring to your tastebuds by making this refreshing and nutritious Asian Salad made with spinach, watercress, carrots, broccoli stems, mango, cucumbers, edamame, crushed peanuts and a delicious sesame ginger vinaigrette!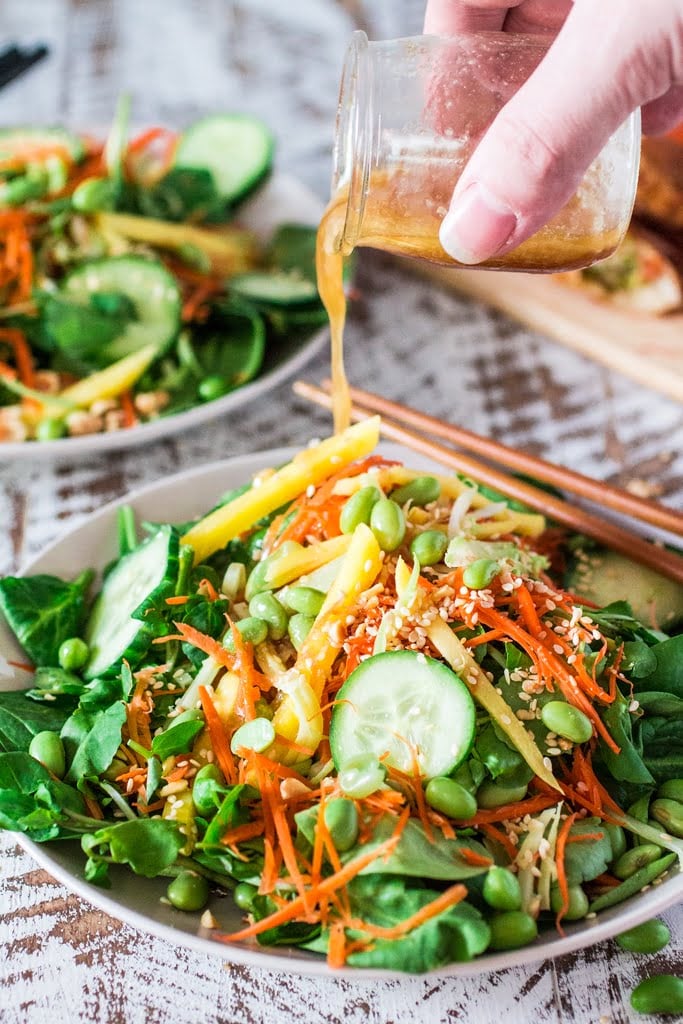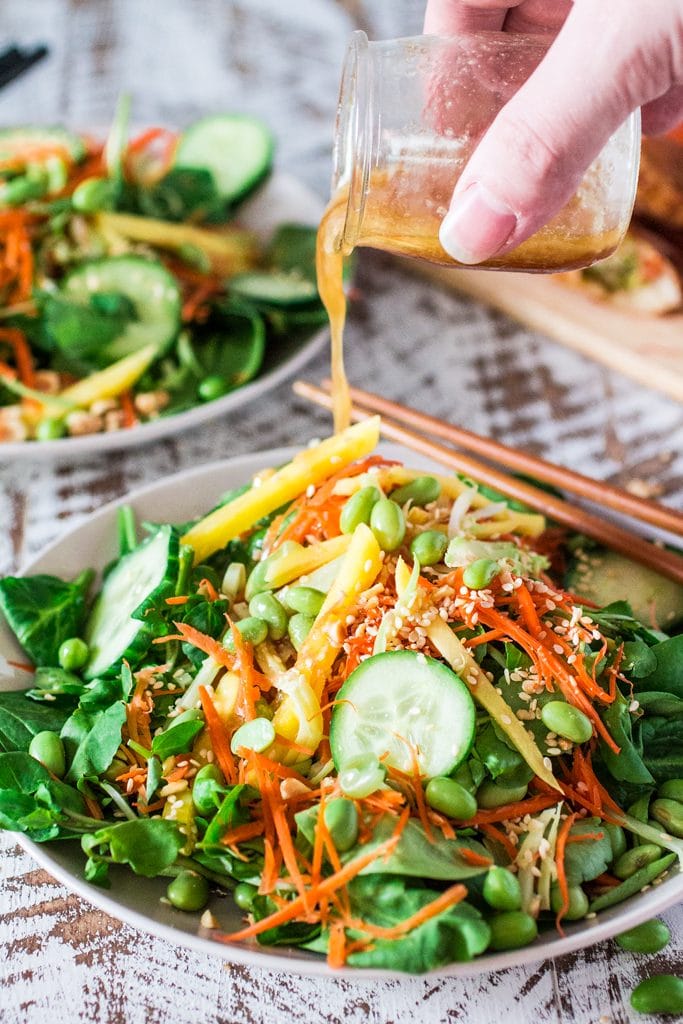 We survived Snowzilla 2016! ⛄️
It's not like it was hard, since I didn't step a foot out of my apartment. My husband, on the other hand, had to walk our dog 3 times, go to the pharmacy (to buy milk so we could make hot chocolate) and then go outside with a thermal of hot chocolate for the two poor guys who were working non-stop in our building's courtyard.
Before you start thinking that I'm a terrible wife for not offering to do at least one of those trips into snow land, let's remember that Tim was born and raised in this weather while my poor Brazilian body grew up in a tropical climate and has only participated in 6 winters. ?
That being said, I did used to feel really bad for him when we lived in Manhattan and he would have to dig out our car which would be often buried in rock hard snow. Thank God we now live in a building with a garage! It's always the small things, isn't? ❤️
Anyways… After spending the whole day inside on Saturday, we woke up to a beautiful sunny Sunday and I got inspired to prepare a wonderful spring/summer-ish meal. So this Asian Salad was born!
I also couldn't resist frying up some delicious egg rolls to go with my salad. Because who needs take out when you can make a meal like this at home?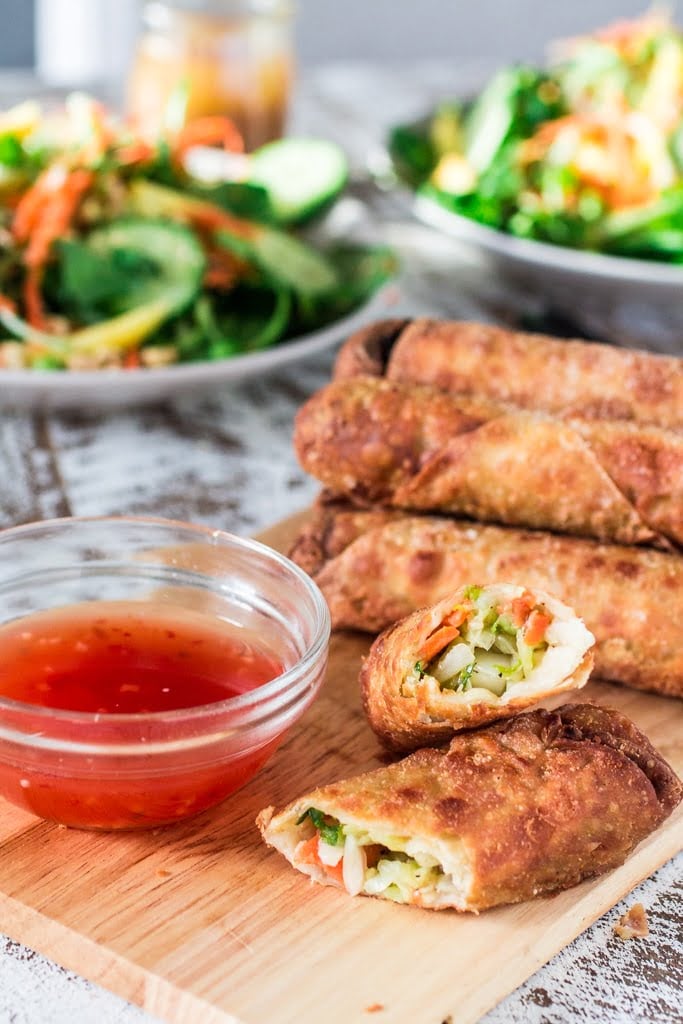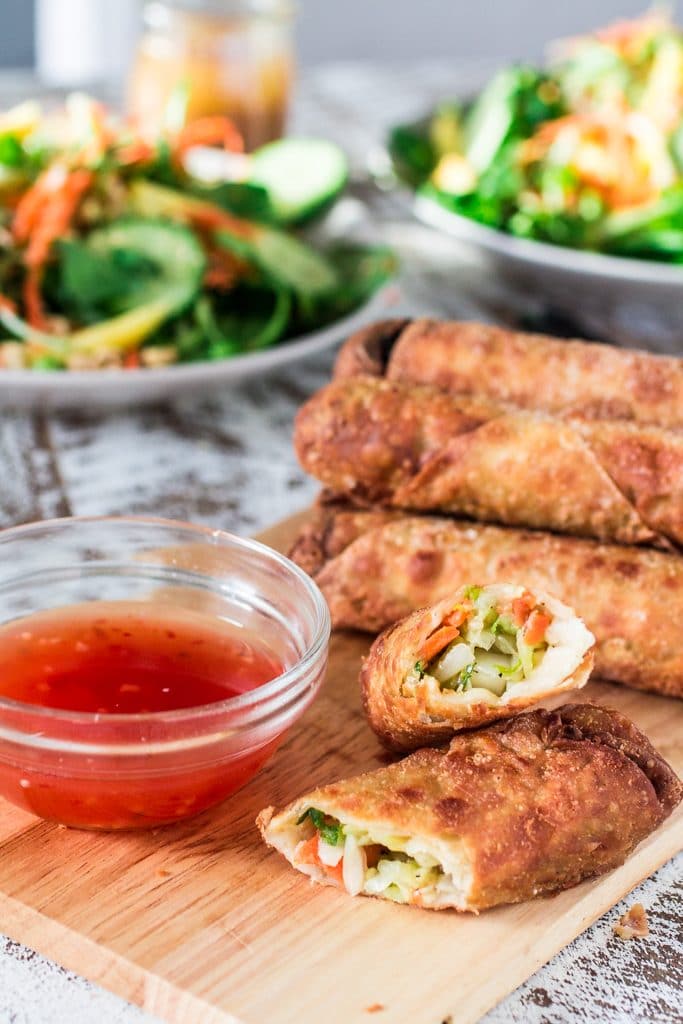 This bright and colorful salad, paired with the egg rolls, would be a great way to celebrate the Chinese New Year (which happens this year from February 7th – 13th), don't you think?
But before you yell at me, saying "This salad is not Chinese, woman!", let me tell you that I'm in no way claiming any authenticity here. As much as I love Asian food, I'm a beginner, to say the least, at making Asian recipes at home. Getting more familiar with it (and posting more Asian recipes here on the blog) is definitely on my bucket list for 2016!
The idea for this salad came from a similar salad I had at a burger joint once. I fell in love with the flavors and took note of what I saw on my plate and what was described on the menu. Then I came home and played mad scientist in the kitchen until I created something that tasted just like what I had that day.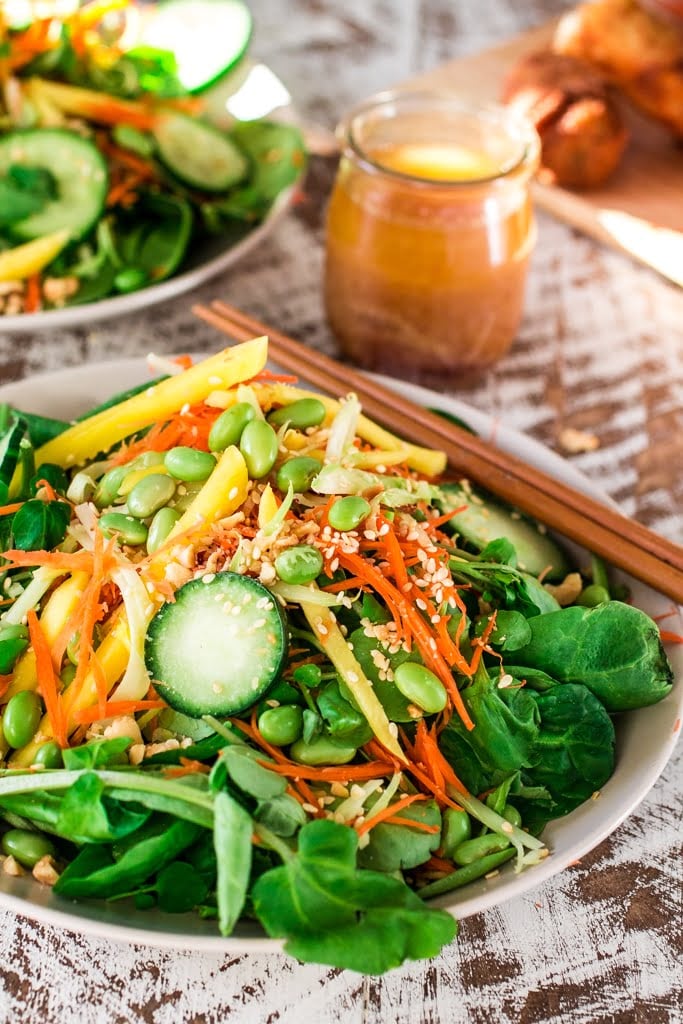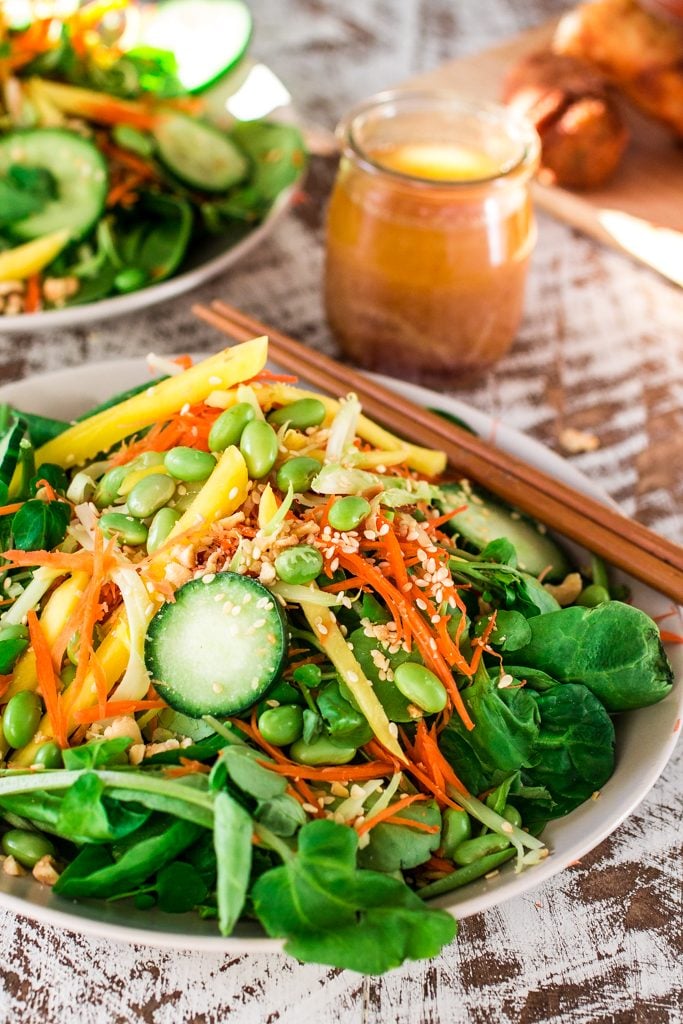 The thing I love the most about this Asian salad is the sesame ginger vinaigrette.
I'm usually not a ginger fan, but ginger dressings? I could drink that stuff by the gallon! Weird, right? Go figure!
Making the dressing is easy peasy: just blend all the ingredients in the blender and drizzle over your salad. What could be easier than that?
As for making the rest of the salad, one could argue that julienning the veggies might require some skills. I use a mandolin, but you can totally use the food processor!
If you don't own any, just chop everything as thinly as you can. It will taste divine regardless!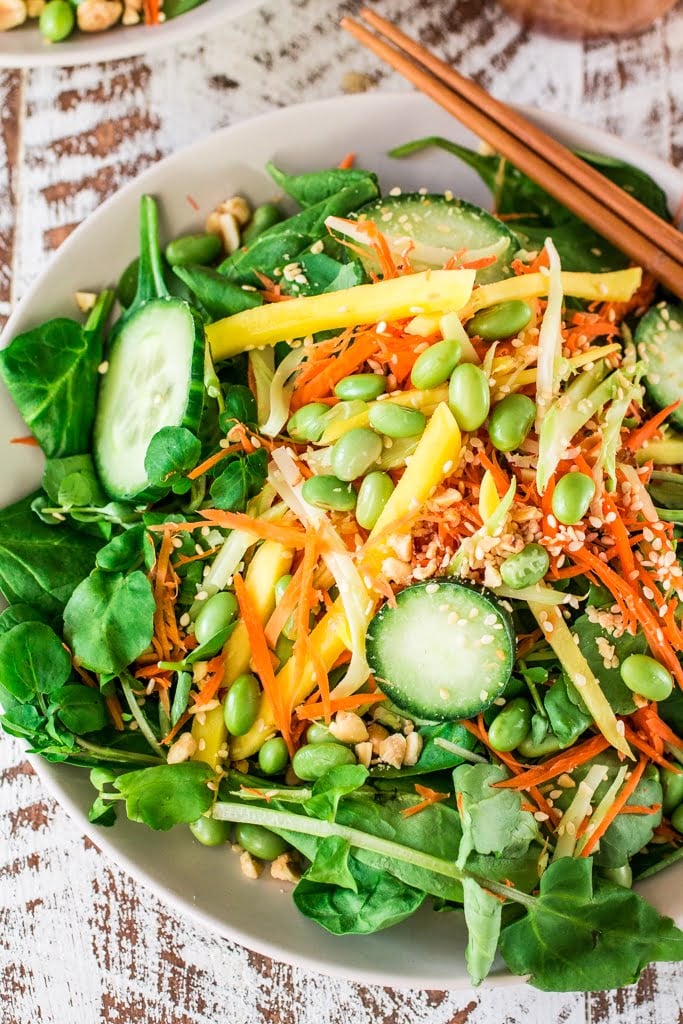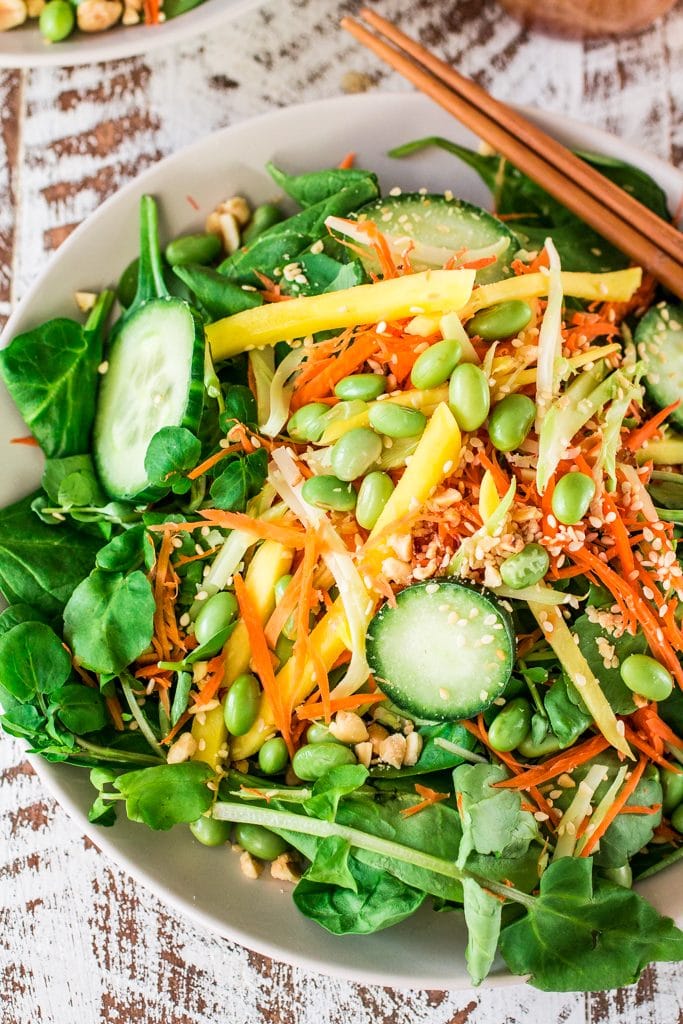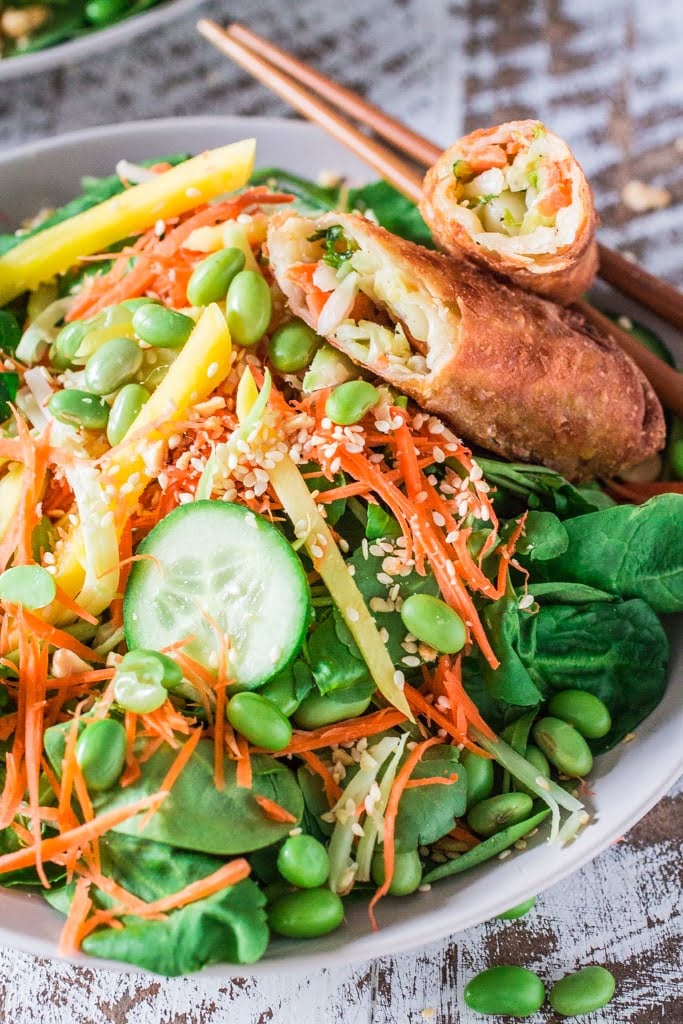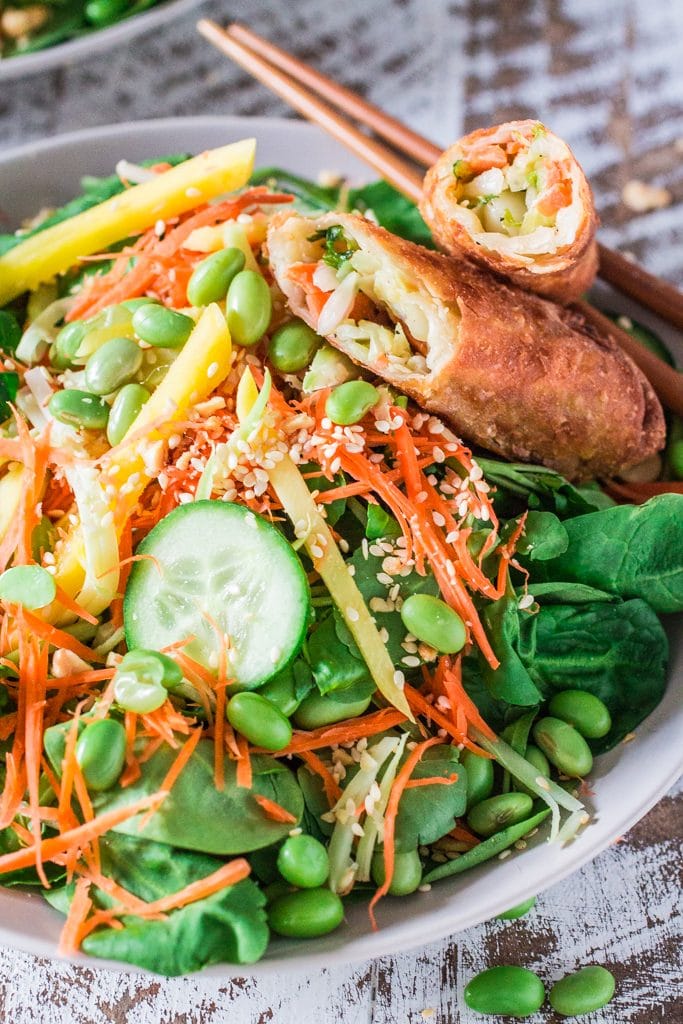 I know what you're thinking: Can I add chicken to this salad?
And the answer is: HELL YEAH! Chicken would be a great addition here. You can either use leftover chicken, grill some chicken or… wait for it… serve it with some chicken egg rolls!
You saw that coming, didn't you? But, seriously, who doesn't love egg rolls?
But now tell me, what are your Chinese New Year resolutions? Mine is to eat more delicious Asian food! ?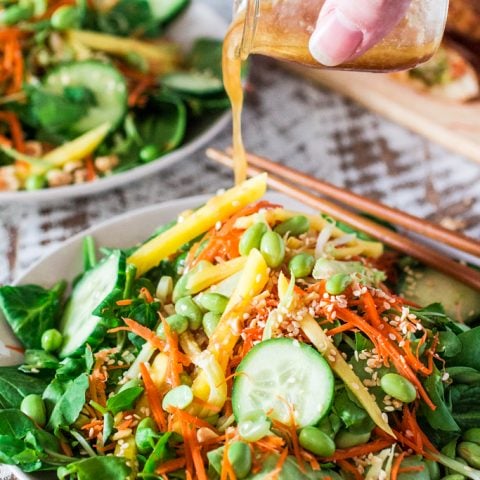 Asian Salad with Sesame Ginger Vinaigrette
Yield: 4
Prep Time: 15 minutes
Total Time: 15 minutes
Ingredients
For the salad:
1 cup shelled edamame, frozen
4 cups packed baby spinach
2 cups watercress (thin stems and leaves only)
2 carrots, peeled and julienned
4 broccoli stems, peeled and julienned
1 green mango, peeled and julienned
1 medium cucumber, thinly sliced
For the dressing:
1 teaspoon finely minced ginger
1 garlic clove, minced
2 teaspoons agave nectar
3 tablespoons rice vinegar
1 teaspoon soy sauce
5 tablespoons canola oil
2 tablespoons sesame oil
Garnishes:
1/3 cups peanuts, crushed
2 tablespoons toasted sesame seeds
Instructions
Make the dressing:
Combine all the ingredients in the blender and blend until smooth. Reserve.
Make the salad:
Start by cooking edamame according to package instructions.
Place all the salad ingredients (including the cooked edamame) in a bowl, drizzle with the dressing and toss.
Garnish with sesame seeds and crushed peanuts and serve.
Notes
The dressing can be made ahead and refrigerated for up to 3 days.
You can also cook the edamame ahead of time and refrigerate until ready to use.