Bacon Wrapped Cheese Stuffed Meatloaf
This shop has been compensated by Collective Bias, Inc. and its advertiser. All opinions are mine alone. #NaturallyCheesy #CollectiveBias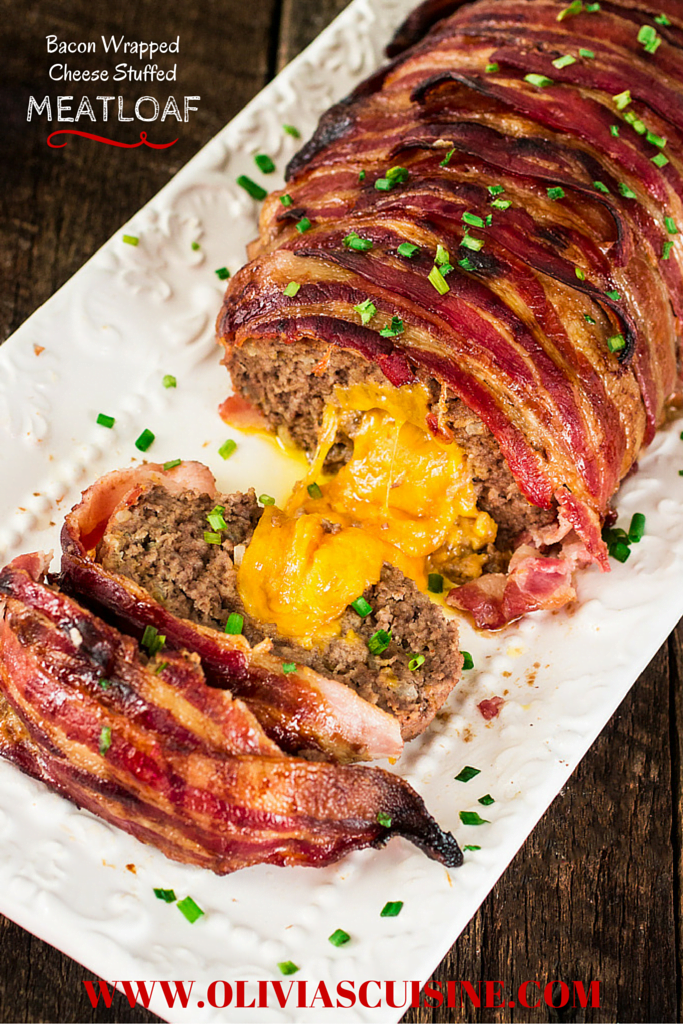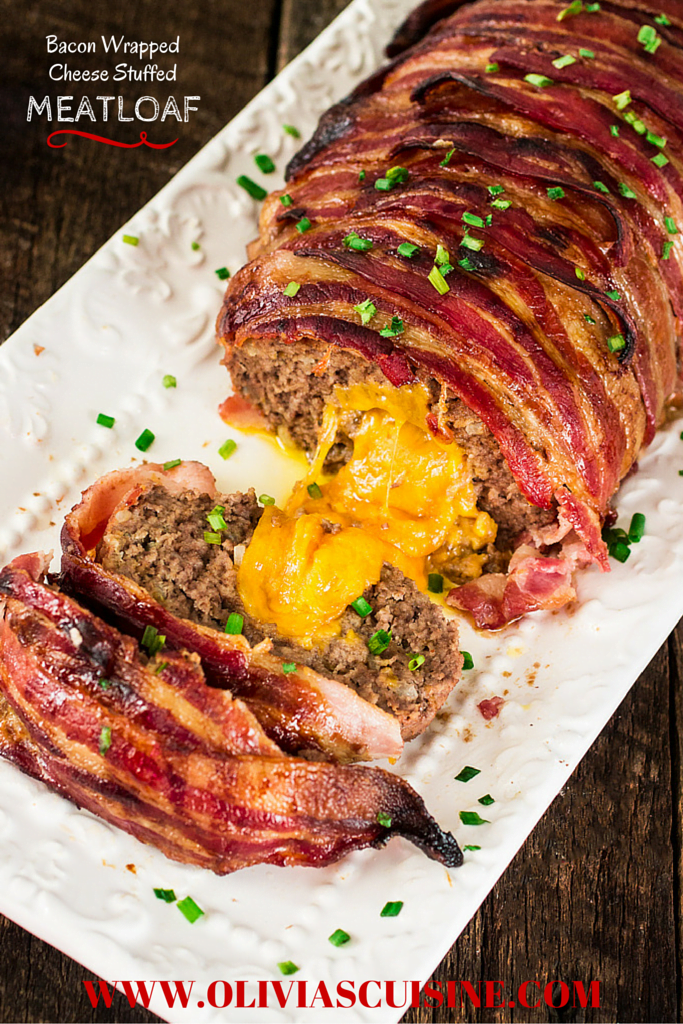 Here I am once more to share with you another delicious recipe! This time, it's a classic American comfort dish: Bacon Wrapped Cheese Stuffed Meatloaf. Because who doesn't love tasty cheesy recipes?
I know what you're thinking. I'm the "queen" of comfort food! 8 out of 10 recipes on this blog belong in the "comfort" category.
Lately, with the cool weather plus all the shenanigans happening in my life, comfort food is pretty much needed all the time. I get home from torture work, get a plate of whatever leftovers I have that day and then head right into my bed to watch Netflix with my husband. Oooh, the married life… How exciting, right?
But the reality is that I could eat comfort food (and watch Netflix with my husband) every day for the rest of my life!
In fact, "comfort food" should be called just "food" and all the other kinds of food should be called "not too exciting food". What do you think? Should I email the dictionary people?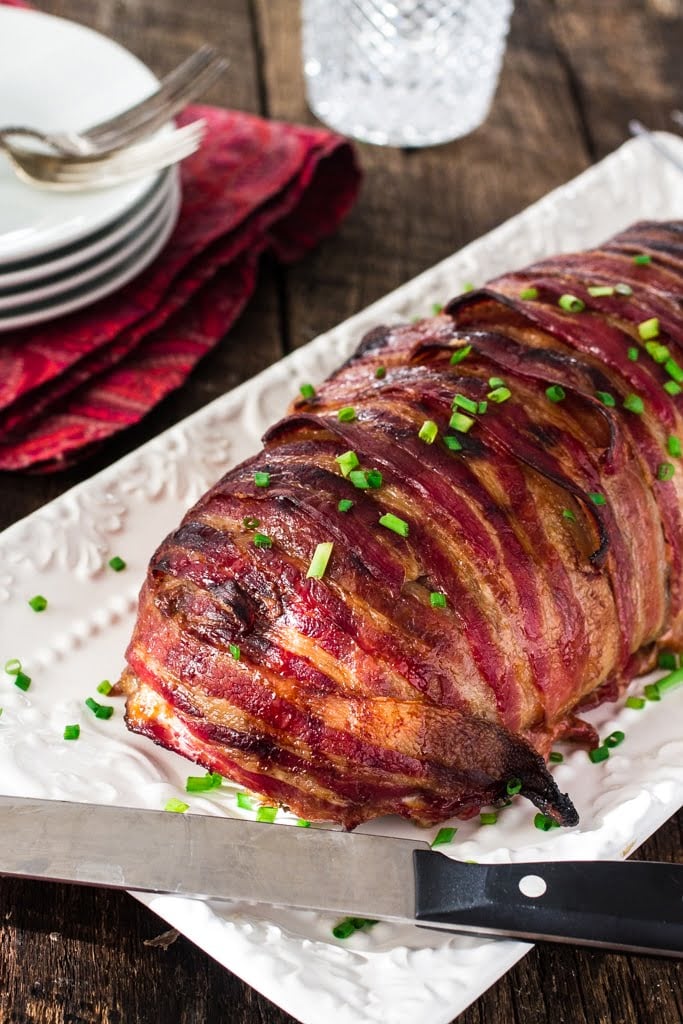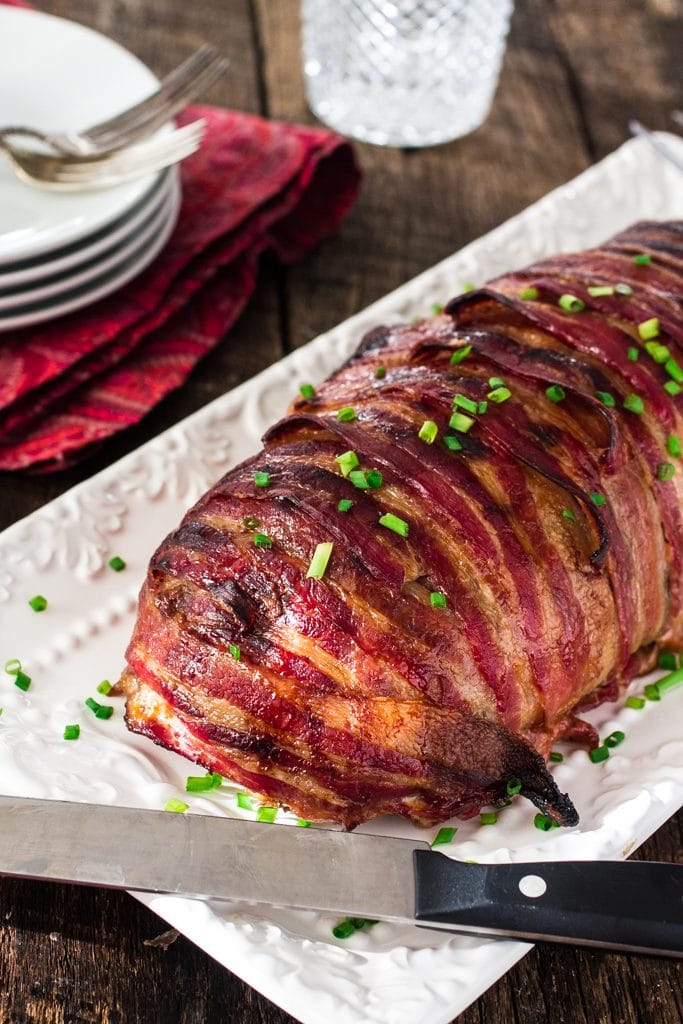 If you're American, chances are you either already have a nice meatloaf recipe you use all the time, or you run to the hills at the slightest mention of "meatloaf" because all you ever had was a dry, bland version of the dish.
If you belong in the second group and somehow still made this far into the post, stop right there. Do not run to the hills! Take my hand. Here ->✋I will walk you through this and, hopefully, convince you that meatloaf is not supposed to be dry and bland. Whatever they did to you in the past, I will fix it! Promise! ? (<- you and me holding hands into the meatloaf wonderland).
Now, if you belong in the first group, just try my recipe. It's always good to switch things up a bit! And maybe send me your version of a delicious meatloaf! I always like trying new things!
But for now, let me focus on my meatloafphobic friend, who is shaking over there in the corner ?, waiting for my promise to end her/his phobia for good.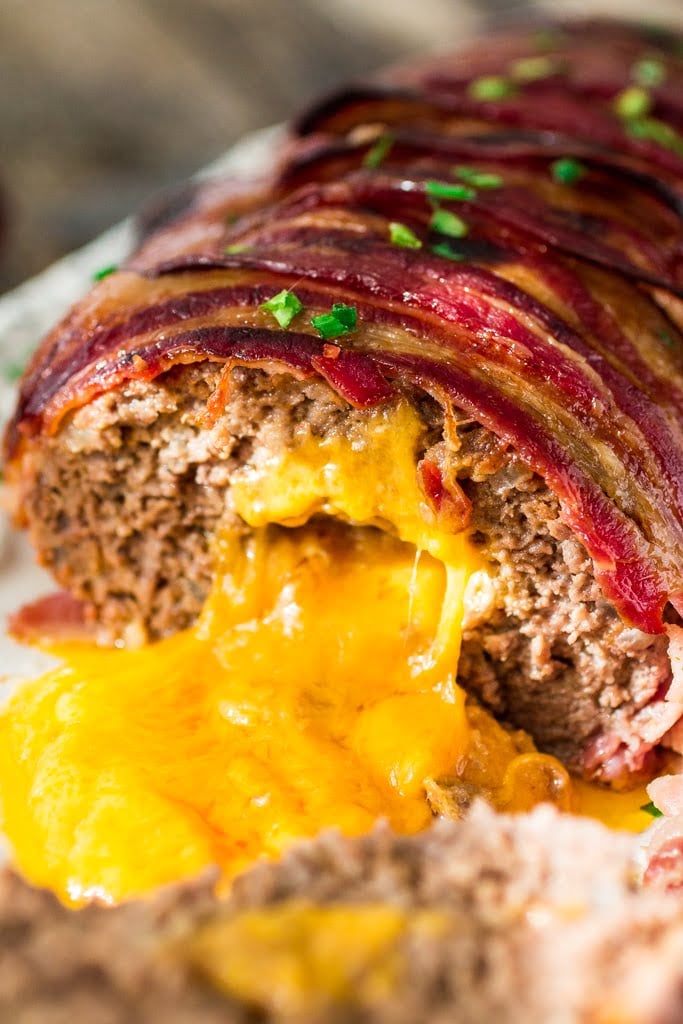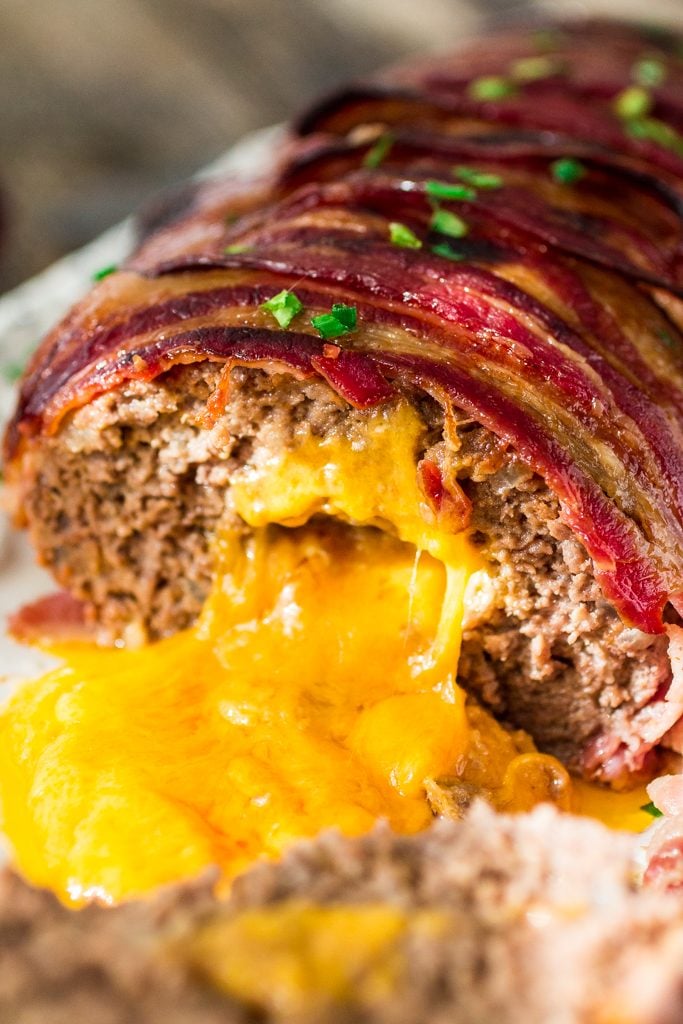 Let's go over all my secrets for a guaranteed moist and flavorful meatloaf.
I've broken down into steps, to make reading this loooong post easier! You're welcome! ?
1) What type of meat should I use?
I see a meatloaf as a bigger, loaf shaped version of meatballs. So the ingredients and the technique I use are somewhat similar to my meatballs recipe!
And, as it is with my meatballs, I use a mixture of ground chuck and ground sirloin for texture and flavor. The chuck keeps the meatloaf moist and tender and the sirloin adds more flavor.
Alternatively, you can use a mixture of beef, pork and veal (50% chuck and 25% each pork and veal).
2) Cook your vegetables!
I only add onions and garlic to my meatloaf, but I know lots of recipes call for other kinds of vegetables, like celery and carrots.
Whatever the case may be, always, always, ALWAYS sautée your veggies with some olive oil before mixing it with the other ingredients. That will not only make them more tender, but it will add more moisture and flavor to your meatloaf! Also, no one likes to bite into a crunchy onion or raw garlic when eating a meatloaf!
3) Saltines? Breadcrumbs? Potatoes?
To prevent the meatloaf from becoming too dense and more light and moist, most recipes ask for some kind of filler. Saltines, breadcrumbs, mashed potatoes, tapioca, oatmeal, you name it!
My choice? A fresh soft roll, cut into smaller pieces and soaked with milk!
The mushy/thick mixture of bread soaked in milk will help you bind the meat together and will also add even more moisture to your loaf! (I hope by now you are convinced that it's all about the moisture! ?) And, in case you're wondering, you won't taste the bread in the meatloaf.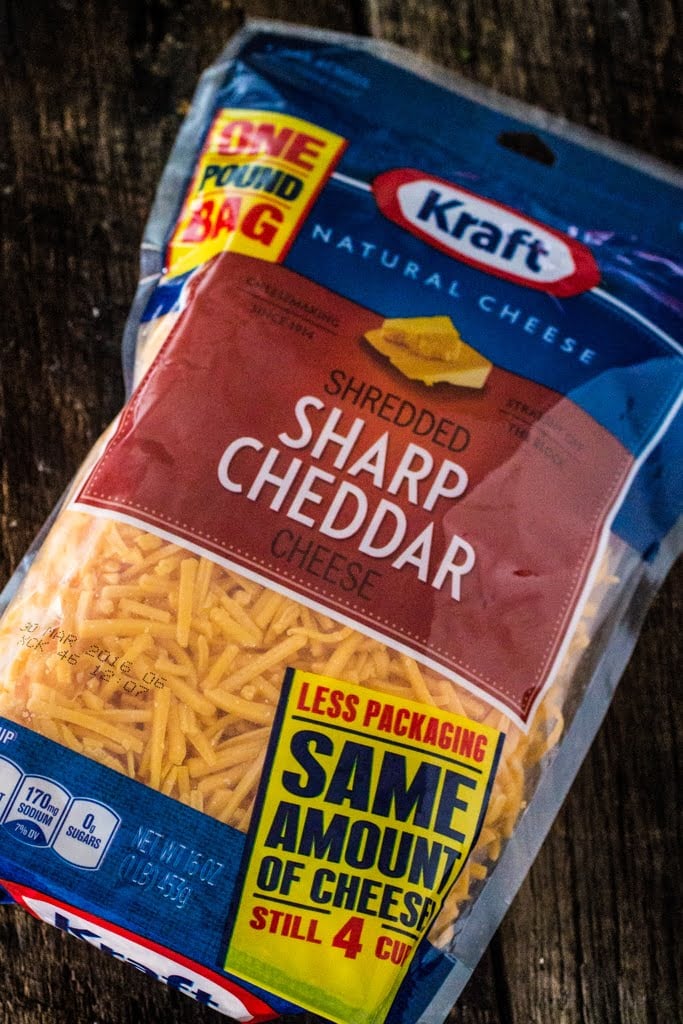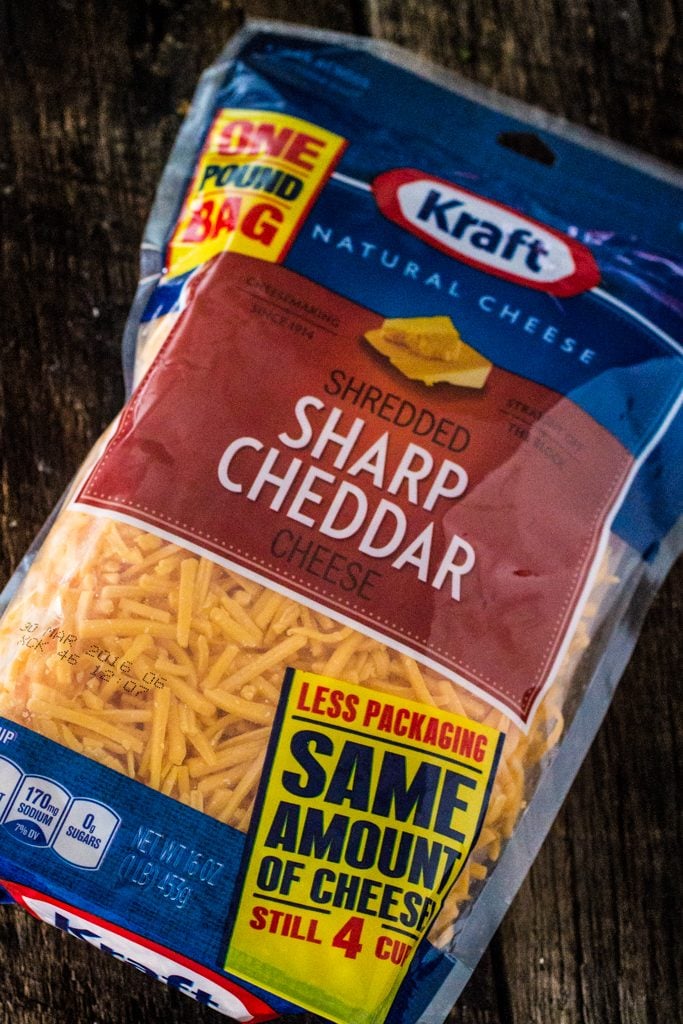 4) CHEESEEEEE!
If you know me, you know how obsessed I am with cheese. Just look at my past recent posts and you will find at least 5 cheesy recipes!
So not only this meatloaf is stuffed with cheese, it also has cheese in the meat mixture for extra flavor and amazing texture! Cheese, cheese, cheese everywheeeeere!
I used a mixture of parmesan and Kraft Natural Shredded Cheddar Cheese in the mixture and then some more cheddar cheese for stuffing.
I just love how convenient the pre-shredded packages are, so I always have a bag or two in my fridge. I go through them fairly quick, since I use it for pizzas, quesadillas, omelets, mac and cheese, you name it! Sometimes I'll just melt it and eat with bread. YUM!
Kraft Natural Cheeses are made with fresh and natural ingredients and they have a fairly large variety of flavors, like Cheddar, Colby and Monterey Jack, Mozzarella and Mexican. Oh, I just love 'em all!
5) SEASONING
Nothing worse than a bland meatloaf, as our meatloafphobic friend can testify. (I hope you are still here, friend!)
Just make sure you season everything with salt and pepper. I know it is hard to judge the right amount, since you can't (shouldn't!) taste it with the raw meat. Add a little more than you normally would to a steak, since it is a lot of meat and you want every bite to be perfectly seasoned. If you're really worried, just sauté a teaspoon of your meat mixture and then taste and adjust as needed!
I also add: Worcestershire sauce, mustard, fresh parsley, chili powder and paprika. Plus the cheese, which I already mentioned!
6) DO NOT OVERMIX!
Mix all the ingredients without the meat. Then, add the meat and mix gently. Trust me, you do not want to mix it all together or the results will be a dry, overworked meatloaf! No bueno!
7) THE GLAZE
I'm gonna be honest here and tell you that I resisted the ketchup glaze for soooo long. My Brazilian-self just wouldn't get behind the idea of adding ketchup to my meatloaf!
But after making the meatloaf a few times and thinking "something was missing", I decided to give it a try and made a glaze with ketchup, brown sugar and white wine vinegar.
Oooh, guys! Sometimes I do love being wrong. The glaze is amazing and add a bit of sweetness to the meatloaf, pairing perfectly with all the savory flavors. People won't quite pinpoint that there's ketchup there, they'll just think this is the best meatloaf they ever tasted!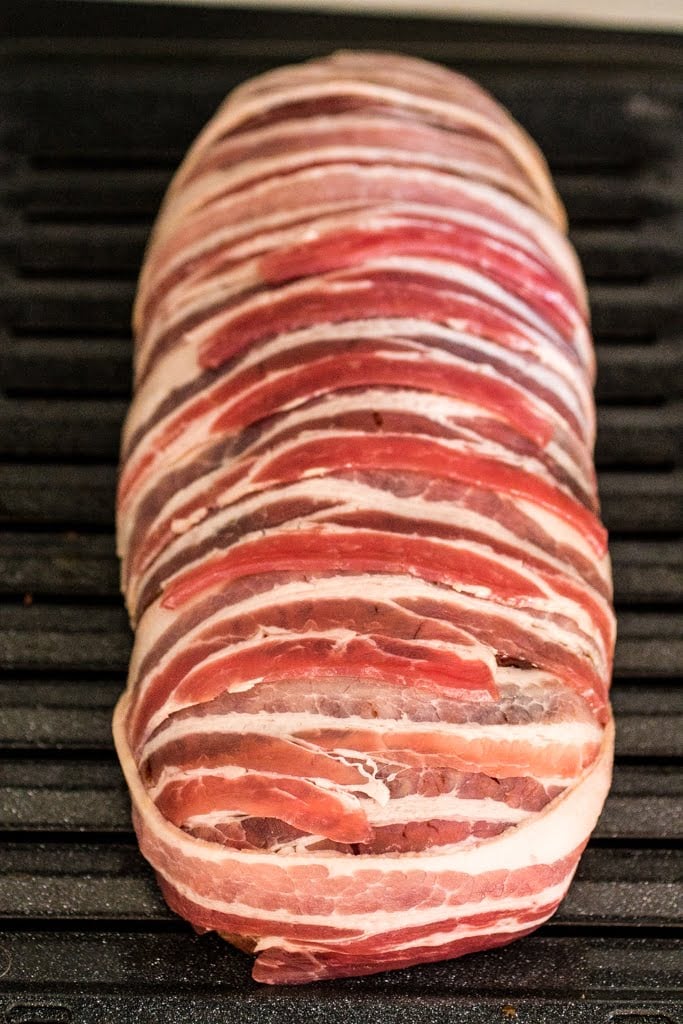 8) TO BACON OR NOT TO BACON? THAT IS THE QUESTION!
Of course we add bacon. I mean, you already read the title "Bacon Wrapped Meatloaf", so this question is more of just an ode to how bacon makes everything more delicious! Yay Bacon!
Also, please refrain from commenting about the "bacon causes cancer" speech. I do not care! First, I do not eat it everyday. Second, in three years they will come back and say it was all a mistake, like they did with eggs!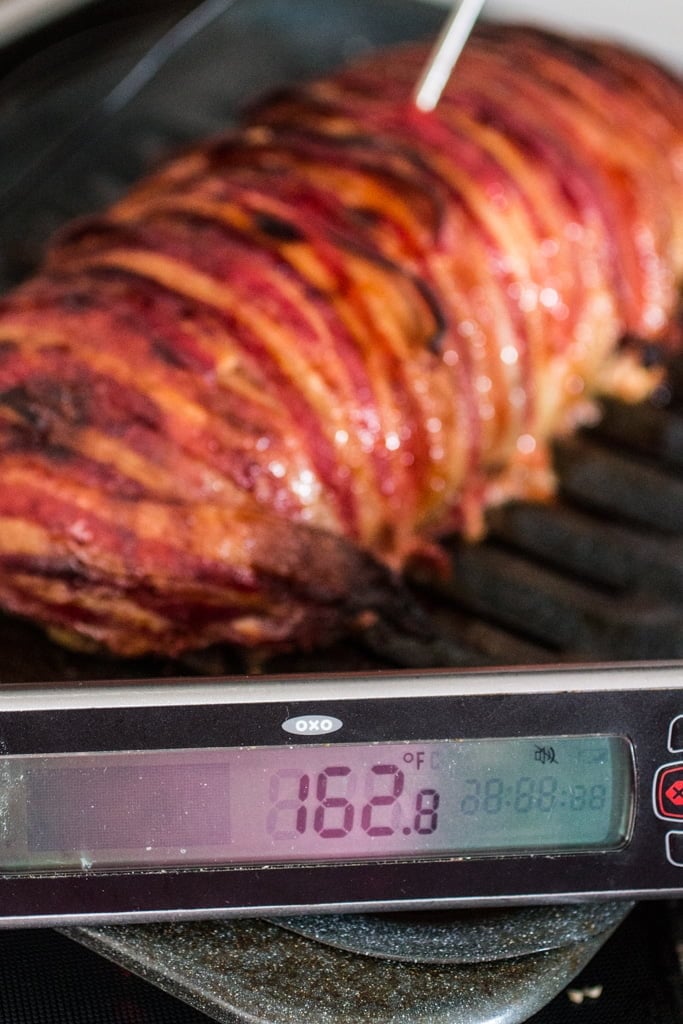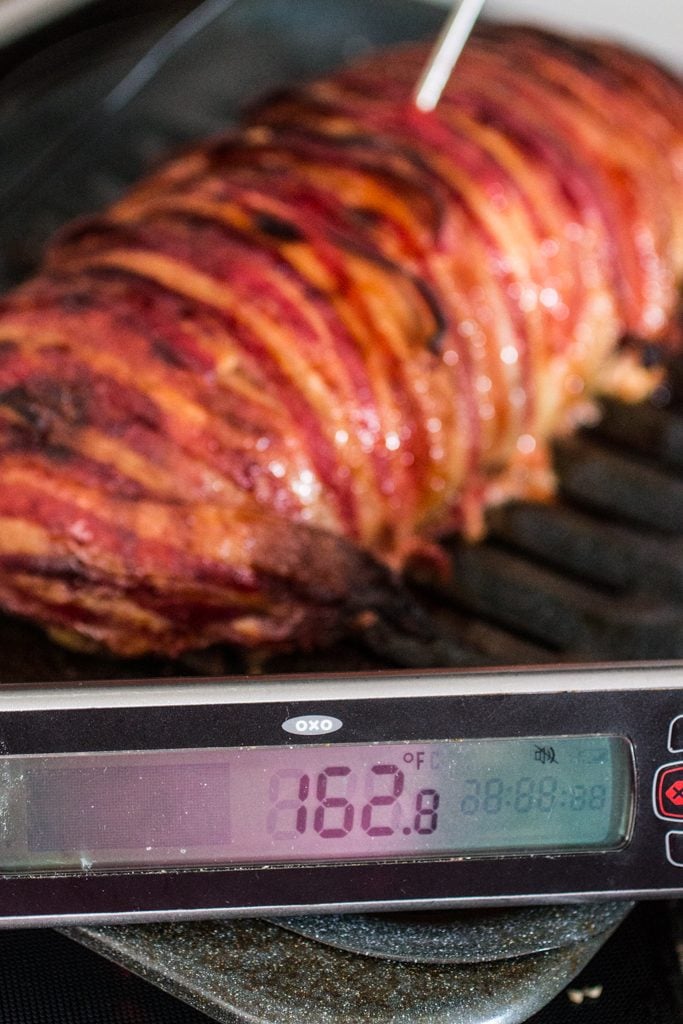 9) COOKING AND RESTING THE MEATLOAF
I use a broiler pan to cook my meatloaf. I just shape the meat mixture into a loaf (like a loaf of rye bread) and set it on the pan. I like it because all the fat can drain to the bottom and the meatloaf doesn't cook in the liquid, which makes it too soggy. If you don't have a broiler pan, just use a baking sheet with some sort of rack on top. Just stay clear of loaf pans, or your meatloaf will steam and get soggy.
A 3-pound meatloaf, like the one I'm sharing today, will cook in about one and a half hours in a 350F degree oven. Make sure you do not overcook it or your meatloaf will be tough! After 1 hour in the oven, start checking with a meat thermometer and then keep cooking in 15 minute increments until the internal temperature is 160F and the bacon is crispy.
And, as you would do with any roast or steak, make sure you let the meatloaf rest for at least five minutes before serving, so the juices can redistribute and settle. Cutting into it too quickly, will make all the juices seep out, and your meatloaf will get dry!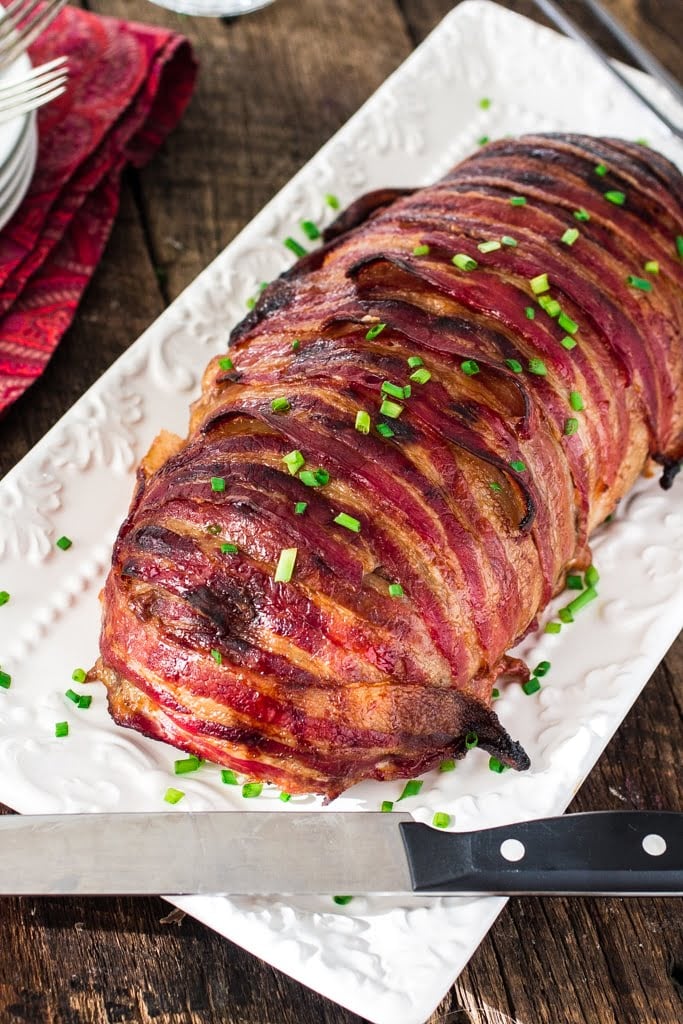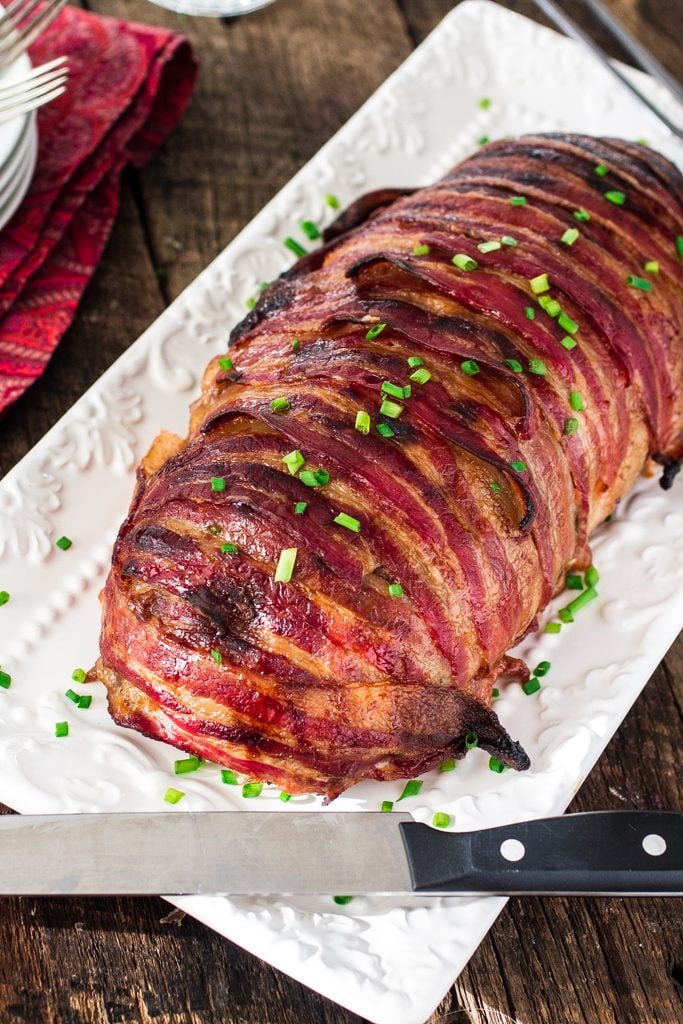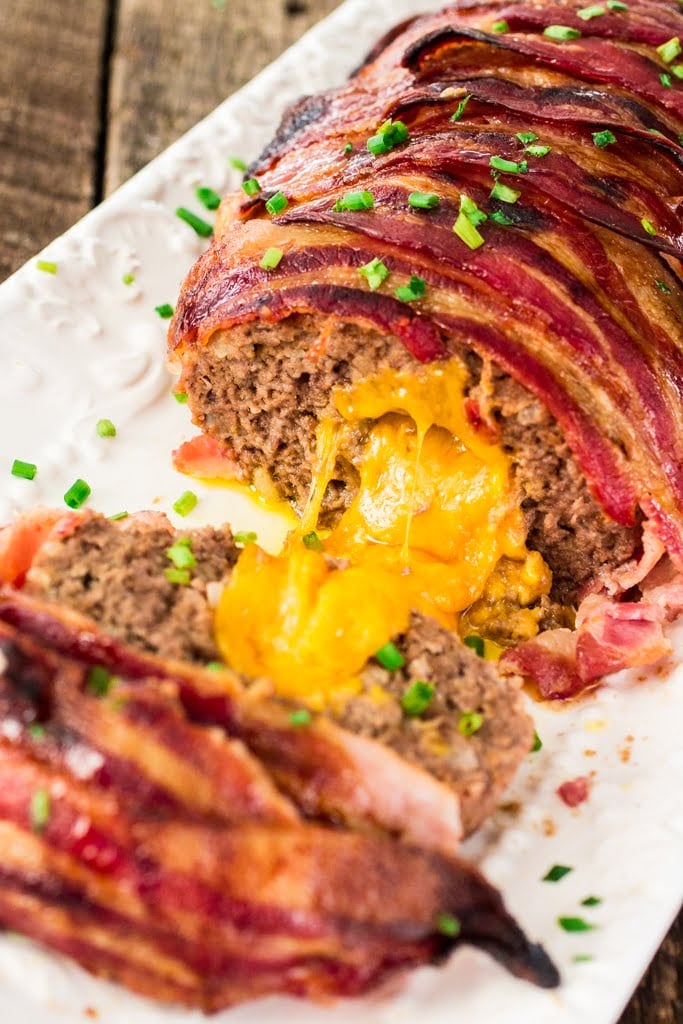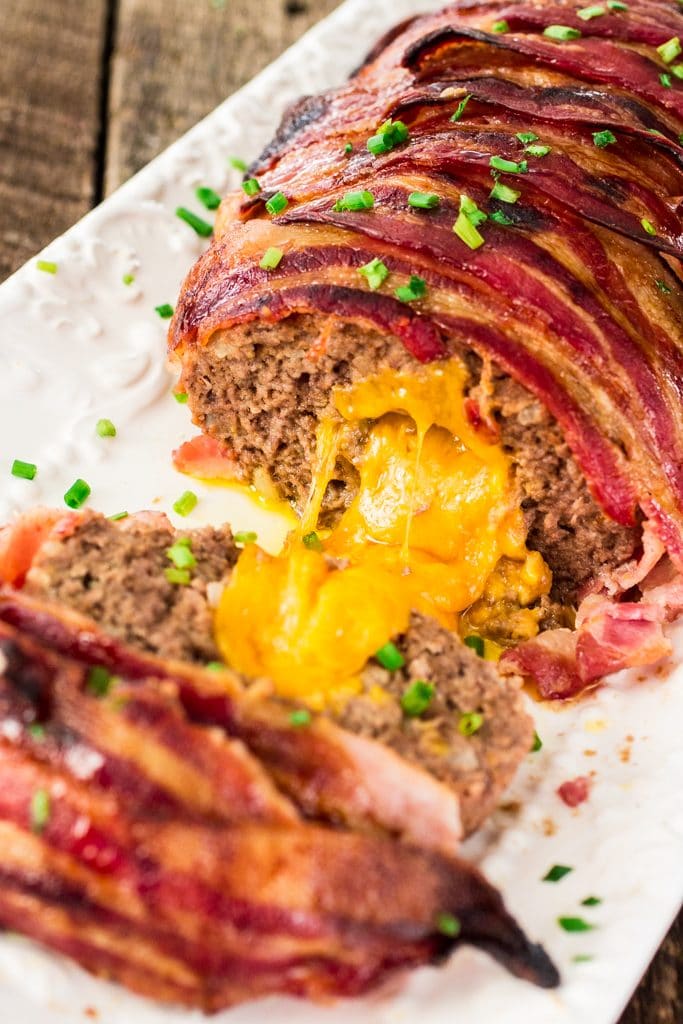 Phew! This was a long post!
I do hope I inspired you to get over your fear of meatloaf and give this a try. This is a perfect, easy dish to make now during the holidays, when you might have guests over. And don't forget to make meatloaf sandwiches with the leftovers. They are to die for!
Now, if you'll excuse me, it is time to DIG IN!!!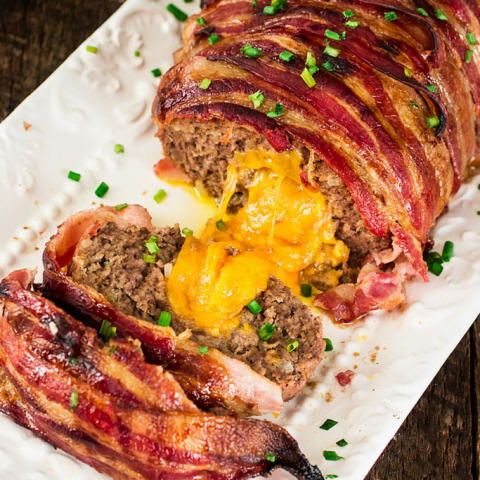 Bacon Wrapped Cheese Stuffed Meatloaf
Yield: 10
Prep Time: 15 minutes
Cook Time: 1 hour 30 minutes
Total Time: 1 hour 45 minutes
Ingredients
1 soft roll, cut into small cubes (or 2 slices white bread, without crust)
1/2 cup whole milk
1 medium onion, chopped
3 cloves of garlic, minced
2 tablespoons olive oil
1/2 cup grated Parmesan cheese
1/2 cup Kraft Natural Shredded Cheddar Cheese plus 1 1/2 cups for stuffing
1/3 cup chopped parsley
2 eggs
1 tablespoons Worcestershire sauce
1 tablespoon Dijon mustard
1 teaspoon chili powder
1 teaspoon paprika
Salt and pepper to taste
1 1/2 lbs ground sirloin
1 1/2 lbs ground chuck
14 slices of bacon
For the glaze:
1/4 cup ketchup
2 tablespoons brown sugar
2 teaspoons white wine vinegar
Instructions
Make the glaze:
Mix all the ingredients in a small bowl. Reserve.
Make the meatloaf:
Pre heat oven to 350F degrees.
In a large bowl, combine the bread pieces and the milk. Let it soak while you work on the veggies.
In a medium skillet, heat the olive oil and sauté the onion and garlic until softened, about 5 minutes. Season with salt and pepper. Reserve to cool.
Once veggies are cool, add them to the soaked bread and then add the parmesan, cheddar, parsley, eggs, Worcestershire sauce, mustard, chili powder and paprika. Using a fork, mix until evenly blended.
Add the meat and season with salt and pepper. Using your hands, mix everything just until combined. You do not want to overwork the meat or your meatloaf will be dry!
Turn 2/3 of the meat mixture into a broiler pan and, with wet hands, pat the mixture into a loaf (approximately 9 by 5 inches). Press the center in, creating a rim outside of the meatloaf and fill the inside with the remaining cheddar cheese. Then, add the remaining meat mixture and gently close the gaps, pressing the sides to seal in the cheese. Use your wet hands to make sure the meatloaf is smooth!
Brush the loaf with the glaze, then arrange bacon slices over the loaf, overlapping them slightly and tucking them under to prevent curling.
Bake the meatloaf for 1 hour and 30 minutes or until the bacon is crips and the inside temperature is 160F degrees.
Cool for 10 minutes before serving!
P.S. Wanna keep in touch? Follow me on
Facebook
,
Twitter
,
Instagram
or
Pinterest
to stay up to date with my posts! If you end up making one of my recipes, I would love to see it! Just take a photo and post it on your preferred Social Media and tag me or use the hashtag #oliviascuisine!