Baked Chicken Milanese with Mixed Greens & Tomato Salad
Today is Healthy Tuesday for me! I've been working non stop (real job + dream job/blog) and my body was asking for something healthier than 3 layered dessert! lol
I am not on a diet and I'll (probably) never be on one again in my life. I've been on diets ever since I was a pre-teen and now I know that diets are the reason I've gained weight. My life changed after I read the "anti-diet" book "Intuitive Eating", recommended to me by my nutritionist friend Ana Carolina. I'm not going to talk a lot about the book today, though I promise to dwell on that in the future. You should read the book if, like me, you are sick of diets and always feel like a failure when dieting. Throughout my whole life I saw "healthy" as something bland and flavorless that I had to eat to lose weight. Now that I'm on my path to being a intuitive eater (probably not even close yet), I know that I can eat healthy stuff that satisfies me and is delicious. It doesn't necessarily mean, however, that they will be fat free (I love olive oil, for example!) and make me lose weight. But, I'll often find myself craving some grapes instead of some chocolate!
So when I thought of making this recipe for Beef Milanese with Four Cheese Tagliarini and my body went "Nooooo! We want salad! We already ate pasta two days ago!", it was easy to give in and decide to make a baked Chicken Milanese with a green mixed salad with tomatoes, red onions and a lemon honey vinaigrette instead! I archived the beef Milanese with Tagliarini for later (probably the Fall) when I know Mr. Body here will be craving something like that! And that's what being an intuitive eater is: listening to your body. Sometimes he doesn't really want the brownie, but wants the watermelon instead! (By the way, amazing watermelon cocktail recipe coming by the end of this week! Woohoo!)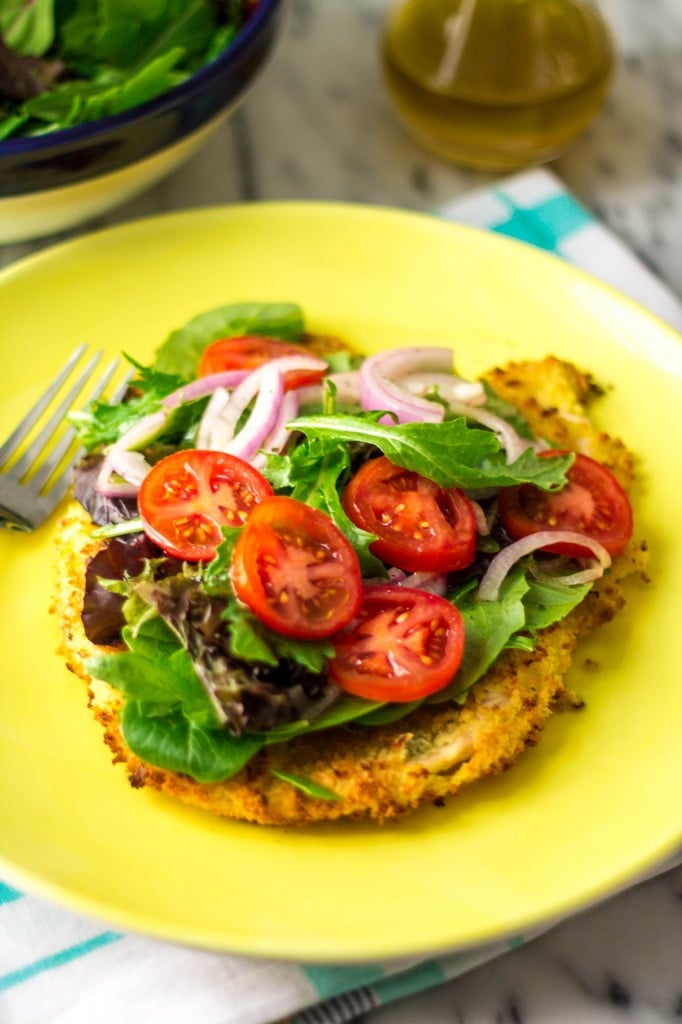 So, Chicken Milanese! YUM, right? However, there's a couple of things a good Chicken Milanese must possess for it to be super delicious:
– crunchiness (nobody, NOBODY, likes soggy Milanese!)
– it must be seasoned (I cannot stand chicken that tastes like chicken. I usually marinate my chicken for an hour before grilling/frying/baking)
– it must be thin (otherwise it won't be crunchy…at least not the way I like it!).
To achieve those things I: 1) pound the chicken cutlets until they are thin, 2) marinate them for at least one hour in the fridge and 3) preheat my baking sheets in the oven. I also choose big cutlets so I can pile the salad on top of the chicken to create a beautiful presentation!
This time I used Panko breadcrumbs and while I think they did give the chicken an extra crunchiness, I don't think they "glue" to the chicken as they are way flakier than regular breadcrumbs! So while I enjoy the crispiness of the Panko, I might opt for regular breadcrumbs in the future as I like a tighter crust in my chicken. Or, even better, maybe next time I'll try to combine both of them and see what happens! I'll let you know! :)
I'm not going to do a step-by-step for this recipe because it is very straightforward and easy to follow! You can find the recipe at the end of this post and you can even save it! (I wish I could find whoever invented technology and give him/her a kiss on the cheek!)
This is also a quick recipe so you can actually enjoy the last month of summer and don't have to spend all day in the kitchen! Can't wait for Fall, though… It's my favorite season!!! But for now I appreciate not having to battle a super warm stove/oven for too long! (Also, when you live in a tiny Manhattan apartment, the whole apartment gets hot when you use the oven!)
So that's it for today, guys! I hope you have a good week, full of delicious food! But now I gotta go because an amazing plate of crunchy baked chicken Milanese with refreshing salad is waiting for me at the table! ;-) Oh, and thanks for visiting the blog once again! If you wanna stay in touch, follow me on Pinterest, Facebook and/or Twitter! Happy Cooking!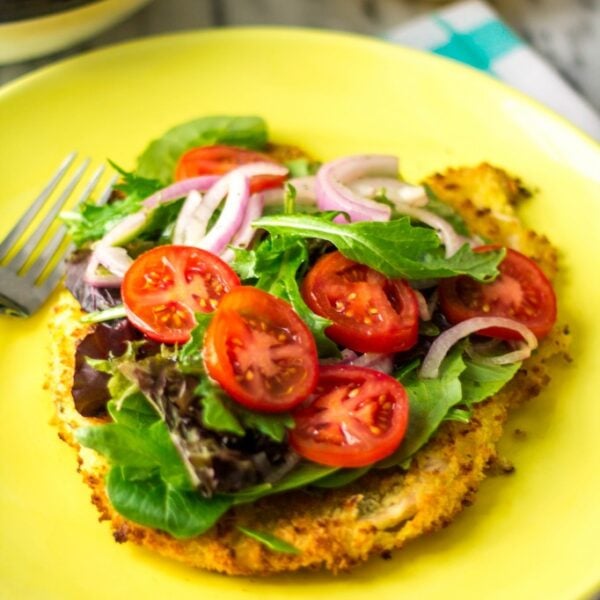 Baked Milanese Chicken with Mixed Greens and Tomato Salad
Healthier version of Chicken Milanese!
Ingredients
For the chicken
2 extra large chicken cutlets, pounded until very thin
Juice of two lemons
1/2 cup olive oil
2 bay leaves
2 springs of thyme
1/4 cup chopped parsley
Salt and pepper to taste
For breading
2 eggs, beaten
1 cup all purpose flour
2 cups Panko breadcrumbs
For the salad
2 cups mixed greens, washed and dried
2-3 cocktail, or cherry tomatoes, sliced
1/3 red onion, sliced
Juice of 2 lemons
1/2 cup olive oil
1 Tbsp honey
Salt and pepper to taste
Instructions
Make a marinate for the chicken by whisking together the lemon juice, the olive oil, the salt and pepper and the herbs. (You can use whatever herbs you have at home.)

Marinate the chicken for at least one hour, in the refrigerator.

Before breading the chicken, put one large baking sheet in the oven and pre heat your oven to 450 degrees.

Working with one cutlet at a time, coat both sides with all purpose flour, shaking off the excess. Then dip the cutlet in the beaten eggs, allowing the excess to drip off. Finally, coat the cutlet with breadcrumbs.

Remove the baking sheet from the oven and spray with Nonstick spray.

Place the cutlets in the baking sheet and bake in the oven for around 8 minutes on each side, or until it is golden brown!

To make the salad dressing, whisk together the lemon juice, the honey and the olive oil. Add the red onion and let it sit for a few minutes.

Arrange the mixed greens and tomatoes on top of the breaded cutlets and pour the dressing and onion.

Serve immediately.