The Disney Gourmet Series – Lady and the Tramp: Spaghetti with Meatballs
It is with great pleasure that I introduce to you my new Gourmet Series based on Disney movies. This is going to be incredibly fun and I hope you enjoy this new idea! :)
I've always LOVED themed parties! Not just "costume parties", but the ones that had a specific theme. Me and my friends in Brazil used to travel to my grandparent's beach house and throw some themed parties, a different one each night, like: Broadway Night, Oscar Night, Hair Night (Hippie Themed), Beach Luau, Kids Party (where we would all dress like kids, listen to kids' tunes and eat kids stuff, like popcorn and lots of candy… Mind you, we were all over 20 years old! lol), and many others… We would dress up, decorate the whole house appropriately, cook things that would match the theme, make themed drinks and listen to songs that fit the occasion. And I always liked the ones that weren't obvious and required some creative thinking! (What do the hippies in Hair eat, for example?) So you can imagine how much fun I had with The World Cup Gourmet Series, right? Having to research about the countries, their culture, their cuisines… And when I started feeling sad about reaching the end of the series, I had the idea of creating another series, starting with the Disney themed one. This time I don't have to rush and post everything one after the other because I don't have a deadline like I did with the World Cup (that I ended up not finishing on time, shame on me!).
To start this Gourmet Series, I chose Lady and the Tramp because 1) I love this movie and 2) I have an English Cocker Spaniel named Lola. :) I know, I know… Lady is an American Cocker Spaniel! But I think it's similar enough… (Except for the fact that Lady is all like…ladylike… and Lola is all like… crazy dog that doesn't act like a lady, chews shoes, poops in the hallway and eats the 2 pounds of ground beef my husband left on a chair!)
Lady and the Tramp was also an easy one because of the scene where they share the spaghetti and meatballs (who doesn't love the scene of Lady and Tramp romantically sharing the big plate of pasta and Tramp nudging the last meatball over to Lady?), but some other movies are not going to be that obvious and I'll have to be creative! :)
Anyway… The movie was released in 1955 and tells the story of a female American Cocker Spaniel named Lady, who lives with a refined, upper-middle-class family and falls in love with a male stray mutt called Tramp. It is set in 1909 in a town in New England. You can't really tell it's New England (or even America) in the first movie, but in the sequel they celebrate 4th of July and the opening song – called "Welcome Home" – says "In this always friendly old New England town". So maybe it's in Connecticut, or maybe Boston or Philadelphia… There are no actual clues, but at least we know it's not Paris, like some people tend to believe! (Lady is an American cocker spaniel, after all…In Europe she would be the English kind!) Then let's say it's Norwalk, Connecticut! (For the purpose of this series, you will often see me making "executive decisions" and deciding where a movie was set if the movie didn't specify. I promise it will be based on heavy researching, so I hope that doesn't offend anyone!)
So for your next date night, what about lighting some candles and enjoying some spaghetti with meatballs based on Lady and the Tramp? Don't forget the red and white checkered tablecloth (so you can pretend you're at Tony's, the Italian restaurant in the movie) and to play the movie's song "Bella Notte". Even better if you can do it outside! I sure wish I could… But I guess my landlord wouldn't be too happy with me setting a table on my fire escape… :( Can't wait to have my own house!
As usual, this is a recipe from my grandmother! :P (Can you tell I'm a fan?) She uses real bread (with the crusts removed) instead of store brought dry breadcrumbs. She also uses good quality meat from a good butcher. I just bought the one that is 95% lean/5% fat and called it quits!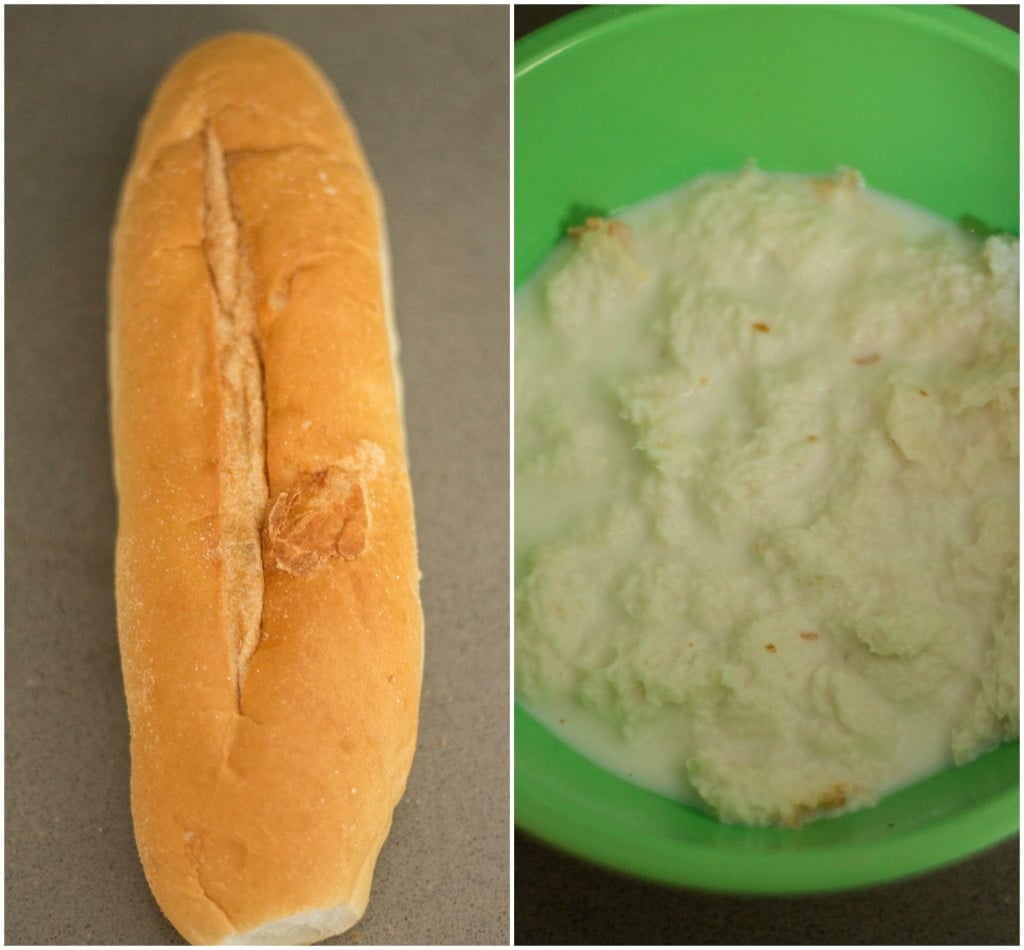 Start by soaking the bread in milk for at least 5 minutes. Then proceed to mixing everything together in a bowl, with your hands. If you find that the mixture is too moist to the point where you won't be able to shape the balls, add 1 tablespoon of all purpose flour. Also, don't over mix, so you can have tender juicy meatballs instead of tough ones! Let the meat mixture rest for 10 minutes before making the meatballs.
Once you've made the meatballs, heat some olive oil in a heavy-bottomed pot and brown them – 5 at a time (depending on how big they are, mine are big) – on all sides. Reserve them. Discard the oil but don't clean the pot!
In that same pot, add some more olive oil and add the garlic. Sauté the garlic for a minute or so and add the onions. Once the onions are translucent, add the tomatoes and cook for a few minutes, scraping all the brown bits from the bottom. Finally, add the crushed tomatoes, the bouquet garni (that is a bundle of whatever herbs you have at home, tied together with a string or band), the sugar, the salt and the pepper. Cook for 15 minutes on low heat, covered. After that, add the meatballs and simmer them on the lowest heat for about 20 more minutes or until they are cooked through. Remove the bouquet garni before serving!
Serve the meatballs hot over cooked spaghetti, with lots of grated Parmigiano Reggiano! Oh, and don't forget the wine! ;-)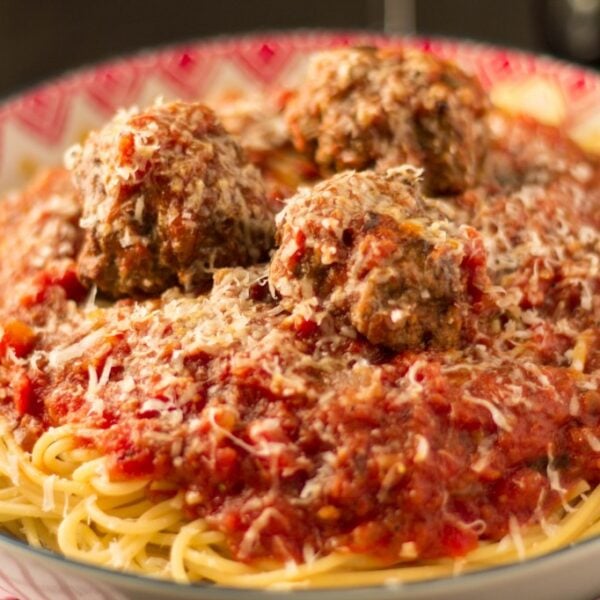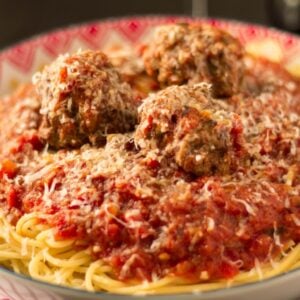 Spaghetti with Meatballs
A recipe for Spaghetti with Meatballs inspired by the movie "Lady and the Tramp"!
Ingredients
For the meatballs
2 lbs ground beef, 95% lean/5% fat
1 white bread, crust removed, soaked in milk
1/4 cup fresh parsley, chopped
1/4 cup scallions, chopped
1/2 tsp cumin
1/2 cup freshly grated Parmigiano Reggiano
1 extra large egg, beaten
Salt and pepper to taste
Olive oil
For the sauce
1 onion, chopped
3 garlic cloves, chopped
2 to matoes, Roma
1 large can crushed tomatoes, 28oz
1 bouquet garni, I used bay leaf, 2 springs of thyme, parsley and green onion
1 teaspoon sugar
Olive oil
For serving
1 package of spaghetti, cooked
Freshly grated Parmigiano Reggiano
Instructions
Combine all the meatball ingredients and mix lightly with your hands.

Let the mixture rest for 10 minutes. (If the mixture is too soft, add a tablespoon of All Purpose flour).

Form the meatballs to the desired size. (Mine were big, so I ended up having 14 of them).

In a heavy-bottomed pot, heat some olive oil and brown the meatballs, 5 at a time, on all sides. Reserve.

Discard the oil from the pot but don't clean it!

In that same pot, heat some new olive oil (2 to 3 tbsp) and sauté the garlic for 2 minutes.

Add the onions and sauté until translucent.

Add the tomatoes and cook for a few minutes.

Add the crushed tomatoes, the bouquet garni, the sugar, the salt and the pepper. Cover and cook over low heat for 15 minutes.

Add the meatballs and cook for 20 more minutes or until the meatballs are cooked through.

Remove the bouquet garni and adjust seasoning.

Serve the meatballs over spaghetti with freshly grated Parmigiano Reggiano.