Brazilian-Inspired Overnight Oats
This shop has been compensated by Collective Bias, Inc. and its advertiser. All opinions are mine alone. #BringYourBestBowl #Target #CollectiveBias | These Brazilian-Inspired Overnight Oats will definitely take care of any morning grumpiness!
Once upon a time there was a girl who despised breakfast…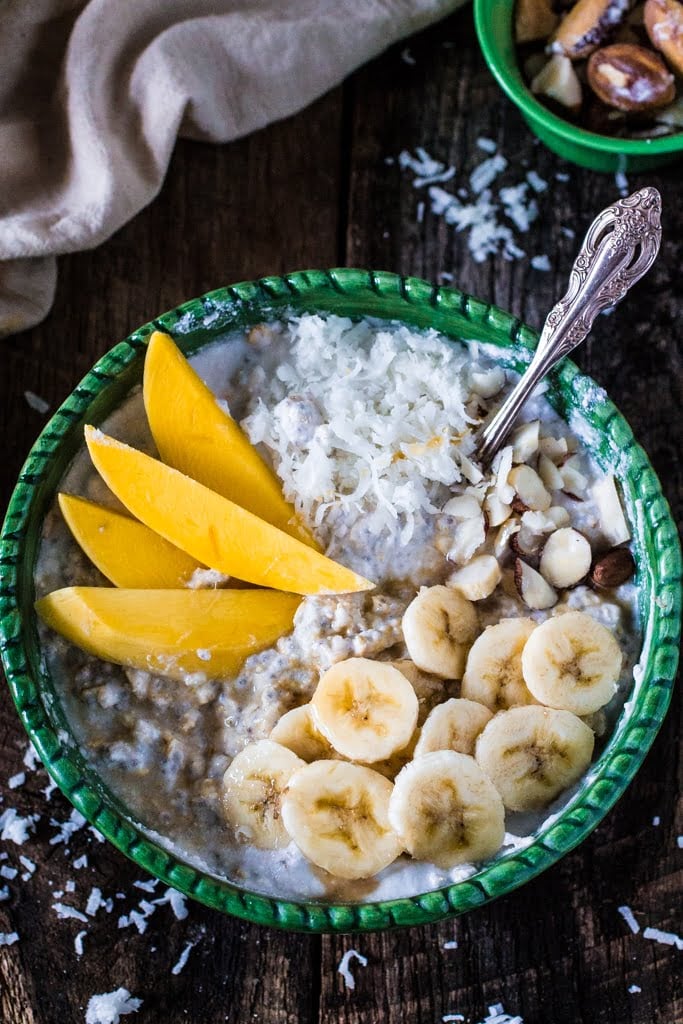 In fact, she hated everything "morning" related. She would shower the night before and would even sleep in her school's uniform if her mom didn't forbid it, just to sleep 10 more minutes. Her idea of happiness was sleeping til 12pm and waking up to lunch food.
Let's not jump into judgment here, cause on my her defense, she had to be in school by 6:45am. Yep! Now tell me, who has the stomach for anything edible at 5am? Not me!
This is not the story of Sleeping Beauty. As you probably already figured out, I'm the little girl from the story.
And I'm ashamed to say that my skipping breakfast bad habits only got worse with time and with my actress lifestyle. It wasn't until last year, when food photography and natural light became a huge part of my life, that I started acknowledging the importance of breakfast.
However, 30 years of bad habits don't go away that easily. I'm still very much a night owl and would sleep every day til 12pm if I could! Hitting the snooze button and realizing I over slept and will lose that beautiful morning light is a recurring feeling. Time for an elaborate breakfast? That is almost never in the plans (or, if it is, my morning self usually decides to ignore it!).
So imagine my happiness when I came across the concept of overnight oats.
"What? I can prep my breakfast at night and it will be ready for me when I wake up? Who was the genius that thought of this?"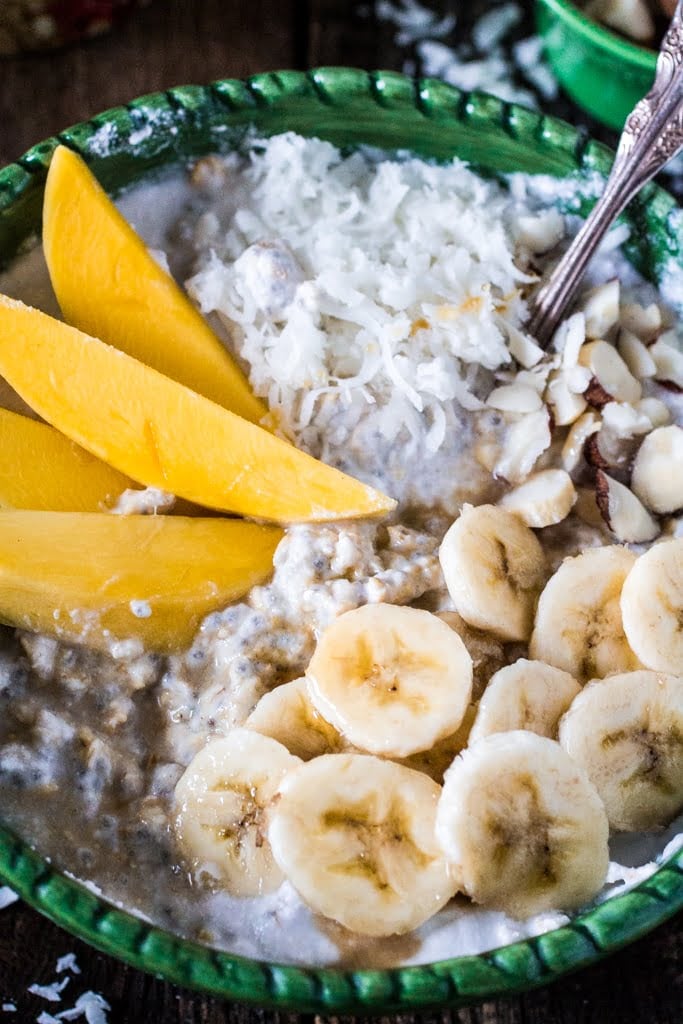 I know overnight oats are not a new trend. They've been around for a while now and shame on me for only getting on the bandwagon now. What can I say? I'm usually running behind. ?
I am happy I finally got to try this easy yet delicious breakfast, though. Nowadays, you will often find a jar (or bowl) of overnight oats in my fridge during the night, patiently awaiting some delicious toppings that will join it the next morning.
My overnight oats are usually made with whatever type of milk/fruits I have on hand. Sometimes, if I feel like I need some extra food love, I'll even add chocolate or peanut butter.
For this version I'm sharing with you today, I decided to do a homage to my home country by playing with tropical flavors. I soaked Quaker® Oats with coconut milk and topped it with mangoes, bananas, Brazil nuts and shredded coconut.
I know we're in the middle of winter, but I guarantee: one spoonful and you'll be transported to a beach in Rio de Janeiro! ☀️??
Like, figuratively speaking, of course. Please don't come suing me if you don't get tele transported. As I told you, I'm usually behind the trends and my blog doesn't yet have that feature! ???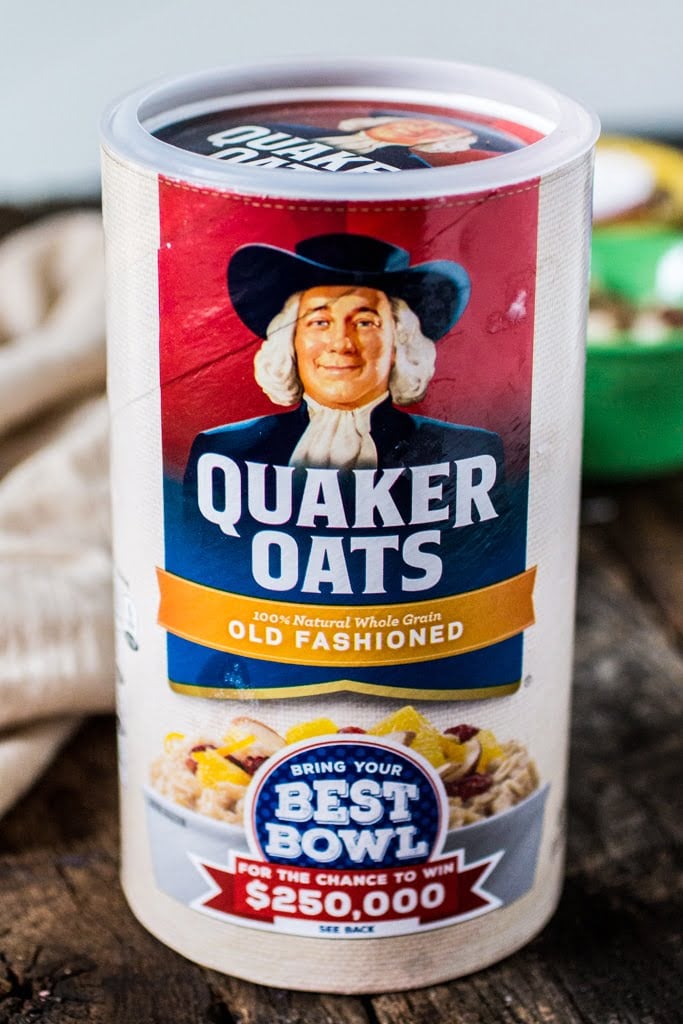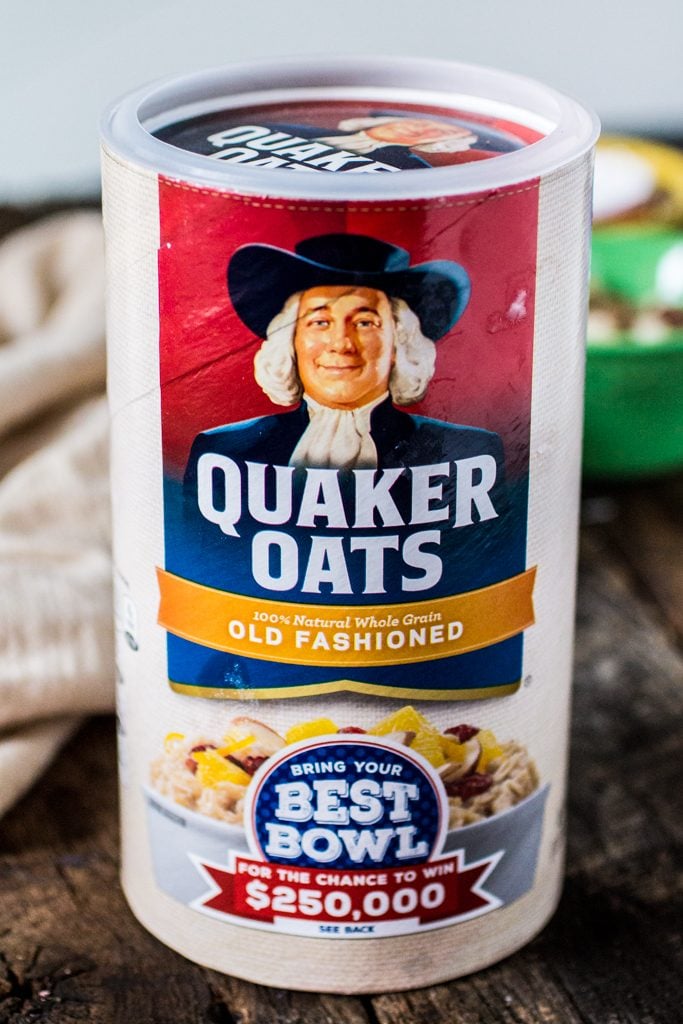 I don't know about you, but my post-blizzard self could definitely use some tropical feelings right now. Even if it's in a bowl of overnight oats!
I mean, it's really not hard to transform Quaker® Oats into a delicious breakfast, but I really think I knocked the ball out of the park here. My husband went nuts over this breakfast! So much so that he asked to have it for dinner too. No judgement from me, since these oats are really delicious!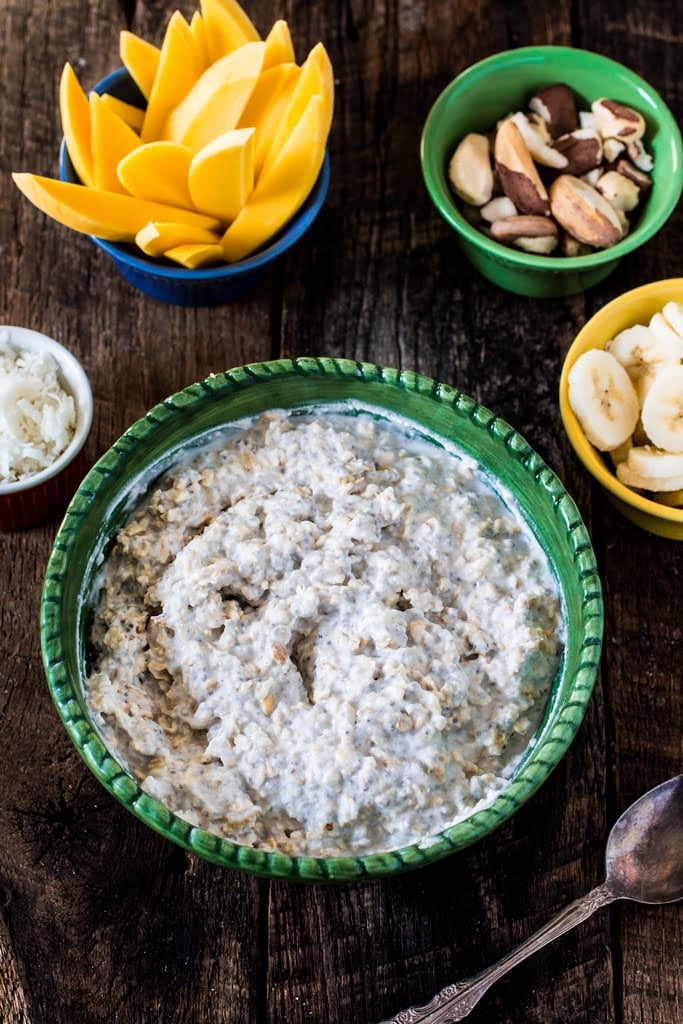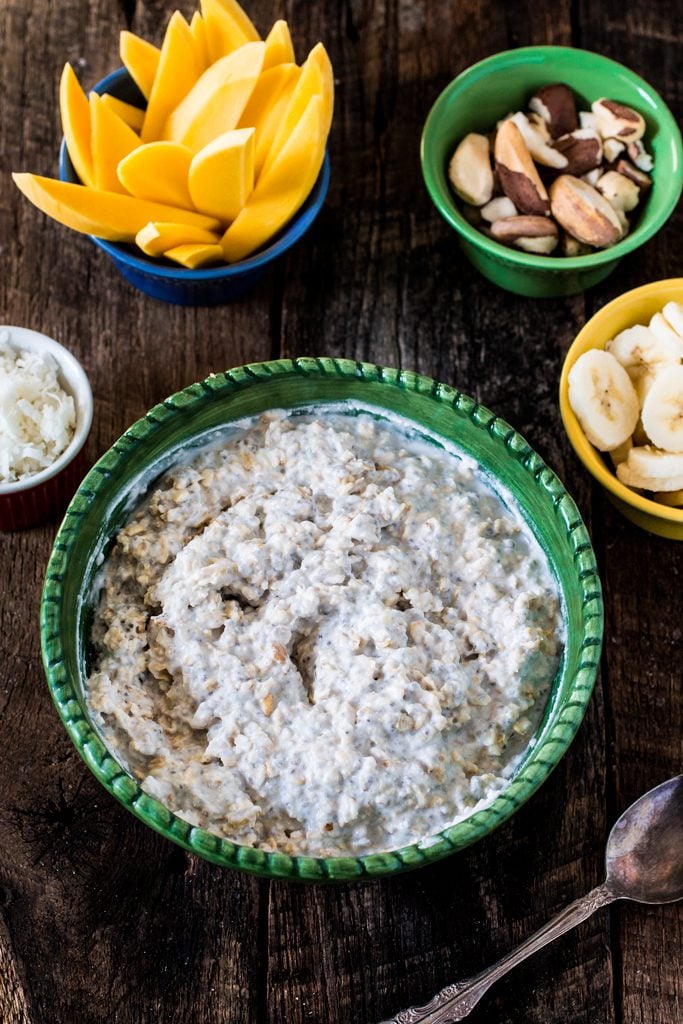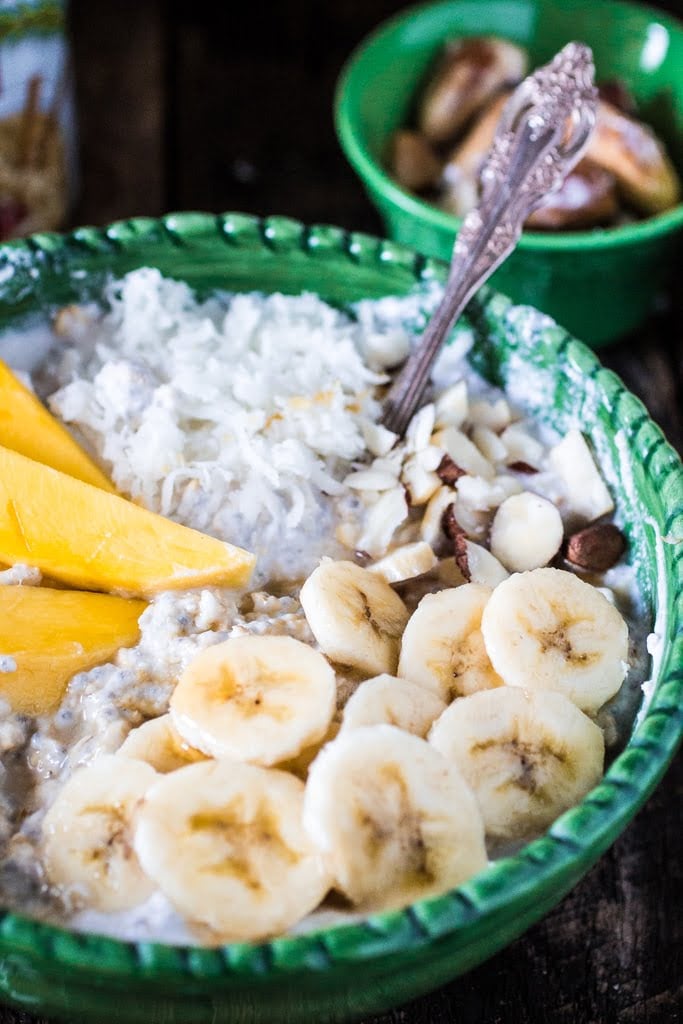 If you, like me, are a fan of being creative with your oatmeal, I suggest you enter Quaker® Oats "Bring Your Best Bowl" promotion because you could win $250,000!
The contest started in January 2016 and will run until March 12th, 2016 with winners announced in November. All you have to do is share your 2-5 ingredients oatmeal bowl recipe on their website. If you win, not only you'll get the cash prize, but your recipe will be created and sold in stores for a limited time in the Fall. Don't forget to read the rules before entering!
For inspiration, head to Target and you might find a Quaker® display with lots of toppings suggestions to aid you into creating your best bowl!
For more delicious breakfast ideas, visit my Breakfast page.
So, tell me, what recipe do you have in mind for the contest?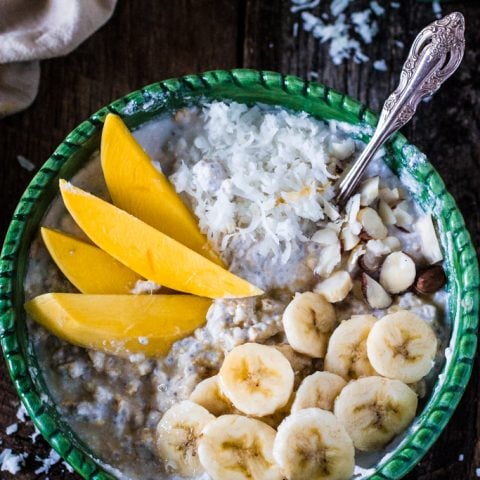 Brazilian-Inspired Overnight Oats
Yield: 1
Prep Time: 6 hours 5 minutes
Total Time: 6 hours 5 minutes
Ingredients
Overnight Oats:
1/2 cup Old Fashioned Quaker® Oats
1 cup coconut milk (plus more if needed)
1 tablespoon chia seeds (optional)
1 tablespoon honey, agave nectar or maple syrup (or more to taste)
Toppings:
Brazil nuts, whole or roughly chopped
Mango, sliced or cubed
Bananas, sliced
Shredded coconut
Instructions
Combine all the overnight oats ingredients in a bowl or a mason jar. Make sure all the oats are immersed in the milk. Cover and refrigerate overnight, or for at least 6 hours.
In the morning, add the toppings and some more coconut milk if you'd like a creamier texture.
Enjoy! :)
Disclosure: The photos on this post contain 4 servings of Brazilian-Inspired Overnight Oats.