Build-Your-Own Sandwich Platter
This is a sponsored post written by me on behalf of ACME Markets. All opinions are 100% mine.
A Build-Your-Own Sandwich Platter is a great way to entertain and feed a crowd! Your guests get to assemble their favorite sandwiches and you get to actually enjoy the party without running back and forth to the kitchen.
I am a huge fan of food bars or boards where guests can serve themselves. I am always coming up with something new and already have a Build-Your-Own Bruschetta Bar, an Ice Cream Float Bar and a Make-Your-Own Mac & Cheese Bar here on the blog.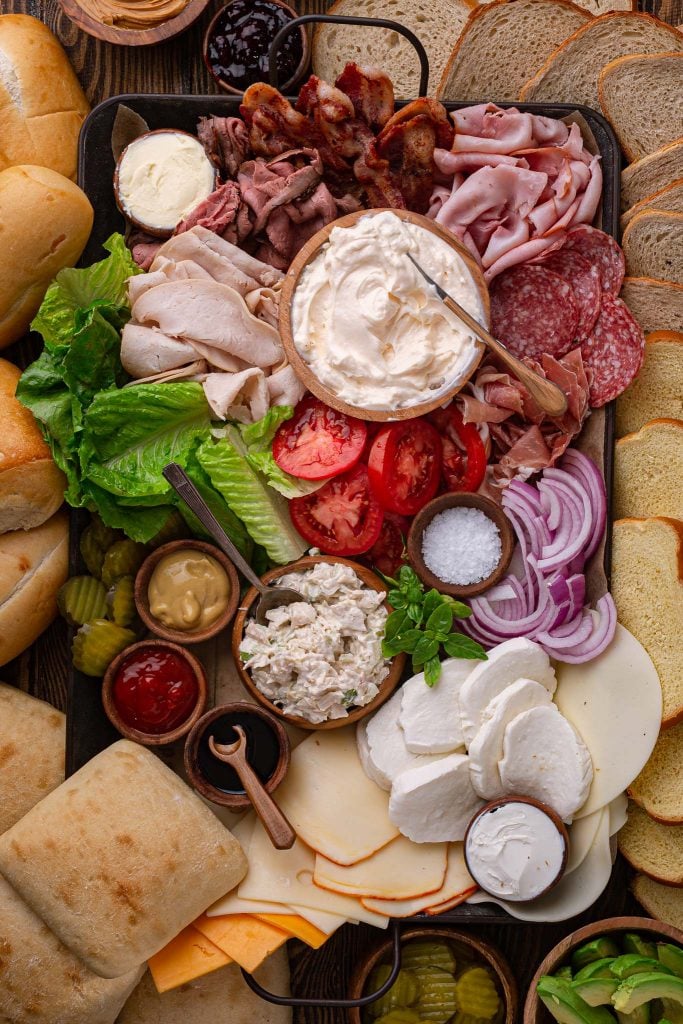 A sandwich platter that suits your entertaining needs!
Entertaining season is here, friends!
And while cheese and charcuterie boards are great (and delicious), they usually only take care of appetizers. You're still stuck with a bunch of guests that are expecting to be served a full course dinner!
But what if I told you that you could assemble a board that would feed your guests until they are stuffed to the gills?
Cue to an epic Build-Your-Own Sandwich Platter! Stress-free, no-fuss and perfect for all kinds of parties and get-togethers.
All you'll have to do is arrange some sandwich ingredients and have your guests assemble their own food! Seriously, what could be easier than that?
I know what you're thinking. Why not just make several sandwiches?
Well, you could. But then you'll have to worry about Suzy not liking mayo in her BLT and Chad complaining about onions in his roast beef sandwich!
With a DIY sandwich platter, EVERYBODY is happy! Including you.
In this post you will learn:
Plus, a printable tutorial!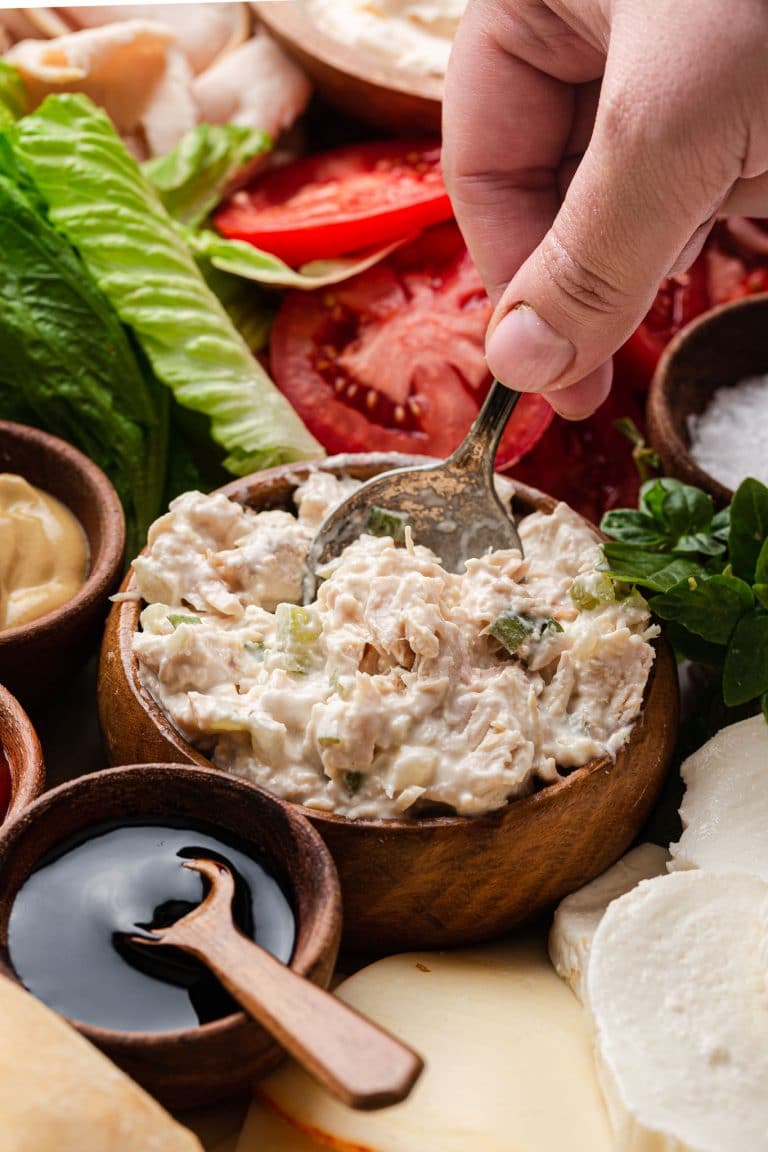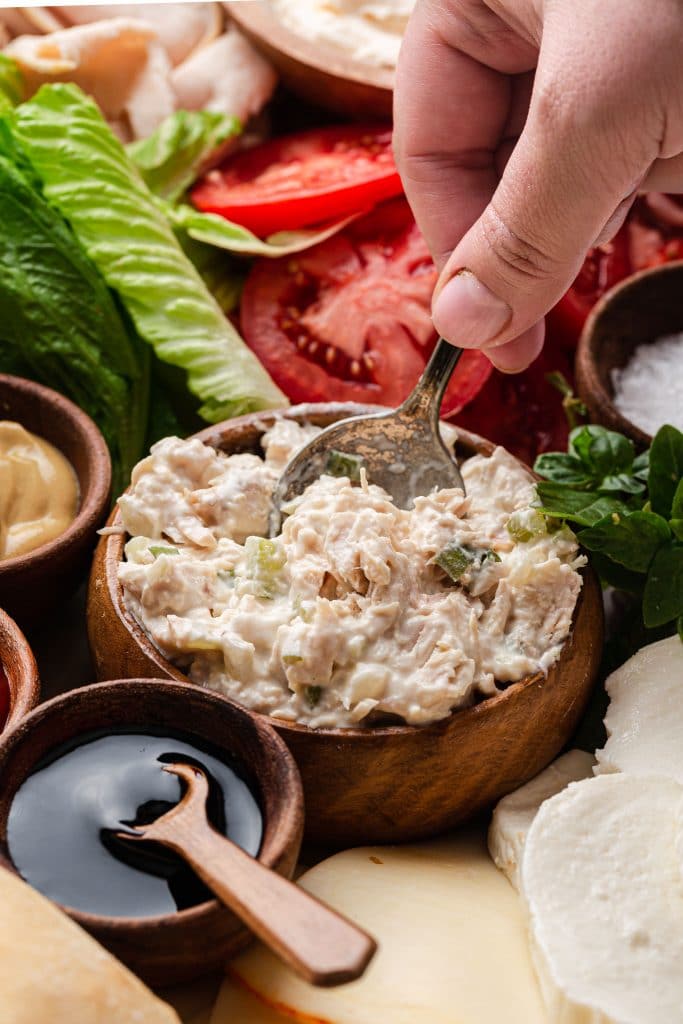 What you'll need
For a complete Build-Your-Own Sandwich Platter, you are going to need a variety of fresh bread, sliced cheeses, deli meats, tasty spreads and toppings.
You want to be able to cover your bases and cater to the restrictions and likings of your guests. Plan to have some vegetarian/vegan options and maybe a gluten free bread!
I like to think of a few classic cold sandwiches as a starting point and then add fun elements so my guests can be creative!
As for how much food you'll need, you can calculate 1 1/2 sandwiches per person. From there, you can do the math and figure out the amount of the ingredients you will need.
Usually, each sandwich would have 3 ounces of meat, 1 1/2 to 2 ounces of cheese, 2 teaspoons of spreads (butter, mayo, mustard) plus toppings.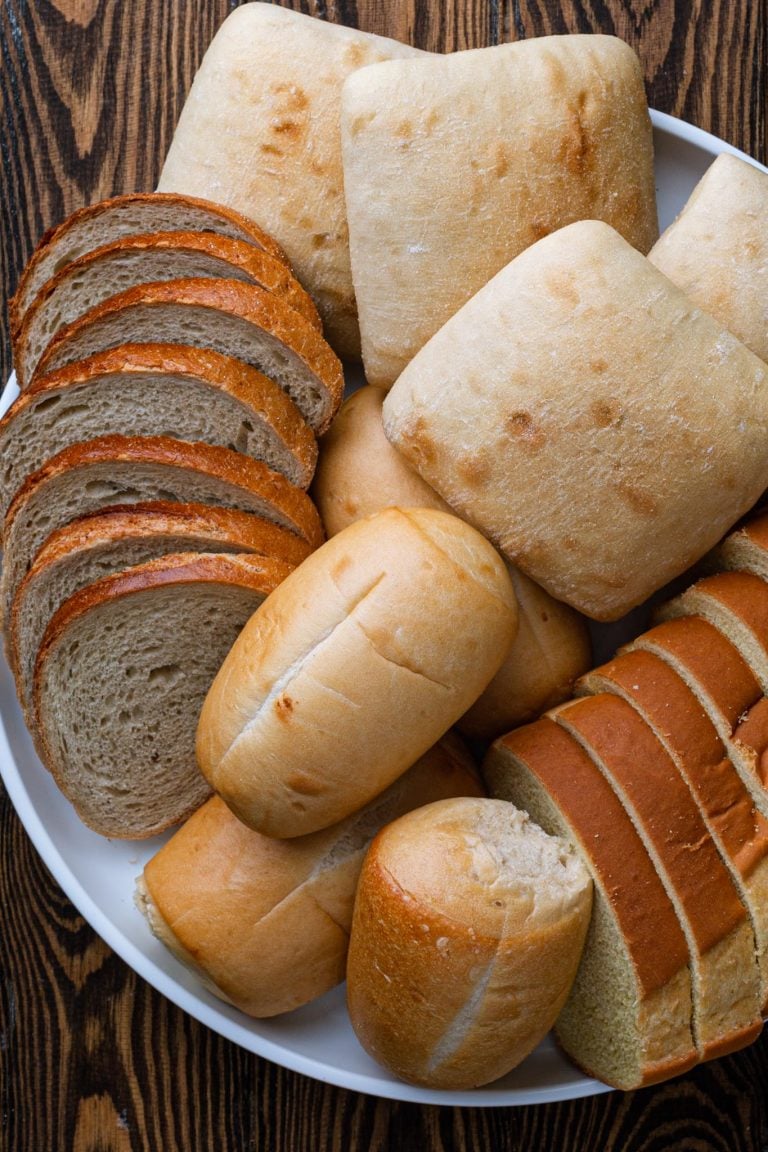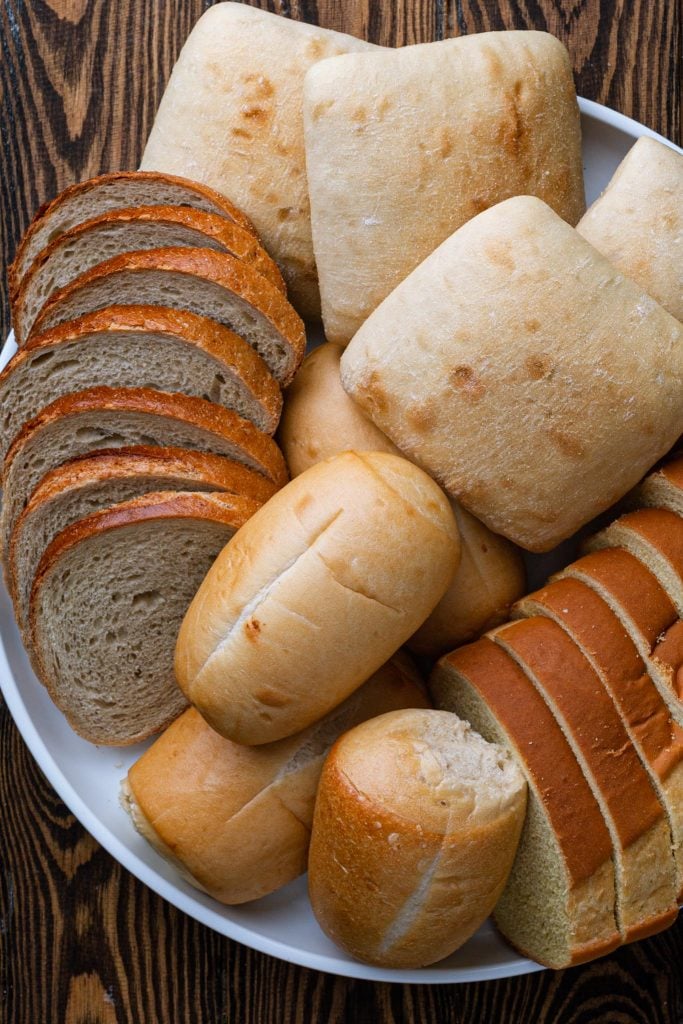 Bread
Can't make sandwiches without bread, amirite? Make sure they are fresh (nobody likes stale bread sandwiches) and that they are sliced or split open, so your guests don't need to bother with a bread knife!
I also recommend sticking to sliced bread or small rolls. If you really love baguettes, buy mini baguettes or cut them into individual portions beforehand.
And if you're a great bread baker, this is the time to shine and showcase some of your hard work! 😊
Here's some suggestions:
A white sandwich bread. You can butter and toast some beforehand too, if you want to go the extra mile!
Some rolls.
Something rustic, like sourdough or ciabatta rolls.
Rye bread.
If hosting guests with gluten intolerance, you should add a least one GF option. And if someone is diabetic, there are some low carb breads you can buy that they might be able to eat!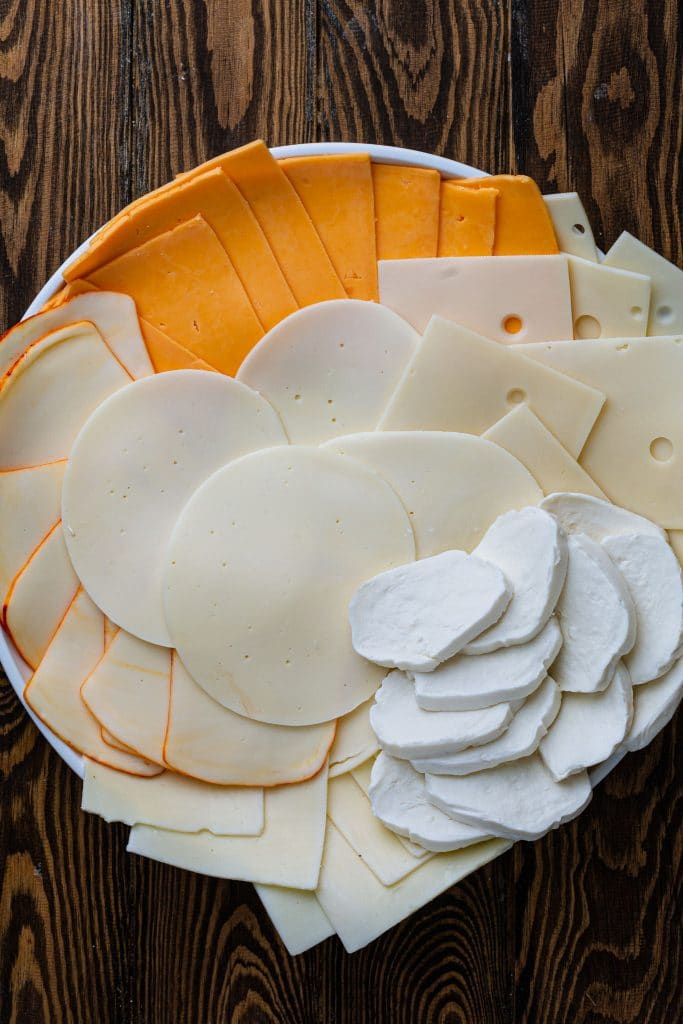 Cheese
No skimping on the cheese! Make sure you have more than you think you need. You will be happy you have leftovers!
These varieties are sure to please almost everybody:
Cheddar
Swiss
American Cheese
Muenster
Fresh Mozzarella
Provolone
You also couldn't go wrong with:
Havarti
Gouda or Smoked Gouda
Pepper Jack
Again, I highly recommend all the cheese is already sliced (and sliced thin), so it's easier to just grab and assemble the sandwiches!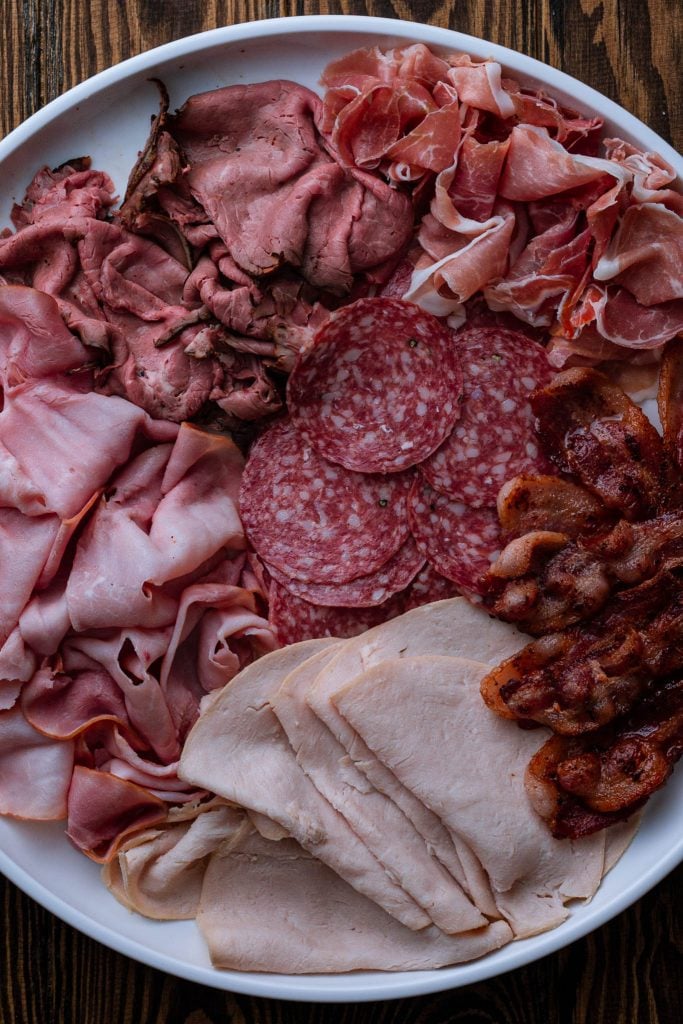 Meat
How much meat you serve will depend on how many carnivores you'll be hosting! I like to have at least 4 varieties if I'm having a small get-together, and 6+ for large parties.
This is what I usually have on mine:
Ham
Roast Beef
Bacon
Turkey
Prosciutto
Salami
Other fun ones that you could add:
Pastrami
Corned Beef – if you're a Reuben Sandwich lover!
Deli Chicken Breast
Soppressata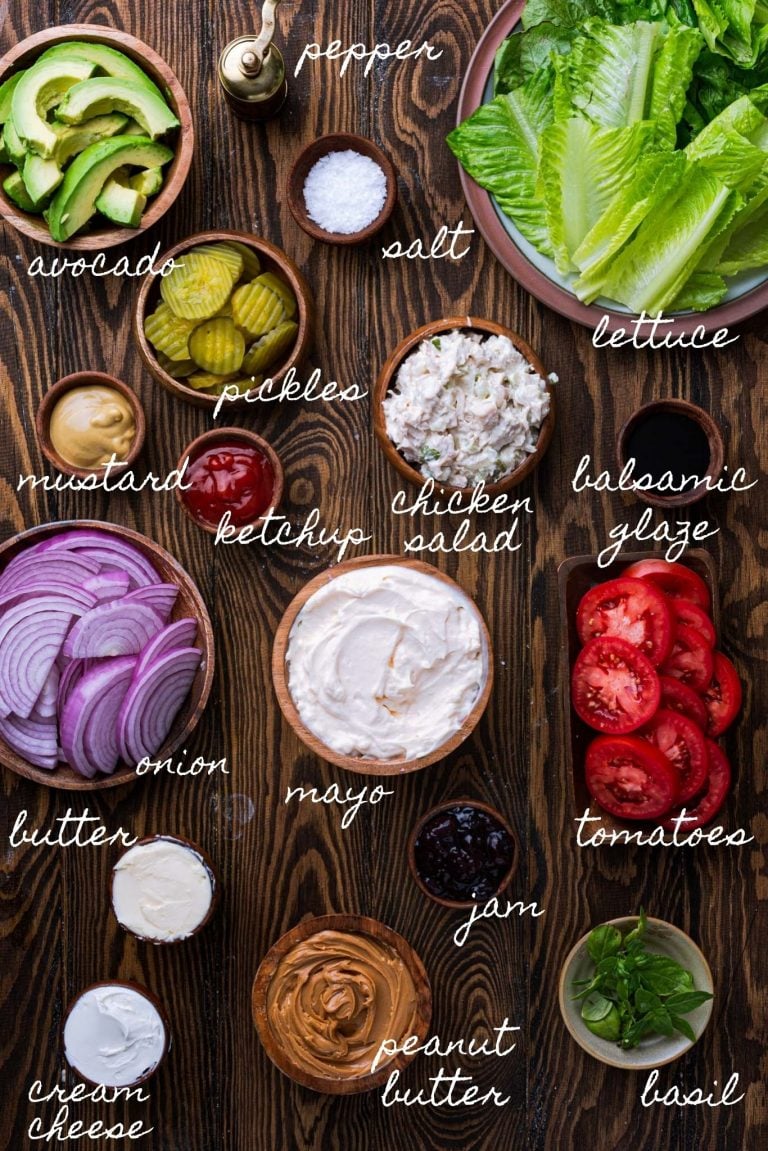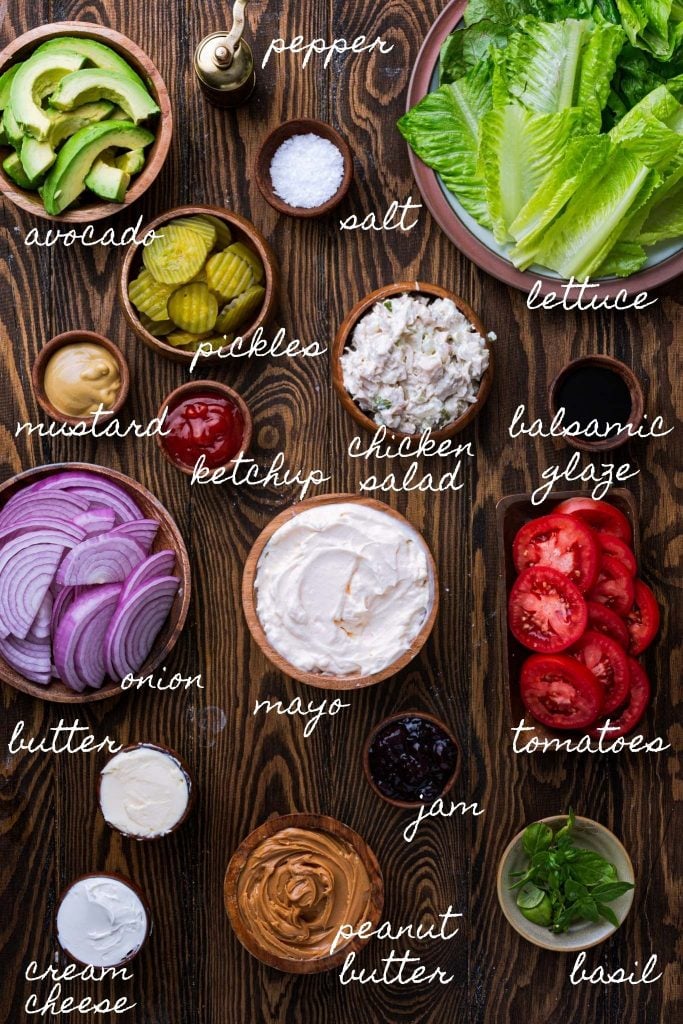 Toppings and Spreads
Now here is where things get exciting!
There are so many fun elements that you can play with. The sky is the limit, really. Seasonal vegetables and fruits, different types of dips and spreads, and seasonings!
Here's some suggestions for spreads:
Butter
Cream Cheese
Mayo – You can add a fun flavored mayo, like Chipotle Mayo, but make sure you have a regular option as well!
Peanut Butter and Jelly – This is great to add if you're going to be serving some kids or picky adults.
Chicken Salad, Tuna Salad, Potato Salad or Cole Slaw. Your guests can add it to their sandwiches or eat it as a side!
Mustard
Ketchup
Balsamic Glaze – this one is great to drizzle on fresh mozzarella! You can buy it at the store or make your own.
And for toppings:
Lettuce – cut the leaves in half to make it easier to add to the sandwiches.
Tomatoes – make sure they are sliced!
Pickles – again, sliced is easier.
Basil or other herbs.
Avocado slices.
Sliced red onions
Don't forget the seasonings.
Flaky salt – This is a must for me! Often people will forget to add salt to their boards. Those tomatoes need to be seasoned, y'all!
Black pepper
Hot sauce, sriracha or something for the spicy lovers.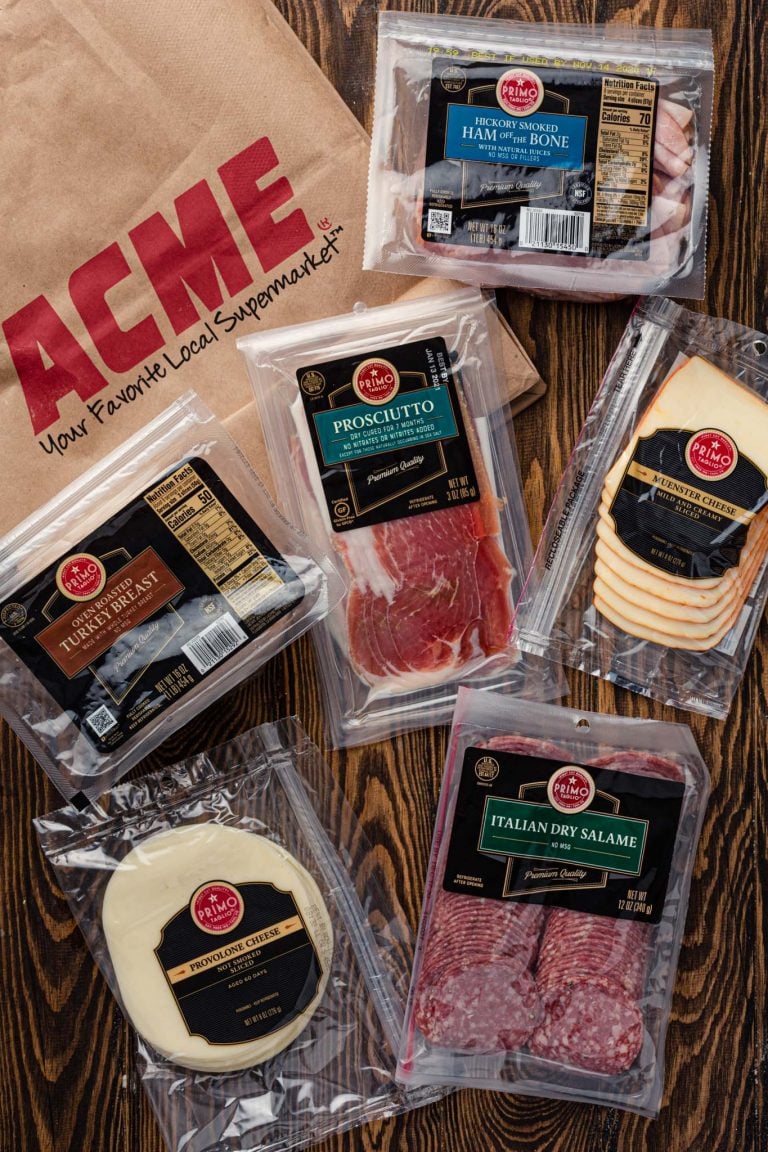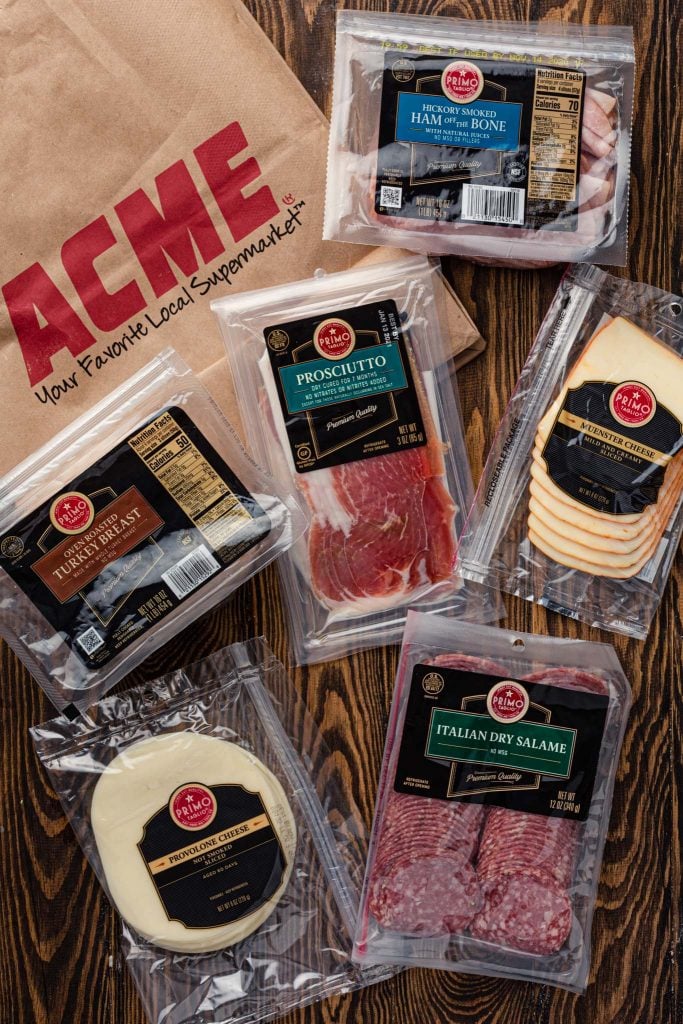 Buying Cheese and Charcuterie for your Sandwich Platter
Choosing cheese and charcuterie for your platter can be intimidating! There are so many options to choose from and it can get quite expensive.
If you want to provide your guests with great food but you don't want to spend a lot of money, I highly recommend a trip to your local ACME store.
There, you will find an assortment of Primo Taglio® meats and cheeses, which are made with the finest ingredients, using traditional preparation methods, and without any artificial flavors or colors, with a price that won't break the bank!
I especially love that Primo Taglio® meats use whole muscle meat with no binders or fillers, and that their cheese is made of the highest quality milk.
I shop at ACME Markets in New Jersey, but you can also find Primo Taglio® (and O Organics®) at any of the Albertsons Companies family of stores, including Albertsons, Safeway, ACME Markets, Jewel-Osco, Randalls, Shaw's Supermarket, Star Market, Tom Thumb and Vons.
And if you're not visiting stores yet, ACME also offers Grocery Delivery and Pick Up for convenient ways to shop! I've used this service quite a few times and it's been outstanding!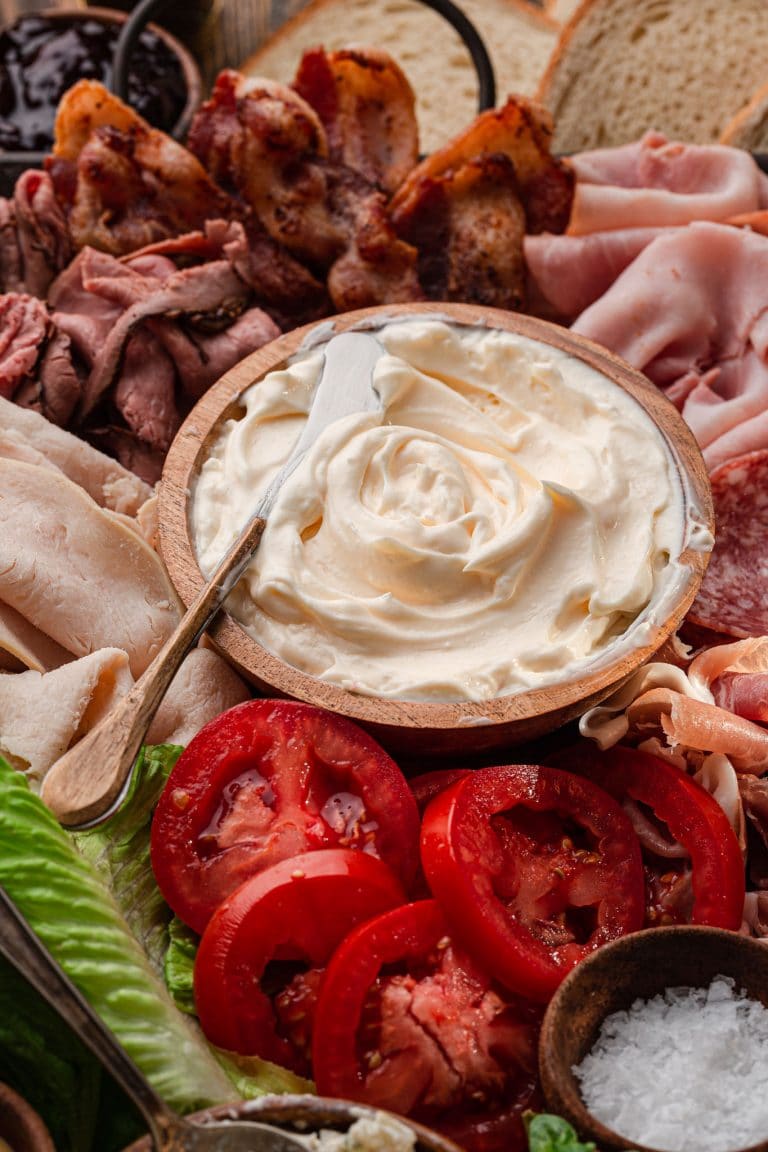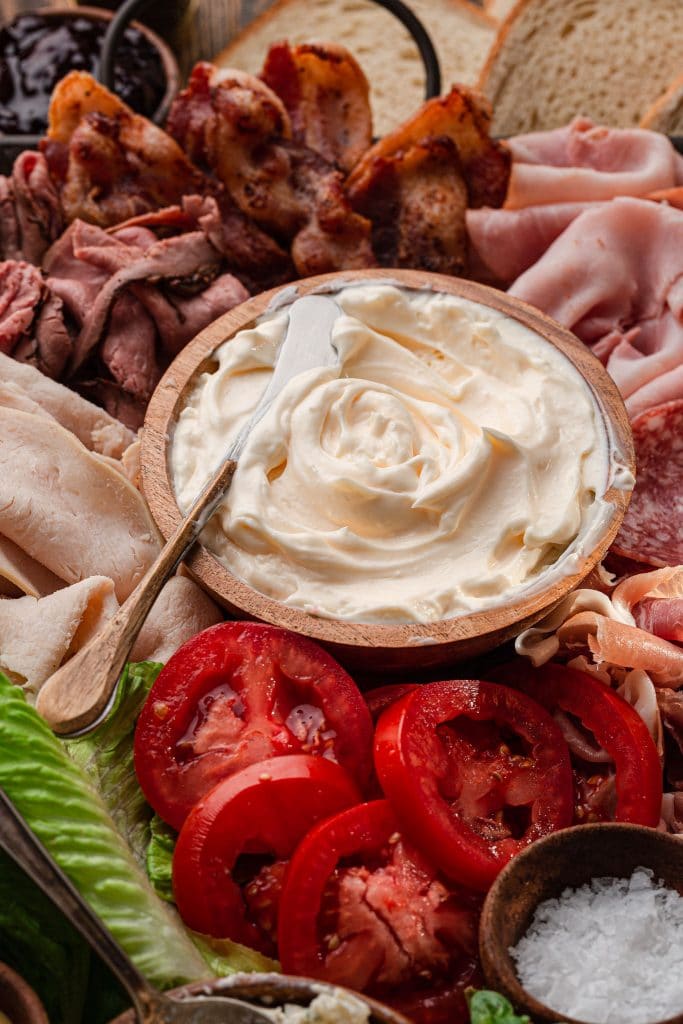 How to Assemble a Build Your Own Sandwich Platter
This post should be seen as a guide instead of a recipe per se.
The size of your platter or board will depend on how many guests you are serving. You can serve a big crowd or just make a smaller plate for 2 or 3 people!
Also, you can easily add or substitute some of my suggested ingredients with ones you love! The main goal is that you and your guests get to enjoy your favorite sandwiches.
The sandwich platter by itself is usually enough to get people fed and satisfied, but you can also serve some sides, like chips and/or salad.
Finally, this is a great option for several types of parties. Holidays, game day, birthdays, picnics, movie night, casual get-togethers, you name it!
Recommended tools and equipment: A large tray, platter or board; parchment paper, small bowls for condiments and spreads, spreader knives and small spoons.
Here's how I assemble my Make Your Own Sandwich Platter. As always, you will find a printable version of this tutorial at the end of this post!
Step 1: Choose and prep your surface.
Start by lining a large tray, platter or cutting board with parchment paper. That will make clean-up much easier later!
Step 2: Assemble the ingredients.
Fill small bowls with the spreads, condiments and seasonings. Arrange those bowls on your platter, tray or board.
Arrange the meat and the cheese around the serving surface.
Fill the empty spaces with the bread and toppings.
| | |
| --- | --- |
| | Olivia's Tip: Make sure to separate the meat from the other ingredients as much as possible. Vegans and vegetarians might not want their food to "touch" the charcuterie! |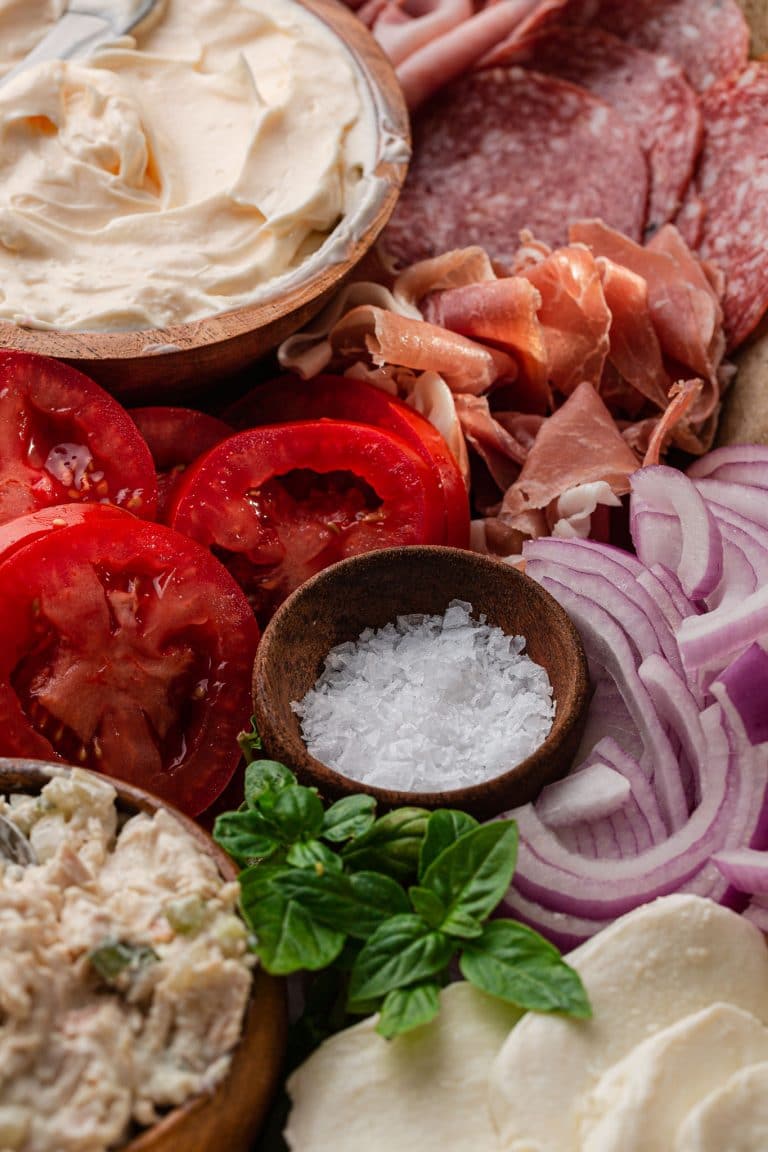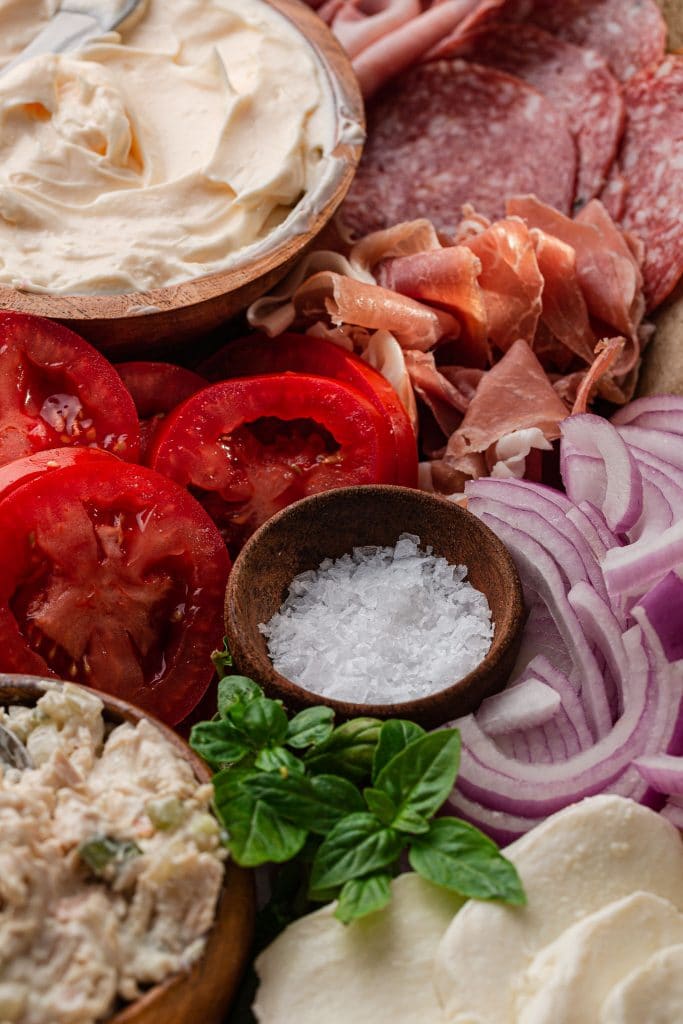 Tips and Tricks for a successful sandwich board
You really can't go wrong with a sandwich platter, but I have some tips that will ensure your party or get together is a success!
Don't forget spreader knives and spoons for the spreads and condiments. If concerned about germs and people touching the food, you could also provide mini tongs for each ingredient.
While a huge platter or board is impressive and fun, you can still assemble this Sandwich Platter if you don't own one! Just assemble different smaller platters for the cheese, meat and toppings/spreads.
I mentioned this already, but don't forget salt (preferably flaky salt). There are always a few guests who like their food extra salty!
Keep an eye on the board and replenish the ingredients as needed!
Be careful with the mayo and creamy salads. They shouldn't sit at room temperature for more than 2 hours.
Napkins! Lots of napkins! Things can get quite messy when sandwiches are involved.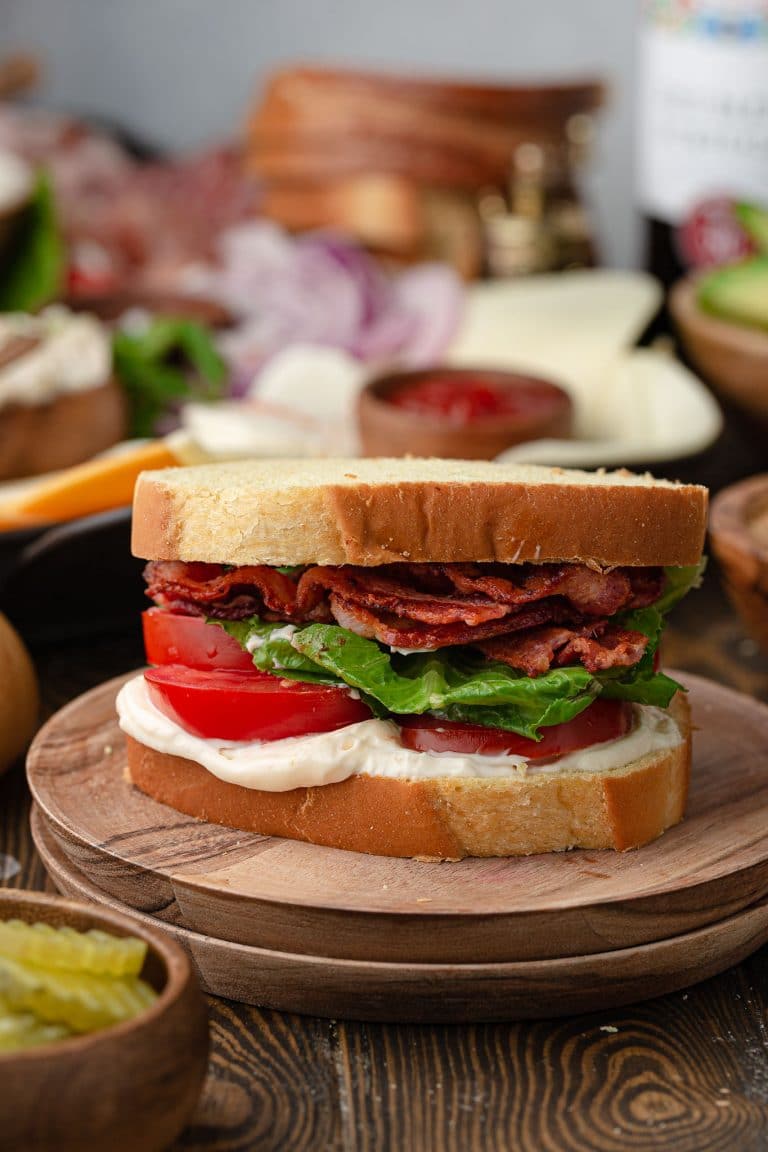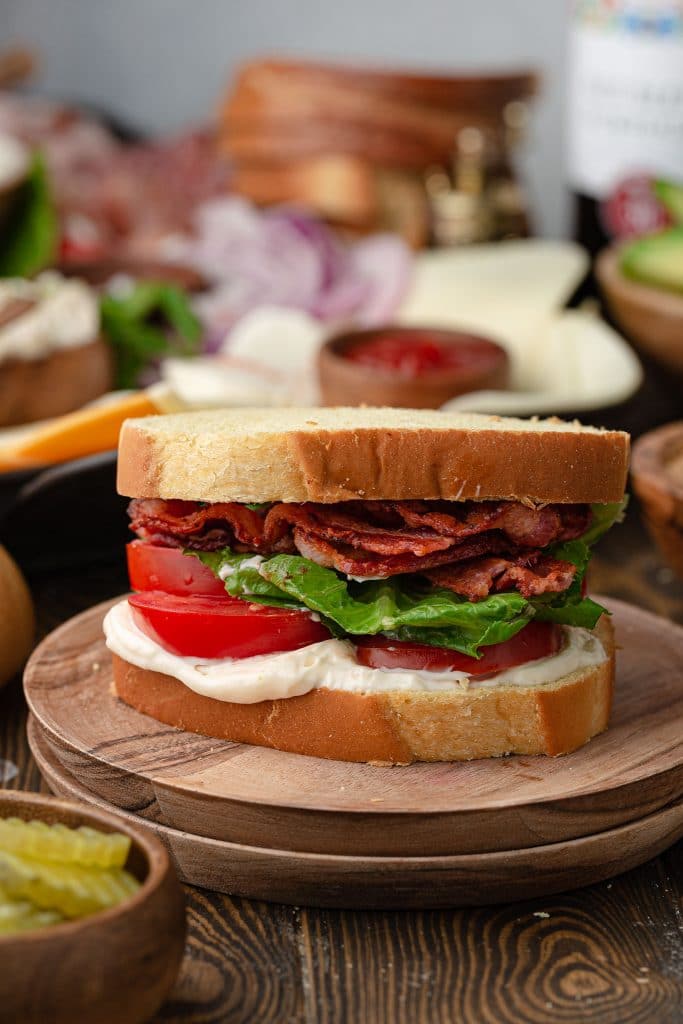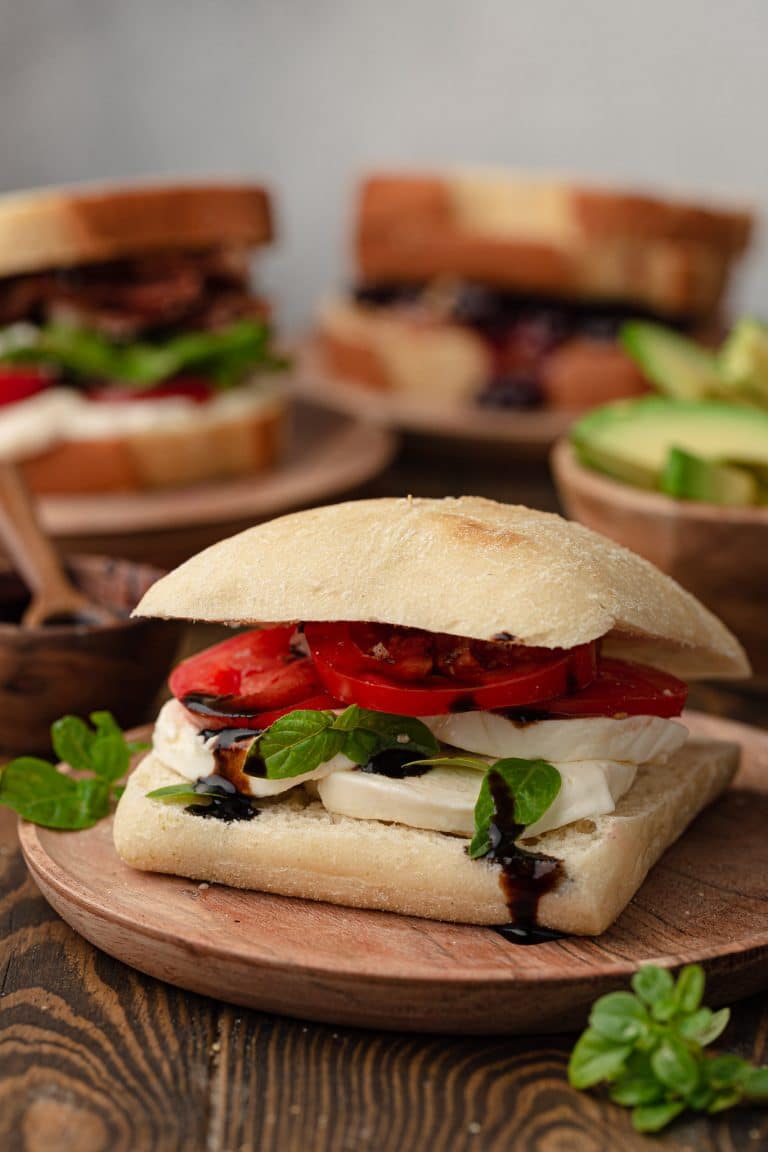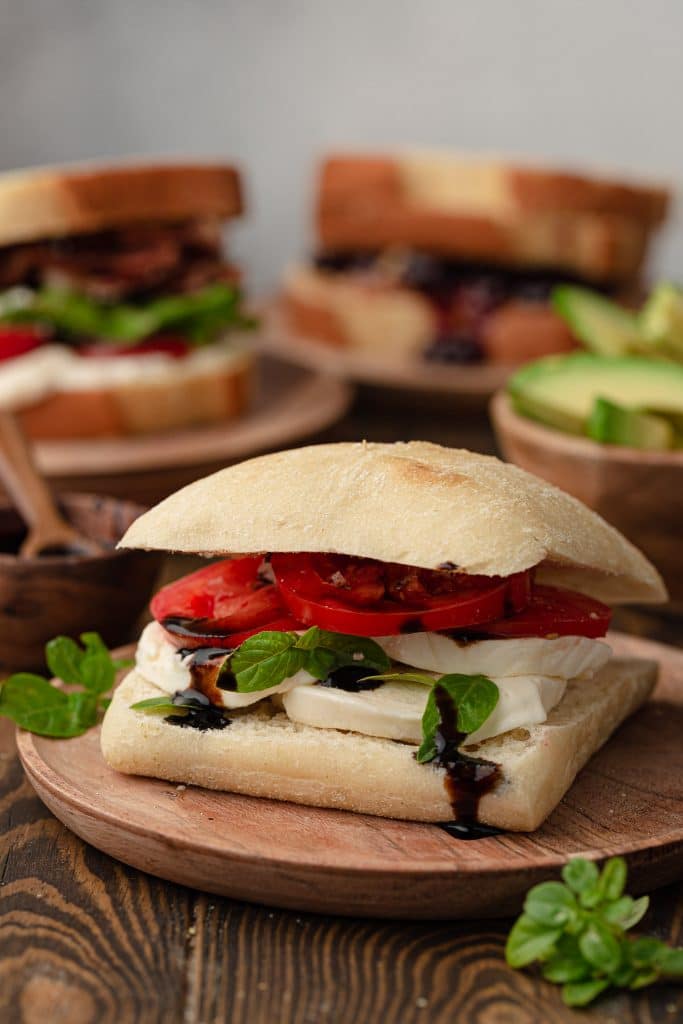 Possible Combinations
Every now and then, I'll have a guest who's not a foodie and either doesn't know how to put together an interesting sandwich or is not adventurous.
So I like to have some chalkboards (or print out cards) with a few suggestions of popular sandwiches and the ingredients that go in them.
Here's just a few of a world of possibilities:
BLT – Bacon, lettuce, tomato on sandwich bread. Don't forget mayo and a pinch of salt on those tomatoes!
Club Sandwich – Can be made with turkey, ham, bacon or a combination of meats! Plus lettuce, cheese, tomato and mayo. Served on sandwich bread.
Roast Beef Sandwich – Roast beef, mayo, mustard, onions, lettuce, tomato on sandwich bread. Maybe some pickles too?
Caprese Sandwich – Fresh mozzarella, tomatoes, basil and balsamic glaze on a ciabatta roll! My favorite!
Italian Sub – A combination of meats (for example: ham, prosciutto and salami), lettuce, tomato, mayo, onion and provolone cheese on a roll.
Ham & Swiss or Turkey & Swiss – Ham (or turkey), swiss cheese, mayo on sliced sandwich bread. Optional: mustard and pickles.
Chicken Salad Sandwich – Just spread chicken salad on your bread of choice! You can add some lettuce too.
PB&J – The classic peanut butter and jelly on sandwich bread! Even my toddler knows how to make this one.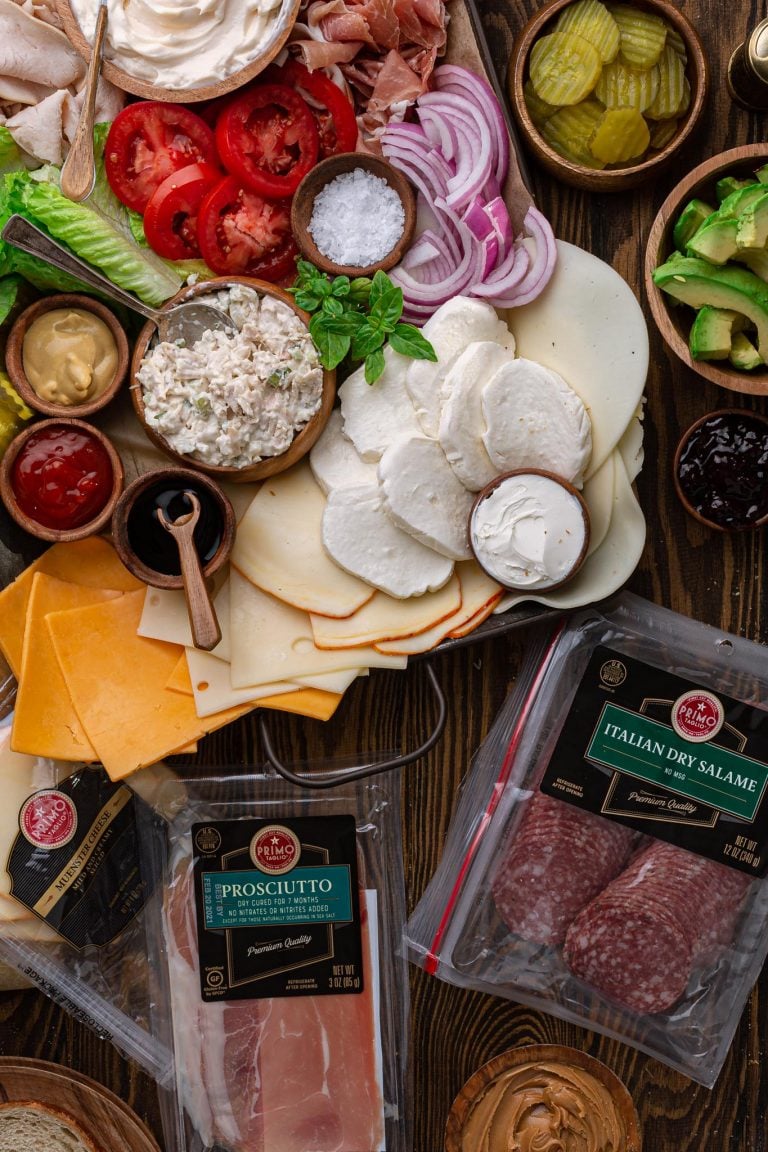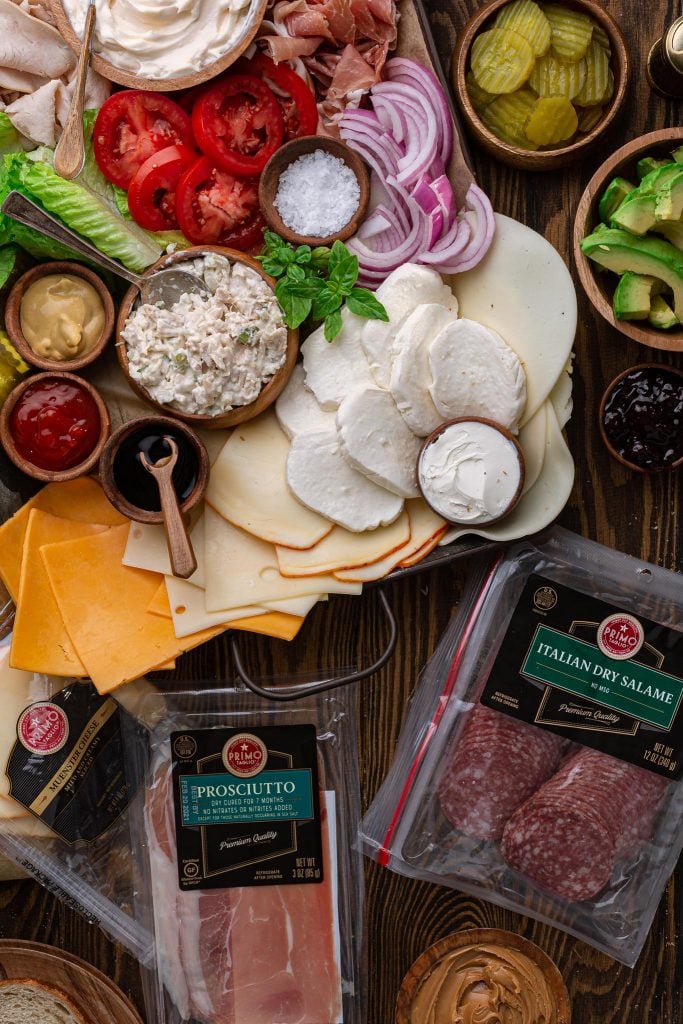 Frequently Asked Questions
Can I make my sandwich platter ahead of time?
Yes! You can prep everything (except the bread) and keep covered and refrigerated until ready to serve. Slice the bread right before serving, so it stays fresh!
Can I serve hot ingredients?
You sure can. This tutorial is for a cold sandwich platter, but you could absolutely serve some hot ingredients or even have a sandwich press nearby for guests to make hot sandwiches!
Did you make this recipe? I love hearing from you! Please comment and leave a 5-star rating below. You can also take a photo and tag me on Instagram with #oliviascuisine.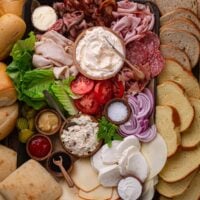 Build-Your-Own Sandwich Platter
A Build-Your-Own Sandwich Platter is a great way to entertain and feed a crowd! Your guests get to assemble their favorite sandwiches and you get to actually enjoy the party without running back and forth to the kitchen.
Ingredients
Meat and cheese:
Assorted Primo Taglio® sandwich meats, like roast beef, ham, turkey, salami, and prosciutto
Cooked bacon
A selection of Primo Taglio® sandwich cheeses, such as cheddar, provolone, fresh mozzarella, Muenster and/or white American cheese
Bread:
Assorted breads, such as sandwich bread, rolls, ciabatta and/or rye bread
Toppings:
Lettuce
Sliced tomatoes
Sliced pickles
Sliced red onions
Basil
Avocado slices
Spreads and Condiments:
Mayo
Butter
Cream cheese
Chicken, or tuna salad
Peanut butter
Jam
Mustard
Ketchup
Balsamic Glaze
Flaky Salt
Pepper
Instructions
Cover a large platter, tray or board with parchment paper for easier clean-up.

Fill small bowls with the condiments, seasonings and spreads. Arrange them on the platter.

Arrange the meat and cheese around the serving surface. Then, fill the empty spaces with the bread and toppings.
Notes
How many sandwiches per person?
Calculate 1 1/2 sandwiches per person. Each sandwich usually has 3 ounces of meat, 1 1/2 to 2 ounces of cheese, 2 teaspoon of spreads, plus toppings.
Make ahead
You can prep everything ahead and keep covered in the fridge until ready to serve. The only thing I don't recommend doing ahead of time is slicing the bread! Leave it until right before serving, so it stays fresh!
If you love this DIY sandwich platter, you will also like: