Chicken Fricassée Casserole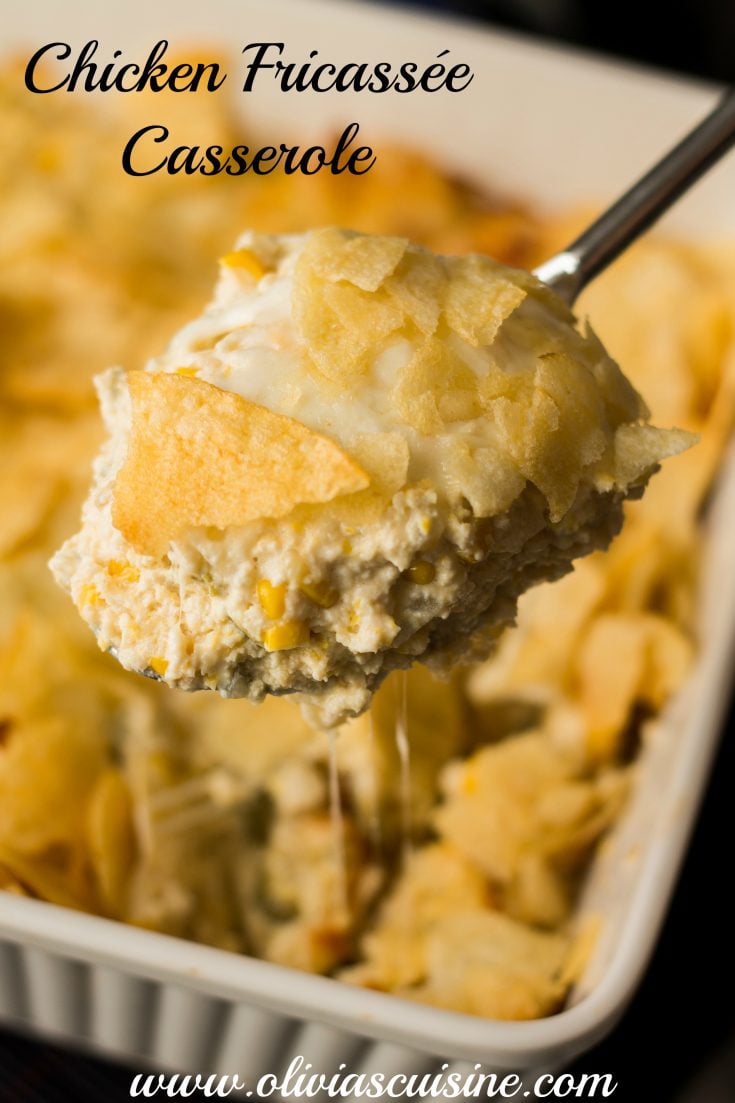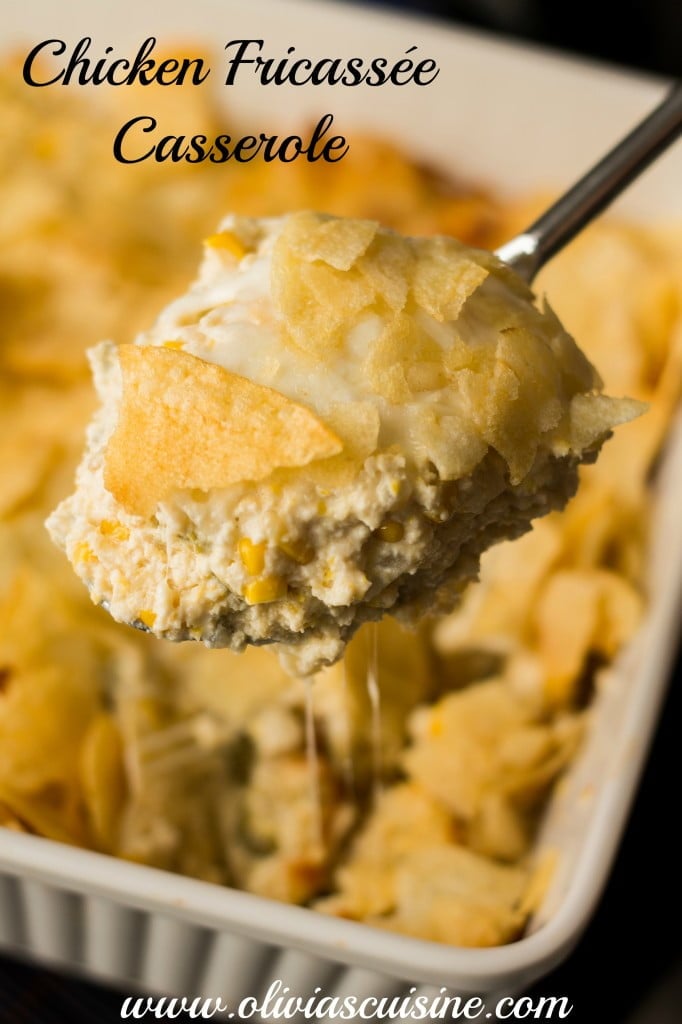 Creamy chicken casserole fresh out of the oven after a hard day at work? Hell yes! My mouth waters just to think of it!! Nothing makes me happier than knowing I have dinner waiting for me at home when I leave work, which happens anywhere between 9pm to 10:30pm.
The fact that having dinner prepared in advance, wearing the same color socks or smelling Fabuloso makes me happy gives me a little hint that I need to organize my life better… (and also that I was incredibly spoiled by my parents growing up). Ugh! Lately it usually goes like: I get in the car after work and my husband asks: "What are we doing for dinner?", and then I freak out because 1) We have terrible take out options in my neighborhood, 2) It gets expensive eating out every day and 3) I really don't wanna have to cook at 11pm!
But not today! Today I'm going home after work and all I'm going to do is put my Chicken Fricassée Casserole in the oven, make some rice and be insanely happy about it! I might even call it a TV dinner and catch up with one of my favorites shows! (Yes, I'll confess it: it'll probably be True Blood! DON'T JUDGE!)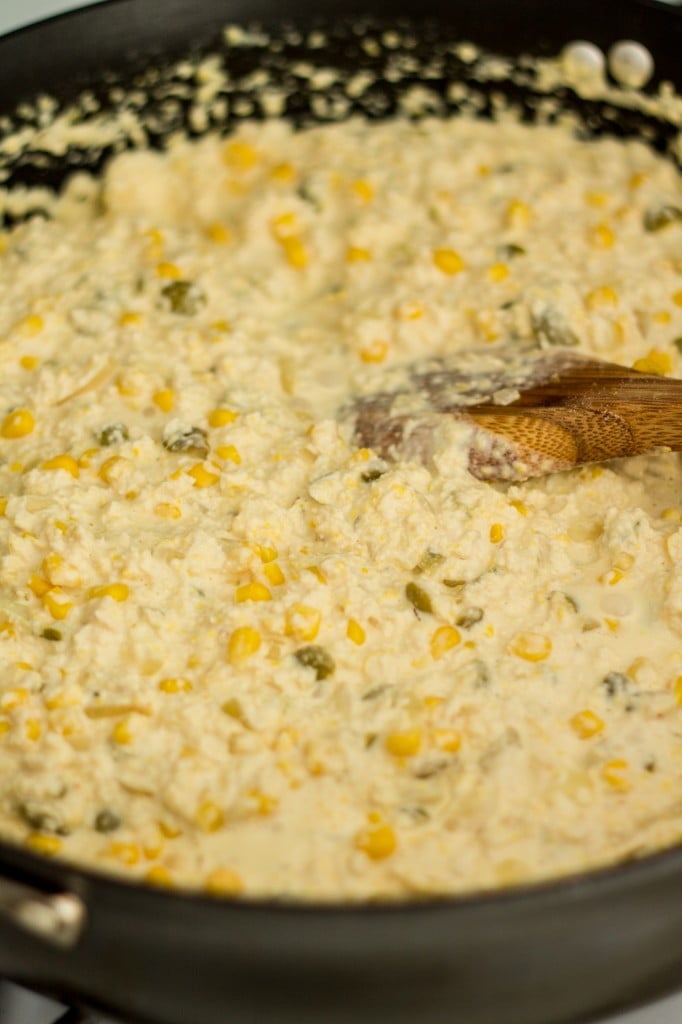 Casseroles are the best invention for busy people EVER! They are so easy to make and really handy on busy weeknights. Most people eat them as an one-dish meal but, being the good Brazilian that I am, I need some white rice on the side! (I love anything creamy over rice! It's the perfect combo!)
This casserole is very popular in Brazil and it's called Chicken Fricassée (Fricassée de Frango). Fricassée is actually a french method of cooking meat where the meat is cut up, sautéed, braised and served with its sauce (usually a white sauce). It is often described as a "french stew". In Brazil, it is usually a Casserole, similar to the one we are making today, that consists of chicken – cooked and shredded – sautéed with some vegetables and mixed with a creamy sauce, usually made with requeijão (which is similar to cream cheese but oh so much better!). Then they cover it with more cheese (mozzarella) and finally with a layer of potato sticks. And then, since Brazilians like carbs with carbs and more carbs, it is served with white rice! :)
As you can see in the pictures, I couldn't find the potato sticks. I guess I could have driven all the way to Queens to buy them at a Brazilian Market, but that would go against the whole purpose of this "easy dish", wouldn't it? So I went (or maybe I sent my husband… I won't admit it!) to the deli at the corner of our street for a bag of Lay Chips. I crumbled them with my hands and used them instead of the Potato Sticks. And nobody noticed. I mean, it was only me and my husband… And he's never had potato sticks before! And I bet he's sick of me putting it in the grocery list when he already told me 100 times that the grocery store doesn't carry it. But a girl has to dream, right?
Also, before you go and substitute the required Table Cream for Heavy Cream, look in your grocery store. For a while I was substituting all my recipes, thinking table cream was a Brazilian thing that I would never find in the US, until I found it right under my nose on my neighborhood grocery store! You will probably find the one made by Nestle (Media Crema) in a 7.6 Fl Oz can. (No, Nestle is not paying me a dime to promote their product! They should, though, as I have soooo many recipes with Table Cream! *hint hint*). Not only the Table Cream has less fat than the Heavy Cream, in my opinion it also makes the casserole creamier. But, if you really can't find it, go ahead and substitute for Heavy Cream, just bring the mixture to a boil and let it reduce a bit until it's a creamy (not liquid) consistency!
Feel free to add any vegetables of your liking! The sky is the limit! Well, that was cheesy…(literally!) So let me wrap it up right here! :)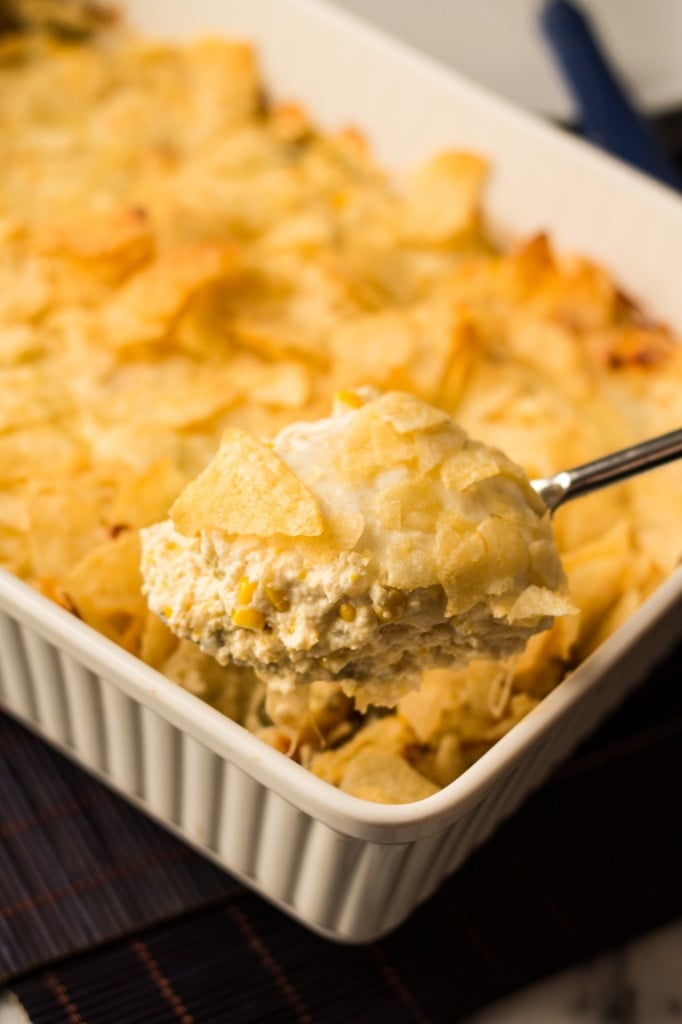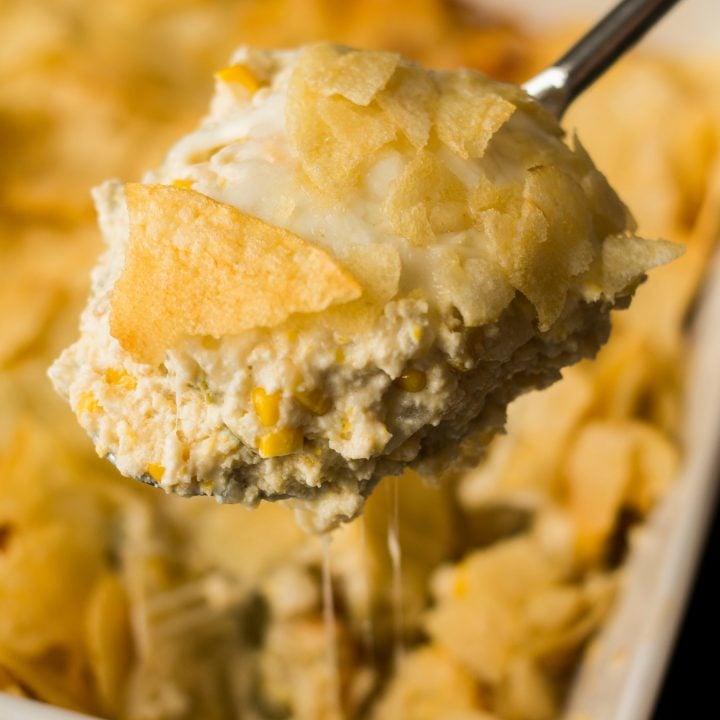 Chicken Fricassée Casserole
Yield: 6
Prep Time: 30 minutes
Cook Time: 10 minutes
Total Time: 40 minutes
Ingredients
2 large chicken breasts (about 2lbs)
1 large onion, chopped
2 Tbsp olive oil
2 (15.25oz) cans Kernel corn
1 (5.5oz) jar green olives, pitted and sliced
1 8oz package cream cheese
1 (7.6 Fl oz) can of Table Cream
1 cube of chicken bouillon
1 cup Chicken Broth
Salt to taste
2 cups Potato Sticks (or Regular Potato Chips if you can't find them)
2 cups shredded Mozzarella cheese
Instructions
Preheat your oven to 400 degrees.
In a large pot filled half way through with water, cook the chicken and the chicken bouillon over high heat until the chicken is fork tender.
Once the chicken is cool enough to handle, shred it with a fork or in a food processor.
In a blender, add 1 can of Kernel corn, the cream cheese, the table cream and the broth that resulted from cooking the chicken and blend until smooth. Reserve.
In a large skillet, add the olive oil and sauté the chopped onion until translucent. Add the chicken and let it fry for a minute or two.
Add the 2nd can of corn, the olives and, finally, the cream mixture. Cook until everything is incorporated and you have a creamy consistency.
Pour the mixture into a casserole dish (I used a 13" X 9" lasagna dish).
Cover with a layer of mozzarella and a layer of the potato sticks/chips.
Bake it in the oven until the cheese melts (10 to 15 minutes).
Serve with white rice!