The Disney Gourmet Series – Ratatouille: Ratatouille Tart
Today I'm writing one of my favorite posts: a Disney inspired one! (I hope that by now, if you've been following my blog, you can tell I'm a child at heart!) And the theme of the day is one that all of us foodies can relate to: the movie Ratatouille! :) Who doesn't love that little rat fellow that can cook better than all of us together?
Did you see that I added a little Remy mouse to the picture above? Am I getting better at this blogging thing or am I getting better at this blogging thing? Not to brag, or anything, but I AM getting better at this blogging thing! :-P (If you don't agree, just keep it to yourself and let me be happy! lol)
Anyway… Even though this was an easy theme to figure out, because of… uh… the name of the movie…, I still couldn't just do a recipe for ratatouille because that would be too obvious. So I decided to spice up things a little bit and do a Ratatouille Tart! Because who doesn't love anything over flaky pastry?!?
The movie "Ratatouille" tells the story of Remy, a very cool young rat that dreams of becoming a chef! After being kicked out of his home, Remy ends up in the streets of Paris and eventually finds himself at a skylight overlooking the kitchen of Gusteau's restaurant. Soon he teams up with this no talent chef named Linguini (that used to be the garbage boy) and together they create some fabulous dishes, ultimately setting into motion a hilarious and exciting chain of extraordinary events that turns the culinary world of Paris upside down.
The title refers to the French dish ratatouille, which is served at the end of the film, and is also a play on words about the species of Remy.
Even though my dish may not be as fabulous as Remy's, to the point of having critics drop their pens and go back to their childhoods, it is still pretty good, if I could say so myself. It also has the husband's seal of approval! I served him a slice and when he was finished, he asked me if I could have more. He ended up eating the whole thing by himself!
I don't have kids yet but I can see this dish being a nice fun way to make your kid eat some vegetables! Actually, amazing vegetables!!! Zucchini, summer squash, eggplant, tomato… You can't go wrong with these! So just tell your kids that Remy the chef rat made this and they will devour it without even stopping to complain about the vegetables! Or, if you don't have kids – like me – just serve it to some friends or a date, as this dish will impress even the most snob friend you might have. (But don't tell your adult guests that Remy the rat cooked this or they will run for the hills scared at the thought of a rat in the kitchen… Or maybe, if you're in NYC, they won't care and might even ask you how did you train your kitchen mouse to cook so they can train theirs as well!)
This dish is often served as a side dish but it can totally be a meal on its own! It is also great for picnics or pot lucks, as it can be served at room temperature (although I prefer warm).
There's a thousand and one ways of making ratatouille. Everybody makes if differently and criticizes the way the other people make it. The original Ratatouille (or Ratatouille Niçoise) is a traditional french provençal stewed vegetable dish that originated in Nice. You will see it served in all shapes and forms, baked, simmered, in crêpes and omelets, etc. My grandmother serves her as a stew accompanied by some white rice. I can also totally see myself doing a ratatouille omelette or frittata for brunch! As a matter of fact, you will probably have some leftover vegetables from this recipe, so if you don't wanna make a second tart, just use your creativity and create something else with the vegetables.
Since my vegetables were quite big, I ended up having a considerable amount of leftovers. So I used the second sheet of puff pastry (they come in pairs) and made a 2nd tart, but this time I rolled it 'til it measured about 11X15 inches to show you that you can still make a tart even if you don't own a tart pan! :) You can also totally do it without a mandolin, just be prepared for lots of slicing work!
Things to consider when making this tart:
1) Don't forget to prick the pastry all over with a fork, to prevent the dough from rising as it cooks. (As you can see in the picture below, it rised quite a bit on the sides because I wasn't as thorough as I was with the first one.)
2) Salt your tomato sauce, salt your onions and salt your veggies! Nothing worse than a bland dish!
3) Don't roll your pastry too thin because otherwise it won't hold the weight of all the veggies plus sauce! and you will have a hell of a time trying to cut your tart.
4) Try picking vegetables that have the same diameter for aesthetic purposes. As you can see in the picture below, I didn't so they don't look as nice as they would if they would be the same size.
5) And finally, my secret: parmesan cheese! Yep! Lots of it on top of it all! Preferably some good old buttery/nutty Parmigiano Reggiano.
So that's it, folks! One more recipe for my Disney collection! I hope you guys love this series as much as I do! I've been pacing myself so I don't post all Disney recipes and end up with no more Disney movies left!
P.S. Last Monday was my mom's birthday! So let's hear some Happy Birthday Olivia's Mom on the comments below!!! :)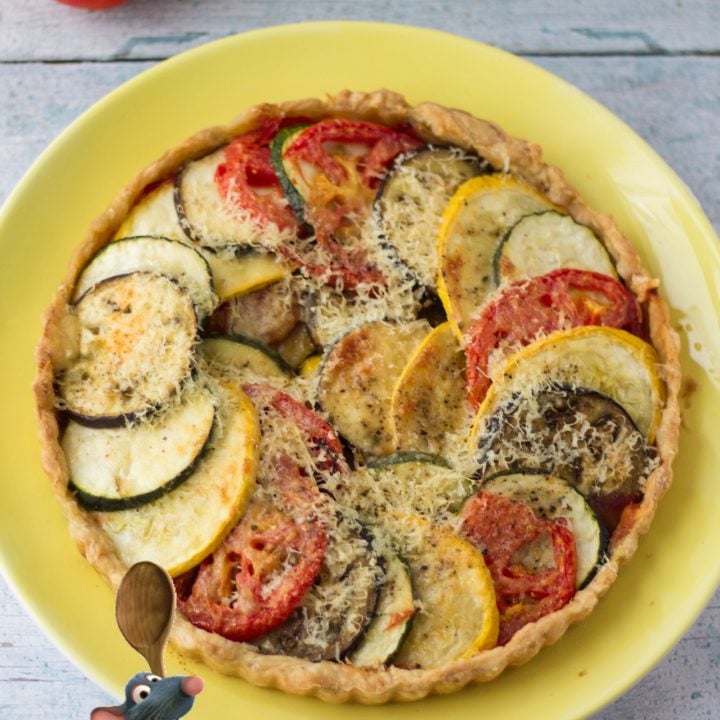 Ratatouille Tart
Yield: 3
Prep Time: 20 minutes
Cook Time: 30 minutes
Total Time: 50 minutes
Ingredients
1 sheet puff pastry, thawed
4 Tbsp crushed tomatoes
1 medium onion
2 Tbsp olive oil plus more for drizzling vegetables
1 small zucchini
1 small yellow squash
1 small japanese eggplant
3 vine tomatoes (Make sure they're firm!)
Salt and pepper to taste
Flour for dusting
1/2 cup freshly grated Parmigiano Reggiano
Instructions
Preheat oven to 375 degrees.
Using a mandolin, slice the zucchini, the yellow squash, the eggplant and the tomatoes 1/4 inch thick. Reserve.
In a skillet, heat the olive oil and add the onions and some salt. Cover and cook over medium heat until they are soft (about 10 minutes). Remove the lid and continue cooking until the onions are golden and caramelized. That should take 10 more minutes.
Dust your counter with flour and roll your puff pastry to about a 11" square (or 11"X15" rectangle if you don't have a tart pan).
Transfer to a tart pan, making sure you press the dough against the ridges on the side. (If you don't have a tart pan, just transfer the dough to a baking sheet covered with parchment paper)
Prick the dough, all over, with a fork.
Spread the crushed tomatoes evenly over the pastry and sprinkle some salt.
Spread the caramelized onions on top of the crushed tomatoes.
Layer the zucchini, eggplant, squash and tomatoes in an overlapping spiral. Sprinkle salt and pepper.
Drizzle with some olive oil.
Top with 1/2 cup of freshly grated Parmigiano Reggiano.
Bake for 30 minutes or until the pastry is golden brown and the cheese has melted.