Collard Greens and Italian Sausage Risotto
Are you overwhelmed with the holiday spirit and in need of some comfort food to prevent you from going craaaazy??? This super creamy Collard Greens and Italian Sausage Risotto is solution to all your problems! (Ok, maybe not ALL. But at least the food ones.?)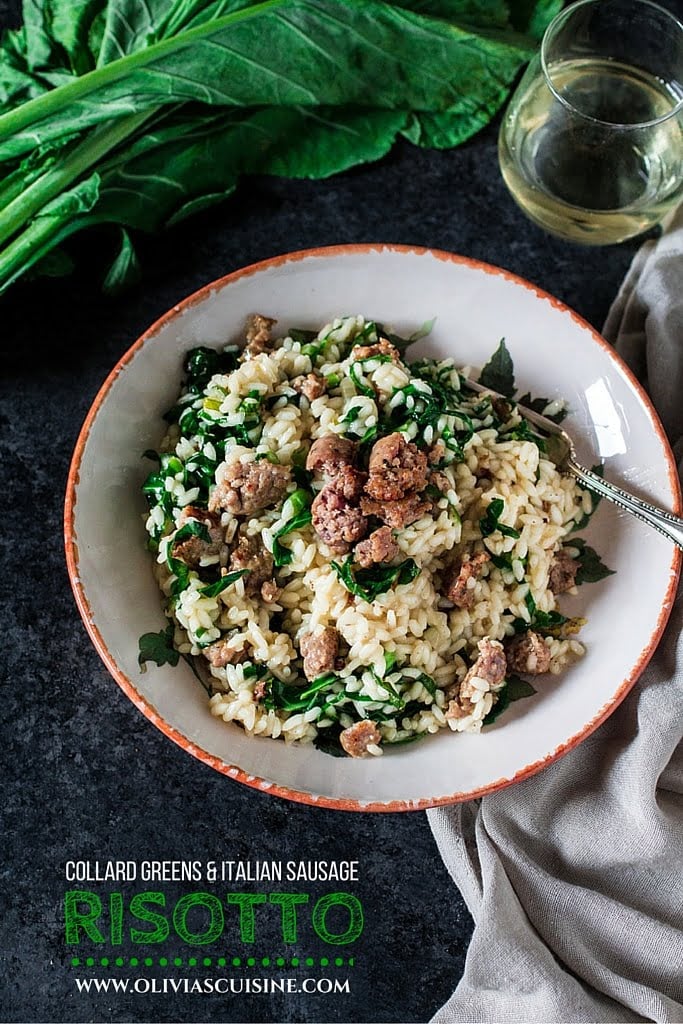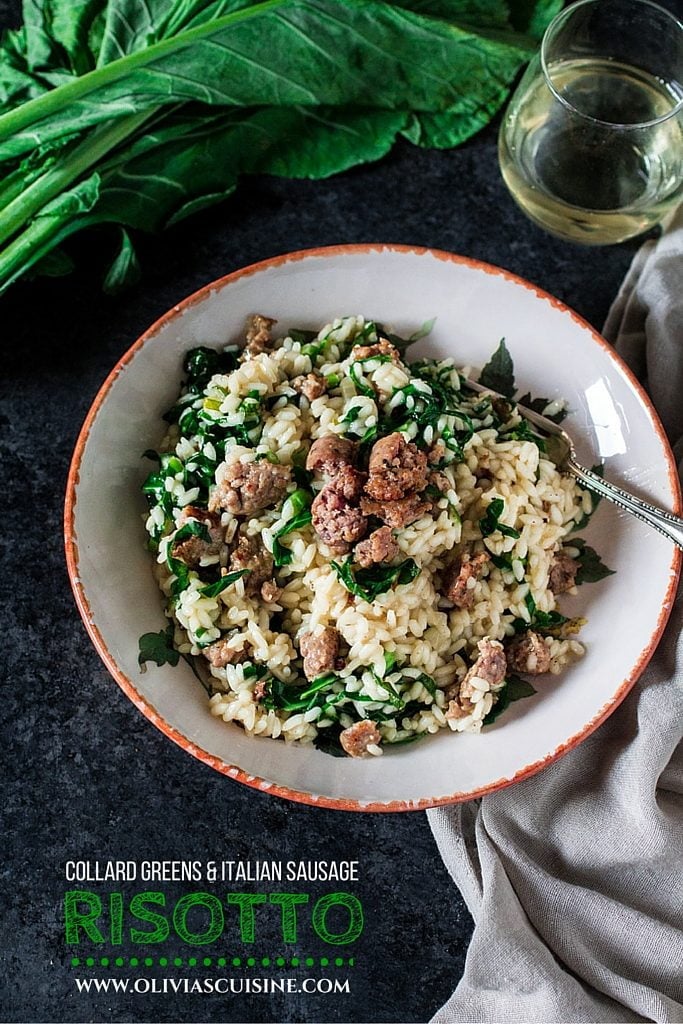 I'm sure you've already noticed that I'm one of those annoying people that has been on Christmas mode since the day after Halloween.
I keep reading people saying they are "trying to get into the holiday spirit" and I'm like: "What's wrong with you people? Just embrace the Christmas magic, decorate your tree, bake lots of cookies, play Christmas tunes all day long and write a letter to Santa." ??
But the truth is that not everybody is as Christmas-holic as me and that this time of the year can be pretty darn stressful.
So I thought I would share something delicious and non holiday related to get you through the holiday madness!
For me, risotto is one of those magic foods that are comforting but also sophisticated. So this Collard Greens and Italian Sausage Risotto doubles both as a "I had a stressful day at work and need to eat something that soothes my soul" meal and "I have guests for dinner and need to impress them with something fancy" meal.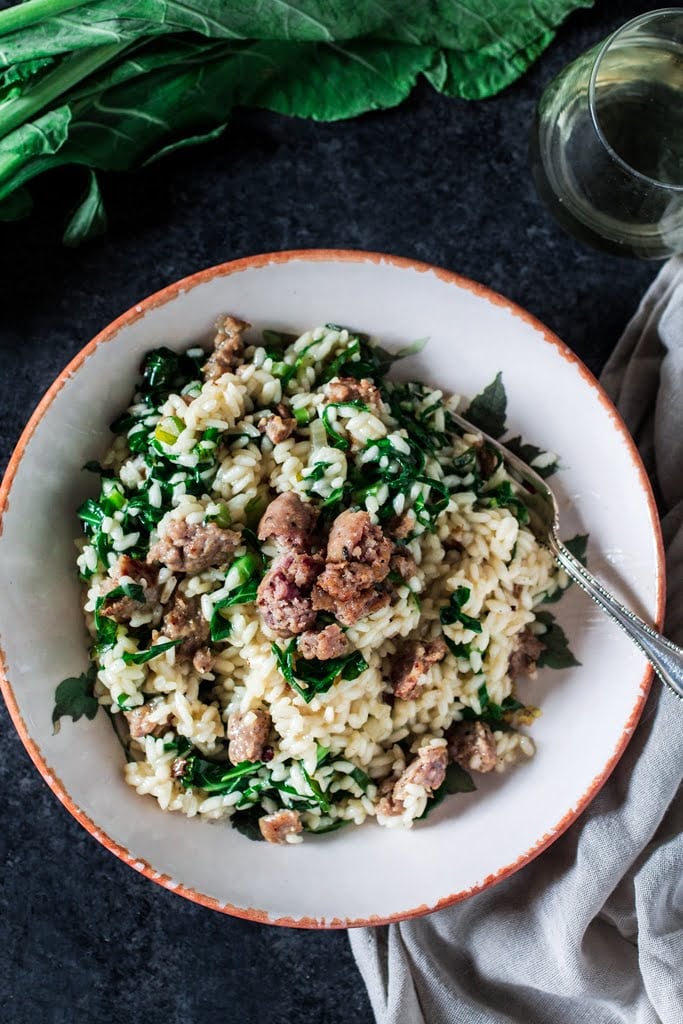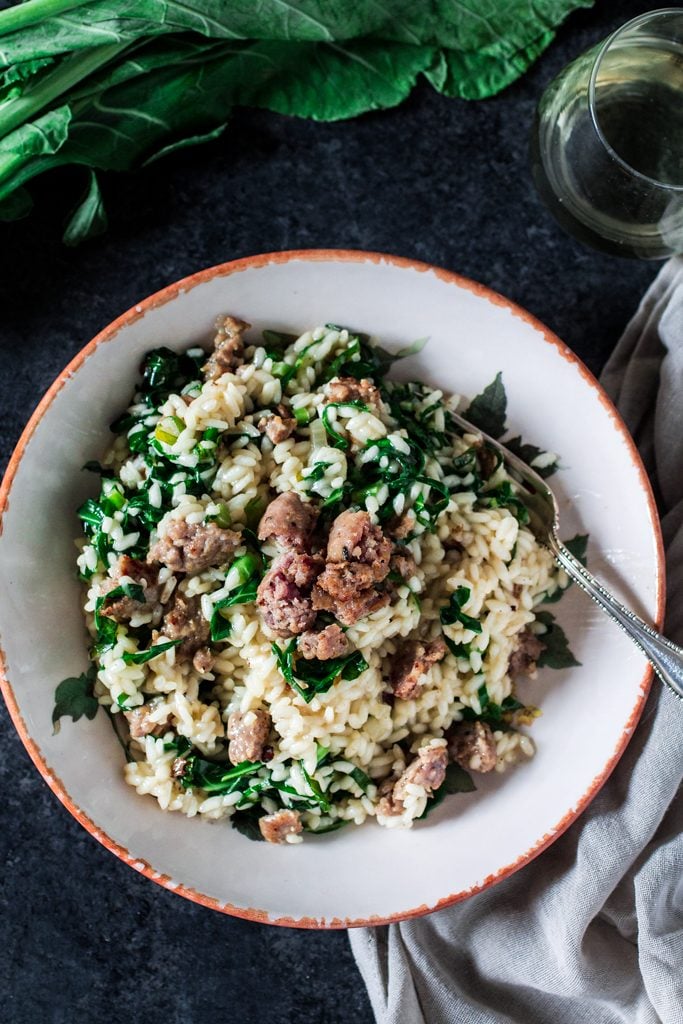 This recipe is inspired by a video I saw on Snapchat the other day. Oh yeah, I'm a snapchatter now, can you believe it? Add me (@oliviascuisine) so you can see some madness behind the scenes of my silly little life.
But I digress. I saw someone making a similar sausage risotto at the Tastemade account, but by the time I realized I would love to recreate it, the video was gone and I had no means of saving it or even getting the guy's name to give him credit. (I really need to up my snapchat game!)
So I pretty much created my own version and I'm really happy with it. This risotto is one of the best risottos I've eaten in my life, and you guys know I'm a risotto fan! I literally ate the leftovers all week long and am now considering making it again, because I'm already craving it.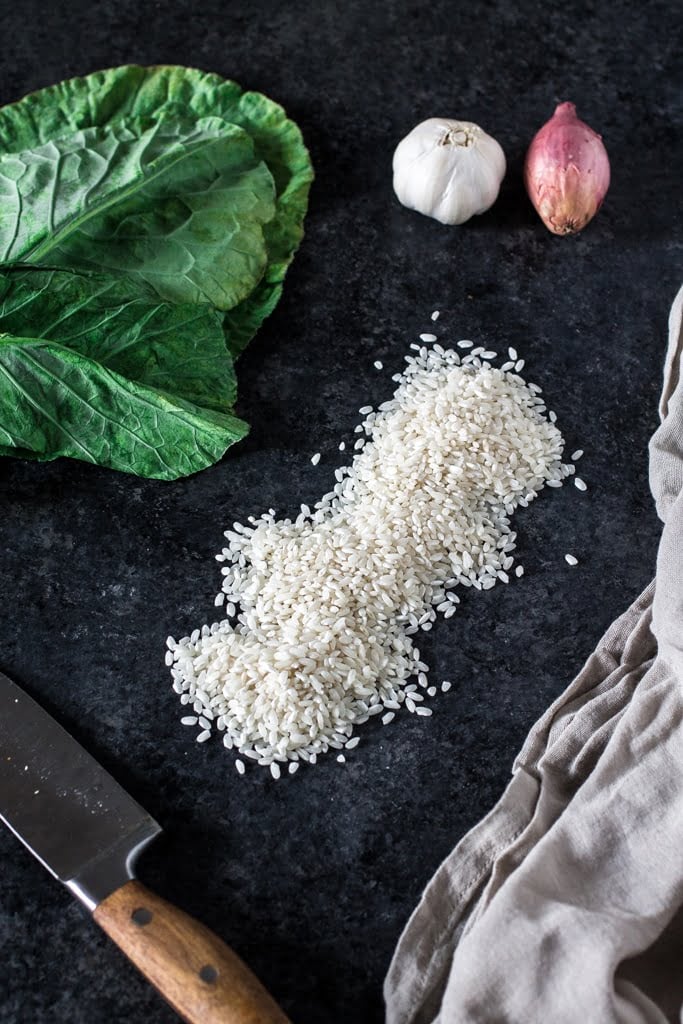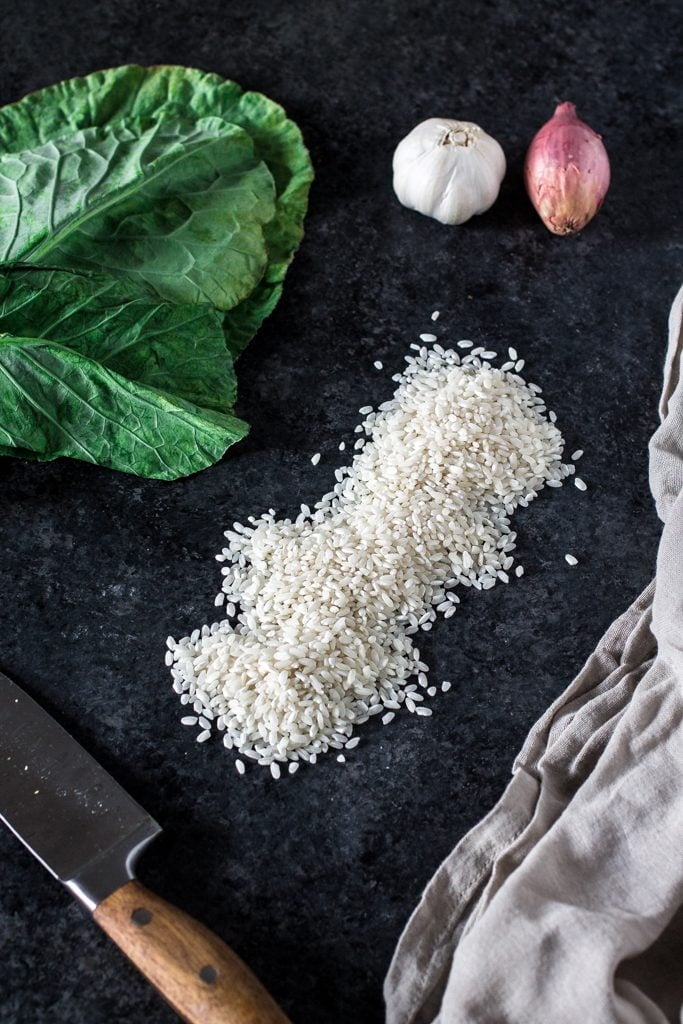 I also almost called this Brazilian Collard Greens and Sausage Risotto, because we make a similar risotto down in Brazil, only with calabresa sausage.
But I ended up using sweet Italian sausage, because it's available everywhere and it's so delicious! And it also pairs great with the collard greens.
Collard greens are really popular down in Brazil. We love it and we eat it weekly, mostly sautéed with olive oil and lots of garlic. It's also really good for you, which allows me to call this risotto somewhat healthy? I mean, there are worse things we could be eating, right? Like… ugh… ramen noodles? (Yep, I am guilty of eating that stuff when I'm in a pinch and all I've cooked all day was desserts for the blog!)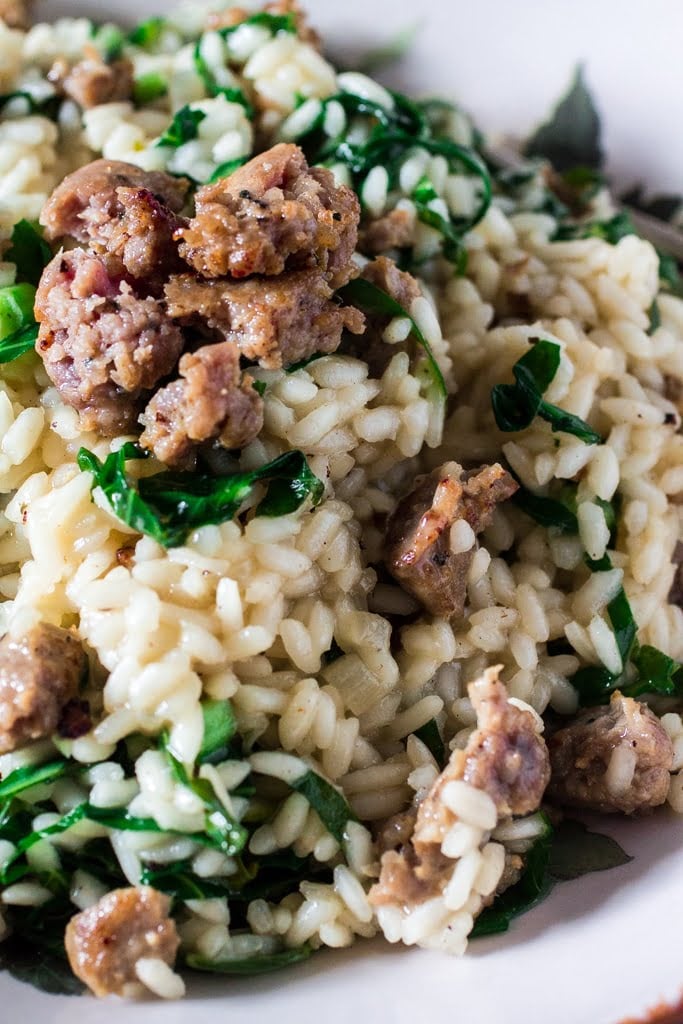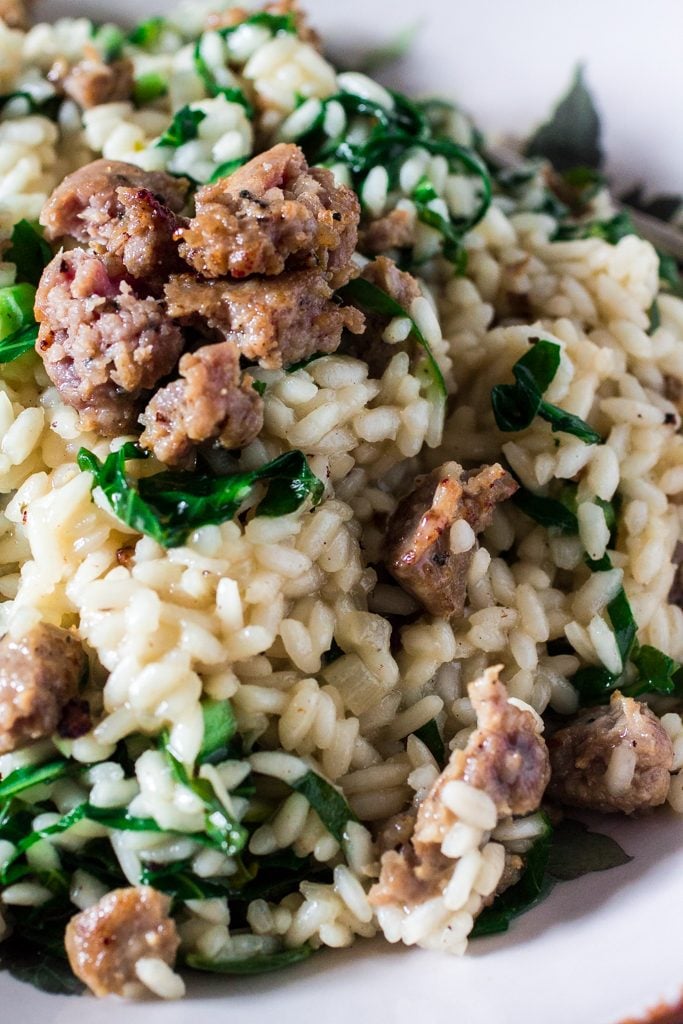 Arborio rice is definitely a must in my pantry. If you always have arborio rice, cheese, wine and broth, you will never need to eat ramen again. I promise!
Also, risottos are a great way of using whatever leftovers you have in the fridge. Mostly anything can be transformed into a risotto. Even chocolate!
And please don't be intimidated at making risotto just because snobs people say it's hard. It is not! It just needs some TLC, which is totally worth it because there is nothing more rewarding than a plate of fresh risotto. Especially if it has sausage and collard greens in it! ❤️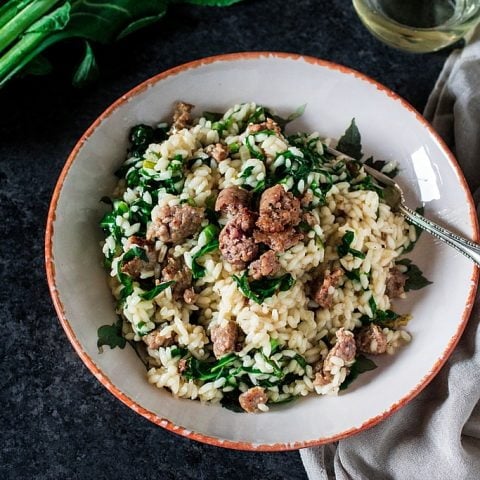 Collard Greens and Italian Sausage Risotto
Yield: 6
Prep Time: 15 minutes
Cook Time: 30 minutes
Total Time: 45 minutes
Ingredients
1lb sweet Italian sausage, casings removed and crumbled into smaller pieces
1 tablespoon olive oil
2 large shallots, finely chopped
2 cloves of garlic, minced
3 cups arborio rice
1 cup white wine (Sauvignon Blanc works great here!)
7 to 8 cups chicken stock
1/2 bunch collard greens, rinsed and chopped
1/2 cup grated parmesan cheese
4 tablespoons cold butter
Salt and freshly ground pepper to taste
Instructions
Bring the chicken stock to simmer in a saucepan. Let it stay there, simmering, while you work on the other ingredients.
In a large skillet, over medium high heat, heat the olive oil and, once hot, add the sausage and sauté until brown, about 3 minutes, breaking it apart with a wooden spoon.
Remove the sausage with a slotted spoon and reserve.
Lower the heat to medium low. Add the shallots and garlic to the skillet and sauté until translucent, about 5 minutes. Then, add the rice and let it fry with the onion and garlic for a couple of minutes.
Add the wine and cook until almost absorbed, about 2 minutes.
Start adding the hot stock, 1 cup at a time, simmering until almost all absorbed and then adding the following cup. Continue to do this , stirring often, until the rice is al dente and mixture is creamy. The whole process should take about 25 to 30 minutes and you might not need all the stock.
When the rice is almost al dente but not quite there yet, add the chopped collard greens and the sausage and keep adding the stock.
When the rice is done, remove from heat and add the cold butter and the parmesan cheese, stirring vigorously.
Season with salt and pepper and serve immediately with more Parmesan cheese on the side!
P.S. Wanna keep in touch? Follow me on Facebook, Twitter, Instagram or Pinterest to stay up to date with my posts! If you end up making one of my recipes, I would love to see it! Just take a photo and post it on your preferred Social Media and tag me or use the hashtag #oliviascuisine!