Frozen Hot Chocolate
Deliciously irresistible, this Frozen Hot Chocolate – inspired by the version served at Serendipity in NYC – is the ultimate summer treat! No wonder it makes Oprah want to "dance on the chandeliers". ???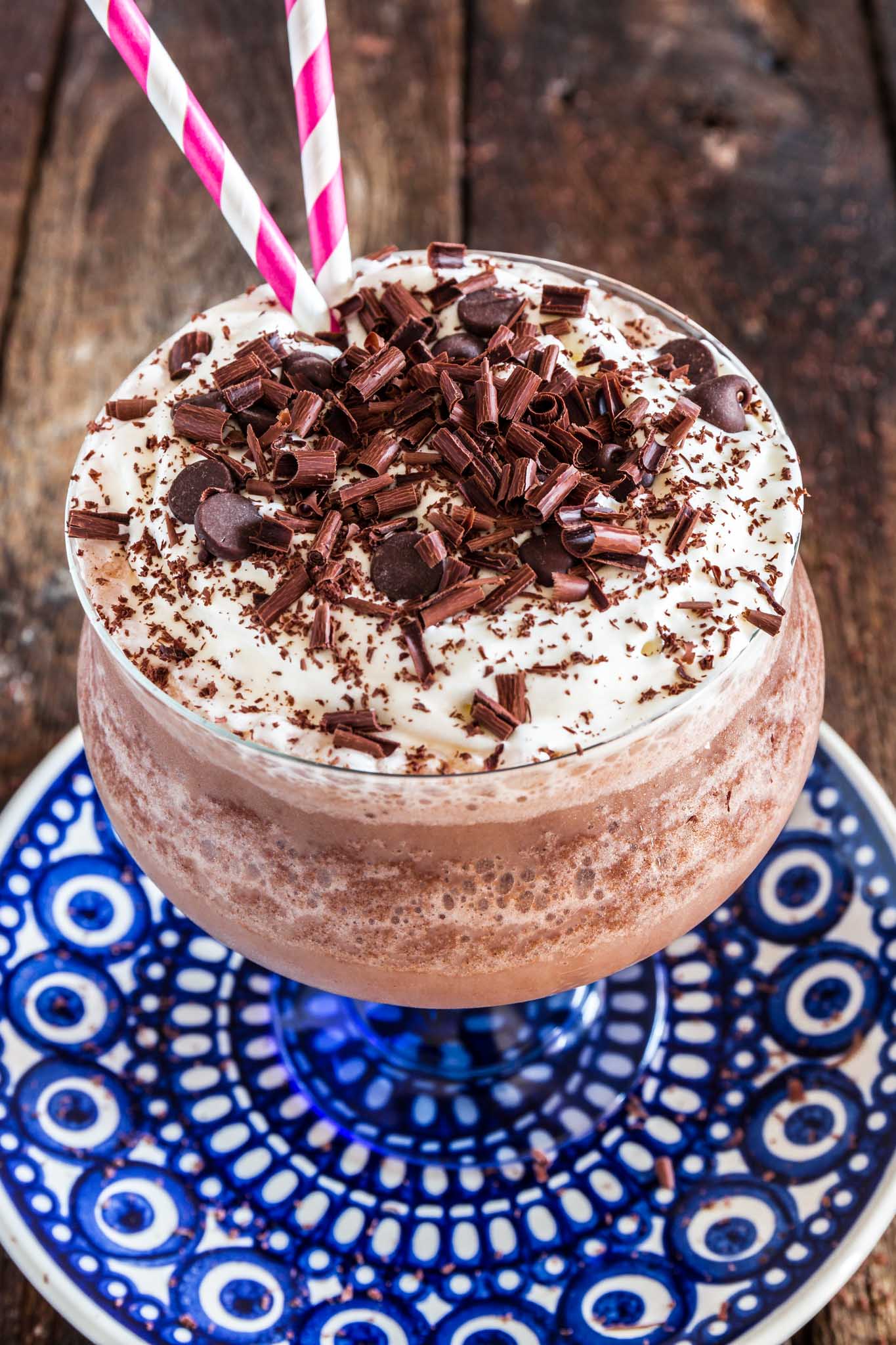 I participated in Mom Blog Tour Winter Fancy Food Show (#MomBlogTourFF) on behalf of Wendy's Bloggers. I received Two Rivers Coffee products to facilitate my review, but my opinions and the recipe are my own.
Diet, move over! It's time for a little cheat.
I'm usually the queen of cheating on a diet, but since this diet is important not only for myself but for the little human being inside of me, I've been pretty good. But, I'm only human, and I was craving something epically tasty, so this Frozen Hot Chocolate was born.
Because the only thing better than a cup of hot chocolate on a chilly evening, is a bowl of frozen hot chocolate on a hot summer day!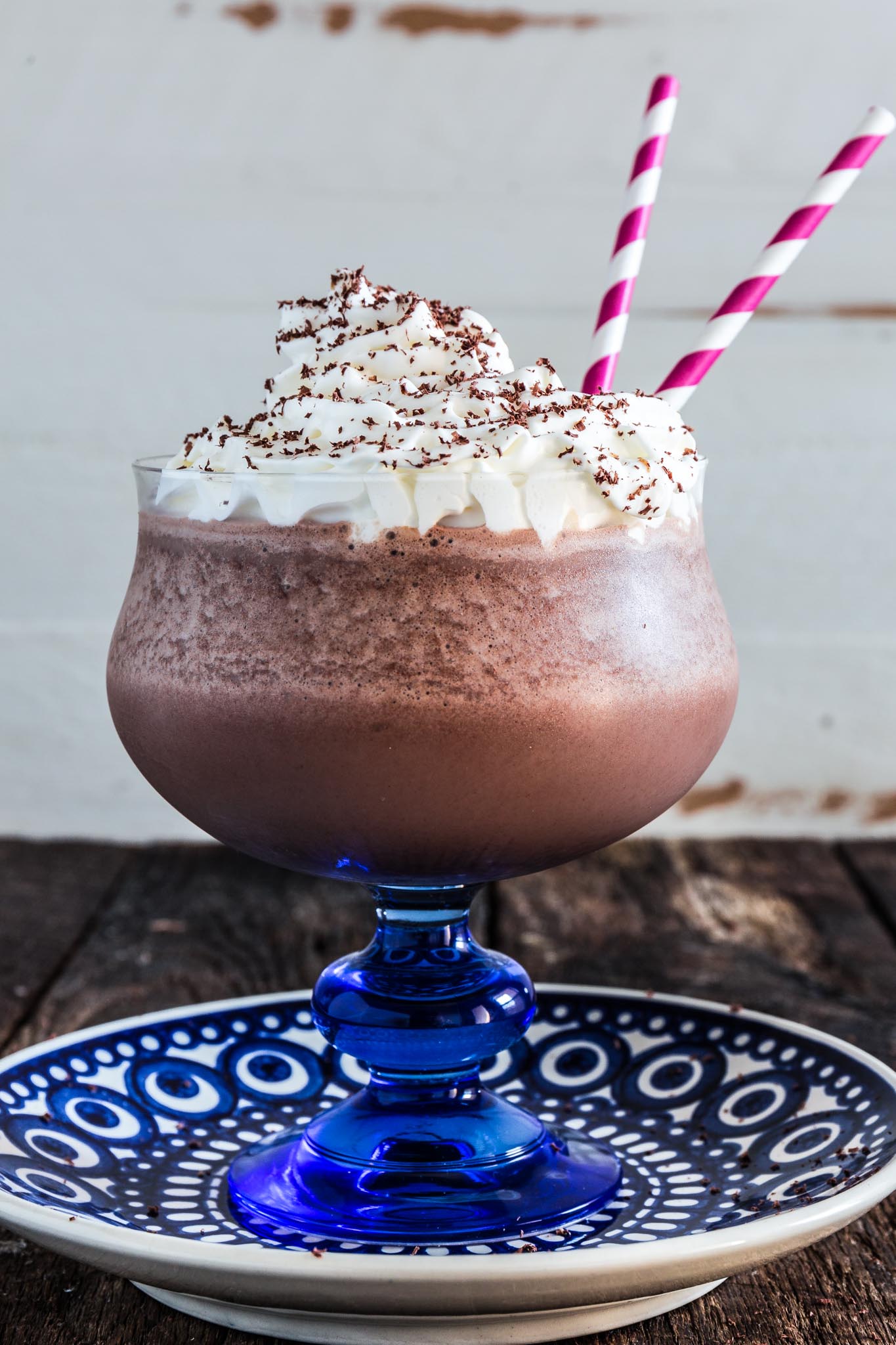 But is it a dessert? Or is it a drink?
If you've ever been to Serendipity in NYC and ordered their "Frrrozen" Hot Chocolate (yep, that's how they write it on the menu), chances are you've asked yourself that same question and probably suffered through that life changing indecision between grabbing a spoon or going for the straw.
Well, at the end of the day, it doesn't really matter. I often go for the straw and, if there's any frozen bits that are hard to suck, I use the spoon. After all, no frozen hot chocolate shall be left behind!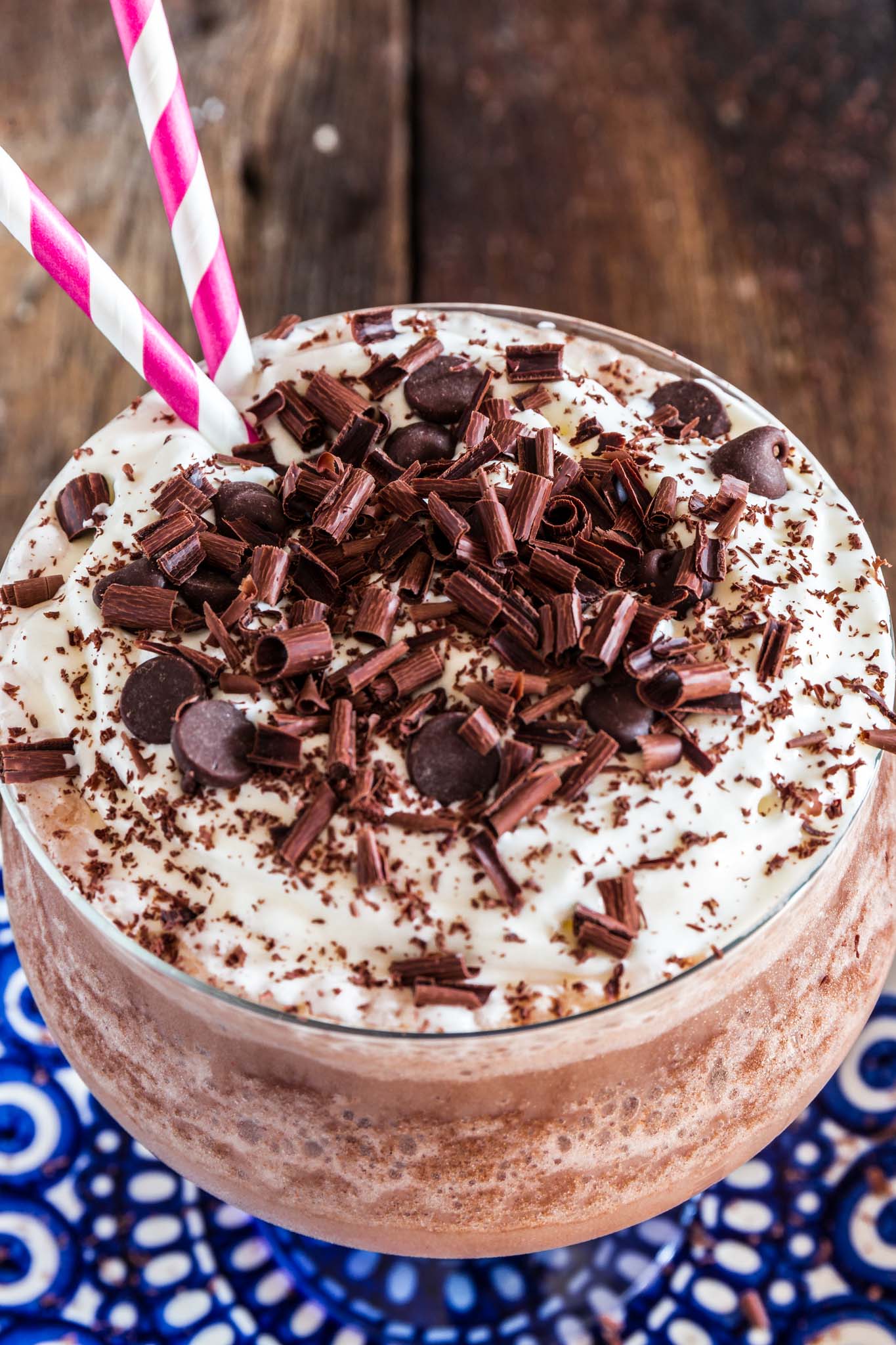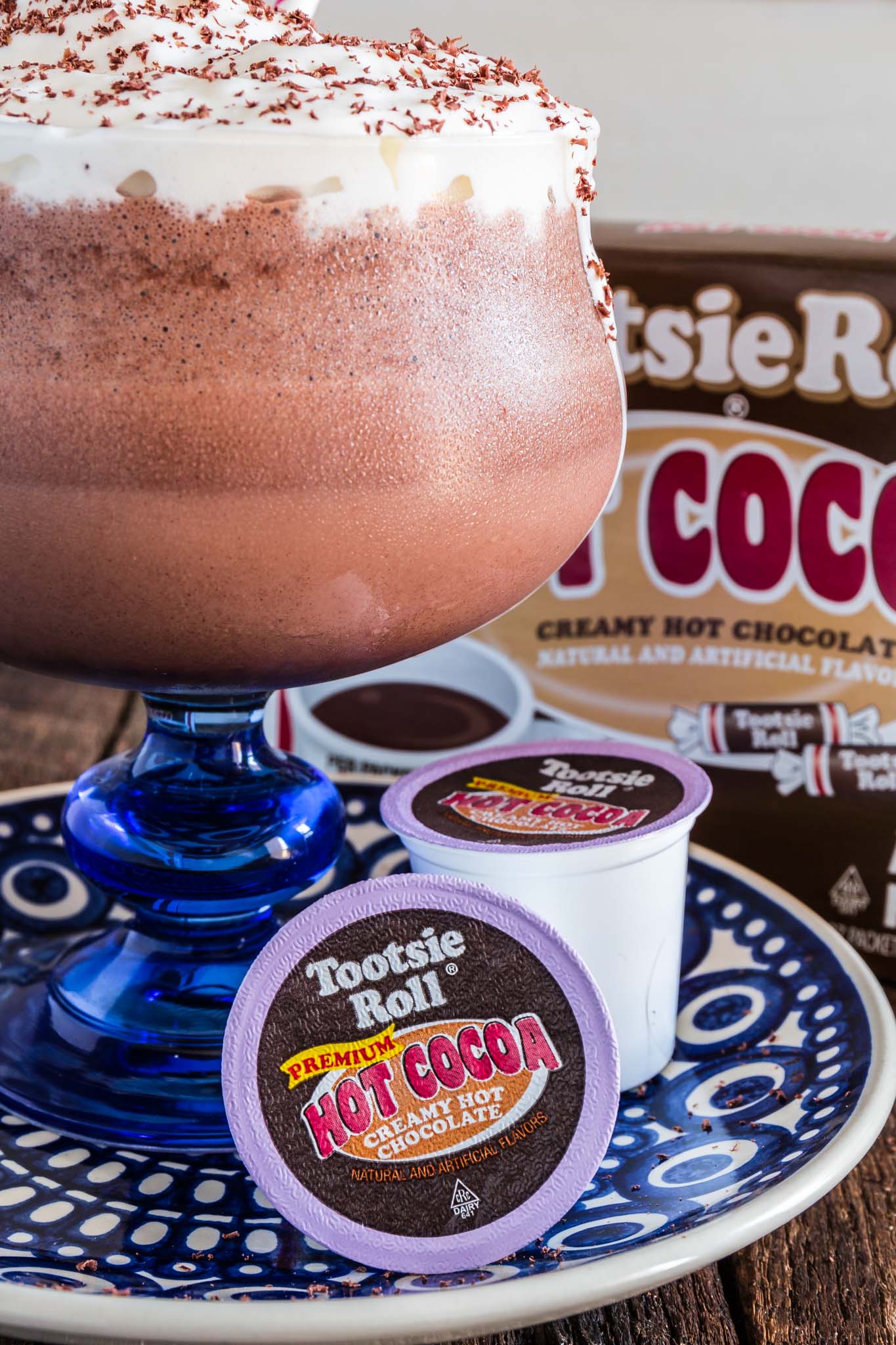 The magic of this recipe is that you get to adapt it using whatever type of chocolate and hot cocoa mix you love.
I've recently discovered Two Rivers Coffee and their many hot chocolate flavors, like Tootsie Roll, Junior Mints and Sugar Babies. Classic American childhood flavors that will awaken the child inside you!
You can purchase them in k-cup form or instant packets (for all the old fashioned peeps out there). And then you can make several different flavors of creamy, dreamy frozen hot chocolate during the summer! I used Tootsie Roll this time, but I'm eyeing Junior Mints for the next time I need a little cheat. Oh, I can't wait!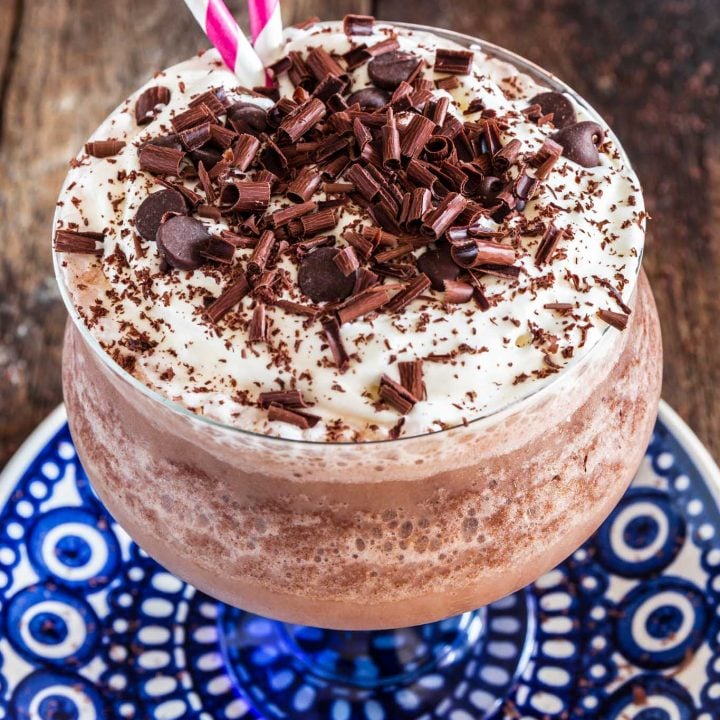 Frozen Hot Chocolate
Yield: 1 giant frozen hot chocolate
Prep Time: 10 minutes
Total Time: 10 minutes
Adapted from Serendipity's Sweet Serendipity Cookbook
Ingredients
3 ounces of your favorite chocolate
2 tablespoons hot chocolate mix
1 1/2 tablespoons sugar
1/2 cup heavy cream
1 cup milk
3 cups ice
Toppings: Whipped cream and chocolate shavings
Instructions
Start by chopping the chocolate into small pieces. Place it in the top of a double boiler over simmering water and stir until melted. Add the sugar and hot chocolate mix and continue stirring until incorporated.
Remove from heat and slowly add the heavy cream, whisking until smooth. Let it cool to room temperature.
Transfer the chocolate mix to the jar of a powerful blender and add the milk and ice. Blend on high speed until smooth and frosty. Pour into a big glass cup, bowl or milkshake glass and top with whipped cream and chocolate savings.
Enjoy!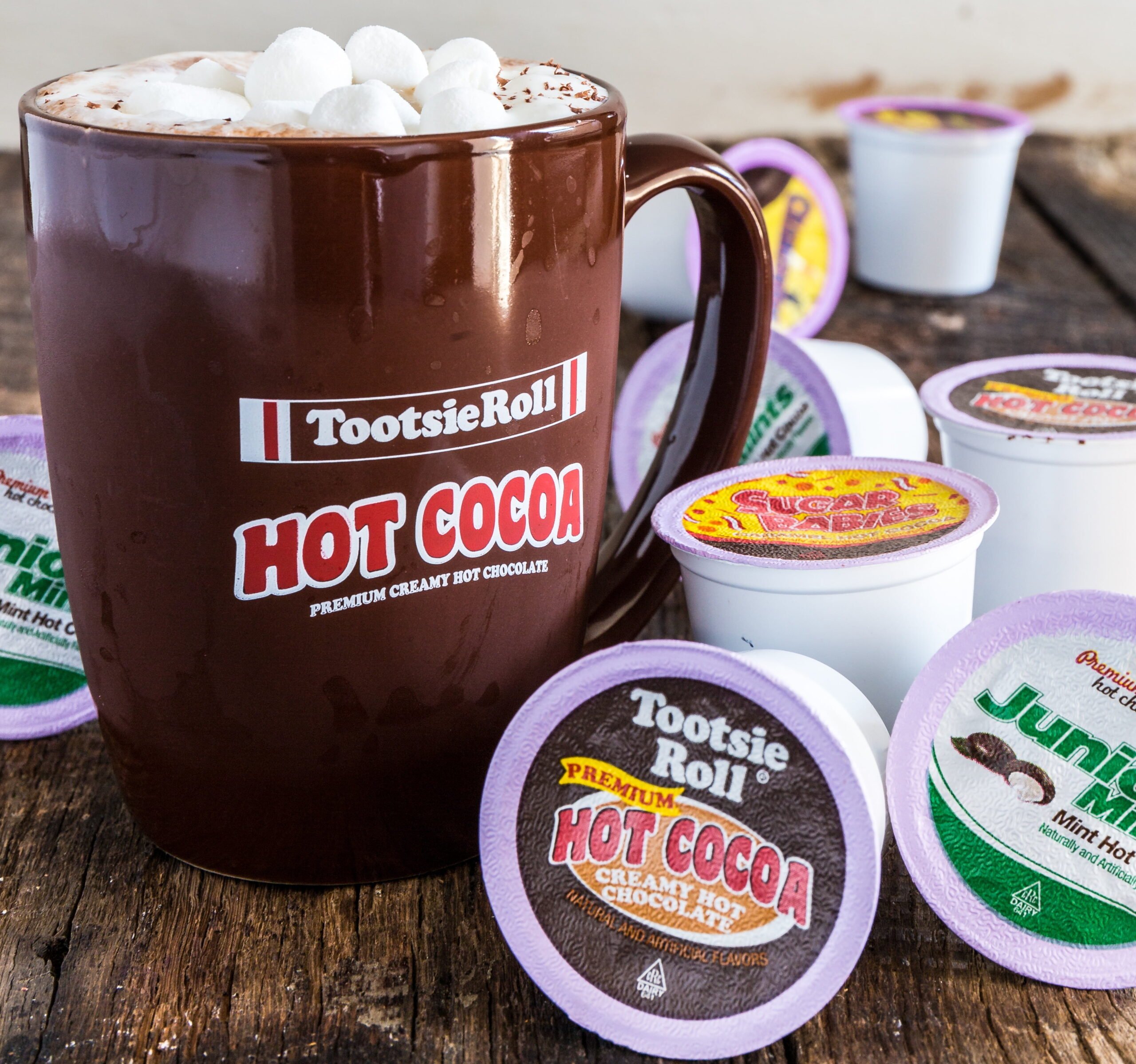 GIVEAWAY
Today, I'm proud to announce an amazing giveaway where one lucky winner will win assorted flavors of Tootsie Roll Industries Hot Cocoa K-cups and Instant Packets from Two Rivers Coffee.
One winner per household, email address, or home address. If you have won this prize on another blog you are ineligible to win again. Winner must have a U.S.-based address to receive the prize.
a Rafflecopter giveaway